Kazakhstan is the ninth largest country in the world, and the largest of the land-locked countries. It covers over a million square miles in Central Asia, with a small part extending into Eastern Europe.
Travel to Kazakhstan may take a bit more of an effort than countries in Western Europe, but its location is one of many things that make it a fascinating and unusual place to visit. It's bordered by China to the east; Kyrgyzstan, Uzbekistan, and Turkmenistan to the south; the Caspian Sea to the west; and Russia to the north. That makes for a political, social, and cultural history that is compelling.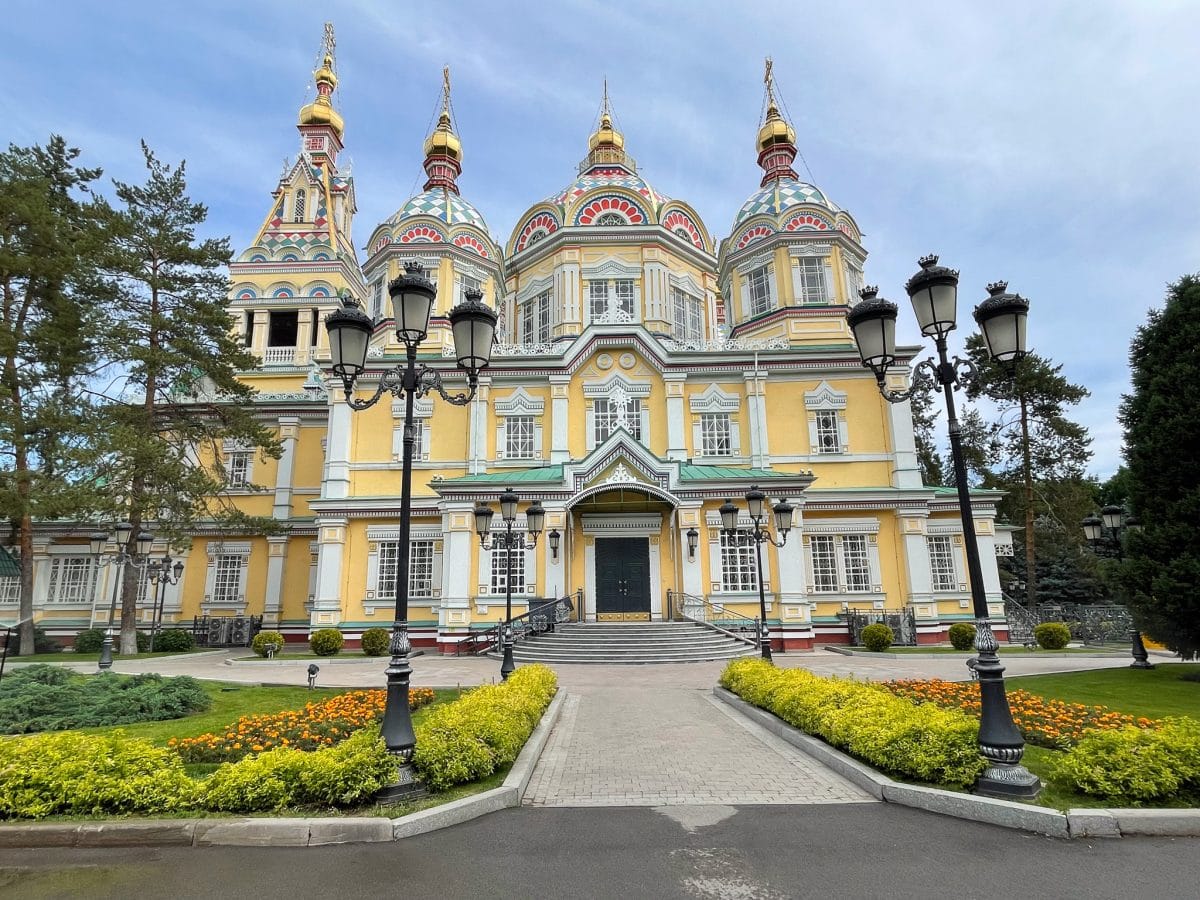 I visited Kazakhstan for a week, primarily staying in its largest city – and former capital – Almaty. You won't run out of things to do in Almaty!
I was a guest on a recent Travel Planner Radio Show talking about my time in Almaty. Take a listen to the show (in two parts due to a live commercial break that has been removed for this recording).
You can listen to the Travel Planners Radio Show on their flagship station, WCGO in Chicago (1590 AM/ 95.9 FM) as well as some affiliate stations. Here's a quick info sheet about travel to Kazakhstan.
Currency: The currency is Kazakhstan is the tenge and has been used since 1993 when it replaced the Russian ruble. Current exchange rate values 10 tenges at approximately two cents. This valuation means prices look very, very high, but they aren't. Kazakhstan is a very affordable country and that 10,000 price tag is only a little under $23. ATMs are abundant. I drew out local currency at an ATM at a shopping mall across the street from our hotel. The exchange rate was favorable, the transaction had an English translation, and their was no local fee. Although I didn't use one, credit cards seemed widely accepted at major shops and restaurants, less so at local stalls.
Electricity: Kazakhstan uses Type C and Type F plug-ins, so you'll need an adaptor. Type C has two round prongs, and is most likely the adaptor you've used when traveling in Europe. Type F has the same two round pins, but has earth clips on the side. standard voltage is 220V, and the frequency is 50Hz. Power outlets typically accept Type C and Type F plugs. Travelers from the United States may need a power adapter.
Time Zone: There are two time zones in Kazakhstan, UTC+5 and UTC+6. (UTC is universal time coordinated.). Almaty is in the UTC+6 zone. That means when it's 5 pm here in Seattle, it's 6 am in Almaty. Kazakhstan does not observe daylight savings time, so you will need to make allowances as the U.S. bounces back and forth.
Safety: Let's address the elephant in the room – Russia and its invasion of Ukraine. It's easy to get wrapped up in panic and ignore facts. While Kazakhstan shares a border with Russia, there is no military activity going on in the country. In fact, the US State Department has listed Kazakhstan at Level 1: Exercise Normal Precautions. You can check here for information when you plan to travel. The US Embassy is located in Astana, the capital city. And, as always, exercise standard precautions: be aware of your surroundings, secure your belongings, avoid poorly lit or isolated areas at night, and follow local advice regarding any specific safety concerns.
Religion: Islam is the predominant religion in Kazakhstan, with a majority of the population identifying as Sunni Muslims. However, the country is known for its religious tolerance, and various religions coexist peacefully.
Language: Kazakh and Russian are the official languages. English will likely be understood at tourist hotels and in the major cities, but a few basic Kazakh or Russian phrases will be helpful. Rakhmet means thank you in Kazakh, so you'll have one key phrase ready to go.
Where to Stay: In Almaty, we stayed at the Hotel Grand Mildom which was close to downtown and walkable to many of thing things on this list. Rooms were large, wifi was strong (important since I had to work while on the road), and breakfast was included. Staff were helpful and accommodating. Learn more about our hotel and pricing here.
Find a convenient hotel and check out the prices here.
Getting Around: Major cities like Almaty (and also Nur-Sultan) have well-developed public transportation systems, including buses and metro services. Taxis are widely available, your hotel can help you with making arrangements. It's helpful to carry a card from your hotel or the information where you want to go written in Russian and/or Kazakh. Taxis used a meter and were very affordable.
Medical Information: Major cities have well-equipped medical facilities. It's always advisable to have comprehensive travel insurance to cover medical expenses. Make sure routine vaccinations are up to date; a current tetanus shot is always recommended. Stick to bottled to avoid waterborne illnesses. If traveling to high-altitude regions, be aware of potential altitude sickness and acclimate gradually. I have suffered from altitude sickness in previous travels, but other than feeling a little tired in the mountains (which could have been from our busy schedule as well as the altitude), I had no issues. If you have outdoor activities planned, make sure to have sunscreen and bug repellant (ticks and other insects can be a problem in the mountains and rural areas).
Visitor Requirements: No tourist visa is required for U.S. citizens. Citizens from other countries may require one. Check with your local government entities for further information about a Kazakhstan visa r other entry requirements. Your passport must be valid for at least six months before your planned departure date.
Airport Information: The two main international airports are Nursultan Nazarbayev International Airport (NQZ) in Nur-Sultan and Almaty International Airport (ALA) in Almaty.
Climate: Kazakhstan experiences a diverse climate. Summers can be hot, especially in the south, while winters are cold, especially in the northern regions
Emergency Numbers: It's always helpful to keep these handy. Emergency Services: 112; Local Police: 102; Medical Emergency: 103. Hopefully, you'll never need these.
Public Holidays: During public holidays and special observances, some businesses and public offices may be closed or operate on reduced hours. Plan accordingly, and if you're fortunate, perhaps you can participate in a local celebrations to experience the rich cultural diversity and warm hospitality of the Kazakh people.
New Year's Day (January 1): Celebrated with festive events and fireworks across the country.
International Women's Day (March 8): A day honoring women, marked by flowers and gifts.
Nauryz Meyrami (March 21-23): The Kazakh New Year and a public holiday celebrated with various cultural events and traditional games.
Kazakhstan People's Unity Day (May 1): Commemorates the unity of Kazakhstan's diverse ethnic groups.
Victory Day (May 9): Honoring the victory over Nazi Germany, marked by parades and ceremonies.
Capital City Day (July 6): Celebrated in Nur-Sultan (formerly Astana) with events and festivities.
Constitution Day (August 30): Marks the adoption of the country's constitution.
Independence Day (December 16): Commemorates the independence of Kazakhstan from the Soviet Union, celebrated with cultural events and concerts.
Religious Holidays:
Kurban Ait (Eid al-Adha): Celebrated by Muslims, it commemorates the willingness of Ibrahim (Abraham) to sacrifice his son.
Oraza Ait (Eid al-Fitr): Marks the end of Ramadan, a month of fasting, and is celebrated with feasts and prayers.
Orthodox Christmas (January 7): Celebrated by the Russian Orthodox Christian community.
Cultural Observances:
Astana Day (July 6): Celebrated in Nur-Sultan with cultural events, concerts, and fireworks.
Almaty City Day (December 10): Celebrations in Almaty featuring cultural activities, parades, and concerts.
Official website: Kazakhstan's official tourism website is here.
Disclosure: I visited Kazakhstan as part of an organized group trip for the Digital Publishers Council of SATW (Society of American Travel Writers). Our group trip was sponsored by Kazakhstan Tourism, USAID, and their partners. All sponsors understand and respect the integrity of independent storytelling and reporting and have not exerted influence about coverage. The content of my interview and this post reflect my experiences and opinions, and are not necessarily the views of Kazakhstan Tourism, USAID, or the US Government.
For Pinterest: Pin to your favorite Pinterest travel boards