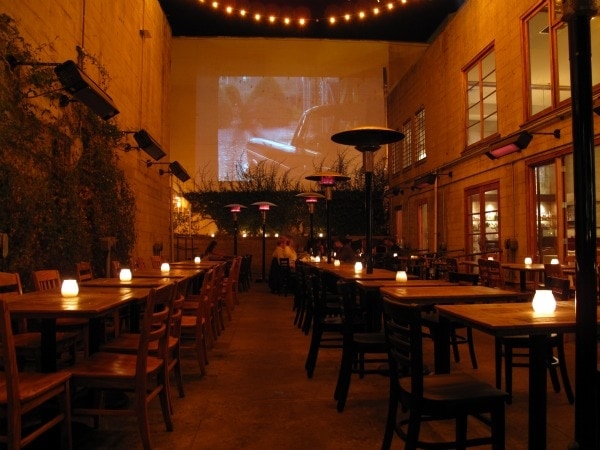 Long the classic date, dinner and a movie usually requires delicate timing.  And early dinner and a late movie?  Or an early movie and a late dinner?  With both choices fraught with potential for timing disasters and arguments, why not do both at the same time — at San Francisco's Foreign Cinema.
Movies, which start at dusk, are screened in the covered outdoor courtyard.  Seating is available in the courtyard, inside by the fire, and upstairs in the semi-private mezzanine that overlooks the dining room.  In addition to the dining room, cocktails and a complete menu are served in the main bar and on the patio.  The menu and wine list, which changes daily, are heavy on California-Mediterranean cuisine, and features a good selection of plates suitable for sharing.
If you're not ready to call it a night after dinner and a movie, step next to the Laszlo.  With its warehouse, industrial chic design, and an outstanding line up of DJ's, it's a great way to extend your date until the wee hours (open until 2 am nightly).
Location:  2534 Mission, between 21st and 22nd, in the heart of the Mission District.
Hours:  Dinner is served Monday – Thursday 6 – 10 pm, Friday & Saturday 5:30 – 11 pm, and Sunday 5:30 – 10 pm.  Brunch is served on Saturday 11 am – 3 pm, and on Sunday 11 am – 3:30 pm.
Reservations:  Strongly suggested.  Make reservations online through Open Table.
Parking:  Valet parking available for $10.
Movie:  The Saddest Music in the World, a 2003 Canadian film starring Isabella Rossellini is playing through November 28th, 2010.  Future films are listed on the website.
Photo credit:  Adam Jackson via flickr