Our last visit to Walla Walla was focused specifically on wine tasting. We opted to stay in downtown Walla Walla, get around on foot, and focused on discovering smaller wineries that may get overlooked among the big players in the Walla Walla Valley wine region.
Decor was eclectic, with movies playing in the background, and there was a heavy metal vibe. Occasionally live music is offered. There are indoor and outdoor seating areas; we opted to be outside as it was a warm afternoon.
Discovering Time & Direction Wines was a serendipitous happening. We're so glad it was.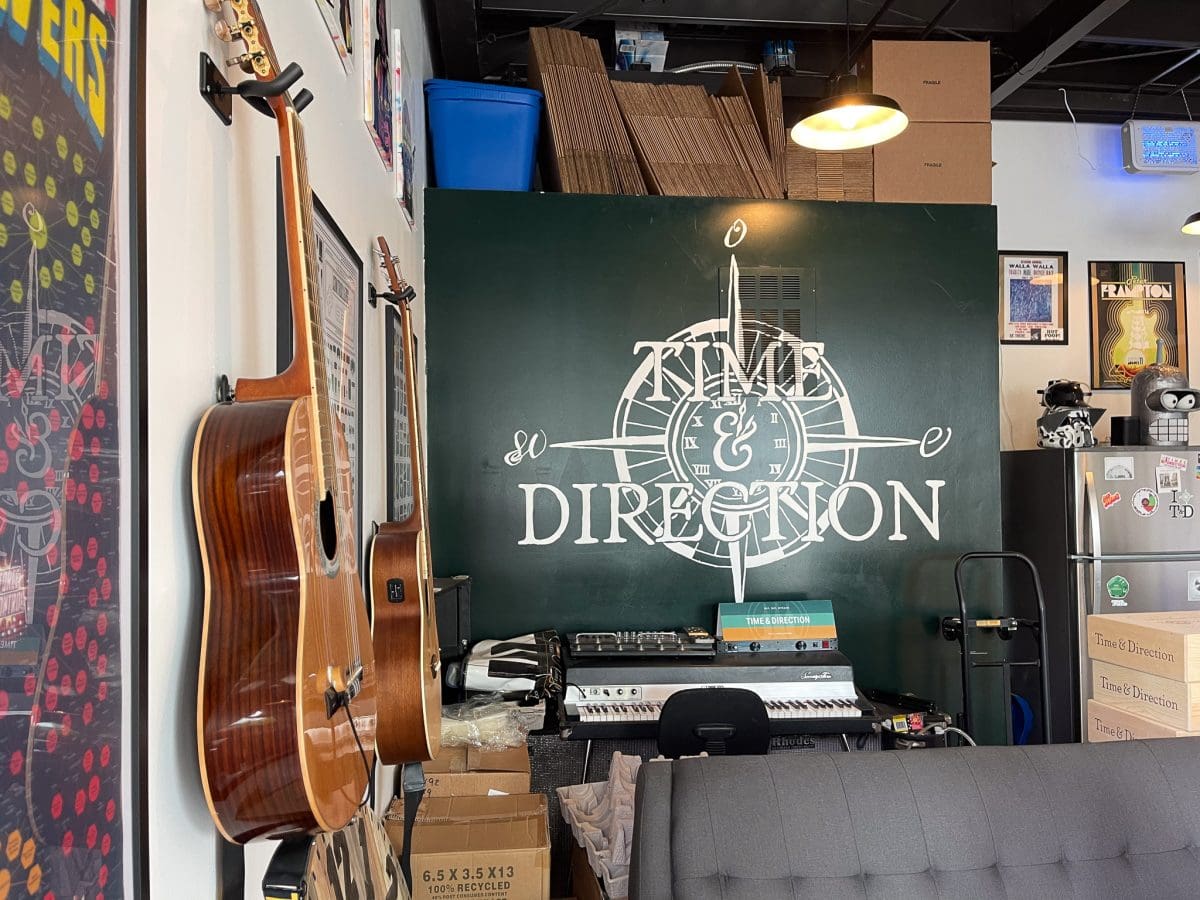 The History Behind Time & Direction Wines
The Time and Direction Wines story began with a dream and a 3,000-mile move.
Owner and winemaker Steve Wells began his wine journey in the New York City, working at a restaurant and waiting tables. After a brief introduction to wine while he was at college, the process of wine tasting and developing one's palate was a somewhat intimidating process for Wells.
After working his way up the restaurant hierarchy, though, he eventually ended up heading the beverage program where he was encouraged to join the Court of Master Sommeliers program. Wells then became qualified as a sommelier and took on various positions in restaurants that put his wine qualifications to the use.
It was later on at the Mermaid Oyster Bar that Wells heard about the Center for Enology and Viticulture at Walla Walla Community College. After minimal research and lots of convincing to do with his wife, the couple decided to take a leap of faith and left the Big Apple for and moved to rural Walla Walla. After moving to Walla Walla, plans changed slightly. Instead of studying wine, Wells was given the opportunity to work with wine at Gramercy Cellars.
After two years at Gramercy working in the tasting room and cellar, Wells enrolled in the Walla Walla Community College (WWCC) winemaking program and began working for winemaker Aryn Morell at M&L Production. Fast forward a couple years, and Wells was lining up fruit and barrels to make his very own wines thanks to a program at M&L that allowed employees to make their own wine at the facility.
The Story of the Time & Direction Logo
Once the fruit, barrels, and ultimately, wine, were in place it was time for a name and a logo. Although you'd think that this was the easy part, it took Wells almost three years to come up with the name and the logo. There were a few prerequisites that Wells had in place for the name – it had to be easy to pronounce, look good and read well on a wine list, and it needed to have meaning.
One day it all fell into place – Wells simply looked down at the tattoos on his arms and the puzzle was complete. He has tattoos of both a compass and a clock, both having significance and meaning to his family. ,The two gave rise to a somewhat symbolic name – the clock stands for time and the compass stands for direction – both item essential to any journey in life. Time & Direction Wines was born.
The Wines
Wells cut his teeth at M&L where they specialized in producing 60 different wines for six different clients. It was this practical experience that he took into his own brand and has allowed him to produce an extensive range of wines himself.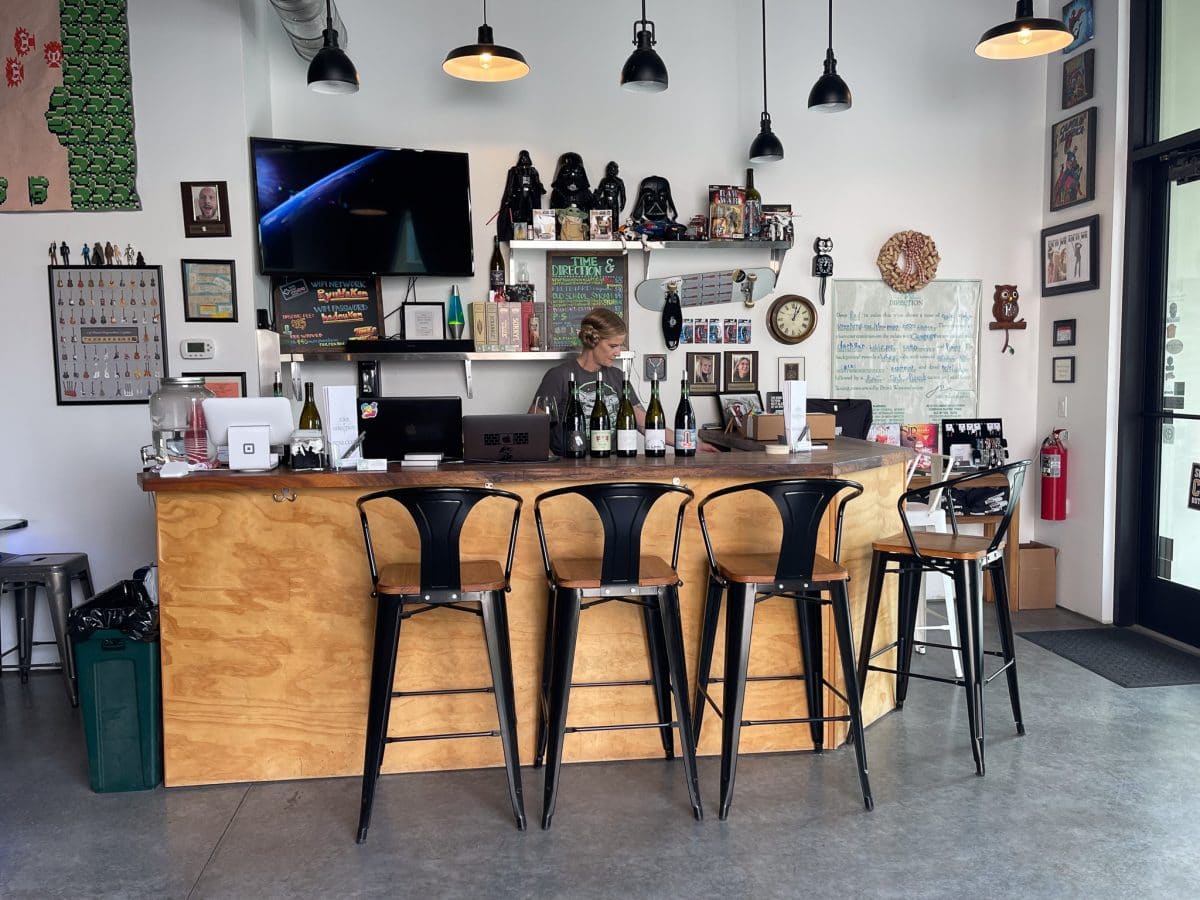 The range is spread over white, red, and a rosé with the focus being on reds – 2 white wine, 7 red wines, and a rosé.
Wine Tasting at Time & Direction Wines
We were intrigued by the naming conventions of the wines and that they didn't have tasting notes (a deliberate winemaker choice, but one that I found slightly frustrating).
What We Tasted
Note that the winemaker has chosen not to provide tasting notes.
Chico's Rose
100% grenache syrah.
Our thoughts: We wanted to like this more than we did. Despite being a warm afternoon, our prime rose drinking conditions, nothing really jumped out at us. $25 bottle; $10 glass.
2022 Fretboard Viognier
100 viognier from the Royal Slope, aged in stainless steel.
Our thoughts: Citrus aromas, with just a hint of sweet honey. Bright and tart, Pleasant, and I do enjoy viognier, but not something that we wanted to take home. $30 bottle, $10 glass.
2019 Old School Syrah
Fruit from the Old Scohol Solaksen Vineyard Syrah from the Royal Slope tempered with 5% viognier. Here's a good overview to learn more about the Washington State AVAs.
Our thoughts: Aromas of blackberry with a trace of orange, almost like a winter muddled wine. Big juicy black fruit flavors with smooth finish. As the name suggests, a syrah made in the old school style. We loved this one and took three bottles home for our cellar. Although it was a little heavy for a warm afternoon of tasting, it will get pulled into rotation when when dining on the deck moves back inside. $40 bottle. $15 glass.
2021 Space Pants
100% Mourvedre from Thunderstone Vineyard, Royal Slope. The name comes from a silly pick up line, "you're ass is out of this world."
Our thoughts: Peppery on the nose, with a linger hint of something herbal. Light in flavor. This was part of the 2023 Spring release and probably needs more time in the bottle for a more fair tasting. $40 bottle.
2020 Binary Syrah
The official wine label says this is called 01110011 01111001 01110010 01100001 01101000. Since no one is going to remember or say that, it's typically referred to as Binary.; This is another 100% representative, this type with grapes from Eritage Vineyard.
Our thoughts: Aromas of blackberries and flowers, Light in flavor, probably needs cellaring to develop. $35 bottle, $13 glass.
2020 Diamond Cutter Red Blend
A Rhone-style red blend comprised of 60% Syrah, 21% Grenache, and 19% Mourvedre.
Our thoughts: Aromas of black raspberry with a hint of eucalyptus. Soft on the palate, with black pepper on the finish. Liked it (a lot), but didn't love it. We may want to taste again on a follow up visit. $35 bottle. $13 glass.
2020 P & S Reserve Syrah
This reserve syrah is made from the best barrel from the Eritage Vineyard. 100% syrah. The names comes from a dedication to Steve's brother, the initials representing Peter and Steve).
Our thoughts: We must have been in a syrah kind of mood, because this one was another hit with us. We bought three bottle for the home cellars, mostly because we loved the Old School Syrah. Medium body and tasty, can't wait to see how this develops. $65 bottle. $18 glass.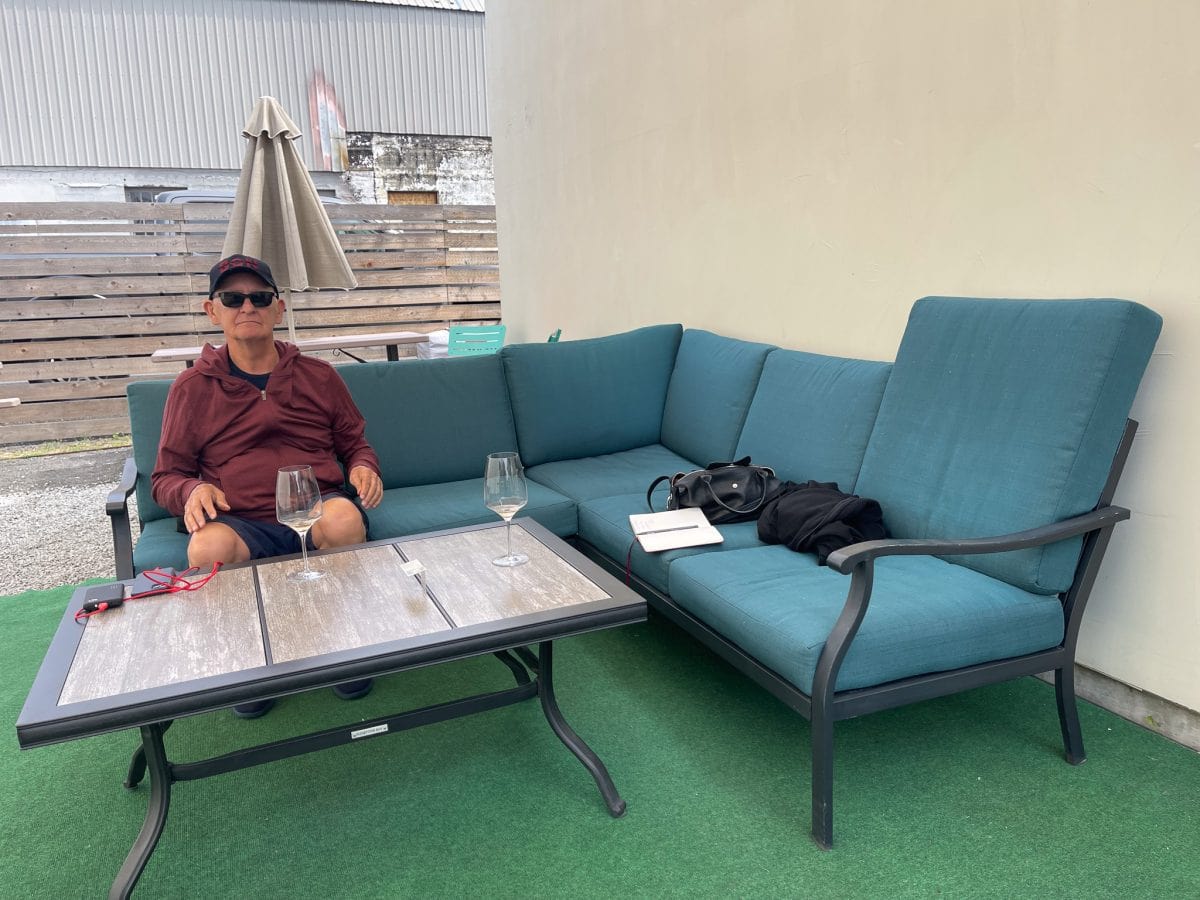 Need to Know
Location: 4 N. Spokane Street, Walla Walla, Washington
Website: here
Hours: Sunday – Thursday, 1 am-6 pm, and Friday – Saturday, till 7 pm.
Reservations: Always a good idea, but not required. We walked in the day of our tasting (mid-week).
Special Policies: Tasting fee of $10, waived with purchase. The tasting lasts roughly an hour and will take guests through the current list of wines, subject to availability.
Wine Club: Four wine club options are available, ranging from 3-12 bottles per shipment. wine club order shipments are twice each year.
Drink responsibly. Limit your tastes, select a designated driver, or take a cab or ride service when doing wine tasting.
We're not wine experts, we just have a love of wine. We enjoy tasting, learning about, and buying wines for our home cellar. We learn something new every time we visit a winery or tasting room, and we're interested in visiting different wineries here at home (join us a we search for Washington's best wines) as well as when we travel.
In other words, we're probably just like you. Cheers!