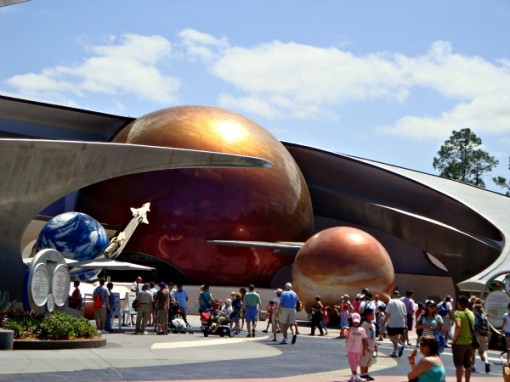 Anytime is a great time to visit Walt Disney World Resort in Orlando.  Trips in the fall offer foodies not only fabulous weather, but a feeding frenzy at Epcot's International Food & Wine Festival.  Winter visits provide even more excitement with the park beautifully decorated for the holidays and a chance to maneuver the theme parks with reduced crowds.  Would-be gardeners and spring vacationers can view the magnificent floral displays of the annual Flower & Garden Festival.
But with children out of school, summer visits are by far the busiest time of year at Disney World. As the crowds increase, so does the need for a little extra planning.  So if you're a first time guests, or perhaps haven't visited recently, all those oft used Disney terms can be a bit overwhelming.  With a bit of a review, however, words like Park Hopper, FASTPASS, and Extra Magic Hours will be rolling off your tongue and once you know these terms, even first timers will be traversing the theme parks like a pro.
Extra Magic Hours
A perk reserved for guests staying at a Walt Disney Resort property, Extra Magic Hours are additional hours guests are allowed to stay within the Disney theme park.  Extra Hours are offered at select theme parks daily throughout the week and are prior to the opening or after official closing time.  While not all attractions are open during extra magic hours, many of the most popular attractions are, making this a great way to avoid the crowds.  If you are not a resort guest, you may want to avoid the park offering the extra hours as they tend to be more crowded.
Disney Park Hopper
There are two varieties of tickets to the Walt Disney World Theme Parks – Magic Your Way, (basic ticket) and Park Hopper.  The basic, Magic Your Way ticket allows guests admission to only one theme park, while the Park Hopper allows the ticket holder to visit several theme parks on the same day, "hopping" from park to park.   The extra convenience for guests being able to visit multiple parks comes at a price, though, as Park Hopper tickets are more expensive.
Before purchasing your tickets, sit down and ask yourself what you truly want to experience.  While everyone wants to see it all, the truth is, it is impossible to see and do everything.  If you're visiting for only a few days, you may want to see multiple parks and the Park Hopper could the best option.  If you are traveling with children or on an extended stay, it might be a more enjoyable experience to visited one park and see as many attractions as possible in a more relaxing way.
Disney FASTPASS
No matter the length of your stay or style of ticket, the FASTPASS will be the key to your happiness.  A FASTPASS is a ticket issued at some of the more popular attractions, allowing guests to return to the ride at a designated time.  Provided at no additional cost, a FASTPASS is a way for guests to avoid long main admission line and go directly to a FASTPASS line with a shorter wait time for the attraction.  Attractions offering the FASTPASS option are marked with an FP icon on the theme park map.
Generally located off to the side of the main entrance of the attraction, guests will find the kiosk issuing passes as well as a clock stating the return time.  Guests must insert their theme park ticket, as only one FASTPASS can be issued for each park ticket at any given time.  Once the pass has been used or the designated time has expired, additional FASTPASS vouchers can be issued.
A few tips for the most effective FASTPASS use:
The number of vouchers issued each day are limited, therefore it is not uncommon for the FASTPASS option to be depleted, especially on crowded days.  If a specific attraction is a must for your family, arrive early and visit that attraction as soon as possible.
Sending a speedy member of your party to race ahead to retrieve the vouchers is always a good idea, but make sure they have the theme park tickets for all the members of your party that wish to ride.
Most importantly, do not forget to collect your theme park tickets from the kiosk after receiving your passes!
Rider Swap/Switch
Guests traveling with small children will want to take advantage of this option that eliminates the need to wait in line twice for a single attraction.   If the attraction has restrictions (usually height or age) or is not suitable for the guest child, one parent may ride while the other waits at the exit.  When the ride is complete, the riding parent hands the Rider Swap ticket to the waiting parent for their turn on the ride.  This option may not be designated on the theme park map, so be sure to ask a Disney employee or Cast Member as they are called.
Single Rider
This in no way refers to a guest's marital status – a single rider is a solo rider on an attraction.  Solo riders enjoy a greatly reduced wait time for a specific attraction by waiting in a designated line until a spot for one person becomes available.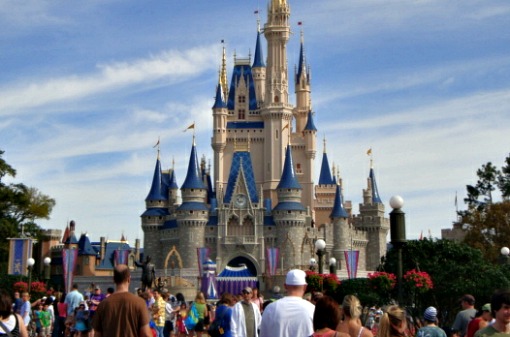 PhotoPass
Throughout the Disney theme parks, professional photographers are there to capture your magical memories.  After the first photo, the photographer will hand you a card or PhotoPass.  As you visit other areas of Disney World, the photographers will continue to add photos onto this card.  While still on vacation or once you return home, you may review and purchase any of the photos.
Even if you have your own camera, allow the photographers to capture magical moments of your day at the Magic Kingdom theme park.  A nightly show, The Magic, The Memories and You, projects onto Cinderella's Castle over 500 of the photographs taken in the park that day.  Imagine the thrill of seeing your face on this iconic image.
Keeping these special Disney terms in mind will help you make the most of your visit to the Happiest Place on Earth.
Photo credit:  Courtesy of Jenni Ingersoll; all rights reserved