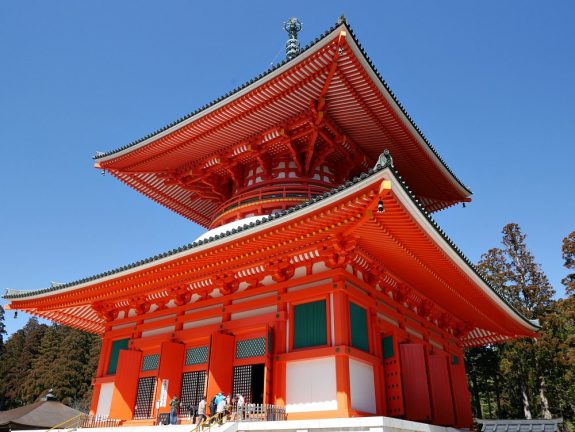 Nara, located in the Kansai region of Japan, was formerly known as Heijo and in 710 was established as Japan's first permanent capital. The capital was moved in 784, in large part due to the growing power and ambition of the many Buddhist monasteries located there. The historical treasures of the area remain, however, including some of the oldest and largest temples in Japan.
Like most other cities in Japan, there is folklore around the name of Nara. A variety of theories exist, but the most widely accepted one says that the name came from words and phrases that meant "flat land" or "gentle slope" which described the area's topography.
Today Nara is the capital city of Nara Prefecture and is an active center of both government and commerce. Like Awaji, It makes an easy getaway destination from Kyoto and Osaka, both about an hour away.
Things to Do
Visit a UNESCO site – Nara prefecture is home to three UNESCO World Heritage Sites, covering multiple locations and sites.
The Buddhist Monuments in the Horyu-ji Area include a variety of buildings and the surrounding landscape. The structures are some of the oldest surviving wooden buildings in the world and date back to the 7th and 8th centuries. The site consists of over 48 buildings, including monasteries and a pagoda, and are reflective of an important age of Buddhist influence in Japan.
Historic Monuments of Ancient Nara covers eight sites in Nara: five Buddhist temples, one Shinto shrine, Nara palace, and the Kasugayama Primeval Forest (which overlaps a bit with Nara Park, more on that later). These sites include 26 buildings and 53 cultural properties, all recognized as historical sites.
Sacred Sites and Pilgrimage Routes in the Kii Mountain Range. Multiple locations and paths are included in the UNESCO site, chosen for their Shinto and Buddhist beliefs and 1,200 years of tradition. Exploring this site will include not only temples and shrines, but also streams, rivers, and waterfalls. A total of 242 elements were selected from the pilgrimage route for inclusion.
Visit Heijo Palace – This was the Imperial Palace during the time Nara was a capital city and was home to the Emperor. It fell into ruin, but in the 1970s excavation began to find the remains, eventually leading the way to a full reconstruction (completed in 2010).
The palace is part of the Historic Monuments of Ancient Nara, and is worth a visit even if you can't make it to the other monuments. The often photographed Suzako Gate is the main entrance to the palace.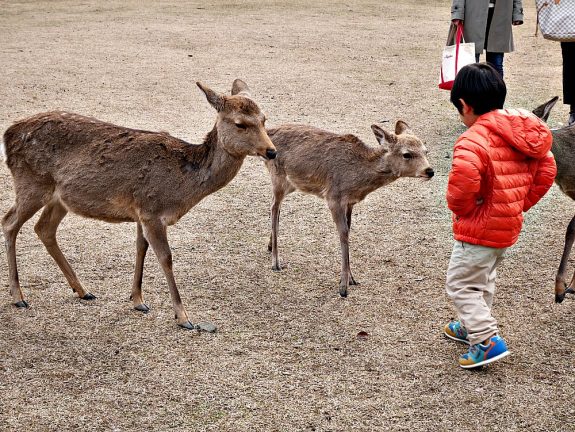 See the deer in Nara Park – Home to around 1,200 sika deer, this needs to be on your must-visit list. These are wild deer, freely roaming, and are considered by many to be sacred messengers of the gods (although they were stripped of sacred status after World War II). They are still considered national treasures, though, and are protected.
You'll find the deer strolling around the park, walking around the temples, and crossing the street. There are no fences and they have the right of way. You can buy crackers to feed them, making you the most popular person in the park. At least to the hungry ones. Watch your pockets as they're often interested in seeing what you have in them, and remember that while they look cute and sweet, those horns and feet can harm the unsuspecting visitor.
Learn about art – The Nara National Museum is also located in the Park and primarily displays Japanese Buddhist art. The museum has two wings to display the permanent collection (statues, paintings, scrolls, and ceremonial objects) and temporary exhibits. English translations appear throughout the museum.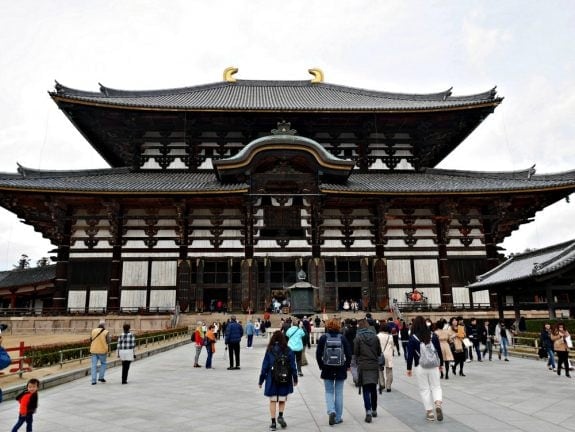 Go to a temple or shrine – Todaji is the temple most people think of as it is the largest wooden building in the world as is home to a 50 foot tall bronze Buddha. Kofukoji Temple and Kasuga Shrine are also located in or around Nara Park. You'll find the deer wandering over to the temples, so you might as well, too.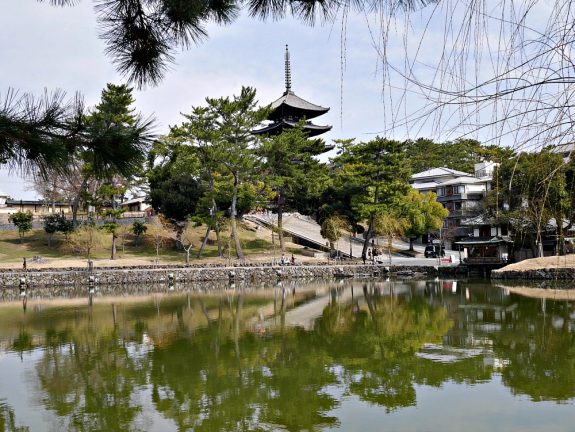 Walk around Sagaike Pond – Also located in Nara Park, this is a pleasant walk that will take you past gardens, shops, and restaurants. The plum trees were in blossom when I was there, and the gardens were just beginning to get their bloom on. While I saw deer in the gardens, I didn't see them over as far as the pond. This area would be stunning when the cherry blossoms are in bloom.
Do some shopping on Higashimuki Street – It's easy to dismiss the shopping as only tourist fare – and yes, the deer themed souvenirs are cute – but look beyond the first block or two and you'll find more local goods and fewer knick-knacks. Learn about and practice omiyage.
Take a sushi class – Classes are offered by several schools or at some of the hotels, and you can learn to make your own. It's harder than it looks.
Get help at the Visitor Center – For more information about enjoying your stay in Nara, stop by the visitor center located on the edge of Sarusawa Pond. You can take a few minutes to relax while getting advice and recommendations on the best way to enjoy the city.
Where to Stay
Hotel Nikko Nara – This is where I stayed and the location is great. Located in central part of the city, adjacent to a Japan Rail station, this hotel is well situated for exploring Nara as well as taking day trips around the area. Both Nara Park and the rest of the city is accessible by the yellow bus (which leaves from the train station). You can read my review for further details about the hotel here. Rates start around $130/night. You can find booking information here.
Hotel Sunroute Nara – A short cab ride away from the train station, this is a classic business-style hotel. Like many hotels in the area, it's in need of an update, but its central location (close to all of the major shrines and temples, and within walking distance to many) make it a popular choice. Rates start around $120/night. You can find booking information here.
Hotel Nara – The top luxury hotel in Nara, this hotel has hosted royalty and celebrities. Take a look at the photos along the walls and see if there is anyone you recognize. The restaurant offers a great western prix fixe menu, which was a big hit with me after local a week of local cuisine. Try to book a room in the newer wing of the hotel for the best rooms. Rates start around $160/night. You can find booking information here.
There are also a number of guesthouses to stay in, and although they require a bit more time researching, they can be both a budget-friendly and culturally rich experience. They range from a couple of rooms in a modest home to the size of a small hotel, with amenities and prices varying.
Another option is looking for monastery, temple, or shrine stays. Guests are required to follow "house" rules which may include a curfew and noise restrictions, and accommodations may be more spartan than opulent, but the experience is a rich one for many visitors.
What to Eat and Drink
Sake – The fermenting process of sake is akin to beer, but sake is actually a rice wine. You can find breweries offering tours and tasting (Harushika Brewery, for example), giving you a chance to develop your palate profile.
Beef – Given its proximity to Kobe, beef is a popular menu item. You'll see it incorporated into traditional Japanese dishes and there are also western-style steakhouses that rival any at home.
Sushi – Not surprisingly, you'll find some variation on sushi at nearly every restaurant you visit. Whether it's a typical roll or a more complicated concoction, this is heaven for sushi lovers. You can take a class to learn how to make it and then eat your results (try the classes at JR Nara Umemori Sushi School).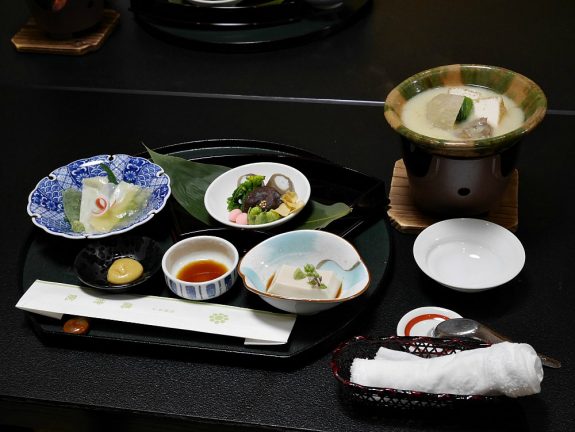 Sashimi – I didn't know the difference between sushi and sashimi before my visit to Japan, and I'll chalk that up to neither being my favorite menu items. But there is no denying that sashimi, slices of raw fish, is an art form in Nara. It appears on many menus, often as an appetizer.
Small dishes – These small bits were served with many of my meals in Nara, especially the traditional multi-course Japanese lunches and dinners. They were little bits of pickles, vegetables (sometimes pickled), or coleslaw type dish. Most often, they were things that I couldn't identify. All were tasty, though, and perfectly sized for a bite or two.
Getting to Nara
Most people visiting Nara will fly into Osaka's Kansai Airport (KIX). Train service from Osaka to Nara is available via Japan Railways (JR) to the JR Nara Station.
Nara is accessible by train from Kyoto, with Japan Railways (JR) high-speed trains service to the JR Nara station (near the Hotel Nikko Nara) every half hour. The trip takes under an hour. Local trains are also available for about the same price but take closer to an hour and a half. Kintetsu Railways offers a limited express train to the Kintetsu Nara Station near Nara Park.
For getting around once you're in Nara, the Nara Bus Pass is convenient and value priced. For about $5 (based on current pricing and currency exchange rates), you get unlimited use of bus service covering central Nara. Additional options are available for multi-day passes as well as covering a broader area of the city. Passes can be purchased at the bus ticket offices located at the JR Nara and Kintetsu train stations.
Save this to your favorite Pinterest board and start planning your getaway to Nara, Japan.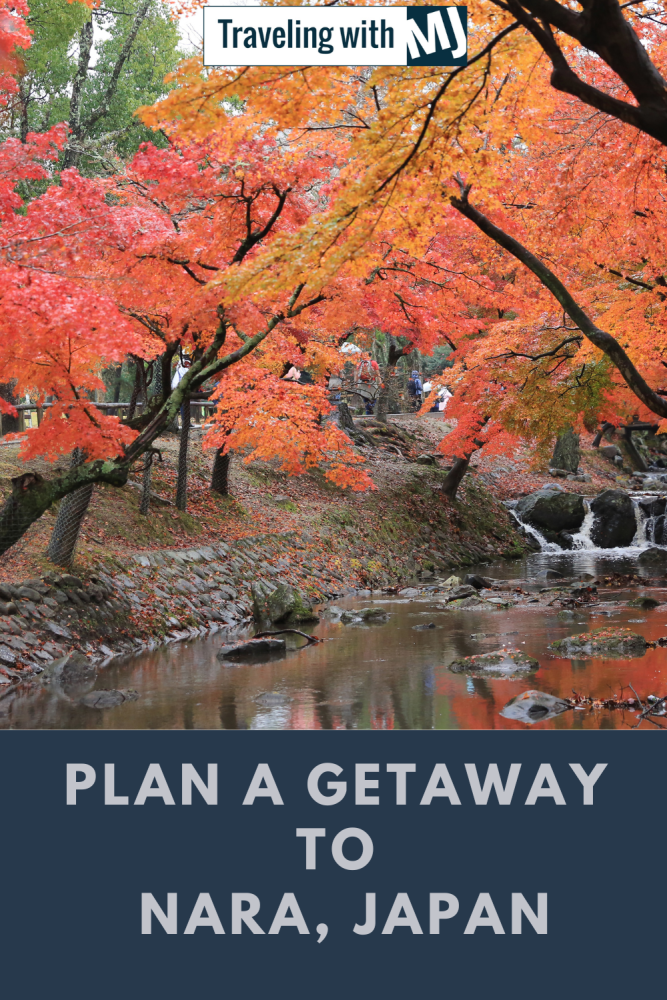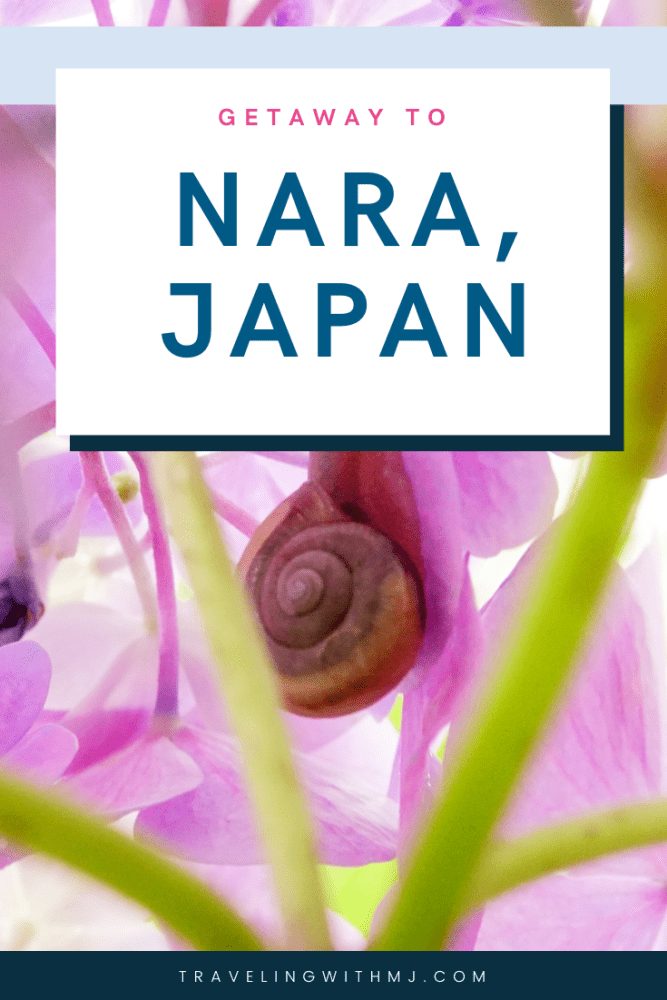 Disclosure: My visit to Nara was part of a sponsored press trip.