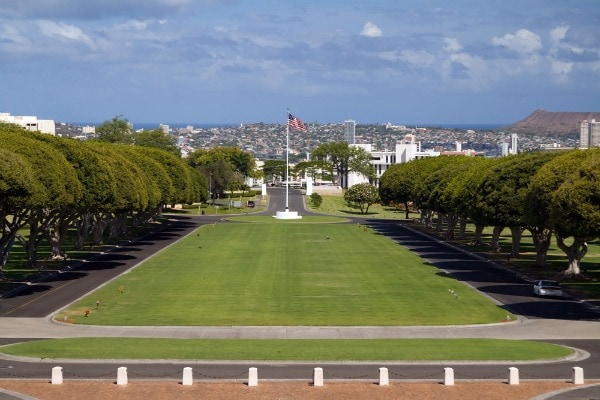 Overlooking the city of Honolulu is the extinct volcano Punchbowl Crater, home to the National Memorial Cemetery of the Pacific, frequently referred to as Punchbowl Cemetery, or simply the Punchbowl.
In addition to its tremendous views of the city, Waikiki, Diamond Head, and Pearl Harbor, the Punchbowl is the final resting place for veterans of World War I, World War II, the Korean War, and the Vietnam War.  During holidays, the individual graves are decorated with small flags, making it a quite sobering view.
Marble slabs called the Courts of the Missing list the names of military personnel who are missing in action or who were lost or buried at sea (in photo above). At the base of the staircase leading up to the Courts of the Missing reads the following inscription:
In these gardens are recorded

the names of Americans

who gave their lives

in the service of their country

and whose earthly resting place

is known only to God
The Punchbowl was placed on the National Register of Historic Places in 1976.
It's very tempting to think of Oahu as an island of sun, sand and surf.  All that is true, of course, but there is another side to Hawaii, a side full of history, culture, and reverence.  That's the experience you gain with a visit to the Punchbowl.
If you're in Honolulu, take time to honor our veterans with a visit to the Punchbowl.
Location:  The Punchbowl is located at 2177 Puowaina Drive, Honolulu.
Hours:  Open daily.  Visiting hours are 8 am – 5:30 pm, September 30th – March 1st, and until 6:30 pm, March 2nd – September 29th.  On Memorial Day, visiting hours are 7 am – 7 pm.
Admission:  There is no charge to visit.
The Punchbowl is accessible by car, and a number of tour companies make it a scheduled stop on their itineraries.  I much prefer the solitude of a personal visit, rather than visiting with a gaggle of others, who are sometimes unappreciative of the reverence that should be demonstrated while visiting.  There is an e-tour available for those unable to visit in person.
Photo credit:  Courtesy of Shutterstock