Earlier this month, while I was in Las  Vegas for Blog World & New Media Expo, I had the pleasure of staying at the ARIA Hotel at City Center.
Over the years, I've spent more than my fair share of time in Las Vegas.  It's a haven for conference, convention, and trade shows, and at only a couple hours out of Seattle, it's a popular choice for a quick getaway weekend.  I'm not jaded at everything that the city has to offer, it's just that I've seen most of it and so it takes a lot to impress me.
But impress it did!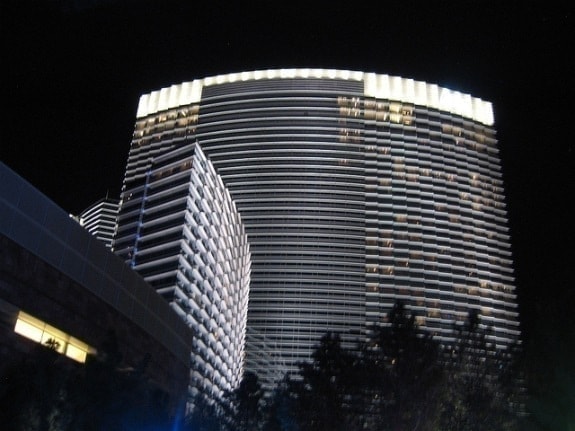 Like most hotel properties on the strip, ARIA is best reached from the airport via cab.  The fare from the airport to the hotel will run about $15-16, including tip and the required airport add-on fee.  The Las Vegas Strip is full of impressive architecture (or garish, depending upon your point of view), but once you drive up the ARIA entrance way you'll quickly forget that you're even on the Strip.   The City Center complex features three hotels, ARIA, Vdarra, and the Mandarin Oriental, and includes residential condos along with upscale shopping and dining.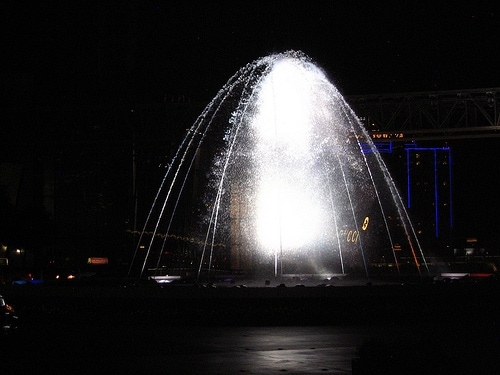 With a fountain in the middle of the circular drive, varying in its dancing display, along with a wall of water on the side of the entry way, walking into the lobby felt more like walking into a resort than a casino.
The lobby was bright and airy, as opposed to so many dark and dingy casino hotel lobbies.  Sure, it's still new and all that (under a year old), but even walking across a portion of the casino floor to get to the hotel elevator bank, was a surprise.  At first, I couldn't put my finger on it.  I looked about and saw plenty of slot machines, restaurants, people, and a shop or two.  But what I didn't see, or smell, was smoke.  This might not seem like a big deal to a lot of people, but as an allergy sufferer, this first walk through the casino is the beginning of suffering for my stay.
Why no smoke?  If I was an engineer I could tell you in copious detail all the reasons, but really, all that matters is that it's a system that draws the air out from both the top and bottom of the room.  And it works!  This fact alone is enough to convince me to make ARIA my choice of hotels in Las Vegas, but ARIA is also a LEED Certified Gold Hotel, meeting additional high levels of eco-standards.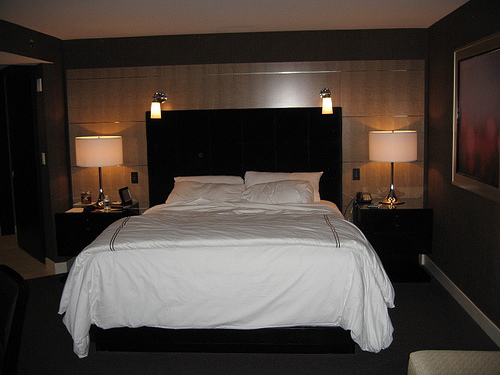 My room was of the standard variety and located on the 24th floor (there are 61 floors).  The rooms boast state of the art technology, from the flat panel television on the wall to the control console that operated everything in the room.  Want a little mood lighting?  Set it from the console.  Want to read in bed?  Set it from the console.  Turn on and off the television, adjust the room temperature, set the music in the room, open and close the drapes?  Yep, all handled from the control console.  It served as an alarm clock, too, and the television remote was able to provide many of the same functions.  It took some time to figure everything out, and I hit the wrong button a time or two, but it's pretty handy to be able to control everything from one spot.
The room was spacious and well laid out, with a king size bed, desk and work space, and sitting area.  It overlooked City Center, although hard to enjoy the view with filthy windows (a common complaint I have with hotels), and with both privacy and room darkening drapes, I was able to choose the mood that suited me.  The bathroom was equally spacious, offering double sinks and plenty of counter space for two people to get ready at the same time.  The toilet was situated in a separate doored area, and the shower/sunken tub is in the same enclosed area, a layout I had never seen before but seemed to work just fine.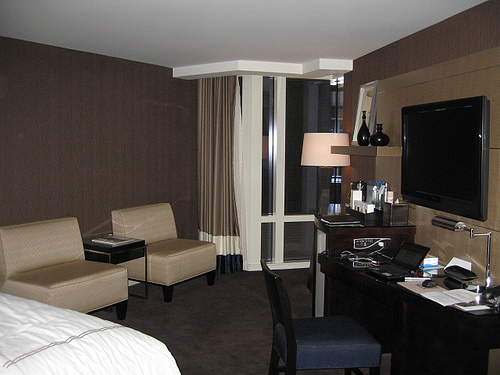 Wi-fi is available in the rooms, for a $15 charge (24 hours), and this is where all the emphasis on technology seems to fall by the wayside.  I fired up the laptop and tried to log in.  No luck, as I got caught in a error loop that wouldn't let me log in.  A call to the front desk, transferred to a tech support company, and over a half an hour and the error loop still couldn't get resolved.  The connection was established remotely, causing additional complications down the road, but at least I had access.  For awhile.  For a $15 charge, I expect that internet access will be solid.  It wasn't.  I continually was challenged with a signal going in and out, interrupting email being sent and IM chats.  OK, so perhaps the average guest doesn't want to be as connected as I needed to be, and I know providing service can be difficult, but in the value for price analysis, this was a fail.  (And I'll skip my mantra about wi-fi should be free.)
Another throw back to bygone days is the overpriced mini-bar.  I don't need ridiculously priced bottles of water, wine, or snacks, although someone must , but what I'd really love to have is a coffee maker and complimentary coffee.  I'll still hit the cafe for my latte and specialty drink, but I really need that first cup to clear my head before I hit the shower.  I can't categorize this as a fail, since none of the strip hotels offer this amenity, but it would be a real chance for ARIA to continue to lead the way in room amenities.
ARIA
Although I didn't have much time to check out the pool area, there are three pools connected by a series of landscaped pathways.  Although there were plenty of people enjoying the sun, the loungers were well laid out and it didn't feel crowded or stifling.  Pool side service is available at a price — a delicious, super tall, spicy Bloody Mary priced about $27, not including tip.  Cabanas, rafts, an adult only pool, life jackets for kids, and a variety of other amenities are also available.
The hotel offers a crazy number of restaurants and bars.  For fine dining you can choose:  Barmasa, Shaboo, Julian Serrano, Sage, Jean Georges Steakhouse, Sirio Ristorante, American Fish, Blossom, and Union Restaurant and Lounge.  Prefer something a little more casual?  Try:  Lemongrass, Skybox Sports Bar & Grill, Cafe Vettro, Breeze Cafe, Jean Philippe Patisserie (offering fabulous pastries), Sweet Chill, The Roasted Bean, and the ubiquitous buffet.
After all that eating and drinking, you may feel the need to stop off at the gym or Spa.  That would be a great choice, actually, and I'll have a Spa Review coming up soon.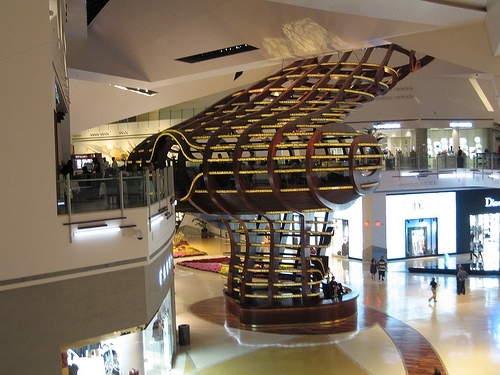 If you're feeling flush, you can step next door to the shops at Crystals, and plunk down some of your hard earned cash at upscale retailers like Louis Vuitton, Ermenegildo Zegna, and Prada.  You'll find additional restaurants here, along with some impressive art (both in the shopping areas as well as on the walk here from the hotel).
Come evening, there's plenty of nightlife, including Haze Nightclub, Gold Boutique Nightclub & Lounge, the Deuce Lounge, and more.  For a real treat, you'll find a whole lot of shakin' goin' on at Viva Elvis, the newest Cirque du Soleil production.
I enjoyed my time at ARIA.  It was comfortable, attractive, offered great amenities, and as if that wasn't enough, the smoke-free environment sealed the deal.
Location:  In the City Center complex on the Las Vegas Strip.
Rates:  Vary based on date, room type, and promotions offered.  I checked the online booking calendar today, and rates in November are offered starting at $125 midweek on up to $300 on a weekend.  Rates for December were comparable, although went up during the holiday time, and in January rates dip slightly.
Photo credits: personal collection
NOTE:  I received a complimentary stay at ARIA during Blog World Expo; the opinions expressed here are solely my own.