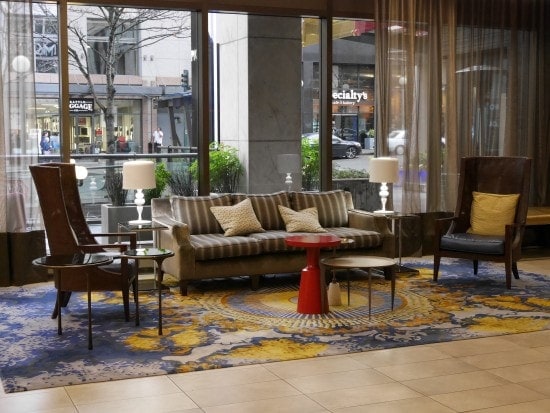 Motif Seattle
Address:  1415 Fifth Avenue, Seattle, Washington
Value Luxury Rating:  


 (out of 3 hearts)
Features:  Motif Seattle is located on Seattle's Fifth Avenue, between Pike and Union Streets, and has themed the hotel around locally-inspired fashion in its 319 guestrooms. Rooms offer views of downtown Seattle, Elliott Bay, and the Olympic Mountain range. and include alarm clocks with iPod docking stations, Keurig coffe and tea maker, refrigerator, wifi, work space with lots of plug ins, pillow top beds, and robes. Bathrooms feature Essential Elements products.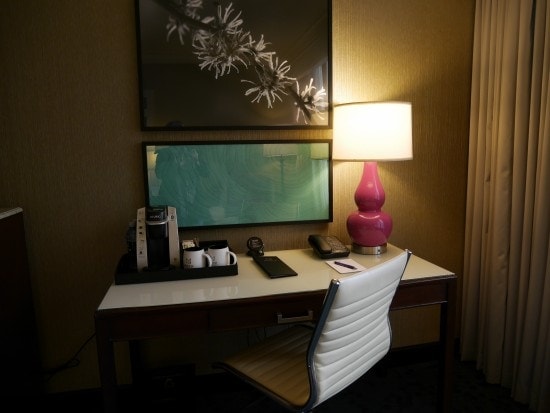 Motif Seattle is a pret friendly hotel, and four-legged guests receive special amenities:  plush dog bed, food and water bowls, complimentary welcome snacks, and for owners, a copy of CityDog magazine. The pet fee is a bargain priced one-time $20.
Parking at the hotel is $32 plus tax, with in and out privileges. A Tesla & Electric Vehicle charging stations is on property.
The hotel restaurant, Frolik Kitchen + Cocktails, has a great outdoor deck – even in winter. They're going through a menu change right now, but look for my review coming up soon.
Price Range:  Check a variety of dates, room rates start at about $199/night. While children stay free, there is a $20 per night charge for a third adult in the room (triple occupancy). Also, a $12.95 (plus tax) per night is charges as a Wine, Wired, Wellness access fee. Themed packages are also available.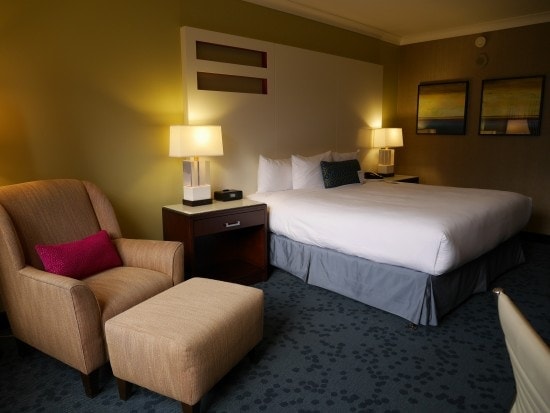 Personal Notes:  The first thing to note is that while I loved this hotel, I couldn't give it my three-heart value luxury rating for one reason – a resort fee. Oh sure, it has a cute WWW name (Wine, Wired & Wellness), but it's a resort by another name. Even though the fee covers amenities likes wifi, two bottles of water daily in room, a discount at Frolik, wine tasting, and more, I am adamantly opposed to these type of mandatory add on fees. And my guess is that the young, hip guests that they are trying to attract hate it just as much as I do. Hotels take note, roll these mandatory fees into your pricing and be done with it!
Now, with that off my chest, I'm prepared to move on to the reasons why I otherwise loved the hotel.
This is a can't-be-beat location, right in the heart of the downtown business district and a 10 minute walk (at most) from anywhere you'd like to go. All the major Seattle attractions are right near by, as are restaurants and bars, movie theaters, shopping, and pretty much anything else you'd want to do.
A convenient location can return meaningful savings. If you're flying into Seattle, forego the car and take light rail from the airport into downtown. The hotel is a short walk away.  Scheduled shuttle service is available from the airport, prices vary; a taxi will run you about $50. Once you're at the hotel, you can get most anywhere you want to go by foot. If  you're traveling a bit farther, consider Metro Transit, Uber, or for quick errands, ZipCar. The kind of saving that result from a convenient location can help make the typical $200/night (and up) price tag a real steal.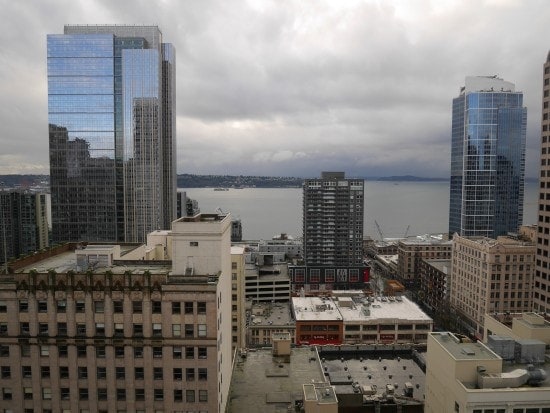 Motif Seattle is also committed to local connections, incorporating works from local artists and designers into fabrics, design, and art located throughout the hotel. I think this commitment to working with locals gives the hotel a distinctively Seattle feel that breaks away from some of the Pacific Northwest stereotypes often seen around town. Yes, Seattle is fashion forward!
The hotel also offers packages and special events that partner with some of Seattle's cultural heavyweights:  5th Avenue Theater, Benaroya Hall, Seattle Symphony, Seattle Art Museum, and Seattle Art Institute. They're not just a pretty faced, they're commited to the community as well.
If you're coming in early or staying late in conjunction with a cruise, start looking for availability now. Motif Seattle has very attractive pre- and post-cruise packages and they book up fast. During peak season, two or three night minimum stay requirements may be in effect.
Disclosure:  I received a complimentary stay at the Motif Seattle for purposes of this review.
Pinterest:  Are you on Pinterest? This image is suitable for adding to any of your travel boards. You'll find in on my Pinterest boards:  Seattle, Places I've Been, and Traveling with MJ.