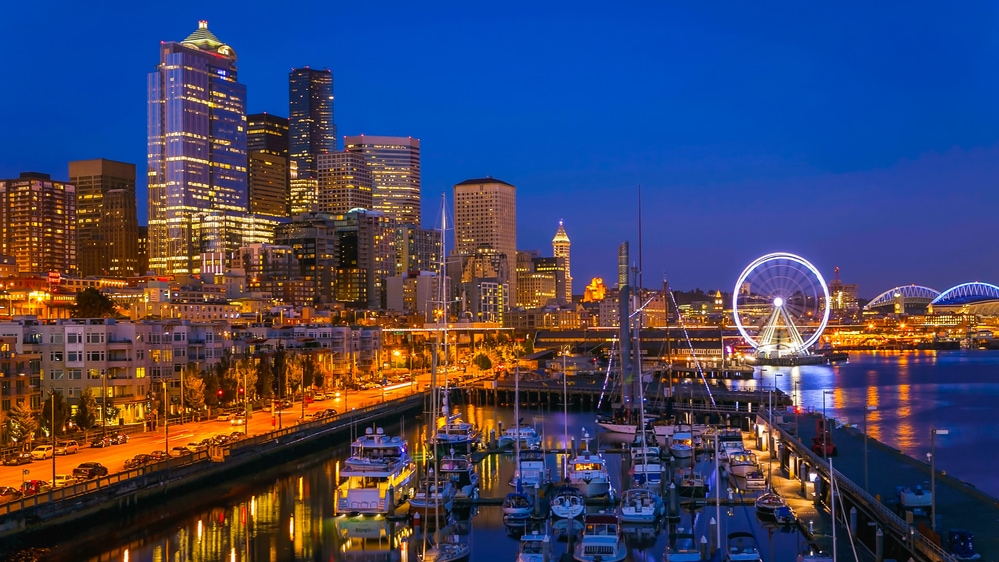 If you've decided to take a trip to Seattle, you've made a great choice – Seattle is a great vacation destination. It's a city full of cool museums, it has an understated hip cafe culture, has a vibrant live music scene, plus it's perfectly situated to enjoy the beautiful surrounding natural landscape.
However, as with all major cities, the cost of a visit to Seattle can add up fast. When it comes to saving money when visiting the top Seattle attractions, you can save money with the CityPASS Seattle.
How CityPASS Works
You can either buy the Seattle CityPASS online or from one of the partner attractions, i.e., the first Seattle attraction that you visit.
If you opt to buy them online, the tickets are then either sent to you via email for mobile download or you can opt to have them mailed to you. We used the paper CityPASS ticket booklet for New York City and used mobile CityPASS tickets for Seattle. They are both easy and work the same. We like the convenience of the mobile version, but if that's not something you are comfortable with, be sure to allow mailing time into your purchasing time frame.
Note: The paper ticket booklets can be sent to a number of countries worldwide, so if you are visiting from abroad and want to buy your tickets beforehand, this is possible. There is also the option of having your tickets send directly to your hotel, but please note that this is only available in the US and Canada. If you prefer to have paper copies but don't think you'll have time to wait for them to be sent by post, you can opt for the email tickets and then print them out.
If you decide to buy the CityPASS from one of the partner attractions, just turn up at the first attraction you want to visit and you can purchase them there. During high tourism times, this can result in a wait – that's why we recommend purchasing CityPASS in advance – but if it's a last-minute trip, this is a good option to take advantage of the CityPASS savings.
The pass is valid for nine days after activation – the first time you use a ticket at an attraction – so you can visit the attractions at your own pace. We spent a long weekend in Seattle and saw all the Seattle attractions in three days, still leaving us plenty of time to do other things. It was a good pace, required a little organization of time so we weren't crisscrossing the city all day, and didn't feel rushed. It was a good way for us to see the Seattle sights that we too often take for granted.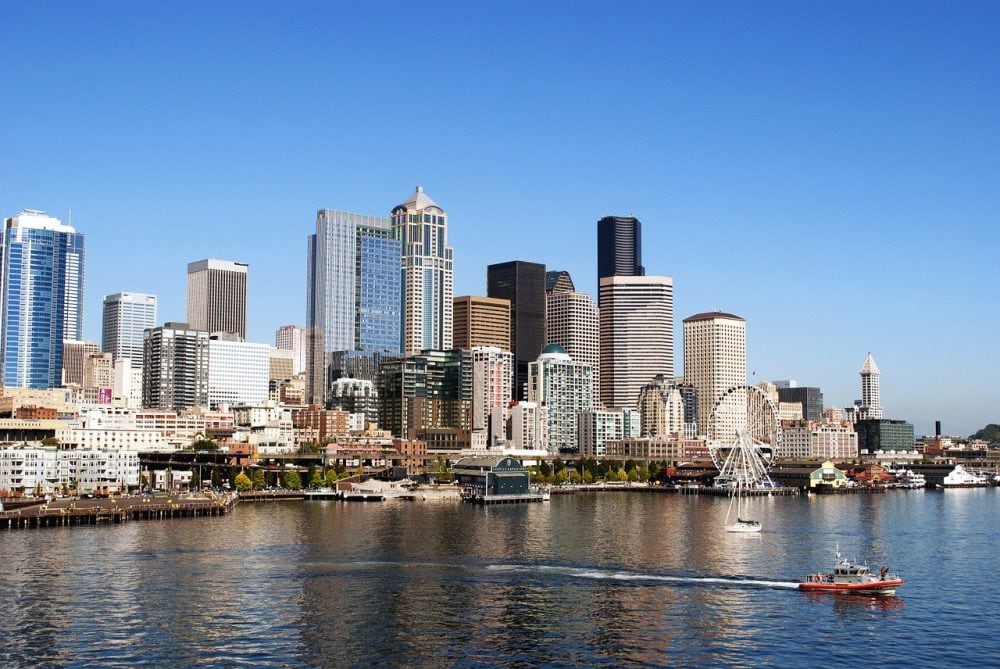 What Attractions are Included in the Seattle CityPASS
The CityPASS Seattle gives you free admission to three fixed Seattle attractions, plus an additional two attractions which you choose from two sets of pairs.
The three preset attractions are:
Space Needle: once seen as a Seattle must-see, since its huge renovation the Space Needle has become a must-do. Here you can glide along the world's first and only revolving glass floor, named the Loupe, as well as enjoy the views of the different mountain ranges all around the city from the angled Skyriser glass benches. Admission includes both day and night entrance, so you can make two visits within a 24-hour period.
Seattle Aquarium: a fun day out for all ages, the Seattle Aquarium is home to an array of marine life. Their most popular exhibitions include Window on Washington Waters, a huge tank which re-creates the Washington coastal area and features native species such as sea anemones and salmon; Life of a Drifter, where visitors are surrounded by jellyfish and the giant Pacific octopus; and the Marine Mammals area, housing Northern fur seals, harbor seals, sea otters, and river otters.
Argosy Cruises Harbor Tour: this one-hour narrated cruise will fill you in on the history of Seattle while you sail along the waters of Elliott Bay and Seattle Harbor. As well as the impressive city skyline, you will also be able to take in the majestic views of the Cascade and Olympic mountain ranges.
You then get to choose two attractions from two pairs: the Museum of Pop Culture (MoPOP) OR Woodland Park Zoo; and Chihuly Garden and Glass OR Pacific Science Center.
Museum of Pop Culture: if you're into music, TV, video games, movies, or anything else pop culture-related, this is the museum for you. There are lots of cool interactive exhibits to enjoy, including the Sound Lab, where you can play various musical instruments and jam with your friends, and see different memorabilia such as film and TV costumes and scripts.
Woodland Park Zoo: this award-winning zoo gives you the chance to connect with nature and meet some of the world's most interesting creatures. It's home to the world's first sustainable penguin exhibit and has exhibits that re-create the environments of different countries in the world, from the Americas through Australia and New Zealand to the African Savannah.
Chihuly Garden and Glass: a unique museum that showcases the studio glass of Dale Chihuly. There are three main areas – the Garden, the Glasshouse, and the Interior Exhibits – where you can admire Chihuly's work and be inspired by his passion and innovation.
Pacific Science Center: a fantastic museum exploring all branches of science, here you can discover the night sky at the planetarium, find out how the human body works, and look for hummingbirds and bees in order to learn about pollination, among many other fascinating topics.
What Does the Seattle CityPass Cost
As of March 1, 2020, the Seattle CityPASS Seattle is $108 for adults and $84 for children. This represents a small increase that goes into effect on that date.
The real value of the CityPASS comes in using all that it offers. As with any bundling, I recommend adding up the cost of what you would spend independently and comparing that to the bundled price. That's the best way to determine the value that CityPASS offers you for the Seattle attractions.
Keeping in mind that attraction prices change frequently, we found that visiting the three preset attractions more than offset the price of a Seattle CityPASS. Adding in the value of the additional attractions calculated out to close to a 50% savings. That's the kind of value that we can get behind!
How We Used the Seattle CityPASS
How you plan your visits to the Seattle attractions will depend on your personal schedule, preferences, and what else you plan to see and do on your visit to Seattle. If you're a local resident, you can get everything in over a weekend. Or, because the CityPASS is valid for nine days, you can time it to cover two weekends. And honestly, the Seattle weather may play a part in how your schedule things out, so build in a little flexibility for rain.
Here's how we did it, an easy way for two adults to see everything without running ourselves ragged. If you're traveling with kids, you're going to need to slow down the pace.
Day One
We took the light rail into Seattle, much like a visitor would do from Sea-Tac Airport, and got off at the Westlake Station. Most hotels in the downtown core are going to be an easy walk from one of the major light rail stations. It's $3 fare from the airport and only $1 for seniors, so there's really no reason to pay the sky-high parking rates in downtown Seattle.
We dropped the bags off at our hotel, met up with some friends for lunch, and then headed back to Westlake Center to take the monorail to the Seattle Center Campus. Since the day was sunny and clear, we wanted to head to the top of the Space Needle for the most stunning views of the city, Puget Sound, the Olympic Mountain range, and the Cascade Mountain range. If you've ever wondered why Washington State residents put up with months – and months – of rain and dreary weather, the views on a sunny day explain it.
We hadn't been up the Space Needle for over 15 years and it was fun to see how much had changed – both at the Needle itself and in the surrounding city landscape. The rotating deck is even more amazing with the glass floors providing an additional view and we probably spent a couple of hours enjoying our city. You can read our tips for visiting the Space Needle, both day and night, here.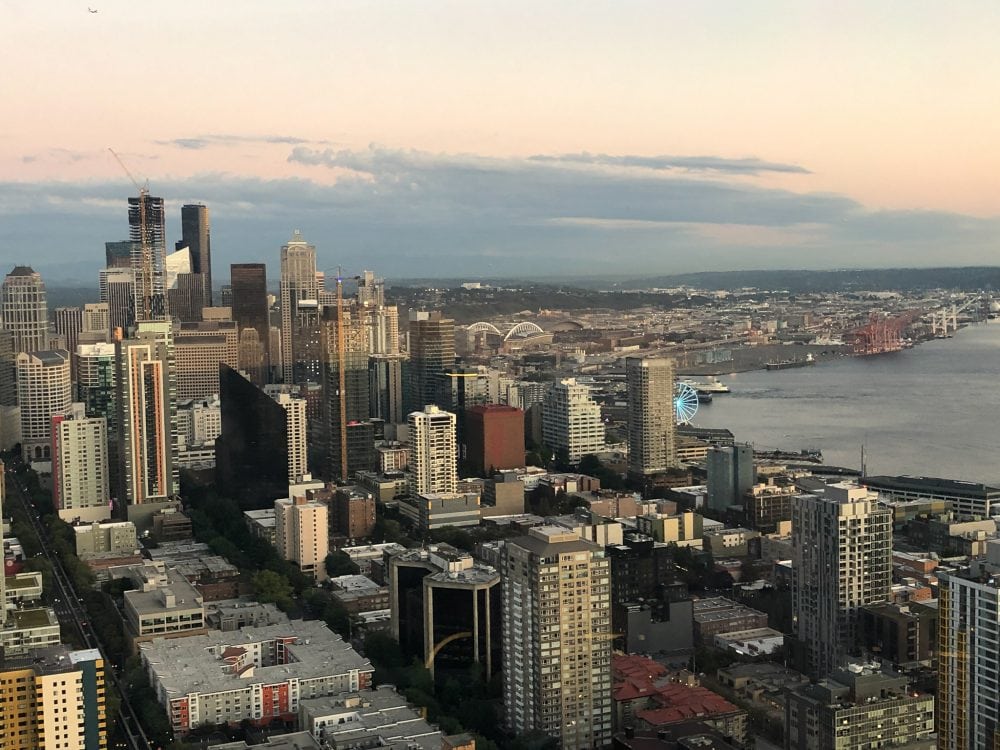 After the Needle, we again took the monorail back to the Westlake Station and then walked down to the Seattle waterfront for the Harbor Cruise. While I rarely recommend crisscrossing a city like this, we opted to do it because of the beautiful weather. You could certainly group the waterfront attractions together for one day and the Seattle Center attractions for another day and it would save on transport time. As lifelong residents, though, we've learned to seize a beautiful day when it comes along.
The Argosy Cruises Harbor Tour is a one-hour narrated cruise around Elliott Bay and is another activity perfect for a summer day. Neither Tony nor I had been on the harbor tour before and it was a real treat. Far too many times during that hour we lamented that we hadn't done it before. There are several upgrade options available to extend the cruise to the locks, a dinner option, among other upgrades if you're looking for a longer cruise option. We were happy with our choice of the harbor tour.
We still had plenty left in our day for wandering around the Pike Place Market before returning to our hotel to get ready for dinner. It was a busy day, but not exhausting.
Day Two
After breakfast, we spent the morning wandering around downtown checking out a few things on our to-see list, then headed to the Seattle Center for a full day of sightseeing.
The first stop was MoPop, the Museum of Pop Culture. Founded by Microsoft co-founder Paul Allen in 2000, the museum initially began as a tribute to Allen's love of Jimi Hendrix and has since grown into a museum celebrating pop culture, movies, music, science fiction, and more. We enjoyed the featured exhibits of Pearl Jam, one of the preeminent Pacific Northwest bands of the 90s, and a tribute to Prince. We frequently stop by MoPop when new exhibits catch our eye, so we only spent a little over an hour touring the exhibits we hadn't seen. If you're a big pop-culture buff, you'll want to allow more time to see and play with everything.
MoPop is one of the choice options, the other choice is Woodland Park Zoo. If you have young(ish) kids, the zoo is probably a better option, giving them a chance to be outdoors and let off a little steam. Note, however, that the zoo isn't located downtown, and you'll need to take a taxi, car service, or public transportation to get there. Read our tips for visiting Woodland Park Zoo.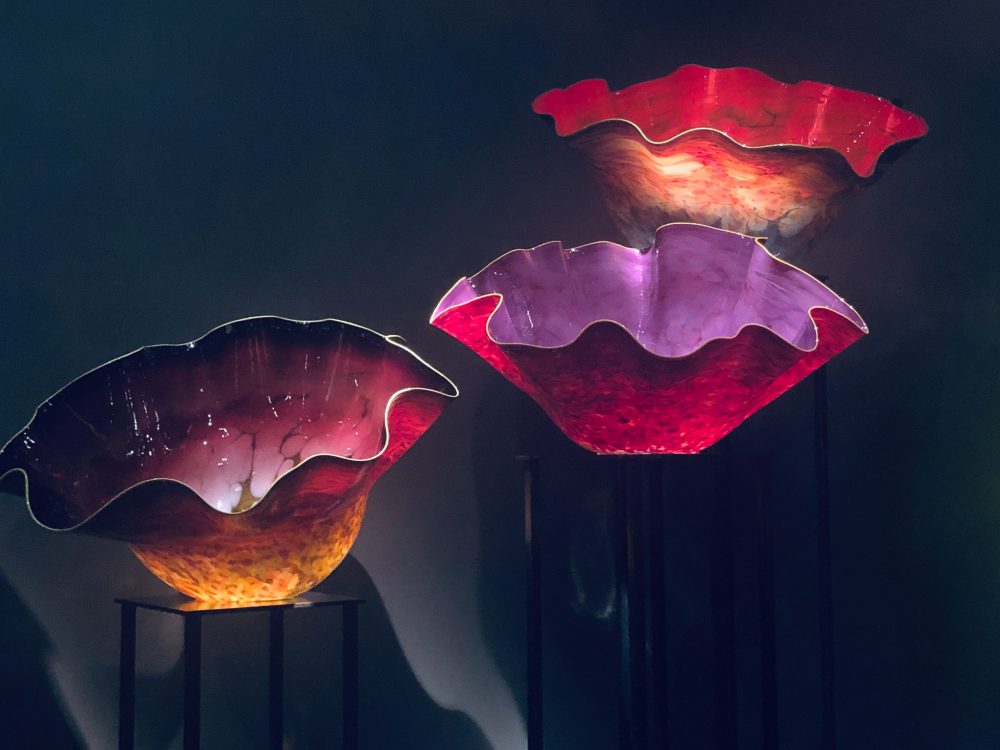 Next, we walked a few steps over the Chihuly Museum of Glass. While we were very familiar with the glass art of Dale Chihuly, and have seen it in other exhibits around the world, this was our first time visiting this museum that pays tribute to his art and the influence of the Pilchuck Glass School that he founded. We spent about an hour walking through the museum and its gardens and then enjoyed some time relaxing in the outdoor cafe. There are glass demonstrations in the gardens, inquire about timing when you get there.
The Glass Museum is another choice option; the alternative is the Pacific Science Center. If you have young(ish) kids, the Science Center – which we've been to many times – is a better option.
We then took a break in playing tourist to attend an evening event at the Seattle Center, finishing up there in time to get back up the Space Needle for sunset. The Needle is a totally different experience at night and we recommend taking advantage of the CityPASS deal that allows both a day and night option. We enjoyed wine tasting and sunset before heading back downtown for dinner and calling it a day.
Day two was busy, but not frantically, and we had plenty of time for personal exploration, keeping a previous engagement, AND enjoying the CityPASS attractions at the Seattle Center.
Day Three
We slept in and had a leisurely breakfast and did a little shopping before checking out of our hotel. We left our bags with the bellman and walked down to the waterfront for our final Seattle CityPASS attraction, the Seattle Aquarium.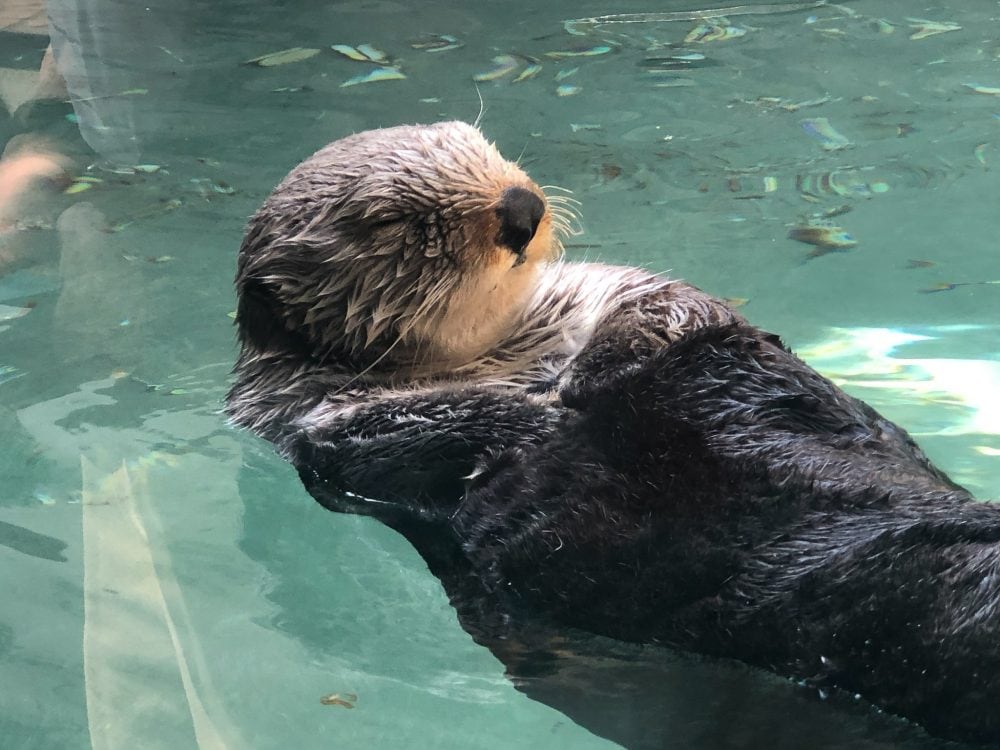 We've been to the Aquarium many times, so we knew that we wanted to re-visit some of our favorite exhibits and marine mammals. I could spend hours watching the otters, both river and sea, and the seals and sea lions. We spent just over an hour there, but if it's a first-time visit, I'd allow a least double that. We have tips for visiting the Aquarium here.
Other CityPASS Benefits
The entrance tickets you receive also entitle you to a wide variety of offers and upgrades if you want to extend or expand your experiences in Seattle. These include:
a 10% discount at the Seattle Aquarium gift store when you spend $50 or more;
a number of upgrades on the Argosy Cruises Harbor Tour, such as dinner, Lake Union and Lake Washington cruises;
the opportunity to feed animals at Woodland Park Zoo;
$5 off all purchases over $40 at MoPOP stores, plus a complimentary guitar pick;
complimentary dessert at Collections Cafe at Chihuly Garden and Glass;
additional shows at the Pacific Science Center, including feature and documentary IMAX movies and laser shows.
Please note that the upgrades have additional fees. The details of these upgrades and current pricing are included in your CityPASS Seattle ticket booklet or in the email you are sent when you purchase the tickets.
Seattle CityPASS is Also for Locals
While it's easy to think that the Seattle CityPASS is only for tourists and visitors to Seattle, nothing could be further from the truth. We enjoyed being a tourist in our hometown, realizing so many things that we either hadn't done or hadn't done in a while. Don't wait for guests to come to town to explore and enjoy your own city.
With school vacations coming up, the Seattle CityPASS is a great way to give your kids something to do. Older kids and teens can navigate the city on their own and plan out what to do during their school breaks. With younger kids, it encourages you to plan out the school holidays to guarantee that you see and do things, rather than promising you'll plan something and never getting around to it.
When you want to see the major attractions in a city, CityPASS is a value luxury way to do it. We're big fans and it's worth the splurge.
Stay in a Downtown Seattle Hotel
Seattle is full of great hotels and finding one is about matching up your preferences and budgets with the right location. As a local, we often get a hotel downtown in order to enjoy a getaway weekend. This map below is a handy reference and booking tool to find your perfect deal.
Save this to your favorite Pinterest boards and use it to plan your next trip to Seattle or your next Seattle weekend.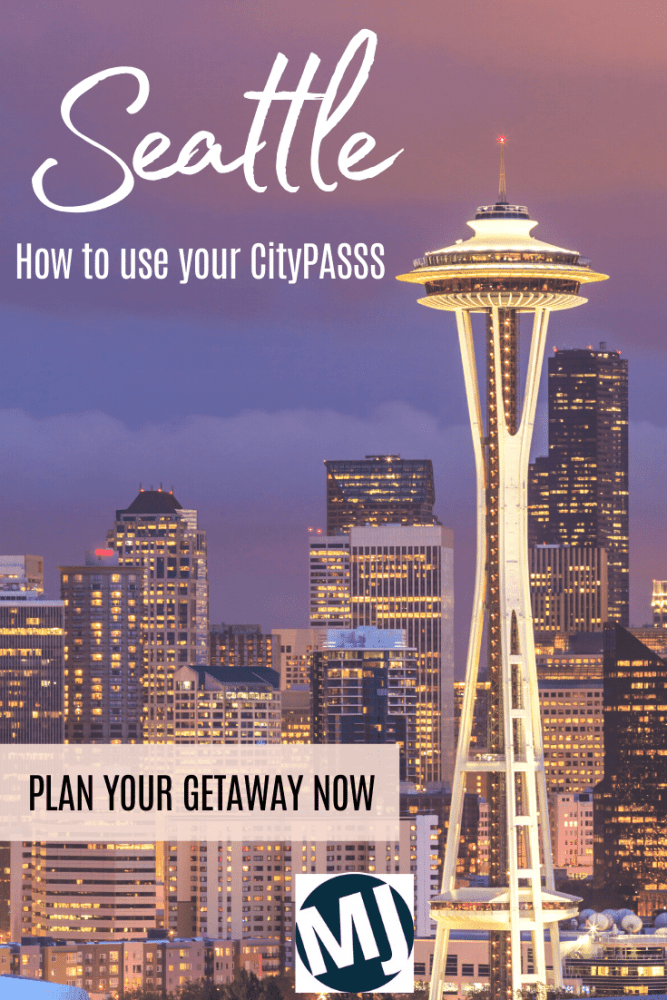 Disclosure: CityPASS provided us with two complimentary passes, additional expenditures were our own.