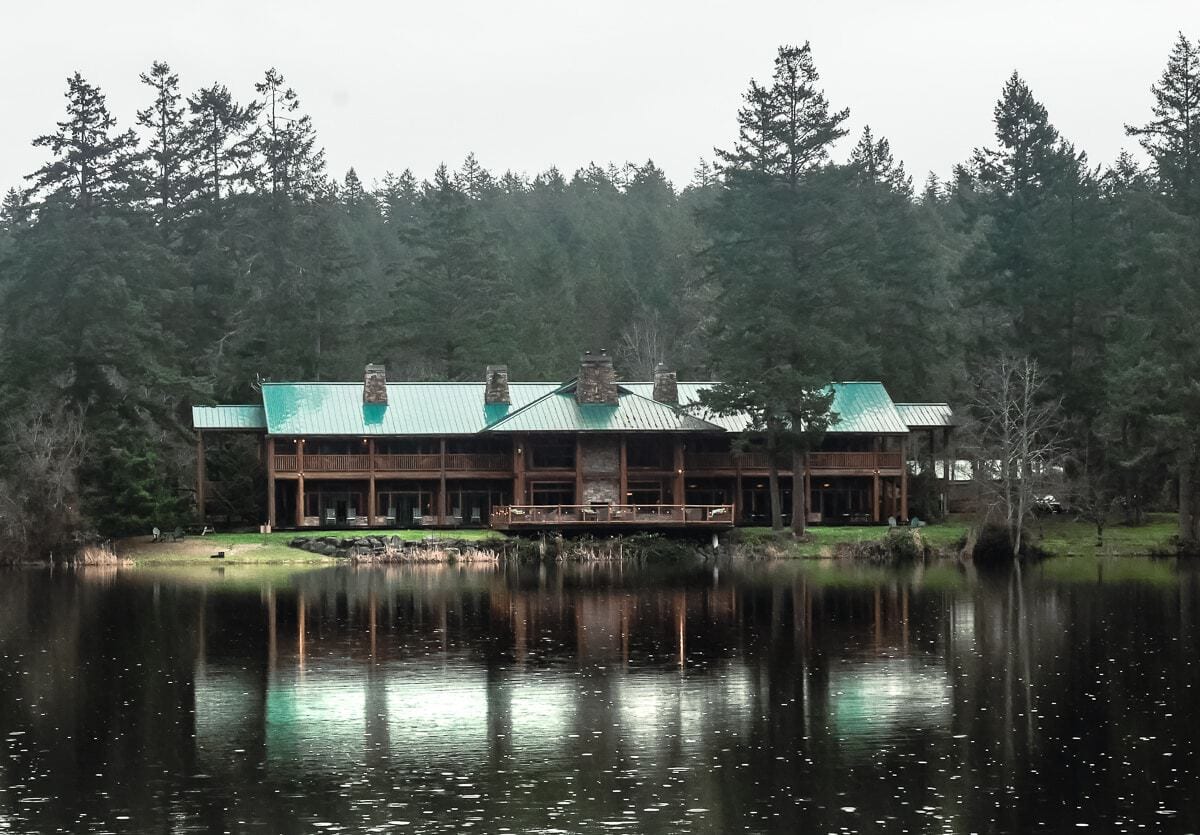 Growing up in Washington State, we took the San Juan Islands for granted. Sure, we studied the islands in Washington State History and went there on field trips, but we never thought of it as someplace people would voluntarily go. Especially not for a vacation.
Boy, were we wrong!
We headed off to Friday Harbor earlier this year for a stay at Lakedale Resort in Friday Harbor (on San Juan Island). The 82-acre resort has three spring water lakes and a variety of lodging options to fit every preference and budget, from its rustic luxury lodge to camping sites.
We loved our stay at Lakedale Resort and never wanted to leave. We think you'll feel the same way, too.
This is part of a series of monthly themed features talking about places we've stayed and never wanted to leave. This post may contain affiliate links, sponsored travel, sponsored content, or paid product placement. We've hand-picked these destinations and products because we like them and we think you will, too.
Lakedale Resort
The Room at Lakedale Resort
Located about halfway between the towns of Friday Harbor and Roche Harbor, on San Juan Island, Lakedale Resort has several styles of accommodations. We stayed in the main lodge, set on the shoreline of Neva Lake, with a luxurious Pacific Northwest rustic decor. It felt cozy and casual, definitely not roughing it. It was like the very best parts of summer camp without any of the worst parts of it, with the added attraction of wine and complimentary wi-fi.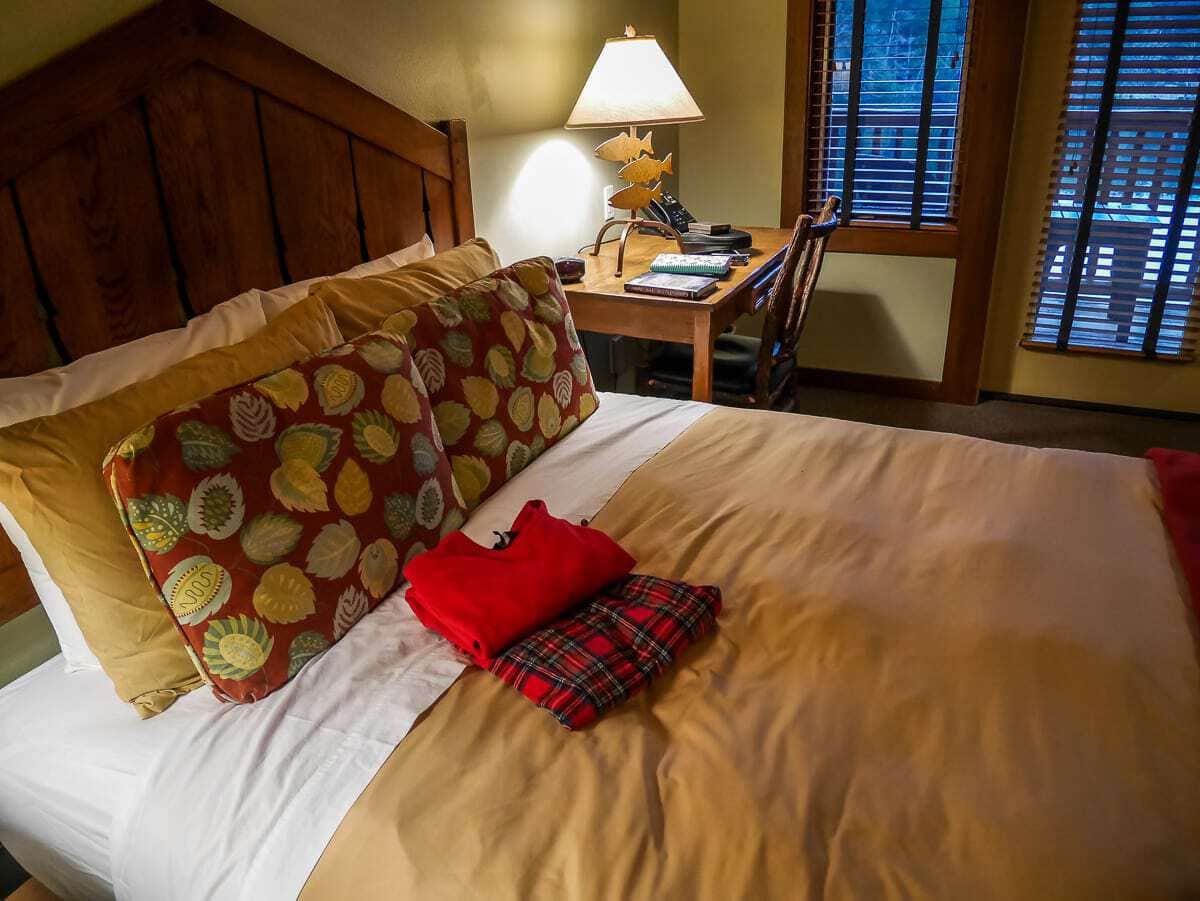 We headed to Lakedale Resort for a winter visit and stayed in a luxury queen room with a view of Neva Lake. The decor and bedding were lodge-like, creating a cozy vibe, and a gas fireplace kept the room toasty warm as well as added to the rustic ambiance.
Our balcony provided a view of the lake, with plenty of room for us to sit and relax. I found myself enjoying the quiet morning time, shortly after the sun came up, when I sipped a cup of coffee and eased into the day.
A refreshment center had a sink, coffee maker with coffee and tea, and a refrigerator. We brought snacks and wine to enjoy in front of the fireplace.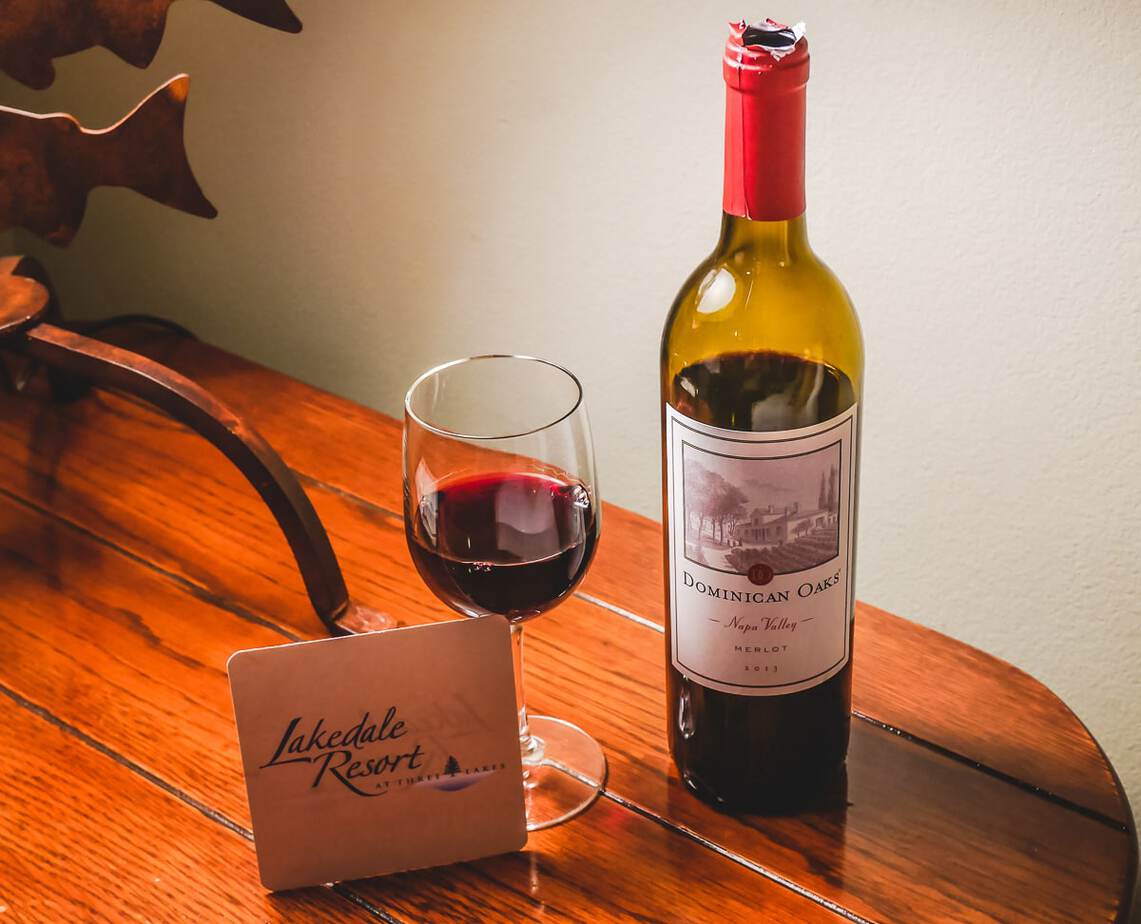 Seasonal note: During peak season, May-October, Lakedale Resort has a General Store that is stocked with snacks, beverages, and picnic items like fresh sandwiches and salads. For the rest of the time, there's a full grocery store in downtown Friday Harbor, and in the resort great room is an honor bar with a selection of reasonably priced Northwest wines.
We visited during the winter season, and after exploring the extensive grounds at Lakedale Resort returned to warm up. A bubble bath in the soaking tub, complete with a glass of wine, was a relaxing prelude to reading in front of the fireplace and an early evening nap.
There was no cell phone reception on the grounds (we use AT&T) and, in fact, it was spotty coverage throughout a good portion of the island. There is a strong wi-fi signal in the Lodge and the room phones were VoIP-based – you're not cut off from civilization.
While the room is lovely enough that you may never want to leave it, you really will need to check out the rest of the grounds at Lakedale Resort.
The Great Room at Lakedale Resort
Located off the lobby of the lodge, the great room lives up to its name. It really is great – it makes a great first impression, it provides a great view of Lake Neva, it has an honor bar with great Pacific Northwest wines, and it is a great spot to hang out when you don't want to stay in your room.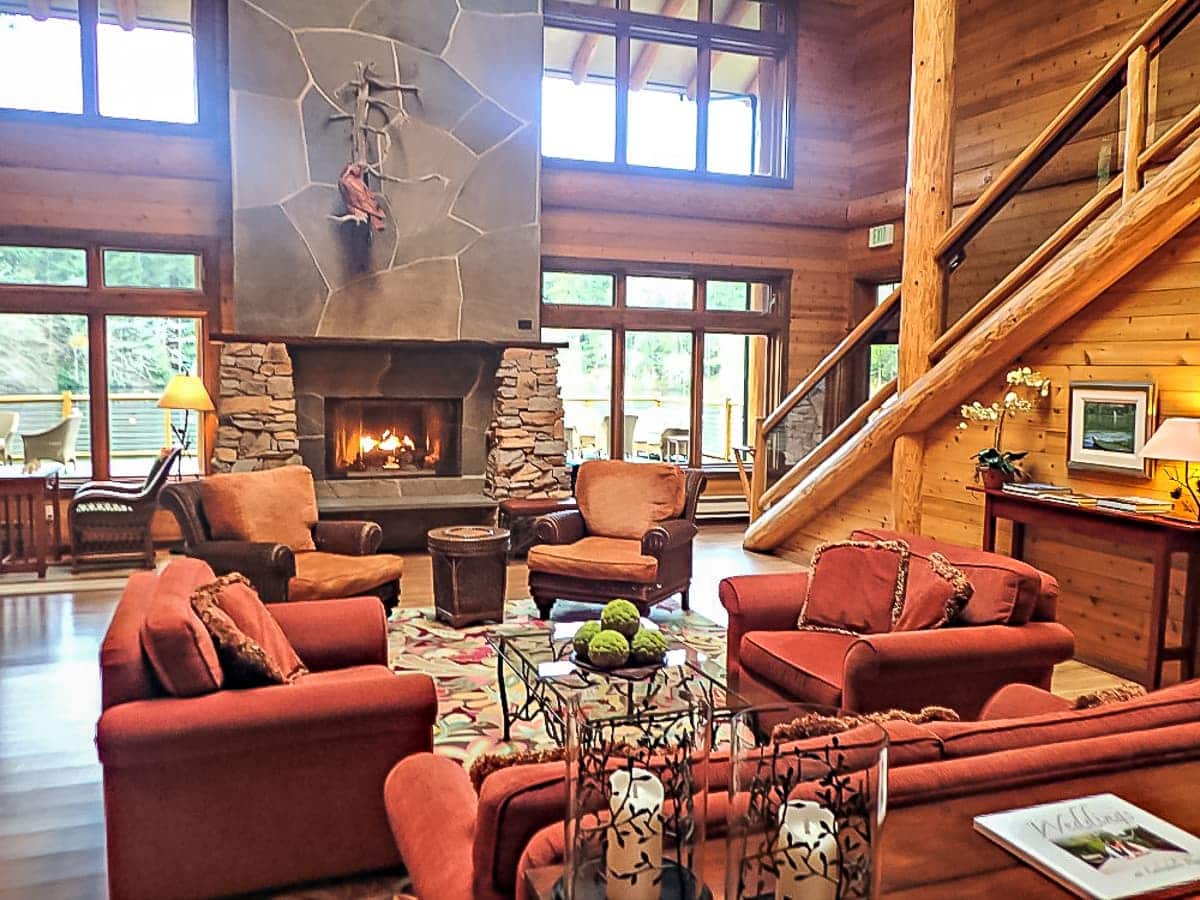 A selection of DVDs are housed on one wall, take a browse and if you find something you like you can take it to your room to enjoy.
There's also a small gift shop just off the great room that has a selection of products from Pacific Northwest artists and purveyors. If you're looking for a gift (whether for yourself or someone else), you can't go wrong here.
The Food at Lakedale Resort
Breakfast is included with all stays at the Lodge, although there isn't a traditional restaurant at the resort. The dining room is set up for a breakfast buffet with egg selections cooked to order.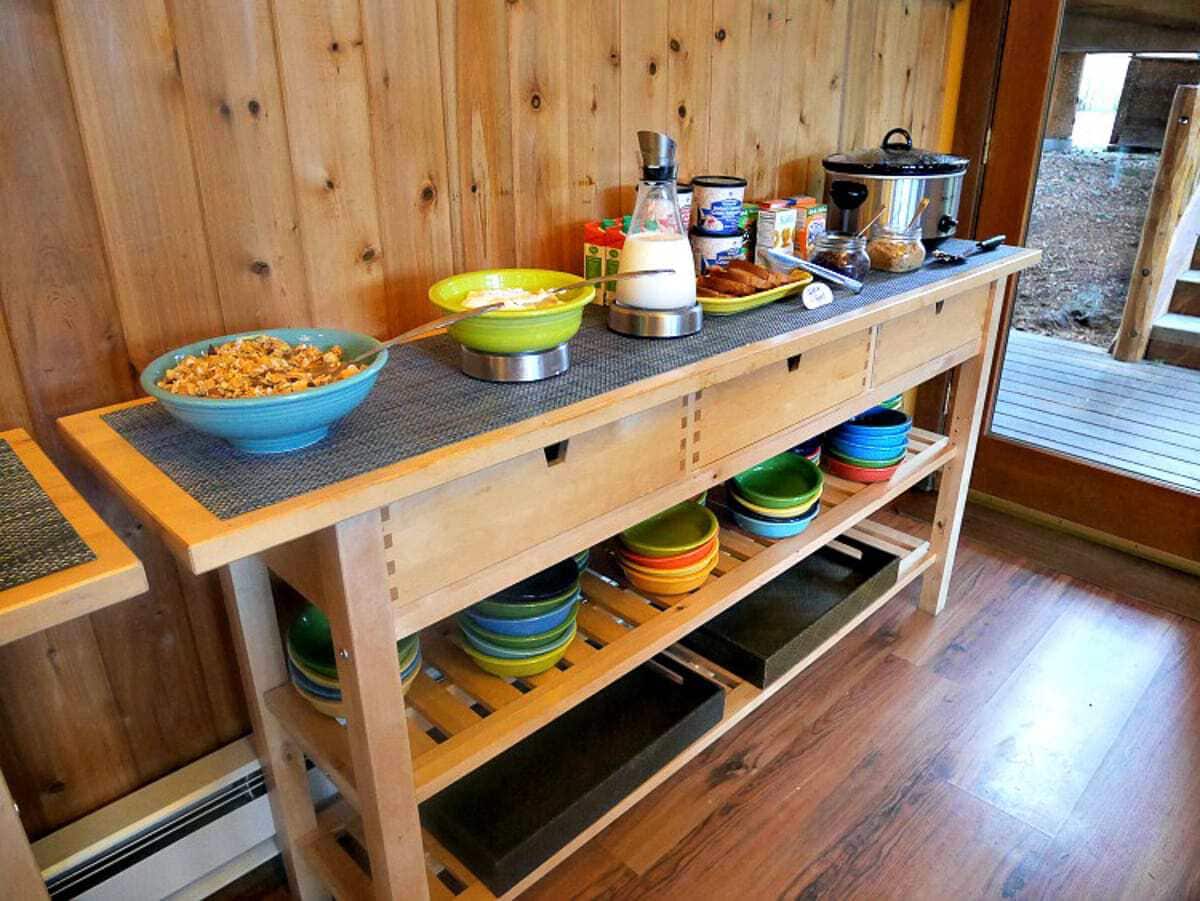 The choices vary, but you'll likely find breakfast favorites like oatmeal, cereal, yogurt, specialty granola, fresh fruit, pastries and bread, homemade jam and jelly, a daily egg dish, and an assortment of beverages. We found the selections fresh and delicious, and a nice balance of healthy choices and decadent indulgences.
There are barbecue pits outside the lodge, and in front of the lake, if you'd like to cook during your stay. Pick up your food before arriving at the resort, taking advantage of the sink and refrigerator in your room, and then fire up the barbie when it's time for dinner.
If you don't want to bring your own food, there are restaurants in Friday Harbor, about a 15-minute drive.
Other Accommodations at Lakedale Resort
In addition to the Lodge at Lakedale Resort, there are other value luxury options for your stay. The resort is family and pet-friendly. Although no pets or young children permitted as guests in the Lodge (all guests must be over 16 years of age), all other options can accommodate them.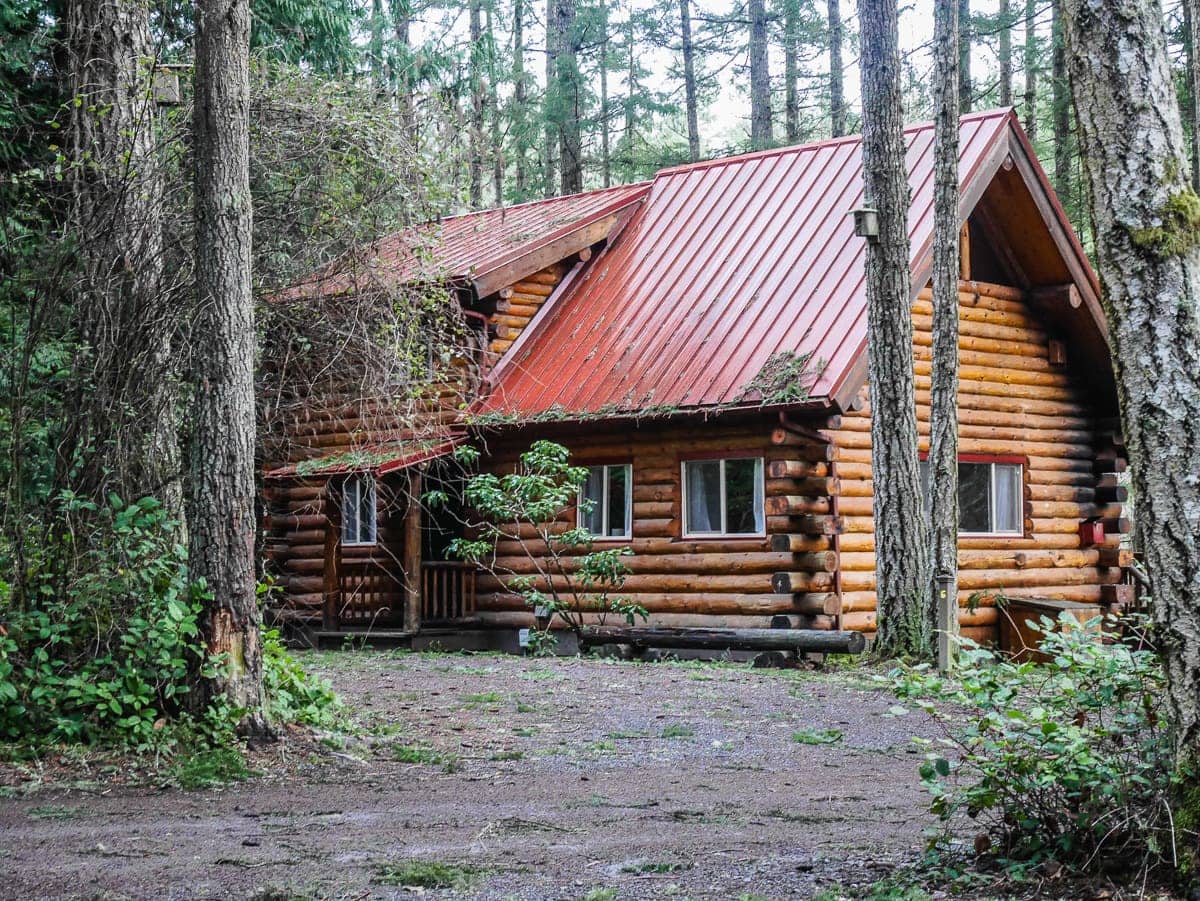 Log cabins are located alongside the Lodge and provide more privacy and self-sufficiency. These are fully furnished and provisions homes, perfect for a family or a group of friends, and have all the touches of home. With a full kitchen, there's also the advantage of more room to cook.
Upscale yurts were being constructed when we visited, and now incorporated into the accommodation offerings, and come complete with bathrooms and other luxury amenities. Perfect for a couple who is looking for something a little more unusual for a stay, without sacrificing any comforts.
For retro luxury, try a stay in the fully equipped classic Airstream trailer. Or if you have your own travel trailer or camper, hookup at one of the RV pads.
If you're staying during the peak season, upscale canvas cabins are available, many of which are large enough to accommodate the entire family. These are remarkably spacious, several located directly on one of the three lakes, and have the added advantage of a large picnic area for meals and family gatherings. Note, however, these do not have indoor bathrooms and share a community facility.
The Grounds of Lakedale Resort
We loved the wilderness feel of the Lakedale Resort!
Although it might seem like there are a lot of accommodation options crammed in, that's not the case at all. Remember, there are 82-acres here, and while much of the area is lakes and wilderness, the Lodge, cabins, yurts, tents, and camping spaces, have been integrated around the property in a way that allows everyone to enjoy the natural beauty of the property.
Outdoor activities offered will vary based on the time of year that you visit. There's plenty to keep you busy and active, from swimming and boating to games of horseshoes and bocce ball. During the summer season, sign up for family-specific activities and the General Store. Typical activities include outdoor recreation, arts and crafts, and cooking classes.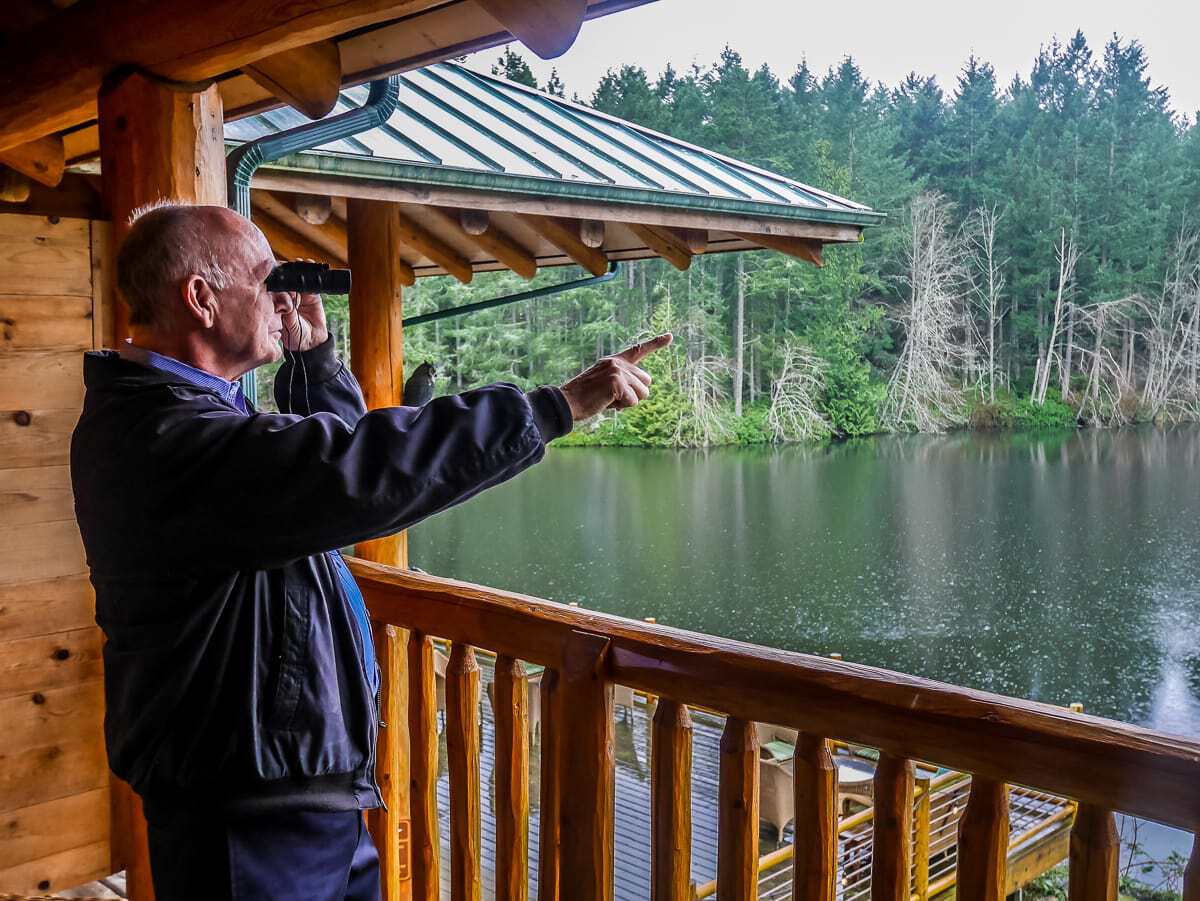 The resort is a popular spot for birdwatching (there are binoculars thoughtfully provided in your room) and also for fishing. Wide-mouth bass and trout are stocked in lakes, so get your pole and see if you can catch your dinner (you can get a fishing license onsite).
While we visited during the rainy season, it didn't rain all the time, and we did enjoy a hike (perhaps more of a walk) around the grounds. We saw a couple out on the lake in a paddleboat and others playing some outside games. Your weather tolerance will decide if this is an indoor or outdoor vacation.
If You Go
Staying at Lakedale Resort
Lakedale Resort is located at 4313 Roche Harbor Road, Friday Harbor, Washington. This is on San Juan Island, the largest island in the San Juan archipelago.
As you'd expect, rates vary widely depending on the season. Rates at the Lodge start around $185/night and include breakfast. The Lodge books up quickly, even in the off season as it's popular for retreats and weddings, so we recommend planning well in advance.
Check the Lakedale Resort website for availability and rates for the log cabins, yurts, canvas cabins, RV pads, and camping sites.
Getting to Friday Harbor
San Juan Island is accessible only by air or by sea. There is no bridge access.
Most visitors arrive by ferry from Anacortes. The Washington State Ferry system offers year-round service to San Juan Island, although not every sailing to the San Juan Islands includes a stop at Friday Harbor on San Juan Island. Note the plural islands, not the singular island, as it can cause confusion.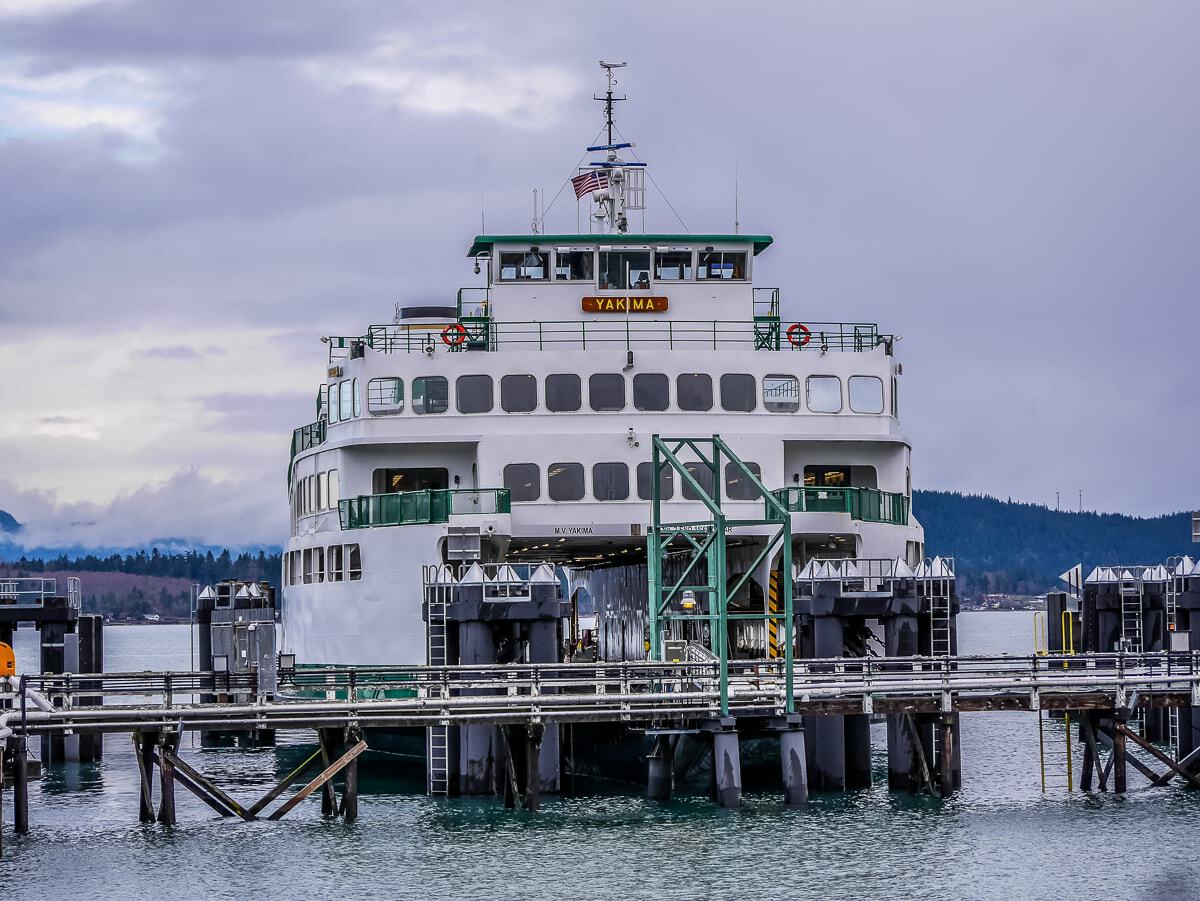 The ferry schedule varies greatly by season, check the schedule here. In the summer, reservations will likely be mandatory as wait times can be several hours without them. The rest of the year, except for holidays, you're probably safe with driving on.
Lakedale Resort is located about five miles (about a 15-minute drive) from the ferry terminal in downtown Friday Harbor. You can stop in Friday Harbor to pick up groceries and other goods before heading out to romantic privacy and comfort of the resort.
There are two small airports on San Juan Island: Friday Harbor Airport in the main part of the island and Roche Harbor Airport on the north part of the island.
Buying Guide
Guidebook – While locals may visit Lakedale Resort as a simple getaway, if you're traveling from farther away, you may be spending some time exploring in the San Juan Islands. It's fun to wander and explore, but given that these are islands, a little planning will help maximize your time.
For a general overview of the islands, [amazon_textlink asin='163121425X' text='Moon San Juan Islands' template='ProductLink' store='travelingwithmj-20′ marketplace='US' link_id='3bb0e568-eabc-11e8-99f6-25d5a835d392′] gives reliable advice. You'll find strategic itineraries to maximize your time, curated recommendations, and lots of practical tips on getting around and enjoying all of the San Juan Islands.
Price: $13.59, available on Amazon here.
Pajamas – Since our visit to Lakedale Resort was during the offseason, we knew that it might be a little cold and rainy. While the room had robes for our use, there's not much that says cozy night in more than lounging in front of the fire in comfy flannel pajamas.
We've been a fan of PajamaGram for years and probably have nearly a dozen pair, both for winter and summer wear. These Christmas-themed plaid pajamas are one of my favorite and are available for the entire family.
Price: Starting at $14.99. Buy directly from Pajamagram (they have beautiful gift packaging) or find them on Amazon here (note that the price quoted here is Amazon pricing). These would make a great gift, too.
Slippers – While I generally go barefoot at home, I like to pack a pair of slippers when I travel. Not only does it keep me warm, but it protects against any ickiness that may be lurking on a hotel room floor. Flip flops don't really do it for me and I prefer something a little more substantial that still doesn't take up too much room in my bag.
These ballerina style slippers are both pretty and practical. The uppers are a cashmere knit trimmed with a simple bow while the inside has a comfortable cotton lining with memory foam. With a non-slip sole, they're safe on any surface. They're machine washable too.
Price: $12.00, available on Amazon here.
Wine – It seems that lately we've been drinking more wine that we've added to our cellar and that's something we plan to change in the coming year.
While we always buy wine when we're traveling, both to drink on site and to bring home, we've gotten out of the habit of stocking up when we're at home.
With this holiday discount from wine.com, we can save – and you can, too – 30% off your first order. A minimum $100 is required, but when you're stocking up, that's nothing at all. Click on the banner above to take advantage of this discount.
Save to your favorite Pinterest boards for your next trip to Washington State.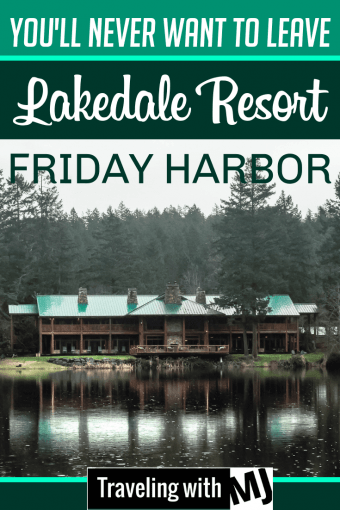 Disclosure: Part of this trip were sponsored by Lakedale Resort and other San Juan Island partners.