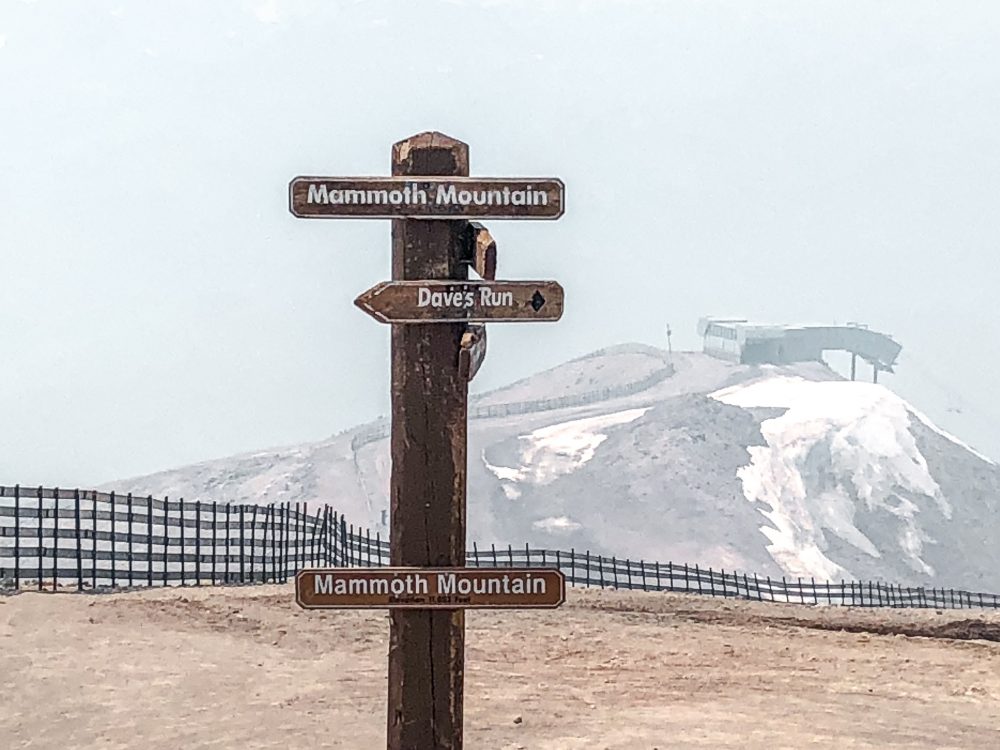 I love it when I find a destination that's perfect for both a summer and winter getaway. Mammoth Lakes, California, manages to tick all the boxes. It is a location with plenty of activities all year round and has an excellent infrastructure to make your stay a pleasant and convenient one. While many people think of Mammoth Lakes primarily as a ski resort – and it is a popular one – there is so much more here to enjoy regardless of the season.
Here is our guide of things to do in Mammoth Lakes and how to enjoy a Mammoth getaway weekend.
Things to Do in Mammoth Lakes
If you are an active person, you will find plenty to do in Mammoth Lakes. But while Mammoth Lakes is known for being an outdoor activity destination, there are also options for Mammoth activities indoors. We'll explore both indoor and outdoor activities in Mammoth Lakes in this guide.
Hiking
One of the best summer Mammoth activities, there are lots of hiking trails for you to wander in Mammoth Lakes, regardless of your fitness level. The great thing about exploring Mammoth Lakes on foot is that the trails are accessible via shuttle, meaning you do not need to worry about taking your car.
Mammoth Lakes Basin is a popular area because of both its outstanding natural beauty and its close proximity to the downtown area. There are dozens of hiking trails winding their way through pine forests and past imposing mountains and crystal clear alpine lakes. If you are looking for an easy hike, try the Horseshoe Lake Loop, a popular hike that gives you amazing views of Mammoth Mountain and the Mammoth Crest, and the Panorama Dome Trail, a manageable uphill walk. For something slightly more strenuous, you can hike the Dragon's Back Trail, the shortest and steepest route to the peak of Mammoth Mountain.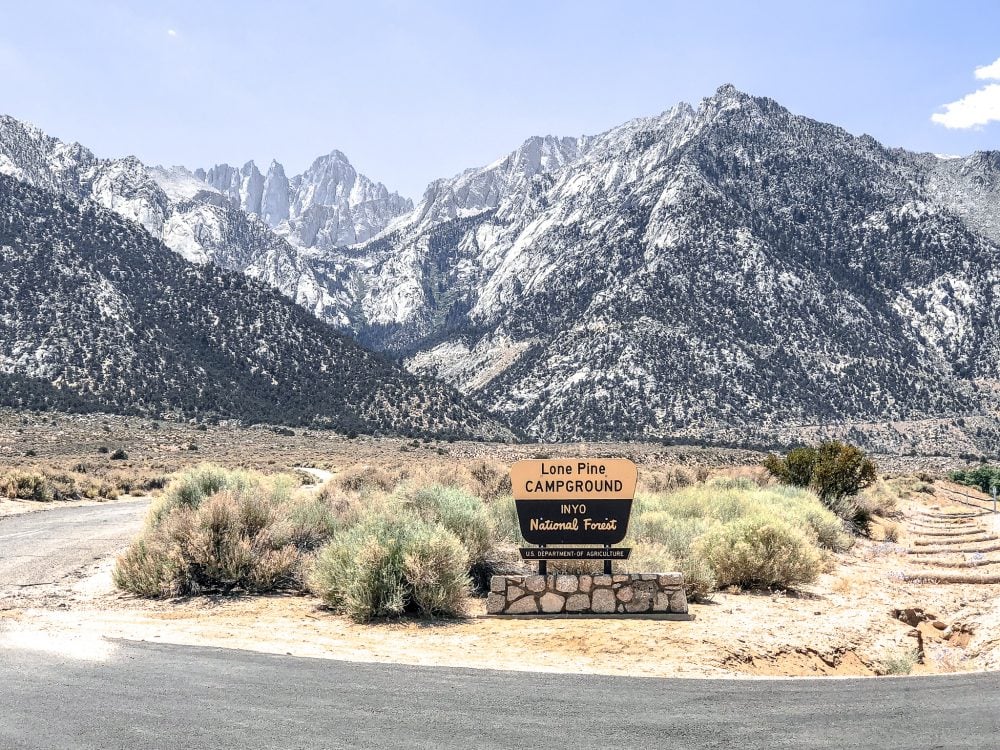 A little farther afield, you'll find lots of trails in the Inyo National Forest.
Biking
Mammoth Lakes has plenty of opportunities for bikers, both mountain and road.
Road bikers have lots of asphalt routes to choose from, from peddling sedately around town to burning rubber on stretches of US 395. When it comes to mountain biking, the Inyo National Forest has a large network of off-road trails and paths to test your wheels out on. During the summer months, the ski lift can take you up the mountains with your bike so you can coast back down.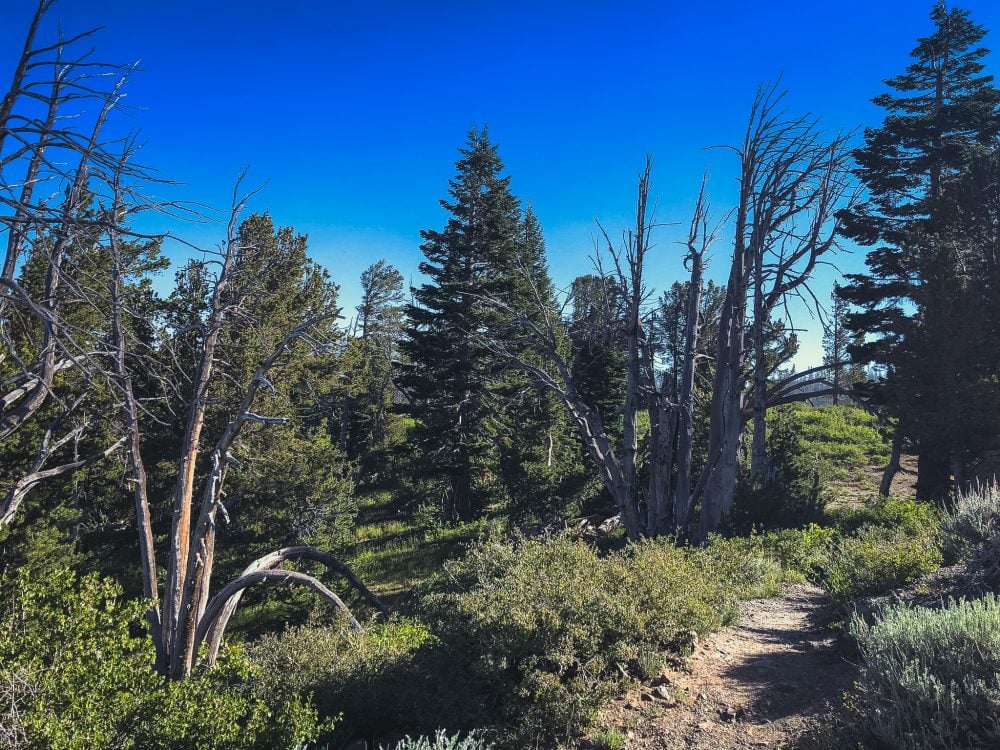 If you are a competitive cyclist, a number of races and endurance events take place throughout the year. Check out the Annual Pamper Pedal Women's Road Bike Ride and the Mammoth Point to Point MTB XC 50K.
Boating, Kayaking and Paddle Boarding
Taking to the waters of Mammoth Lakes is an enjoyable way to experience nature in the surrounding area. there are lots of hiking trails for you to wander in Mammoth Lakes, regardless of your fitness level. It is also one of the best ways of spotting the local wildlife – waterfowl and fish are a sure bet, and some visitors to Mammoth Lakes have claimed to have seen black bears and eagles while out on the water.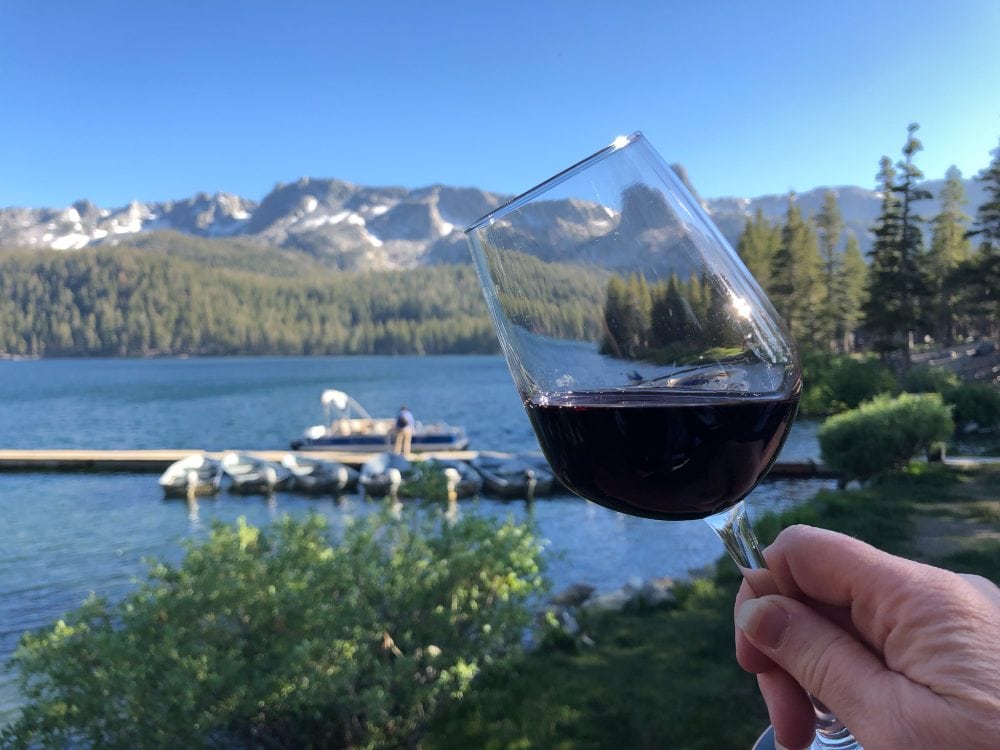 Lake Mary has marinas with where you can rent or launch kayaks, SUPs, and other non-motorized boats; June Lake, Convict Lake and Crowley Lake Fish Camp do as well. Horseshoe Lake does not have its own rental services, but if you brought your own kayaks and/or SUPs, then this is a nice spot to paddle and take in the views of Mammoth Crest.
Horseback Riding
It may not be the first thing you think of when you are thinking about things to do in Mammoth Lakes, but the Mammoth Lakes Pack Outfit offers a variety of riding trips in the Mammoth Lakes Basin and the Eastern Sierra backcountry. There are riding trips for visitors of all abilities, so honestly convey your experience and skill level to help the operators find the right match for you.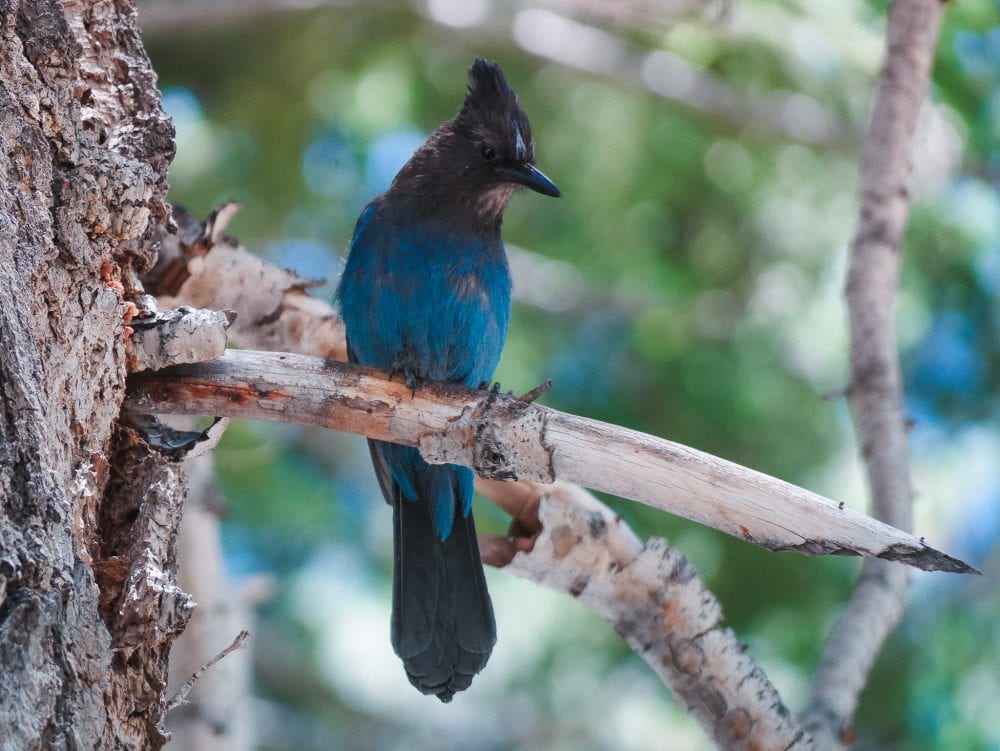 Available during the summer months from late June to late September, you can choose from short rides of one-hour, one-and-a-half-hour, and two-hour durations, half-day trail rides, and full-day treks, each of them taking in the beautiful scenery of the area.
Skiing and Snowboarding
Mammoth Lakes is well-known for being a top ski and snowboard resort. One reason that Mammoth is well known for its winter sports is its long season – the 2019-20 season is estimated to run from November to May. It's not unheard of to have the ski lifts running even into June.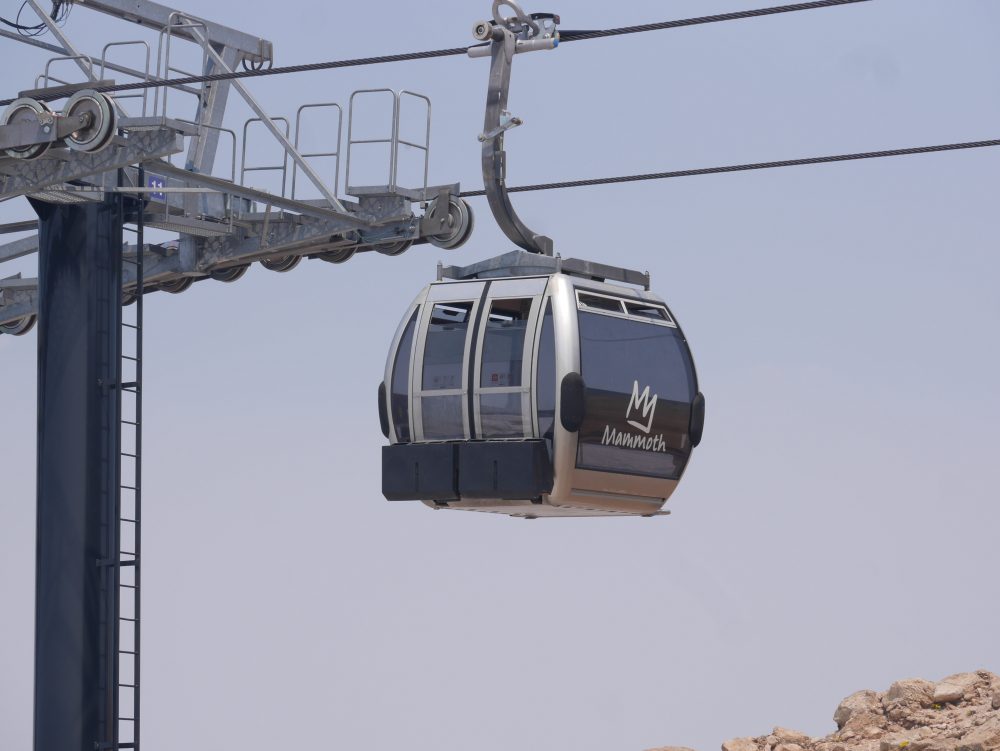 If you are not an experienced skier or snowboarder, take a lesson or two to help you progress quickly.
Other Winter Sports
Skiing and snowboarding are not the only winter sports you can participate in when on vacation in Mammoth Lakes. There are snowshoeing trails to be found throughout Mammoth Lakes and into the Inyo National Forest, plus there are also groomed trails that can be accessed behind the Mammoth Lakes Welcome Center and Shady Rest Park. These trails can also be used by cross country and Nordic skiers.
Sightseeing
If you need a break from vigorous activities try some sightseeing in the Mammoth Lakes area.
Bodie State Historic Park is a popular choice. Here you can walk through the streets of a real California gold-mining ghost town which once had a population of almost 10,000.
To the south of Mammoth Lakes, you can also visit the Consolidated Gold Mine, where you can see the ruins of the mine shaft, mining equipment, mining offices, bunkhouses, a mill, and many more. You can take the self-guided trail either on foot or on horseback.
Yosemite National Park is not too far from Mammoth Lakes – around a 45-minute drive – and is and easy day trip. Activities here include hiking through the Tuolumne Meadows, taking a scenic drive via El Capitan and the Yosemite Valley Waterfalls, and going for a swim in Tenaya Lake.
Visit Devils Postpile National Monument, a unique geological structure over 100,000 years old comprised of thousands of hexagonal basalt columns.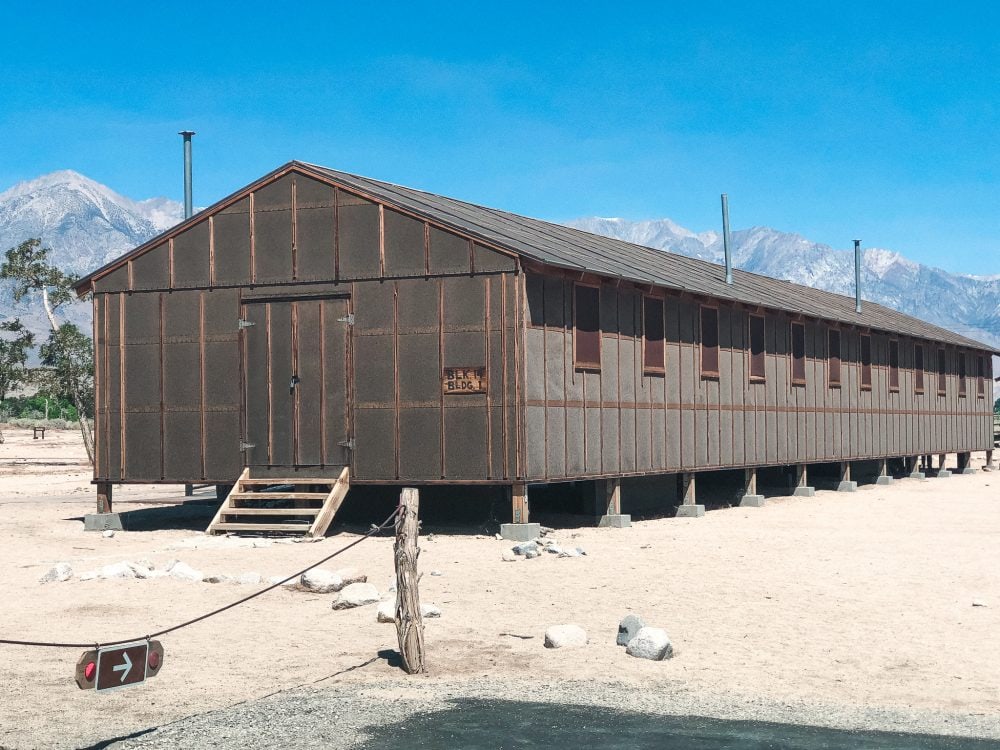 Manzanar National Historic Site, the site of one of ten camps where Japanese-Americans and Japanese foreign nationals were incarcerated during the Second World War, is a sobering and moving visit.
Mono Lake, a saline lake that is an important habitat for approximately two million migratory birds will appeal to birders. Bring your binoculars.
At Hot Creek Geological Site you can see boiling water bubbling up through the creek and periodic eruptions.
Indoor Mammoth Activities
As much as you may enjoy outdoor activities, sometimes you just need to do something a little bit different. Perhaps the weather isn't conducive for spending time outdoors, or maybe you are traveling with children and need to schedule in a break from cultural and educational activities, or maybe you're looking for some of the familiarity of home. We've got ideas!
Mammoth Rock 'n' Bowl is a fun option to blow off a little steam if the weather is bad. This state-of-the-art bowling alley has 12 lanes and three indoor high definition golf simulators. You can eat here, in the brasserie (fine dining with am emphasis on wine and spirit selections) or in the lounge, which offers family-friendly fare. Reservations for both bowling and dining are recommended.
Minaret Cinemas in the Minaret Village Shopping Center screens matinees and evening shows of all the latest Hollywood films.
For those who enjoy bouncy fun, Mammoth Trampoline Club is one of the newer things to do in Mammoth Lakes. There are five Olympic-standard trampolines and are incredibly fun for all ages. This is a great way for the kids to get some physical activity and blow off some steam.
Spas and Fitness
After a day on the slopes, or hiking the mountain, you body may have some aches and pains. Especially if you're – ahem – of a certain age and feeling a little out-of-shape. After a day of vigorous activity, I like to unwind and recover with a spa visit.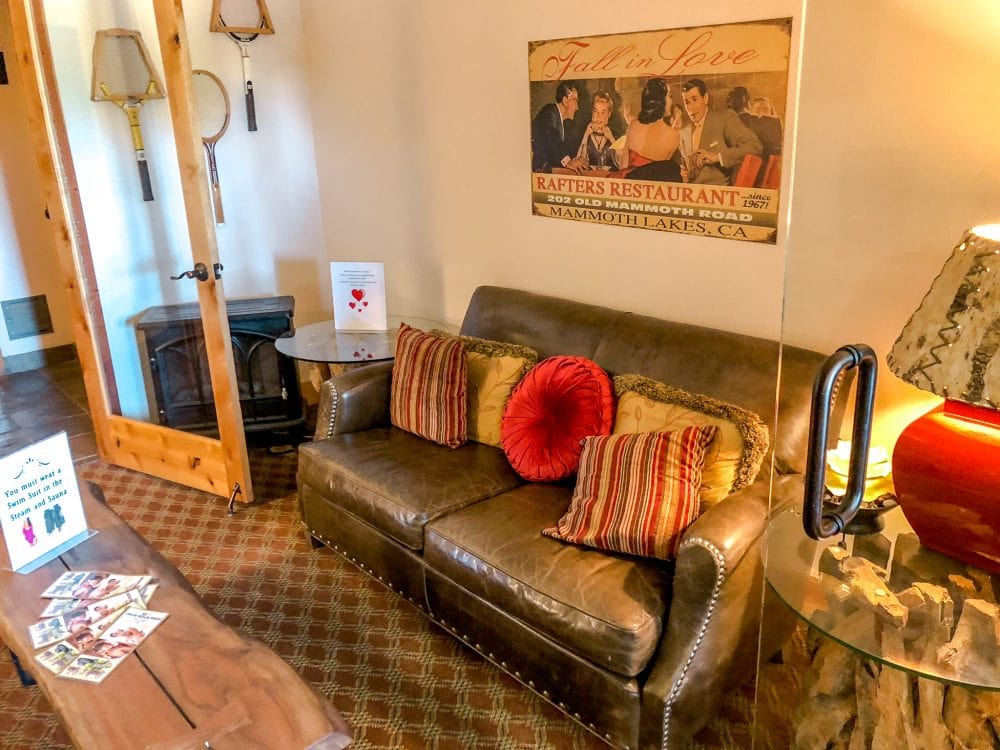 The Spa at the Sierra Nevada Resort & Spa is the only full-service hotel spa in Mammoth Lakes, California. The ambiance is rustic western, unlike anything I've experienced before. I enjoyed a deep tissue massage that was both relaxing and stress-reducing.
The Double Eagle Spa includes access to the Snow Creek Athletic club with any 50-minute treatment. The club has a schedule of classes (yoga, cycle fit and more), tennis, pools, whirlpools, steam, cardio, weights, and, when combines with spa treatments, makes an alternative day of activities for the non-skier in the group.
You'll also find an assortment of salons, gyms, and yoga studios around the area.
Arts Performances
A visit to Mammoth Lakes does not just have to be all about the great outdoors. The area also has a rich heritage of art and culture.
The Mammoth Lakes Repertory Theatre runs from March to October and shows a fantastic mix of classic dramas and light-hearted comedies.
The Sierra Classic Theatre also shows classic pieces of theatre, but is also known for its popular annual events. These include the Murder Mystery Fundraiser Show in autumn and the Shakespeare in the Woods event in August.
In May, the Mammoth Lakes Film Festival takes place, and the town is also host to a wide variety of music festivals throughout the year celebrating all kinds of genres, from jazz and reggae to blues and rock.
The Village at Mammoth
For your retail, culinary and nightlife needs, The Village at Mammoth is a one-stop destination. The village has 15 restaurants and 13 shops, all condensed into a small, easily walkable area. The Village is right next to the gondola and forest trail, so you can conveniently find somewhere to eat right after your day's activities.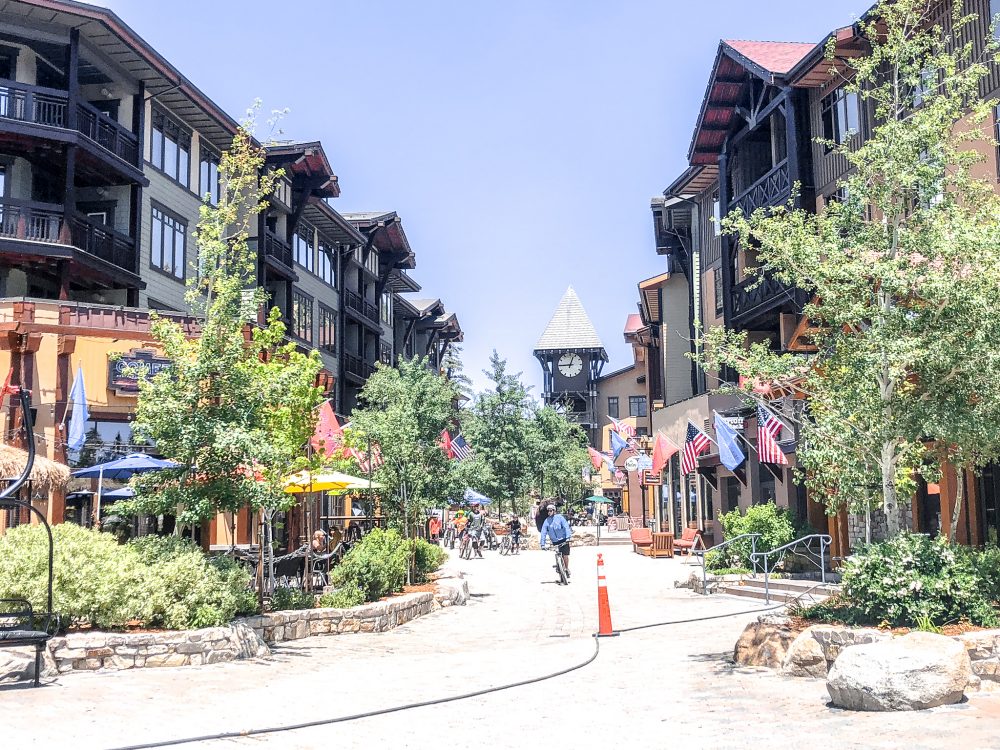 The Plaza is the heart of the Village and you will find events taking place here throughout the year, including live music and games in the summer.
Lodging in Mammoth
While there are many options for Mammoth lodging, the following two places are located right in the Village itself, giving you the best access to activities, shops, and restaurants.
Westin Monache Resort
Located in a perfect spot for access to the ski slopes and proximity to the Village's many shops, restaurants, and bars, the Westin Monache Resort offers visitors everything to make their stay in Mammoth Lakes a great one. It's a casual vibe that is the perfect blend of mountain charm and Westin luxury. The property offers complimentary wifi, a fitness studio, a heated pool, and hot tubs. If you visit during the ski season, ski and snowboard rental are available, along with in-room ski fitting and delivery, and ski valet service. The hotel restaurant, the Whitebark Restaurant and Lounge, if convenient and delicious.

Read my full review of the Westin Monache Resort here.
Village Lodge
Another top Mammoth lodging, the Village Lodge also has a prime location, just a few steps away from the all the best entertainment, shopping and dining area in town, and with direct gondola access during the ski season.
The Village Lodge is a condo property, offering a variety of stylish choices with all the expected amenities. Common areas include a media room where you can relax and watch a movie or television, a game room with a variety of arcade games and gaming consoles, along with fire pits and grills for cooking dinner or just toasting s'mores. Child care is available (for an additional fee). There is also bike storage if you are travelling in summer and bringing your bike with you.
Austria Hof Lodge
Offering slope-side hotel rooms and condos, Austria Hof lodge works great for large families and groups of friends. Rooms include breakfast, wi-fi, and equipment storage and the condos have fully stocked kitchens.
Still not sure where to stay? This map below can help.
Restaurants in Mammoth
If you're fully enjoying all the Mammoth activities, you're probably working up an appetite and thirst. And, of course, you have choices!
Whitebark Restaurant and Lounge
The Whitebark Restaurant and Lounge, the restaurant located at the Westin Monache Resort. Breakfasts are delicious, but fairly routine options. They really shine for dinner with a contemporary menu and an excellent selection of craft cocktails. Happy hour from 3-6 pm has specials on both drinks and food.
I'm a sucker for the fries with truffle oil and parmesan, which makes a nice side or even just a snack with a cocktail. Other menu favorites are the mushroom ravioli (which is an appetizer, but I like pairing it with a salad for a full meal), the steaks, or the chef specials.
Roberto's Mexican Cafe
A favorite of locals for many years (it's been around for over 35 years), this Mexican restaurant is famous for its 22 oz. TJ Margaritas and free cheese quesadillas and chips during happy hour (daily in the upstairs bar, 4-6 pm).
While I didn't make it timely for happy hour, I enjoyed a smaller, and still delicious, margarita on the patio along with some chips and a carne asada burrito. It was a little slice of heaven in the glass before heading to the airport and home.
Address: 271 Old Mammoth Rd; website here.
Sushi Rei
Sushi Rei has an extensive selection of sushi and sashimi, plus plenty of curries and ramen bowls to enjoy. While I'll pass on the sushi and sashimi, I love a good bowl of ramen. Start off with some firecracker edamame, move into a steaming bowl of pork ramen, add in a beer, and it's a great meal of comfort food. There are super deals during the daily 5-6 pm happy hour.
Address: 6201 Minaret Rd; website here.
Austria Hof Lodge, Restaurant and Bar
This looks like the stereotypical Austrian/German dining chalet – both inside and out – but the menu tells an entirely different story. This is fine dining, and while there are some German favorites on the menu, there is much more. The Crispy Fried Carmel Pork Belly is a melt-in-your-mouth treat and if osso buco is available, scoop it up. Prices are commensurate with fine dining, so this may be a splurge, but it's worth a visit at least once during your stay.
Address: 924 Canyon Blvd; website here.
Shopping in Mammoth
You're probably not making a trip to Mammoth for shopping, you're likely coming for the outdoors adventure the mountain offers, but if you need something, you can find it here.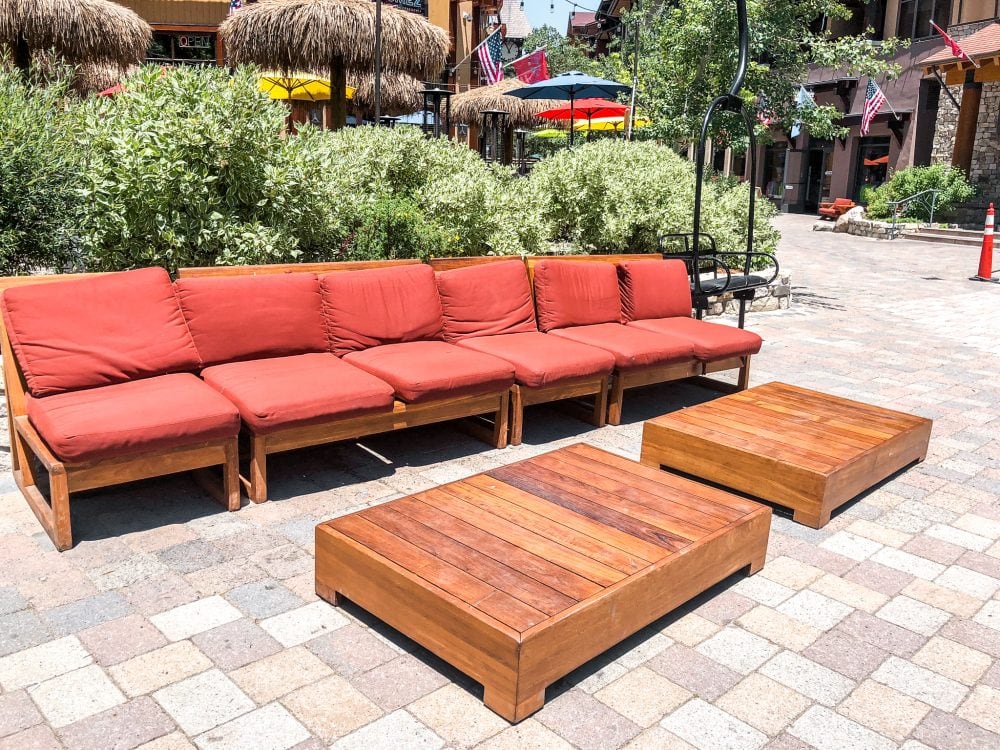 The Village has stores selling everything from everyday food and drink items to sportswear, from everyday needs to souvenirs.
Just down the road is Main Street Promenade – formerly Mammoth Luxury Outlets – if you are looking for something a little more upmarket. During the summer months a farmers' market also takes place here every Wednesday.
Getting to Mammoth
Mammoth Yosemite Airport (airport code MMH), is about 10 miles away from Mammoth Lakes. Year-round flights to Mammoth via Los Angeles (LAX), with seasonal service during the winter ski season from Denver (DEN), San Francisco (SFO), Burbank (BUR), and Orange County (SNA).
Airport shuttles, hotel shuttles (check to see if your hotel offers one), and car rental agencies are available at the airport. If all you are going to do is go from your hotel to the Village to the slopes, you can get by without a car. However, there are lots of things to do and see in the greater Mammoth area and I recommend a rental car during the summer season.
Pinterest
Save this to your favorite Pinterest boards and plan your trip to Mammoth Lakes, California.
Disclosure: Some of the information contained in this getaway guide is a result of sponsored travel.