I recently had the opportunity to stay at the Monte Carlo Resort and Casino and was curious to see how it had fared since my last stay some 10+ years ago. It was a mixed bag, like any hotel stay, so I'll break it down into easy to understand categories.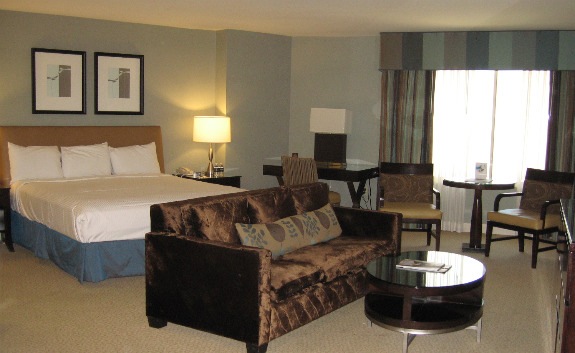 The Good:
Great location at the southern end of the Las Vegas Strip (map) offers easy access to everything that's going on in the area.  A monorail moves you back and forth between the Monte Carlo and the Bellagio (map), meaning you have great access to all the hotels, casinos, and shopping on that side of the strip.
Beautiful exterior facade, even more so when lit up at night.
Affordable prices with lots of package deals currently being offered that can bring the price of a room to under $60 with lots of extras thrown in.
The pool area offers several pools and a lazy river for floating along in the warm desert sun.  I noticed quite a few families enjoying the pool area, so if Las Vegas fits your idea of a family vacation, this is a spot to consider.  Consider a cabana rental, complete with loungers, pool side service, and plenty of amenities.
Spa – I had a pedicure and was very pleased with the quality and professionalism of the service, and the friendly and helpful staff at the spa.  Fairly priced and easy to get an appointment, make this a stop off for a respite from the blistering sun.
Refrigerator in room – very nice for cold water in the blistering heat.
In house performer Frank Caliendo puts on a great show.  He's a remarkable impersonator, and I had the opportunity to meet him before the show.  How refreshing to find an entertainer who's a nice guy, and who graciously answered questions, posed for photos, and asked questions wanting to get to know a little bit about me.  His John Madden, Bill Clinton, and George Bush impressions are spot on, and are worth the price of admission alone.
Good restaurant choices – If you want ethnic, try Diablo's Cantina for fun Mexican food (warning – it can be VERY loud, so this is not the place for a romantic date); for a romantic date or special occasion, try Andre's Restaurant; and steak lovers won't want to miss BRAND Steakhouse.  There's plenty of casual dining, including a food court, as well.
Very close to the new CityCenter (map) for some great upscale shopping, restaurants, and public art.  Several stores caught my eye, although not my budget.
All the expected gaming choices are available, including some lower priced table games.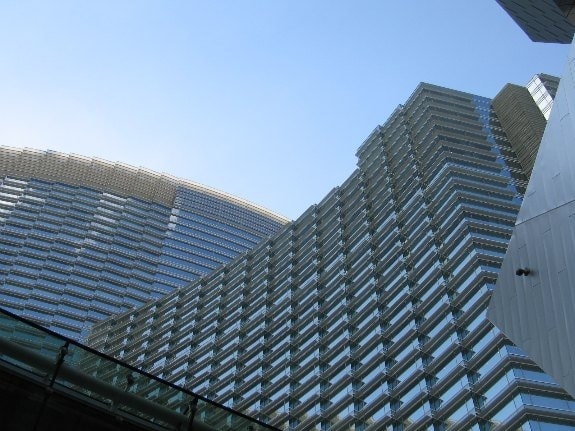 There were some areas where I thought the hotel could use a little improvement.  I'll call these the. . . .
Not so Good:
Long — and I mean taking up the whole lobby and can't walk through it long — lines for check in and check out.  I'm not sure if it's a staffing issue, but it seemed to take a ridiculously long time to process guest through the process.  A few people on "lobby duty" could have helped manage traffic and made guests feel a little more like things were under control.
The guest rooms are a little tired, although recent upgrades have helped.  The bathrooms, while clean, feel dated and old.  I didn't hate the rooms, but it's not like I enjoyed stretching out and staying in.
My room overlooked the pool area, and the windows desperately needed washing.  Yuck-o!  Poolside is also quite noisy for the music played outside, so if it's summertime and you need a quiet room, ask for something away from the pool.
Attention to little details seem to have slipped through the cracks.  For example, there were no drinking glasses is the room.  No big deal, things can get overlooked, but it took over an hour, and two phone calls, to get them.
The pool area is busy.  Of course, I visited during summer and the temperature was over 100 degrees, so of course it was busy.  But keep timing in mind if pool time is important to you.  Get to the pool early, and for heaven's sake, wear your sunscreen.
There is a resort fee.  It's not bad enough that you've been nickel-and-dimed on your airfare to get you to Las Vegas, now you'll get hit at the hotel.  I think this is a ridiculous fee, even if it also covers internet access (which is ethernet based, not wi-fi) regardless of who else is charging it.
Rooms facing the pool can be very noisy.  Probably only a concern during the summer months.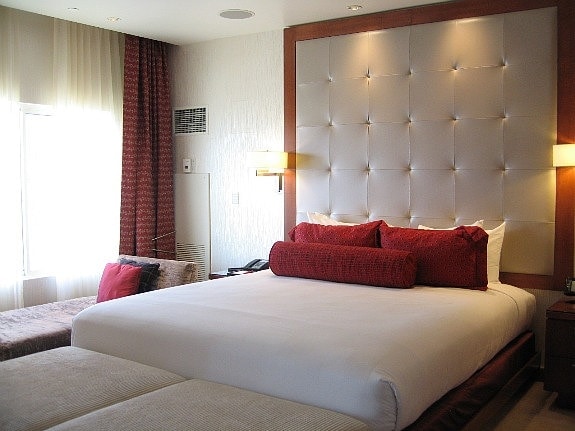 While there, I also had a chance to tour Hotel32, a hotel-within-a-hotel at the Monte Carlo.  If you are staying at Hotel32 you have a private check in area and then are whisked off to your hotel room, allowing you to bypass the riff raff in the lobby.  The rooms are far more luxurious, with extensive amenities., and there is a private lounge area.  The hotel is selling the exclusivity of this option, and the room price reflects that.  I didn't stay here so can't say if they deliver on their promises.
Would I stay at the Monte Carlo again?  Sure.  Given the room rates available, this is a good hotel returning solid value for your stay.  There are some things that can be worked on, like every hotel, but they seem eager to polish up their image and reclaim a favorite position with their guests.  If Hotel32 delivers on what they brag about, it could offer a more luxury option to guests, with posh rooms and individualized service. It's the best of both worlds on one property, offering enough restaurants and choices that you don't have to leave.
Photo credit:  personal collection
NOTE:  A portion of the author's expenses were comped for the purpose of familiarization with the hotel and its services.  The opinions expressed herein are solely those of the author.