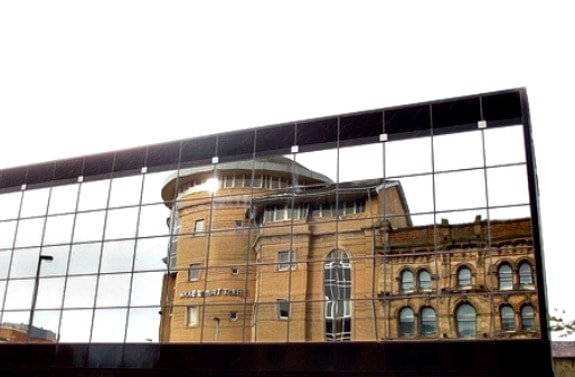 Malmaison Belfast
Address: 34-38 Victoria Street, Belfast, Northern Ireland
Features:  Located in two old seed warehouses, the Malmaison Belfast has retained some of the original features, including iron pillars, beams, and carved stone gargoyles. The boutique hotel has 64 luxury rooms and two suites. The rooms feature mood lighting, flat screen plasma televisions, upscale toiletries in generous sizes (you're encouraged to take them with you), and FREE wifi. Giving a hat tip to Belfast's maritime connection, the Malmaison Belfast features subtle shipbuilding décor features in its common areas. The hotel has a restaurant (Brasserie) and bar (MALBAR) on site.
Price Range:  Typical boutiques rates here, and with the dollar to pound exchange rate, it can add up fast. The best price we found was by taking advantage of one of their several promotional packages, resulting in a pre-paid price of 99 pounds per night (roughly $160/night based on current exchange rates). What makes this a value luxury property is not only the hotel property itself, but the location to all the major attractions in Belfast. The Cathedral Quarter, downtown city core, shopping, and the Titanic Quarter, are all an easy walk away. This can save on taxi fares (which can easily run an additional $25-50/day).
Personal Notes:  We chose the Malmaison primarily for its location. I wanted to be centrally located in order to avoid needing to take a cab everywhere. A cab ride might not seem like a big deal, but $10 to see this museum, another $10 to dinner, and everything in between can add up quickly. Sure, there's always public transportation too, but I like the convenience of being on the schedule of my own two feet.
The entry doors to the hotel are reminiscent of its days as a seed market, tall and wide – big enough for the comings and goings of a market. The lobby and bar and have kept the dark, exposed beams and high ceilings, and its red decor gives off a bordello feeling. Not to worry, though, this boutique hotel is all first class with a wonderful dose of character.
The front desk service is top rate, all our questions were quickly answered and a request for a tour of the hotel (and a bit of background about it) was graciously handled. All of our comings and goings throughout our three night stay were met with a friendly smile and hello whenever we walked through the lobby. A quizzical look on our faces quickly elicited a "can I help in some way" response from staff, whether in the hallway or the lobby.
Shortly after check in, weary from a hectic schedule the previous week, we wandered into the MALBAR for a little relaxation and thirst quencher. The bar offered a menu of specialty cocktails, in addition to the standard selections, and a glass of Malbec and a whiskey were fairly priced. Bar nibbles include some typical fare, but also some interesting fusion twists on old standbys, and a selection of three appetizers made for a nice lunch for two.
Although we didn't eat in the restaurant, Brasserie, we did hit it up for our morning lattes. It bills its Sunday lunch as the biggest in town and if we had been there, we would have checked it out. We departed a day too early.
I'd recommend Malmaison Belfast for both leisure and business travel. It would be as perfect for a weekend getaway as it would be for business visitors to the city. I'd stay there again (and that equals high praise).