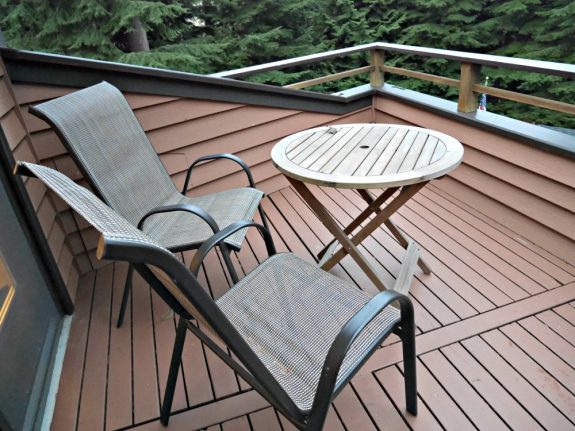 This weekend guide for your getaway to Langley, Washington, will help you plan your getaway, complete with where to stay, what to eat and drink, and what to do.
Located on the south end of Whidbey Island overlooking the Saratoga Passage, Langley's community of just over 1,000 people entice visitors with small town hospitality. With charming inns and cottages, seven wineries in the area, and a stunning natural environment, Langley is a perfect getaway destination for wine tasting, great food, and outdoor activity.
This weekend guide to a getaway to Langley was written with the assistance and sponsorship of Whidbey Camano Tourism (their website is here) and its members. This guide contains affiliate links; clicking through for more information or to make a purchase may result in a small fee coming my way to help support the site.
Getting There
You're going to need a car – both to get to Whidbey Island as well as for exploration once there. So come on, what are you waiting for, let's getaway to Langley.
From Seattle:
If you're flying into [amazon_textlink asin='1465429581′ text='Seattle' template='ProductLink' store='travelingwithmj-20′ marketplace='US' link_id='a939c041-a786-11e7-bb76-752c607d3b87′], you'll find rental car options at the airport. While the car rental facility is technically on airport property, it is not actually located AT the airport, but a 10-minute shuttle ride away.
Head north on I-5 to exit 182 (Lynnwood) and then merge onto WA 525 west to Mukilteo. You'll stay on the highway until you reach the Washington State Ferry Terminal for the Mukilteo/Clinton crossing. The crossing takes about 15-20 minutes, a blink of the eye in commute time, but the wait times during the summer and on weekends can be brutal. You'll find the fall 2017 ferry schedule here to help you plan, basically, the ferry departs every half hour although there are seasonal fluctuations. The ferry will take you across [amazon_textlink asin='0881507563′ text='Puget Sound' template='ProductLink' store='travelingwithmj-20′ marketplace='US' link_id='d8b116c4-a786-11e7-ab54-c3b00589597e'] to Clinton, where you will continue once again on WA 525. Turn right onto Langley Road, the second traffic light on the highway, and then proceed into Langley. Turn right onto Cascade Avenue which will turn into First Street, and you'll find yourself in the center of the town.
Depending on traffic and the ferry schedule, I recommend allowing about two hours for travel time from Seattle.
From Oak Harbor and north:
If you're traveling from the north, head south on I-5 to Oak Harbor. Then take WA 20 south until it turns into WA 525. Turn left onto Bayview Road, which will change names a couple of times (Brooks Hill Road, then Third Street) until you get to Langley. Turn left onto Anthes Road and the right onto First Street and you'll find yourself in the center of the town.
From Port Townsend and the Olympic Peninsula:
If you're traveling from [amazon_textlink asin='1770683542′ text='Port Townsend' template='ProductLink' store='travelingwithmj-20′ marketplace='US' link_id='fdba2303-a786-11e7-bd67-29577ee0e75e'] (on the [amazon_textlink asin='1631210068′ text='Olympic Peninsula' template='ProductLink' store='travelingwithmj-20′ marketplace='US' link_id='0b24bd23-a787-11e7-a735-cfb5614612bf']), you will take the Port Townsend/Keystone ferry to Whidbey Island. Once off the ferry, turn right on WA 20 (Engle Road), continuing on until turning left onto Bayview Road. Then follow instructions above (in directions from Oak Harbor) to get to the center of town.
Where to Stay
While it is possible to arrive in Langley and find a place to stay on the fly, it's not something I recommend especially during the summer, on weekends, and during special events. If you're timing your travel for one of those special events, book your stay early.
As a value luxury traveler, I have standards that I use to decide where to stay. It's a combination of amenities and experience vs. price point and the two don't necessarily go hand in hand. The BEST hotel isn't necessarily the most expensive or luxurious, and the reverse is equally true as well. I look for the best value for the dollars spent, regardless of the actual price point.
Not surprisingly, lodging rates soar during summers and weekends, drop off slightly for fall, and you can find real value during the winter offseason.
Here are some places to stay for your getaway to Langley.
Eagles Nest Inn
Located at the top of a small hill, and adjacent to a 600-acre wildlife corridor that includes a private forest, Putney Woods trail system, and the Saratoga Woods Preserve, staying at the Eagles Nest Inn is about as close to staying in the woods as you can get without camping. Splurge on the Eagles Nest Room, which takes us the entire third floor of the octagonally shaped building, and you'll feel like you're staying in a treehouse – but with all the amenities of home, of course. There are only four rooms at Eagles Nest, so if you're traveling with a group of friends consider renting out the whole place.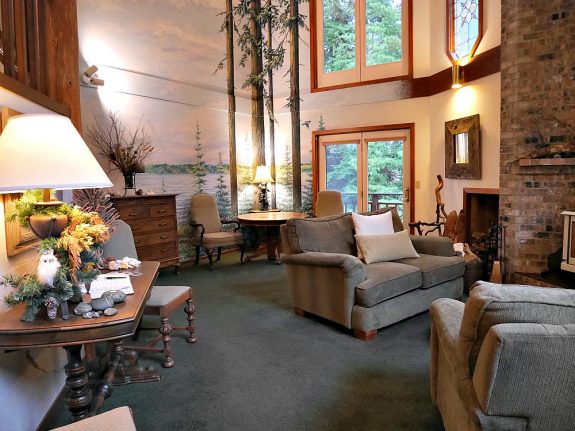 The hosts of the inn are generous with their knowledge of the area and make spot-on recommendations. Hiking trails are right next door. The inn is primarily suitable for adults.
I wrote a full review of this marvelous Inn here.
Address:  4680 Saratoga Rd, Langley, [amazon_textlink asin='B016RFKGSW' text='Whidbey Island' template='ProductLink' store='travelingwithmj-20′ marketplace='US' link_id='aa7dbd78-a787-11e7-ae01-85f18d9d37e3′], Washington.
Rates:  Starting around $160/night which includes a plated breakfast. Wi-fi is complimentary. The Inn is closed seasonally during the Thanksgiving and Christmas holiday season.
Website here. Read more reviews here. Find booking information here.
Saratoga Inn
This 16 room inn is named for the Saratoga Passage which it overlooks, and it can be seen from the common areas of the room as well as from many of the guest rooms. Some rooms also have a fireplace with a sitting area or window seat. One accessible room is available. In addition to the daily buffet breakfast (vegan available upon request), the inn offers a daily afternoon wine and cheese hour (4-5 pm).
The family-run inn is run by two generations of famliy members and is coming up on its 25th anniversary of operation. It's primarily suitable for adults.
Address:  201 Cascade Ave, Langley, Washington
Rates:  Starting around $165/night which includes a buffet breakfast. Wi-fi is complimentary.
Website here. Read more reviews here. Find booking information here.
Inn at Langley
This Inn has a familiar feel to me, and it took me awhile to put my finger on why. Finally, it came to me, it has the same feel for me as the Willows Lodge in Woodinville (you can read my review of that hotel here). There's lots of wood and stone, fireplaces and windows, and recycled and up-cycled products – it feels great to be there.
You have a variety of lodging choices at the Inn at Langley, and every room has a water view. Guestrooms are large, about 400 square feet, and have jetted tubs and wood burning fireplaces. The Inn also has two 2-story cottages that sit on a bluff and two huge suites – 1,500 square feet, larger than many homes. The suites have a living and dining area, fully outfitted kitchen, and private deck. I have visions of moving in for a week to dedicate myself to writing, with a private chef to come in and cook for me.
The Inn boasts a top-notch restaurant, with multi-course dinners, served weekends year-round, and additional nights during the summer. There is one seating per night, a fixed chef's menu, and you should expect the evening to last about three hours. Wine pairings are available to accompany the dinners or you can choose a bottle from their extensive wine cellar. Reservations required; you do not have to be a guest of the Inn to attend the chef's dinners.
And there's a spa! Enjoy massages, body treatments, skin care, and other health and wellness treatments. Reservations recommended; you do not have to be a guest of the Inn to schedule a spa treatment.
Address:  400 First Street, Langley, Washington
Rates: Rooms start around $325 per night.
Website here. Read more reviews here. Find booking information here.
Boatyard Inn
The Boatyard Inn offers beachfront self-catering units. All have a private deck (either waterfront or water view) that overlooks Saratoga Passage. Loft units have additional sleeping quarters upstairs. Galley-style kitchens are stocked with utensils for food preparation and service, with additional items available upon request.
While most of the inns in Langley are most suited for couples, or two adults traveling together, the Boatyard Inn has several units that are suitable for a family. Having your own kitchen can help stretch the budget, and while I wouldn't recommend missing out on the great restaurants in Langley, having some snacks on hand or breakfast food handy means you can splurge on some of the great restaurants found on the island.
Address:  200 Wharf Street, Langley, Washington
Rates:  Units start around $200 per night.
Website here. Read more reviews here. Booking information here.
Whidbey Island Bed & Breakfast
This small bed and breakfast has two en-suite guestrooms and one cottage with views of the Olympic Mountain Range and Holmes Harbor. You can enjoy the view from your private deck, or take a short walk along a woodsy trail directly to a private beach. Breakfast is served daily by a professionally trained chef who spent time in restaurants in Seattle and Spain.
There's also a self-contained guest cottage. The cottage has a large bedroom with sitting area and workspace, a full-size kitchen, living room, private patio, and trails leading down to the beach. This is the only family and pet-friendly option on the property. Breakfast is not included.
Address:  3419 Passage Way, Langley, Washington
Rates:  Starting around $160 per night.
Website here. Read more reviews here. Booking information here.
Comforts of Whidbey Bed & Breakfast
We visited the winery for some tasting and this six-room bed and breakfast was just in the finishing stages. The love and care that the Comfort family puts into its wine have been transferred into comfortable and gracious guest space.
The rooms are located on the top floor, above the winery and tasting room, and offer a view of Puget Sound or the rolling pasture and vineyards. On our visit, several deer were seen in the pasture. Each room has a private bathroom and lots of amenities, including complimentary wi-fi. Because the location of the winery, all guests must be 21 years of age or older by Washington State law
Guests are greeted with a complimentary wine flight and cheese plate upon arrival and a full breakfast is served each morning on the main floor of the tasting room. Deliciously charming? Charmingly delicious? You can't go wrong with either.
Address:  5219 View Road, Langley, Washington
Rates:  Starting around $185 per night.
Website here. Read more reviews here. Booking information here.
Langley Motel
While Langley's lodging options are weighted heavily toward inns and bed and breakfasts, the Langley Motel provides an option for those who want something a little more private. The motel is a refurbished 1950s motor lodge offering a comfy and affordable retro experience.
There are five suites, each with a living room, private bedrooms, bathrooms, and a galley style kitchen. Each suite is ground level with a private garden patio.
This is a family-friendly, pet-friendly, and budget-friendly option for a stay in Langley.
Address:  526 Camano Avenue, Langley, Washington
Rates:  Starting at $95 per night.
Website here. Read more reviews here. Booking information here.
Wine Tourism
Wine tourism has become a big draw for visitors to Langley. Boasting seven wineries, three major wine events, and frequent local wine and food-related events, a weekend getaway to Langley will satisfy wine lovers and the wine curious.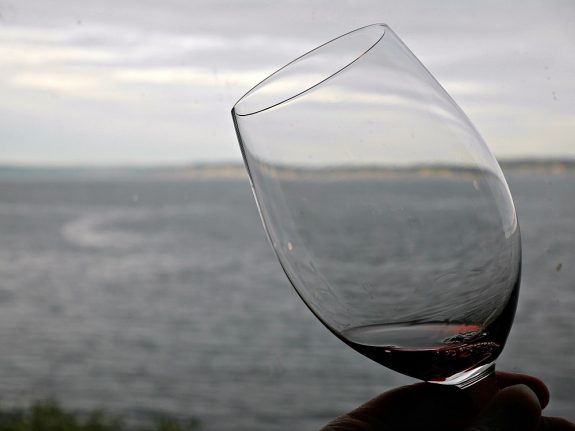 The wineries are close to one another, a 10-minute drive at most, and this is another reason why you'll need a car for your weekend getaway to Langley. Here are a few recommendations on how to enjoy your wine tasting fully and prudently.
Check the winery website and then call to confirm tasting days, times, and price. These are small family-owned wineries, and things change.
This is a taste – a chance to sample the aroma and flavor of the nectar of the gods poured into your glass. This is not a full on day of drinking.
Share the taste. I've found that one tasting pour (usually about one ounce) is plenty for two people and, if there is a per taste fee, it will save a little money, too. It the tasting fee is for a flight of tastes, one flight will adequately provide for two people.
Don't feel obligated to drink all of the taste. There are spit buckets where you can pour your leftover wine. Use it.
If enjoying a complimentary tasting, I ask the server for just a splash in the glass (if I don't have anyone I'm sharing with). I really want to just swirl and smell, then taste. If I'm still curious, I'll ask for a little more, but I hate wasting wine with a full pour.
Two or three stops is about the most I can handle in a day. That will vary if I'm doing a winemaker dinner or paired event, but if I'm independently touring, I'll rarely visit more than three.
Drink Responsibly. And perhaps that should be in all capital letters. It's always best to have a designated driver who is not drinking at all, but at times that's not possible. By sharing tastes, you can limit the amount of your alcohol consumption allowing your driver to enjoy and still be responsible. If you know that this won't work for you, hire a car and driver, take a tour that provides a driver, or call a cab or shared ride service.
The Wineries
You can enjoy tasting at these seven wineries in Langley. If you find something you love – and you will – plan on buying some right on the spot. Most of the wineries have small productions and aren't sold off the island and can only be purchased at the winery. However, most of the wineries offer a wine club, a good way to keep up with the new releases and have wine shipped directly to you at varying times throughout the year.
Blooms Winery
With a decade of national and international award-winning wines to their credit, Blooms Winery owners Ken and Virginia Bloom have created a casual wine bar tasting room. Located at the historic Bayview Corner, the tasting room pairs wine with food, live music, and local art.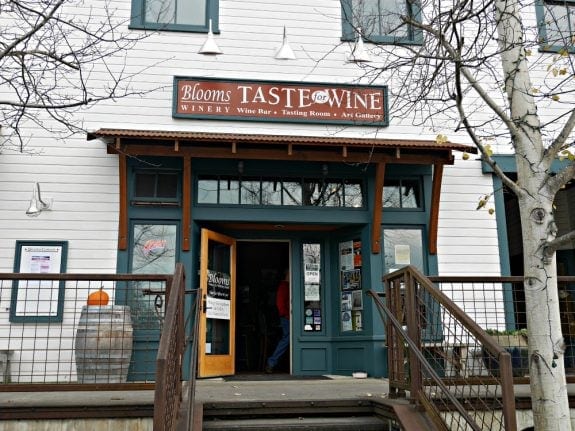 This is a good stop for a tasting and a snack, so plan your visit when you are ready to sit down and relax for a bit. Or, make it a special stop for one of their live events – open mic on Friday night or the Sunday afternoon music series.
Try:  Blooms Poetic, a blend of Syrah, Malbec, and Petit Verdot. Good fruit, strong earthiness, lingering finish. $39.
Address:  5603 Bayview Road, Langley, Washington
Website here. Read more reviews here.
Comforts of Whidbey
Carl and Rita Comfort own this winery, vineyard, and beautiful event space, and were welcoming and gracious as we tucked in for a taste shortly before their closing time. In addition to their grape purchases from eastern Washington, the Comfort's also grow Siegerrebe, Madeleine Angevine, Madeleine Sylvaner and Pinot Noir grapes on their 22-acre farm. They also own a few frisky llamas and besides wine lovers, regular visitors include deer and other wildlife.
A newly opened bed and breakfast is located on the top floor of the tasting room. If you're looking for a location for a destination event – wedding, reunion, family getaway – this combination of event space and lodging is a winner.
Try:  2012 Malbec. Full bodied, strong overtones of blackberry, tons of dark flavored fruit, ample tannins, chocolate and a subtle vanilla flavor, and a smooth, smoky finish.
Address:  5219 View Road, Langley, Washington.
Website here. Read more reviews here.
Dancing Fish Vineyards
This winery, owned by Brad and Nancy Thompson, is located in Freeland, about a 15-minute drive from Langley on WA 525. The couple created their winery as a hospitality destination, complete with a tasting room, multiple event spaces, and farmhouse available for overnight stays. The spot is beautiful for weddings, parties, or a getaway spot for family and friends.
I recommend checking the winery calendar of events and/or calling to see if there are any groups visiting. Of all of the wineries in the area, this was the one where we felt the most in the way. A tour group of 10 people was there at the time of our visit, and that impacted the hospitality side of wine tasting. We'll give it a try on another occasion, but will check before making the visit.
Try:  2014 Cabernet Sauvignon Reserve. Full-bodied with blackberry, cherry, and red plum flavors, aromas of rich dark fruit, accents of cocoa and vanilla, fine tannins. $48
Address:  1953 Newman Rd, Freeland, Washington
Website here. Read more reviews here.
Holmes Harbor Cellars
Winemakers Theresa and Greg Martinez created this Tuscan-styled winery on a 20-acre wooded lot overlooking Holmes Harbor. Greg is a renaissance man – a poet, musician, commercial pilot, and winemaker. The family and their pets live on the estate, and stopping off for a taste felt like visiting friends.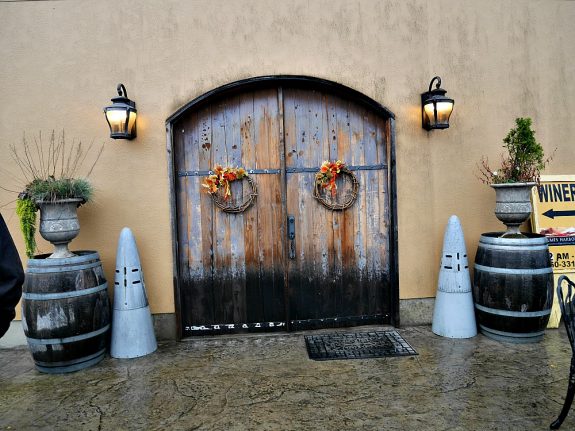 This is another winery not technically "in" Langley. Greenbank is about 20 minutes from Langley and 10 minutes from Freeland. I recommend visiting Holmes Harbor and Dancing Fish in one outing.
Try:  2010 Teregere Red Etude, a blend of Cabernet Sauvignon, Merlot, and Syrah. Bold tannins, smooth finish, depth of color, this is their signature wine. $37
Address:  4591 Honeymoon Bay Rd, Greenbank, Washington
Website here. Read more reviews here.
Ott & Murphy Wines
Part winery, part tasting room, and part caberet, this family-owned establishment on the historic waterfront in downtown Langley specializes in small lots crafted in the French and artisanal styles. The result is wine with intense fruit flavors and aromas.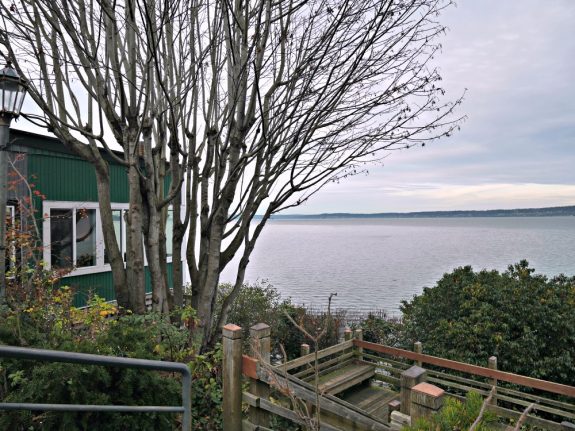 The downtown Langley location makes it easy to stop off in the midst of shopping or strolling through town, or after an afternoon of beachcombing. It's a casual atmosphere with a small food menu and frequently scheduled entertainment.
Try:  2010 L'Entente., a Rhone-style blend of Syrah, Petite Sirah, Mourvèdre, and Viognier. Aromas of blackberry and plum, with wood spice accents. $36
Address:  204 1st Street, Langley, Washington
Website here. Read more reviews here.
Spoiled Dog Winery
Jack and Karen Krug own this winery that focuses on estate-grown pinot noir in very small lots. They also make a non-alcoholic estate pinot noir infused with lavender, a great addition for dressings and sauces.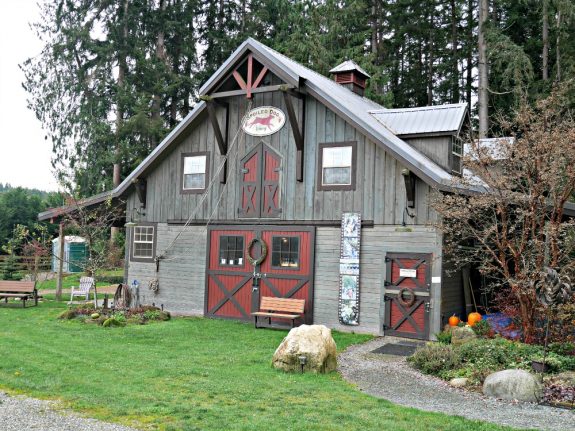 You'll be greeted at the winery by one of the spoiled dogs, and although not the original spoiled dog for whom the winery was named, their picture figures prominently on the winery labels. They're friendly.
Try:  Estate Pinot Noir. Tangy fruit forward strawberry overtones lead to black fruit flavors, medium finish. $34
Address:  5881 Maxwelton Rd, Langley, Washington
Website here. Read more reviews here.
Whidbey Island Winery
This winery will likely be your first introduction to the wines of Whidbey Island if you're arriving via the Mukilteo/Clinton ferry. You'll pass right by it on your way from the ferry terminal to downtown Langley. The winery focuses on estate-grown white wines and classic reds.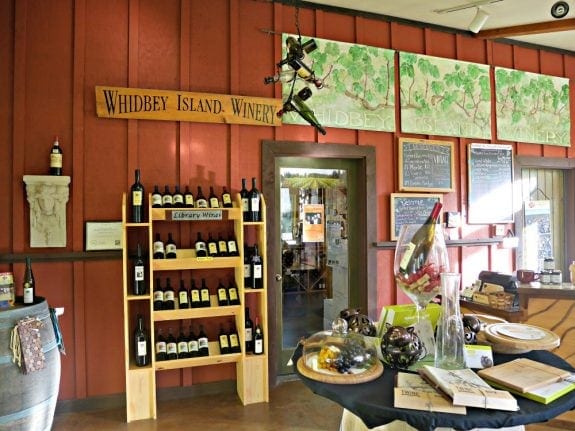 Bring a picnic and get a glass of wine to go with it, then sit on the patio or at one of the picnic tables in the apple orchard. You may even be greeted by Sangiovese, the winery cat.
Try:  2012 Sangiovese. Aromas of leather and spice; classic flavors of dried red cherry, blueberry, orange and cocoa, balanced tannins. $34
Address:  5237 S. Langley Road, Langley, Washington
Website here. Read more reviews here.
Wine Events
The Whidbey Island Vintners and Distillers Association sponsors thee major wine events in Langley each year. Coordinating your getaway to Langley for one of these events is a great idea, but you'll need to buy tickets and make lodging arrangements early (sometimes as much as a year in advance). And, expect to pay premium rates.
The events are for member wineries only, and not all of the wineries are members, but it's a great way to get a fun sampling of some of the best wine, food, music, art, and hospitality that the town has to offer. Note:  Dancing Fish and Ott & Murphy are not currently members of the association.
Get the dates, tickets, and other information for each of these events here.
Autumn on Whidbey
This annual wine and art event celebrates harvest time, a time to celebrate that the harvest and crush is over, and a time to rejoice in the community. The weekend features wine tasting at five local tasting rooms and a chance to see and buy artwork from local artists.
The weekend event comes with the Case Card, a punch card type of card that allows you to track purchases from the various wineries. When full, you can redeem the card for two tickets to the Red Wine & Chocolate Tour the following February.
2017 Dates:  November 10-11, 2018
Red Wine & Chocolate
Held two weekends in February, this event focuses on the romance of Valentine's Day, and the pairing of two staples of the holiday.
Learn about how to pair red wine with your favorite chocolates (dark, light, white) and the best way to take advantage of the delicious tastes.
2018 Dates:  February 10-11, 17-18, 2018
Savor Spring
This annual food and wine event is held every May and celebrates the abundance of the island.
Learn and experience how wine changes when paired with foods, and sample what the island offers in both food and wine.
2018 Dates:  May 19-20, 2018
Food & Drink
You'll have to look long and hard to find anything resembling a chain in Langley. Instead, you'll find family-owned restaurants and cafes that focus on local products, individualized service, and big personality. You won't be able to pass these up on your getaway to Langley.
Restaurants & Cafes
You might get breakfast included at your bed and breakfast, but no getaway weekend in Langley would be complete without sampling beyond that. Here are my recommendations for places to eat and drink.
Mukilteo Coffee Roasters
The first thing to know about this spot is that it's in the woods. I mean really, really in the woods. There are two different routes to get there, and depending on whom you ask for directions, you might get the paved longer route or you may get the muddy pot-holed route. You'll be fine either way and don't worry, you're not lost in the woods.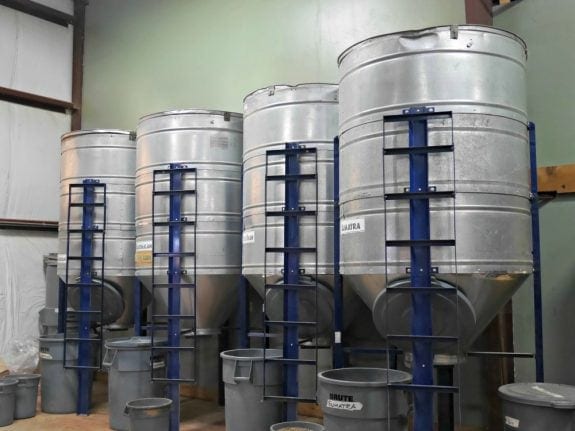 From its inception, Mukilteo Coffee has roasted and served coffees purchased directly from farmers, with beans roasted on site. If you have a chance, see if you can get a peek at the roasting process behind the cafe.
Breakfast and lunch favorites are served all day.
Try:  The coffee, of course. Buy some to take home, too.
Address:  3228 Lake Leo Way, Langley, Washington
Website here. Read more reviews here.
Orchard Kitchen
Orchard Kitchen offers dinner with one seating, fixed price menu on Thursday-Saturdays and some holidays. The menu changes weekly, allowing a focus on ingredients from the restaurant's 3-acre organic farm and the nearby waters. Don't be surprised if you see turkeys perched on the eaves of the house squawking up a storm.
This is a value luxury experience is a rustic farmhouse. Casual clothes are just fine or feel free to dress up a bit, you'll find visitors as well as locals.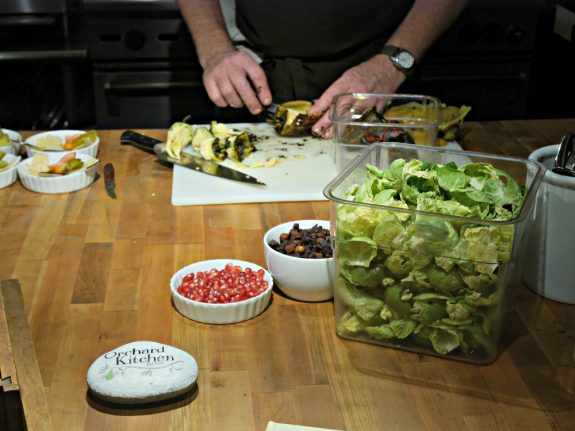 Reservations are a must, although you can sometimes grab one with short notice. Ask for a seat at the bar and you can watch the chef in action preparing your meal. We loved being able to chat with him and I got a few tips and tricks to try at home.
Try:  The optional wine pairings with the courses to make dinner even more special.
Address:  5574 Bayview Road, Langley, Washington
Website here. Read more reviews here.
Prima Bistro
A French-inspired northwest bistro, Prima Bistro's menu changes with the seasons since much of what's prepared in the kitchen is locally sourced. When the weather is nice, enjoy the outdoor deck; when it's not, hunker down inside.
The restaurant can get a little noisy, and service can be a little slow when busy, so don't plan on this for a romantic dinner. Instead, check out the daily happy hour, roll in with friends for lively conversations, and enjoy some great food.
The restaurant is right in the center of town, across the street from Ott & Murphy, but it was a little confusing on how to get it. Head around to the back and climb the stairs, that 1/2 in the address refers to upstairs.
Try:  Truffled wild prawns with Marcona almonds, honey, sea salt, fines herbs, and truffle oil. Available as a small plate for sharing or pair with a salad for a full meal.
Address:  201 1/2 1st Street, Langley, Washington
Website here. Read more reviews here.
Saltwater Fish House
From the owners of Prima Bistro comes this fish and oyster house set in the middle of town.
When you're set overlooking the water, you have to have a seafood spot in town. Much, but not all, of the seafood is local, so it's a chance to taste some of the best seafood the Pacific Northwest has to offer. There's also a nice selection of beer.
Like its sister restaurant, it can get a little noisy, but it's worth it for some delicious seafood.
Try: French breakfast radishes with sea salt and Brittany butter. So simple, so good. And the Rainier beer steamed Penn Cove mussels cooked with house cured bacon, creme fraiche, dijon parsley and served with focaccia. You'll be slurping the bowl.
Address:  113 First Street, Langley, Washington
Website here. Read more reviews here.
Useless Bay Coffee
Roasting organic coffee beans in small batches, Useless Bay's small-batch roasted blends are delicious. You can watch the beans roasting and talk with the head roaster about the process.
Offering house-made pastries and paninis, this is a great place to start your day or to grab some out of office (or out of room) work time.
Try:  A cup of coffee and a ginger pear scone. Delish!
Address:  121 2nd Street, Langley, Washington
Website here. Read more reviews here.
Bars
Spyhouse Public House
For pub grub, this is your best option in town, and contrary to what it sounds like, the name isn't about espionage and spies, but about animal behavior. A whale's half-rise out of the water, letting it have a little look-see at its surroundings is called a spyhop. As is the spring bounce that foxes and wolves do in the tall grass.
Noisy and full of life, as you'd expect a pub to be, this is the spot for bar comfort food.
Try:  It's a toss-up between the Useless Bay Burger (with bacon and blue cheese sauce), one of my all-time must-order burgers, and the Possession Point burger (with jalapenos and cream cheese). You can't go wrong with either.
Address:  317 Second Street, Langley, Washington
Website here. Read more reviews here.
Taproom at Bayview Corner
It's not all about the wine in Langley – if you're looking for craft beer, this is the place to go. It's loud and raucous as a bar should be, and has an excelled selection of craft beer and cider along with craft brewed sodas.
You'll find locals and visitors hanging out here, it's like the Langley version of Cheers.
Try: Basket of Bacon (strips of bacon, seasons and served with your choice of a side house barbecue sauce, roasted red pepper aioli, or chipotle aioli). While I'm a fan of the chipotle aioli, the house barbecue sauce also gets rave reviews. Bacon for the win!
Address:  5603 Bayview Road, Langley, Washington
Website here. Read more reviews here.
What to Do
Here are a few of my recommendations on what to do on your getaway to Langley, Washington. The Whidbey Camano Islands website has a lot of additional ideas and recommendations, along with a listing of current events, festivals, and happenings. Their website is here.
Outdoors
This is prime territory for outdoor adventures, from hiking and nature to all sorts of water-related activities. Take a look at a few things you can enjoy when you getaway to Langley.
Beaches
You can't turn around in Langley (and surrounding area) without seeing a beach. Although the area is rife with public beaches, there are some private areas, so look for and obey no trespassing signs. Most have limited parking.
The water here is cold. Yes, some people swim in it (they are known as crazy people), but most Washingtonians spend time on the water rather than in the water. Walking along the shore with waves lapping at my feet is about the closest I come to getting in this water.
Here are a few of the more well-known beaches
Double Bluff Beach has a view of Admiralty Inlet and the Olympic Mountains and is frequently cited as one of the best dog-friendly beaches. Bring your two and four-footed family members and take a long beach walk or grab a picnic table for lunch. Address:  6325 Double Bluff Road, Freeland, Washington. Website here.
Freeland Park has a great view of Holmes Harbor and has a boat ramp, dock, picnic area with grills, covered picnic shelters, undercover picnic tables and grills, playground, restroom, and walking trails. Clamming is also permitted. Address:  1535 E. Shoreview Avenue, Freeland, Washington. Website here.
Possession Point is at the very south end of Whidbey Island, near the Clinton ferry terminal. It's mostly a pebble and gravel beach. Although it is not listed on the website, it is owned by the State Park Service and is open to the public. Address:  8343 S. Franklin Road, Clinton, Washington.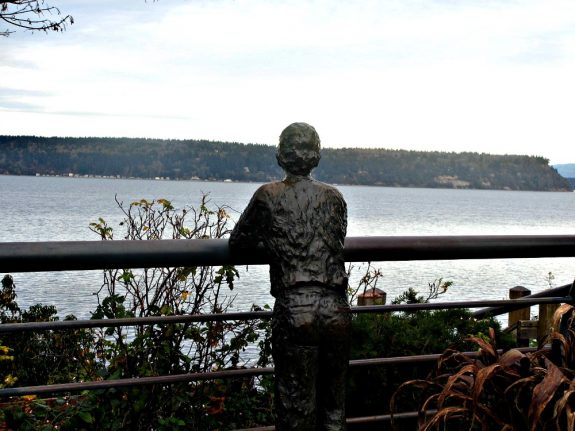 Seawall Park is smack in the middle of downtown Langley and is easily reached by foot from Main Street. There are picnic tables, beach access, a view of Saratoga Passage and the Cascade Mountain Range. Address:  142 1st Street, Langley, Washington.
South Whidbey State Park has 347 acres of majestic old-growth forest, including Douglas-fir, Sitka spruce, western hemlock and western red-cedar trees, including a 500-year old cedar. The views of Puget Sound and the Olympic Mountain Range are equally impressive. Storm damage has caused some areas of the park to close or have limited access. Check the website (here) for current information. Address:  4128 Smugglers Cove Road, Freeland, Washington.
Boating
If you're traveling by or with your own boat, you'll find boat launches and marinas at Bush Point (231 Spyglass Drive, Freeland), Freeland Park/Holmes Harbor (1535 E Shoreview Drive, Freeland), Mutiny Bay (6000 Robinson Road, Freeland), and South Whidbey Harbor at Langley (204 Wharf Street, Langley).
Most boat launch areas have a small park and some have restaurants and services. Be sure to check the tides when making your boating plans.
If you want to leave the driving to someone else, the boat driving that is, consider a boat tour.
Whidbey Island Charters (website here) offers custom 4 and 8-hour cruises for up to six guests on a 32-foot Bayliner. You can plan your itinerary for a little sightseeing or a serious nature adventure. Address:  228 Wharf Street, Langley, Washington. Website here.
For small watercraft, Whidbey Island Kayaking provides kayak tours, rentals, and instruction. They also rent stand up paddle boards. Address:  201 Wharf Street, Langley, Washington. Website here.
Whidbey Island is on the Cascadia Marine Trail, a 150-mile water trail that runs from Olympia to Point Roberts. There are 66 campsites along the way, plus another 50 day-use sites. More info here.
Catching Your Dinner
You can catch, crab, or dig for your dinner. Most of these are going to be a short drive out of Langley (under an hour).
Freshwater lakes on Whidbey Island (Lone, Deer, Goss, Cranberry, and Pass Lake) are stocked annually with largemouth bass or trout, and the latter is popular with serious fly fishermen.
Saltwater fishing is from the beach or boat and may bring you a variety of salmon, sturgeon, smelt, and other saltwater varieties.
You can catch a crab and cook it right on the beach, or back in your room if you have a kitchen, and there is nothing sweeter than crab fresh from the water. You'll need some gear unless you're incredibly lucky, and you can ask around for a guide to take you out.
There are tons of public clam and oyster beaches and there are local classes on the how-to of digging for your dinner. This map (here) shows a list of where to find these delicious shellfish.
Check the Washington State Department of Fish and Wildlife website (here) for more details about the applicable seasons. limits, and licensing requirements.
Cycling
The relatively flat rural areas of Langley and much of the rest of Whidbey Island create ideal cycling conditions. The cars stick mostly to the main roads – SR 525 and Highway 20, both official Scene Byways – and while you can cycle those as well, more pleasure may be found in the smaller roads that take you through the rural areas. You can enjoy stunning views of Puget Sound and the local mountain ranges, as well as spot wildlife not visible from the main roads. Although you should pack plenty of food and water, the way is generally dotted with spots for food and drink.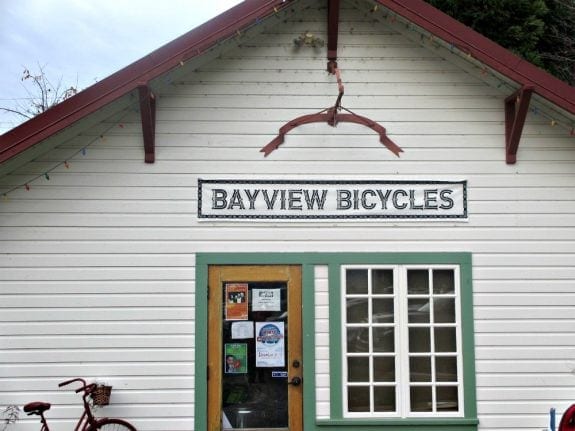 A popular bike loop on the south island is the 25-mile scenic route that takes you from Langley, out Maxelton Road to the beach, back through the farmlands along Ewing Road, and finally through Bayview back into Langley. You can find the map of that route, along with other cycling recommendations, here.
For mountain and trail biking, try the Putney and Saratoga Woods, just outside of Langley.
If you didn't bring your own equipment, Bayview Bicycles has rentals. Address:  5603 Bayview Road, Langley, Washington.
Nature
The 100-foot Mystic Sea has whale watching tours leaving from the Langley marina. Tours operate in the spring, giving you the best chance of seeing orcas, humpback, minke and gray whale. They have a guaranteed while sighting policy. You'll also see plenty of other bird and sea life. Address:  228 Wharf Street. Website here
Whale watching is an imprecise science, those magnificent creatures have a mind of their own, but two good resources for planning a trip around whale watching are the Whale Trail (website here) and the Orca Network (website here). We have a few pods in the area, and if you're interested in whale watching, these organizations provide great information and research.
Rainy Days
Yes, it is the Pacific Northwest, and rainy days happen. And frequently. One of my favorite rainy day activities is to catch a movie.
The Clyde Theater offers Hollywood far in a small town environment that will make you feel like you've stepped back to the 1950s. But with better projection and top-notch sound. It's a great rainy day activity. Address:  8217 First Street, Langley, Washington. Website here.
For Pinterest
Pin this to your favorite travel board and start planning your weekend getaway to Langley, Washington.