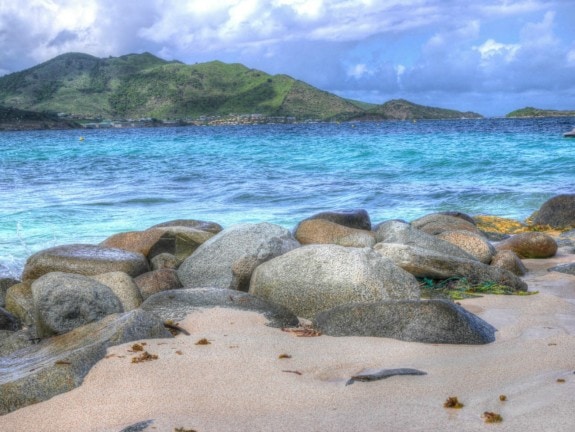 Earlier this year, while on a Royal Caribbean cruise on board the Oasis of the Sea, we had a port of call in St. Martin/Sint Maarten. The island is owned by two nations – France, which owns around 60% of the island, and the Netherlands, which owns about 40% of the island. During our port of call I was able to visit both sides of the island, an item on my bucket list, and I'm also considering it visiting two new countries (although, yes, I've been to both France and the Netherlands, I'm just not splitting hairs about this).
This photo is from Orient Beach on the French side of the island, arguably the most well known of the nude beaches on the island, and is a popular stop on cruise shore excursions as well as for general island visitors.
The left side of the beach area requires clothing and you'll see plenty of families enjoying the soft white and and the warm water. The right side of the beach is clothing optional, with many sunbathers opting for total nudity, including families. Although we opted for the nude side of the beach, quieter and much fewer people, we kept the swimsuits on.
Club Orient, a naturist resort (translation: nudist resort) is located at the south end of the beach. Restaurants and bars are located on the beach, as are water sports rentals.
NOTE: Although my visit to St. Martin was on a cruise stop, if you're flying in, you'll want to choose Princess Juliana International Airport (SXM) as your destination.