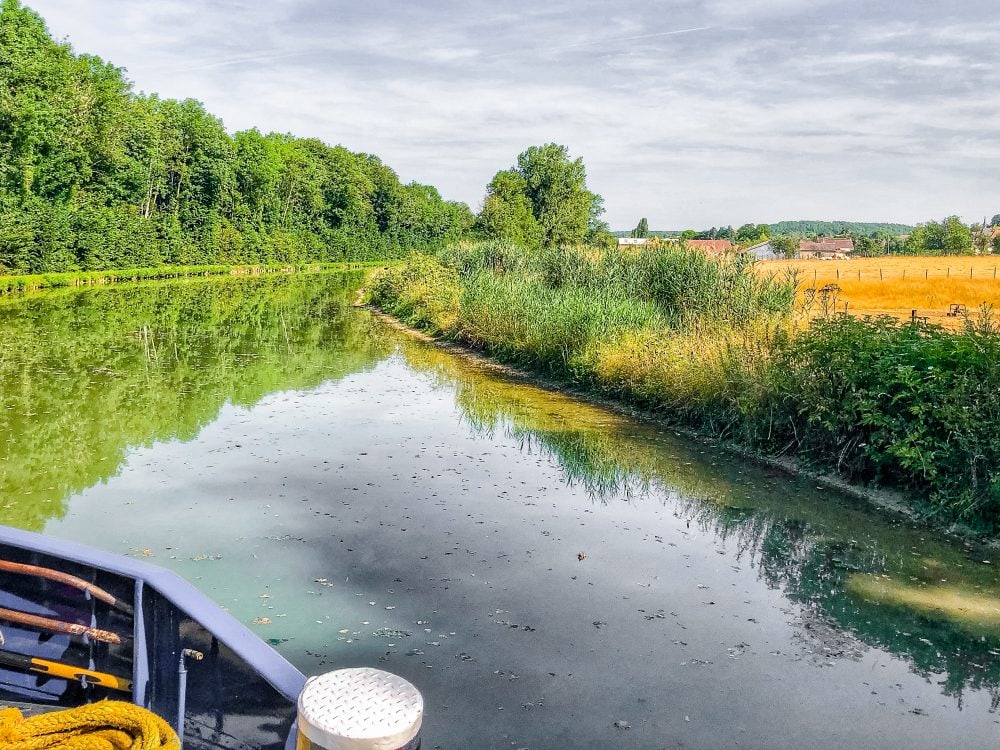 We are big cruise fans. We enjoy ocean cruising, river cruising, and earlier this summer we fell in love with barge cruising. We cruised the Burgundy canals, drank fabulous wines, met wonderful people, and enjoyed the history, culture, and cuisine of the area.
Burgundy (Bourgogne in French) is located about three and a half hours southeast of Paris and is probably best known for its pinot noir and chardonnay grapes. This was a wine region we wanted to learn more about and the reason we selected the Classic Northern Burgundy itinerary. We were also familiar with the food from this region of France (delicious cheeses, beef bourguignon, coq au vin) and some of the history. This was a perfect itinerary for first-time barge cruisers who are food, wine, and history lovers!
We're excited to review our hotel barge, the itinerary, as well as share our tips with you. Discover Classic Northern Burgundy barge cruising on La Belle Epoque with us. And European Waterways.
Is a European Barge Cruise Right for You?
Like all vacations, the decision to take a barge cruise is a big one. You'll want to research thoroughly to see if the experience and itinerary fit your cruise style. While we believe that there's a cruise experience for everyone, we're realistic enough to know that some cruise lines and itineraries match up better than others. A barge cruise was something that had been on my bucket list for quite some time and it was exciting to have a good experience and check this off.
We think the following are important considerations in deciding if a Burgundy barge cruise is right for you.
Barge cruising is small and intimate
I'm not going to lie – at first, we were a little worried about the small size of hotel barges. There were six cabins on our barge, a maximum of 12 people, and for a few moments, the thought of being crammed together with a bunch of people with whom we have nothing in common caused us to pause. Since we're pretty easy-going travelers, it was just a momentary pause, but it's something that needs to be addressed for a lot of potential barge cruise travelers.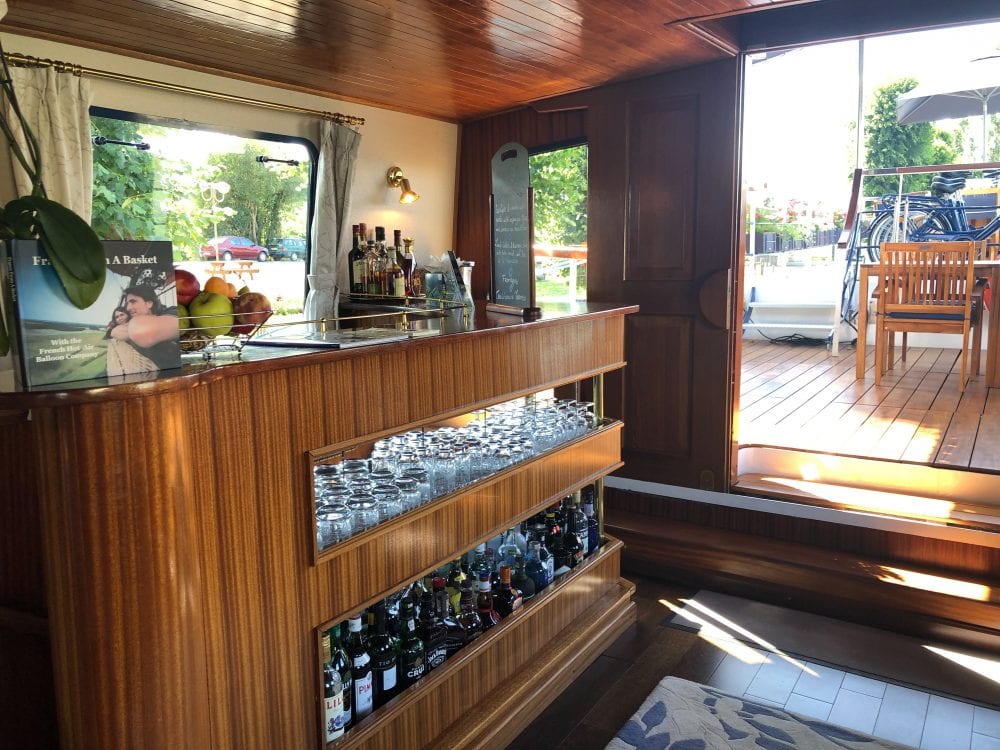 The indoor public areas include the dining area and a salon with a bar. Outdoors, there are additional tables with chairs and some loungers. There is also a hot tub, although I don't think anyone used it on our barge cruise. While you can hop off the barge when you transit the locks, when you're on board and not in your cabin, these public areas are shared by all the passengers.
Rather than getting lost finding our way to the dining room, or worrying about a "saved seat" by the pool, this intimate setting provided sufficient room and amenities for everyone.
The pace is slow, you're gently gliding through canals in Burgundy without a care in the world, and while the itinerary is important, I think it's more about the experience.
You'll get to know the other passengers
There were six other people on our sailing, a total of eight passengers on board, and they were some of the most interesting people we've ever met on a cruise.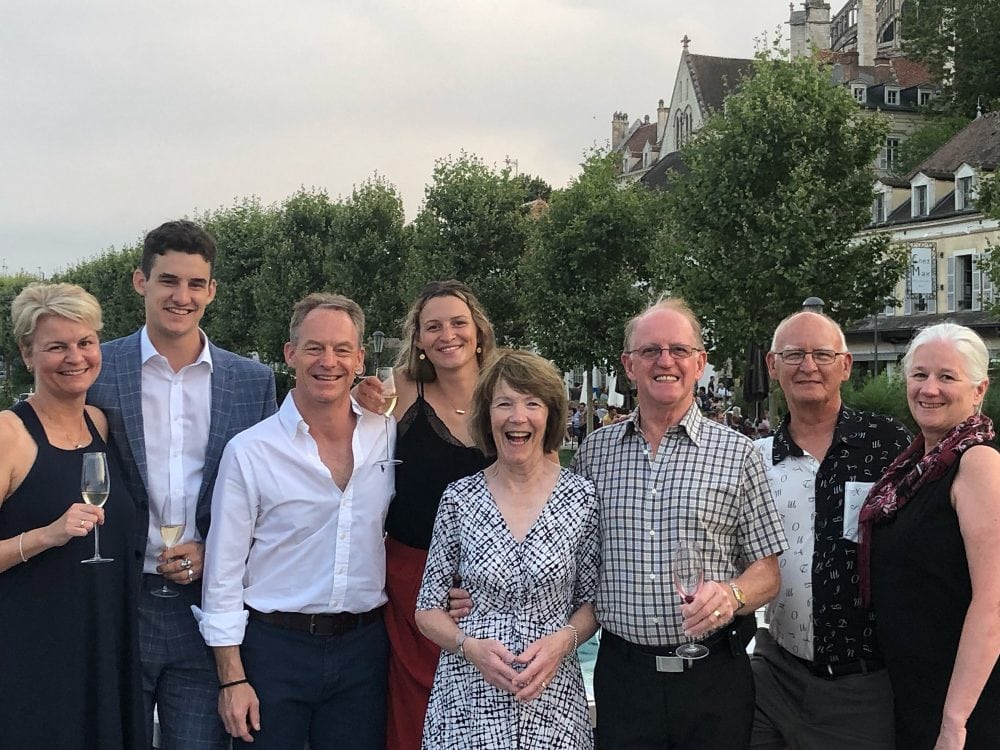 One couple was from Australia and we enjoyed talking about their life in Melbourne, the husband's emigration from the U.K. to Australia, Australian politics, and travel. Another couple was Londoners who had been living and working in Hong Kong for around 25 years. We had a fascinating conversation with them about the changes in Hong Kong after the change-over, what is was like working and living there, and their travels around Asia. The other two passengers were the 20-something son and daughter of the Hong Kong couple. We talked to them about attending university in the U.K., their return to England from Hong Kong, and Brexit. And all six of them schooled us in tradition and nuance of cricket.
These were seriously interesting passengers! Since we're fairly introverted, the first day was fairly subdued, but after that, it was lively conversations at every meal.
Funny coincidence: The Australian couple expressed concern about being on the barge with boorish Americans. It's sad to have that reputation associated with our travels, but we were glad to show them another side of American travelers.
You'll make your own entertainment onboard
Barge cruising doesn't have casinos, theaters, pools (although many have hot tubs), or spas. The experience isn't about keeping you busy 24/7, it's about providing you with the time and space to experience what is of interest to you.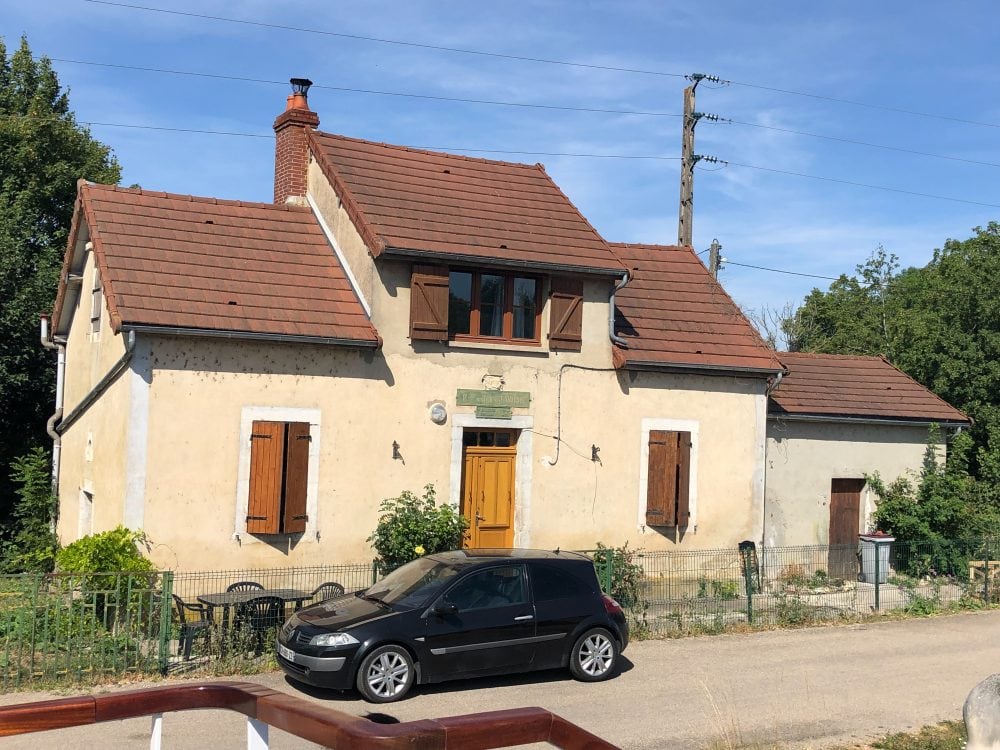 The hotel barge travels very slowly through the canals, around 2-3 miles per hours at max, and only travels during the day when the canal lockmasters are available. You can easily hop off at one lock to walk or bike along the towpath adjacent to the canal, catching up to the barge when it was convenient.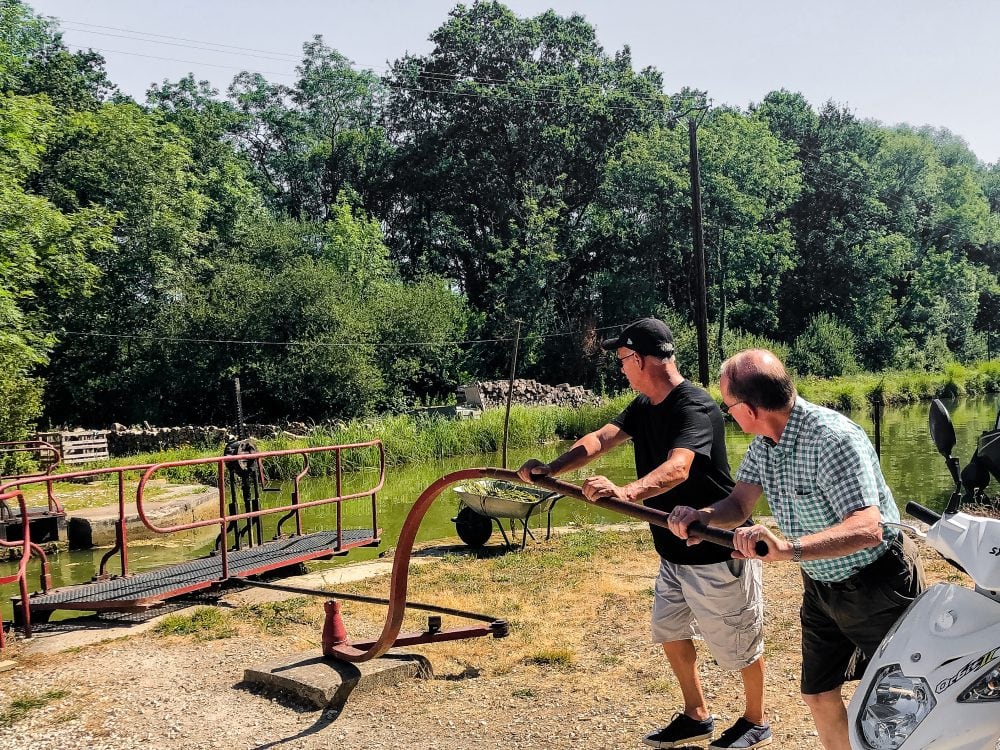 At one lock, Tony helped the lockmaster open and close the lock. While they didn't do any of the technical stuff, the lockmaster wasn't opposed to a little extra hands-on labor. We loved the flexibility to hop on and off the barge to explore and experience on our own.
When we were on board the barge, we lounge outside and read a book, marveling at the Burgundy countryside and enjoying the experience of going through these very small locks. There were only a few inches between the side of the barge and the locks and I'm still amazed at the precision it takes to navigate these small passageways. Other times we'd sit out on the deck for conversation or pop inside when we needed a break from the sun.
You'll visit historic and culturally interesting destinations
There are stops and excursions on the barge cruise and, as you would expect from the Burgundy canals, food, wine, and history play an important part in the barge cruise experience.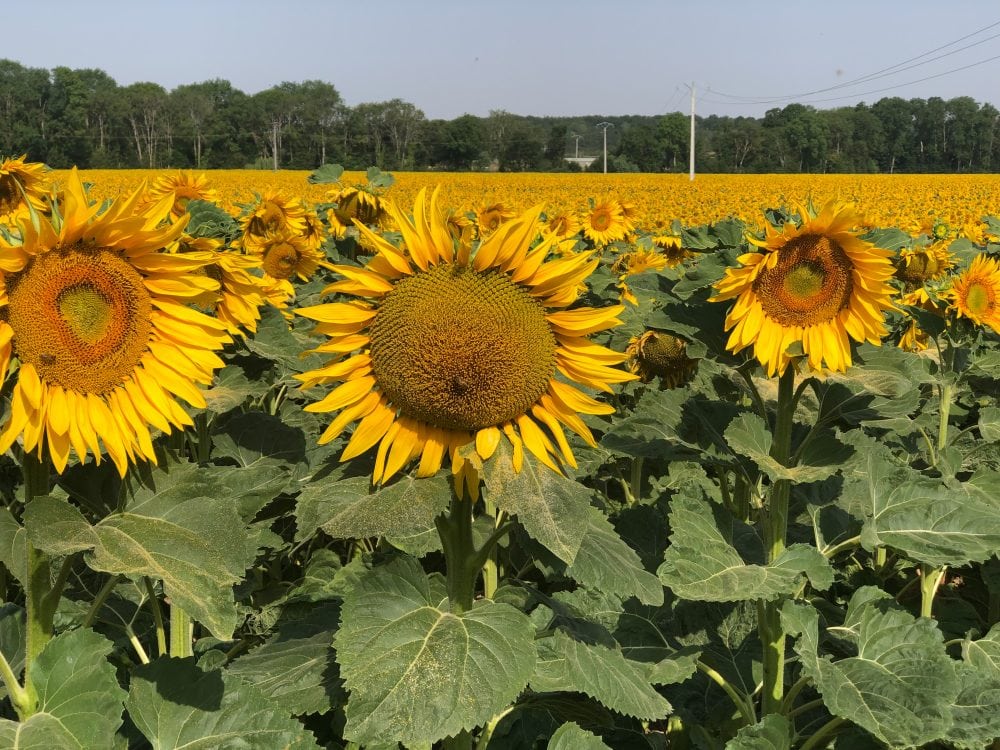 The itinerary covered small towns and villages that we had never heard of, a visit to a UNESCO World Heritage site, private tours of wineries, and privileged visits with a Baron and Baronness and a tour conducted by a Count. We learned about everyday life in the country, what it takes to run and manage a large estate, and heard family stories from WWII. Sometimes it felt like history coming to life and doing so in an up-close-and-personal kind of way. We would never have chosen to visit some of these cities and towns on our own, making me appreciative of the opportunity to see some of these destinations.
With only eight passengers, the excursions didn't feel like we were getting herded around. It was just a few friends enjoying a French barge holiday.
Barge cruising is generation-friendly
On our cruise, we had an age span from the early 20s to late 60s and everyone got along fabulously. Barge cruising attracts passengers who are genuinely curious about the world and want a slower-paced experiential vacation. Teens are welcome on European Waterways barge cruises, and if you have curious teens, I think it's a great vacation experience.
Younger children are permitted onboard only for full barge charters. When we tied up in Auxerre the barge next to us was a full charter for a multi-generational family that included a baby. They looked like they were having the time of their lives and I think it would make a great family vacation. I would love to find a group of friends and charter the entire barge.
Barge cruising is casual
For once in our many European travels, we didn't overpack! We studied up on the itinerary, talked with other friends who have been on barge cruises in Europe, and ruthlessly pared down what we packed to fit everything into a standard-sized roller bag which we checked. We each had a carry-on with electronics and camera gear and that could be used as a day bag on our excursions.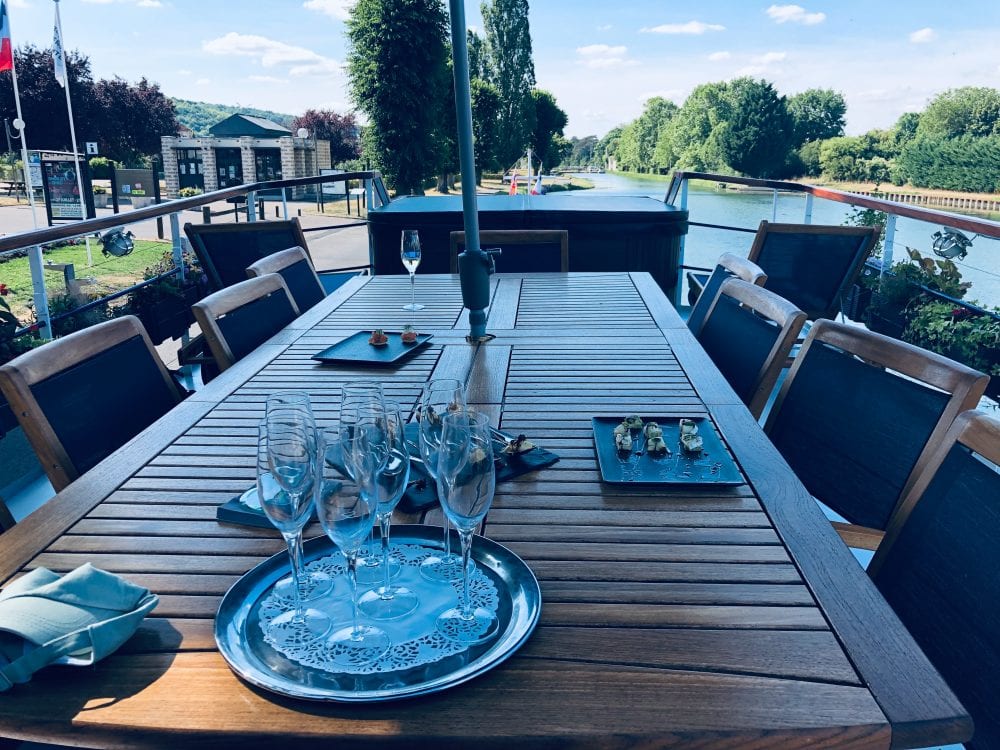 It was easy to condense everything because barge cruising is very casual, no need for a suit and tie or formal dress. The majority of the time we were in shorts, whether onboard or out exploring. France was experiencing a heatwave with unseasonably hot weather (many days were over 100 degrees), so casual wear was a must. I tucked in a couple of sundresses, which were often more comfortable than shorts, some walking shoes, and also a sweater which I never wore except on the plane.
The casual approach goes for all the itineraries, but I'd recommend checking to see if there are any visits to locations where something more akin to business casual is appropriate.
Barge cruising is life unplugged
While there was wifi onboard, we found it inconsistent due to our remote locations. The signal strength would get us coverage in the salon area of the barge when we were in larger towns, but that was about it. We traveled with a mi-fi device from Skyroam and found that we could get broader coverage – all spots on the barge and some of the mid-sized towns – but for much of the cruise, we were in areas with very spotty coverage. Passengers with local phone and data coverage experienced better connectivity, but they, too, had areas of spotty coverage.
I still managed to add some photos to Instagram and Facebook, but the spotty coverage forced me to break away from the daily grind (dare I say addiction) of screen time. If you really MUST be connected, I'd recommend a back-up option like a mi-fi device, but why not enjoy a week of life unplugged.
Barge cruising really is all-inclusive
If you've cruised before, you're probably familiar with the creeping costs of cruising once you're on board the ship. A cocktail here, a special meal there, add in a couple of excursions and a photo and those extras become big-ticket expenses.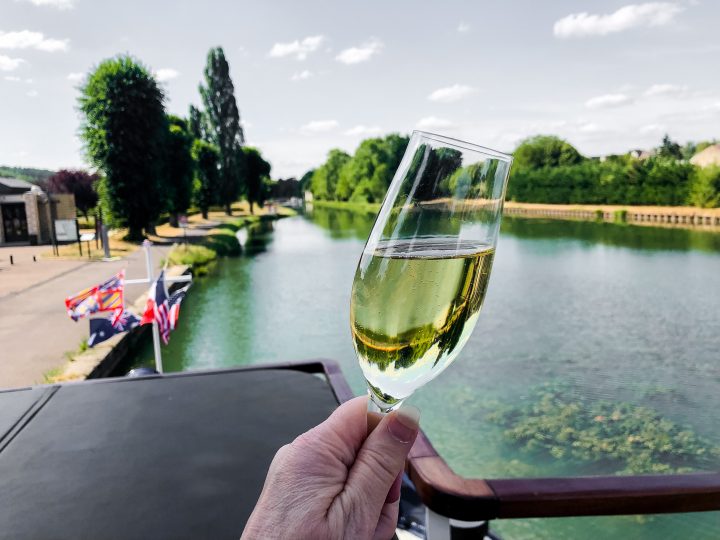 The barge cruise price included your stateroom, activities, meals, beverages (including alcohol), taxes, and fees. There wasn't a bill at the end of the week. In fact, they didn't even ask for our credit card. The barge cruise price might seem higher upfront, but it really is all-inclusive allowing you to pre-pay the cost and then not worry about money once you arrive onboard.
Not included are airfare, gratuities, and a hotel room before or after the cruise (if you want to come in early or stay longer).
Life Onboard La Belle Epoque
Built in 1930, La Belle Epoque's previous life was carrying logs from Burgundy to Paris and Amsterdam. It was the commerce of the canals. Today it's owned by European Waterways and operates as a luxury hotel barge in the Burgundy region of France.
La Belle Epoque sailed from Tonnerre, France, on a 7-day itinerary ending in Auxerre. We spent the seven days cruising the Burgundy canals on a slightly modified itinerary due to many of the canals being low on water. The barges have the ability to switch from one canal to another, it's a veritable labyrinth in the Burgundy region, with only minimal disruption to an itinerary. In fact, had we not been alerted to some changes, we wouldn't have known it – that's how seamless European Waterways can zig and zag to deliver a quality barge experience.
Embarkation
The pick-up point for the Classic Burgundy cruise is the Hotel Westminster in Paris. Located on the rue de la Paix, home to some of the most expensive jewelry stores, shops, and hotels in the heart of Paris, it's also the most expensive property in the French version of Monopoly. You can read my review of the Hotel Westminster here.
We came in a day early so as not to worry if we had a flight delay or cancellation and stayed at the Hotel Westminster. The hotel serves as cruise central (there were a few other cruise groups departing from there as well) and choosing to stay there was convenient and easy. I never recommend cutting it close for your departure, the last thing you want to do is start off stressed over your schedule or worse, miss the sailing.
All eight passengers loaded into a comfortable van for transport to the barge in Tonnerre. Luke, our van driver and La Belle Epoque's captain, immediately made us feel like we were welcomed family, setting the mood for the entire week. Our drive to Tonnerre was a little over three and a half hours, with a stop for a bathroom and refreshment break.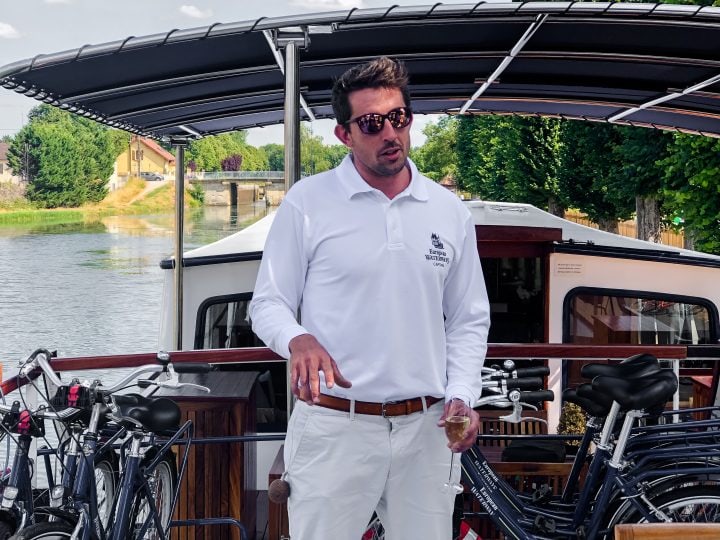 Arriving at La Belle Epoque, we met the crew, toasted our arrival with a glass of wine (the first of many we'd have throughout the week), and settled in for the week.
The public areas
Outdoors, there are additional tables with chairs, some with a canopy above to provide a little shade, and some loungers. There is also a hot tub, although I don't think anyone used it on our cruise. Bikes are stowed on deck and when the barge reaches a lock, they can be offloaded so that you can ride the towpath adjacent to the canal.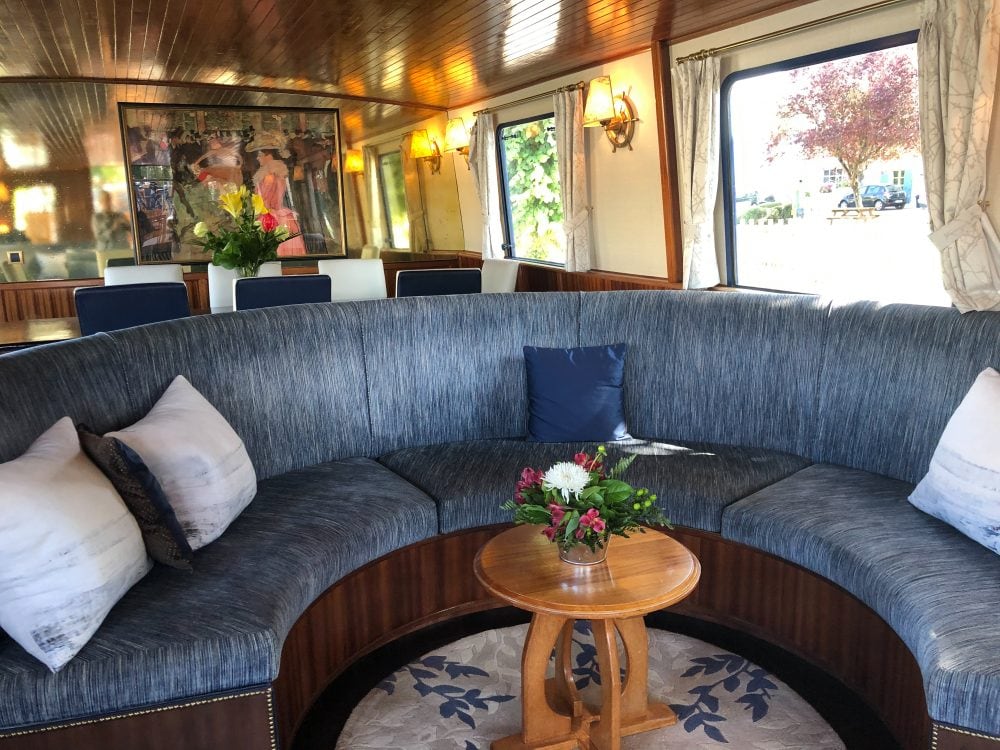 The indoor public areas include the dining area and a salon with a bar. The bar was fully stocked and always open. Alongside the bar was a refrigerator with wine, soft drinks, and ice, also on a help-yourself availability.
Rather than getting lost finding our way to the dining room, or worrying about a "saved seat" by the pool, this intimate setting provided sufficient room and amenities for everyone.
The bridge is always open, so I'm considering it part of the public areas. We spent some time on the bridge, enjoying that view of the boat and the canals.
The cabins
The boat has 12 cabins, named around a wine theme, all on the lower deck. This includes two junior suites and four staterooms, suitable for double occupancy. Half the cabins can be configured with a double or two single beds, so make sure you request when you book.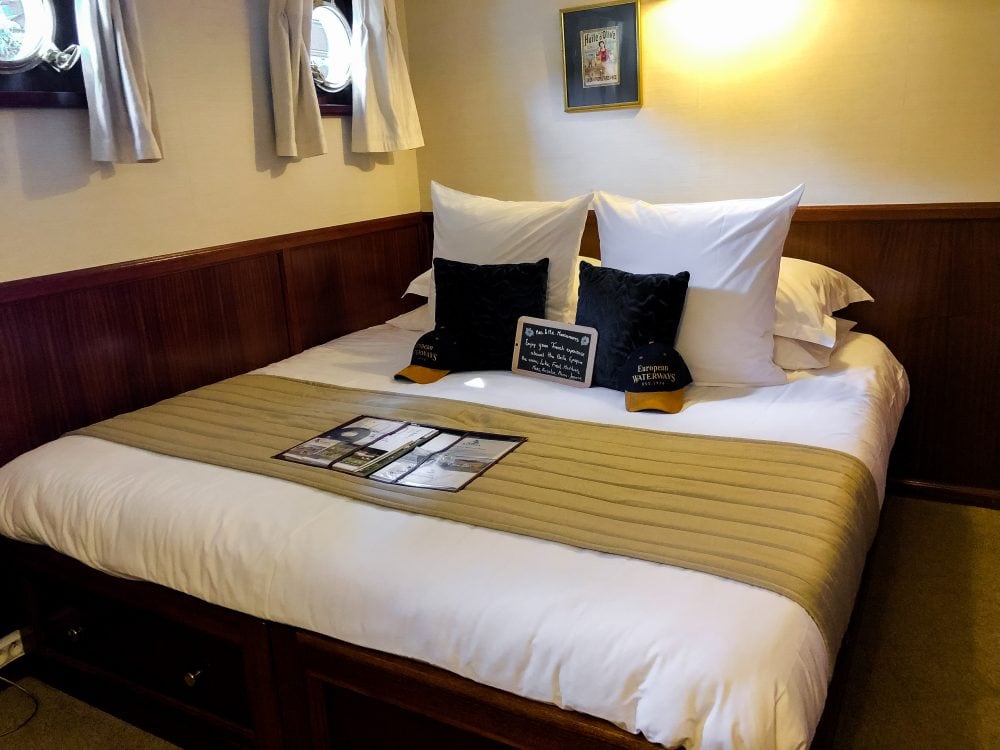 We stayed in the Satenay cabin, named for an appellation of Burgundy wine, configured with a double bed. With eight passengers and six crew members, this felt very much like a private sailing.
The cabin was spacious enough that you didn't feel cooped up, and came with an ensuite bathroom with shower, bathroom amenities, robes and slippers, hairdryer, and re-usable water bottles. The cabin was spacious enough that we didn't feel on top of one another, but with so many wonderful spots on the barge to hang out, we spent little time in it.
Food and beverage
With only one seating for meals, with times that adjust for the itinerary, there's not a whole lot of advance choices to make.
Life onboard doesn't revolve around getting up early, something that Tony was thankful for. I tend to be an early(ier) riser, so I'd grab a cup of coffee or tea in the salon, then head out to the deck to read and enjoy some quiet time watching the day come to life.
Breakfast cereal was offered on a sideboard and the dining table was set with fruit, pastries, yogurt, meat and cheese, juices, and breads. It was a fairly typical European spread with a variety of sweet and savory items. Hot breakfast items were cooked to order and included options like omelets, pancakes, french toast, eggs benedict, and more.
Although breakfast was served individually whenever you arrived at the table, we found that the majority of the time we waited for everyone to gather for the meal. There was something special about starting the day together, talking about where we were going and what we were doing, and getting to know one another better.
Lunch and dinner times varied based on whether we were cruising on the canals or on an excursion. With the heat, we often asked if we could eat later in the evening, a more typical French dinner time than an American one, and we were happily accommodated. A chalkboard posted in the salon listed the multi-course menus for both lunch and dinner. I admit to being a little more excited than I probably should have been when I checked out the menus for the day.
Lunch consisted of a starter, entree, and dessert, and dinner added an additional cheese course. Both lunch and dinner were accompanied by a selection of French wines paired for the course. The hostesses explained the wines at each meal. Entrees included fish, seafood, beef, chicken, and pork, in traditional French country dishes. One evening when I just couldn't bear the thought of a heavy meal, I requested something lighter – just a plate of vegetables. It was a great lighter option – still leaving me room for wine and dessert – and served quietly without calling attention to my requested change.
European Waterways can accommodate dietary restrictions, although it's important to let them know at the time of booking. We all have dietary preferences, and sometimes want to eat lighter than at other times, and those are easily handled onboard.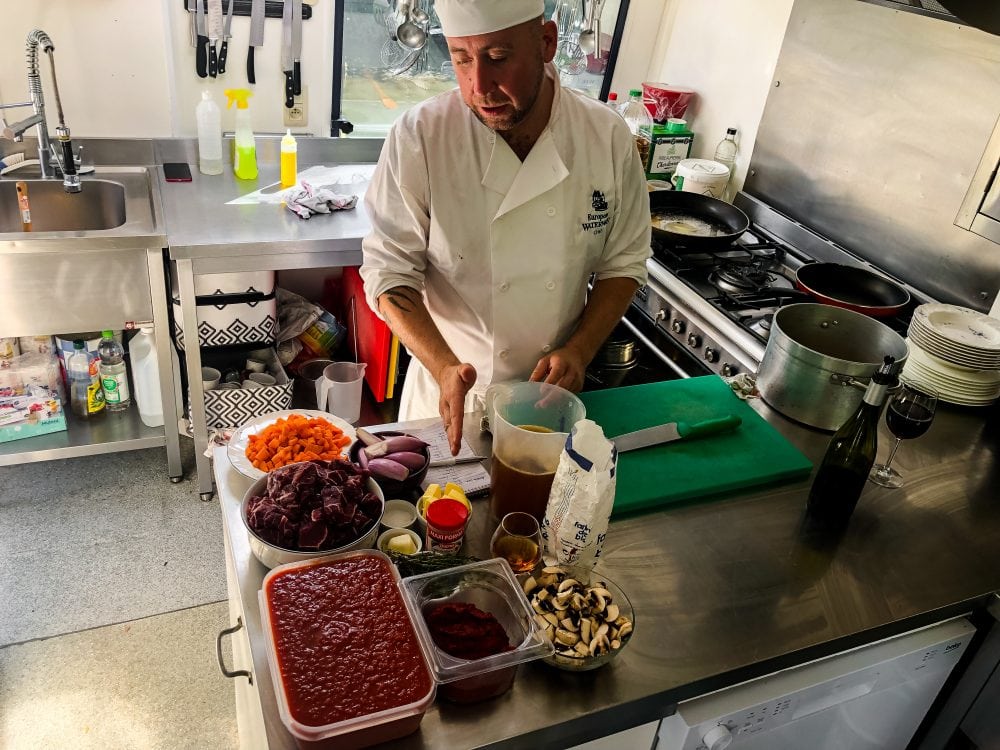 Mealtimes vary based on the cruising and activity schedule. In general, though it's more of an American standard rather than the typical late-night dinners found in much of France. The food is good, creative, and makes use of local ingredients and dishes. Combined with great wine and conversations, mealtime was something we looked forward to.
A few standout meals include:
Our arrival meal. We'd traveled from Seattle to Paris for the cruise, had read and researched everything about the Burgundy region and its food and wine, dismissed any hesitations about the intimate setting, and were finally – FINALLY – onboard. That first meal we were all pretty quiet and reserved, the first and last time that happened.
Beef Bourguignon – When we were asked if we wanted a cooking demonstration, I quickly raised my hand. There was one other taker and we gathered in the galley (kitchen) with the chef to learn how he makes this classic French dish. Beef bourguignon is hearty fare, braised beef and vegetables cooked all day in red wine and beef stock, and although not originally a Burgundian recipe has now become synonymous with the region. Having a glass of wine and watching the Chef make the dish, then later enjoying it with fellow passengers, was a real treat. Now that the cooler weather is coming in Seattle, this is a dish that I'll try to replicate at home.
Our departure meal. We'd been together all week – with the passengers and crew – and this was our farewell meal. The farewell dinner was also the Captain's dinner, which meant that Luke joined us for the meal. He carefully explained the various wines and cheeses for the evening (schooled, I believe, by our two hostesses). It was bittersweet, as we shared memories of the week, talked about future travels, enjoyed our last dinner before heading out to the deck for music, singing, and – of course – more wine.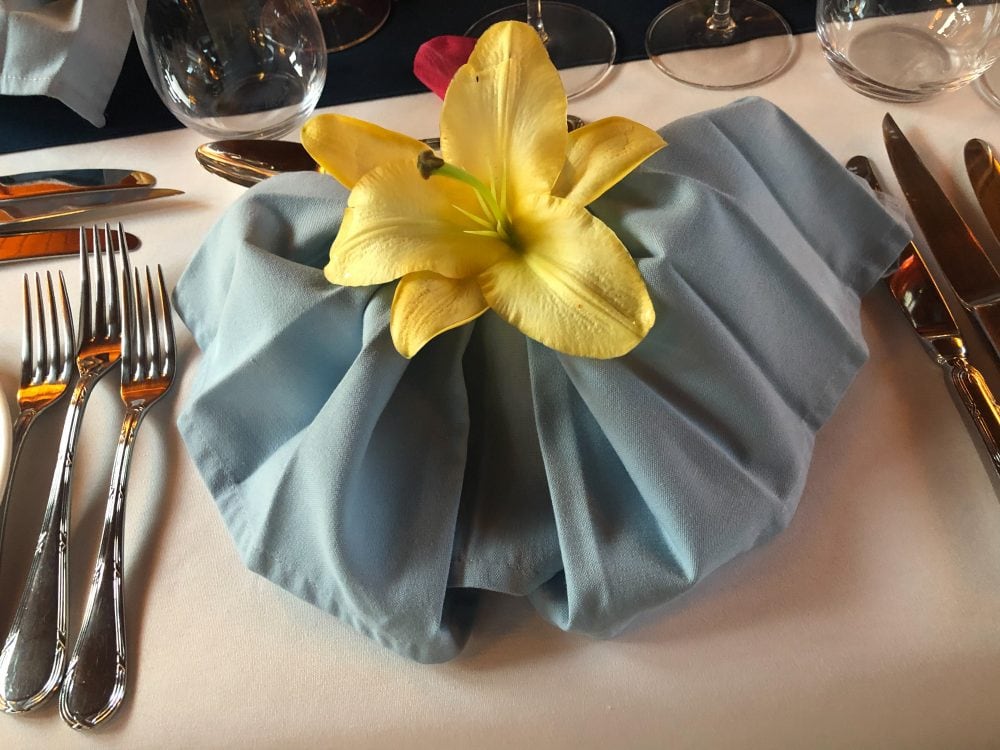 In France, meals are just as much about the people and conversation as it is about the food. That was definitely true on La Belle Epoque.
Gratuities
Tipping is a sensitive subject, especially when traveling with passengers from different parts of the world. In some cultures, tipping doesn't exist. In others, it's added on automatically as a service charge, and there's the U.S., where tipping exists to help service staff make a living wage.
In a perfect world, tipping wouldn't be needed. All service staff would be paid a good wage, the cost would be rolled into the price of our services, and no one is left figuring out if tipping is appropriate and, if so, how much and how to deliver it.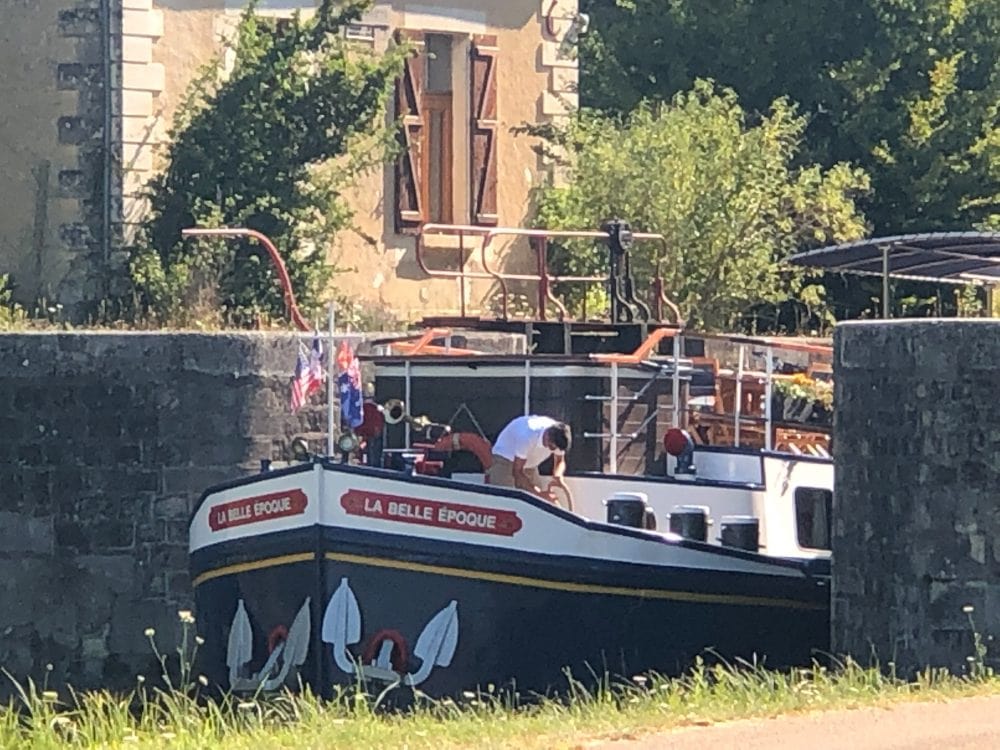 In cruising, tips are part of the expectation, and on European Waterways, it's the only thing that isn't included in your cruise price. The information and booking sheet sent out indicates the average tip is 5% of the cruise price. Note that is the average tip. We opted for the high side and rounded up a bit. I'd guess some on our cruise were on the low side. Tips are shared equally among the entire crew and since everything else is included, you're not covering tips on anything else.
Our staff worked hard round the clock, this is a time for generosity. We put the money (you will need cash) in an envelope and handed it to Luke on the last evening of the cruise.
Disembarkation
We disembarked in Auxerre and made the trip back to Paris in reverse. We noticed that the trip was much quieter, with a few people napping and others checking things on their phone. Whether everyone was worn out from the late evening before, or just the usual winding down and getting ready to leave vacation mode, I think we all felt exhausted.
Since flights back to Seattle leave fairly Paris fairly early in the morning, we stayed another night in Paris. This was both a chance to rest up before hopping on a flight to head home and a practical necessity. As luck would have it, we found out via social media that some friends from Tampa were going to be in Paris at that same time. We scheduled dinner with friends and had a great last evening in France – just another example of what a small world this is.
Continue reading for itinerary specific information and recommendations.
Classic Northern Burgundy Itinerary
We selected this barge cruise itinerary for its focus – the food, wine, and history of the Burgundy region. We wanted to explore more in the area, get into the countryside that we hadn't visited, and slow things down as we savored all that Burgundy has to offer visitors. If Burgundy doesn't interest you, you can find a list of other European Waterways destinations and itineraries and pricing here.
One of the questions about cruising that we are asked most frequently is about what there is to do on a cruise. While cruise lines have definite personality types, and there are some obvious answers to this question when looking at the itinerary, we've found that many non-cruisers have stereotypes about cruise activity. We try to break down those stereotypes while proving specific information and tips. With our day-by-day cruise information, you'll get information about what there is to see and do on this specific cruise.
Here's a day-by-day look at the Classic Northern Burgundy itinerary giving you some ideas of what there is to see and do on this luxury French barge cruise, along with a few tips on how to maximize the experience. Our cruise took us through the Burgundy canals to the River Yonne. Note that the specifics on the towns where we stopped vary from the original itinerary, some detouring was necessary due to the low water in the canals. We saw some different towns, but the main excursions were the same.
Day 1 – Tonnerre
We were rested and ready to go after our transatlantic flight and in the afternoon we transferred to La Belle Epoque where we were met with a champagne and canape welcome. After enjoying some time on deck, we settled into our cabins and then it was time for dinner and our introduction to life on board our hotel barge.
Tip: Try to arrive a day early and overnight in Paris. You'll avoid jet lag and will be ready to jump right into the barge experience.
Day 2 – Tonnerre to Flogny-la-Chapelle
Cruising is now underway as we discover our first canals. This area is known for its Bourgogne Epineuil wine appellation and the countryside is rife with grapevines. It's also our first look at the chateaux that dot the countryside.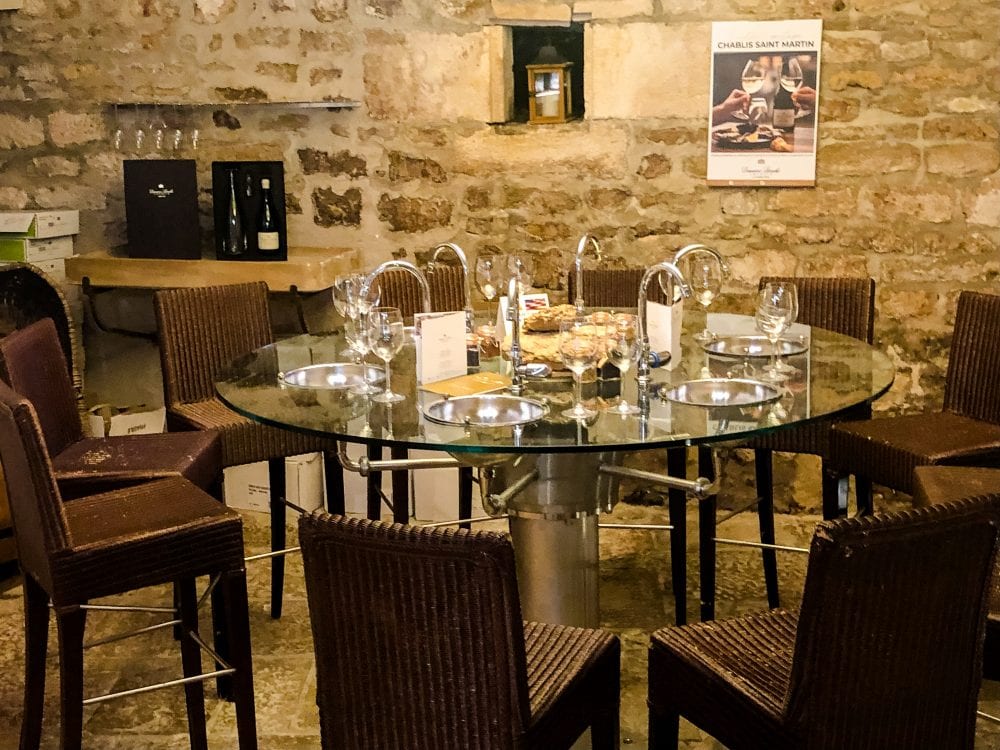 Once we arrived in Flogny-la-Chapelle, Captain Luke drove us to the town of Chablis for a private tour and wine tasting at Domaine Laroche. Chablis is the northernmost wine region in Burgundy and what we drank there was nothing like what passes for Chablis at home. We tasted Chablis, the Chablis Grand Crus, and the Chablis Premier Cru. Although I enjoy red wine more than white, this was an opportunity to sample the variety of tastes Chablis offers. No surprise that both Tony and I liked the Chablis Premier Cru best.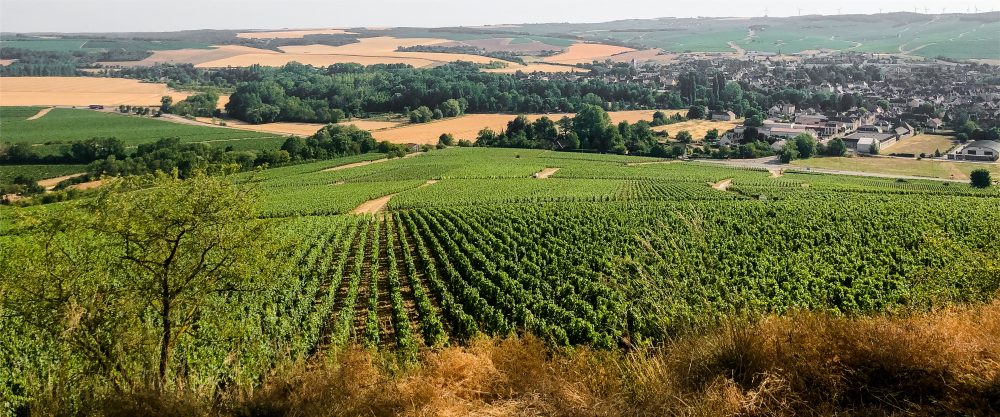 We had some free time to walk around the town and then took a scenic ride back to the barge. We had a chance to view the Chablis countryside and rows – and rows – of grapes.
Tip: Get off the barge and enjoy the towpath. You can bike or walk, and don't worry, the barge won't leave without you!
Day 3 – Flogny-la-Chapelle to Saint-Florentin
We cruised in the morning and by now we were really into the pace of things.
Today's excursion was a trip to Joigny, a small town on the banks of the Yonne river. Luke gave us a tour through the winding streets of this medieval town, and we learned about the half-timbered houses, architecture, and 1000-year old town gate. The barge re-positioned while we were exploring, then it was back on board for dinner and conversation.
Tip: GO! It might be tempting to beg off the "tour" of the town and that would be a mistake. We were a small group and didn't have to remain stuck together as we wandered. We would have missed so many details of the architecture and history of the town without a little bit of commentary to point things out to us. The tour doesn't offer non-stop patter, it's more of a conversation that leads where questions take it.
Day 4 – Saint-Florentin to Migennes
After breakfast, we headed to Les Riceys, a wine area in Champagne that has three appellations. We had a private tour of Maison Alexandre Bonnet, a family-owned Champagne house that is known for its Pinot Noir vintages. Following the tour, we enjoyed some tasting time and it was fun to talk with the other passengers and discover which were their favorites.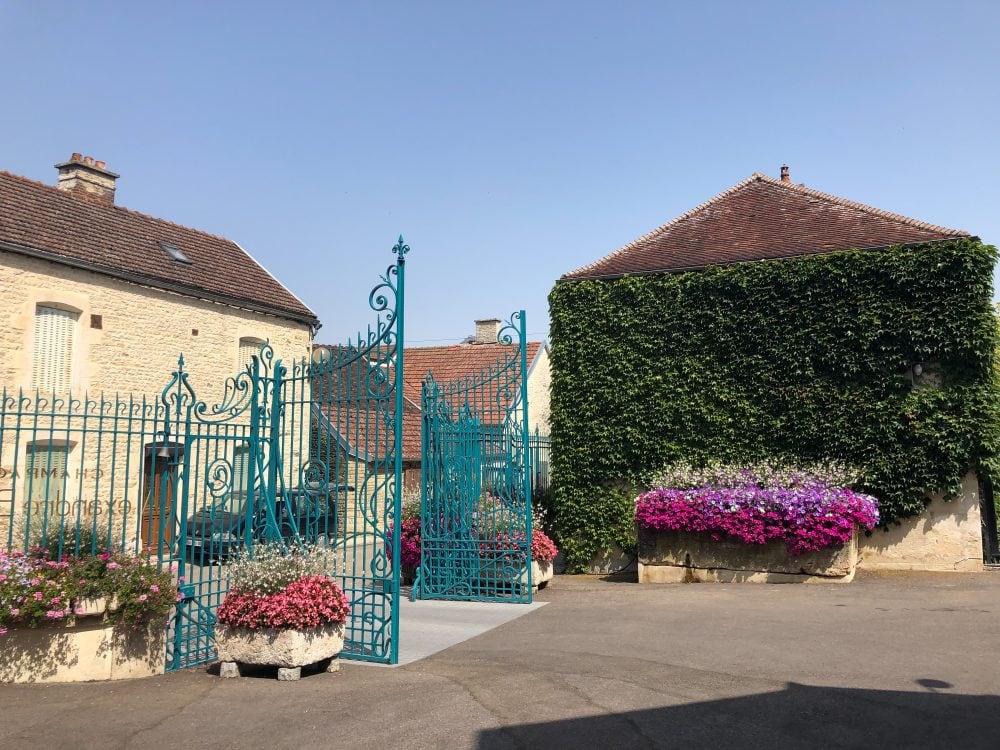 This ticked off another bucket list item for me – drink Champagne in Champagne. And, as a bonus, we learned the proper way to open a bottle of champagne. Turns out, you don't take off the wire basket, just untwist it and leave it on the bottle, then twist the bottle to remove the cork. The wire basket helps keep the cork from going flying.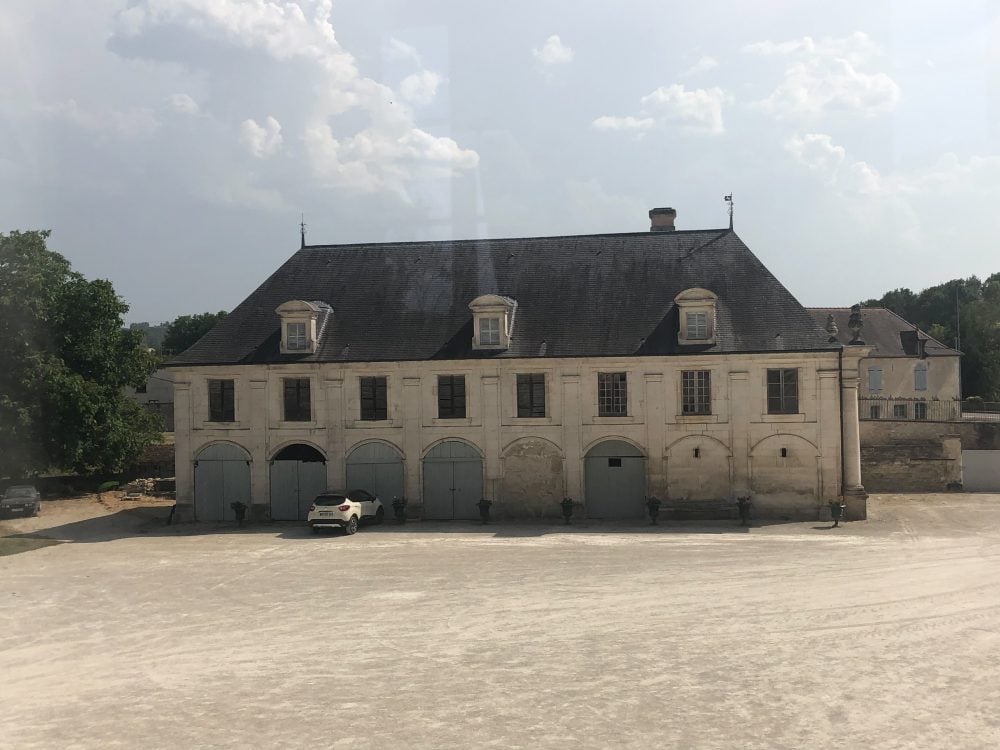 Next, we headed off to Chateau de Ricey-Bas, a 12th-century rural estate, for lunch with Baroness Segolene de Taisne. Seriously – we hung out with a real Baron and Baroness! We started the afternoon off with some estate champagne and canapes, getting to know the Baron and Baroness (the former had a wicked dry sense of humor).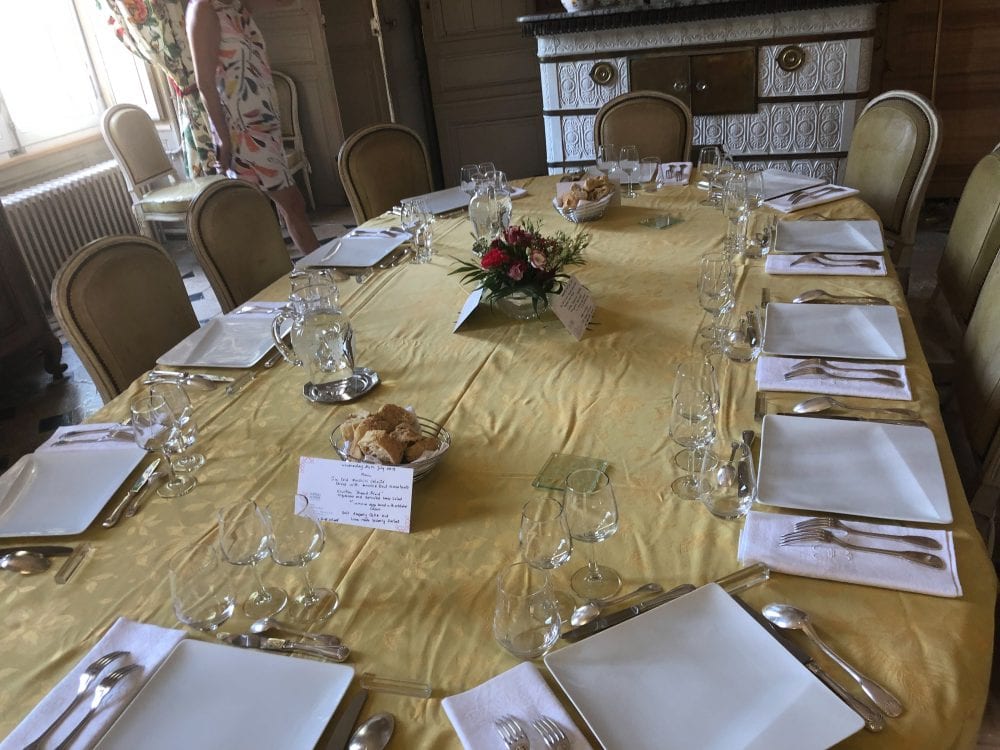 From there we moved to the dining room for a gourmet lunch. Over lunch, the Baron and Baroness explained a little about the history of the estate, how their family survived during WWII, and some personal stories about what's involved in restoring and maintaining the historic chateau. Like many chateaux in France, it's now owned by the French government and managed by the family, due to the burdensome death tax issues.
After lunch we had a short tour of the estate, giving us a glimpse at what life in a chateau is like. It's not as glamorous as it looks on Downtown Abbey.
This was my favorite day in Burgundy, with two great experiences that are only available through the cruise.
Tip: Buy some champagne to take home. Maison Alexandre Bonnet packaged up champagne for easy travel home. Of course, if you're packing champagne, you'll need to check your bags.
Day 5 – Joigny to Gurgy
We now moved from cruising the canals to cruising on the River Yonne. We made an afternoon trip to the medieval town of Auxerre, originally the capital of Lower Burgundy. Auxerre is a reasonably large city, about 100,000 residents, and is a commercial and industrial hub.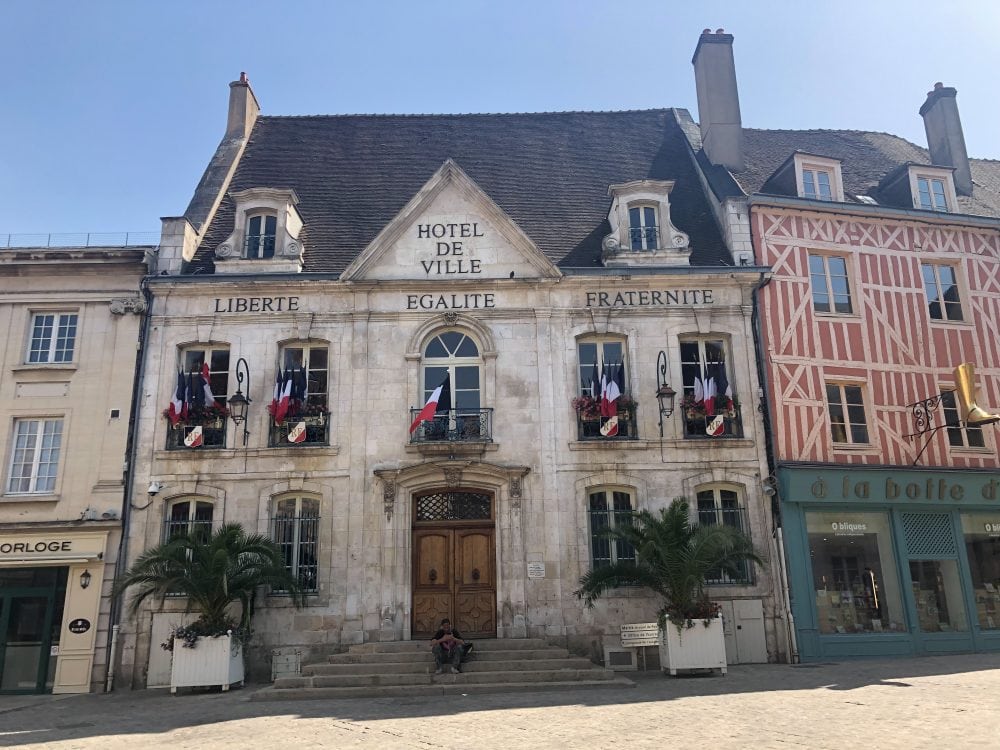 We did a brief group walk around the town, enjoying the Renaissance architecture, visiting the church of St. Pierre en Valle (dating back to the 17th century), the Church of St. Eusebe (founded in the 7th century), and the Cathedral of St. Etienne (dating back to the 12th century). Auxerre is also a modern city, as we discovered in our free time. We wandered around the city taking note of the fashion in clothing, housewares, and home decor, then found a corner cafe for a cold beer. Returning to the barge, we continued on to Gurgy.
Tip: If you want to purchase a souvenir that isn't wine or wine-related, Auxerre will offer the most options. You can find some lovely scarves and accessories, reasonably priced jewelry, perfume, or cosmetic items. Auxerre is also a source for something you may have forgotten at home. My back had started to act up (a chronic problem with occasional flare-ups) and I found Biofreeze (my go-to for flare-ups) at a local pharmacy for the same price as back home.
Day 6 – Gurgy Back to Auxerre
This was another of our favorite activity days. After breakfast, we headed for the Chateau de Commarin, a moat-encircled chateau that is currently the home of Count Bertrand de Vogue.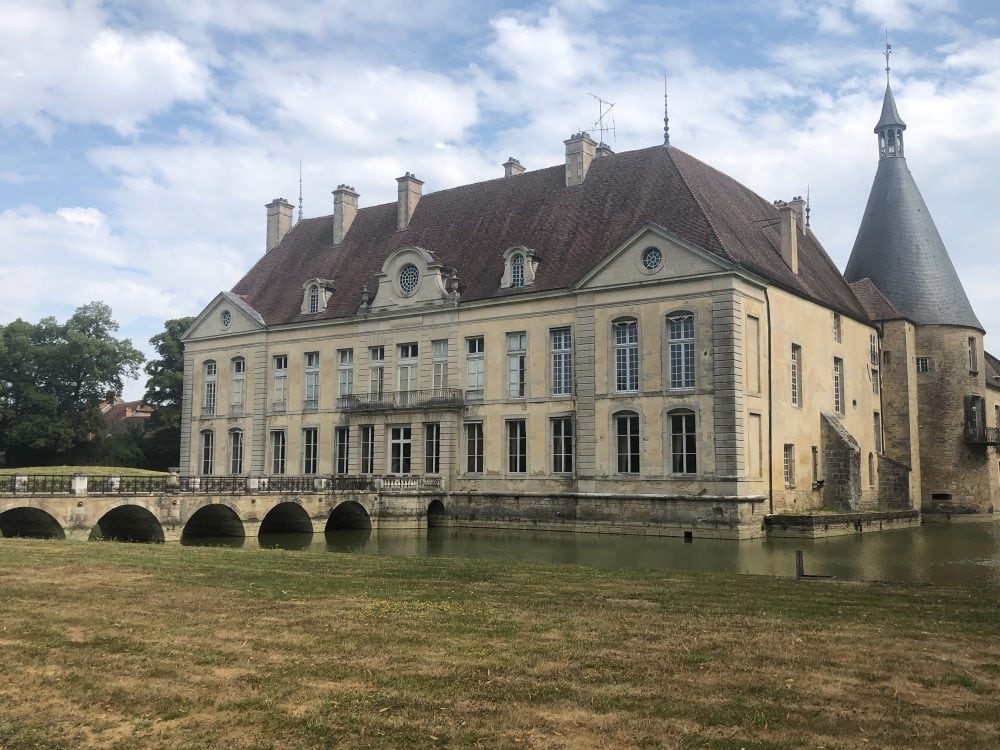 The chateau has been in the Count's family for 26 generations, they have been continuously occupying the chateau since the 13th century, and he gave us a guided tour of the grounds. The count has been living there since 2001. We later had a private tour of some limited quarters inside the chateau as well as some of the outbuildings.
The highlight of the visit, however, was the private falconry demonstration. Falconry is the sport of using trained birds of prey to hunt small wild animals in their natural state. While it's not without current controversy, falconry dates back to approximately 700 BC.
For the demonstration, we met up with another European Waterways' cruise group and sat in a shaded area on the grounds. Two handlers introduced us to various birds, allowing us close-up views of majestic owls, hawks, and falcons. We saw them perch, spread their wings, and fly. The handlers asked for volunteers to hold out their gloved for one of the birds.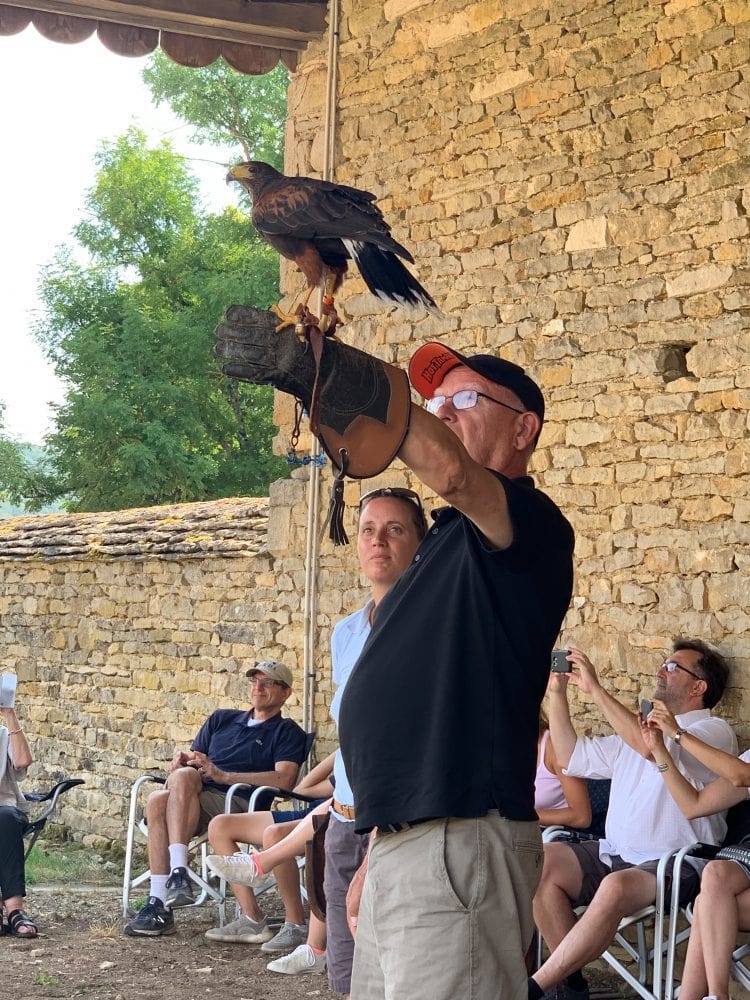 Tony volunteered! He said being up close and personal with a falcon made him a little nervous, at first, but watching the bird fly from one handler to his outstretched arm was an amazing opportunity. While the birds may look small in the sky, when they're perched on your arm you realize how large and strong they really are.
While the day tasting champagne and having lunch with the Baroness was my favorite day of the cruise, the day at Chateau de Commarin and the falconry demonstration was Tony's favorite.
We returned to the barge for a late lunch (it would have been nice to have had a box lunch arranged so that we could have stayed at the chateau and enjoyed the gardens) and got packed and ready for our final evening and the Captain's Farewell Dinner.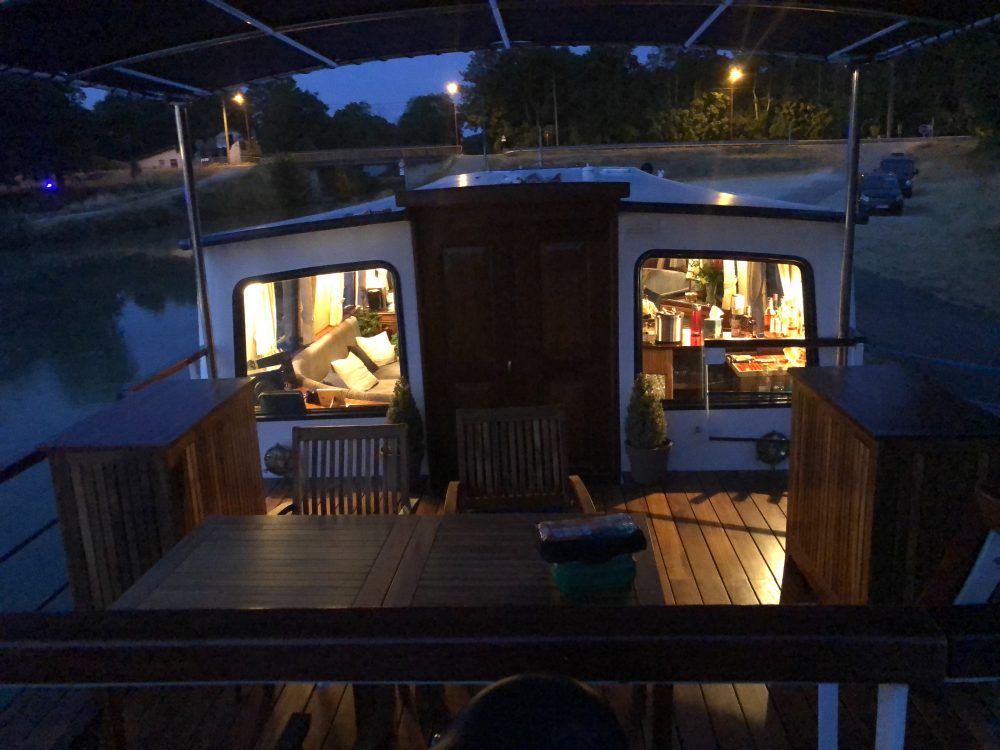 We moored up next to another European Waterways barge and there was music, sing-a-long, and wine long into the night.
Tip: Volunteer! These are impressive creatures.
Day 7 – Return to Paris
Time to go home. One last breakfast on La Belle Epoque and we headed back to Paris.
Know Before You Go on Your French Barge Cruise
A cruise vacation isn't for everyone. And even if you love cruising, a barge cruise may not be the best choice for you, even though we loved it. Here is some additional information that you should know to help make you make a decision about a luxury barge cruise with European Waterways and specifically, the Classing Northern Burgundy itinerary.
There is no assigned seating for meals and the dining room, nor is there room service on board La Belle Epoque. Guests are accommodated at a single seating. I supposed that if you weren't feeling well and needed to remain in your cabin that a meal could be taken to you, but this wouldn't be the norm or expected.
La Belle Epoque is not wheelchair accessible. There is a narrow gangplank to get on board and stairs within the barge. Wheelchairs cannot be used onboard. They may be used to assist on excursions, however cobblestone streets and rough ground may make it difficult.
Safes are provided in each cabin onboard La Belle Epoque but cabin doors are not locked. At first, this was difficult to wrap our head around. After a couple of days, it seemed normal.
You'll need a passport to travel to France. U.S. passport holders do not need a visa. France is in the Schengen area.
The official currency of France is the Euro. Currently, one Euro equals $1.12 U.S. dollars and $1.48 Canadian dollars. This is the best valuation I've seen in quite some time. Since we visit Europe at least once a year, we always have Euros at home and never exchange them back (too much of a loss on the transaction). The easiest way to get Euros is using an ATM and withdrawing from your bank account. ATMs are everywhere in Paris and we also saw them in Auxerre and a couple of other smaller cities. Be aware of any charges that your home bank might impose.
Credit cards are widely accepted except in very small shops and markets. Always have things charged in Euros (the local currency) to minimize fees and get the best exchange rate.
Don't overpack. This is casual cruising and that really does mean that shorts and t-shirts are fine, especially in the hot summer. Check the weather forecast for your sailing date and plan accordingly. There aren't laundry facilities onboard the barge and you aren't in any city long enough to send it out for cleaning.
European Waterways has a loyal customer base. On our sailing, one couple had sailed on them twice before (in different locations) and specifically sought it out for this vacation. The family traveling together was looking for a food and wine-focused cruise and their research and the reviews led them to European Waterways.
Pricing is based on high and low season sailing dates. You can also charter the entire barge and personalize your experience for your group.
European Waterways doesn't provide a travel department to book your airfare or pre- or post- hotel room. We're comfortable figuring this out on our own. If you need help with these bookings, contact a reputable travel agent.
European Waterways offers itineraries in Germany, Luxembourg, Belgium, Holland, Italy, Scotland, England, Ireland, and other destinations around France.
Pinterest
We use Pinterest often when dreaming about or planning travel. We create boards for the destinations we are interested in and pin everything we see that might be of interest. Then, when we're ready to get down to planning, we pull up those boards and start researching. If you're thinking about whether a barge cruise might be right for you, pin this to your favorite Pinterest boards.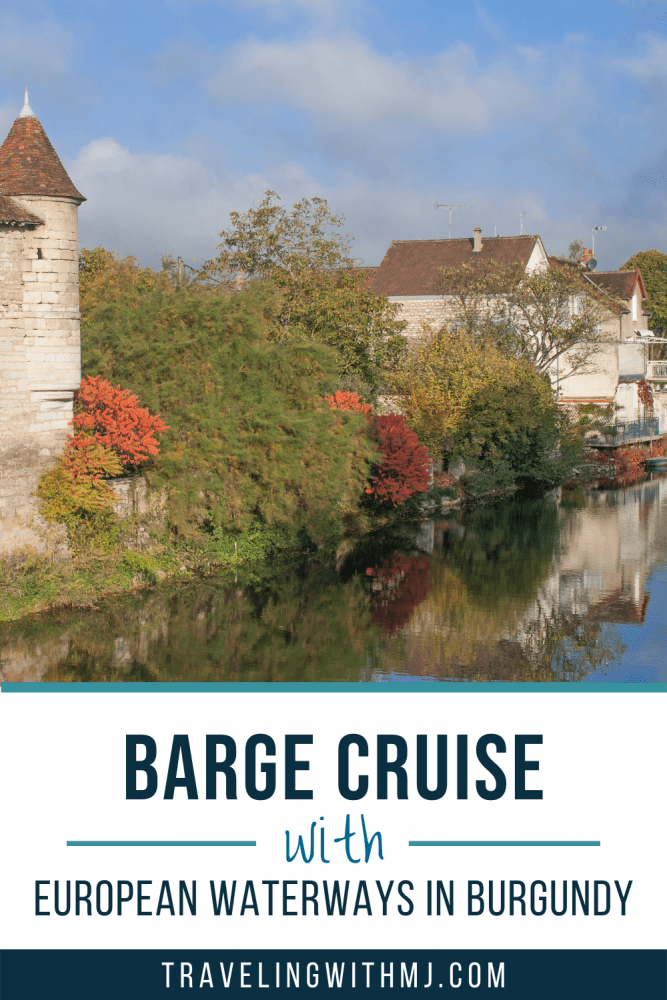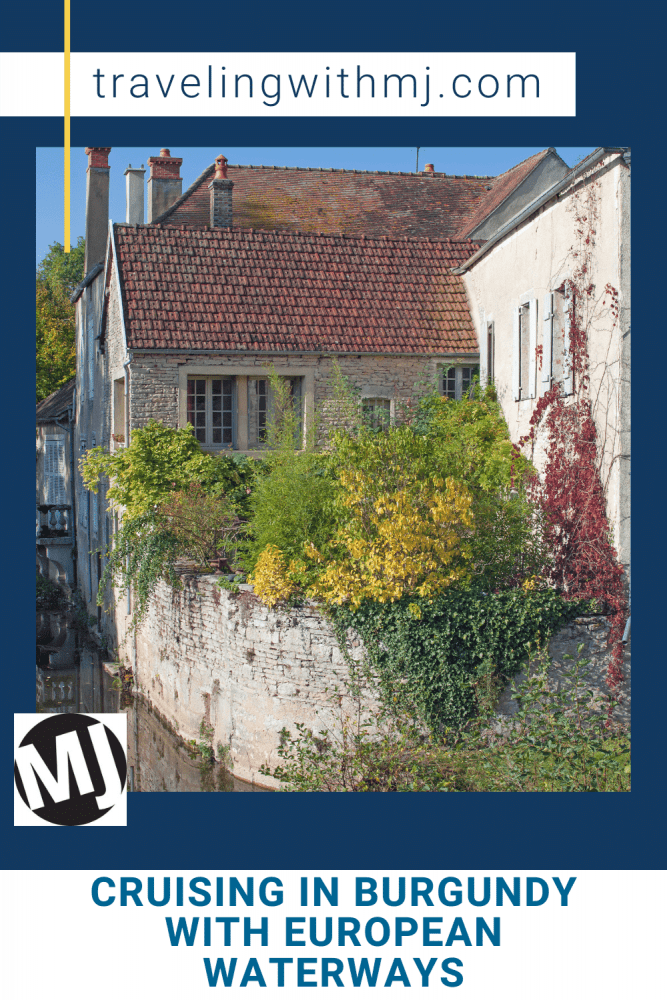 Disclosure: Our cruise was hosted by European Waterways. We appreciate the invitation and opportunity to try out luxury barge cruising.