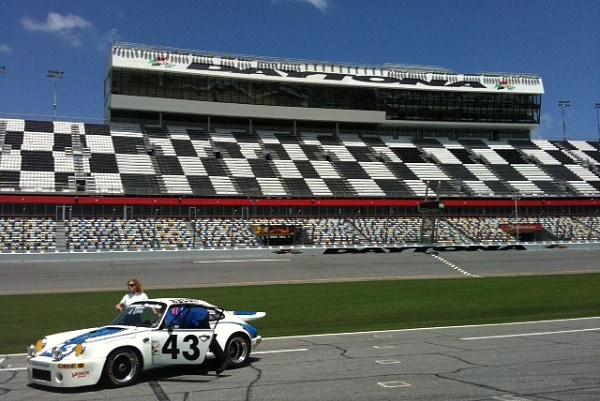 Last year I had the opportunity to visit Daytona Speedway, and I'm remindsx of it today while the Daytona 500 is running.  To be honest, I'm not a NASCAR fan, nor really of racing in general – although I have plenty of friends and family members who are.  But I went to the speedway with an open mind to learn about a sport than fascinates millions of people.
This photo was taken in front of the stands (the ones you see, if you're watching on television today).  It's an iconic shot with the stands, pit row, and the finish line right at hand.
After some time to take photos, we were loaded up into a pace car for a few laps around the 2 1/2 mile tri-oval course. Although our speed was nothing like the race speeds, we did get up to 100 miles an hour.  It was exhilarating, and I found myself with a silly-assed grin plastered on my face, once again have the joy of an over-the-top experience to remember.
Photo credit:  personal collection