Since it's President's Day, I thought a fitting theme for today's post would be something about one of our Presidents.  There were some obvious presidential choices, but never being one to make the obvious choice, I looked at some that might typically get overlooked.  And that led me to President Warren G. Harding, the 29th President of the United States.
With a rousing speech from the front porch of his home in Marion, Ohio, Warren Gamaliel Harding launched his campaign for the presidency of the United States.  Historians may argue that Harding was one of the least effective Presidents, but he was certainly an interesting and colorful man, who, right up to his death, led an administration filled with scandal.
The Harding Home, located at 380 Mt Vernon Avenue in Marion, Ohio (map) has been restored to its original Victorian splendor, and now serves as a historical site dedicated to Harding's life and Presidency.  Nearly all the furnishings in the home were pieces originally owned by President and Mrs. Harding, making a tour of the home a wonderful step back in time.
Next to the home itself is a separate house that was used as the press house during Harding's presidential campaign.  It now is used as a museum.
The President Harding Home and Museum is closed during the winter months, and is only open for public tours from Memorial Day weekend through Labor Day, and on weekends during September and October.  Hours of operation are Thursday – Sunday, noon to 5 pm.
Admission is $6 for adults, $3 for children 6-12, FREE for children 5 and under.  AAA, Senior and Military discounts available.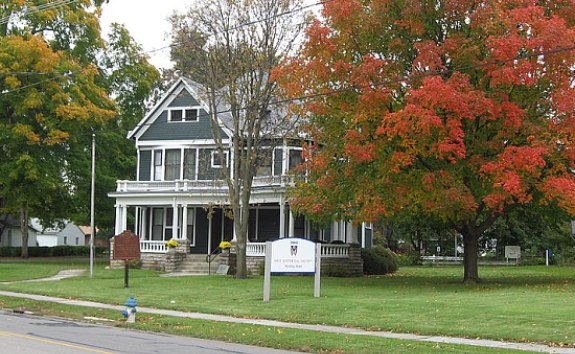 A visit will appeal to fans of presidential history, lovers of Victorian architecture and furnishings, and political enthusiasts.  For a home tour, along with some time at the museum, allow about an hour and half or so.
Photo credits:  Portrait from wikipedia; home from wikimedia