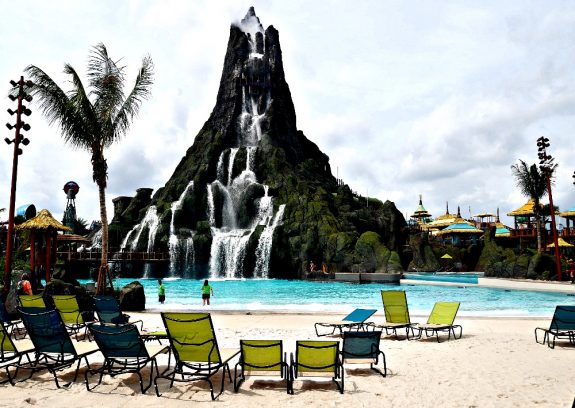 Last month I attended the media preview as well as the Grand Opening of Universal Orlando Resort's new water theme park – Volcano Bay. I was predisposed to love it, of course, as I'm a fan of most things UOR (that's probably why they hired me to be part of the inaugural Blog Squad ambassador program). But, I was not expecting to find so many things to love about this third theme park in the UOR brand.
This review is a result of my visit to the park on the media day (with only a few hundred people in attendance) as well as the more crowded opening day.
TL/DR: Just go, it's amazing!
For those who want to know more, here are the details.
The story of Volcano Bay starts with the culture of the Waturi, a fictional tribe from the South Pacific, searching for their perfect home, led by their hearts and yearning for adventure. Their connection to the water is summed up in the philosophy "Water is life; life is joy."
Technology
I loved being able to leave my valuables back in my hotel room – I.D., credit cards, money – all things that typically I'd worry about protecting at a waterpark (or pool, or beach, or anywhere that I have to worry about valuables). When you enter the park you are given a Tapu Tapu wearable for our wrist. This allows you to charge purchases – food, souvenirs, drinks, etc. – to a credit card that you've linked up in advance via the Universal Orlando Resort phone app.
Parents will like the ability to set spending limits for family members, allowing everyone to decide what and when they want to eat, have a snack, or budget personal souvenir purchases.
With the Tapu Tapu wearable linked to your credit card (must be done in advance), there's really no reason to carry other cash or cards.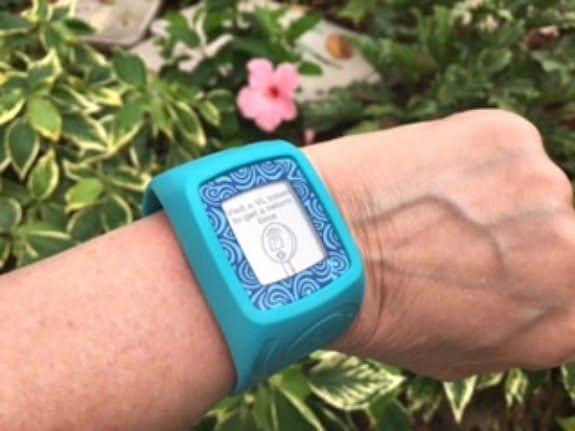 The Tapu Tapu wearables give you access to lockers located in bays around the park. They come in several sizes (use fee is based on size), and you'll want one to stash a change of clothes, camera, phone, and miscellaneous personal items. Don't cheap out here and leave your personal items unattended, or worse, ask someone in your group to forego the fun of the park and stand watch over the personal items. (One other option is to rent a cabana, more on that below.)
Another use and a great feature of the Tapu Tapu wearable is that it serves as a veritable waiting line for riding the various Volcano Bay rides and attractions. Volcano Bay has been an amazingly popular theme park, so you will need to use the feature to maximize your time. I mean, why stand in line when you can be sipping a cold beverage or floating on the lazy river?!
Here's how the waiting feature works: You tap your Tapu Tapu at the ride you want to go on; if you're with a group, everyone will need to tap in. That tap "saves" your spot in line and gives you an estimate of the wait time until it's your turn. Once you've saved your spot, head off to enjoy something else. When it's your turn to ride, your Tapu Tapu will message you when it's time to head over.
To be very clear, the Tapu Tapu doesn't get rid of the lines, it merely makes it so that you don't need to physically queue up, leaving you free to put that time to better use.
When it's your turn, you won't get on the ride immediately. Instead, it means that it's almost your turn to get on, meaning that you need to queue up for a 10-15 minute wait. It's a great time saver and stress reducer as opposed to waiting in line for over an hour. Also, don't worry if you haven't finished your cold beverage when the alert goes off. Your spot in line is "saved" until you get there.
You can wait in the virtual line for only one ride at a time, so use this option for the most popular attractions.
The Rides
There are four themed areas at Volcano Bay – Karakatau (around the volcano), Wave Village (two wave pools, River Village (family slides and activities) and the Rainforest Village (the more adventurous and exhilarating slides).
Without a doubt, the centerpiece of the Volcano Bay is the 200-foot volcano, Krakatau. This is the location for the Ko'okiri Body Plunge, the world's tallest body slide. Now, don't for one minute think that I stood on the platform and waited for the drop that would take me 125 feet through a slide that emptied me into a pool down below. Not a chance!
Friends who dared to do the plunge provided me with their version of what it's like:
The Ko'okiri Body Plunge starts with standing in a booth-like tube with a trap door beneath you. As you wait to drop, you get a view of the entirety of Universal Orlando Resort and listen to the sound of drumbeats getting louder and faster. It heightens the experience. And anxiety. When the trap door finally opens you plummet through a clear tube sending you straight to the pools below. While you may not see a thing during the plunge, visitors in the pool below can see your smiling face (or fear-struck face) as you pass through the drop.
My friends said that the drop was a big rush and wasn't as scary as it looked. They recommend giving it a try. I've taken that under advisement.
Krakatau also has two serpentine body slides, Kala and Ta Nui. These aren't as dramatic as the Ko'okiri, but I was still a little reluctant to give them a try. I think I like the tube slides better than the body slides, although I might give these a try at a future visit.
My favorite ride was the Krakatau Aqua Coaster. So much my favorite that I rode it multiple times, back-to-back. I'd guess that you'll get off, look at your friends and say, "hey, let's do it again!"
This is a very popular ride, so I'd recommend heading here when you first arrive. Swipe your Tapu Tapu wearable for your ride time and then get on with your other plans. NOTE: The Krakatau Aqua Coaster does not count as one of your veritable line spots, so you can swipe in here and at another ride. In fact, I'd recommend swiping in again after you finish your first ride so you can get another one in.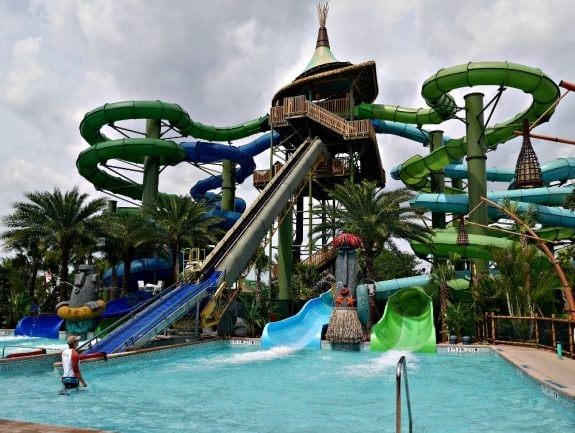 Other favorites were the Ika Moana and Honu slides. These are rafts slides that hold four to six people per raft. You twist and turn, slide up on the sides, and eventually empty into a pool of water and the bottom. You can check it out in the video:
And here's another one:
I'm a sucker for a lazy river. The Kopiko Wai Winding River wasn't operational when I visited (it is now), but the TeAwa Fearless River was slowed down to provide a lazy river option. Now that the lazy river is running, the Fearless River is back to being what it was intended to be, a more adventurous river experience. I'm eager to get back and give them both a try.
I've explained a few of my favorites, but there are many more including ones for the less adventurous or younger in age or spirit.
Your spot
I've mentioned cabanas a couple of times and if you have a group of people, these are a great value luxury way to enjoy your time at Volcano Bay.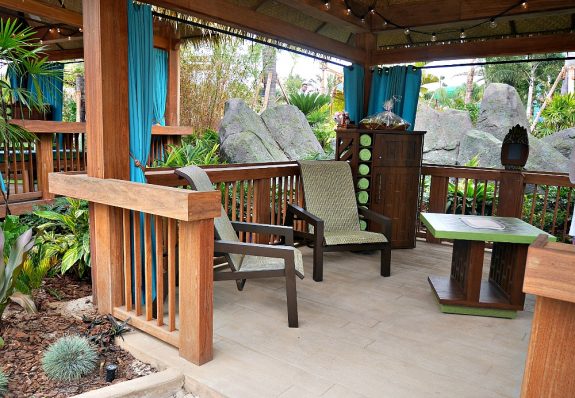 Cabanas range in sizes that will accommodate 6-16 people and start around $160-200. It's a spacious area to call your own for the day. It includes padded lounge chairs, a small refrigerator stocked with water, towels, locker, a complimentary snack and fruit based, and an exclusive food and drink menu with butler service. With three or more people, this is a great option. Reserve in advance for best location and options.
If there's only two of you, you can opt for premium seating starting at $30. With premium seating, you get two deluxe loungers with an adjustable canopy shade and built-in locker. If your budget won't stretch to the price of a cabana, or you don't have a group, I'd recommend this option.
Food & Drink
If you think theme park food is tasteless and boring, you haven't been to Universal Orlando Resorts!
Sure, you've got the necessary kid standbys of burgers and dogs, but you have also delicious tropical themed dishes likes coconut fried chicken, poke bowls, pulled pork sliders, chipotle shrimp tacos, chicken mole tacos (the taco sampler was one of my favorites), specialty pizzas, sushi, and more. They've got you covered for dessert with specialty ice creams and ices. Try the Waturi Beach Blend Ice Cream, choosing a creative mix and match of any of their nine flavors or the Waturi Fusion, a mix of banana, blue raspberry, orange, and strawberry.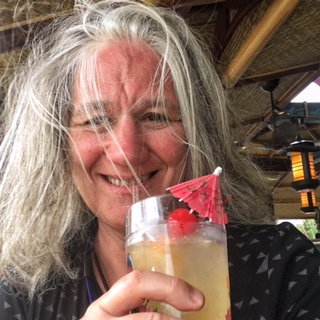 I had the opportunity to sample many of the dishes at a media party and there are just too many great choices to make a recommendation other than to order different dishes and share.
In addition to the expected soft drinks and coffee and tea (hot and iced), there is also a yummy selection of adult beverages, most of which can also be ordered as a non-alcoholic option. Again, I had the opportunity to sample many of these and found lots of thirst-quenching choices.
The signature drink is the Vol's Fire Punch made from rum, pineapple juice, agave, grenadine, and Sprite. It was delicious, but I didn't find it thirst quenching. My current favorite (which will likely change often) is the Guavaruma made with guava, pineapple, and rum.
My previous recommendation stands – order different things, taste test, and share.
Volcano Bay offers a signature beer, Volcano Blossom, a pilsner brewed exclusively for the park. Tasting notes: A smooth honeyed floral flavor with notes of star fruit and passion fruit. Most of my friends loved it. I didn't. Your mileage will vary.
Additional Tips
If you stay at one of the Universal Orlando Resort hotels, you'll get early entry, an extra hour before the park opens to the general public. That extra hour can mean an early jump on the lines for some of the favorite rides and is a great value. There is a shuttle service to and from all the UOR hotels.
The hotel closest to Volcano Bay is the Cabana Bay Beach Resort. I reviewed that hotel here. In my review, I said that while I prefer the luxury properties of Universal, that the Cabana Bay vibe is "funky and fun and is a hands-down winner with families. This price point delivers serious value, a critical consideration when looking at your vacation budget."
Since I wrote that review, a few things have changed that would make me reconsider. First, a new tower has been opened at Cabana Bay, providing a more traditional hotel experience. I got a quick tour of the hotel and it seems that this tower will appeal to the more luxury traveler (me, me). Also, Cabana Bay has a private entrance directly to Volcano Bay – that means even shorter admission lines.
You can use the mapping tool below to find a hotel and get current rates.
There is currently no Express Pass for Volcano Bay. They may return, so keep an eye out for updated information.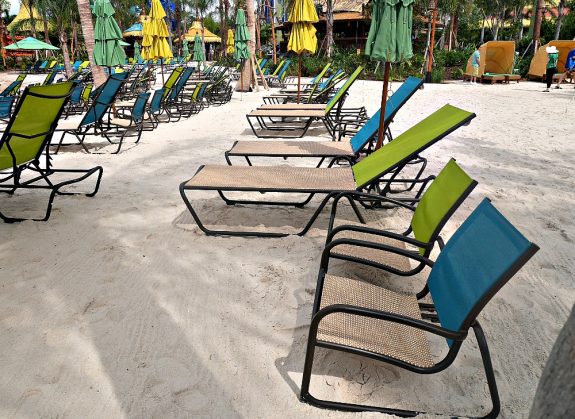 You can bring your own towel or rent one at the park ($5). Remember, towel service is provided in the cabanas.
When you're at Volcano Bay, most of the staff will greet you with Kia Ora. This is a Maori expression that translates to be well or be happy. It is used as both a greeting and farewell.
There is no dedicated Volcano Bay parking lot. If driving, your best bet is to park at Universal's main parking area next to CityWalk. From this parking area, you can catch a shuttle bus to the park. I
f you're staying at Cabana Bay, there is a $12 parking fee for hotel guests. If you're not staying there, but want to park at the hotel, the daily parking fee is $45. That's a lot of coin just for preferred parking, so think about staying onsite.
The Tough Discussion
I've got to talk about the proverbial elephant in the room. If you've read any travel news, you've no doubt read some reviews about lousy experiences at Volcano Bay. Complaints run from slides breaking down to virtual lines in excess of four hours, from glitchy Tapu Tapu wearables to the park reaching capacity and not being able to get in at all. Those are frustrating concerns and I wouldn't be honest with you if I skipped over them or ignored them.
My experience at Volcano Bay was as a guest of Universal Orlando Resort. As a hosted guest, I tend to overlook minor glitches that would cause me more concern as a paying guest. On opening day there were some hiccups with the Tapu Tapu wearables interfacing with the UOR app. Once the confusion came up, though, it was quickly remedied. Wait times were long but didn't seem any longer than what I'd expect at any theme park on a long holiday weekend (or anytime during the summer for that matter).
Friends who have been to Volcano Bay since the grand opening, including fellow Blog Squad members as well as other non-affiliated colleagues, have not reported back with a raft of problems. They did say that lockers were scooped up quickly, not surprisingly and that if you didn't reserve a cabana in advance, you weren't going to get one on site (again, not surprisingly). And, like all reviews, one guest's heaven is another guest's hell.
I don't want to dismiss any negative experience summarily. I've found that the best way to get helpful reviews and information is to follow travel writers, bloggers, and social media influencers who like the same things that you do.
If you're looking for theme park information, find people who love theme parks as much as you do. If you're a baby boomer, find similarly aged people to follow as their expectations and analysis will likely match yours more closely. I always take the "everything is perfect, nothing could have been improved" reviews with as much of a grain of salt as I do the "everything was horrible, there were no redeeming experiences" reviews.
I know that you read my reviews because you trust me to be honest and to let you know what I like and what I don't. I am honored by that trust and hope that you can use this information to make the best decisions on how to maximize your travel budget. I am unapologetically a Universal fan, and that extends to my experiences at Volcano Bay.
Pricing
There are so many value packages that include park admission for one or multiple parks, food and beverage packages, airfare, hotel rooms, etc., that is can be confusing. My recommendation is to make a list of all the things you need and want, how many days you want to spend at the parks and start looking for packages.
I'm a fan of staying on site, not only for the value added perks that it gives you but also for convenience. I put a fairly high price on convenience as it lets me enjoy the experiences instead of sweating the details.
If you're just spending the day at Volcano Bay, a one-day ticket is $67 for $62 for kids, plus tax. Rather than spending the day back and forth between the other two parks and Volcano Bay, I'd just dedicate one day to the water park, enjoying everything it has to offer.
For Pinterest: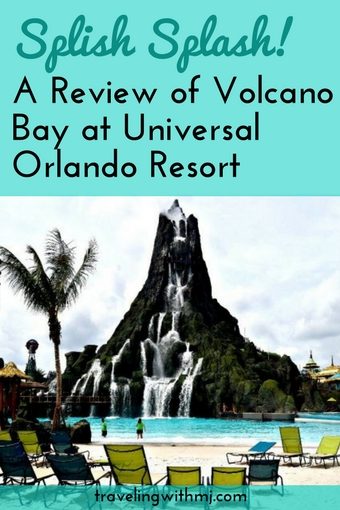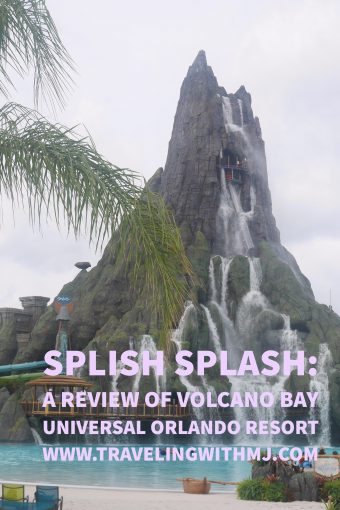 Disclosure: I am a paid ambassador for Universal Orlando Resorts as part of their Blog Squad. You know me well enough to know that I'm a straight shooter with my reviews and opinions.