Carnival Cruise Line's new Mardi Gras pays homage to its first cruise ship, the TSS Mardi Gras which was launched in 1972 and retired in 1993. The new Mardi Gras is the first in the new Excel class ship with a passenger capacity of 5,282 passengers making it the largest cruise ship in the Carnival fleet.
I sailed on the first Mardi Gras voyage, a seven-day itinerary out of Port Canaveral (Orlando) with ports of call in San Juan in Puerto Rico, Amber Cove in the Dominican Republic, and Nassau in the Bahamas. We sailed with reduce capacity (70%).
Walking on it had that new ship smell and made a favorable first impression. Come along for a look at the ship, her features and amenities, and this special debut sailing.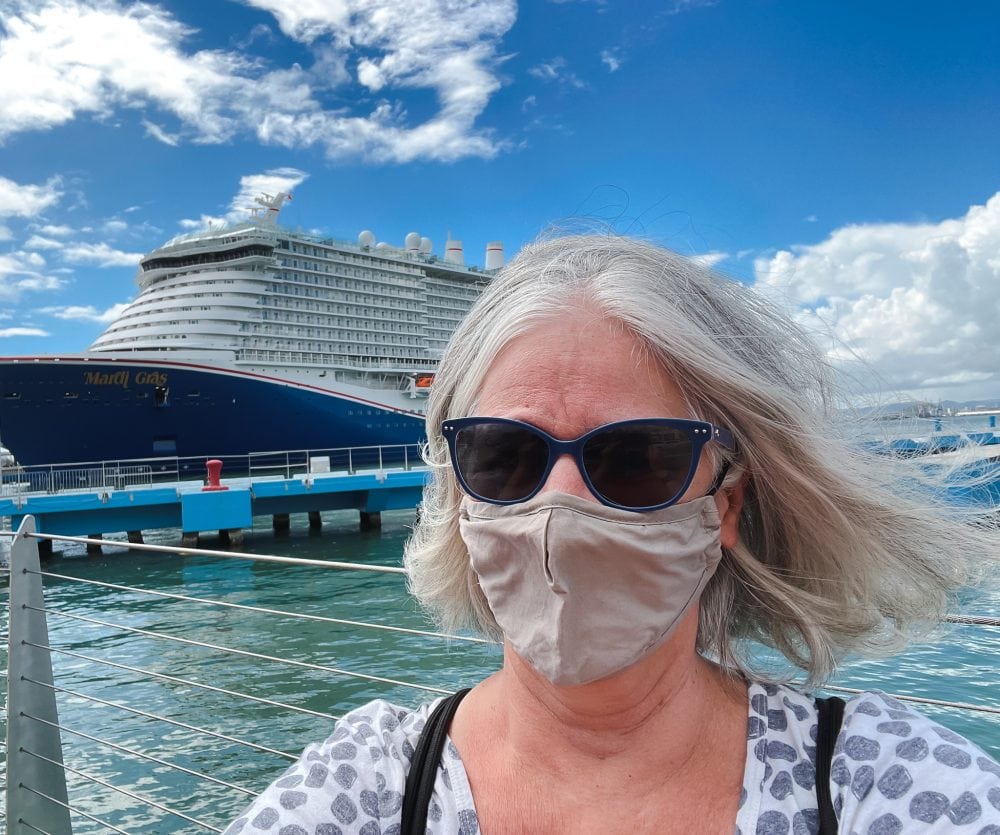 The Ship
The ship's look features a distinct exterior design that sets it apart from the rest of the fleet. The dark blue hull with white and red streaks has a modular look with cabins, decks, and features providing interesting lines. Instead of the traditional sleek, clean lines, it has a modern, almost Lego-like look with bits and bobs sticking out to grab your attention.
The Mardi Gras again deviates from the norm, eschewing a center grand atrium for one on the side. It seemed a bit unusual at first, even confusing, but after a few evenings, the innovative choice grew on me. The side venue allowed for a stage and viewing area with clean sight lines and still managed to keep foot traffic moving. That's no small feat on a cruise ship, and I think it helped to create a guest-centric experience.
The onboard venues and activities are divided into six themed zones: Grand Central, Summer Landing, the French Quarter, La Piazza, Lido, and the Ultimate Playground.
Mardi Gras is powered by Liquefied Natural Gas (LNG), a more environmentally friendly energy source with near-negligible emissions. It's the first ship in Carnival's fleet to run on LNG, but hopefully not the last.
What everyone's talking about, though, is Bolt. It's a roller coaster at sea – a sea coaster – the first-of-its-kind on any ship.
Let's dig in and discover more about the six fun zones.
Grand Central
Located on deck 6.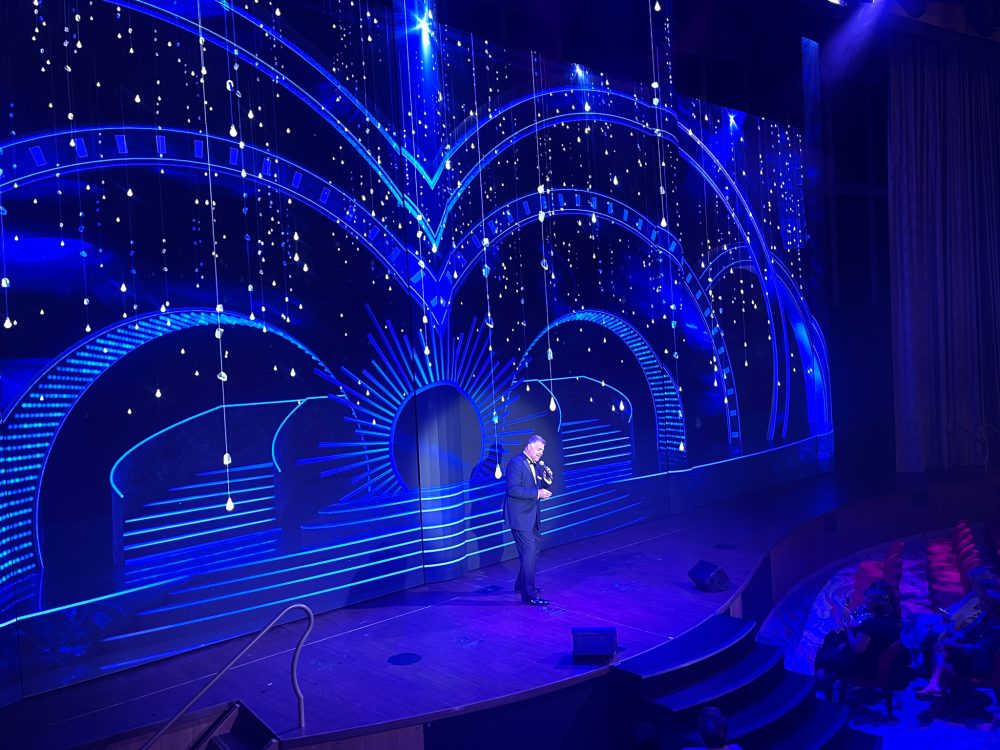 Your cruise kicks off as you step into Grand Central on the Mardi Gras. Instead of the usual center atrium, Grand Central is a three-deck-high (decks 6, 7, 8) side atrium that sets the tone for a fun-filled vacation. It's an entertainment hub with restaurants, bars, shops, and ocean views through the floor-to-ceiling windows. As impressive as it is during the day, it's dazzling as day turns to night and the ambiance turns to mood lighting and performers take to the stage.
In Grand Central, you'll find the elevated versions of the Carnival's traditional restaurants, Bonsai Teppanyaki and Bonsai Sushi. Rounding out the zone is Piano Bar 88, the Punchline Comedy Club, Alchemy Bar, and the JavaBlue Cafe.
My experience: A latte every morning at JavaBlue (small additional fee) and an occasional pastry was a great start to the day. Dinner one night at Bonsai Sushi (additional fee) with a sushi-loving friend. She said the sushi was tasty with large servings. I was happy with a warm bowl of ramen and some spicy edamame. Worth checking out.
On Deck 7, a few steps away from the atrium, is Fahrenheit 555, the ship's steakhouse. I loved the menu here, and thought the $38 surcharge was worth every penny. A perfect spot for steak lovers or a date night dinner, the menu was full of delicious cuts ranging the expect New York Strip and Filet to the unexpect Wagyu.
The French Quarter
Located on deck 6.
Inspired by New Orleans' French Quarter, this themed zone features innovative cocktails, live music, and quickly became my favorite spot, at least my favorite spot indoors.
Details like faux wrought iron, splashy chandeliers, and exotic cocktail recipes, helped give it a sexy vibe.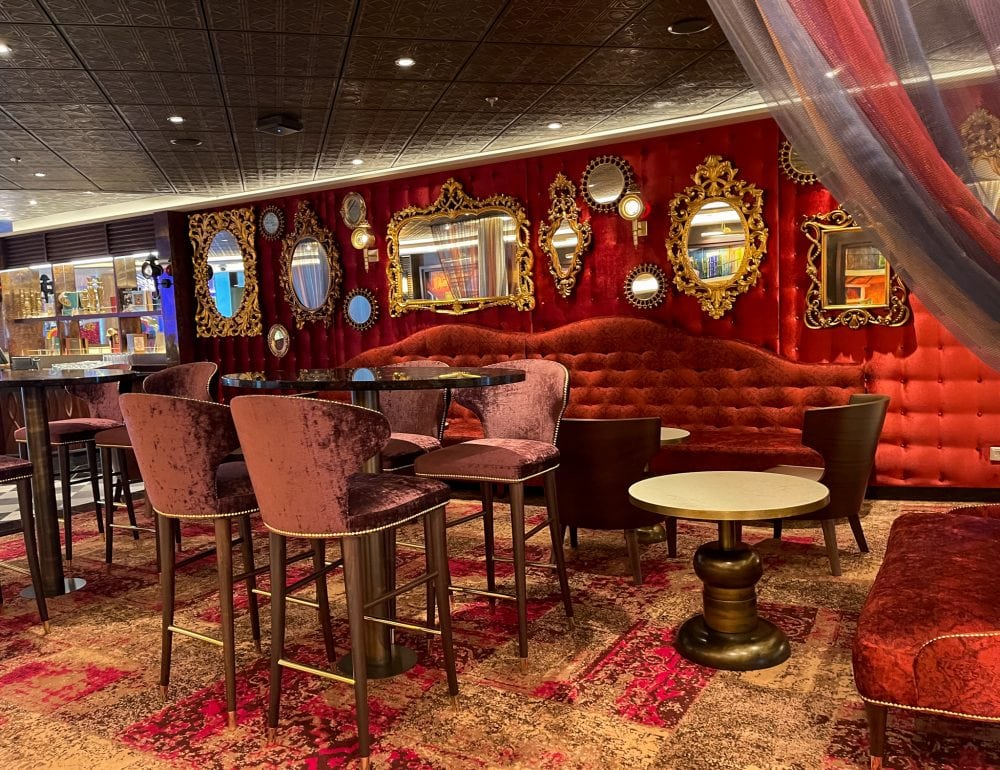 This was home to Emeril's Bistro (Emeril Lagasse), the Brass Magnolia Bar and featured musicians, and the Fortune Teller Bar, along with a few shops
My experience: Spend time in the Brass Magnolia and enjoy the entertainment. The electric violins were a treat, but it would be hard to argue against sitting in for any of the performances. Cocktails served in the French Quarter are some of the most fantastical I've ever seen. From standards like a Hurricane and a French Kiss to the exotic blended Forty is the New Twenty martini and the Abracadabra that changes color before your eyes. These were carefully crafted and presented as works of art.
Summer Landing
Location: Deck 8.
Summer Landing is about relaxing and chilling out in casual indoor and outdoor spaces. The zone mimics a weekend barbecue experience in your own backyard. If your backyard has a pitmaster and brewhouse, that is. A poolside bar and jacuzzi complete the barbecue scene.
Food and beverage options include Pig & Anchor Smokehouse Brewhouse, the poolside Watering Hole, and Heroes Tribute Lounge, the latter honoring active and retired military cruisers.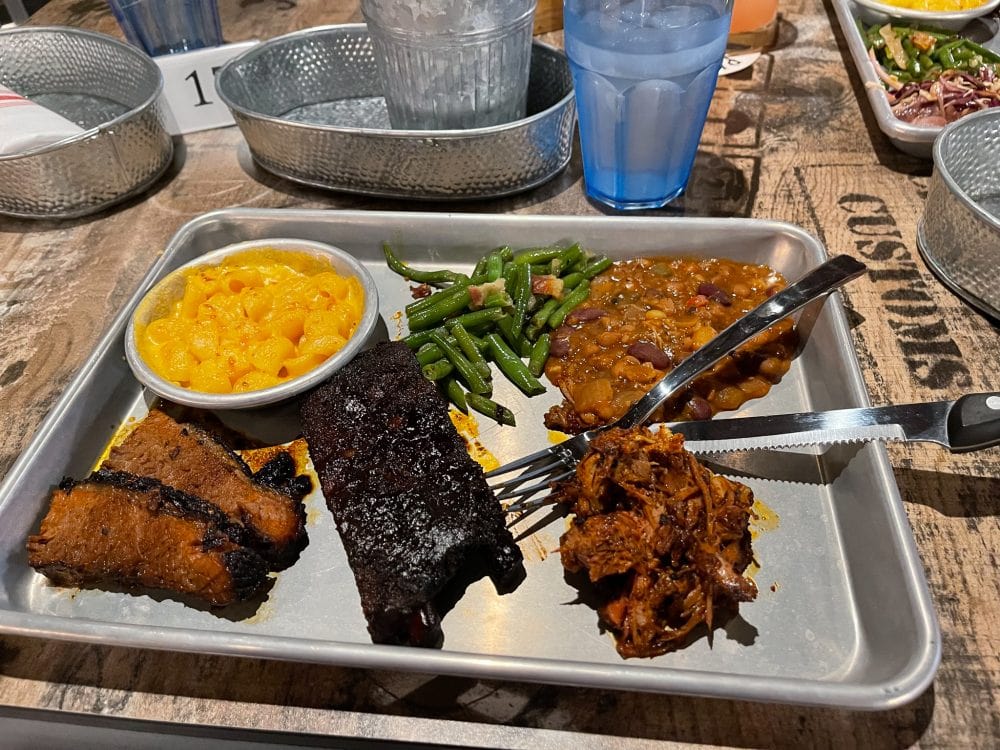 My experience: It's hard to pass up barbecue and a brew, so why even try. Pig & Anchor's menu is full of traditional choices and if you can't narrow it down, opt for the platter with three meat choices and three sides. The mac 'n' cheese was a big hit, the beans just so-so, and while I can make a mean rack of ribs myself, these were pretty good.
La Piazza
Location: deck 8.
La Piazza is Italian-inspired, in design and cuisine. It may not be like strolling the streets of Naples or Rome, but it certainly doesn't feel like the Caribbean either.
Restaurants include Cucina del Capitano, Pizzeria del Capitano, and Bar Della Rosa. Cucina del Capitano is an alternative dining venue to the main dining room. The bar, again, features themed craft cocktails that level up the onboard mixology trend.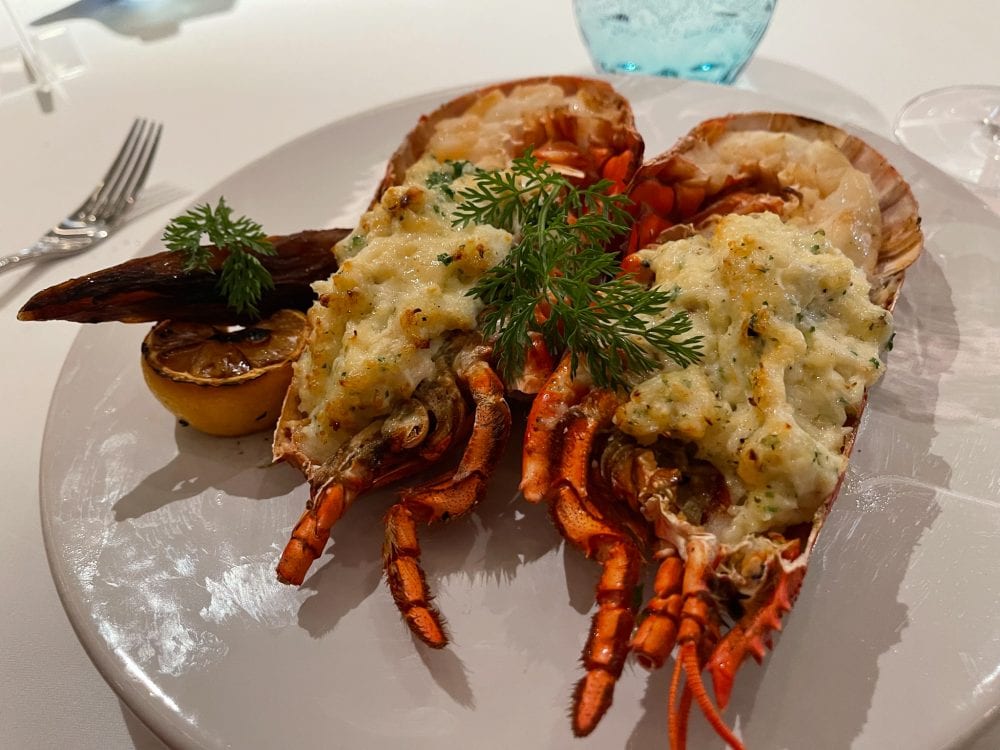 Located between La Piazza and Summer Landing is probably my favorite restaurant – Rudi's Seagrill. Chef Rudi Sodamin works his magic with seafood, combining delicious menu items with a bit of whimsy is decor and service items. My crab stuffed lobster was delicious, and well worth the $38 surcharge.
My experience: Cucina del Capitano was a little hit and miss. The arancini appetizer was a nice starter and the farfalle pasta selection was delicious. I would love to have seen a more robust Italian wine selection and families may appreciate some less-fussy and more kid-friendly entrees. Service was spotty and inconsistent and staff seemed unsure of duties or table sections. I think these will get worked out as everyone settles down into a routine – both servers understanding the restaurant systems and passengers enjoying an alternative (and included) venue.
Lido
Location: deck 16.
A classic feature of Carnival ships, the Lido is all about casual fun and what most passengers have come to expect in an onboard experience. Pool, jacuzzi, plenty of loungers, a humongous video screen, music, all surrounded by spots for casual dining and an ocean view, it doesn't get much more fun than this.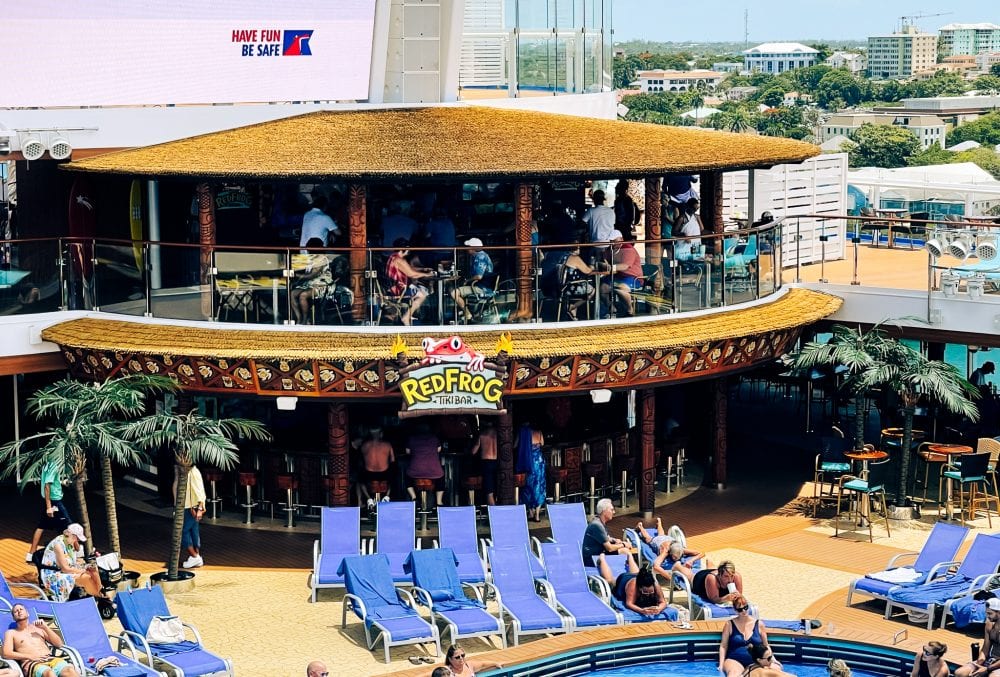 The popular RedFrog Tiki Bar has been expanded to two decks and was a popular hangout.
Street Eats, a new-to-Carnival experience, is a riff on food truck dining, offering yummy choices and daily specials. Restaurants found here include Shaq's Big Chicken (that's Shaq O'Neal, of course), Guy's Burger Joint, Seafood Shack (additional charge), Street Eats (a group of three food truck-like venues, and Blue Iguana Cantina.
My experience: I'll take a hot chicken sandwich over a burger most days, and I had to restrain myself to one visit to Big Chicken. Tender, flavorfully spicy, and ordered without a bun so I could say it was healthier. Yeah, right. BlueIguana Cantina had street tacos with freshly made tortillas that were yummy and a variety of salsa choices. The salsa bar could have benefited from more regular tidying and, given the world health situation, would have made me feel I was making a safe choice.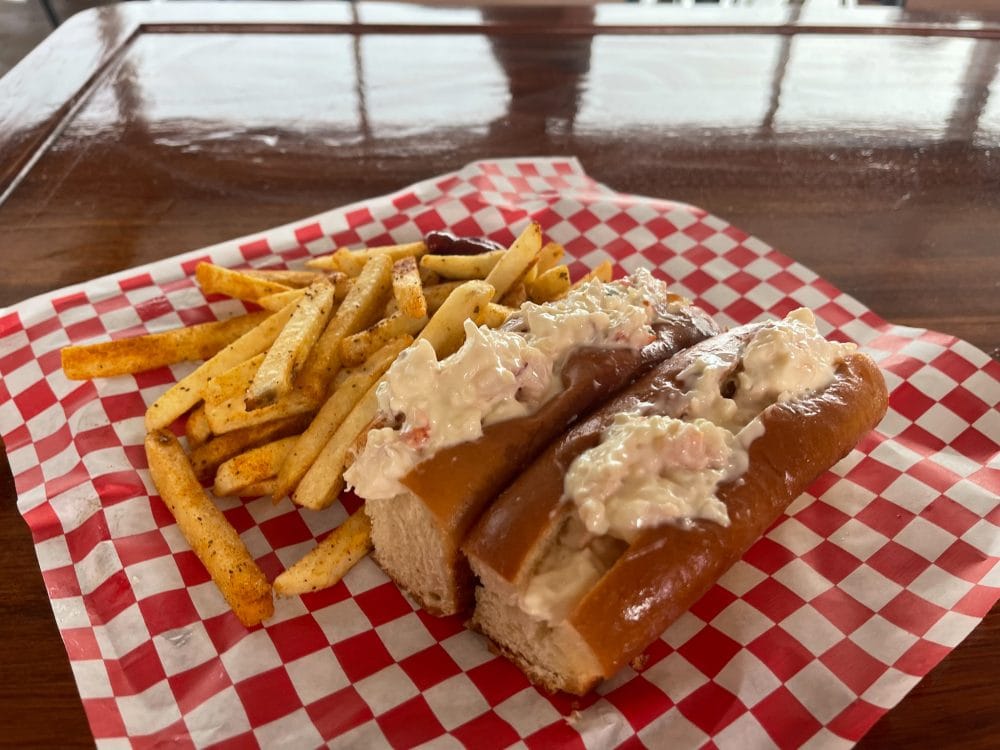 The lobster roll at Seafood Shack was a delightful surprise, it's slightly overly-mayonnaise mixture offset by the garlicky-butter roll. I regret I didn't have time for another one. Other street food favorites were a decent pad thai, flavorful bulgogi, and loaded fries.
I appreciated that you could eat and drink in your lounge chair – and I do confess to some day-drinking there – but there was also a separate seating area with tables and chairs. This means fewer wet bodies dripping on your food as they walked by and provided a modicum of quiet while dining. This is a great spot to pick up a little something-something when you just want to take the edge off instead of a big meal. And while there are some twists on old favorites, there's nothing fussy or pretentious about it.
The Ultimate Playground
Location: deck 18.
Ultimate is one of those words that gets thrown around far too lightly. Except in this case. This Mardi Gras Ultimate Playground deservedly uses the word. The zone spans the three topmost decks on the ship and has activities for adults and kids.
The star of the ship is here, up some stairs on deck 19. BOLT, the first-ever roller coaster at sea. It's an adrenaline-pumping ride that can travel as fast as 40 miles per hour, the ultimate sea coaster. The riding car looks like a motorcycle and can accommodate two riders at a time. The front driver has some speed and boost controls. I tried to remember what to do for a maximum jolt of speed, but between the screams and laughter, I'm not sure if I maxed it out. But oh, those ocean views! Currently priced at $15 for one lap around the deck.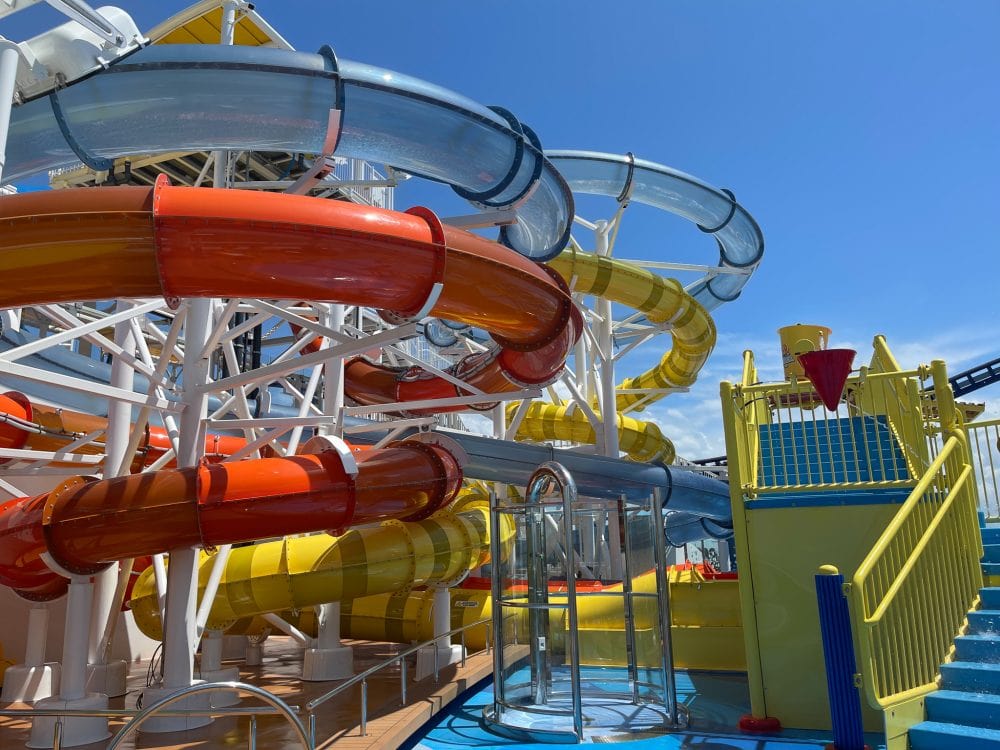 Also at the Ultimate Playground is Carnival WaterWorks, with a unit of water slides that run atop the ship and a zipline and a ropes course high above the ocean. For a little less adrenaline rush, try the full-sized basketball court or mini-golf pitch.
The Staterooms
The staterooms on the Mardi Gras are designed narrow and deep, providing a relatively spacious and stylishly designed space to sleep. I stayed in a balcony cabin (11-287), with beds made up by the sliding door to the deck, a feature I really liked. The cabin was plenty big enough for two people, but I wouldn't have wanted to manage any additional guests that were much beyond elementary-age sleeping on the sofa bed.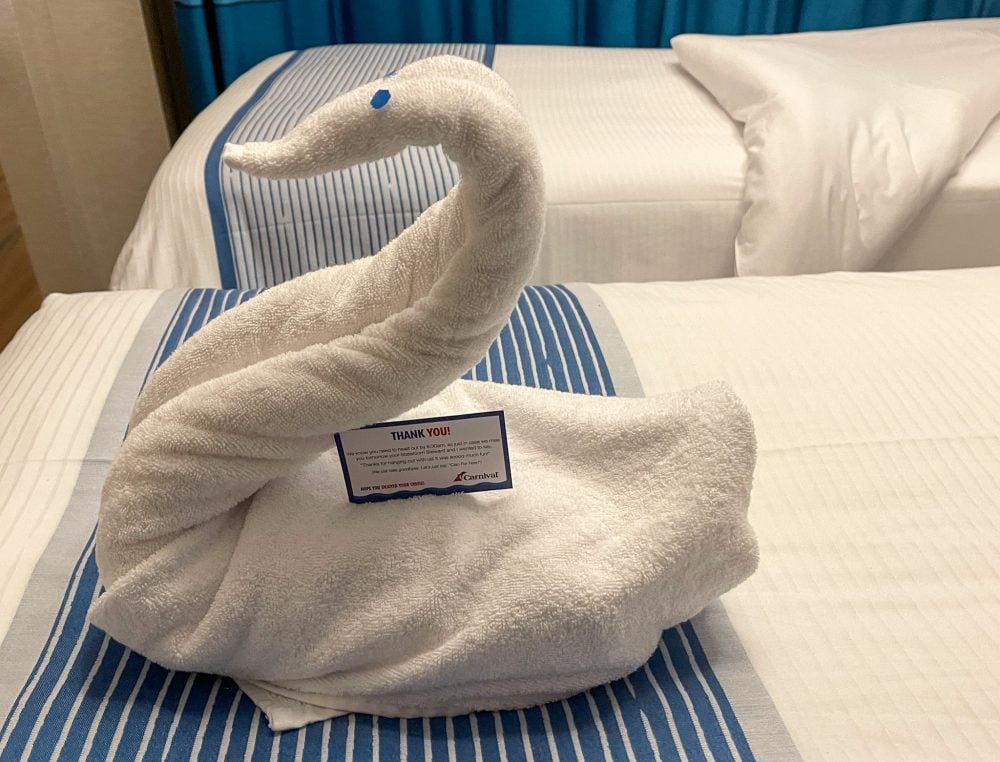 Since I needed to work a little while on the cruise, I appreciated the easy outlet locations. A USB port was located on each side of the bed, perfect for overnight phone charging, along with individual reading lights. Additional ports and outlets were above the desk, sufficient for the needs of two traveling – and working – passengers.
Where I think the cabins really shined was in storage space. There was lots of room, both in actual storage space as well as from additional features that logically expanded existing storage. Double wardrobes had foldable shelving (giving an option for longer hanging space or more shelves) and pull-out wire baskets made easy drawers for smaller items. The desk had multiple drawers and shelving, as did the bathroom. Although not readily apparent, the ottoman at the desk did double duty as storage space and a tabletop. A small refrigerator is also beneath the desk.
Bathrooms are compact. There's room for one, but I wouldn't want to wrestle space with a second person at the sink. Showers had dispensers for bath gel and shampoo, but no conditioner.
If you want a bit more room, the Excel Suites may be just what you need. Splash out on one of the two Presidential Suites, an Aft or Corner Suite, or the entry-level Excel Suite and enjoy more room and luxury. This is a new stateroom category, with 32 onboard Mardi Gras, and includes exclusive and unlimited access to Loft 19. Designed to be an exclusive lounging area, complete with cabanas at a price tag of $500/day, I thought Loft 19 was vastly overrated. Although I had a complimentary pass to try it out, there was no service if you hadn't paid for a cabana. There are other options that I found more appealing, especially the adults-only Serenity area just below Loft 10. That said, if you were traveling with a group of friends and wanted to hang out together, renting a cabana could be a value proposition.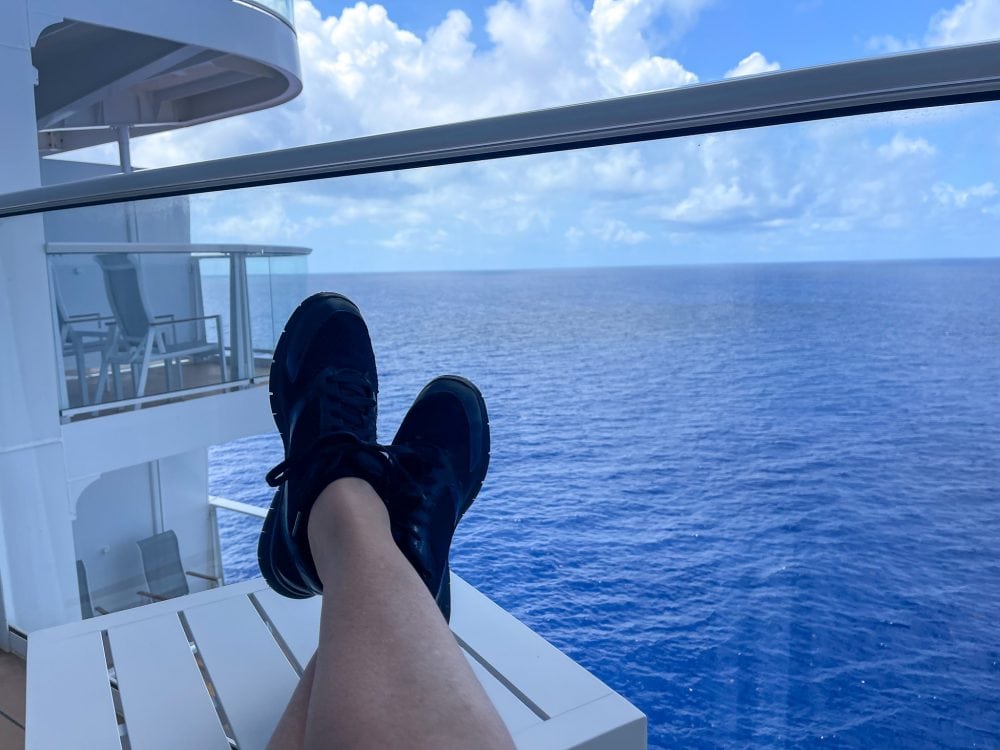 Other staterooms on Mardi Gras, ones you've become accustomed to if you've cruised with Carnival, include the Havana staterooms, Ocean Suites, Family Harbor Suites, and Cloud 9 Spa Suites. And, of course, the standard ocean view and interior staterooms.
To appreciate the varied fun and living spaces on the ship, browse through the ship deck by deck.
The Itinerary
This seven-day Eastern Caribbean itinerary was modified due to health restrictions in the islands (it originally included Turks & Caicos). Checking future sailings, there are a number of variations in the itinerary, although most include – in some way – the ports we visited.
One of the questions that I am asked most frequently is, "What is there to do on a cruise?". The answer is everything. Or nothing. It is an experience that you can tailor to your travel preferences and daily mood. Because cruising can be so personalized, I think there's a cruise for everyone interested in giving it a try. Find what matches up to your interests and travel style and set sail.
Here is the itinerary, what I chose to do, and recommendations.
Day 1 – Embarkation in Port Canaveral in Orlando
Strategically located on the Florida Peninsula on the east coast, the Port is about an hour's drive from the airport (MCO).
I flew in early since I was traveling cross country, but even from a shorter distance, I recommend arriving no later than the day before sailing. Whether you plan to rest up at an area hotel or take in some additional Orlando sights, don't take a chance on flight delays that could result in missing your sailing time.
Day 2 & Day 3 – At Sea
A concern I often hear about cruising is the fear of getting bored. Especially when not in a port.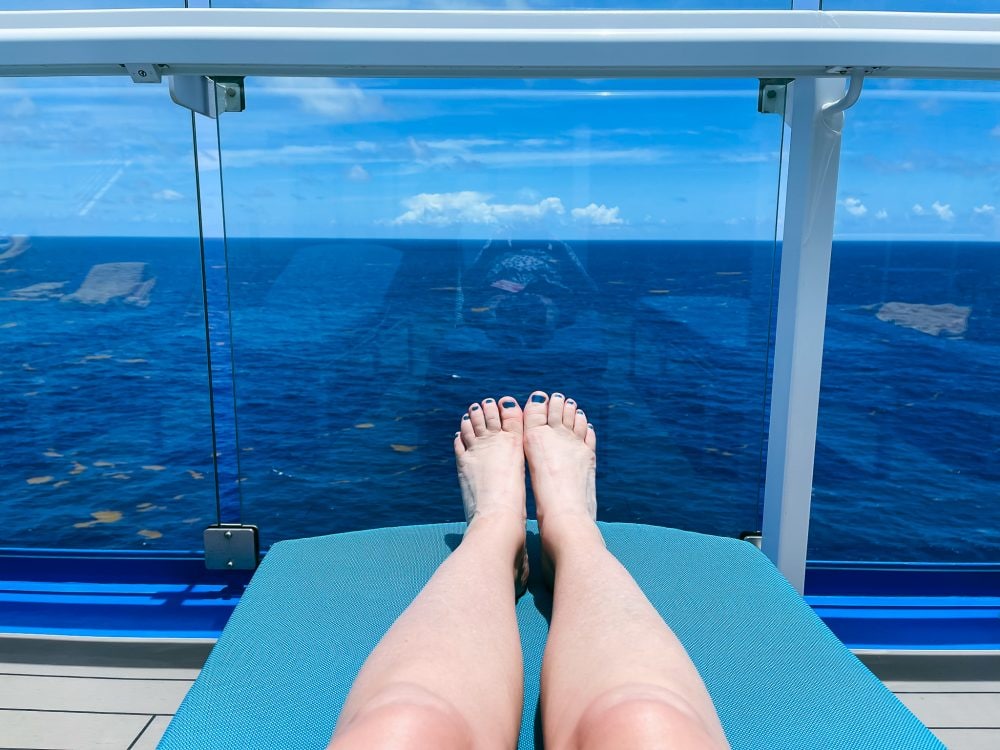 I love sea days! After a long flight the day before, I was ready to rest up. Plus, it's a chance to explore new parts of the ship, sleep in, lounge on the cabin deck, read a book, listen to some music, and indulge in a little day drinking by the pool. I like my vacations to be a mix of activity and sea days are my downtime.
If, however, you want to remain in high gear, there's plenty to choose from. Hit the gym, run or walk the on-deck track, shoot some hoops, or book a spa appointment. Try your luck in the casino, watch a movie, discover a new restaurant or bar, play trivia (or one of the other games offered onboard), or meet up with friends at any of the numerous shipboard activities. The Carnival app, called the Hub, is exactly that – your hub for everything that's happening on the ship, day-by-day, hour-by-hour.
Day 4 – San Juan, Puerto Rico.
Puerto Rico is a popular cruise ship destination port and as a U.S. territory, no passport is required. Founded in 1521 by Spaniard colonialists, Puerto Rico has a rich history, architecture consisting of vividly colored buildings, white-sandy beaches, and a hospitality mindset. San Juan is the capital city and a launching pad for tourism on the island. Old San Juan is a UNESCO World Heritage Site dotted with colonial architecture, museums, and historic forts that date back hundreds of years.
There are plenty of sightseeing options and adventure-filled recreational activities to include in your shore time. From adventure options like ATV tours and zip-lining to food and museums, there are choices for every interest.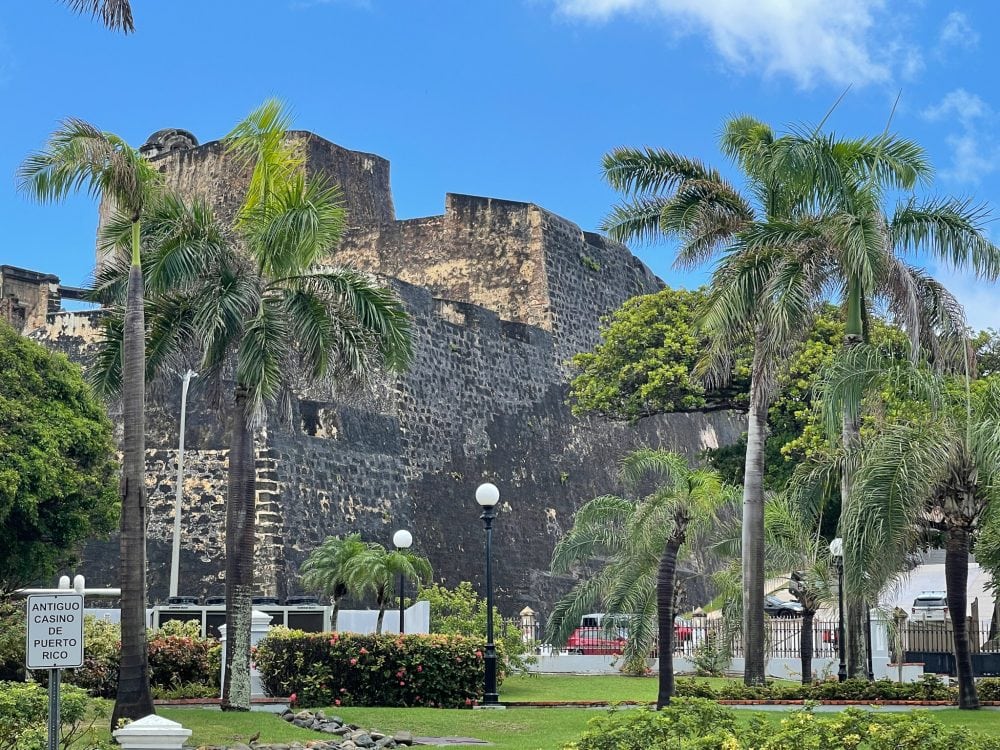 Recommendation: I've been to San Juan a few times, both by ship and flying in, so I wanted to wander the city, visit some familiar places, and see how things have changed. I logged a good 10,000+ steps doing just that and was pleased with my time spent onshore. If you've never visited San Juan; some popular options include a trip to El Yunque Rainforest, visiting Castillo San Felipe del Morro (usually shortened to El Morro), a UNESCO site and Castillo San Cristobal; take a walking or food tour.
I have plenty of suggestions of things to do in San Juan, Puerto Rico, many of which are doable on a cruise stop (either independently, through the ship's excursions, or by booking a tour through an independent company).
Day 5 – Amber Cove, Dominican Republic
Amber Cove is on the northern Atlantic coast of the Dominican Republic and has replaced nearby Puerto Plata as the island's cruise port. Puerto Plata is a historical town with overtones of colonial Spanish evident on its landscape. In the city's old town, you'll see the imposing Fortaleza San Felipe, a Spanish fortress built in the 16th century that is now a museum.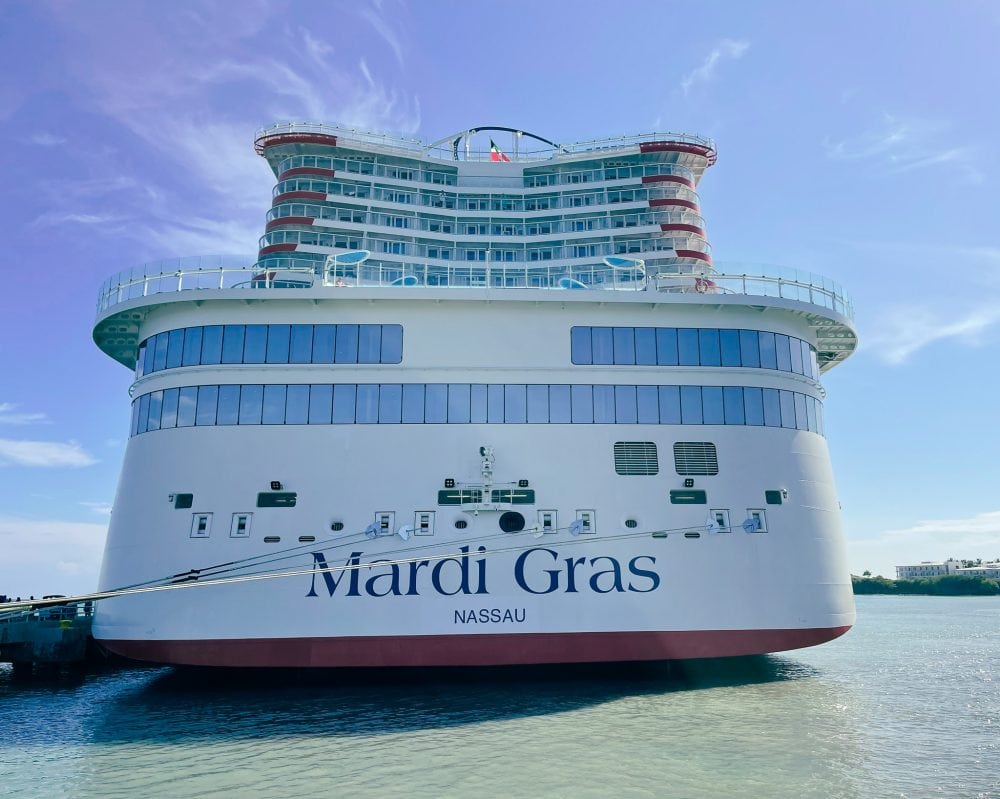 Amber Cove was designed to be easy to explore by cruise travelers. A well-planned system with convenient access to taxis and rental cars makes the area accessible independently in addition to offered shore excursions.
Recommendation: The DR, especially in the Playa Dorada and Costa Dorada areas, are well known for the beaches. The sand is golden, the water is turquoise, and the destination screams for some quality beach time. I opted for a day at a nearby resort, where I spent time lounging in a cabana, drinking pina coladas, walking on the beach, and frolicking in the warm ocean water. I wish I had been organized a little sooner and rented an over-the-water cabana (available at a different beach as a shore excursion), great fun with friends. If you're looking for a little more history and culture, there is time to explore Puerto Plata. I suggest reading up a little bit about the history of the island, its colonial history, and its relationship with Haiti, with which it shares the island.
---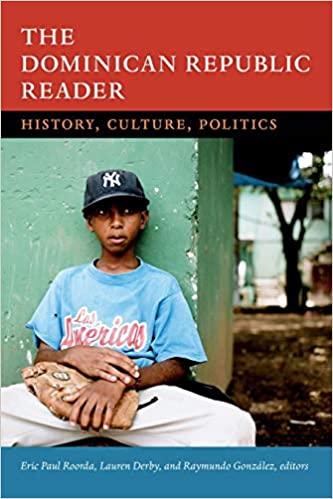 Recommended Reading:
The Dominican Republic Reader: History, Culture, Politics
This book provides an introduction to the history, politics, and culture of the country, from precolonial times into the early twenty-first century. Among the volume's 118 selections are essays, speeches, journalism, songs, poems, legal documents, testimonials, and short stories, as well as several interviews.
---
Day 6 – Sea Day.
In addition to some further ship exploration, this was my day to ride Bolt. Wowza! I regret not riding it a second time. And a third. And not riding it on my previous sea days.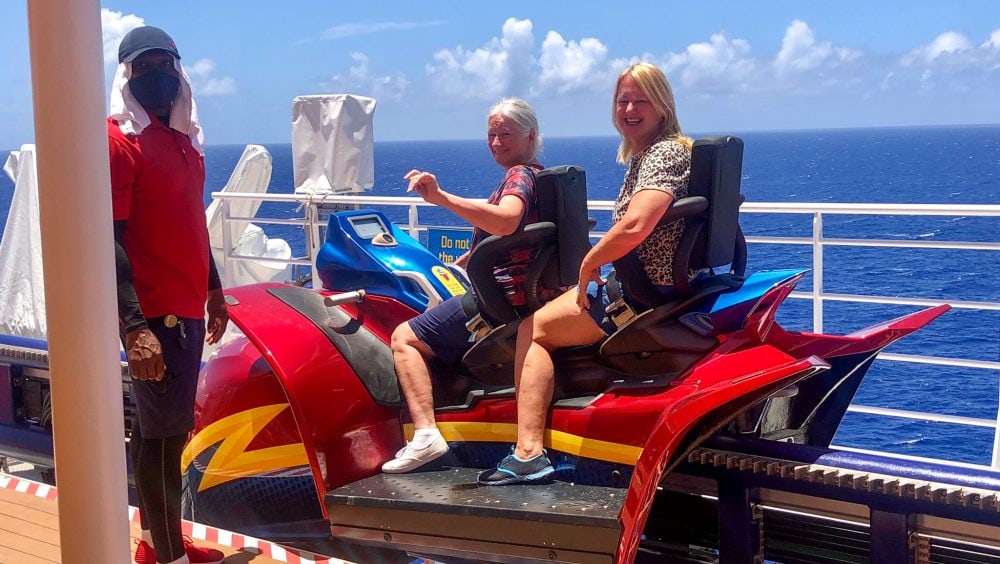 Recommendation: In all seriousness, riding Bolt one time was not enough. The first time was all curiosity and looking out at the water. Subsequent trips would have been full of more nuance, how to use the speed and boost options more effectively, discovering the best ways to learn into the trip around the track. Bolt is currently priced at $15 for one lap but reliable information says that it will be increased to two laps. Even at one lap, it's worth the price and commensurate with roller coasters on land.
This last day at sea is also a good time to take a close look at your shipboard account to make sure everything is accurate (and visit guest services if there's an error). It's also perfect for starting to pack up things you won't need again on the trip. For me, this meant throwing all my dirty clothes into my suitcase and pushing it back beneath the bed.
Day 7 – Nassau, Bahamas
Nassau is the capital city of the Bahamas and its largest city. It's located on the island of New Providence and is a popular cruise ship port of call. The city includes Paradise Island, accessible by Nassau Harbor bridges. The British colonial history is apparent in its pastel-dominated buildings, such as the Government House.
Nassau is well known for its sandy beaches and coral reefs that are popular for snorkeling and diving. But don't let the beach vibe fool you completely – Nassau is also recognized for its cultural side and is listed on the UNESCO Creative Cities Network (UCCN) for its crafts and folk art.
Did you know? Seattle is also listed on the UCCN for its literature.
Recommendation: I've been to Nassau many times before, including on a cruise and by air, so I chose to make this a workday. After all, while on a vacation trip, there was still work that I had to do – running a business means great flexibility, but it also means keeping up on things.
A beach option is always a great idea in Nassau, especially for someone from the rain-soaked city of Seattle. We just don't have beaches and water like this, so I always like to take advantage of it. Some other shore options weren't available because of Covid restrictions. A visit to Atlantis is a popular choice, but the resort was closed to non-guests. Also, the sailing time meant that many lunch options (like the magnificent wine and lunch pairing at the Graycliff Hotel) wouldn't fit into the schedule.
Day 8 – Return to Port Canaveral
Time to go home. Or extend your time in the Orlando area, if you've added on vacation days. For me, the best day of vacation is the first day, when I'm all excited about the destination and the journey. The second best day is when it's time to return home, full of memories about a great trip.
The Price
If you know anything about vacation pricing – whether that flights, hotels, or cruises – you know that prices are all over the place! Snagging a bargain can be complicated, but research – and a little luck – can be your friend.
Prices for the maiden voyage were more expensive because it was the first sailing. A quick look at upcoming sailings on the Mardi Gras, not all of which have the exact same itinerary, shows a price range starting around $500. Keep in mind that quoted prices are for inside cabins and will increase in price from there. See a list of upcoming Mardi Gras sailings here.
I'm a fan of selecting the best cabin that fits your budget. I've been in inside cabins and I've been in suites, and I don't believe the "it doesn't matter, I'm never in my cabin" line of reasoning. An outside cabin, with a deck and lovely ocean view, meaningfully increases the value proposition of your vacation. Morning coffee or evening wine of the deck? Lovely. Laying in bed and watching the ocean? Decadent. Having a little more room so you're not tripping over your cabin mate? Priceless. Well, maybe not priceless, but probably worth the cost of an upgraded cabin.
Keep an eye out for special offers, low pricing on certain sailing dates, OBC (on board credits), and packages. There are savings and great prices to be found.
What's included
Rock bottom prices don't mean much if it doesn't get you through your vacation, though.
I was pleasantly surprised at the value a Carnival Cruise provides. Dining in most restaurants on the Mardi Gras is included for a limited time, including those which have a surcharge on other ships. No indication of how long "limited time is" so be sure to check this out. On my sailing, the only restaurants with a surcharge were Rudi's Ocean Grill, Fahrenheit 555, Bonsai Sushi, Bonsai Teppanyaki, Seafood Shack, and Emerils. I thought the additional charges were reasonable.
---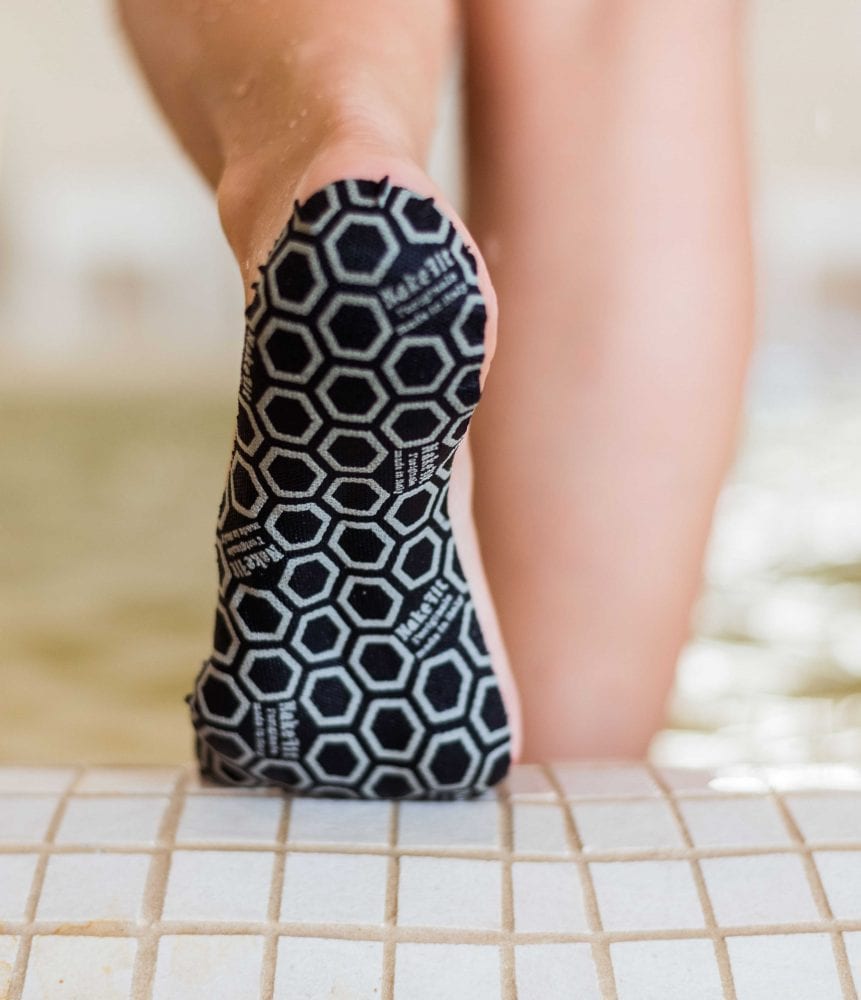 NakeFit USA
Get rid of cumbersome flip flops, sandals & aqua shoe with the freedom of NakeFit. NakeFit is an adhesive sole that is enabling people around the world with the comfort & luxury of walking barefoot, while still protecting their feet!
Great to use on a cruise or beach vacation. More info here.
---
Drinks are not included, either alcohol or soft drinks. Drink packages are offered, so spend some time doing the math to see if you drink enough to balance out the cost. Noting the price at most of the bars, all cocktails seemed to qualify for inclusions on the beverage plans.
There is a casino onboard and it might be tempting to keep charging your casino play to your account. That's a sure way to have a big bill at the end of the trip if you're not paying attention. Ditto for shopping. I enjoy picking up a souvenir as a remembrance of my trip, for me, it's usually a coffee mug. If you want to do some jewelry or high-end shopping, know your prices before you get on board and set a budget.
Tipping
Mention tipping in a group of people and it's sure to elicit a lively discussion. I wish all service staff were paid a living wage, with consumer prices adjusted accordingly, and that tipping would cease to exist. But I also know that won't happen any time soon. Until then, I have accepted that it is an additional expense to factor into my vacation budget.
Please do the same.
This is not the time to make a political statement about the unfairness of tipping. Your hotel and dining staff work hard for you every single day. You've enjoyed a freshened stateroom and attentive service from your room steward. The wait staff is not only busy filling water and wine glasses, but busboys are clearing and cleaning, servers running out meals as quickly as possible, all the while accommodating special requests and helping you have a great time.
They deserve as generous of a tip as you can manage.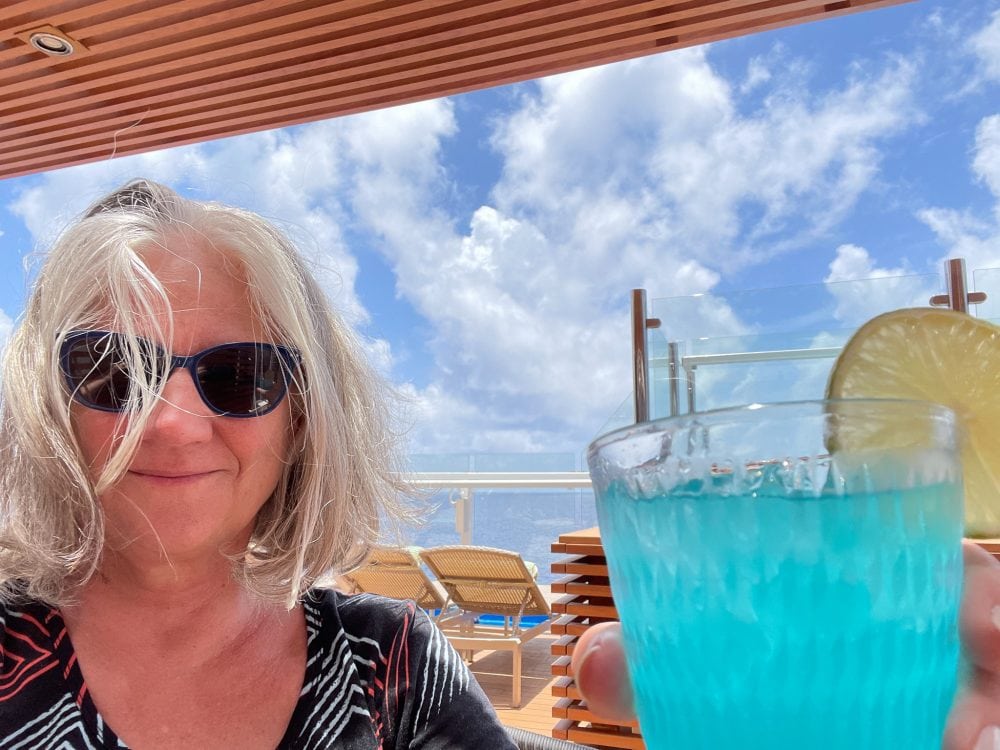 Carnival charges a flat rate for service gratuities which you can pre-pay or have charged to your shipboard account. The rate for a one-week cruise is currently $97.93 per person for a standard stateroom and $111.93 per person for a suite. Again, that's per person for the week. An 18% gratuity is added to bar and deck service at the time of purchase. Additional cash tips, no matter how modest they might seem, are always appreciated.
Tempted to complain about tipping? Think about the tip you left the last time you went out for a special dinner, and then don't say a word.
What About Covid?
If there's any guarantee about Covid policies right now, it's that they are constantly changing. The policy in effect when I sailed is no longer the policy. A change was announced mid-week, although, for prospective cruises, not those of us already sailing.
Currently, Carnival is requiring vaccinations and a negative Covid test before sailing. There are limited exemptions for children too young for the vaccine. Masks are required in indoor public areas, except while eating or drinking. By the time you are reading this, the policy may have changed again. Get the specifics here.
Is a Carnival Cruise Right for You
If you're even a tiny bit interested in cruising, I believe there is a cruise that's right for you. You may identify a cruise style and keep within those boundaries. Or, if you're a cruising fan as we are, you want to try new things, constantly keeping up with changes in the industry. There's no doubt that it's a tough time for travel right now, perhaps more so for cruising, but here are ideas to help you decide if a Carnival cruise is right for you.
This was my first time sailing with Carnival. It was a cruise line that I largely avoided because my impression was that it catered to the booze-cruise crowd. I'm too old and impatient to deal with a bunch of drunk vacationers. I was wrong. At least for this ship and itinerary. While the cruise was full of the fun factor, it was never out of control.
I haven't been on a large ship like this for a few years, and I was surprised by how much I enjoyed multiple food and beverage venues. Most were included in the fare, but even when not, the surcharges seemed reasonable and value-priced.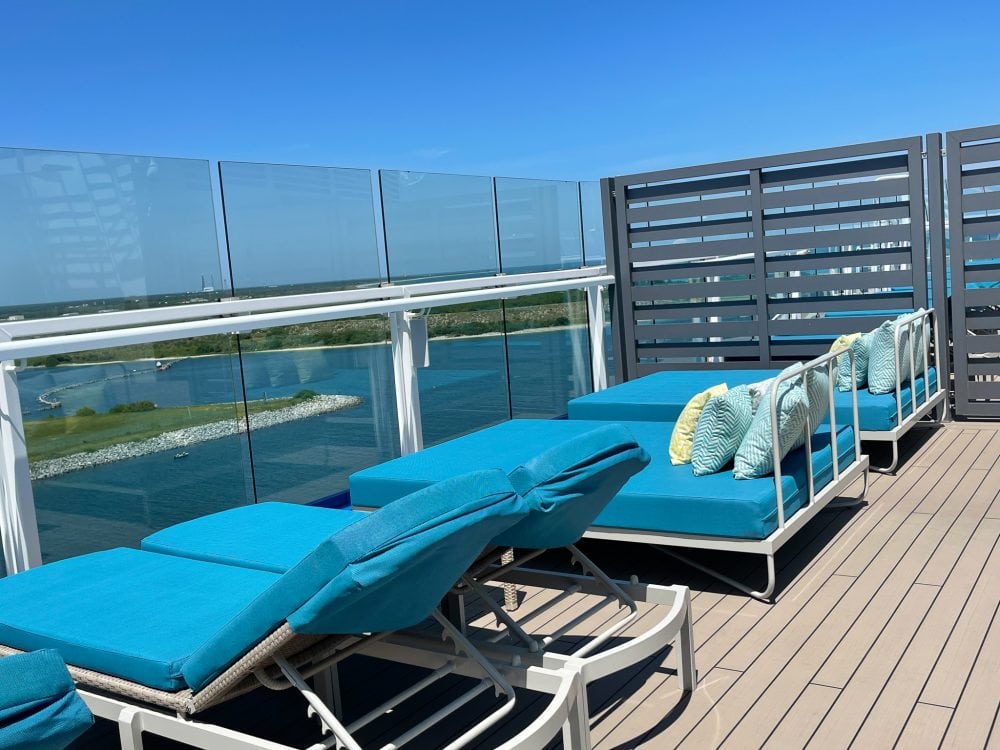 I generally don't like a lot of cruise busy-ness. I'm a social introvert and while I enjoy being around people, I need alone time to recharge. I feared nagging (to the point of shaming) to get involved with activities, constant noise and partying, and an inability to carve out my own personal space. Again, I was wrong. The adults-only Serenity area was quiet when I wanted an escape, and it was fun to lounge by the main pool and listen to the calypso band. I found that when I wasn't nagged, I enjoyed choosing activities and participating. It was great to see live performances again. It was fun! And we even won at trivia.
I am often annoyed with a la carte pricing, often accompanied by constant upselling techniques while at sea. You know what I mean, like the constant disturbance by beach vendors when you just want to relax with your book. I found the drink prices and restaurant surcharges to be quite reasonable, less than or comparable to what I would pay at home (although home doesn't have those gorgeous Caribbean views). I never felt hounded to spend, spend, spend. Prices were fair, stated right up front, and my buying decisions were easy and I could relax and enjoy my choices.
Finally, on this trip, I gave myself permission to simply relax and enjoy. I didn't feel the need to research or study up on the destinations. I took along fun, beach reading on my Kindle. I wore shorts and t-shirts nearly all the time, rarely put on makeup, and often had my hair in a ponytail. After 18 months with no traveling, a fun Carnival cruise was just what the doctor ordered.
Interested in more cruise content? You'll find it here.
Pin to your favorite vacation and cruise boards and get ready to sail away!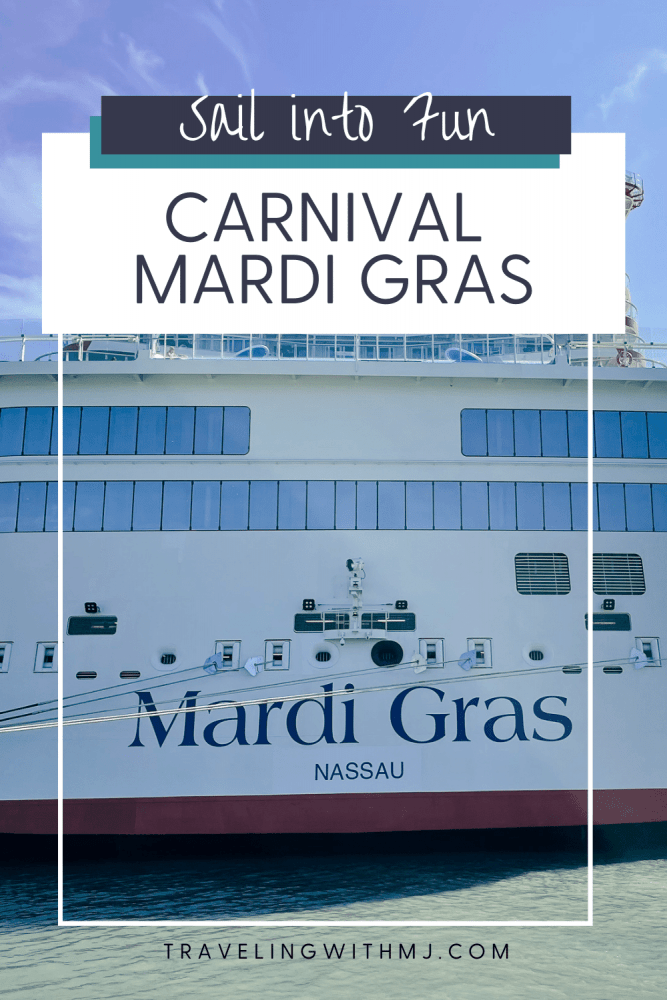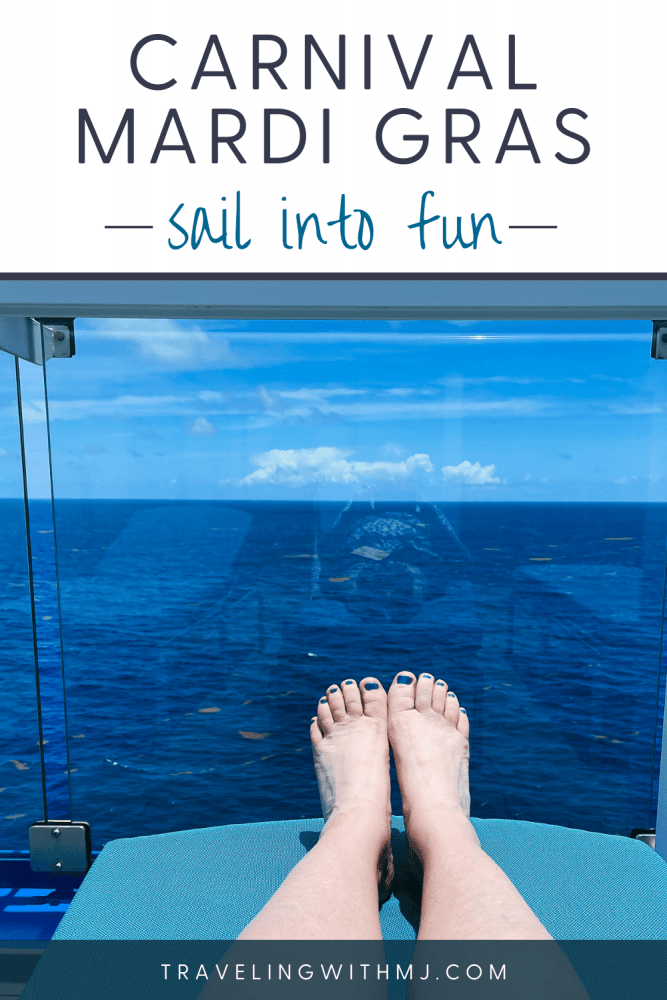 Disclosure: This post contains affiliate links and product placement.