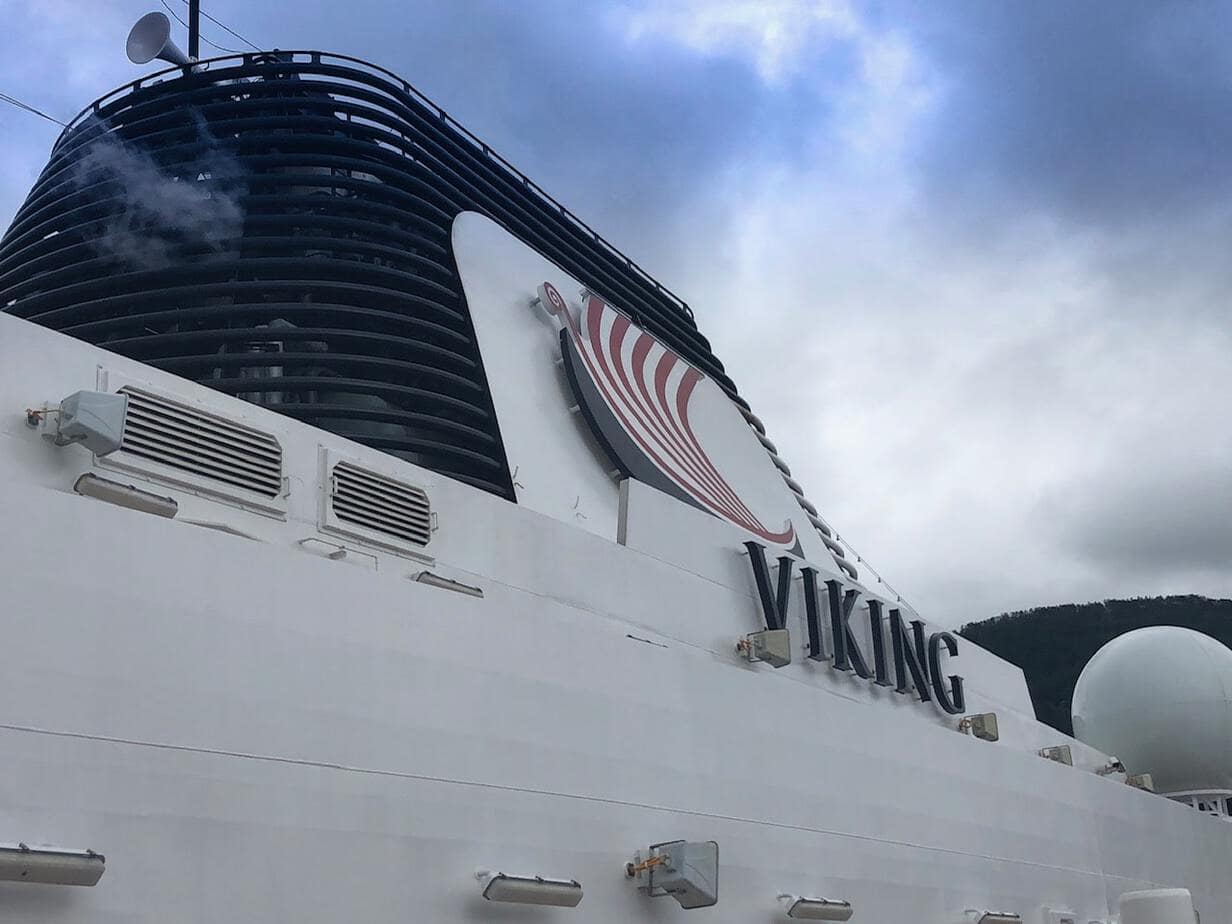 We sailed off on the Viking Sky, leaving Bergen, Norway, for a 15-day Into the Midnight Sun itinerary that took us to the tip-top of Norway, then headed down to Scotland and England. It was Tony's first trip above the Arctic Circle, and with the exception of Bergen, it was our first visit to all the locations on the itinerary.
We enjoyed our time on the Viking Sky and never wanted to leave! We think you would love it, too.
This is part of a series of monthly themed features talking about places we've stayed and never wanted to leave. This post may contain affiliate links, sponsored travel, sponsored content, or paid product placement. We've hand-picked these destinations and products because we like them and we think you will, too.
Getting There
We flew into Bergen the morning of our sailing, and while I don't recommend flying in on the first day of the cruise, the Viking Sky overnighted in Bergen our first night. That meant that even if we were delayed a day, we'd make it onboard prior to sailing. Since we had already spent time in Bergen, we were willing to risk that possibility. If you haven't spent time there, though, I recommend coming in a day early.
Our air was booked through Viking and unless you are using points or miles, I recommend this option. Not only does it come with guarantees about getting you to the ship, the prices they've negotiated topped anything that I could find independently. The fares were so good, that we decided to upgrade to business class seating, making for a very pleasant transatlantic flight.
Viking also offers pre-cruise add-on excursions, on this itinerary an excursion that included Iceland. If you want to extend your time either before or after the cruise, these may provide you with good value. Or, you may simply decide to spend a few extra days on each end for independent exploration.
Embarkation
Embarkation and stateroom availability is determined by stateroom category. We were in a Deluxe Veranda stateroom (#6027) which gave us access at 2 pm. Suites get the earliest access and times are staggered from there. If you arrive before your scheduled time, as we did, you can still check in (provide a credit card to set up ship account, provide ID, get your ship ID card, etc.) and go through the boarding process, then explore the ship until your stateroom is ready.
Embarkation is one of the busiest time in cruising (and departure as well) and this staggered system greatly reduced the lines for the check-in process. It's organized, efficient, and sets the tone for a great cruise to follow.
Since we were in business class with a lie-flat seat, we arrived well rested but hungry. We enjoyed our welcome aboard glass of champagne, then popped up to the World Cafe on deck 7 for a bite to eat. By then we could get in our stateroom and settle in.
The Ship
The Viking Sky is nicely sized for ocean cruising, big enough to travel ocean waters, yet small enough that you get can into smaller ports (heading up the Thames, for example) and don't feel crowded. It's large enough to offer amenities that are only practical with passengers in some numbers, yet small enough that customer service isn't sacrificed. I like to think of it as being right-sized, with a crew of 550 to take care of 930 passengers.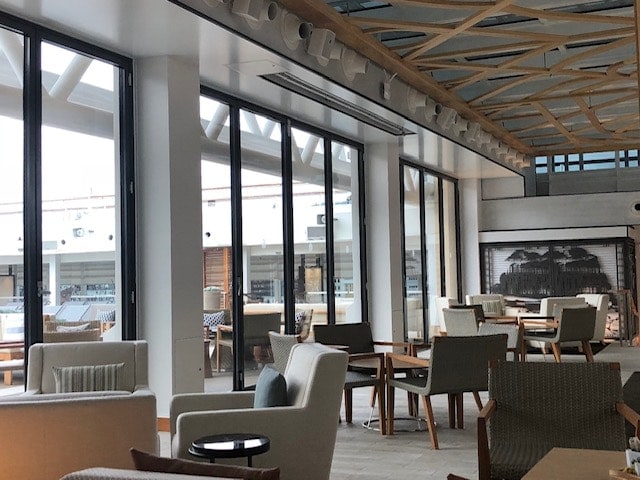 The Guest Services Desk, located on deck 1, is the central hub for information. Think of it as a combination front desk and concierge service where you can get questions answered, problems solved, or get information. You can drop off letters and postcards for mailing; if you don't have postage it will be provided and billed to your account. They can also help with customized arrangements for your time onshore. It is staffed 24 hours a day and can be reached by phone from your stateroom or in person.
There are two swimming pools, a glass-backed infinity pool at the aft of the ship (behind the World Cafe), and the main pool located mid-ship, both on deck 7. The main pool has a retractable roof so you can swim regardless of weather. The main pool area becomes an outdoor movie theater in the evening and you can watch from the pool or the pool deck.
There is a good sized spa that features Nordic bathing rituals and spa treatments, including hot and cold pools, sauna and steam room, and a snow grotto. The spa, along with the salon and fitness room are located on deck 1.
Active cruisers should check on the Sports Deck where there's a walking track, various games, fitness classes, and like-minded passengers looking for activities.
You'll find plenty of spots to tuck into if you just want to relax, read a book, or have a drink – and not just the restaurants, cafes, and bars (more on those below). The library offered a small selection of books, and although Tony found something when his other reading material was done, I think making it more clear that it is a take one/leave one system would bolster the supply. We left a behind a couple of books with the hope another guest will enjoy them.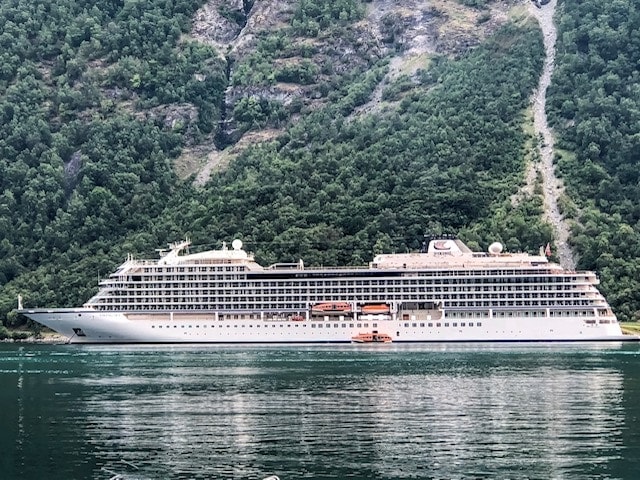 Life on the Viking Sky can be as busy or as restful as you choose. You can find a schedule of events, activities, enrichment programs, and services in the Viking Daily left in your room each night, on the stateroom television, or Viking's new app – Viking Voyager. I highly recommend downloading the app and syncing it to your profile and account. We referred to the app constantly, checking to see what time our excursion was, when our reservation was, checking out the menu for the day, and more. This is a new feature since we last sailed with Viking (two years ago on the Viking Homelands itinerary, read a review of that itinerary here), and it's a much-appreciated addition to the various onboard communication tools.
There are laundry facilities onboard the Viking Sky, located mid-ship on decks 3-6; each have three washers, three dryers, and two ironing boards with irons. While I don't want to spend my entire time onboard doing laundry, being able to run a quick load mid-itinerary made packing much easier. Pack light and plan to work a laundry time into your schedule. There is no charge for the laundry facilities and laundry soap is included in all washers.
One of the things I like about sailing with Viking is that they aren't constantly trying to upsell you. There is no additional fee for the specialty restaurants, no one stopping by your table to sell roses or a photo, no one constantly trying to sell you something more. You're onboard now, sure there are extras, but mostly it's about havin time to relax and enjoy.
Staterooms
Staterooms are on decks 3-8 and all have balconies.
Our stateroom featured the following amenities: King-sized bed, large flat screen television with on-demand movies, mini-bar with soft drinks, and snacks (complimentary and restocked daily), complimentary 24-hour room service, free wifi (fairly good as long as you weren't trying to live stream anything), robe and slippers, upscale bathroom products, and more. It was a room that you were happy to spend time in.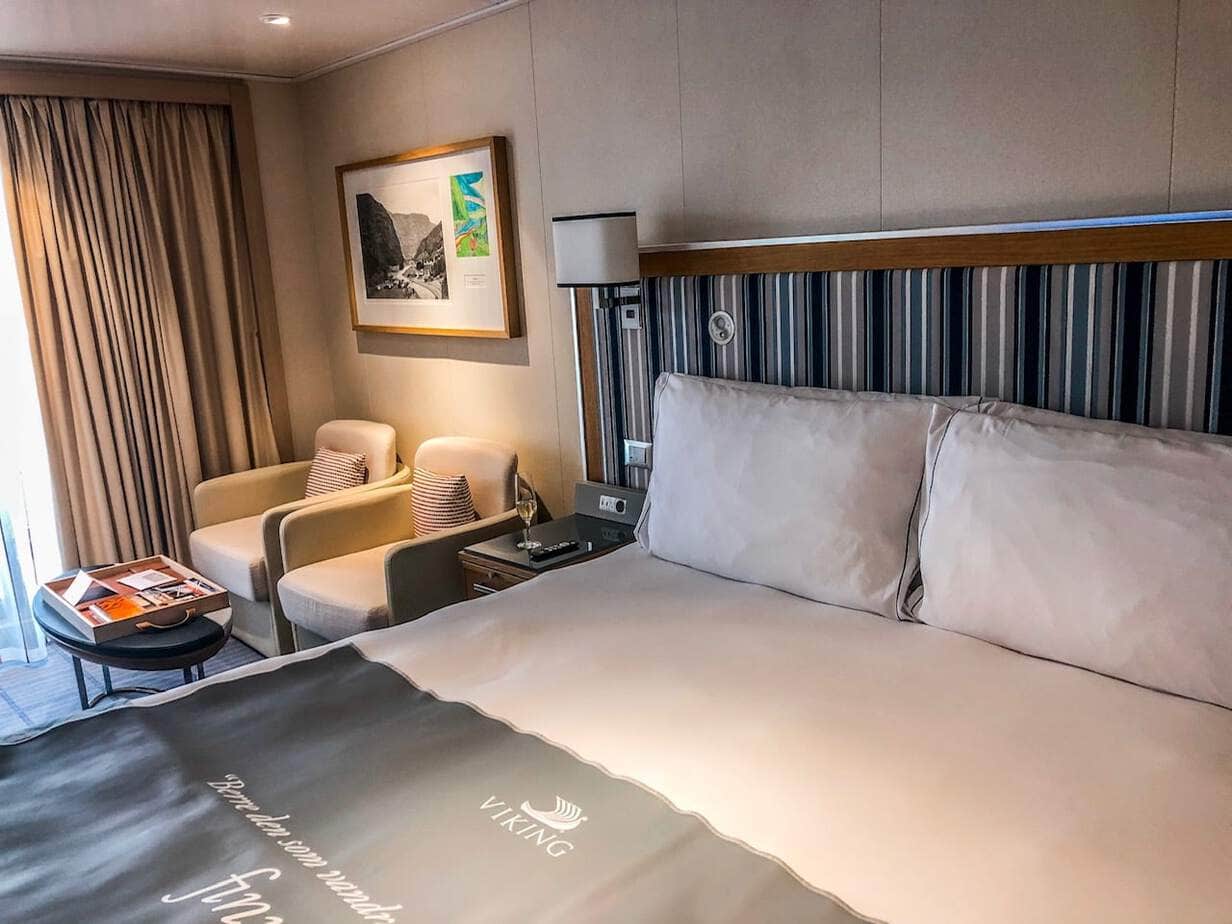 We had a seating area with two chairs, coffee table, two bedside tables, and the balcony had two chairs and a table. Some staterooms have a small couch instead of two chairs. The balcony was a nice spot for morning coffee or evening wine, especially when the ship was sailing.
The bathroom area was remarkably spacious, with ample counter space and shelves. We loved the heated floors – sometimes it's those simple things that leave a lasting impression.
When choosing your stateroom on the Viking Sky, I recommend opting for the best that your budget will allow. Each stateroom category offers additional amenities that might seem to cost more, but when you do the math, may return substantially more in value. Look at the big picture to see what's included, add it all up, and see what gives you the most value.
Food & Beverage
It's all about the food and beverage!
Just kidding, for us, it's really about the itinerary, but I admit that having good food and beverage options is important in our decision-making process. (There's one cruise line that we haven't even considered because we found the food subpar.)
Tony is not as much of an adventurous eater as I am. He approaches new menu items with some trepidation, often preferring to choose an old standby rather than risk not liking something new. I'll try most things, at least once, but I still have tastes and textures that I haven't grown to like. We were both were happy with the selections offered on the Viking Sky.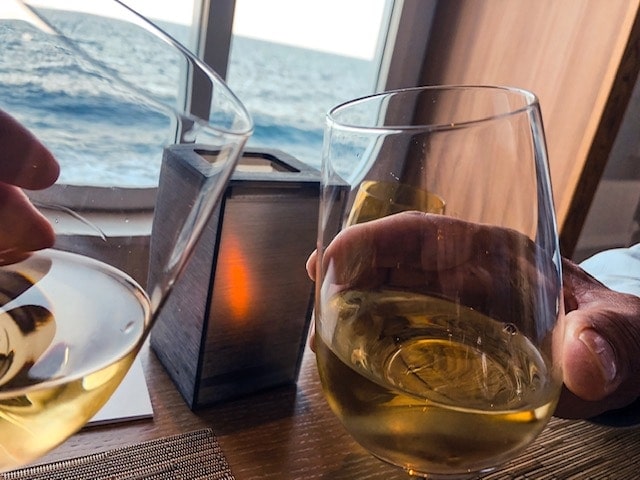 There are several dining options on the Viking Sky:
The Restaurant – Dinner times in The Restaurant, the main dining room, are not pre-assigned, nor are the tables, and passengers are accommodated as they arrive. We noticed lines for dining at 6 pm, but as we prefer to eat later, usually around 8 pm-ish, we never waited more than a couple of minutes.
The Restaurant is a white tablecloth dining option, with tables ranging in size from dinner for two to a party of eight. You aren't forced into dining with others, although you may be asked if you'd like to join a table. Feel free to decline if you wish.
The menu had three sections to order from, allowing you to pick and choose to fit your night's preferences. Each night, around six rotating choices were offered for appetizers and entrees, along with two or three for dessert. Additionally, there was always a regional selection based on the destination you were visiting, and a selection of traditional favorites that were always on the menu. Choices ran from gourmet to traditional, and there was never a time when I felt that I didn't have choices to order. Vegetarian options are available.
Dress code for The Restaurant is casual elegant, jeans are discouraged and I'm told that the dress code will soon be changed to prohibit jeans. Casual pants and shirts are fine, no jacket and tie are required (although some passengers were wearing them).
The Restaurant is located on deck 2.
World Cafe – Located on deck 7, the World Cafe has two sides to choose from. The entree and side dishes are the same on both sides, but you'll find variations in some of the specialty items offered (sushi, sandwiches, ice cream, etc.).
We had generally had breakfast in the World Cafe and an occasional lunch. While we typically don't like buffets, the quality of food and the cleanliness of the buffet itself made it a solid choice. We have very different breakfast preferences and about the only thing we agree on is not lingering too long, so the buffet kept both of us satisfied. Coffee and juice are grab-and-go as well as served tableside.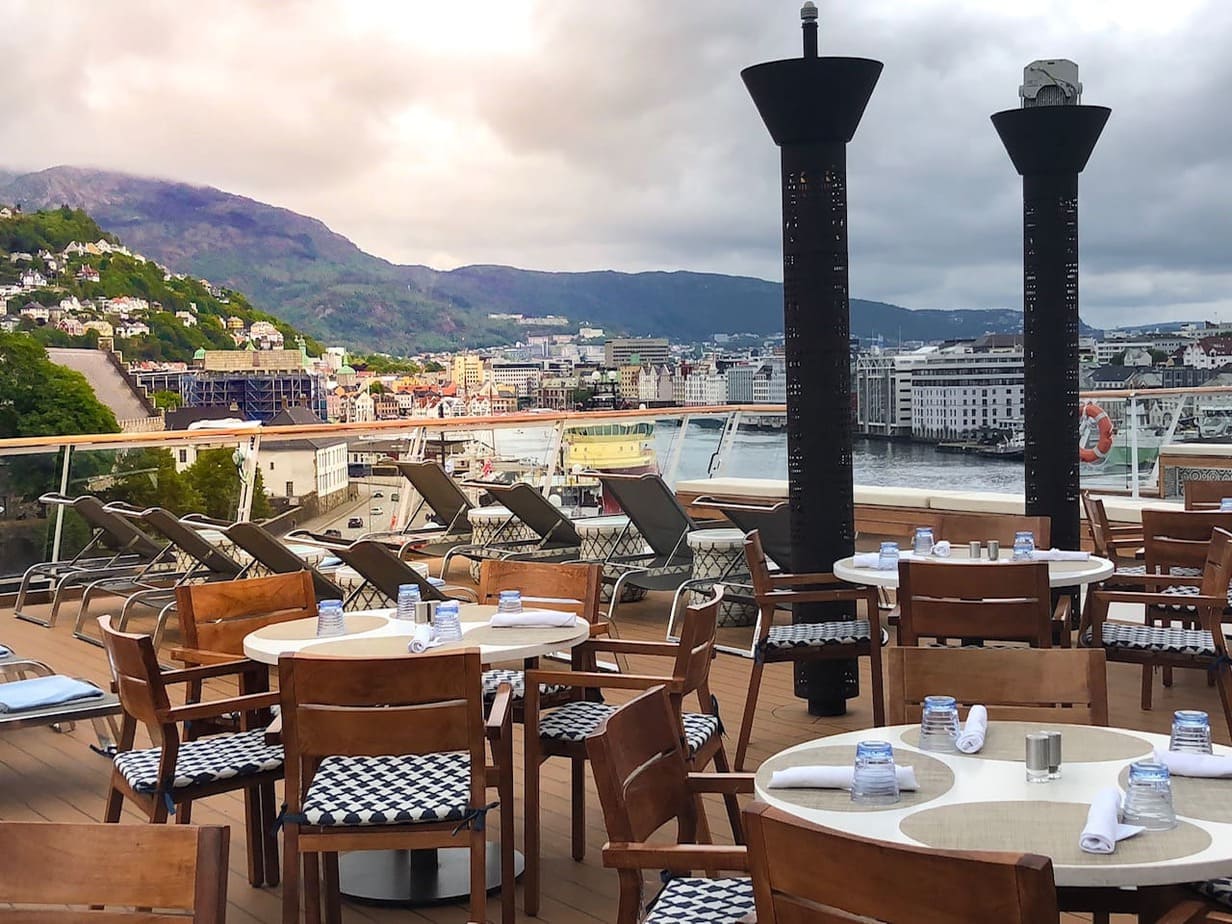 After a few long days of touring, when we just couldn't rally to put on something nice, we had dinner in the World Cafe. The menu is similar to that served in The Restaurant, most entrees will be offered in both, and there are a wide variety of appetizer, salad, and dessert choices. If you're tired, or just don't want to linger over dinner, this is an easy choice. Plus, weather permitting, you can dine outside on the deck (BONUS!).
On a few nights, a specialty menu is offered in the World Cafe. Our favorite was steak and lobster night, it's okay to return for seconds, and with a glass of wine, it was an enjoyable night on the deck.
Manfredi's Italian Restaurant – Located on deck 1, we are big fans on this restaurant and its menu. Our stateroom category allowed us to make to advance reservations and we arranged an additional reservation while on board. The Viking Voyager app is great for checking availability and booking.
The menu is fixed with a couple of daily specials. The pastas were all excellent; the osso buco and steak florentine were both outstanding. We ate at Manfredi's on our last night onboard and we think we finally hit on the winning combination of what to order – individual appetizers, then share a pasta and the steak. Just the right amount of variety and no waste.
One night we over-ordered and asked to take our leftovers to our stateroom. They were boxed up and sent there and we kept them in the refrigerator until Tony enjoyed a late night nosh of steak florentine. Almost like home!
There is no additional fee to eat at Manfredi's.
Chef's Table – Also located on deck 1, The Chef's table features a rotating tasting menu that incorporates gourmet touches. Again, your stateroom category establishes when and how many advance reservations you can make there. We found a menu that caught our eye and booked it. Once on board, you can review the menu or make additional reservations via the app.
I love this restaurant more than Tony does, perhaps it's the adventurous eater thing. They will make substitutions if you really dislike something.
Wine pairings for the meal are also available. This is a great option, both to try new wines as well as to understand how food and wine complement one another. Delicious!
There is no additional fee to eat at the Chef's Table.
Pool Bar & Grill – A fast and convenient choice for burgers, dogs, and assorted grilled sandwiches. A small salad bar offers some sides to go along with it. There's are a few high tops for table seating, but we grabbed a table and chair poolside, or a lounge chair to look out the window.
No additional fee.
Mamsen's – Located in the Explorers Lounge (deck 7, forward), has a small breakfast pastry selection for late risers. They also have open-face sandwiches throughout the day.
No additional fee.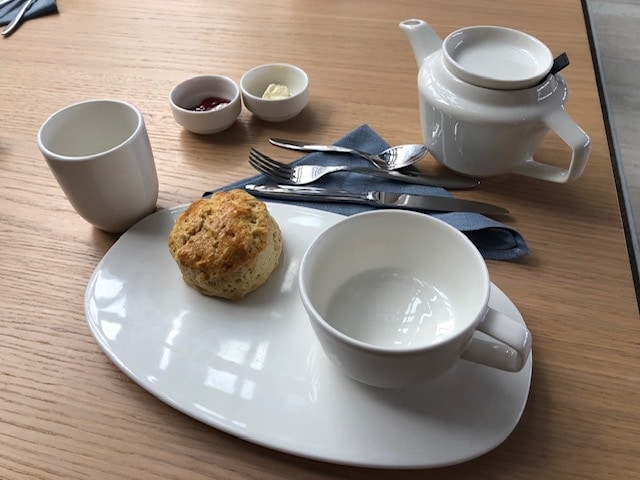 Wintergarden – Located adjacent to the pool, high tea is served daily from 4-5 pm. They have an extensive tea menu along with a nice selection of tea sandwiches, petit fours, scones and clotted cream, and other pastries. Try to get here at least once, it'll help stave off the midday hunger pangs.
No additional fee, unless you opt to add a glass of wine.
Room service – I'm generally not a fan of any type of room service, but ordering breakfast for delivery when you have a long day of touring ahead, means you can get a little bit more sleep and ease into the day. I'd recommend it when you have an early excursion and know that you have to eat something to sustain you.
No additional fee.
Bars – Beer and wine are complimentary with lunch and dinner at all dining locations. There is also an option to upgrade to a wine and spirits package (pricing is based on cruise length and itinerary) which covers beer, wine by the glass, and most cocktails at any time throughout the day. Consider your consumption habits, factor in the complimentary drinks at meal time, and see if this balances out to be a value for you. We generally drank wine with lunch and dinner, with only the occasional drink at other times, there was better value for us to pay by the drink.
There are multiple bars and lounges throughout the ship, including the Torshavn (a cabaret lounge on deck 2), the pool bar, the Theater Bar, the Viking Bar, and the Explorers Lounge. The latter is my favorite – it's two stories at the front of the ship – and is a great place to catch a sunset, watch the fjords, or relax with a book. Don't miss it.
And speaking of missing it, I'm sure I've overlooked some smaller beverage options. You really can't turn around without finding somewhere to get something to drink, whether that's an espresso or a cocktail.
Itinerary
It's all about the itinerary!
Most travelers select their cruise based on a combination of sailing dates and itinerary. Some itineraries are only offered during certain times of the year, so you may need to compromise here. The Into the Midnight Sun itinerary is only offered in June and July, obviously, because those are the months of the midnight sun.
At least one shore excursion in each port is included with your cruise fare and others are offered for a fee. I have a love-hate relationship with shore excursions. I hate being crowded onto a bus to drive around and never have an opportunity for personal exploration. But I love them because they often take me to places that I would think to do and expose me to experience things that I might otherwise overlook. Plus, there are some specialty tours that can't be done any other way.
Shore excursions are generally booked prior to your sailing, with the exact opening date based on your stateroom category. Some of your choices may already be sold out. If that happens, head to the shore excursion desk once you're onboard and get on the waitlist. Hopefully, a spot will open up and you can get on.
Although shore excursions are pre-paid, they can be changed up to 48 hours prior to the excursion date with no penalty. You will need to keep an eye on your expenditures for shore excursions as these fees can add up fast. Knowing that, and also knowing that we weren't completely sure what we wanted to do, we booked an assortment of included and fee-based tours and then made changes once onboard. We found the staff at the shore excursion desk very helpful as we were trying to make changes – we explained the type of tours we liked and they made sure we were matched up accordingly. Don't overlook them as a resource.
Here's a day-by-day itinerary of the Into the Midnight sun cruise, along with what we chose to do and why, where we thought we made the right choice, and where we'd do something differently.
Day 1 – Arrive in Bergen, Norway
We arrived in Bergen after an all-night flight from Seattle. We were fairly well rested, not really suffering from jetlag, but it was nearly a 24-hour journey and that's always exhausting. On our first day onboard, we enjoyed a welcome glass of champagne, grabbed lunch in the World Cafe, got settled in our stateroom, and took a short nap before dinner.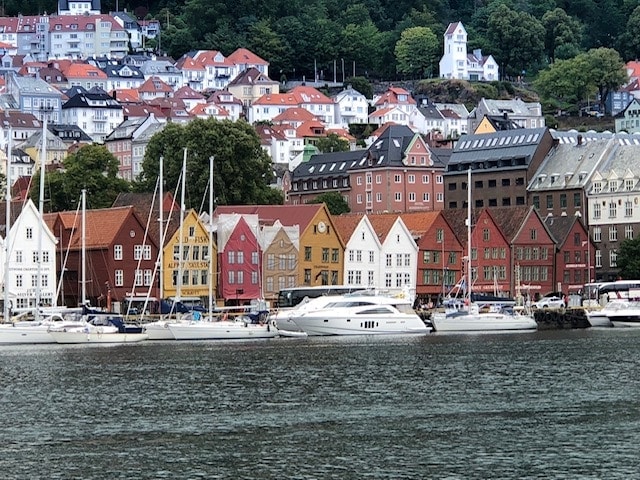 Our recommendation: Listen to your body. If you've got lots of energy, head out and see a bit of Bergen. If you're exhausted, take a short nap and try to get on a European schedule and time zone. Whatever you do, though, don't sleep away the entire day, then stay awake all night, perpetuating the challenge of changing time zones.
Day 2 – Bergen, Norway
We took the included tour, Panoramic Bergen. This was a bus tour, just shy of two hours, and took us by several major Bergen attractions. There were a couple of photo stops, but most of the time was spent on the bus. We left the tour at the Bryggen Wharf, a short walk from the ship, and explored on our own for the rest of the afternoon. We grabbed lunch at the fish market and then walked back to ship for our sailing.
Our recommendation: We felt we made a good choice for our arrival in Bergen. We wanted to get a little further away from the city center, the only area we had explored before, and this tour gave us that option. There were still a few city spots we wanted to check out, so leaving the tour toward the end to go off on our own was a good compromise. There are lots of optional tours in Bergen, so if you feel like you've seen all the basic sights, you'll find lots to choose from that will get you away from the city center.
Day 3 – Geiranger, Norway
The included tour is a bus trip to Eagles Bend Overlook. It's a trip with 11 hairpin turns up the side of a mountain. As someone who has a tendency toward motion sickness, along with a healthy fear of edges, this wasn't anything I was eager to experience. There's not much to do for independent travel in Geiranger, so we selected the optional excursion of kayaking Geirangerfjord. We went by bus around the inlet to the starting point, got some basic instructions, suited up with our safety and cold weather gear, and got in our double kayak.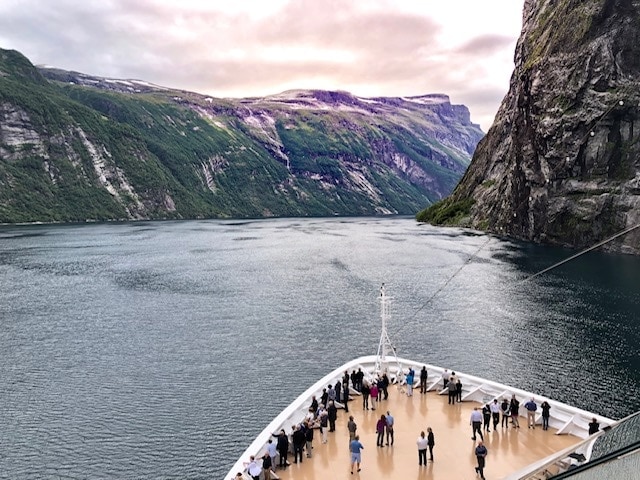 Although the trip is suitable for all skill levels, it's called a gentle adventure, our group happened to be fairly experienced kayakers. We are not. We enjoy it, have fun doing it, but we sort of suck at it. We lagged behind the group most of the time, and despite feeling bad about that at times, we still had a lot of fun. We were on the water to enjoy ourselves, appreciate the beautiful scenery, and have a good time. If others wanted to race to waterfalls or strut their stuff, so be it. We really didn't care. At least not much. The kayak leaders did their best to make sure we felt comfortable on the tour and could go at our own pace. (NOTE: Friends who did this same kayak experience on a different sailing said that their group was more easy-going, less experienced and that they didn't go as far as our group did.)
Our recommendation: If you're a skilled kayaker, this trip is a lot of fun. If you're not, but still want to enjoy the experience, go for it. And don't let anyone make you feel bad. It was a good choice for us. Alternatively, we would have chosen the Geirangerfjord by Jet Boat tour, but it was sold out and space didn't open up.
Day 4 – Molde, Norway
For our stop in this coastal town, rich in medieval origins, we chose the included Highlights of Molde tour. The tour was about two and a half hours and included Molde Cathedral, including the rose gardens that it is well known for, and then continued on to the Romsdal Museum. The Museum included a traditional folk dance performed by local kids and then an opportunity to explore the 40 historic buildings situated on the grounds. The buildings, many with gardens growing on their roofs, gave us a practical look at life in early Molde – from residential cottages to a stable, from a church to the blacksmith. The tour concluded with a stop at the Varden viewpoint, although the fog was socked in so we didn't get a view. We wandered the downtown area on our own before returning to the ship.
Our recommendation: We made the right choice and got to learn a little bit about Molde history. If we hadn't gone kayaking in Geiranger, we would have chosen to do it here, but one day of kayaking the fjords was good for us. The area is beautiful, so choose at least one of these places for kayaking.
Day 5 – At Sea
I enjoy sea days. It's a chance to sleep in and linger over a cup of coffee, explore the ship, read, and, since I'm also working while on the cruise, catch up on email, social media, and do some writing. The wifi was strong enough to do all those things. There are also lots more activities and enrichment sessions on sea days.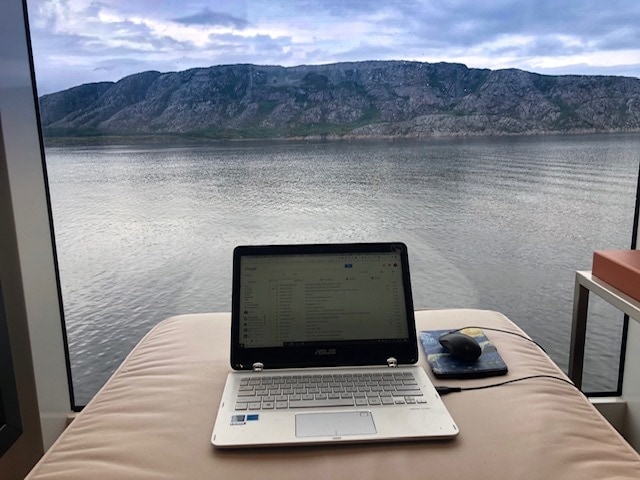 On this sea day, we cruised coastal Norway, eventually crossing the Arctic Circle around mid-afternoon. I've crossed the Arctic Circle by plane and got a certificate signed by our captain to memorialize it, but onboard the Viking Sky, the crossing is celebrated a bit differently. As the ship neared the marker, the pool deck was prepared to welcome passengers into the Order of the Blue Nose.
The initiation ritual involved first jumping into the hot tub. No big deal, you say? Well, the hot tub was drained the night before and filled right before initiation time with ice. Buckets and buckets of ice. And that's the hot tub that you jump into. Following the dunk into the ice, you climb out of the hot tub, kiss a large carp that is on a nearby table, toss down a shot of Aquavit, and get blue frosting striped down your nose.
It wasn't our idea of fun, but we sure enjoyed watching others participate.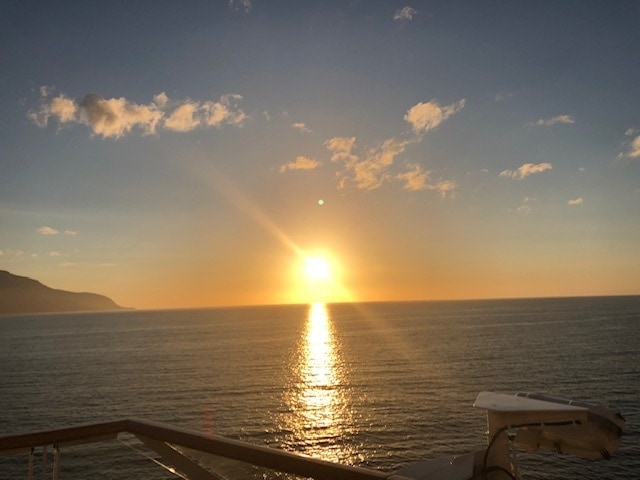 As nighttime came, we realized it didn't. It was our first experience of the Midnight Sun on the cruise. We enjoyed clear skies, brilliant sun, and sunlight all night long. We didn't have a problem adjusting to the constant daylight, but some passengers reported feeling a little discombobulated, almost a jetlag feeling.
Our recommendation: Relax! Sleep in, read a book, linger over coffee. Come lunchtime, though, make sure you stake out a spot in the pool area at one of the tables, chairs, or loungers, and enjoy the crossing of the Arctic Circle and the Blue Nose initiation. Taking it as a slow day should also help you adjust to the Midnight Sun and the impact it has on your circadian rhythms. It's also a good time to do laundry.
Day 6 – Tromso, Norway
Tromso is considered the gateway to Norway's Arctic, and we had a tough time deciding which excursion we most wanted. The included Panoramic Tromso excursion is solid, a bus tour through the city providing a look at the largest concentration of wooden houses in northern Norway. It's a good way to see the city.
But we were looking for something more active and two optional excursions caught our eye. Both involved a visit to Tromso Wilderness Center, established by Norwegian mushers as a home for over 300 Alaskan huskies. We decided on Husky Trek Through the Arctic Hills since it gave us a chance to walk and play with the dogs.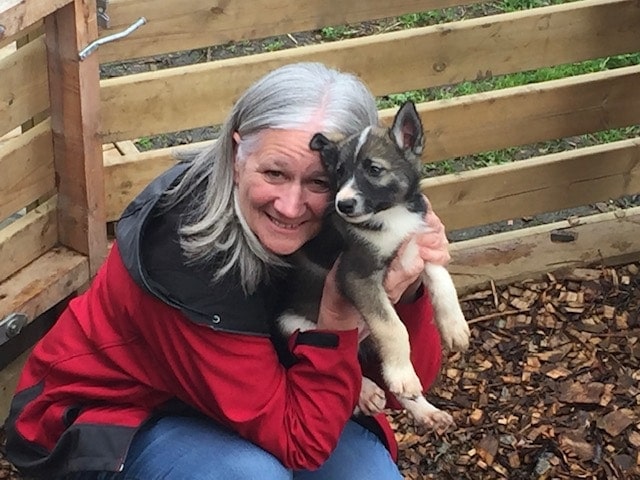 After a brief film about mushing, how the dogs are raised, and a little about the Wilderness Center, we headed out to the dog area and — there were puppies! About a dozen little fluff balls, full of energy, so cute that you wanted to tuck one in your pocket and take it back to the ship with you. We got to play for a with the puppies, under the earnest eye of their moms, and once we were suitably loved up, we headed out to the bog field to walk the adult dogs.
Walking the dogs is a misnomer. These are active sled dogs that are used to pulling around many times their weight. While they are excited to see you and enjoy your pets, these dogs are ready to run. Walkers are strapped into a harness, then the dog's leash is hooked on, and if you aren't prepared to show them who is boss, you'll be pulled along and swept off your feet. Literally.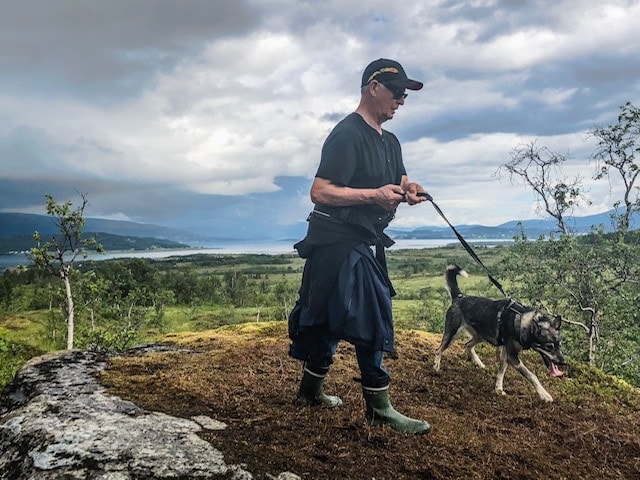 You'll soon learn to get your footing, and how to keep a reasonable pace with the dog, and enjoying a romp through the countryside. About part way through the walk, harnesses are swapped out for the remaining group members to be walkers.
While we were out on our walkabout, the rain started pummeling down, so we quickly guided our dogs in the direction of home. Once back at the center we enjoy coffee and cake as we waited for the rain to pass, and once it did, we got to go out to the kennels and meet some of the other dogs.
These dogs are incredibly well trained, cared for, and mannered. While our time with the puppies was supervised, by staff as well as mom dogs, we were allowed to roam with the adult dogs. So darn cute! We stopped off at the gift store to make a small purchase, all proceeds go to take care of the dogs and support the Wilderness Center, then headed back to the ship.
One caveat about this excursion. It's listed as an active adventure and while you don't need a lot of stamina and endurance, you do need to have a solid footing. You will be walking in the bog (boots and gear provided by the Center) and it is wet and springy. The dogs will be trying to pull you to walk faster. You need to be able to plant your feet and body so that you are securely upright. A few people in our group had a challenge with that and their enjoyment was diminished.
Our recommendation: Both of us rate this excursion as one of the top on the trip. We're glad we booked it early as it was sold out by the time we got to the ship.
Day 7 – Honningsvag, Norway
Honningsvag is a small town overlooking the Barents Sea. It's population centers around the fishing industry (in all its permutations) along with the Sami, indigenous people of the North. Most of the optional tours related to fishing, crabbing, and the mainstay industries of the north, but we opted for the included tour, a Drive to North Cape.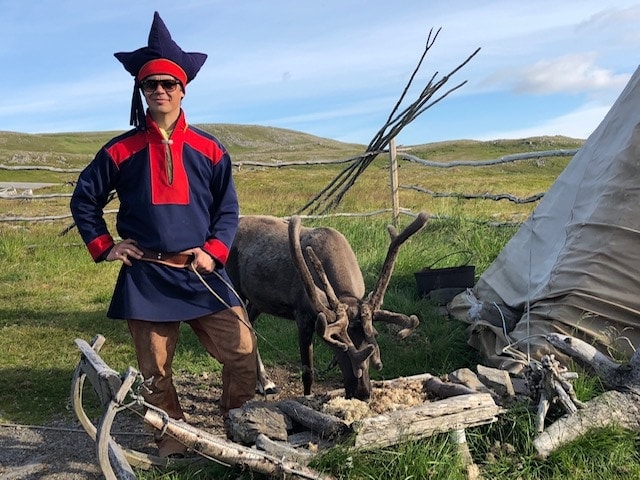 It's about an hour drive to North Cape, including one brief stop, through spectacular scenery. You'll see reindeer along the hillside and stop at a small Sami road stand for an up-close look at a reindeer. There is also a small gift shop with knickknacks. While these are truly Sami people, and they are reindeer herders, that guy posing with the reindeer for photos? He's a dentist in Oslo who has come north in the summer season to help out his parents.
The North Cape is the point where the Atlantic Ocean, Norwegian Sea, Barents Sea, and the Arctic Ocean converge. It is the northernmost point in Europe that can be accessed by car, the E69 highway ends at North Cape, and it feels like you are at the very end of the earth. And you practically are – at 71 degrees north, it's only another 1,300 miles to the North Pole.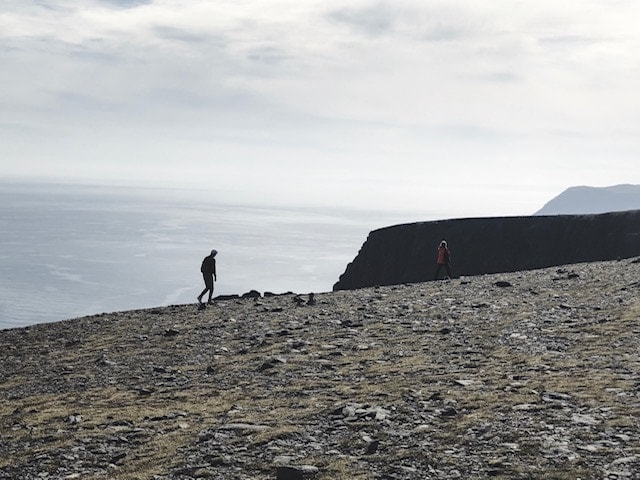 The North Cape itself is a mix of raw nature and commercialized tourism. We spent most of our time exploring the cliffs of Nordkapp, looking out over the sea. It was a bit hazy, some fog rolling in, and despite the blue skies, it was sort of an eerie feeling looking down from the cliffs that rise over 1,000 feet from the sea. This is barren tundra, not much grows here, and in winter must be brutal country.
The museum (admission included with the tour) was largely forgettable. We did a quick walk through, primarily to warm up, bought a t-shirt at the gift shop (which seemed larger than the museum itself), and were ready to get back on the bus and head to ship.
North Cape has the most extreme example of the Midnight sun. There's 10 minutes of "relative" darkness from approximately 12:10-12:20 a.m. Don't sleep through it!
Our recommendation: Go to the North Cape. Sure, you're passing up crabbing, fishing, seeing puffins, and all sorts of other stuff, but when are you ever going to be at the edge of a continent like this?!
Day 8 – Lofoten, Norway
We had been told that the Lofoten Islands would surprise us. My friend, David, is the author of the [amazon_textlink asin='1631214810′ text='Moon Guidebook to Norway' template='ProductLink' store='travelingwithmj-20′ marketplace='US' link_id='e28c15ac-d7af-11e8-821d-df61c7ba1717′], and he said rather than planning to do anything, to just enjoy being on the islands. We took his advice and are glad we did.
As a result of David's recommendation, we opted for the included Panoramic Lofoten excursion. The Lofoten Islands somehow combine craggy mountain peaks, green valleys, and fishing village, with tropical, white sand beaches, and we saw it all on the tour.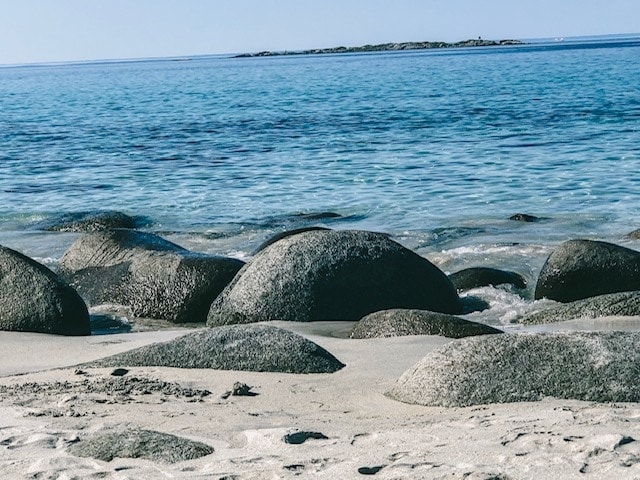 Haukland Beach was a stunning surprise. Tucked away between some mountains, it was everything you'd expect on a tropical island. Well, except this beach had sheep that pretty much got the right of way wherever they wanted to wander. The sand was white and soft, the water clear and pure (and cold), and families dotted the beach with blankets, picnics, and barbecues. We didn't have long at the beach, but it was a wonderful anomaly to the rest of the Norwegian coastline.
Our recommendation: We made a good choice with the included tour. The islands are spectacular and we had a great highlight of them, plus got to spend time at the beach. Easy choice.
Day 9 – At Sea
We were ready for another sea day after several days of activity, and explored parts of the ship that we had missed, did laundry, and lounged by the pool. Amidst all that busyness we still made time to relax over tea as we crossed the Arctic Circle once again, and prepared for our arrival in the United Kingdom.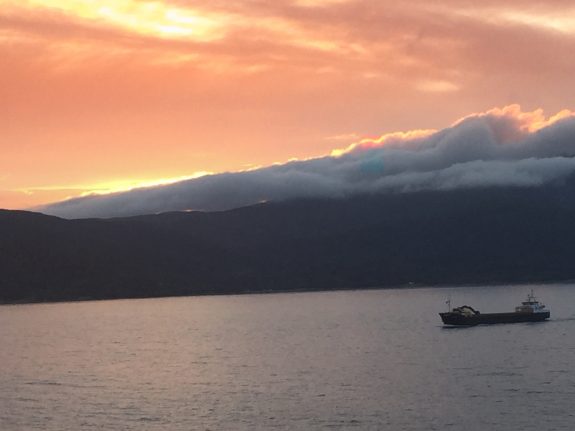 Our recommendation: Enjoy the Norwegian spa on your last day in Norway. Even if you don't have a spa treatment, you can enjoy the pools and the snow grotto. Freezingly relaxing. Warm up in the late afternoon with tea in the Wintergarden.
Day 10 – Shetland Islands, Scotland, United Kingdom
In Tromso it was all about puppies; in Lerwick, it was all about ponies. When reviewing our excursion choices, we looked for the one that seemed to give us the most time with the ponies. We went with the included tour Shetland Panorama & Ponies – because, well, ponies!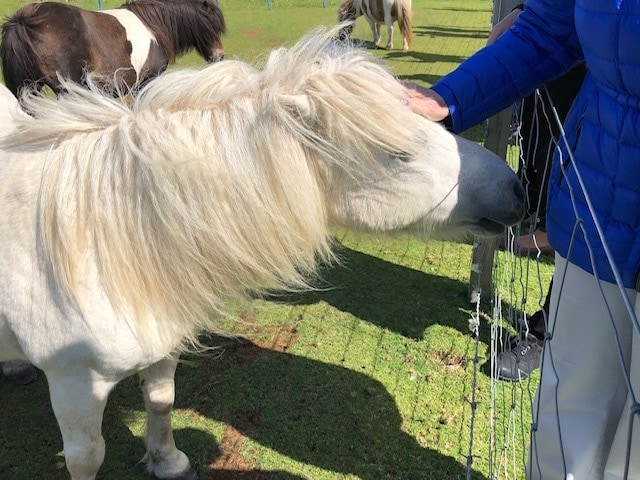 The highlight of the tour was a visit to a Shetland pony breeder and a chance to look at, photograph, and pet the ponies. These are the original Shetland breed, not the American breed, and date back some 2,000 years in the Shetland Islands. Archaeologists have found bones from ponies that have been dated back to the Bronze Age. They are friendly and playful, with fur that is prickly, yet soft. Simply put, they are adorable.
The rest of the tour took us through the Tingwall Valley, then to the heather and peat grounds of Girlsta. We saw lochs, but no monster, and enjoyed the landscape that was so different from our time in Norway. After the tour, we spent some time exploring Lerwick, the port city. It's easily walkable from the ship and provides a ready excuse to stop off to try some local beer.
While Tony picks up t-shirts during our travels, an item constantly needing replacement in his wardrobe, I tend to look for one special souvenir that is practical, beautiful, and a wonderful memory of the trip. In researching for the cruise, I expected that it would be an item of Shetland wool.
There are numerous shops in Lerwick where you can find these Shetland woolen goods. They're not cheap, but seemed fairly priced for high-quality handmade goods. I chose a shawl-style jacket that I fell in love with. Now that fall weather is upon us, I know I'll be wearing it a lot. And thinking of Shetland every time I do.
Our recommendation: See the ponies. Some of the other tours stop off for photos ops with them, but the included tour appears to be the one that gives you the longest time with them, along with an opportunity to learn more about them. Plus, it leaves you time to explore the town of Lerwick. This was our first visit to Scotland and it made a great first impression.
Day 11 – Orkney Islands, Scotland, United Kingdom.
We stopped in Kirkwall, capital of the Orkney Islands, and looked forward to discovering the Viking history of the islands. It's an archaeologist's heaven, with ruins and relics dating back to the Viking Age. Again, we opted for the included tour, Highlights of Historic Orkney, selecting it because it took us to the Neolithic Heartland of Orkney, a UNESCO World Heritage Site, and gave us a look at the ruins.
A highlight of the tour was a stop at the Standing Stones of Stenness, a 5,000-year-old circle of stones. It's a neolithic monument along the lines of Stonehenge, and while you can get up quite close to them, you can't touch them. We also stopped at the Ring of Brodgar, a smaller Neolithic site.
After time touring around the island, we stopped at harbor town of Stromness, a small fishing village, having a little bit of time to walk around and explore. After returning from the tour, we opted to walk around the town a bit, checking out locally made products (Scotch whisky anyone?).
Tip: Wondering how to spell it – whisky or whiskey? If there's an "e" the country name, it's spelled with an "e" (whiskey in Ireland and the United States). If there's no "e" in the country name, no "e" in whisky (whisky in Scotland and Canada).
We picked up a bottle of wine (Viking allows alcohol to be brought on board), some local crackers, and fresh cheese for a nosh on the deck before heading to dinner that evening.
I really liked Orkney. It felt remote and wild, yet civilized. I like the combination of being able to get out into the countryside, while still being close to all the amenities that you need. It's someplace that I'd like to get back to, maybe rent a home for a couple of weeks and wander the countryside.
Our recommendation: Do the included tour. It's a great choice, gives you an overview of some important sites, and leaves you with time to discover the town.
Day 12 – Edinburgh, Scotland, United Kingdom
We now arrived in mainland Scotland and we had been looking forward to this arrival. We dithered over what we wanted to do in Edinburgh. We booked a tour in advance, changed our minds on the ship (a couple times, to be honest), and eventually settled on something entirely different.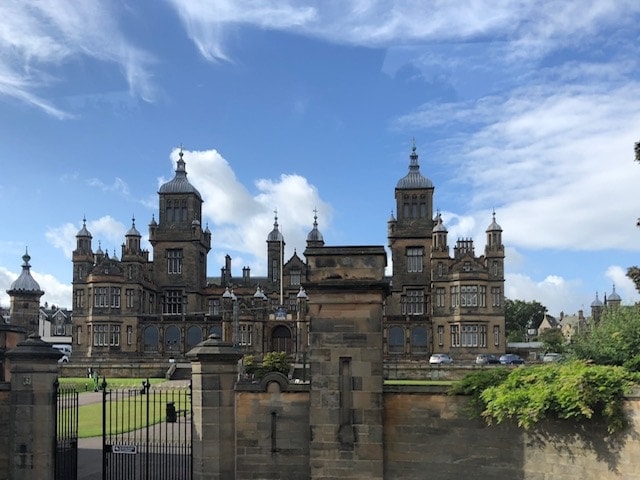 Originally we signed up for the optional excursion of the Walking Tour of Edinburgh's Historic Royal Mile and the included tour of Edinburgh Highlights. It made for a long day, one tour in the morning, one in the afternoon, but it was our first visit and there was so much we wanted to see.
This was absolutely the wrong approach! Fortunately, we discovered that this arrangement had us going to and from the ship twice – in heavy traffic – with too much time spent on a bus doing nothing.
Confused as to what would be the best choice, we made several visits to the Excursions Desk to chat with the experts. They were lots of help, and we realized that there was time to correct our errors.
We opted instead to go with the included tour, then remain in the city center to explore Edinburgh Castle and the Royal Mile on our own. We grabbed lunch and a pint at a local pub, caught some busker performances for the Fringe Festival, and then took an Uber back to the ship.
We sailed away under the Forth Bridge, a UNESCO World Heritage Site, planning on when to make a return trip to Edinburgh.
We learned an important lesson – one that we should have known – pay close attention to what is included in your tour to see how much time is spent on the bus vs. time to personally explore. We didn't and narrowly averted an unpleasant day where we wouldn't have seen what we wanted to.
Our recommendation: We really wished we had booked the Historic St. Andrews tour in advance. After learning more about it, it was the kind of special tour that Tony would have loved. Although we were waitlisted for it onboard, the tour is limited to four people, and availability never opened up.
Since we weren't able to go to St. Andrew's, our combination of the included tour and exploring on our own was perfect. We liked our time at the Castle, although some on the ship dismissed it as not worth the time, and catching some fun of the Fringe made us almost feel like locals. If you've been to Edinburgh before, you'll probably be content to explore on your own.
Other tours that got good reviews from fellow passengers were the Bagpipe Workshop & Whisky Tasting and the Da Vinci Code's Rosslyn Chapel & Glenkinchie Distillery tour. Note the whisky theme to both of those tours.
Day 13 – At Sea
This was our final sea day, and we used it to start tidying things up and getting ready to head home. We stowed away dirty clothes and souvenirs, basically got everything we weren't going to need packed into suitcases under our bed. Since there was another busy day coming up, getting it out of the way meant we could enjoy it without a mental list of things to get done.
We also spent some time back at the Excursion Desk and we arranged our tours for Greenwich and London. Another realization that our booked tour has too much bus time and not enough personal exploration time.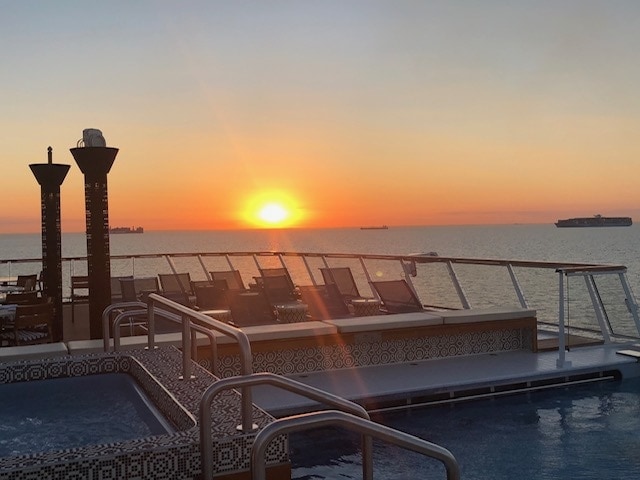 All the necessary tasks completed, we found a lounge chair by the window in the pool area and relaxed.
Our recommendation: Get any last minute things done today. This is the last day to make any onboard purchases, shops close while in port, and things are starting to wind down. We believe in enjoying your last day rather than running around getting things done.
Day 14 – London, England, United Kingdom
Hard as it is to believe, this was our first time in London. So I wanted to do everything. And I do mean everything. Knowing that was impossible, but still wanting to get as much scheduled into the day as possible, we booked an optional full day classic city tour.
When we started looking a little closer at our tour, we realized that we would see many of the classic sights, but we'd see them all through the window of a bus. This was not what we wanted at all, and the staff at the Excursion Desk was great in helping us rearrange.
Our revised plan had us doing the Royal Greenwich Walking Tour in the early afternoon (the ship docks in Greenwich). This easy two-hour tour gives you a look at the Cutty Sark (the world's only surviving tea clipper), the arts and crafts of Greenwich Market, the Queen's House, National Maritime Museum, Old Royal Naval College, and more. Many of the locations were quick walk-bys or shortened tours, so I made notes of places I'd like to return to see.
We had lunch in a local pub, tried out a couple local brews, and then met up for our evening tour.
Our evening tour was to the Imperial War Museum & Churchill's War Rooms. I'm not sure how we overlooked this in making advance reservations because it perfectly fits our interest in history.
We first stopped at the Imperial War Museum and had a couple hours to either do a guided tour or for self-exploration. We quickly looked at the museum map, knew what we wanted to see, and headed there. The museum is high quality, the time was just about right (okay, maybe another half hour would have made it perfect), and is the type of thing we search out when we travel.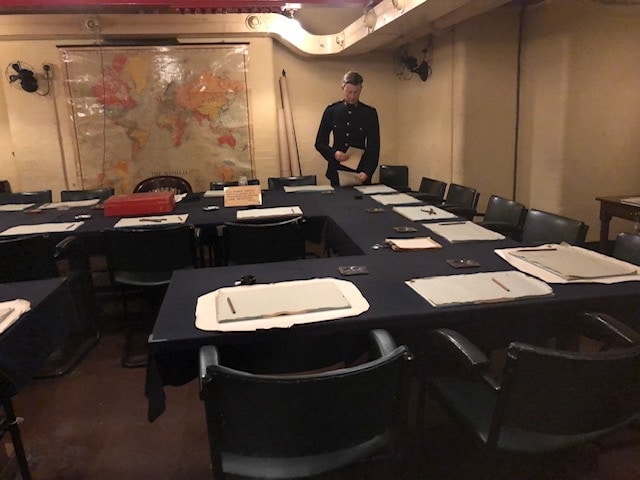 It's hard to explain the feelings we had touring Churchill's War Rooms. It's underground, a bunker, and I found it an odd combination of fascinating and creepy. Some rooms felt like he had just picked up and left, leaving everything as it was, and that he'd be back any moment. It felt like we should wait for him, he was just running a little late.
In the middle of the bunker is a museum exhibition dedicated to Churchill. He was a crusty, crotchety man, imbued with a political and patriotic spirit that could be tamped down, but not extinguished.
History lovers will enjoy this tour. We were waitlisted for this tour and were happy when it cleared. Had we not been able to do this tour, we would have opted for the Ceremony of the Keys at London Tower, an after-hours tour of the Tower of London for the nightly ceremony. I heard good things about it from passengers who went on that tour.
We got back to the ship, raced for one last dinner at Manfredi's, then finalized our packing to have our bags in the hallway for pick up. We were going to have to leave.
Our recommendation: Do the walking tour of Greenwich. Most people overlook the area when visiting London and there is lots to see here. If you've been to London numerous times, you may want to explore on your own or take one of the specialty tours that give you private access to well-known attractions.
We wanted to do everything and almost made a mistake that would have us doing nothing. Look closely at what your tour will actually be doing, not just seeing, and take advantage of the wealth of knowledge of the staff onboard to help you.
Day 15 – Departure from London, England, United Kingdom
Bag tags and disembarkation information is delivered to your stateroom several days before the end of the cruise. You'll need to be packed up, with bags outside your stateroom by 10 pm the night prior to disembarkation, keeping personal items with you in a carry-on.
We didn't want to leave, but we were going to have to.
We had a 9:25 am flights out of Heathrow on a Saturday morning. Early, but not horrible on a weekend. We also had the included transfers to the airport through Viking and they mandated a pick up at 3:45 am. It's a ridiculous time, way too early even allowing for traffic, and we got to the airport before our ticket counter was open. In fact, the coffee stands weren't open either, so you can imagine how unhappy that made us. We sat in the check-in area for over two hours until it opened, then another hour before we could get lounge access.
There were coffee and pastries before leaving the ship, and the crew was there to say goodbye, even as they started getting ready to welcome new passengers onboard that afternoon.
If you have a departure later in the morning or afternoon, getting to the airport hours early is not as painful. You can check in, go to the lounge, browse the shops, etc.
I know Viking is responsible for making sure that you get to the airport on time, so they plan for every possible contingency, but I think getting people to the airport before anything is open is a customer service failure that ends the trip on a sour note. We weren't alone hanging out in chairs at the airport waiting for something to open.
In hindsight, we should have called for an Uber to transport us much later. Heathrow can be overwhelming, and airlines are very strict about check-in times, but we could have gotten a few more hours of sleep and still been there in plenty of time to have breakfast in the lounge. We had originally intended to stay on in London an extra day, and this, too, would have obviated the need for such an obscene transfer time.
Gratuities
Mention tipping in a group of people and it's sure to elicit a lively discussion. I wish all service staff were paid a living wage, with consumer prices adjusted accordingly, and that tipping would cease to exist. But I also know that won't happen any time soon. Until then, I have accepted that it is an additional expense to factor into my vacation budget.
Please do the same.
This is not the time to make a political statement about the unfairness of tipping. Your hotel and dining staff work hard for you every single day. You've enjoyed a stateroom that was freshened twice daily, and any request was graciously handled. The wait staff is not only busy filling water and wine glasses, but bus boys are clearing and cleaning, servers running out meals as quickly as possible, all the while accommodating special requests and helping you have a great time.
They deserve as generous of a tip as you can manage.
Viking charges a flat per person/per day fee, added to the shipboard account, to cover gratuities for the hotel and dining staff. This includes the waitstaff, stateroom stewards, galley staff, laundry staff, buffet stewards, and others. The minimum amount is currently $15 per person per day, or $30 for the stateroom, an incredibly reasonable amount. (By way of comparison, we went out for a special birthday dinner a week ago and the tip for dinner alone was $30.)
A 15% gratuity is added on to bar and deck service at the time of purchase. In the salon, you can add the tip you wish at the end of your service, all added to your stateroom account.
Our policy is to is to have the standard amount billed to our account, and then provide additional cash tips to those staff who have been incredibly helpful, on this sailing our two stateroom stewards and a special waiter.
2019 Sailings
The Into the Midnight Sun itinerary is now a fond memory, and we enjoy looking back on our photos and sharing our experiences with friends.
2019 sailings are offered in June and July (see info here), sailing from Bergen to London and the reverse.
Disclosure
Our cruise and a portion of our expenses were covered by Viking. The fun and memories are all our own.
Pinterest
Save to your favorite cruising and vacation boards and keep this info handy.