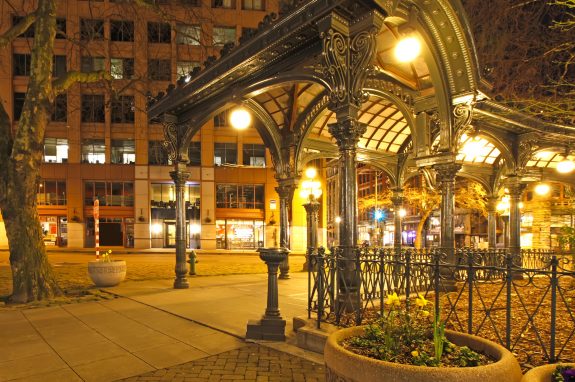 The Seattle summer may be starting to edge into fall, but that doesn't mean it's time to go indoors yet. Grab your jacket, just in case, and head to Pioneer Square for a weekend soaking up Seattle's history.
On a weekday Pioneer Square is full of people in suits, the King County Courthouse and numerous office buildings are close by, but on weekends you'll find a mix of workers, shoppers, tourists, and a few men and women who call the park benches home. Walk around and discover Seattle history, wander through the shops and galleries, or grab a table at a restaurant or café. TMobile Park and CenturyLink Field are a short walk away.
Here are 12 suggestions of things to do in Pioneer Square to get you started.
Meet at the Pergola in Pioneer Square
Located at the triangular corner of Yesler Way and First Avenue, the Pergola (in top photo) was built in 1909 as a shelter for passengers waiting for the neighborhood cable car and it quickly became a popular meeting place for neighbors. Built out of iron and glass, the Victorian-styled pergola is about 60 feet long and 16 feet high and was designated a historic landmark in 1977. After a truck crashed into it in 2001, it was painstakingly reconstructed to its original design and continue to serves as a popular meeting stop in Pioneer Square.
Due to the necessary restructuring of the area, this location has changed over the years. The one thing that remains the same about the Pergola is its beauty! The restoration held on to all of the brilliance of the old piece, with a few minor upgrades. It is one of the premier stops in Pioneer Square, and a gateway into the world of activities found in this location.
Tell friends to meet you at the Pergola, it's an easy to find spot, and is a great starting point for all the things to do in Pioneer Square!
Look up at the Tlingit Indian Totem Pole
Located near the Pergola, the totem pole was stolen by the local Chamber of Commerce from the Tlingit Indians in Alaska. The Seattle thieves gave the totem pole to the city as a gift in 1889. The Tlingit tribe sued for the totem's return, the men were convicted of theft and fined $500, but the court allowed Seattle to keep the totem pole. Questionable justice.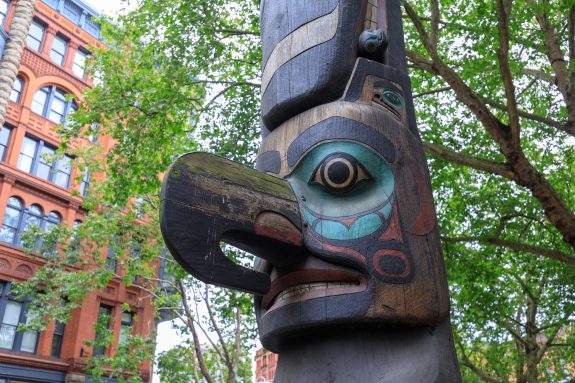 In 1938, after the totem pole was vandalized, the city sent its pieces back to Alaska. Gracious Tlingit craftsmen carved a reproduction of the original and it was returned to Seattle and dedicated at a potlatch with tribal blessings. It stands as a symbol of the complicated relationship between American Indians and European Americans.
Alongside its complicated history, the Tlingit Indian Totem Pole is a beacon of color and creativity in Seattle's Pioneer Square. It attracts visitors that enjoy its culture and craftsmanship and is surrounded by benches that provide a place to sit back and relax under the shade of the park trees.
Note that Totem poles are read from top to bottom, so be sure to dive into the complex story interwoven in the woodworking. This is one stop that art and history buffs alike aren't going to want to miss!
Take in a view of Pioneer Square (and more) from the Smith Tower
For nearly 50 years the Smith Tower was the tallest building west of the Mississippi, and while today it isn't even the tallest in Seattle, the views from its 35th-floor observation deck are still impressive. It is located at 506 Second Avenue, between James and Yesler.
Take the original 1914 elevators up to the outdoor observation deck, it completely wraps around the building, for views of the waterfront (in photo above), the downtown area, the mountains (Olympia and Cascade mountain ranges) and the sports district (CenturyLink Field and TMobile Park).
There are two ways to visit the Smith Tower in Pioneer Square, the Legends of Smith Tower experience and independently, by visiting the Observatory and bar. The tours run 10 am-9 pm daily. The observatory and bar is open 10 am-11 pm, Sunday through Wednesday, and until midnight, Thursday through Saturday. A variety of ticket options are available, with discounts for online purchases.
This is a popular attraction in Pioneer Square so try to go early in the morning if you want to beat the crowds. Overall, however, they do a fairly good job of moderating crowds on the Smith Tower Observation Deck.
Go Underground in Pioneer Square.
The Pioneer Square area of the city may look and feel old, but it was rebuilt after a devastating fire in 1889. That fire led to the neighborhood design you see today, with brick buildings and wide streets, but much of the old Seattle remains underground.
The Seattle Underground Tour takes you below ground for a peek at three blocks of underground streets and storefronts, giving you a glimpse of what it was like to live in Seattle at before the turn of the last century. Some of the tour stories may be a little heavy on puns and innuendo, but if you do a little research you'll find that Seattle has a colorful and rather messy past.
Tours leave from 614 First Avenue (between Cherry and James) on the hour. Tickets are $22 adults; $20 seniors (60+) and students; $10 children (ages 7-12).
Relax in Occidental Park
Occidental Park, or Occidental Square as it is also called, is located in the heart of Pioneer Square at Occidental Avenue South and South Main Street. This urban park has cement paths, benches, ADA compliant restrooms, nice flowers and trees, and wifi. Free.
Some new public works projects, both completed and underway, have made the square a community gathering place with art installations, street fairs, street musicians, and more.
Pay your Respects at the Fallen Firefighters Memorial
Four bronze statues comprise this memorial to 31 firefighters that have died in the line of duty since the Seattle Fire Department began in 1889.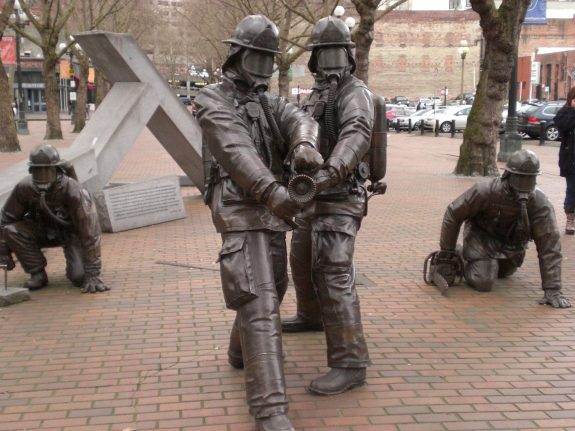 Located in Occidental Park, adjacent to the Seattle Fire Department Headquarters, this Pioneer Square attraction recognized the heroic and the harrowing. Even the most boisterous of Pioneer Square visitors seem to take on a more somber tone when visiting here.
Go for a Ride at the King Street Station
Built in the early 1900s, this station was built by the Great Northern Railway and the Northern Pacific Railway and was designed to replace the old station on Railroad Avenue. It currently serves as a hub for Amtrak, Seattle's light rail system, Sound Transit, Metro Transit, and First Hill Streetcar.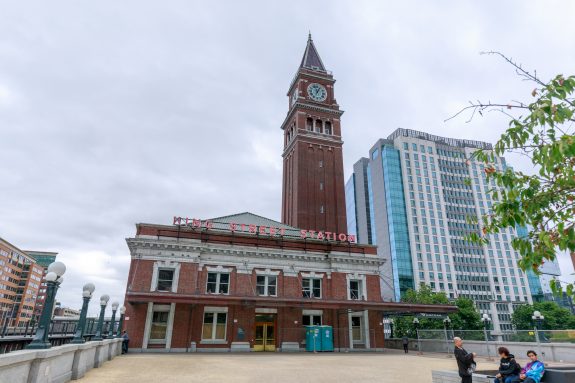 At the time of construction, the depot's tower was the largest building in Seattle at 242 feet. Since then, that title has been removed, but it is no less magnificent. Much of the original design has been redone for practicality and ease of use, however, there are still some hidden gems to be found in this transportation hub.
King Street Station in Pioneer Square is a transportation hub for the entire West Coast as well as serving the Seattle area. Even if you're not taking a train ride, it's worth a stop for its historic significance, architecture, and art.
Discover Gold at the Klondike Gold Rush National Historical Park
Part of this national park is in Seattle, the other in Skagway, Alaska, and both pay tribute to the rush of people looking for gold and the role Seattle played in it.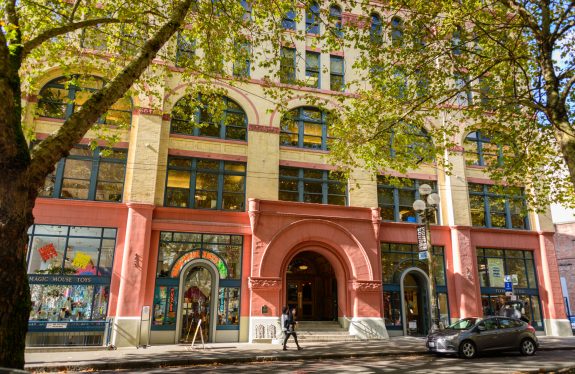 The visitor center is located on the corner of Jackson and Second Avenue. And it's Free! While you're there, why not pick up a National Parks and Federal Recreational Lands Annual Pass – it's one of the best buys around. I'd also recommend that you purchase a National Parks Passport and get it stamped at every National Park site that you visit.
The Klondike Gold Rush National Historical Park is open daily from 9 am-5 pm during the summer and from 10 am-5 pm during fall and winter. There is no charge to visit.
Find peace in the Waterfall Garden
In the middle of the crowded city, this Zen-like urban park provides a respite in a heavy traffic area. It's a peaceful creation of concrete, wood, and water that includes a 22-foot waterfall that nearly drowns out all of the Pioneer Square traffic noise. Take a book, read the paper, sit and meditate. The spirit in the Waterfall Garden is as calming as the rushing water, and makes for a great break for a busy work or touring day.
There are plenty of tables, chairs, and benches here and since it's overlooked by so many people, it rarely feels overcrowded. If your Zen-like spirit needs to connect to the outside world, though, you'll find power outlets.
The Waterfall Garden is located at 219 Second Avenue South (Main & Second), and is open daily, 8 am-4 pm. Free.
Eat at the Oldest Restaurant in Seattle
Merchant's Cafe has staked its claim as the oldest Seattle restaurant, in continuous operation since it was built in 1890. It has withstood prohibition, ownership changes, modernization, and plenty more, and remains an icon of Seattle's past.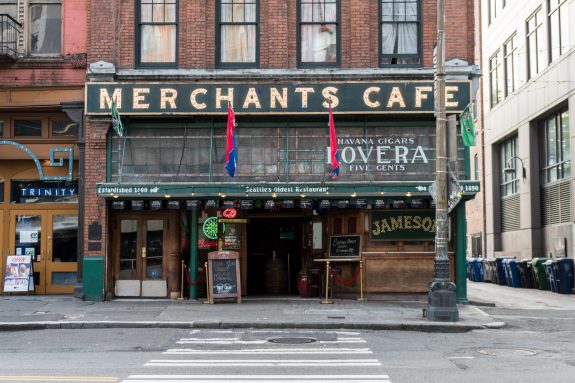 It is also one of the favorite stops on Seattle's "Spooked in Seattle" Ghost Tour as it is rumored to be the site of some paranormal activity. That could just be the history talking though, so stop by and see for yourself!
The restaurant is located at 109 Yesler Way and is open weekdays from 11 am-11 pm, and on Friday and Saturday until 2 am.
Get Inspired by Art
Pioneer Square was once considered the artistic hub of Seattle, and still remains a prominent site for numerous public galleries and art centers. Most are independent and many feature regional artists. You'll find various medium, from print and drawing to contemporary painting, from sculpture to fiber arts.
If you're in town on the first Thursday of the month, check out the art walk. Claiming to be the longest established art walk in the country, this is a fun way to see incredible art and meet new people. You'll find locals and tourists at this event as art fans walk from gallery to gallery for an evening filled with culture and inspiration!
The Pioneer Square Art Walk is the first Thursday of the month, 5-10 pm.
Cheer at CenturyLink Field
Home to the NFL Seattle Seahawks, CenturyLink Field is a little farther out than some of the other things to do in Pioneer Square, but still within walking distance.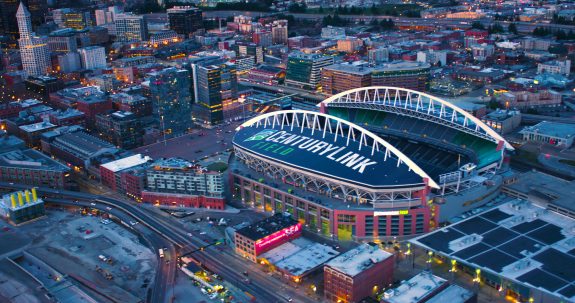 Located at 800 Occidental Avenue South, the venue draws tens of thousands of fans on game days. Plan your visit to Seattle for a game, if you're a football fan, and join in with other lively Seattle-proud Seahawk fans. On non-game days, tours of the field, stadium, and facility are available.
CenturyLink is also a venue for outdoor concerts, trade shows, consumer exhibitions, and other events.
CenturyLink Field stands on the footprint of the former Kingdome and there's an engaging debate as to its neighborhood location. You'll find that both CenturyLink Field and TMobile Park can be referred to as located in Pioneer Square, the Stadium District, or SODO.
Where to Stay in Pioneer Square Seattle
There are three value luxury hotels in Pioneer Square that I recommend.
Embassy Suites Pioneer Square
The 23-story Embassy Suites Pioneer Square is bright and modern, with an eight-story atrium that makes a winning first impression. It is convenient to all the attractions in Pioneer Square, as well as its proximity to the stadiums, and has rooms with views of the city in all directions.
Rooms have refrigerators, microwaves, dining, and workspace. The complimentary breakfast buffet with cooked-to-order menu items and the complimentary happy hour helps stretch the budget.
The Embassy Suites Pioneer Square books up quickly on game days and when there are special events at CenturyLink Field. Plan far in advance.
The Embassy Suites Pioneer Square is located at 255 South King Street. For travel into the city from SeaTac Airport, take the light rail from the airport to the International District station. It's a short walk to the hotel across the Union Station (Amtrak) sky bridge.
Check rates and availability at the Embassy Suites Pioneer Square by clicking on the banner below.
The Marriott Courtyard Downtown/Pioneer Square
Located in the historic Alaska Building which dates back to the early 1900s, the Courtyard offers rooms with kitchenettes, free wifi, and larger studio apartments for visitors planning a longer stay in Seattle.
The hotel is located at 612 Second Avenue.
Check rates and availability at the Marriott Courtyard Downtown/Pioneer Square by clicking on the banner below.
Silver Cloud Seattle-Stadium
The Silver Cloud Hotel Seattle – Stadium is located directly across the street from Safeco Field, home of the Seattle Mariners, and next to CenturyLink Field & Event Center, home of the Seattle Seahawks, so it's on the edge of the Pioneer Square neighborhood and the Stadium District. Regardless of where you want to categorize it, it's easily within walking distance of all the attractions in Pioneer Square.
The hotel is located at 1046 1st Avenue South.
Check rates and availability at the Silver Cloud – Stadium by clicking on the banner below.
Looking for more places to stay in downtown Seattle? The map below will help.
For Pinterest
You know you're going to want to keep this handy for your next visit to downtown Seattle and Pioneer Square. Make it easy and save it to your favorite Seattle or Washington State Pinterest Board.