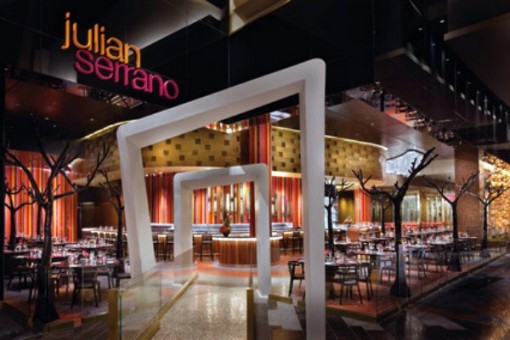 Last fall I stayed at the ARIA Resort & Casino in Las Vegas and became a fan of the LEED certified property.  While there, I saw the Cirque du Soleil show Viva Elvis!, spent an afternoon at the spa, and had many fine meals, one of which was at Julian Serrano, a Spanish restaurant.
Julian Serrano offers classic Spanish fare that includes hot and cold tapas, paella, and a variety of seafood dishes.  My first visit was as part of a large group attending Blog World Expo.  Since then, however, I've been back quite a few times – both with friends and as a solo diner.  The restaurant has an open floor plan, and is vibrant and noisy as guest pass, share, and talk about their choices.  If you're looking for a fun and lively meal, this is the place.  If you're looking for something romantic and quiet, there are better choices.
While small plates are perfect for sharing with others, providing a chance to try new things or choose a variety of flavors, they're also right-sized right for a light lunch or dinner for one.  Here are some of my favorites dishes:
Tuna raspberry skewers – Raspberry mousse and wasabi give some sweet zip to ahi tuna (in photo above).  I'm not an ahi fan, but friends rave about this dish, and one day I'll give it a try.  $15
Lobster pineapple skewer – Bites of lobster tail combined with pineapple mousse and sesame oil.  This is one of my favorites and, accompanied by a glass of crisp white wine or sangria, makes a perfect light, warm-weather snack.  $14
Bacalao a la gabardina – I've always passed on this appetizer of tempura battered cod served with a rocoto mayo sauce, but after discovering how tasty bacalao is in Portugal, I'll be up for giving this a try on my next visit.  $10
Spanish tortilla – This dish of potatoes, eggs, and onions may sound simple, but the flavors are anything but.  This is scrumptious melt in your mouth loveliness, and I think I order it every time.  $8
Sauteed padron peppers – Another simple dish, peppers sauteed in olive oil with a sprinkling of sea salt, delivers a salty-sweet one-two punch.  Paired with a cold beer, this makes a tasty bedtime snack. ($8)
Stuffed dates – This is one of my all purpose choices at a Spanish restaurant (sweet dates stuffed with almonds, wrapped in bacon and the served with a spice pepper sauce) and Julian Serrano's does a bang up job.  It's the sweet-spicy-salty combination that makes them so darned addicting and, after all, everything tastes good with bacon in it.  Perfect with a robust glass of red wine that brings out the best of the flavor combination.  $8
Paella – This is one of those dishes you need another person (or two or three) to share with, and the ample sized portions come with a few options.  I'm a fan of the Mixed paella (lobster, mussles, chicken, chorizo and vegetables with rice), but the Marinera (calamari, shrimp, mussels, monkfish and vegetables with rice) is a close second.  Paella takes a little over half an hour to prepare, so order it right away and then linger over an assortment of tasty small dishes.  $40-50
How would I put this all together in a perfect meal?  Here's a pretty near perfect combination for a group of three (with only two people you'll likely have leftovers):  Start off with a glass of cava, a sparkling Spanish white wine comparable to champagne, and an order of lobster pineapple skewers.  Order the mixed paella so that it can get started while you are relaxing and getting into the meal.  Move into an order of sauteed padron peppers and a Spanish tortilla, switched over to a pitcher of Sangria to drink.  That should keep the conversation going until the paella arrives.  Finish up with an order of stuffed dates instead of dessert (There are desserts on the menu should you prefer a total sugar fix), and finally a cup of strong Spanish coffee.  Near perfection!
If small sharing plates aren't your preference, a few entree sized options are on the menu.  Since I'm always focused selecting a few favorites and trying something new, I've never tried any of these platos grandes.  There are also plenty of vegetarian choices.
Location:  At the ARIA Hotel at City Center, Las Vegas Strip, casino level next to main registration desks
Hours:  Sunday-Thursday, 11:30 am-11 pm; Friday and Saturday until 11:30 pm
Reservations:  Strongly recommended, especially for dinner, although I've found it easy to walk in at atypical meal times and have been seated right away.
Photo credit:  Courtesy of MGM Resorts, International
NOTE: The group event at Julian Serrano was hosted by the restaurant, all other subsequent visits have been at my own choosing and expense.