In a city that never sleeps, it's nice to find a quiet oasis, and that's just how I think of the New York Public Library.  On your next visit, take some time away from the sightseeing, shopping, and the frenzied pace of Manhattan and check out the library.
The New York Public Library was founded by the 1886 estate of Samuel J. Tilden, who bequeathed money to "establish and maintain a free library and reading room in the city of New York."   Although there were two other libraries in New York at that time, both were experiencing serious financial hardships.  The trustee of Tilden's estate saw the perfect opportunity to fulfill his vision, and the libraries were combined to form what became the New York Public Library.   A number of years later, philanthropist Andrew Carnegie donated money to construct branch libraries, which would be maintained by the City, to further extend the availability of the library system.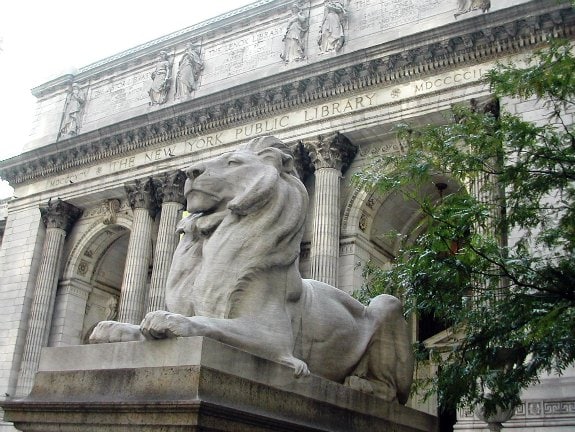 The library has both a circulating public library and a huge research (non-lending) library, making it one of the largest libraries in each category.  It is a private, non-profit corporation, not a governmental entity, although it does rely on both private and public financing for its continued existence and growth.  The library systems consists of 86 libraries in all, including the four main lending libraries, four specialized research libraries, a library for the blind, and 77 branch libraries, not only in Manhattan, but also in the Bronx and Staten Island.
The central library is on Fifth Avenue between 40th and 42nd Street, and has an underground expansion on the Bryant Park side.  It's a Beaux-Arts design and is flanked on either side of the main entrance by two stone lions guarding the library's premises.  Although the lions have been through a couple of name changes, since the 1930's they have been known as "Patience" (on the south side) and "Fortitude" (on the north side).  Posing with the lions is a popular photo opportunity.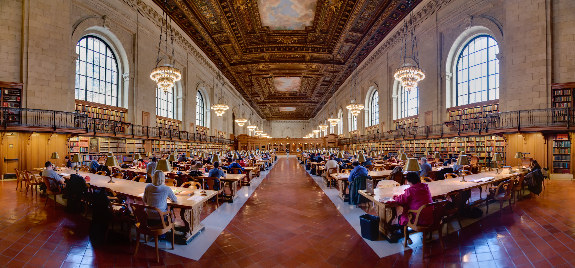 The beautiful main reading room of the Research Library is often seen in photographs, and in person it is even more spectacular.  It is long, with large windows and 52 foot high ceilings, and is lined with thousands and thousands of books along both the floor and balcony level.  In this room you can read at the study tables, sit in the comfortable chairs, or browse books from the non-circulating collections.  Library tours are offered, but even if you don't opt for a tour I'd recommend just popping in for a look and to soak up the ambiance of this magnificent room and its architecture and history.
You do not need a library card to visit the library or for on site use, but you will need one to check out material or use the extensive online resources.  Library cards are free for anyone who lives, works, pays property taxes, or attends school in New York State.  Non-residents may be issued a free temporary library card on-site.
Even if you've never been to Manhattan, you may have seen the library in a movie.  It was seen in Breakfast At Tiffany's and Escape from New York, the library's basement was the location of a ghost sighting in Ghostbusters, and was the location for Carrie's doomed wedding in Sex and the City – The Movie.  If you're watching a movie set in New York City, keep a close eye out and you may spot those stately lions guarding the library.
Location:  455 Fifth Avenue, at 42nd Street
Hours:  Hours are Monday and Thursday – Saturday, 10 am-6 pm; Tuesday and Wednesday, 10 am – 9 pm.  Closed Sunday.  The library can also be rented out for private events and parties.
Photo credits:  Library lion and Research reading room both via wikimedia