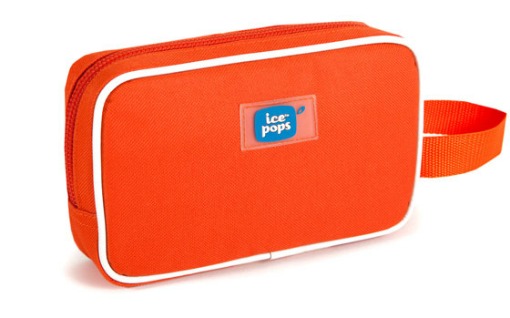 Travel product development is a big industry, with every product hoping to be the next HOT item.  Cool-it-Caddy, however, isn't interest in HOT, it's interested in helping you keep your  cool.
How?  With their Icepops line – an insulated cosmetic bag that you pop in the freezer till frozen.  The coolant is self contained, so there's no drippy mess, and then when you're ready to head out to the pool,  golf course, on the water, or any other sun activity, the bag will keep your lipstick, medication, sunscreen, and healthy snacks at a cool temperature for up to 7 hours.  No more melted lipstick or other cosmetic products.
A few things to know:
You can store the empty Icepops in the freezer, keeping it ready for use.
Putting a small towel or wash cloth inside the Icepop when in the freezer will help to maximize the interior space.
For best results, do no keep in direct sunlight or leave in a hot car.  If out at the beach, cover with a tower or place beneath a chair, umbrella, or in the shade.
The poly-canvas fabric surface is washable, but do not immerse in water.
If storing medication, be sure to monitor temperature.
Icepops come in three bright colors:  pink, yellow, and orange.  You can find it in retail locations around the U.S. (it's frequently found at PGA shops at golf courses), and is also available for purchase online.
Purchase price:  $24.95
Photo credit:  Courtesy of Cool-it-Caddy