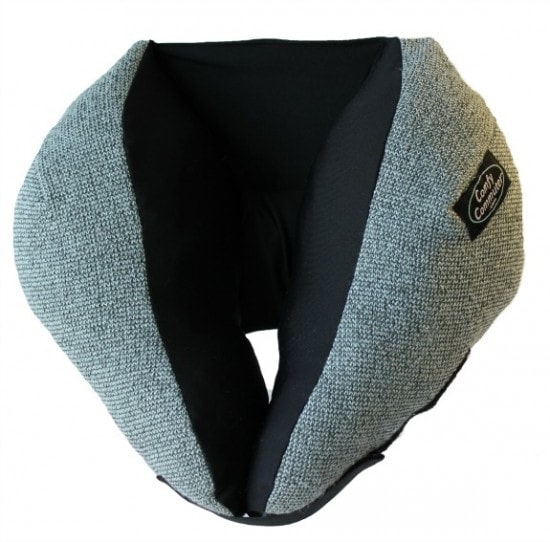 Comfy Commuter has the Travel Pillow of Your Dreams
Product:  Comfy Commuter Travel Pillow
Value Luxury Rating:  


  (2 out of 3)
Features:  The Comfy Commuter travel pillow is made of soft plush and designed to create a space at the base of your neck so that your head is not forced forward into an uncomfortable position. The pillow extends up past the ears to support your head on both sides. An optional chin strap can be used to keep your head from slipping through the front when in use. The washable pillow has a side pocket for your iPod or phone and an attached bag for easy storage.
What I thought:  Let's face it — I don't usually travel with a travel pillow because I'm betting on that upgrade to business class and the lie flat seats!
Alas, that doesn't happen all the time and I've arrived at plenty of destinations with that wretched catch in my neck. I've seen all sorts of weird contortioning devices that claim to prevent that happening, but nothing has caught my eye to want to try out. When I saw the Comfy Commuter I thought it looked different from the rest of what's on the market and I wanted to give it a try.
I used the pillow on a flight to Maui (about 5 1/2 hours) and one from Las Vegas (about 2 1/2 hours). After being hit hard with a respiratory infection, I also used it on my couch while I was recuperating. I haven't put it to an overnight (red-eye) flight yet, but I'll be doing that next month.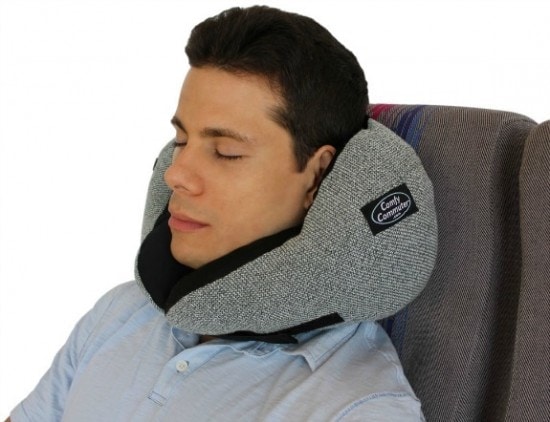 What was great:
Lightweight (11 ounces).
Soft and plushy, it was easy to snuggle into. And it squishes up to fit into my carry on bag so I don't have it hanging on the outside.
Washable (although I've not yet washed mine yet).
Side pocket keeps iPhone handy. I enjoy listening to music and set it on a timer so it automatically turns off after I've fallen asleep. The pocket keeps it handy so I don't have to worry about the phone falling off my lap while I sleep.
Sitting in my narrow coach class seat, I felt like I could snuggle into the pillow without needing to squirm around to find a comfortable position. I slipped it around my neck and head and settled it. I napped on the long flight, something I don't usually do, but don't know if that was attributable to being tired or comfortable. Regardless, I didn't wake up all stiff at the end of the flight. On  the shorter flight, I just found it create a comfortable postion for reading.
Subtly stylish. I didn't feel silly using it.
Although my testing was primarily focused on airline travel, I was sick for a couple of weeks and used it on the couch. It was plenty comfortable to snuggle in for a read while laying down, and was also handy just for watching television in a semi-reclined position.
Wonderful backstory. It was created by a mom and daughter because they could find a pillow that did the trick. They researched and created the comfy commuter. I love supporting small business who are created great products.
It's made in the U.S.A.
And what wasn't quite as great:
The chin strap made me feel a little too closed in. It could simply be the way it hit on my body, and your mileage may vary, but I prefered to use the pillow without it.
The attached bag. It's not so much that I didn't like it, but I just didn't use it. I squished up the pillow and stuffed it in my carry on. I'm sure germ phobes are cringing at that, and you'll probably be glad for the stowage bag.
If you need firm support for your head and neck, this may not provide you with enough of it. It was perfect for me, but I like to snuggle in, so think about what you prefer as you decide if this is a good choice for you.
Height may be a factor in how well this pillow works for you on an airplane, and you may need to adjust the airplane headrest (I'm 5'6″-ish). Taking into account how you fit into a seat, where the headrest hits, and other variable seat design issues, your comfort factor may be different than mine.
Although it's comfy and helps make sleep on an airplane less contorting, you need to be realistic about just how good you'll sleep on an airplane. It's a great help, but it's not a miracle cure all for the ills of air travel.
Who it's for:  Travelers, whether by air or car, who want a little extra comfort and support while seated. If you just can't quite get comfortable (as opposed to those who are miserable the entire time), I'd recommend giving the Comfy Commuter a try.
Price Range:  $39.99, available through the Comfy Commuter website and also available on Amazon.
Personal Notes:  Sleeping on an airplane is a real challenge. The seats are getting narrower, the space between rows is getting smaller, and people are getting bigger. Longing for the glory days of travel, or hoping for that business class upgrade, will only get you so far. For the rest of the time, I'm going to rely on the Comfy Commuter travel pillow to help me find what little comfort remains in air travel.
Disclosure:  I was provided with a Comfy Commuter travel pillow for purposes of a review.