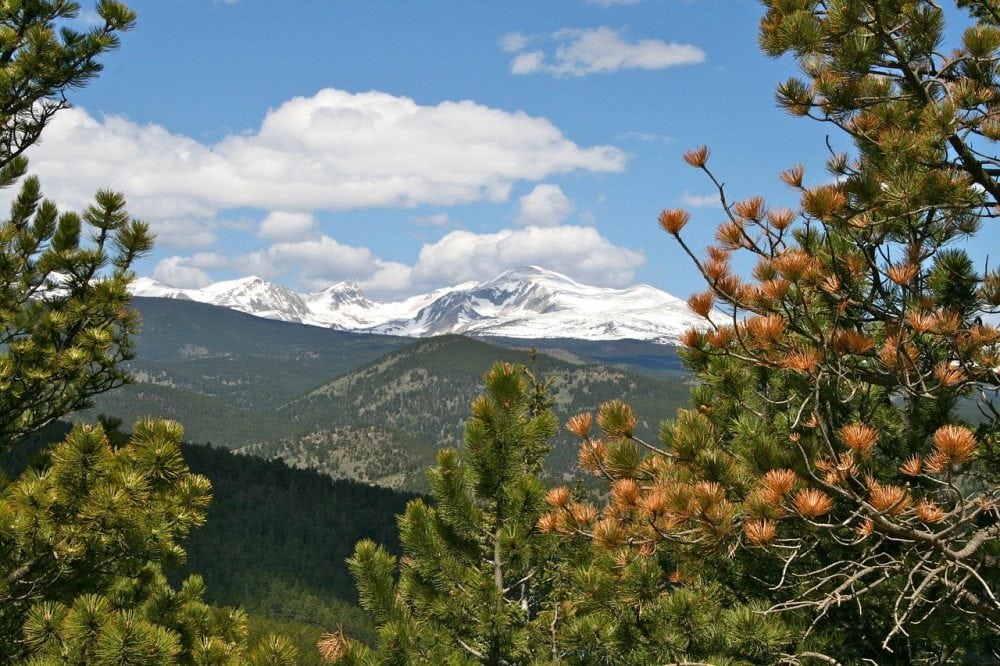 If you are thinking about visiting Boulder, Colorado, and are curious about things to do there, check out our helpful weekend getaway travel guide on what to do, where to eat, and where to stay in this mountain destination.
Located 20 minutes northwest of Denver,  was established in 1859 by explorers in search of gold. It's located in Boulder Valley, the spot where the Great Plains meet the Rocky Mountains, creating a location that attracts visitors with its fun lineup of activities.
Some of this content was prepared as a result of sponsored travel.
Things To Do In Boulder, Colorado
Whether you are an outdoor fanatic, in search of intellectual motivation, or just an individual who wishes to have a relaxing yet enjoyable value luxury vacation, Boulder is worth a visit. You'll find outdoor adventures like hiking, biking, rock climbing, and skiing to the soft adventures of craft beer, restaurants, shopping, and University activities.
Here are some of our favorite things to do in Boulder, Colorado.
Pearl Street Mall
Assuage your shopping fix with a visit to Pearl Street Mall. Extending from 8th Street to 20the Street in downtown Boulder, this street mall is a vibrant mix of shopping, restaurants, bars, and more.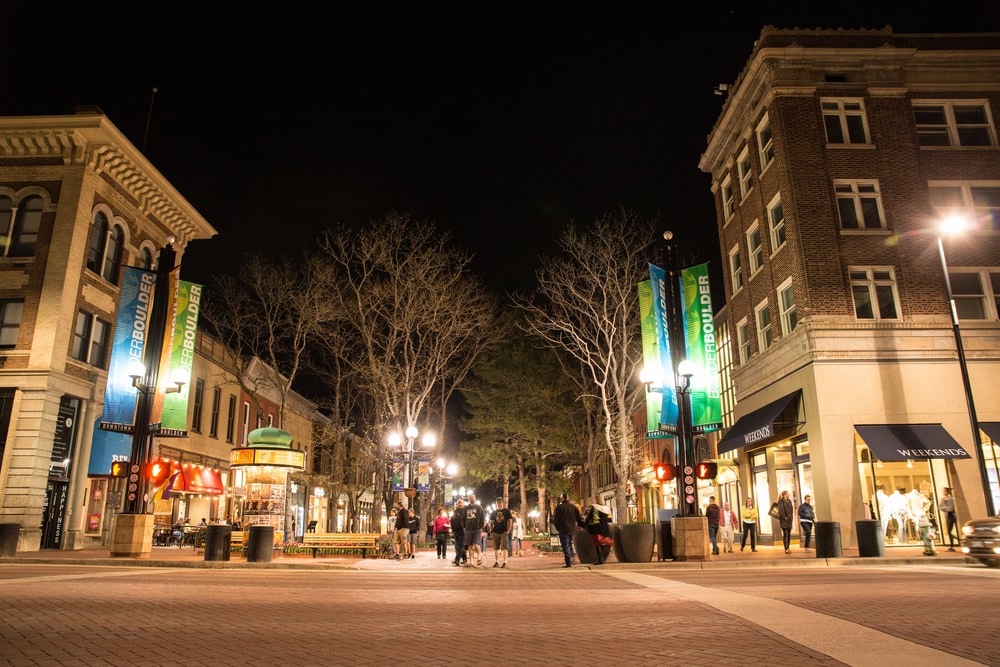 Whether you're looking for brand names like Patagonia and Urban Outfitters, or local art, boutiques, and galleries, Pearl Street is a popular place, day or night. Allow some time for browsing, grabbing a bite to eat (some recommendations below), and enjoying the local scene.
Website here.
The Flatirons
The most popular natural site to visit in Boulder is The Flatirons. It is a series of stunning rock walls, and while the name generally refers to the five major walls, there are also smaller ones located in the area.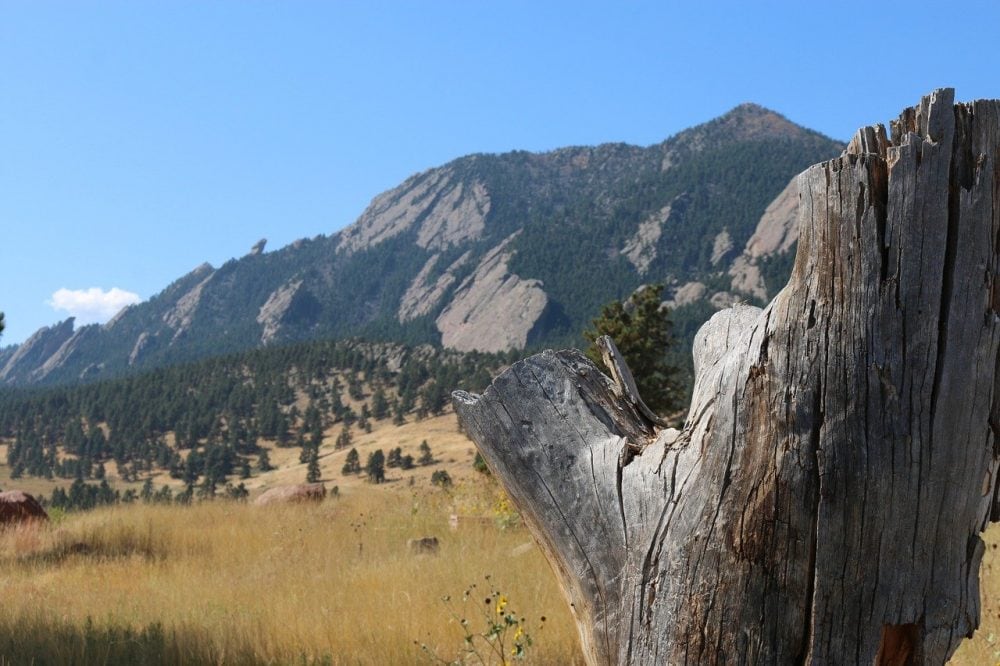 This is a popular spot for rock climbing, but even if you aren't that energetic, there are good hiking trails in the area that are suited for all abilities. The Flatirons is also a popular spot for photographers.
Boulder Dushanbe Teahouse
The Dushanbe Teahouse was a gift to Boulder from its sister city, Dushanbe, Tajikistan (the capital city). In keeping with the tradition that a teahouse should be placed along the water, Dushanbe Teahouse is situated along a brook that is an offshoot of Boulder Creek. Also in keeping with Tajik culture, there is a rose garden on the grounds.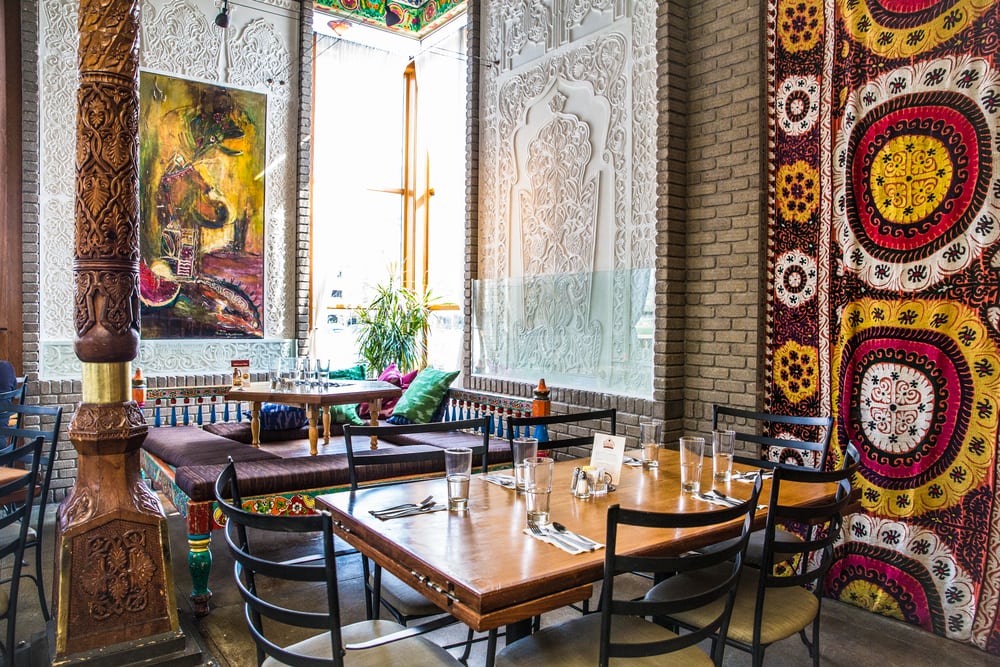 The teas in this teahouse are all obtained from Dushanbe and showcase an impressive array of options. Take a look at the tea menu here. Many of the teas are available for purchase, so hopefully, you can take your new favorite home with you.
Dushanbe Teahouse is open for breakfast, lunch, and dinner, as well as for tea time. Website here.
University Of Colorado Campus
The University of Colorado at Boulder (UC Boulder) is the flagship of the University of Colorado system. It was founded in 1876, before Colorado was even a state. The campus is beautiful, with a distinctive Tuscan Vernacular Revival architectural style. Notable to this style is rough, textured sandstone walls with sloping, multi-leveled red-tiled roofs, and Indiana limestone trim.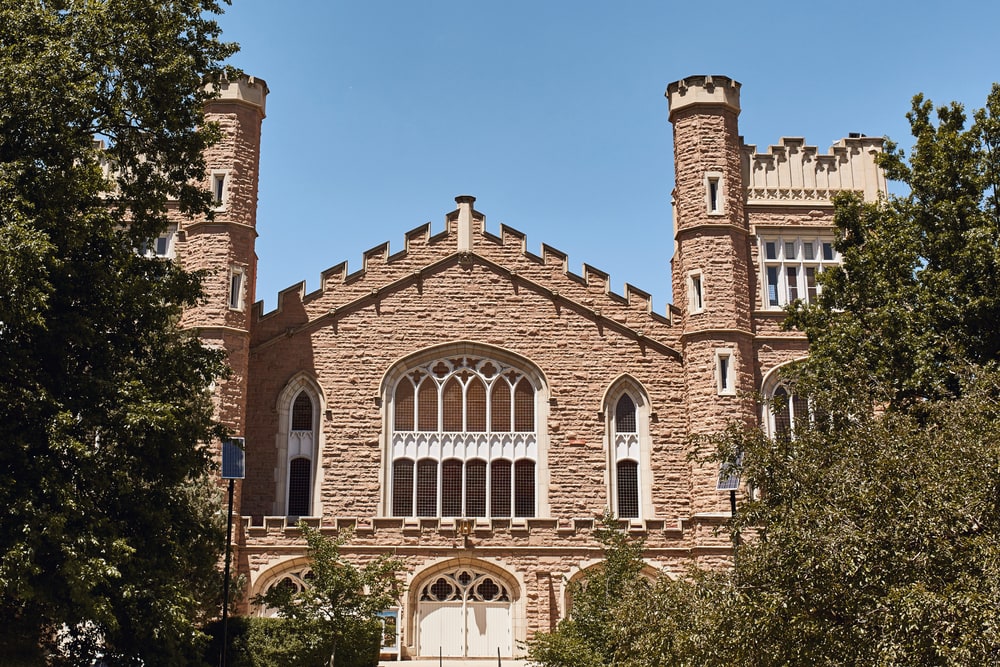 UC Boulder regularly appears on the list of most beautiful college campuses. Notable spots on campus include the outdoor Mary Rippon Theater (home to the Colorado Shakespeare Festival), the CU Art Museum (modern and contemporary art), the UC Museum of Natural History, Macky Auditorium (in the photo above), and the Fiske Planetarium.
If you're doing college campus tours, UC Boulder will likely be on your list. Even if your not, however, the campus is worth some time exploring or taking in an event. Website here.
Chautauqua Park
Chautauqua is picturesque, photogenic, and historic, dating back to the late 1800s when the city began preserving wild land. Facilities include trails for hiking, picnicking areas, playground, tennis courts, and plenty of green open space. These hikes will give you great views of the Flatirons.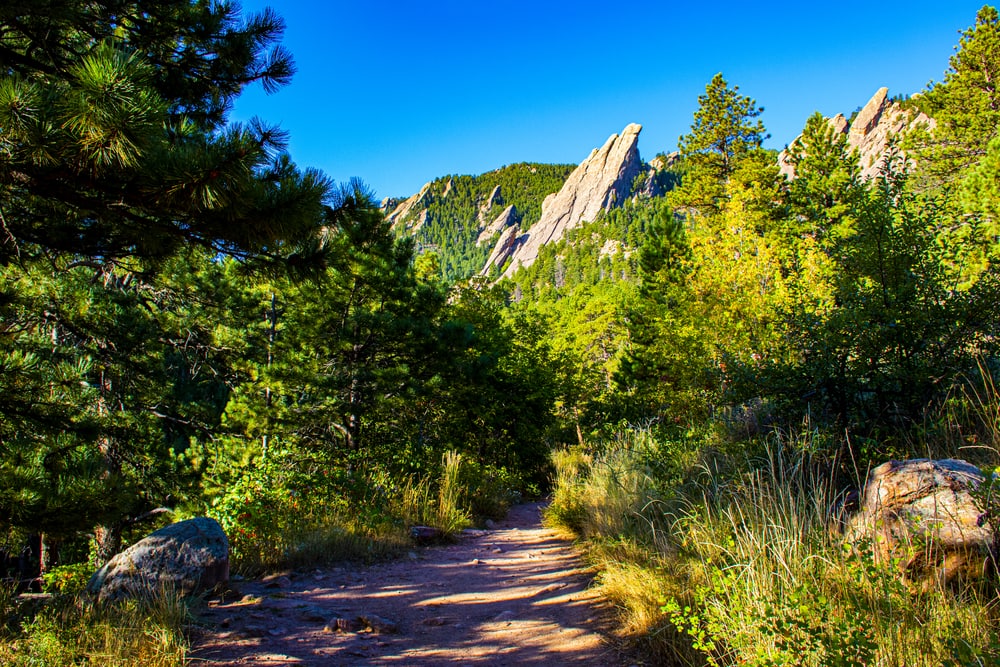 If you're traveling with kids, it's a great place to work off a little energy. Adults may prefer peaceful surroundings to break up a busy schedule. Website here.
Boulder Chamber Orchestra
If you're a fan of classical music, planning your trip around a Boulder Chamber Orchestra event is well worth the effort.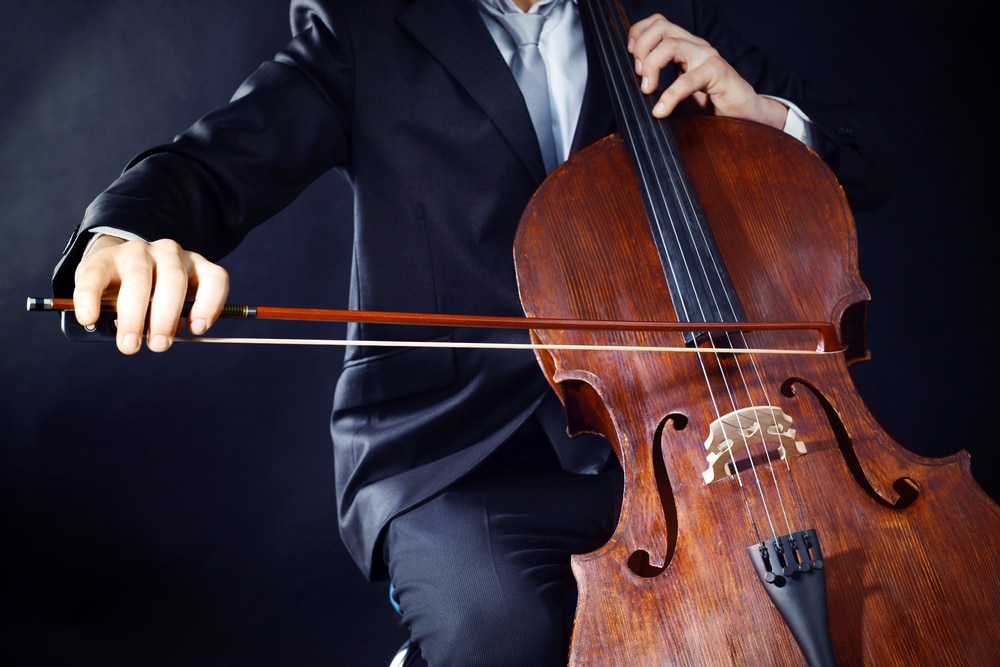 Established in 2004, BCO is committed to playing under performed and rarely heard pieces. With a mission to make classical music available and understandable to the entire community, you'll find tickets reasonably priced with lots of free educational opportunities to learn more.
Website here.
Celestial Seasonings
Founded in 1969, locally owned Celestial Seasonings is known for the herbal tea. At their Boulder corporate headquarters, you can get a tour of the facilities (a tea bag is your admission ticket) and see the steps of the tea process.
I love factory and corporate tours and this one ranks well on my list of favorites. From the Celestial herb garden to watching the packaging process, to the Mint Room full of giant peppermint and spearmint tea bags, it was fun to learn about a product that I take for granted.
Tea tasting is part of the tour and it's the opportunity to discover a new favorite. You'll likely find some blends that aren't on your store shelves at home.
The tour is free. Plan for about an hour which is enough time for the tour, tea tasting, and browsing in the gift shop. Breakfast and lunch are offered Monday-Friday, plan for additional time. Website here.
Cure Organic Farm
Founded in 2005, the Cure Organic Farm is a commercial family farm that distributes locally to restaurants and through a CSA program. The farm has more than 100 different organic herbs, vegetables, fruits, and flowers, and is also home to several honey bee hives, a flock of hens and ducks, and heritage Berkshire and Mangalitsa pigs.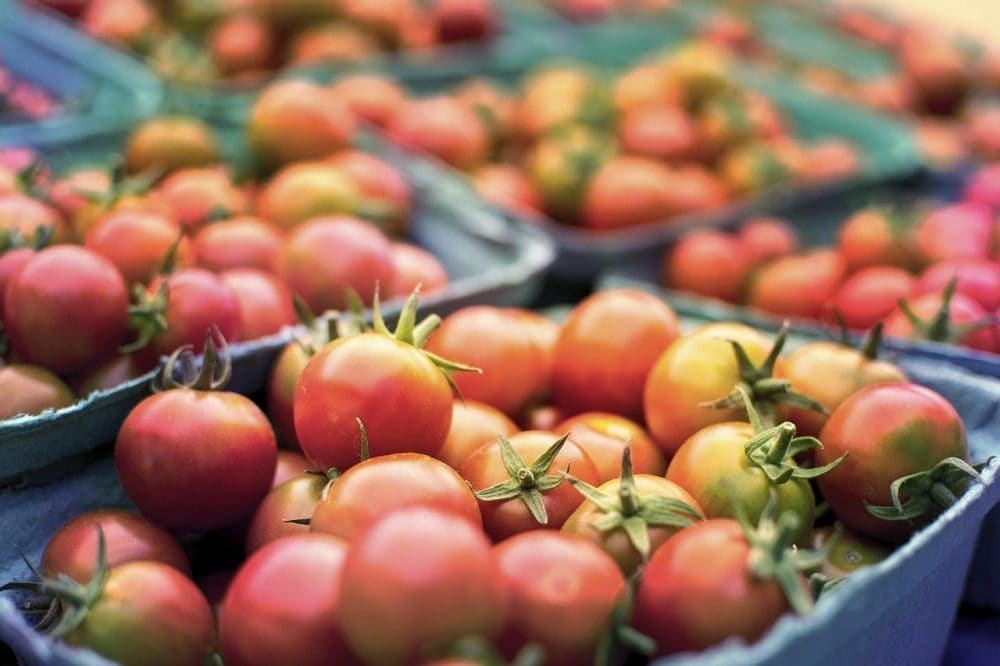 The farm extends over 12 acres of upmarket and lush farmland located towards the east of Boulder. Urban visitors may enjoy a farm tour (by reservation) or just a stop off to buy local products. Nothing tastes better than produce grown steps away from where it's purchased. The farm also has a summer day camp (ages 6-9) if you want to plan a trip around a longer farm experience.
Even if you can't make it to the farm, you won't miss out. Chances are you're enjoying their bounty at one of the local restaurants (recommendations below). Website here.
Eldorado Canyons
The 885-acre Eldorado Canyon State Park is part of the Colorado state park system and is made up of Inner Canyon (developed area) and Crescent Meadows (undeveloped area). It is well known as one of the world's most accessible and comprehensive rock climbing areas.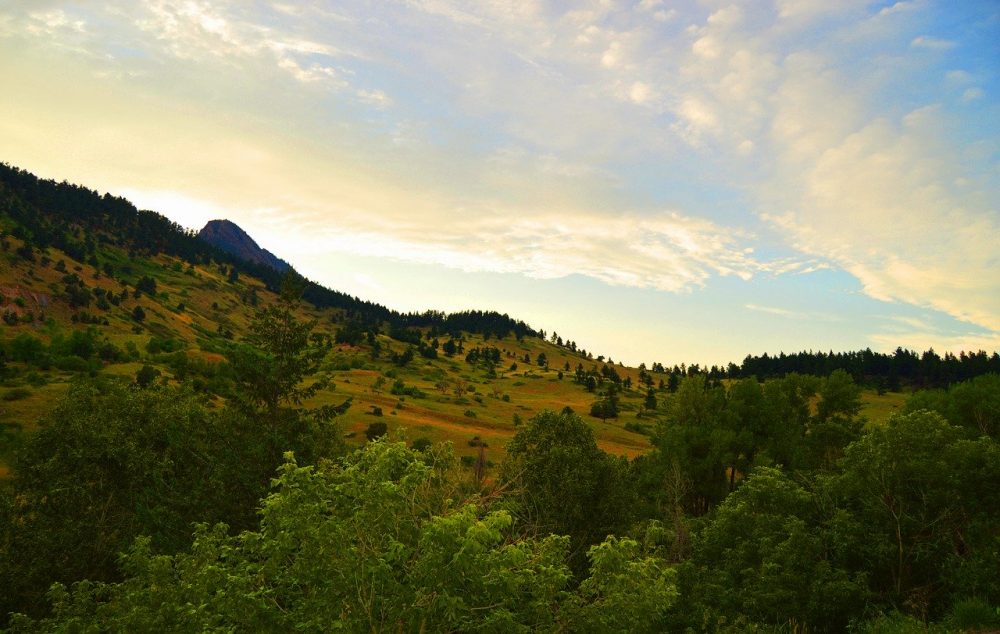 Eldorado has more than 1,000 technical rock climbing routes along with 11 miles of scenic trails for hiking and mountain biking (varying skill levels). Picnic spots are available, as is fishing in South Boulder Creek. During the winter, Eldorado is popular for cross-country skiing and snowshoeing. Given the dramatic scenery here, it's no surprise that it's a popular spot for photography.
Website here.
Where To Eat And Drink In Boulder, Colorado
There are plenty of great spots for food in Boulder, from casual to upscale, from comfort to innovation. If you can't find something you love here, you're not really trying.
Here are some of our recommendations.
SALT
This place is all about fresh ingredients and a basic approach to food that relies on locally sourced ingredients and sustainability. Chef Brad only serves food that he personally would like to eat, creating an approachable, yet sophisticated, take on the menu.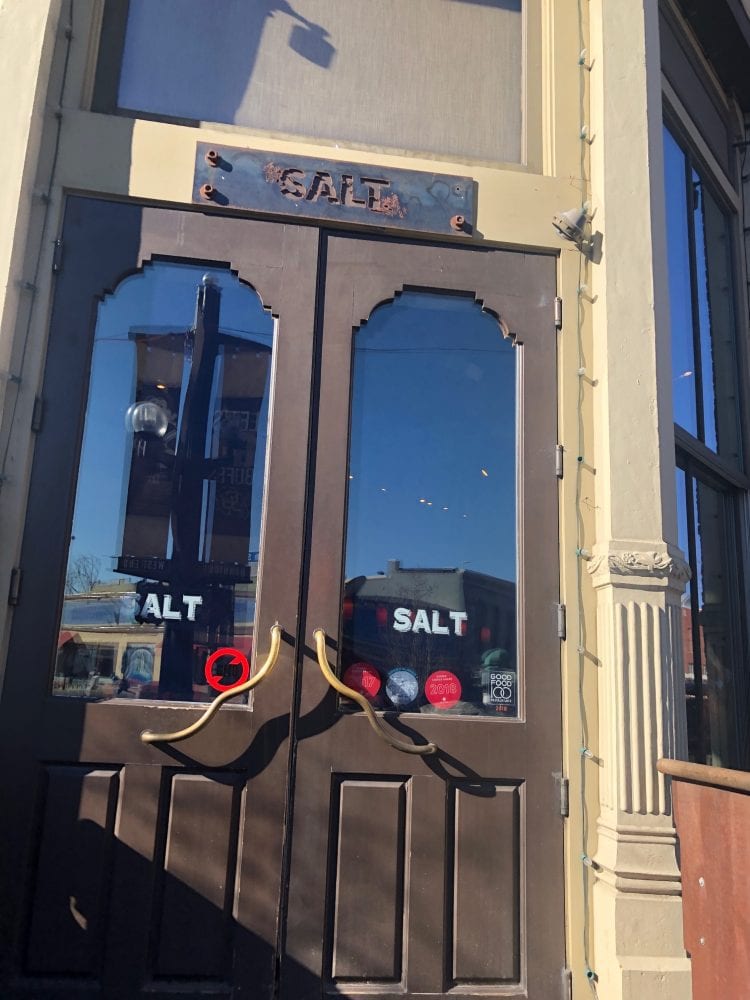 Try: I thought Tom's Tavern Burger with polenta fries was superb, but you can't go wrong with the Grass Finished Pot Roast made from shallots, potato puree, carrots, mu: shrooms, and crispy onions. For lighter fare, the Organic Powerbowl was filling without being too heavy.
Location: 1047 Pearl Street, Boulder. Website here.
Flagstaff House Restaurant
This restaurant offers an amazing view from its hillside location and an equally amazing menu based on French and American inspirations. This family-owned restaurant has over 16,000 bottles of wine in its cellar and is the go-to restaurant for romantic occasions.
The menu is presented in courses, a three-course menu (items may be ordered individually if you don't want three courses), or the multi-course Chef's Tasting Menu (wine pairings for an additional fee). It's a foodie delight!
Try: Splurge out on the Chef's Tasting Menu with wine pairings. It'll set you back $260 per person, but live it up on a special occasion.
Location: 1138 Flagstaff Road, Boulder. Website here.
The Kitchen
The Kitchen tries to be a restaurant that resembles your kitchen at home, albeit with a better chef and someone else to do the dishes. It's one of a family of restaurants that are owned by a partnership that includes Kimbal Musk, Elon's brother. There are also restaurants in Denver and Chicago.
The decor is mountain rustic, with upscale touches, and it's the kind of place I'd want to meet up often with friends. The menu changes, so you today's favorite may not be available on your next visit.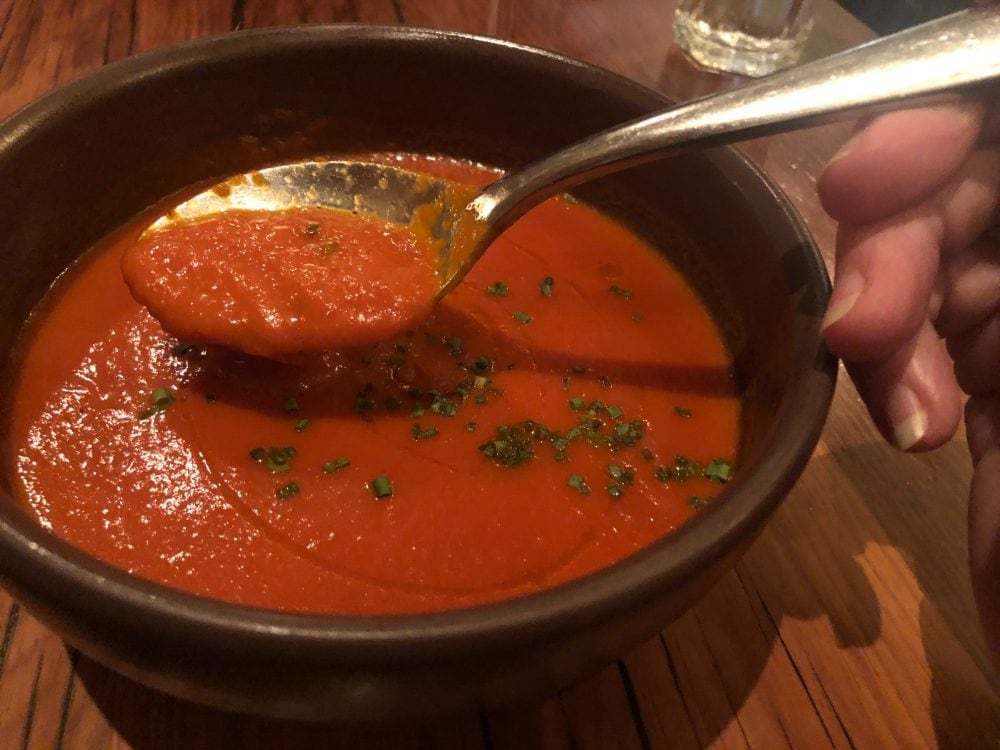 Try: Soups are delicious, you can't go wrong with the tomato or the gazpacho. I'd pair the soup with an appetizer – the Short Rib or the Lobster Roll – for a perfectly me-sized meal. There is a nice selection of wines by the glass.
Location: 1039 Pearl Street, Boulder. Website here.
License No. 1
This speakeasy has legitimate credentials – it was one of the first legal licenses to serve liquor in a restaurant back in 1969. License No. 1 – get it?
Located in the basement of the Hotel Boulderado, under the same original liquor license, the sultry License No. 1 is known for its craft cocktails and light bites. Stop by for happy hour, indulge in a boozy lunch, and enjoy the retro vibes.
Try: Boulder Mule (Vodka, St. George pear liquor, house ginger cordial, vanilla ginger syrup) and truffle fries. If you're hungrier, the burger is a good choice.
Location: 2115 13th Street, Boulder. Website here.
Black Cat Bistro
Named for its lucky location on 13th Street, Black Cat Bistro is a neighborhood spot that serves as an incubator for developing what owners Eric and Jill Skokan call "Front Range Cuisine." It is supported by Black Cat Farm where vegetables, sheep, pigs, chickens, turkeys, and geese are raised. The menu changes daily to reflect seasonality and availability.
Two dining options are available, the Bistro and the specialty dinners held at the farm.
Try: If you can time your visit for a farm dinner, that's a special treat. At the Bistro, I recommend the Mac'n' Cheese for the ultimate in comfort food.
Location: 1964 13th Street, Boulder. Website here.
Falafel King
The first time I walked by, there was a line out the door and I didn't want to wait. I waited for it to clear out a bit, and am glad I did. I also understand why there's often a long line.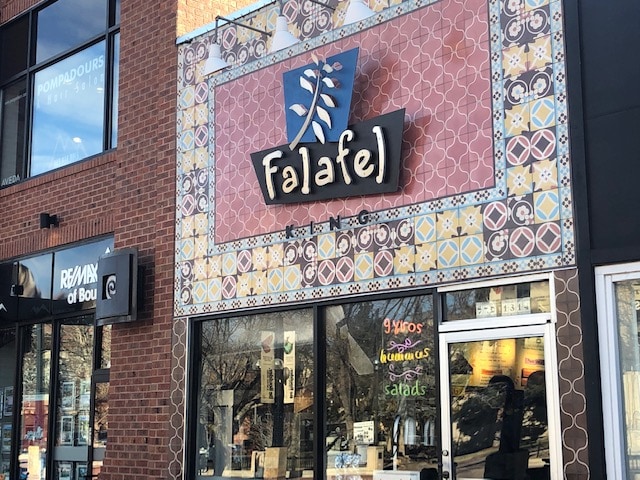 Fresh and flavorful of hallmarks of Mediterranean dishes and this simple restaurant hist it out of the park. You'll find the usual menu choices, all freshly prepared while you watch. Order at the counter just inside the door, then find a table and dig in. You can also find Falafel King products at your local upscale grocer, including a variety of hummus flavors, pita, and falafel balls.
Try: Greek Salad with an add-on of falafel balls. Simple and delicious. You can add a protein if you wish.
Location: 1314 Pearl Street, Boulder. Website here.
Bohemian Biergarten
This gastro-pub gets its inspiration from the owner's home country, the Czech Republic (Checchia). Its central European design and vibe include original brick and vaulted ceilings in a historical building in downtown Boulder.
Come for the bier, stay for the food! A nice selection of beer is available on draft, with a heavy emphasis on German and Czech choices. A few local Colorado beer choices are also available. It's upscale, yet casual fun – if you've been in a pub in central Europe you'll know what I mean.
Try: A beer and Polish Pierogies (shareable) make a great light meal. If you're hungrier, Bohemian Beef Goulash is delicious. The portions are good-sized, so consider sharing. Or taking home leftovers.
Location: 2017 13th Street, Boulder. Website here.
Zoe Ma Ma
This cozy restaurant is situated on the west end of the Pearl Street Mall and is famous for its vegan dumpling, cool noodles, and stir fry chicken soup.
The menu is simple, unpretentious, and limited. A good spot for when you want Asian food.
Try: Dumplings! I could eat dumplings every day, and these fried potstickers (pork, shrimp, garlic chive, and vegetables) are a very easy decision. Cool Noods (fresh chilled organic egg noodle with julienne of cucumber, bean sprouts, and ginger-sesame dressing) are also tasty.
Location: 10th Street, Boulder. Website here.
OAK at Fourteenth
Featuring seasonally inspired menus with locally grown ingredients, OAK gets its name from the oak-fired grill and oven. Serving New American cuisine, the restaurant decor is sleek and minimalist, with beautiful hardwood floors.
OAK's bar is equally beautiful and a great stop-off place for adult refreshments. The wine and cocktail program are impressive.
Try: For a signature cocktail, try the Shampaign 2020 (Suerte Blanco Tequila, blackberry, raspberry, Longtucky Amaro, lime, chocolate, Prosecco) and cut some of the sweetness with Blistered Shishito Peppers. For dinner, I prefer to order a couple of small plates rather than a larger entree, although ordering a variety for the table and sharing is also a good option. The Tempura Fried Red Wagon Squash Blossoms (lobster, scallion, cream cheese, sour orange sauce) and the Smok Brisket Lettuce Wraps (sweet chili BBQ sauce, Persian cucumber, crispy shallot) are good choices.
Location: 1400 Pearl Street, Boulder. Website here.
Where to Stay in Boulder, Colorado
Hotels in downtown Boulder tend to be more pricey than those on the outskirts of the city, so consider what you're activities will be – and where they are located – as part of your decision. Spending all your time in the car rarely offsets a higher price, but if you're headed to the slopes, quick highway access may make more sense.
Here are a few recommendations.
Hotel Boulderado
Located in downtown Boulder, a block from the busy activity of Pearl Street, this historic hotel is the oldest in Boulder. The Victoria-styled interior is as beautiful as the exterior, and while some may feel the decor is too fussy, I loved it. Their onsite restaurant, Spruce Farm & Fish, is worth a visit. Rates and booking information here.
Element Boulder
The overarching concept of Element Hotels centers around three rest components: Arrival, Evening Ritual, and Restful Turndown. It's about making a hotel stay a restful experience rather than a harried experience. Located a short way from downtown Boulder, about a 15-minute drive, the hotel offers communal rooms with a common kitchen, dining, and living area, with four rooms connecting to it. Read my review here. Rates and booking information here.
Embassy Suites Boulder
Located within walking distance to the University of Colorado Boulder, the Embassy Suites has all the facilities and amenities that you expect from the brand. With so many complimentary amenities included in the room rate, this is a popular spot to stay. Rates and booking information here.
Millennium Harvest House
Conveniently located near UC Boulder, the Millennium Harvest House is popular with visitors attending a game at Folsom Field as it is the closest lodging to the field. Nearby are miles of trails for hiking and biking at Boulder Creek; Eldora ski slopes are also nearby. Rates and booking information here.
St. Julien Hotel & Spa
An upscale hotel, located a short walk away from the Pearl Street Mall, this spa property provides a nourishing respite after an active day. Have morning coffee on the terrace and enjoy the dramatic views of the Flatirons. Rates and booking information here.
Foot of the Mountain Motel
Adjacent to several parks and trail-heads and located in a residential community along the Boulder Creek, Foot of the Mountain is a retro-rustic spot to stay. It is the oldest continuously operating motel in Boulder, dating back to 1934, and while it has been updated over the years, it still has some of the original quirks and eccentricities from the early days. Rates and booking information here.
Boulder University Inn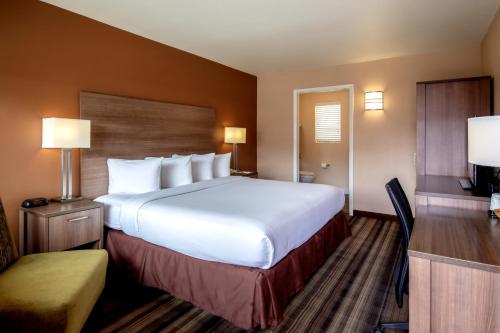 When you need something inexpensive, Boulder University Inn is a popular choice. Whether you're a student on a budget visiting nearby UC Boulder, skiers more concerned more with slopes than a room, or just simply want a good cheap place to stay, this is your best option. Still within walking distance of the university campus and other popular Boulder attractions, this won't break the bank. Rates and booking information here.
You'll find information about other lodging options and where to stay in Boulder and the surrounding area here. Or try our search widget below.
This map is a handy guide to helping pick the right area and the best hotel in Boulder, Colorado.
How To Get to Boulder, Colorado
From Denver International Airport, Boulder is only 45-minute drive away and only 15 minutes longer than drive from downtown Denver. Since the roadways are accessible all year round, driving to Boulder is very easy.
For without tolls, take Pena Boulevard and merge onto I-70 to I-270 west and continue heading to highway 36 to get to the east side of the Boulder. This route usually takes about 45 minutes if there is no traffic.
To follow the route with tolls, take toll road exit E-470 North to the Northwest Parkway and head to Hwy. The duration of your journey depends on the traffic and the length of your checking, especially if you have a rented car.
Planning a Trip to Boulder, Colorado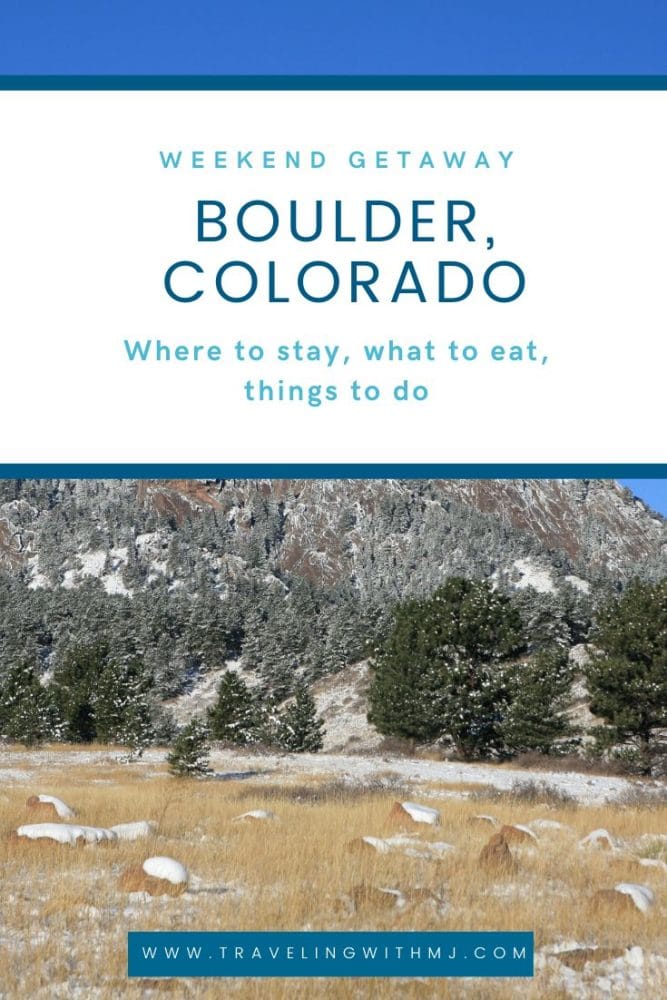 Disclosure: This article was written with the assistance of sponsored travel.