Tamagear Mid Layer Jacket
Product:  Perfect Mid Layer Jacket from Tamagear
Features:  Tamagear's Mid Layer Jacket is a new production item.  It's soft, comfortable and stylish, and was designed with both fashion and practicality in mind. Made of a polyester/spandex blend, it features four strategically located pockets. It serves as a great mid-layer on those cold days when a heavier coat would be required and layering is a must, but is a perfect lightweight "only" layer on cool, but not cold, days.
What I thought:  I'm the person that's always cold. Friends may be in shorts and a t-shirt, but I'm the one carrying a sweater. And since I frequently have to pack for widely varying weather – Hawaii and New York in winter time – I need clothes that layer and do double duty. I don't want to be lugging around a heavy suitcase filled with one-wearing only clothes. I received a women's medium size and a men's large size to test out.
What was great:
Stylish with a variety of fashionable heathered colors. For women, fuschia, emerald, blueberry and pewter. For men, crimson, marine, and charcoal.
Lightweight, easy to roll and pack in a suitcase or stash in a backpack, but still provided enough warmth on a chilly spring day.
Water repellant and breathable. I was caught in a quick shower (not a torrential downpour, but pretty darn rainy) and while the jacket was damp, it never penetrate to my skin or light layer beneath. Despite the downpour, the jacket was only damp, not soaking wet and cold, and I was dry.
Well placed pockets that could hold my keys, wallet, phone, and a few other items. Most importantly, the pocket placement made sense and they wer easy to access.
Easy to launder (just toss in the washer, then tumble dry). I've washed mine three times and haven't seen any pilling, shrinking, or loss of shape. Many clothing items can't stand up to a rigorous laundry test, but this one met by standards.
Limited lifetime guarantee:  " If a TAMAGEAR product is damaged by any failure in manufacturing defect, even after extended use, we will repair the product, without charge, or replace it. The TAMAGEAR lifetime limited warrantee & repair guarantee means we offer a full warrantee to the original owner of our products materials, construction and workmanship for the lifetime of the product. Rips and tears from extreme use, we will either repair it or replace it at a minimal fee." Hopefully you'd never have to find out how that guarantee works.
Tamagear has a full product line in addition to this jacket.
Sold direct to consumer to keep pricing as low as possible (but see below for more comments on pricing).
What wasn't quite as great:
The Mid Layer Jacket is not in production yet and I thought the sizing on the review samples I received were a little off. The women's sizing seemed to run and little small and the men's a little big. I'd expect this to be resolved in full production, but it's something to keep in mind when placing an order.
Placing an order, well, yeah, you can't. Tamagear has done the research and development on this new product, but is relying on the kindness of strangers to bring it to market. They're using a Kickstarter campaign to fund production and currently are only 20% of the way to their goal. If this product seems like something you'd like to buy, head on over and make a small pledge. If the project is not fully funded by Thursday, May 8th, 4:22 am (Pacific Time), all funds will be returned.
Unknown price point. Again, I "get" it. Until the jacket is in full production, pricing in an unknown factor. As much sense as that makes, it still kept me from awarding it a third heart. More on the pricing below.
Who its for:  Travelers, adventurers, outdoor enthusiasts, anyone who needs to balance warmth and protection with quality and weight.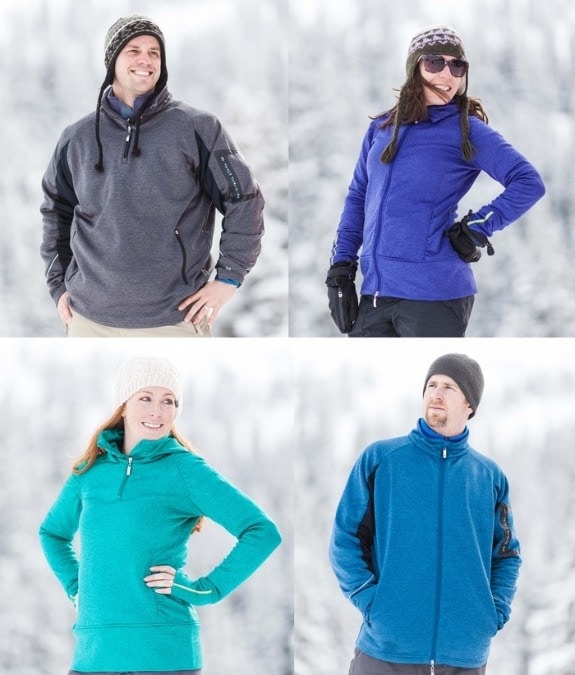 Price Range:  Unknown. BUT – the Kickstarter campaign gives you a chance to pledge $100 and get a Mid Layer Jacket in your choice of size and color (scheduled for August delivery based on full funding). That's a heck of a deal! I'd expect the price point to be higher when it goes into full production.
Personal Notes:  It was fun to review a product that has yet to come to market, although it did present challenges with a few of the unknowns. I think this is a quality product with lots of potential — if they get funded. If you agree, you can help them out. You can follow Tamagear on Twitter and like them on Facebook; they haven't quite gotten social media figured out, but they're giving it a good try.
Disclosure:  I received two complimentary jackets (as referenced above) for the purpose of a review.