We sailed on Emerald Cruises' Emerald Sun on a 9-day Enchantment of Eastern Europe 9-day itinerary. We covered much of the lower Danube as we traveled from Bucharest to Budapest, with stops in Bulgaria, Serbia, and Croatia. We saw riverbanks and towns teeming with rich culture and history, including castles, fortresses, and, unfortunately, battle scars from more recent wars.
We are unapologetically cruise lovers. Big ships, small ships, and ships in between. Oceans, rivers, canals. We enjoy them all for different reasons, different occasions, and different experiences. We believe there's a cruise that's right for most every kind of traveler. It's just a matter of considering your interests and preferences and matching them up with a cruise line and cruise itinerary that meets those preferences.
Knowing where to start, and the questions to ask may seem complicated. That's why we continue to write about different types of cruising, different ships, different cruise lines, and different itineraries. And we go indepth, all in one story, so you don't have to hop around looking for everything. You'll find everything you need to know right here – cabins, food and beverage, pricing, itineraries, what we did, any mistakes we made, and all of our recommendations. Our goal is to help you make an informed cruise choice.
This was our first sailing on Emerald Cruises. Last year we sailed on their sister cruise line, Scenic, on a Windmills, Tulips, and Belgian Delights itinerary, so we had a little idea of what to expect. The Enchantment of Eastern Europe itinerary was compelling to us, and one that only river cruise ships could provide. Further, Emerald's nearly all-inclusive casual luxury is attractive. Emerald Cruising pricing included gratuities, airport transfers, drinks at meal time (beer, wine, soft drinks), wi-fi, and daily excursions. That's a lot of value packed into your cruise budget, all without being fussy or pretentious.
Let's get to it – here's what we discovered sailing on the Emerald Sun. (Note: We received a complimentary sailing as media covering the ship and the itinerary.)
The Ship: Emerald Sun
The Emerald Sun joined the Emerald fleet in 2015, just two years after the launch of the company. The Sun measures 442 feet in length and can carry 180 passengers and 51 crew. That 2.8:1 guest-crew ratio, helps Emerald deliver a passenger-focused cruise experience.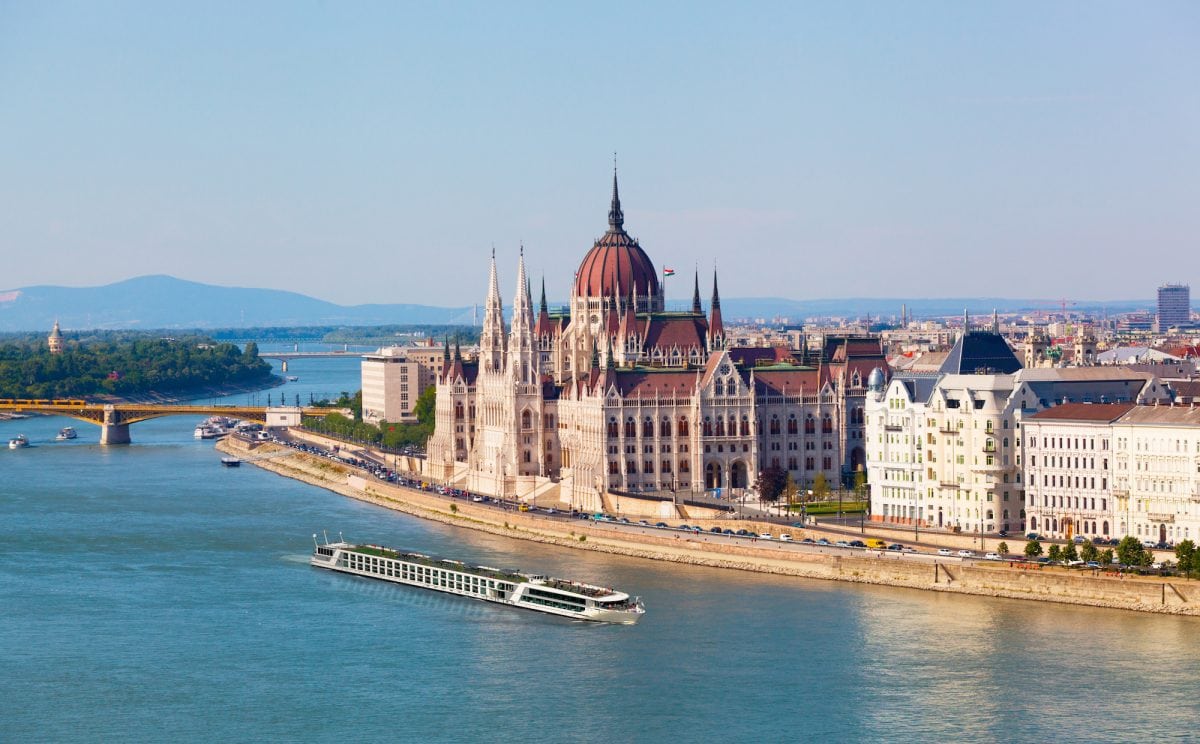 The ship is small, with cabins and public area covering four decks. The ship feels spacious, though, and is easy to navigate. Lines only backed up a bit during meals and disembarkation.
Sun Deck
The top deck on the ship is the Sun Deck. With deck chairs and loungers, it's a great spot to settle in with a good book on sunny days. There's a putting green, a large tic-tac-toe board, walking track, and spots for outdoor games and other activities. Morning yoga and stretch classes are found here as well.
In the center of the deck is the wheelhouse, home to staff manning the navigation of the ship. Except when transiting the locks, or while cruising in Budapest, guests are welcome to pop in and see how the sailing process works. One night, we chatted with the captain about what the lights were along the river bank. He shared his work schedule (basically a month on and a month off), talked a little about his background, and showed us a some of the navigation aids used to pilot the ship. The crew makes it look so easy!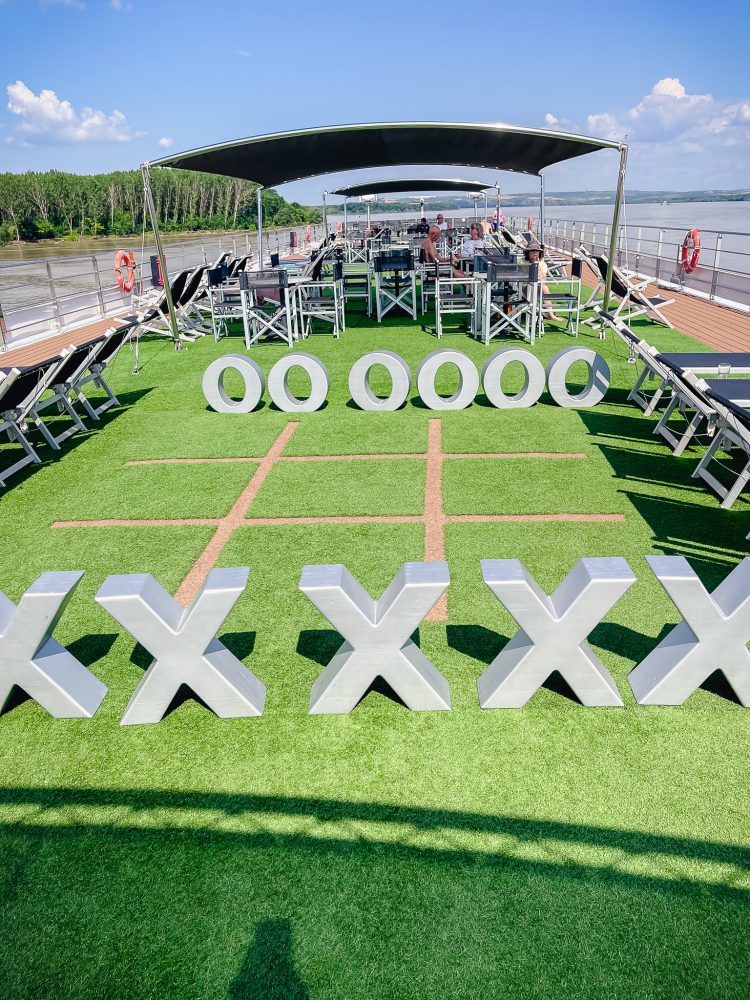 Along with fellow guests, we gathered on the Sun Deck as we sailed into Budapest and along the river in front of the Parliament Building and Buda Castle. This is a spectacular bit of waterway and the banks of the Danube from Gellert Hill to Aquincum, along with the Chain Bridge and Parliament, are a UNESCO World Heritage Site (1987). On the opposite side of the river, Castle Hill, the royal Palace, Matthias Church, and Fisherman's Bastion are also UNESCO sites (1987). You'll want to be outside for this!
Horizon Deck
The Diamond Deck features the Horizon bar and lounge, and an outdoor terrace at the front of the ship.
The Horizon Lounge was the primary meeting space for connecting with friends, conversation, port lecture and tour information, menu updates, entertainment, enrichment lectures, and silly trivia games. With floor-to-ceiling windows, the atmosphere was bright and cheery. During the day it was fairly quiet, and there was room to spread out for the few of us who had some work to accomplish while onboard. Service was solid, if not spectacular. While servers were friendly and fun, the room could have benefited from another server during peak times. Drinks in the Horizon Lounge are not included in the basic cruise price. There are drink packages available as upgrades, or you can do as we did, and pay for what we ordered.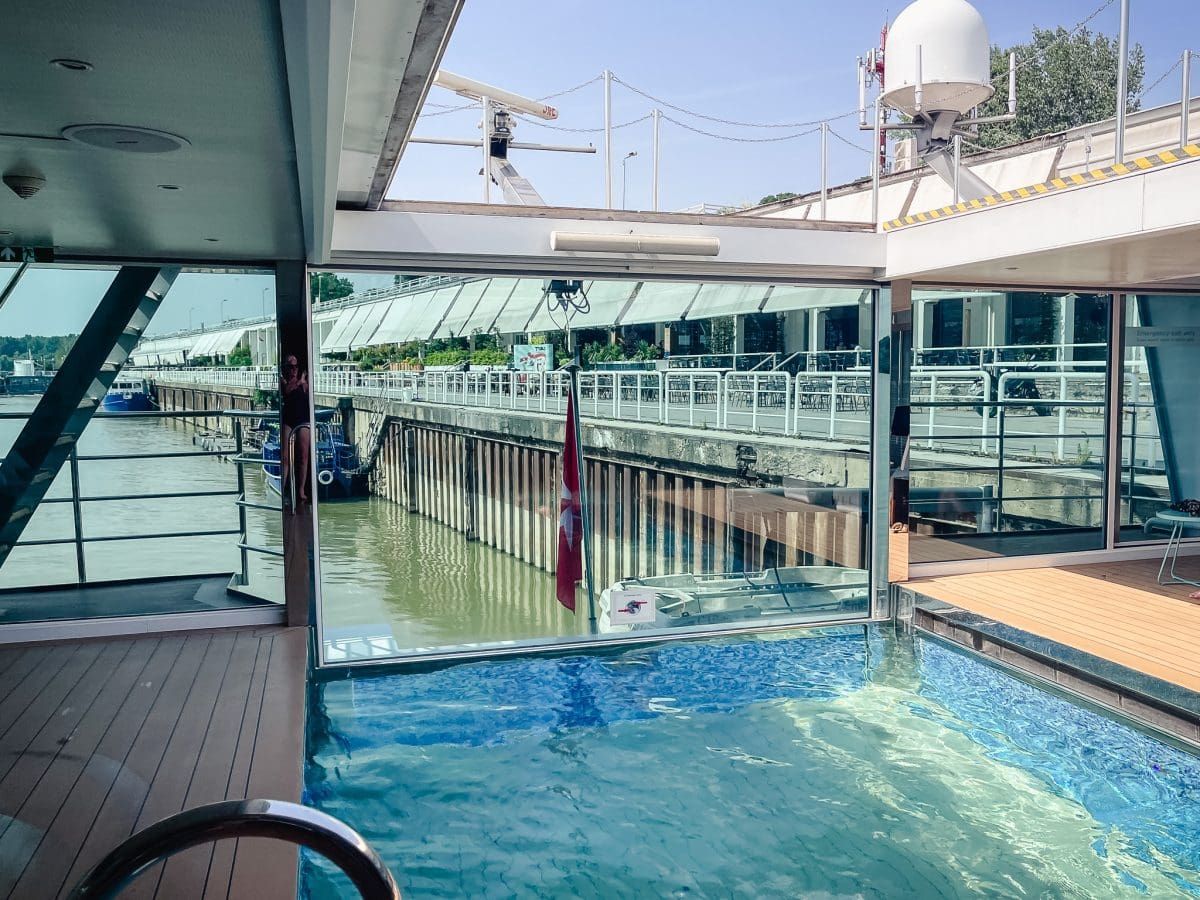 At the back of the ship (aft in sailing terms), is an indoor swimming pool with a retractable roof and view looking out at the water. I made a point to go check it out. The pool was warm, made even warmer by the glass surrounding it. Loungers, water stations, and a small bar are available for refreshments. At night the pool turns into a movie theater, with a floor coming up to cover the water. The chairs and loungers are all turned to face a pull-down screen. I regret that I didn't stop off to take advantage of that configuration. Next time.
The rest of the deck is filled with suites, including Grand Balcony Suites, Owners 1-Bedroom Suites, and Emerald Panorama Balcony Suites.
Vista Deck
The Reflections Restaurant is located on the Vista Deck, with a kitchen (galley in sailing terms) located just forward of the dining area. This is also where you'll find the reception desk and a very small assortment of gift items.
Also on the Vista Deck is a Spa and Wellness Center, along with a fitness room. Massages, facials, and manicures/pedicures are offered in the spa. The fitness room had a bike, rowing machine, weight bench, and free weights.
Emerald Panorama Balcony Suites occupy the rest of the deck.
Riviera Deck
A small beauty salon is located on the Riviera Deck. The remainder of the public spaces are taken up with Emerald Staterooms and two Emerald Single Staterooms.
Restaurants and Dining
While I like to fancy myself a foodie, I probably have a hard stop on too many ingredients to fully fall into that category. Our expectations for food are reasonably basic. Fresh, flavorful, not too weird, and satisfying. Extra points for creativity, but we are not looking for Michelin-star meals every night.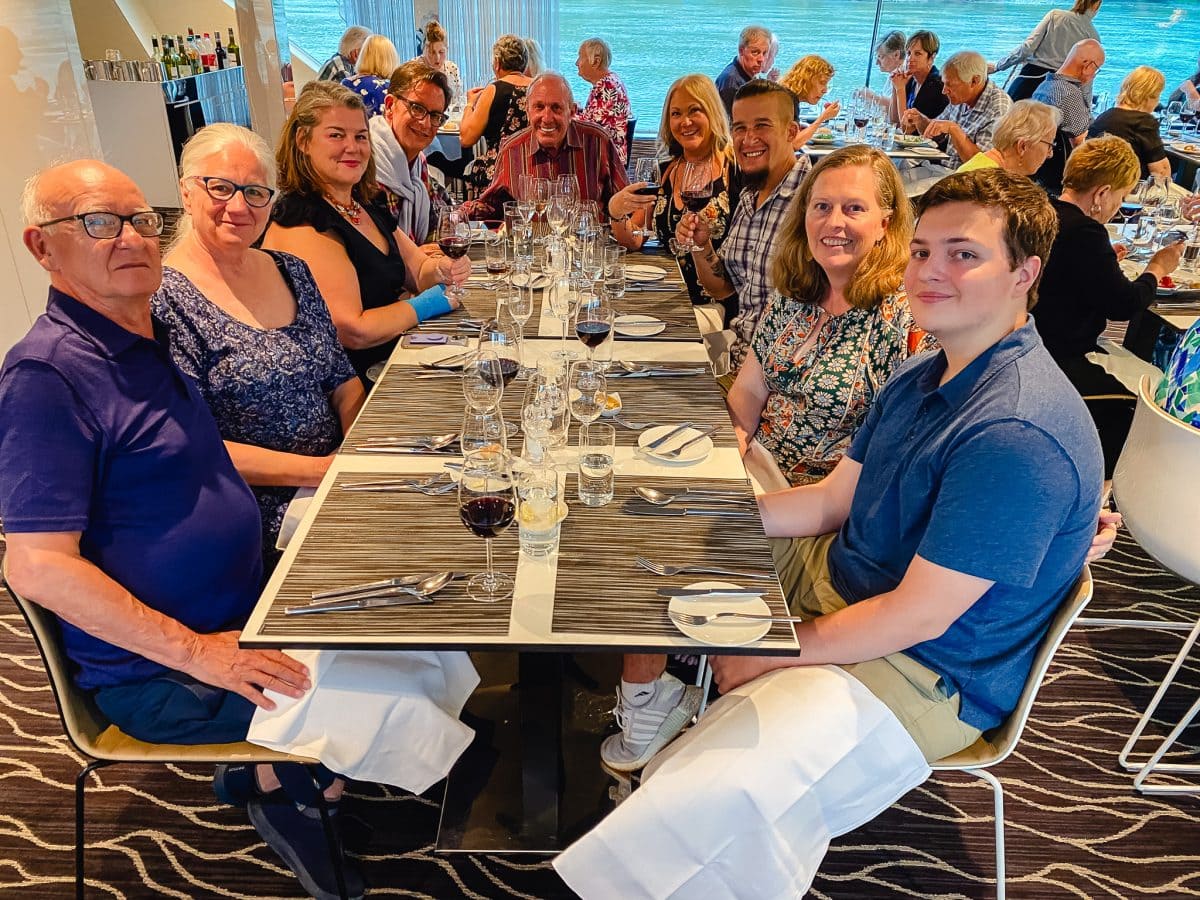 In general, we found the dining options and venues were great. Food preferences vary widely, including between the two of us, so we've kept these comments fairly general. We may have enjoyed something you will not, and we may have dismissed a dish that you will love.
It takes a lot of hard work to serve a dining room full of cruisers with varying expectations. While we thought the service in the lounge was a little spotty, the service in the restaurant was top-notch. We ate dinner with friends, making a group of nine. There were only a couple of seating options that could accommodate our group, so we ate at one of two tables. Our favorite waiter was Codi, who quickly learned not only our food preferences, but our sense of humor as well. And yes, I'd love some more red wine.
Meals
Breakfast is served buffet-style with an omelet station and a vast array of sweet and savory choices. The Terrace also offers light breakfast options if you're an early or late riser.
Lunch features a buffet-style assortment of entrees (with a featured pasta of the day), salads, and sides. There is also a menu for ala carte ordering. The weather was hot when we there, so my usual lunch was a salads with lots of veggies and a slice of one of the delicious house made breads. I always saved room for dessert, usually choosing from one of the daily gelato or sorbet choices.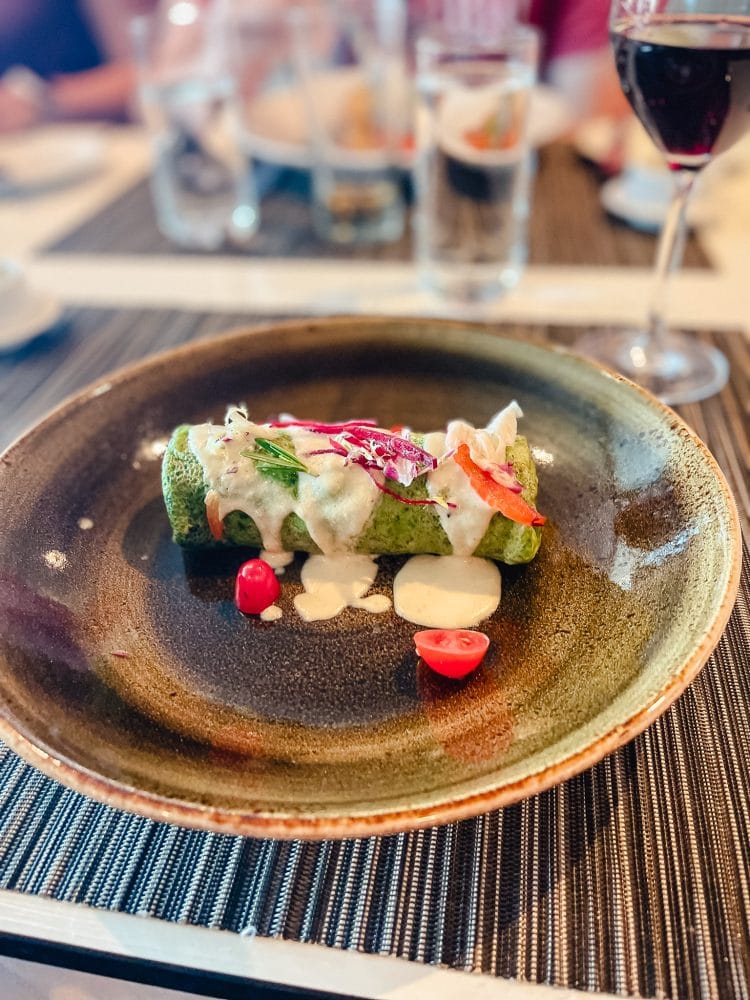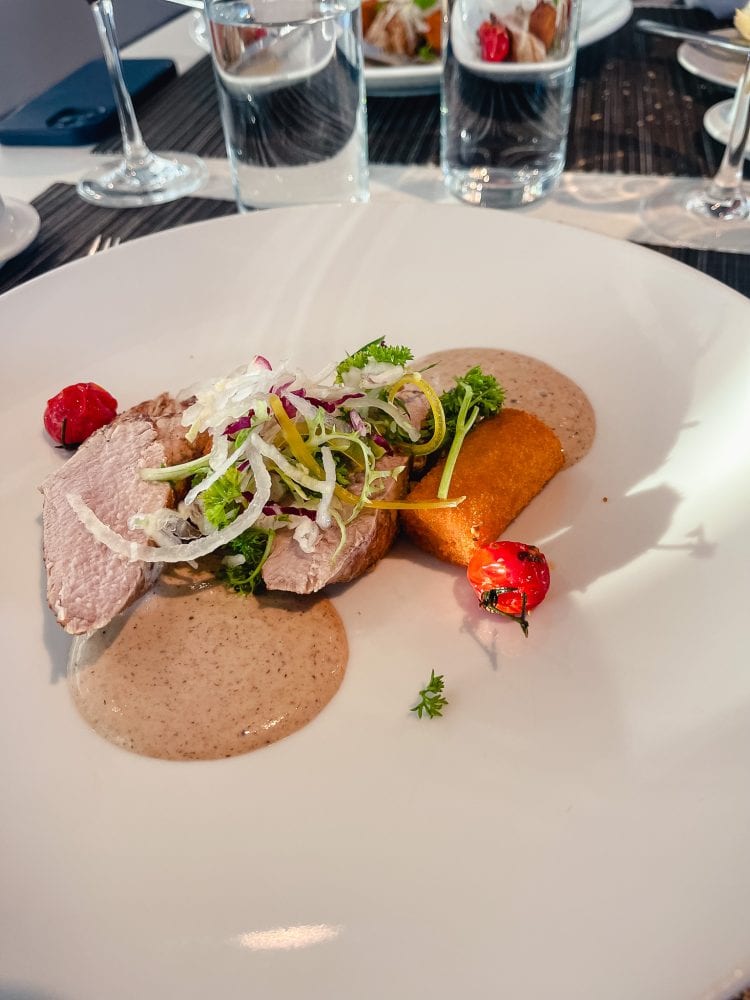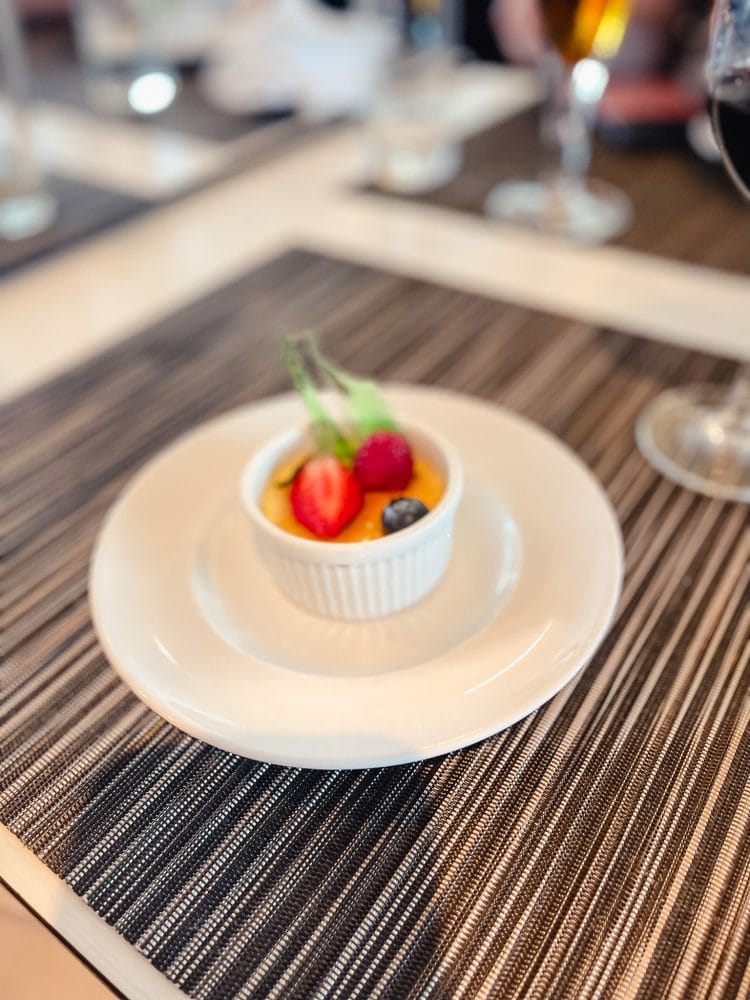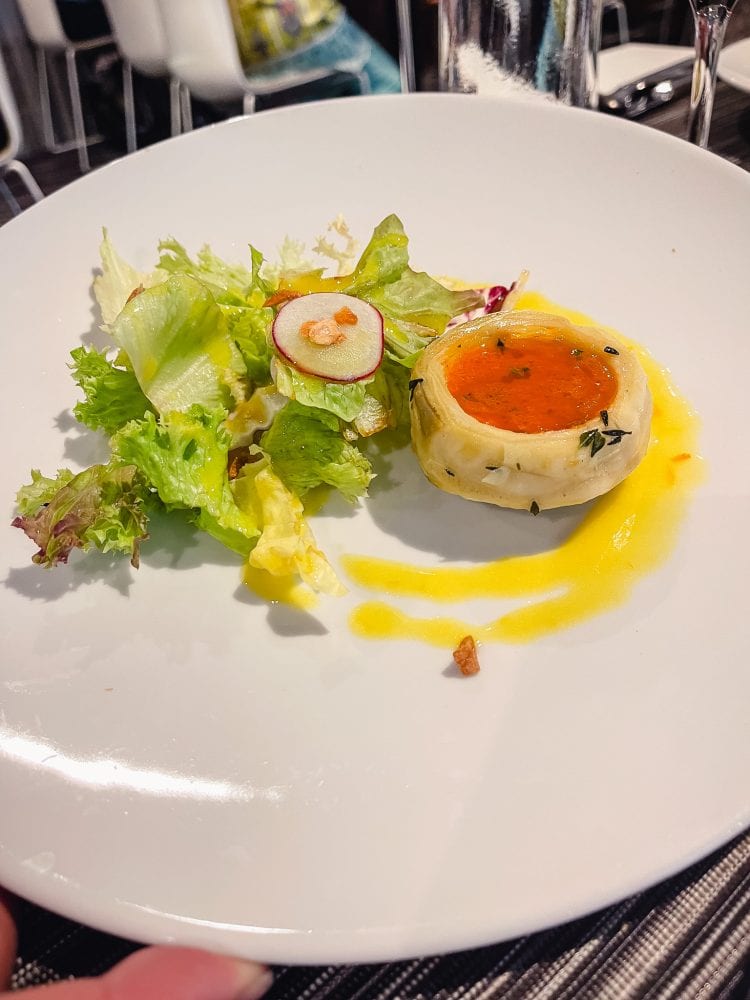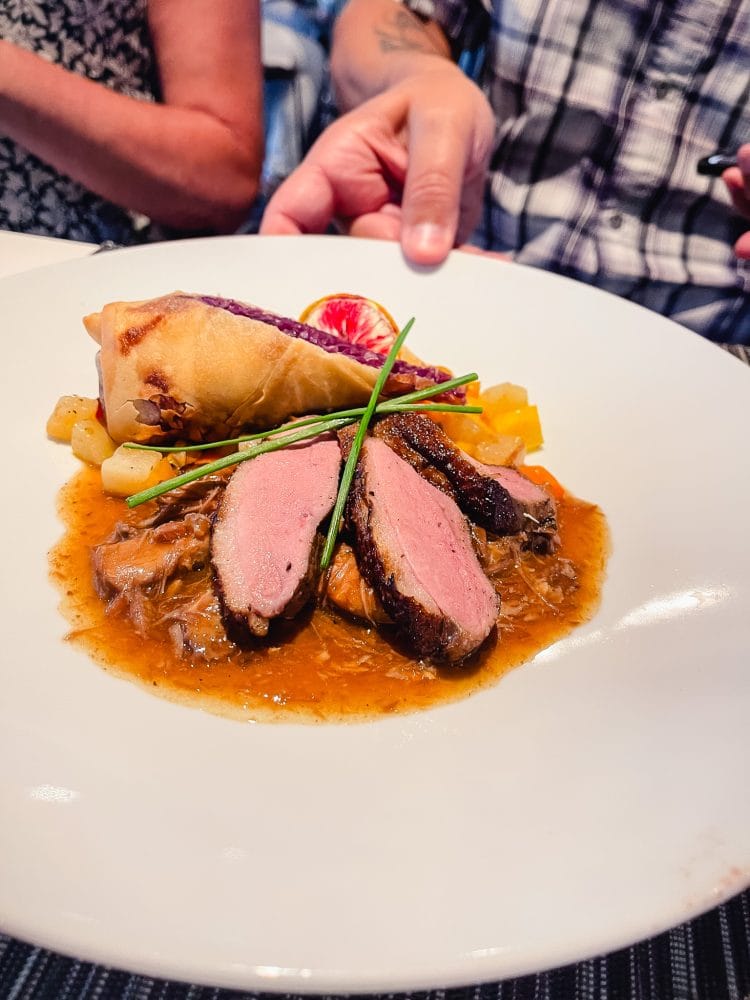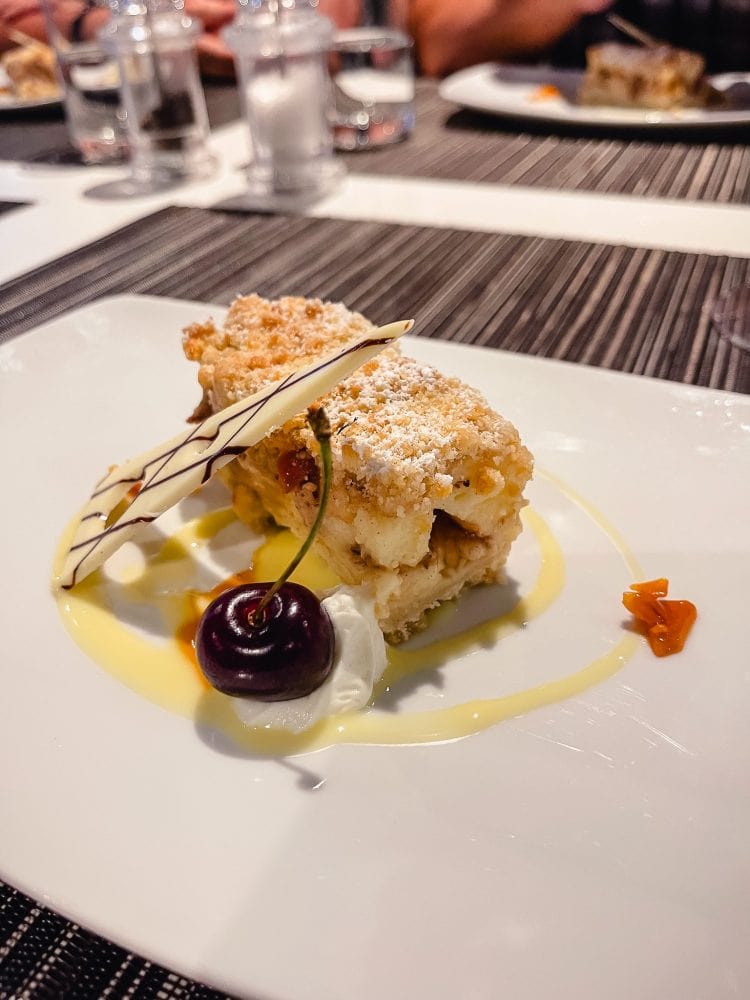 Dinner was a multi-course meal, with multiple options for each course. The chef always announced his daily recommendation that featured dishes inspired by local cuisine. A selection of options for each course was offered, changing daily. It was usually easy to make a choice, but on occasion, we'd fall back on the traditional favorites that were always on the menu (steak, grilled chicken, etc.). You can pick and choose among courses, creating the dining experience that works for you.
Special diets and allergies are accommodated.
Beverages
Beverages at meal time are included with you cruise price, including soft drinks, beer, and red and white wine. At other times, lounging on the Sun Deck or in the Horizon Lounge, these are available for an extra cost.
Various drink packages are available and can be added on to your cruise price. You can find general information here. The Message Us option on the website connects you with an agent who provided the following information. The price varies based on your ship and itinerary.
Cabins on the Emerald Sun
Selecting a cabin on a ship always stirs up a lively debate. Some cruise fans assert the best value is to buy the least expensive cabin because you won't spend any time in it. Other cruise fans assert that if you have a great cabin, you'll want to spend time enjoying it and upgrade whenever you can. While we generally agree with that latter position, we know that every traveler's value proposition and budget are different.
We set out the various cabin options on the Emerald Sun and leave it to you to determine the choice that's best for you.
Emerald Single State Rooms – Suitable for those traveling solo, or perhaps a couple traveling with a friend or adult child. Emerald Single State Rooms are 115 square feet and are the single version of the ship's entry-level cabins. There are two single cabins on the Emerald Sun, both located midship on the Riviera Deck. There is a small window at the top of wall that allows in light, but there is no balcony.
Emerald State Rooms – This in the entry level cabin on the Emerald Sun, and are located mid-ship on the Riviera Deck. The cabin is 160 square feet in size and also has the window at the top of the wall.
Emerald Panorama Balcony Suites – This is the entry level suite on the Emerald Sun, coming in at bout 180 square feet. At the suite level, cabins have a Star-Ship balcony with a small sitting area. This is a confusing name for what is, in essence, a French balcony that has a floor-to-ceiling window that can be electronically opened. It provides a little extra space in the cabin, lots of light, and I love the fresh air and river breeze as I'm looking out. These are located on the Vista and Horizon Deck. We stayed in this category of suites, Rom 218 on the port side of the Vista Deck.
Grand Balcony Suites – A slightly larger suite (210 square feet) with a few special amenities (complimentary laundry service, stateroom snacks and breakfast option). These Suites are located on the Horizon Deck.
Owners' One-Bedroom Suites – The top of the line in suite selection, measuring at whopping 315 square feet, with a walk-in closets and lots of luxury amenities. The four 1-bedroom suites are located on the Horizon Deck.
Enchantment of Eastern Europe Itinerary
The Danube is the second longest river in Europe, wending its way from the Black Forest in western Germany to its delta that flows into the Black Sea in Romania and Ukraine. All totaled, it cover 1,700 miles through much of Central and Eastern Europe. The Danube played an important role in the political evolution and settlement of this area – it was an essential trade route for major world powers and was a natural boundary between large empires.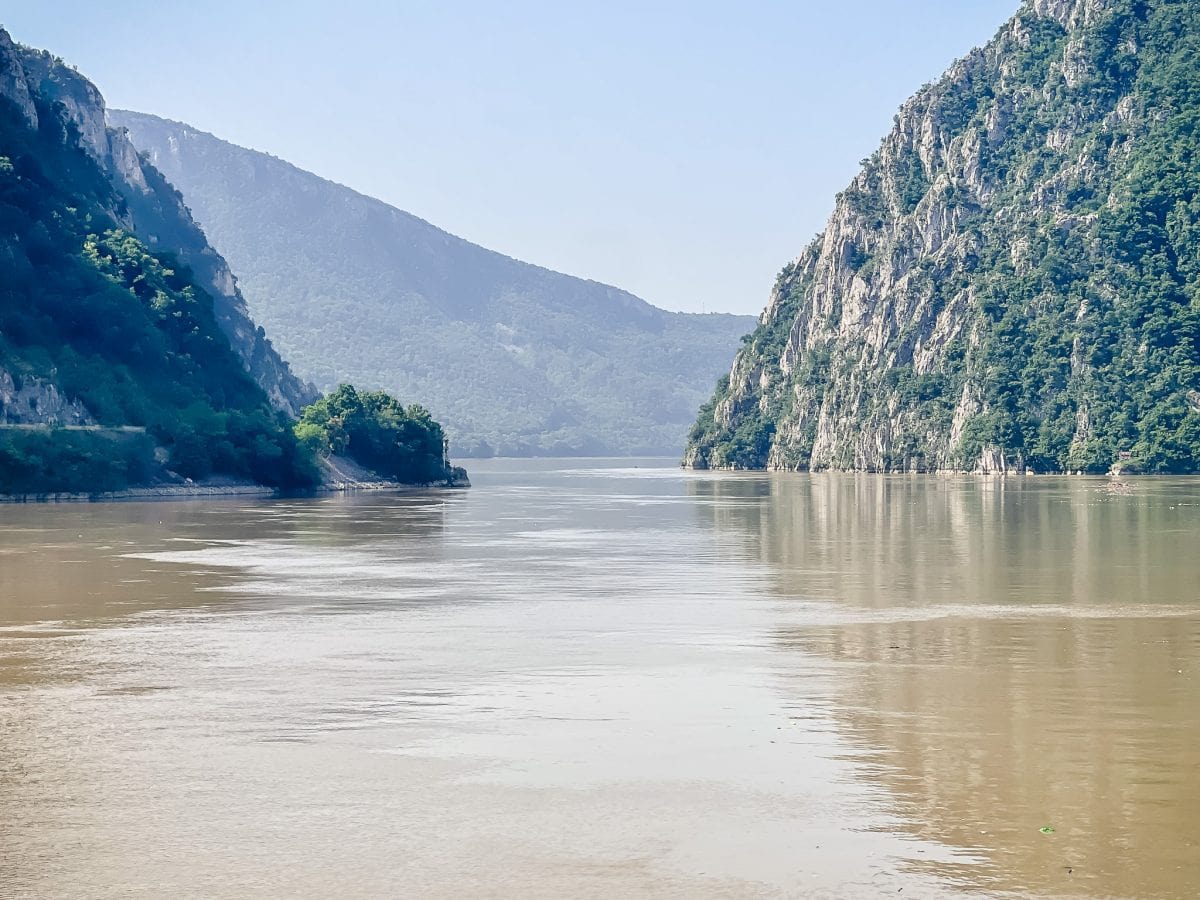 Your cruise from Bucharest to Budapest along the lower Danube River will take you through five different countries in nine days, allowing you to experience the magnificent scenery of Eastern Europe as well as the culture and history that the towns and cities that you'll visit have to offer. The itinerary operates in both directions, Bucharest to Budapest and Budapest to Bucharest. We recommend the former, for reasons we'll point out in the itinerary.
When we talk with people who are new to cruising the most common question we get is "What's there to do on the cruise?"
With experienced cruisers, we can talk using shorthand cruise and ship talk, pointing out how ocean cruises and river cruises differ, ship differences, and itinerary highlights with shore excursion recommendations. For those new to cruising, a little more detail is often needed to help make a booking decision – whether that's a decision to book a cruise (and on which cruise line), choose an itinerary, select a cabin, review an itinerary and make an excursion selection.
You can choose to be as active or inactive on a cruise as you wish. Go to all the port talks, socialize in the lounge, join a large table at meal times, and meet new friends on each excursion. You can also choose a less extroverted option, dining at a small table, touring independently, and spending time in your suite or quieter areas of the ship and avoiding crowds.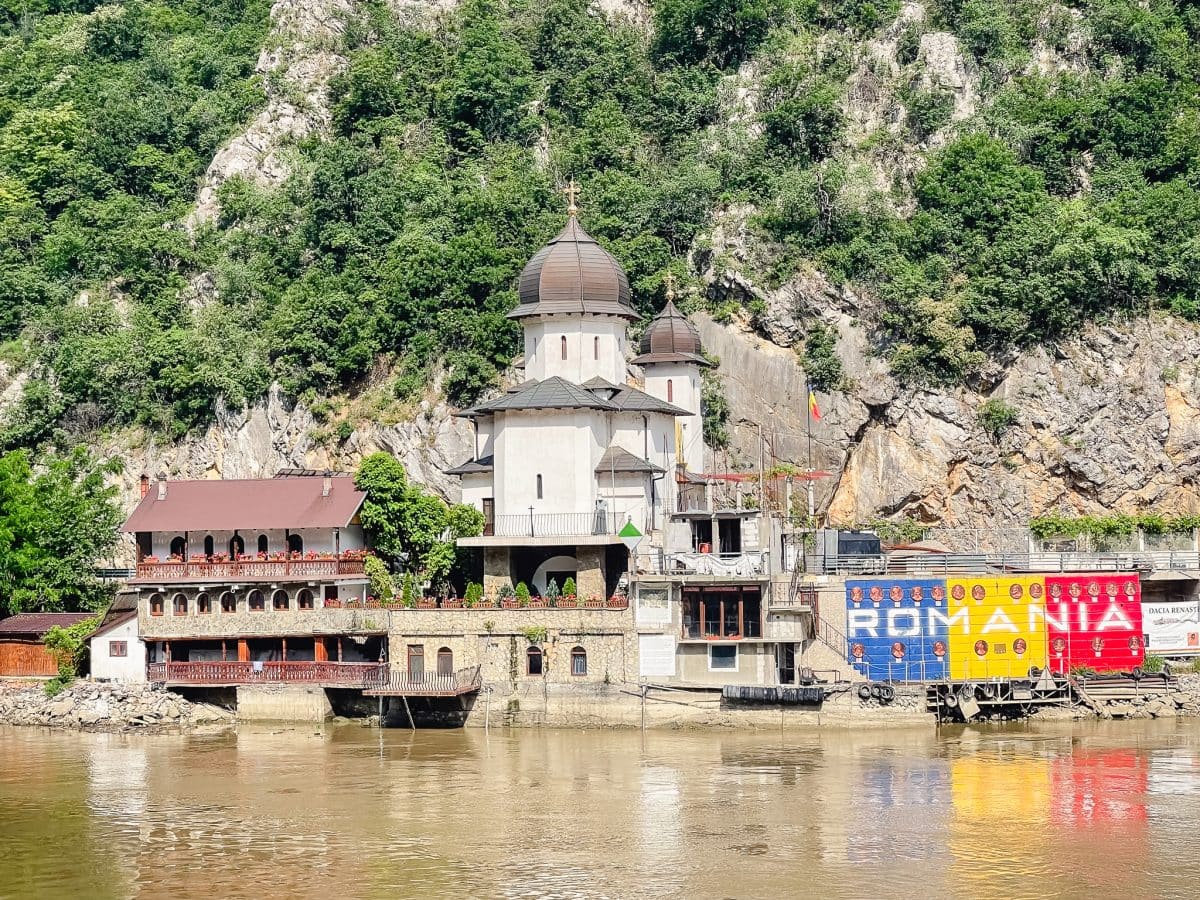 We have done and enjoyed both. It's all about the experience YOU are looking for. On this cruise we were traveling with a group of friends, so much of our meal and socializing time was spent as a group. We still managed to find alone time to get read or get some work done (me) or nap (Tony).
We try to provide lots of information about cruise choices, but remember, you get to define your perfect cruise vacation!
Here are the specifics about our itinerary, what we did in each port, and our recommendations.
Day 1 – Bucharest, Romania
Arrive in Bucharest, the Capital of Romania, and transfer to the hotel for the night. We recommend arriving in Bucharest at least one day early (as we did) and taking time to see a bit of the city as well as recover from any jetlag. I can normally shake off the time zone changes, but would never trust the vagaries of the airlines on a transatlantic flight. The itinerary includes a stay in Bucharest (the Radisson Blu when we sailed) on the first night, so you're ready to travel in the the morning. We booked an additional day on our own and were able to connect it to our cruise reservation so we didn't have to check out and back, nor change rooms.
And, there's plenty to do in Bucharest. It's a fascinating city, having earned the nickname "Little Paris" between World War I and World War II due to its sophistication and elegant architecture. Today, Bucharest is the economic, administrative, and cultural capital of the Romania, and is home to historic sites and attractions, museums, and academic institutions.
We arrived late at night, tired after a long day of travel. It was our first time visiting Romania, so there was lots we wanted to see, but the travel time and jet lag zapped our energy and we opted to select one area of the city to explore. We opted for Bucharest's Old Town, also called Centru Vechi, located in the center of the city.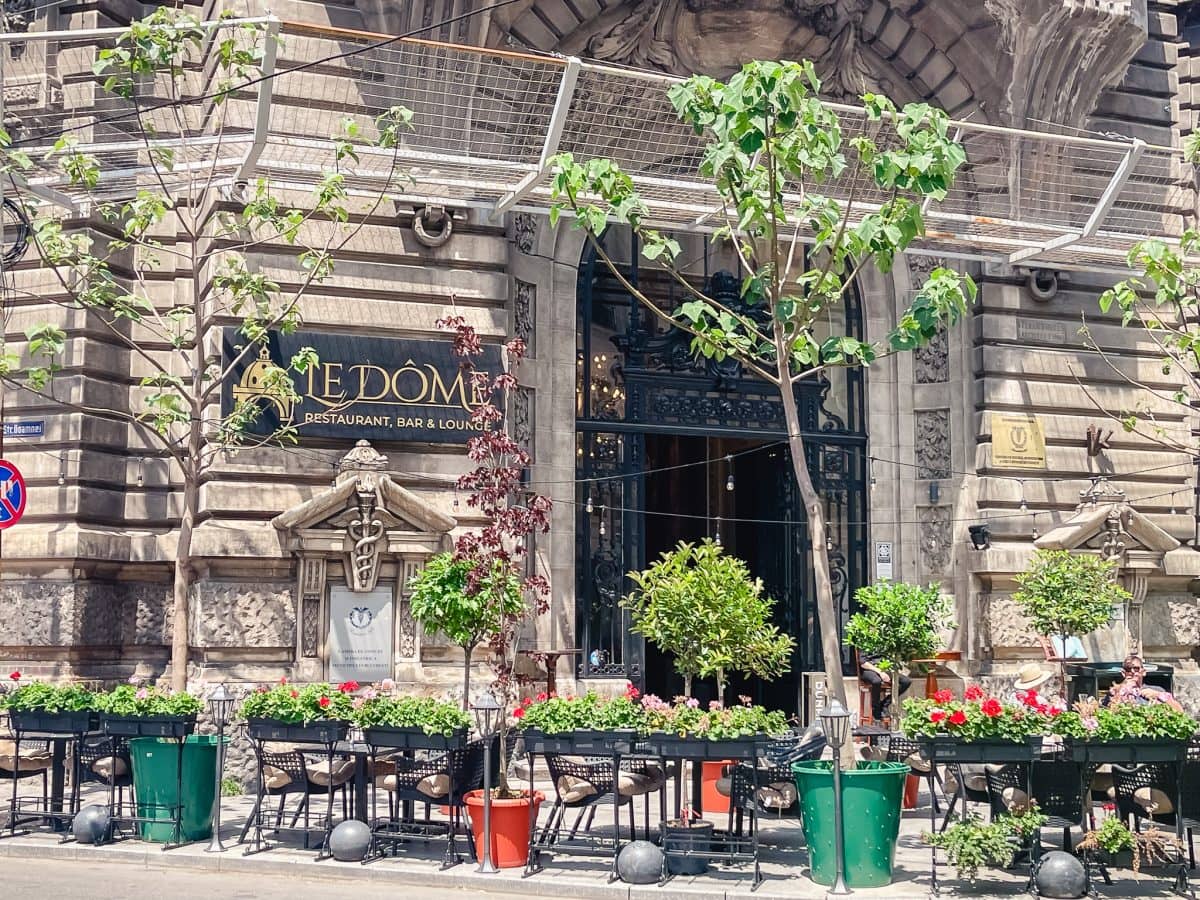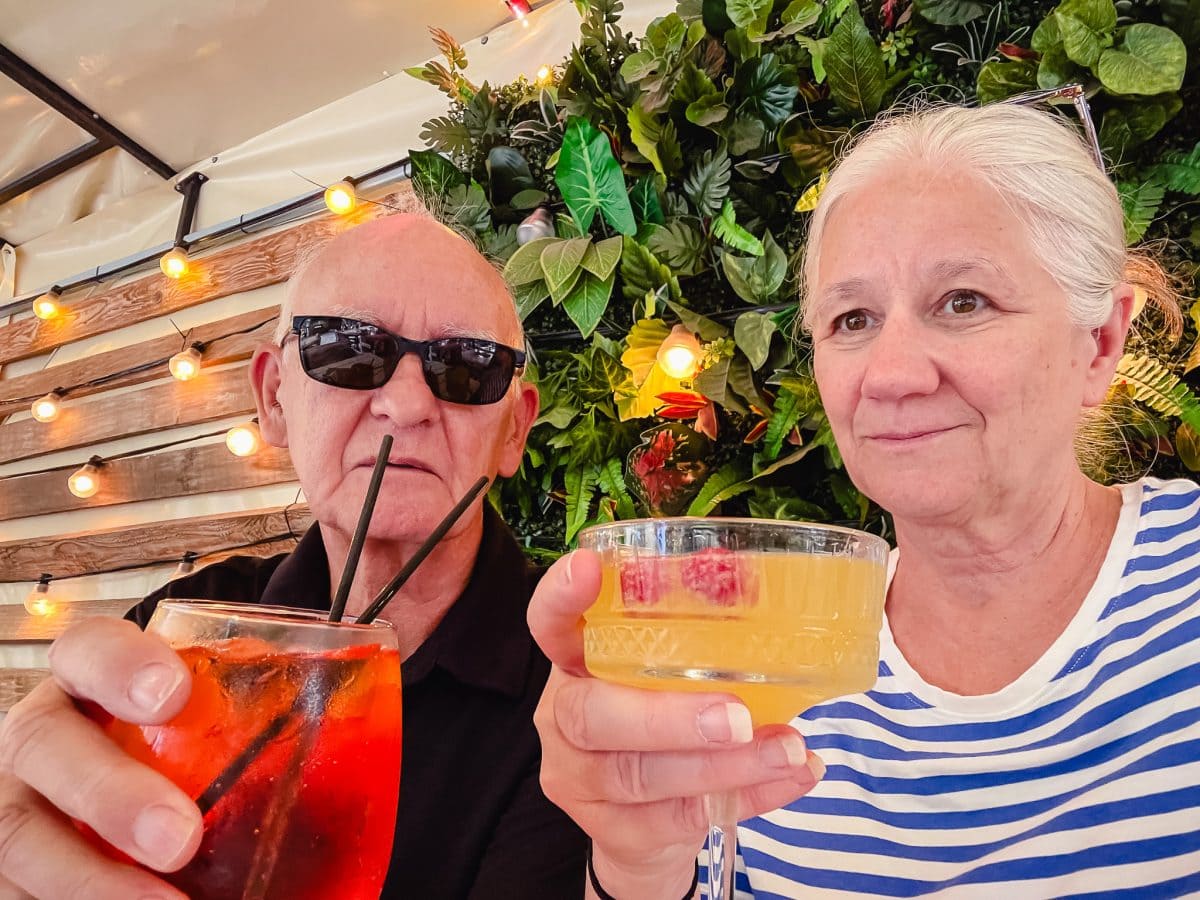 We wandered the cobblestone streets, taking in the architecture on Lipscani Street. We stopped at a couple of cafes for something to drink (it was hot when we were there) and lunch. We found a charming bookstore (Carturesti Carousel) to check out. We walked by beautiful churches, museums, and the impressive National Bank of Romania, It was a Sunday and families were out enjoying the day. We tried valiantly to join in that feeling.
In the evening we met up with other cruisers for our first official Emerald event. It was mostly a meet and greet, and an explanation of what would happen the following day when we began our travels. We were excited to be all set and soon to be underway.
Our recommendation: We got this one right. Come in early, rest up, do a little exploring.
Day 2: Bucharest – Giurgiu, Romania
This day was about moving from the hotel in Bucharest to the ship in Giurgiu. Located in the historic region of Muntenia, Giurgiu has long been used as a crossing point between Romania and Bulgaria, and was where we would board the Emerald Sun and begin our cruise.
But getting there wasn't in a straight line. We had a coach tour of Bucharest and while this isn't our preferred method of seeing a city, it did enable us to see some attractions that were a little farther afield.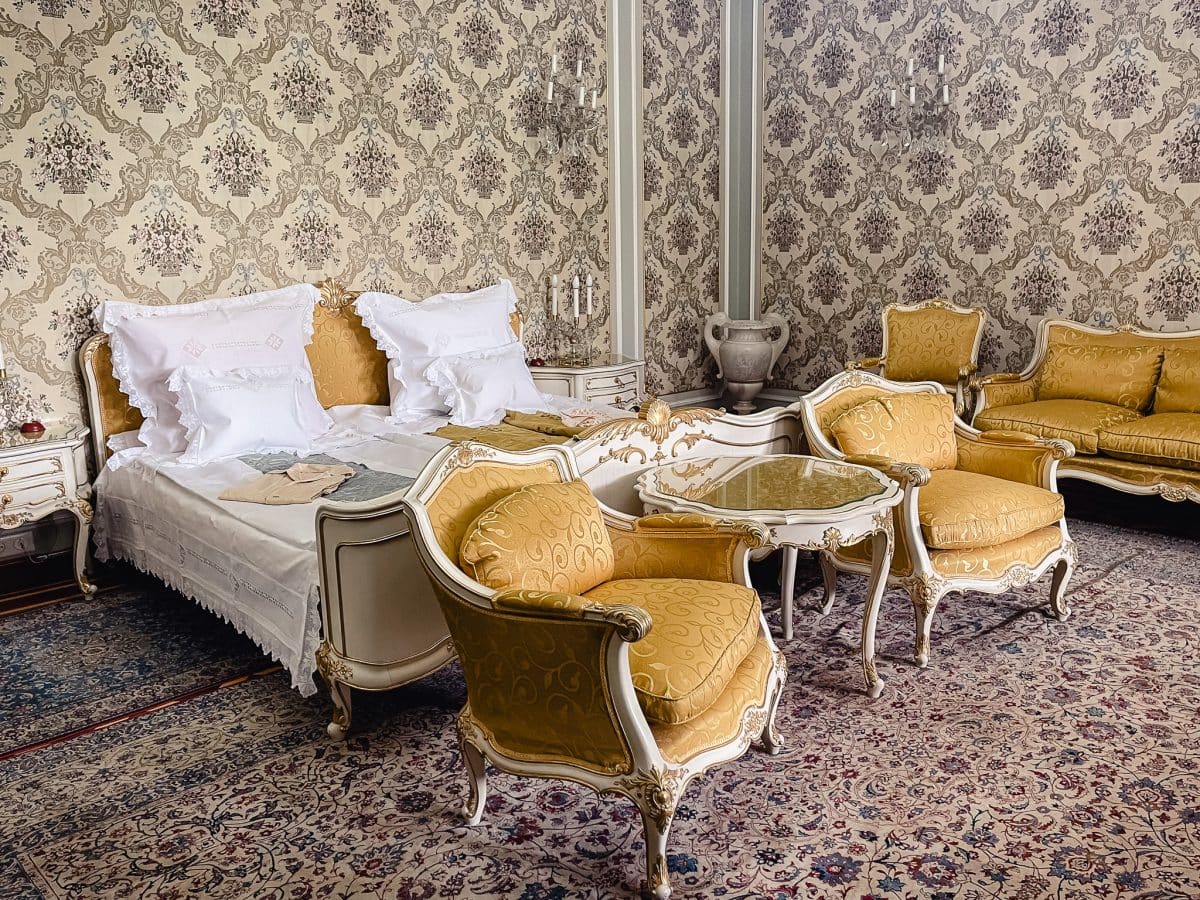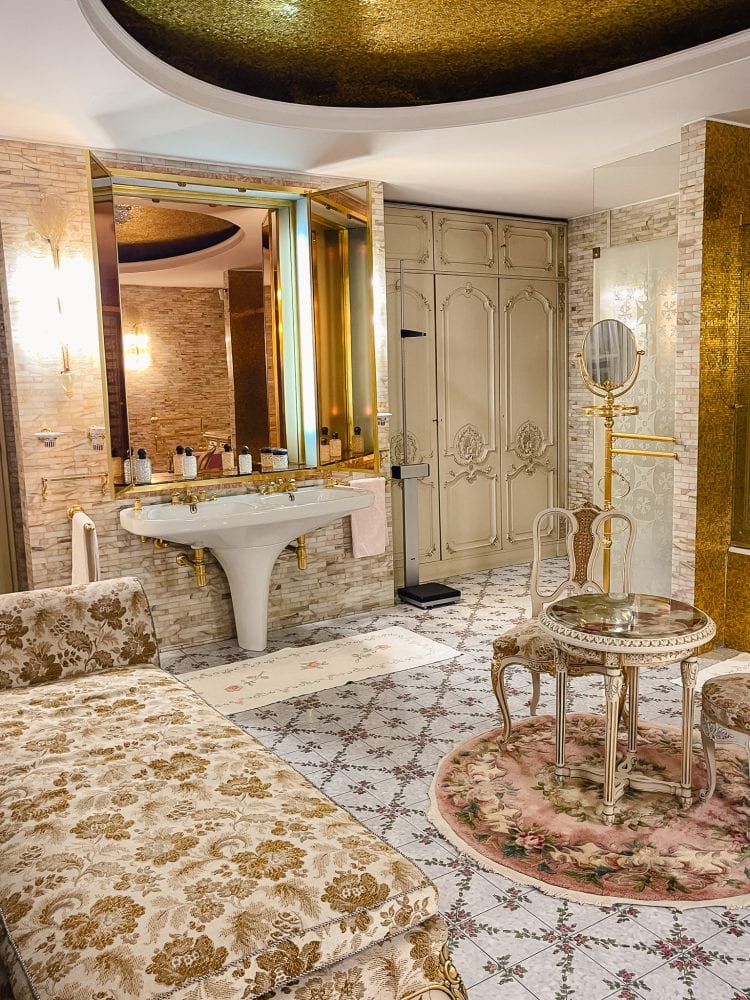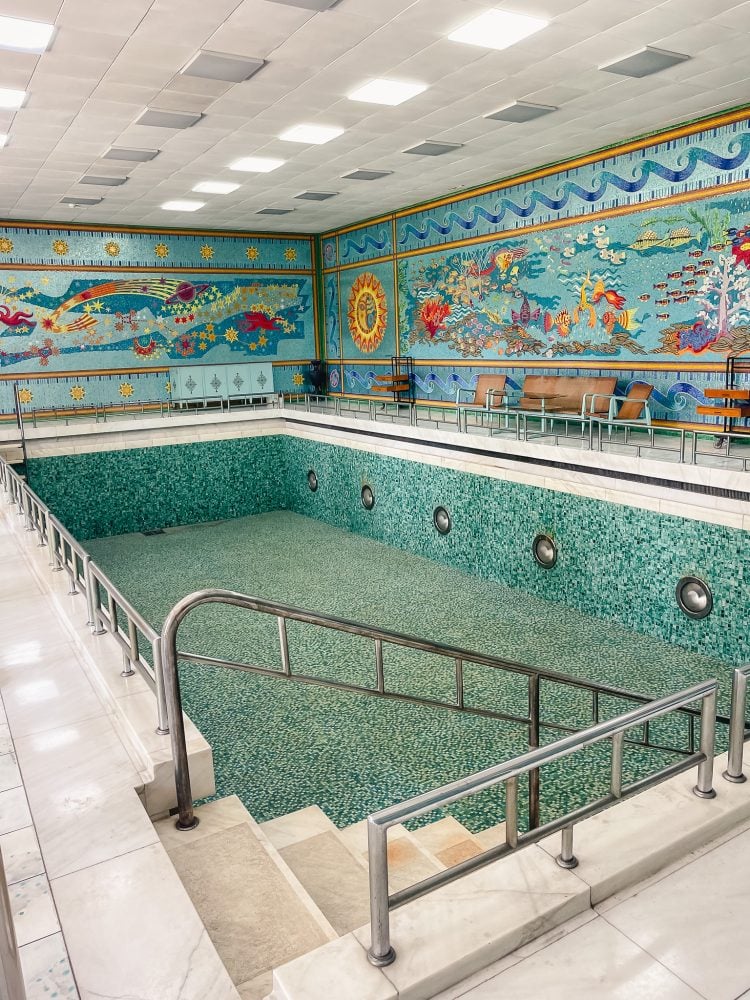 A highlight for us was a stop at the Ceausescu Mansion, also called the Spring Palace. This was the private residence of former Romanian dictator Nicolae Ceausescu and his family, and a display of excess so often part of brutal regimes. I thought I had a pretty good handle on Ceausescu's legacy, but visiting here raised lots of questions. I always think it's a good tour when the experience has me wanting to learn more.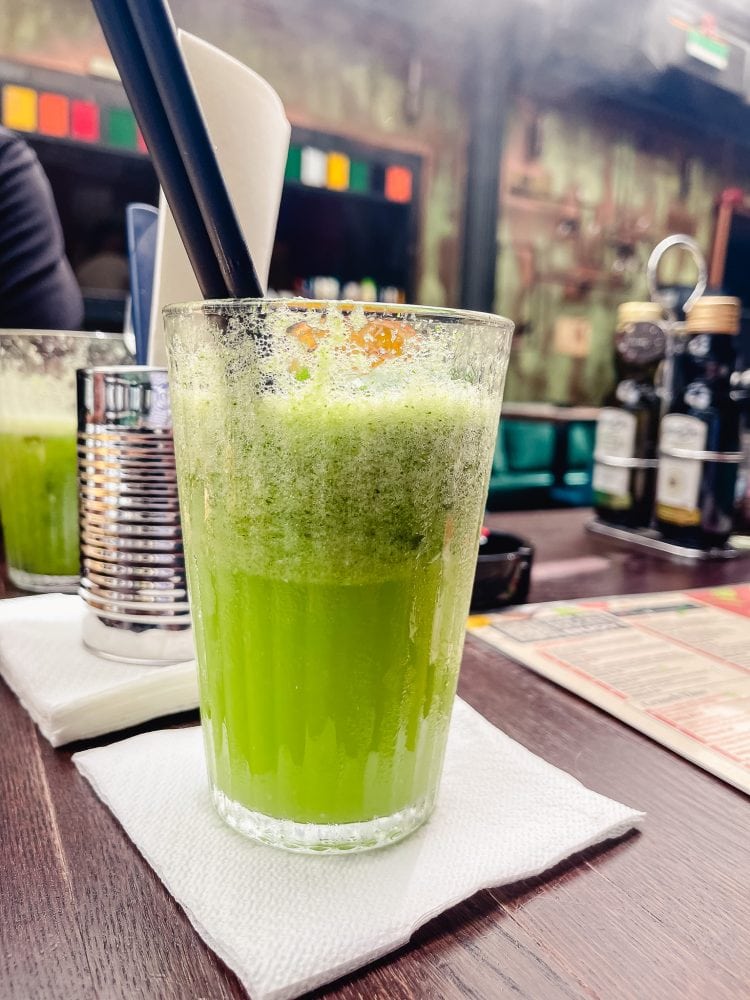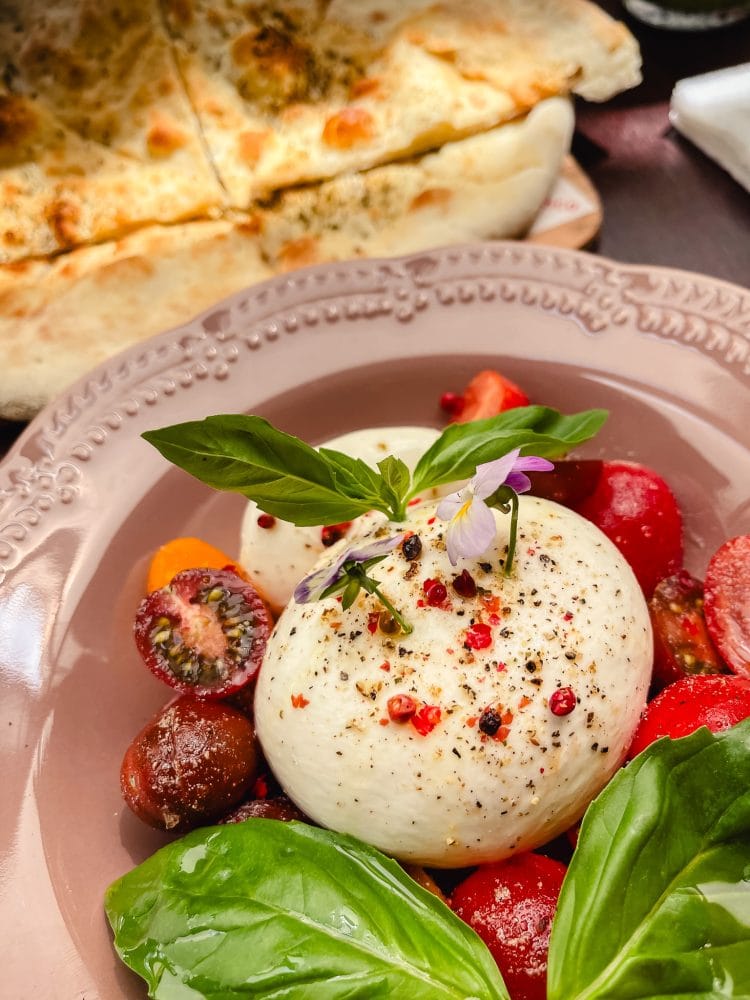 We also had some additional time to explore the Old City on our own. This time let us grab a bite to each, explore a few things we'd missed the previous day, and cool over with a refreshing beverage.
When we arrived at the ship, we were warmly greeted, offered a beverage, and began the process of checking in. This is normally a swift and easy process. The requirements of Romanian security meant an additional layer of bureaucracy and a little extra time. Soon, though, we were in our Suite, bags delivered, unpacked, and ready to be under way.
Our recommendation: Nothing to choose from on this day. Have fun!
I always love reading about places I visit. If you're interested in reading books set in or about Budapest here are a few suggestions:
Day 3: Rousse – Veliko Tarnovo & Arbanasi, Bulgaria
Rousse (also spelled Ruse), the fifth largest city in Bulgaria, is located on the banks of the Danube right opposite Giurgiu. The city is home to Bulgaria's most significant port and, as such, is an import part of international trade. The city is also known for its 19th and 20th-century Neo-Baroque and Neo-Rococo architecture, as well as Roman historical sites and attractions. Veliko Tarnovo is another Bulgarian city situated further north. It's the administrative, cultural, and historical center of the country. Near Veliko Tarnovo is Arbanasi, a smaller city situated on a high plateau, known for its monastery and numerous churches religious sites.
Another new country for us! We opted to do an included excursion that included a visit to the Baba Vida Fortress, gave us time for a little bit of shopping, and included lunch.
Baba Vida is a medieval fortress and castle set in the banks of the Danube and is the main attraction in Vidin. It was built in the 10th century, has been rebuilt many times, and is considered one of the most well preserved castles in the country. We could wander the site and museum, and imagine its role in history.
Fun fact: The name comes from a Bulgarian legend about three sisters. Two sisters married unwisely and squandered their inheritance. The third remained single and built the castle.
Our recommendation: Our excursion was fine. It was a nice introduction to Bulgaria and its history, but nothing really wowed us (as it did in other excursions). Tony wishes he'd done the guided hike to the Ivanovo Church (a UNESCO World Heritage Site). I wish I was in good enough shape to have considered that option.
Day 4: Vidin, Bulgaria
Located on the southern banks of the Danube River, Vidin is a northwestern Bulgarian city known for agriculture and trade. The city boasts ancient origins, dating back to the 10th century, and is home to century-old fortresses. Vidin is also well known for its wine grapes and production.
We opted to visit a local vineyard for wine tasting (included excursion). I added on a Bulgarian pastry making experience (an extra expense).
Our wine tasting took us to Dos Alamos Winery (official website here, you'll need to use Google Translate). Bulgaria has a winemaking history that dates back to the Thracian empire in 4000 BC. The robust wine industry collapsed along with the Soviet Union (1991), beginning a long period of decline.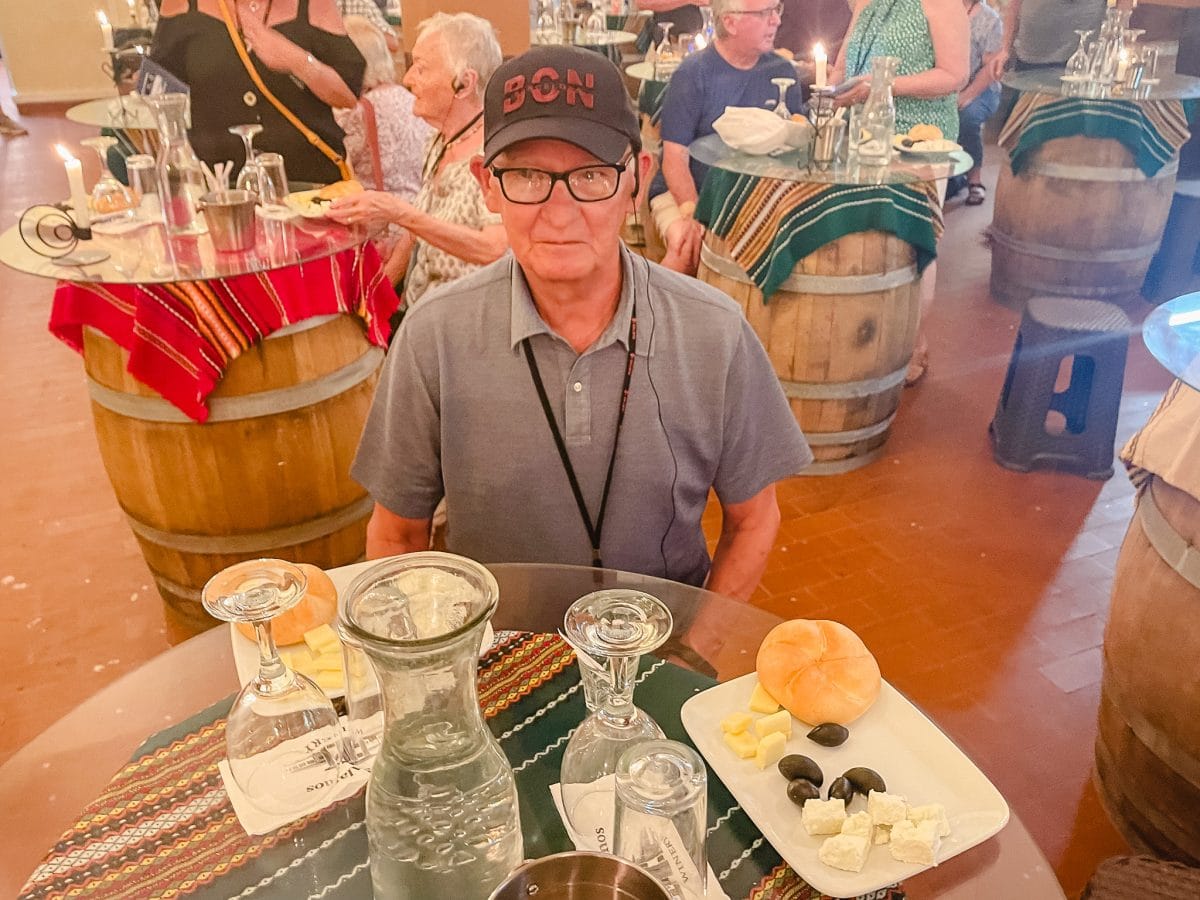 Young winemakers are trying to revive the industry, bring attention to local grapes, and reinvigorate the craft and quality of winemaking. We wish them much success. Learn more about Bulgarian wine, and our tasting at Dos Alamos here.
In the afternoon, I opted for an Emerald DiscoverMORE excursion (an additional fee applies) to learn to make Banitsa, a traditional Bulgarian pastry. Banitsa is a layered pastry of eggs, yogurt, cheese, and filo pastry. Much like a mardi gras king cake, a small charm is baked into the pastry as a way of ensuring happiness, health, and success. Banitsa is served at breakfast, hot or cold, and can be sweet or savory.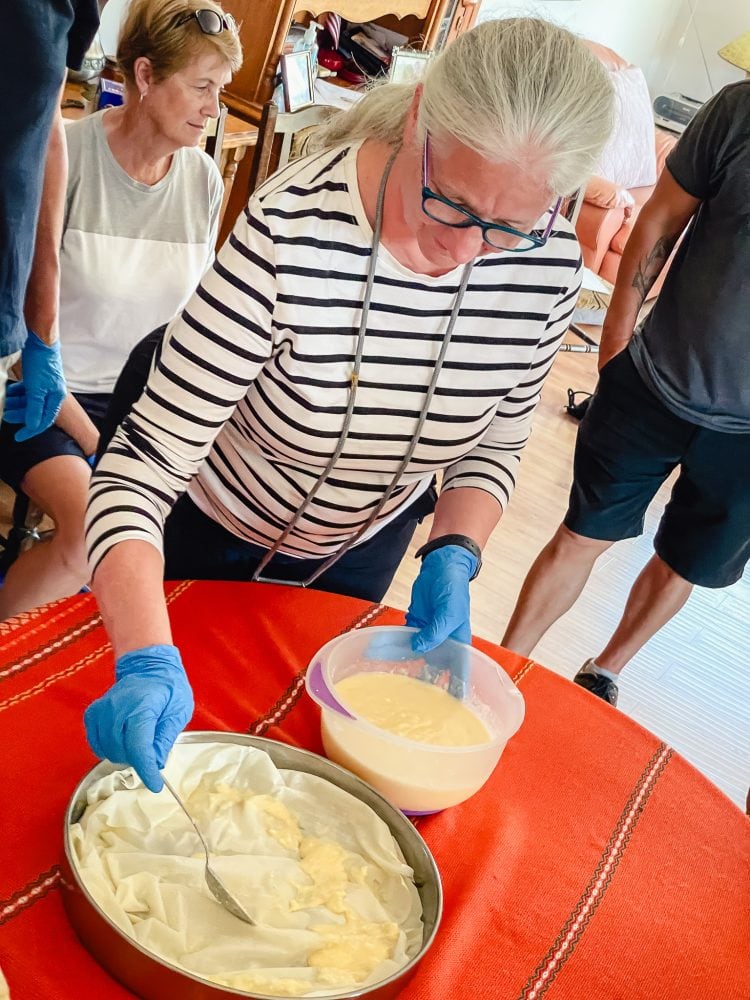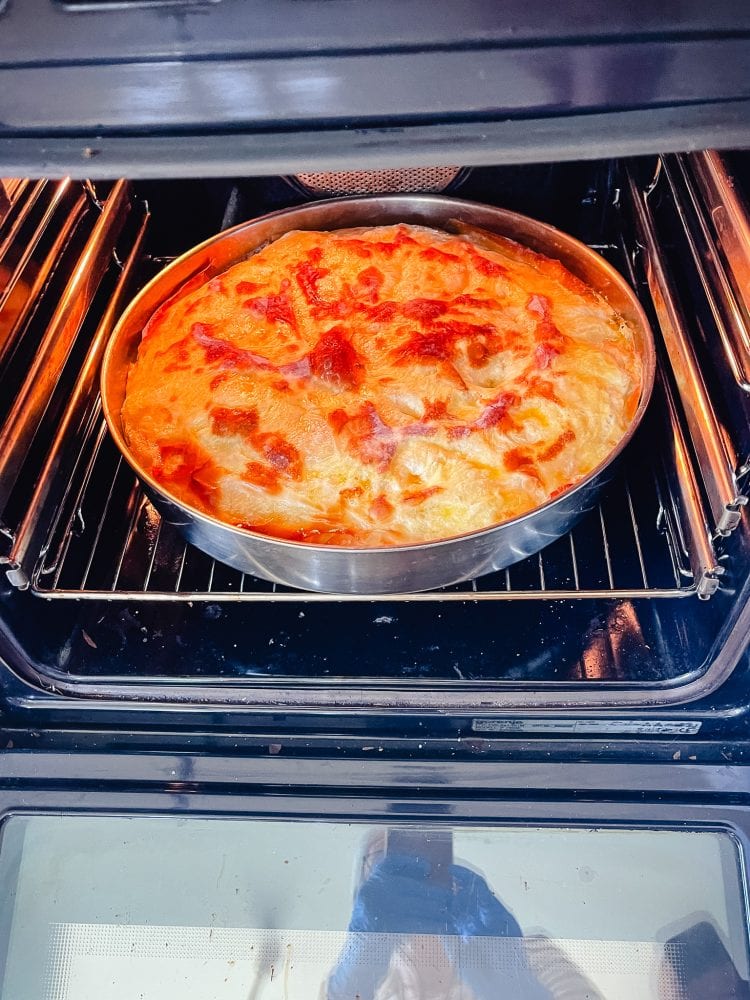 After watching a demonstration of the process, the group jumped in to make one on our own. We were provided with a recipe, so I'm going to try to make it at home. If I'm successful, look for an upcoming post on the at home process and recipe.
Our recommendation: Thumbs up all around! So much fun, and we recommend both of these.
If you're interested in reading books set in or about Bulgaria, here are a few suggestions:
Day 5: Donji Milanovac – Golubac, Serbia
We spent the morning cruising the mighty Danube, crossing from Romania into Serbia (another new country for us). My family roots are Serbo-Croatian, and this was a chance to another side of my cultural heritage.
We opted for the included excursion to Lepenski Vir, an archaeological site and museum that must be one of Europe's best hidden gems. The Paleolithic site captures more than eight millennia of history, and archaeologists have used this site to learn about Stone Age settlements and the way that prehistoric cultures moved across Europe.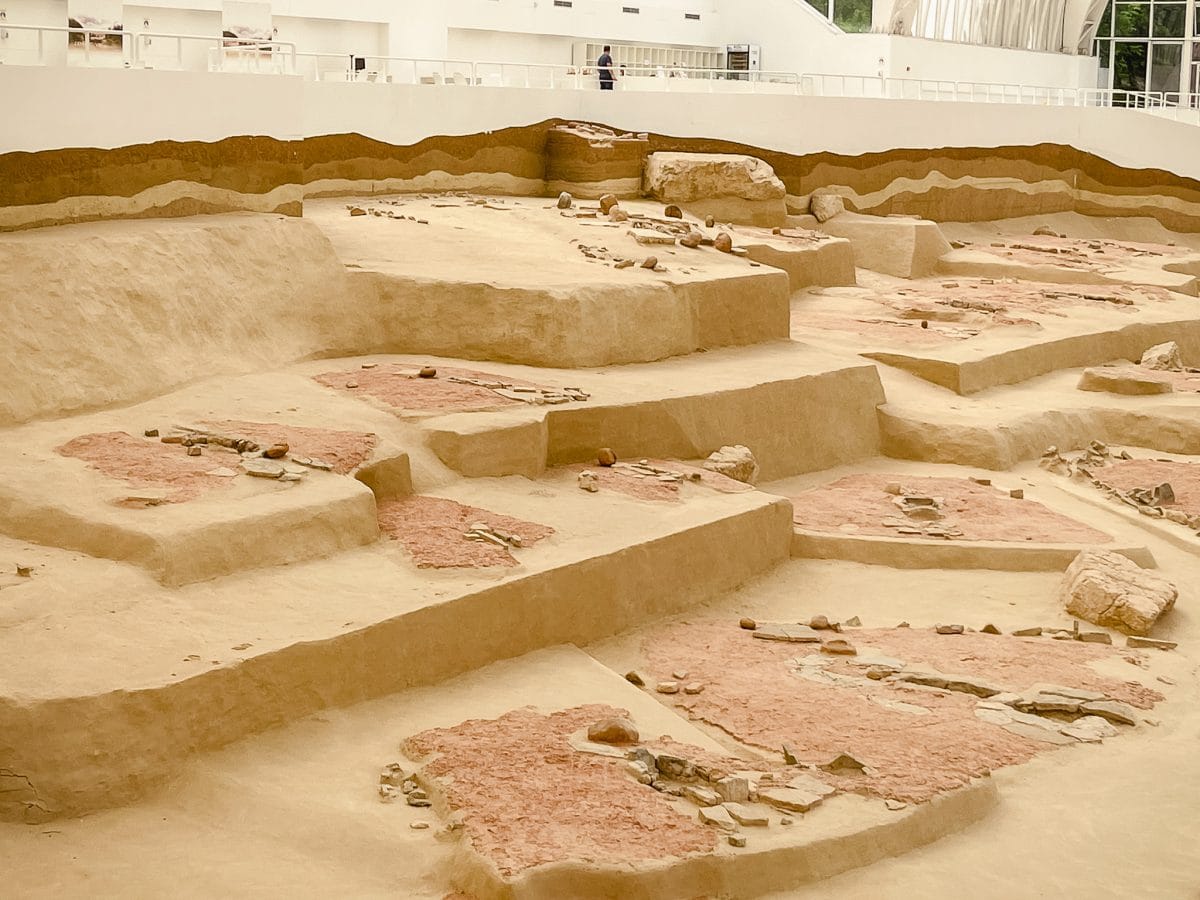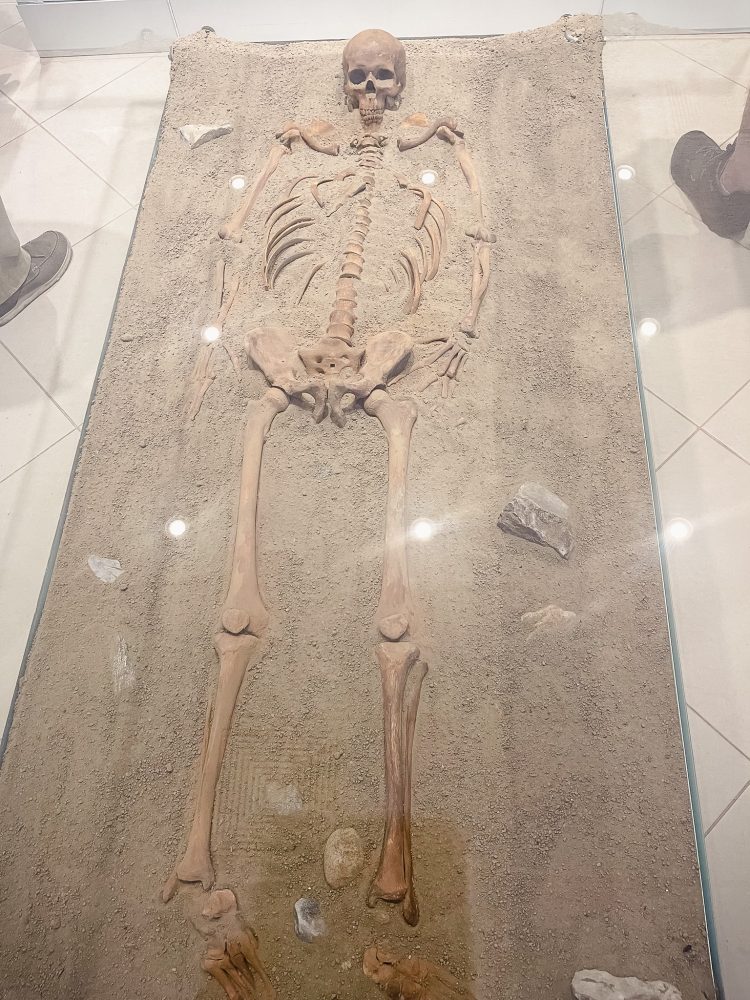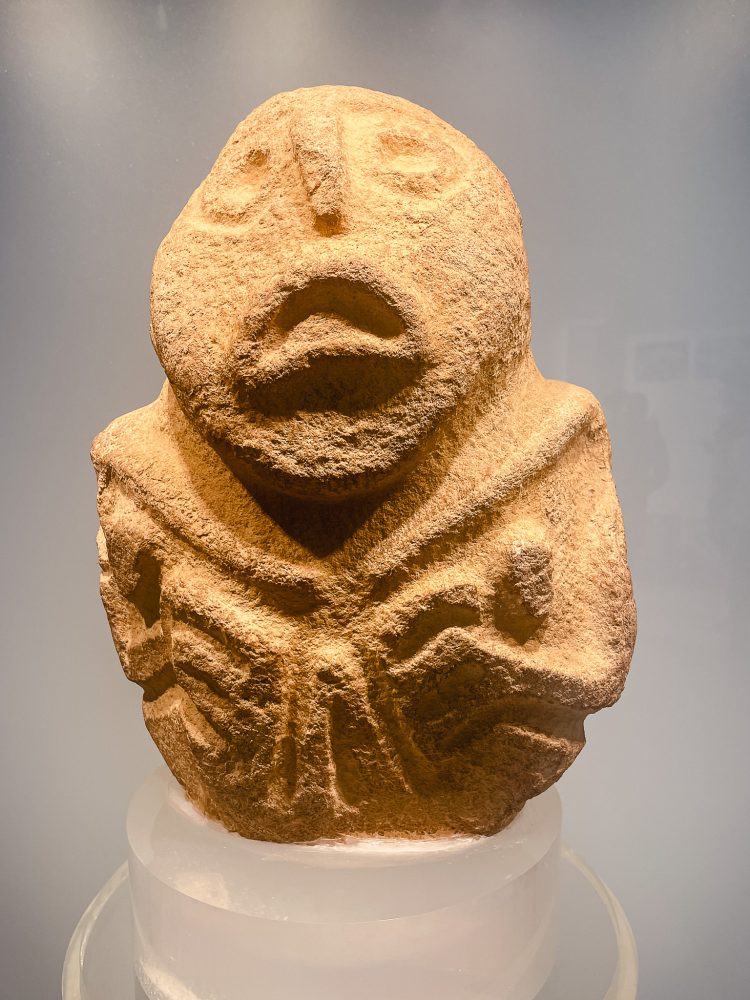 It is a humbling experience to visit an archaeological site that dates back to somewhere between 6000 and 9500 BC. The artifacts here cover seven settlement discovered on the site, and include residential and sacred building, tools, pottery, household goods, and art. We are mere blips in the history of the world.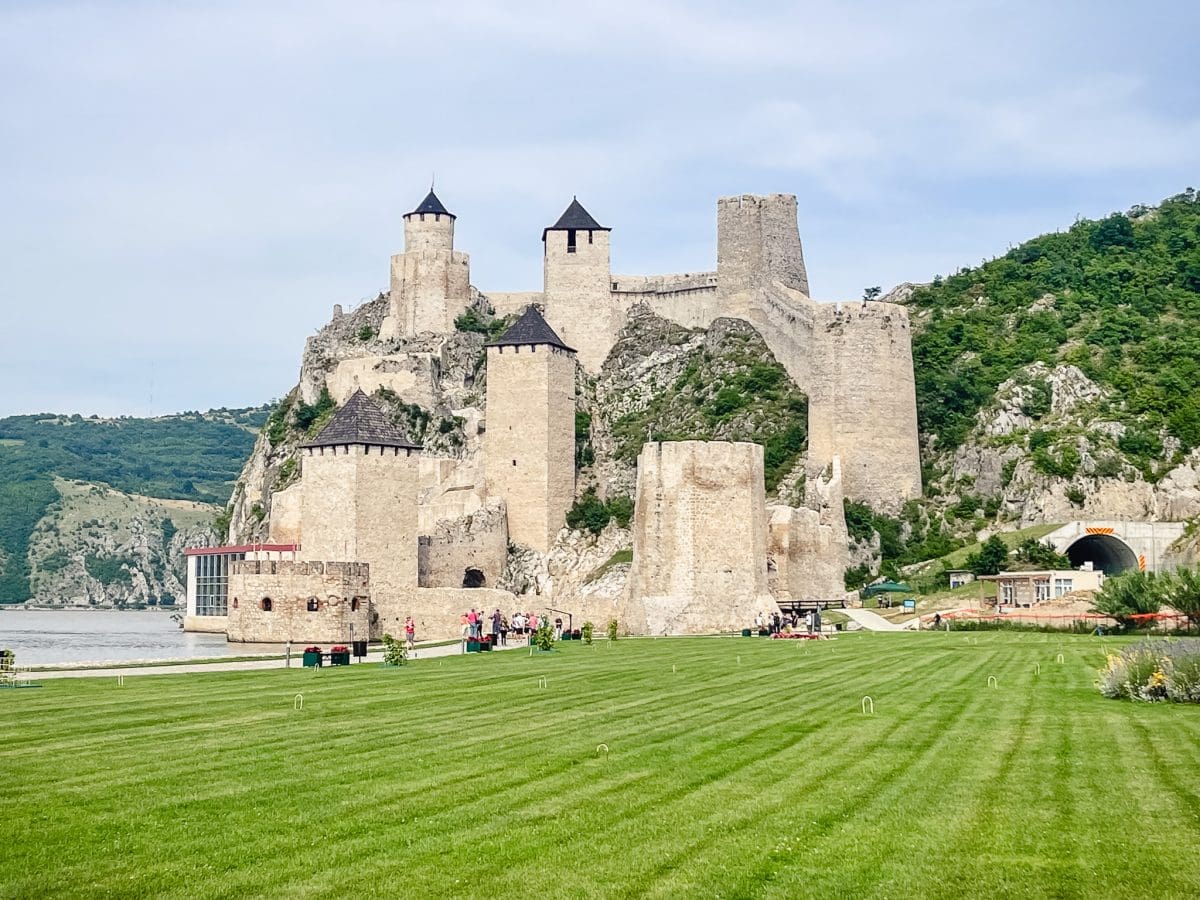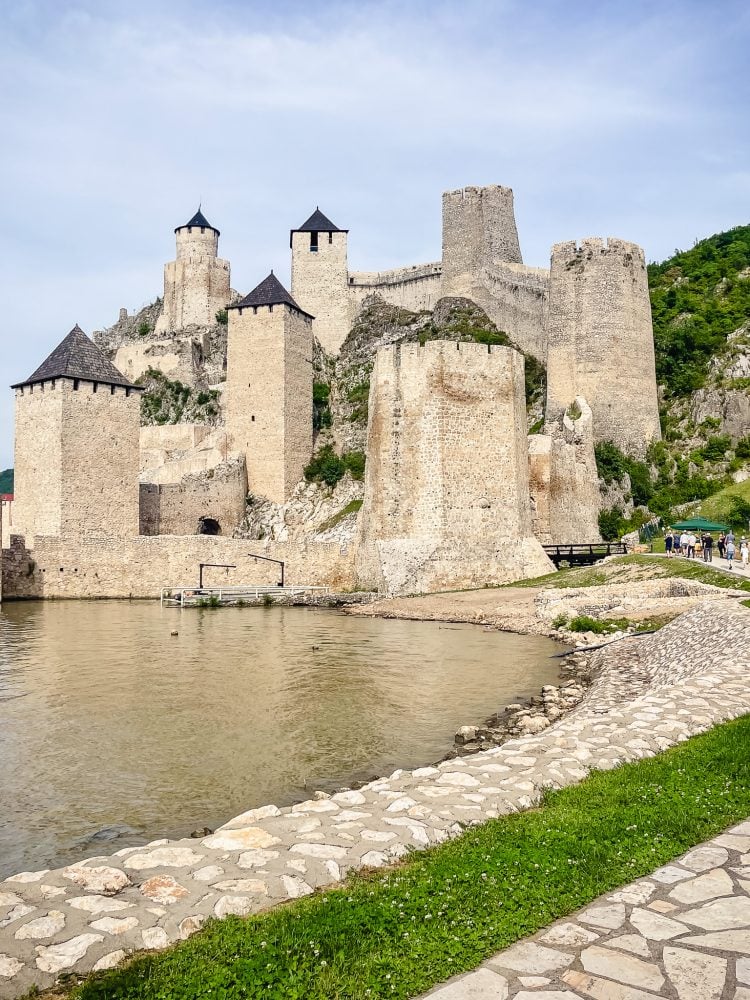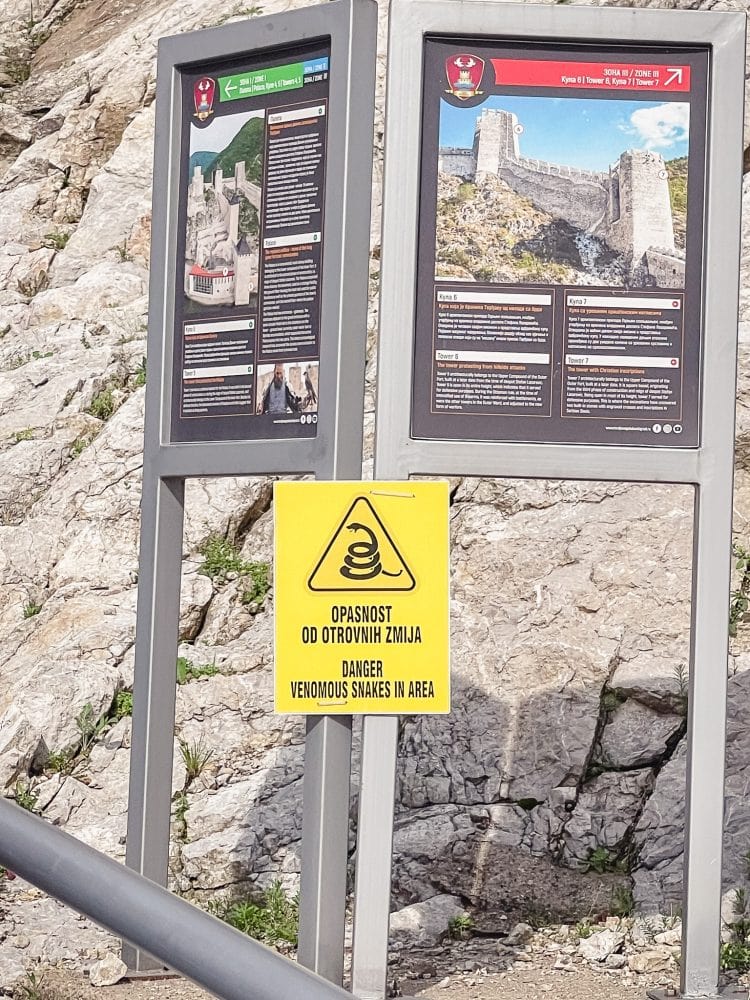 We also had time to explore Golobac Fortress. Built in the 14th century, it was originally a Hungarian military garrison, presiding over the Iron Gate Gorge. .As country borders and rulers changed, so did occupancy and care of the fortress. It's been partially renovated, rolling out in stages, and much of the deterioration has been arrested. And those caution signs about snakes? We confirmed that they're true.
The surrounding grounds are beautiful, but there's a strict keep off the grass policy, so they are more to look at than enjoy.
Fun fact: Golubac, the name of the fortress and the city, means Pigeon (or Dove) City.
Our recommendation: We made a great choice!
Day 6: Belgrade, Serbia
Move from small-town to major city as you continue your cruise, arriving in Belgrade. Situated at the confluence of the Danube and Sava River, Belgrade is the capital of Serbia, and its largest city. It was was also the capital of the former Yugoslavia before the country's break up.
We opted for the included excursion, a guided city tour of Belgrade. It included both a bus and walking tour, and was a good overview of the city. Serbia has a fascinating, and often sketchy, history and I found the commentary from the local guide interesting. One of my favorite stops on the tour was the Cathedral of St. Sava. St. Sava is the patron saint of education and medicine, and the founder of the Serbian Orthodox Church.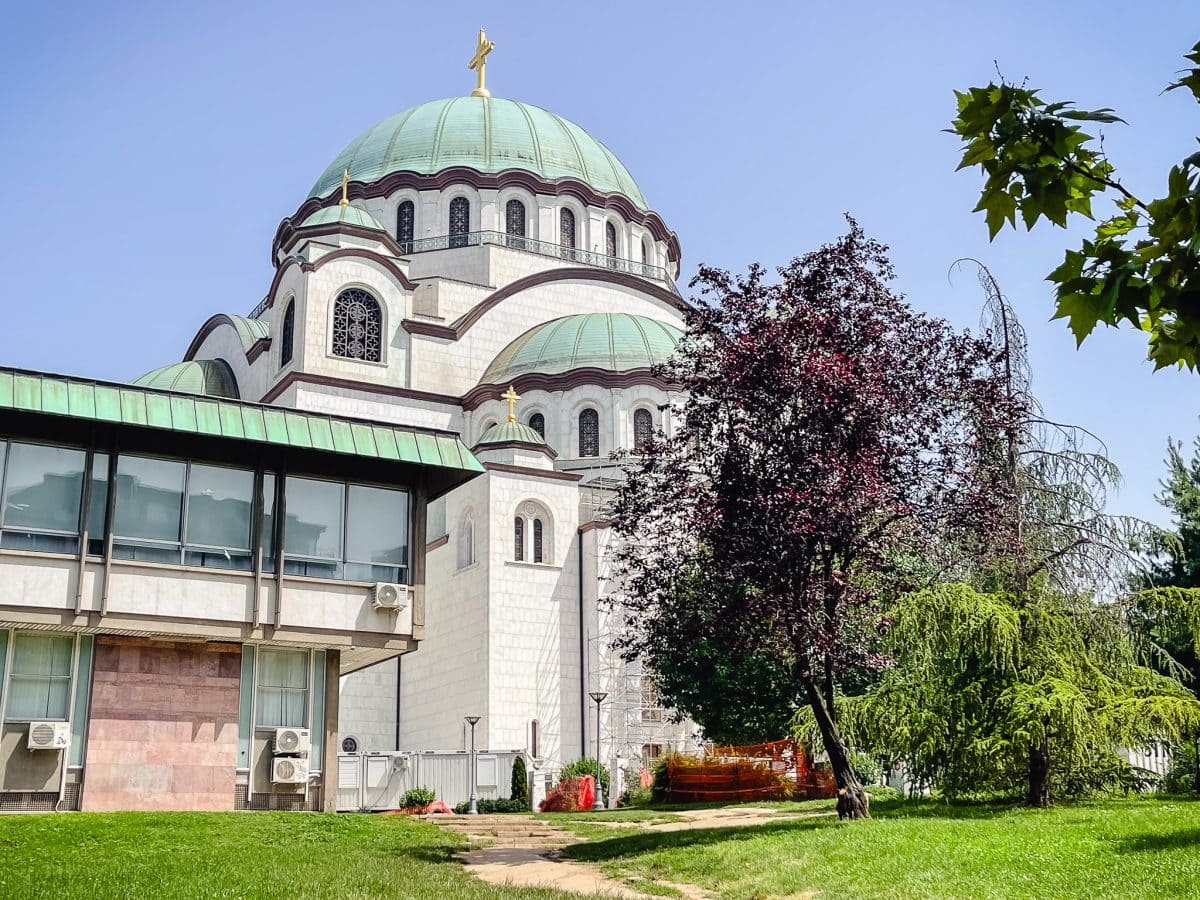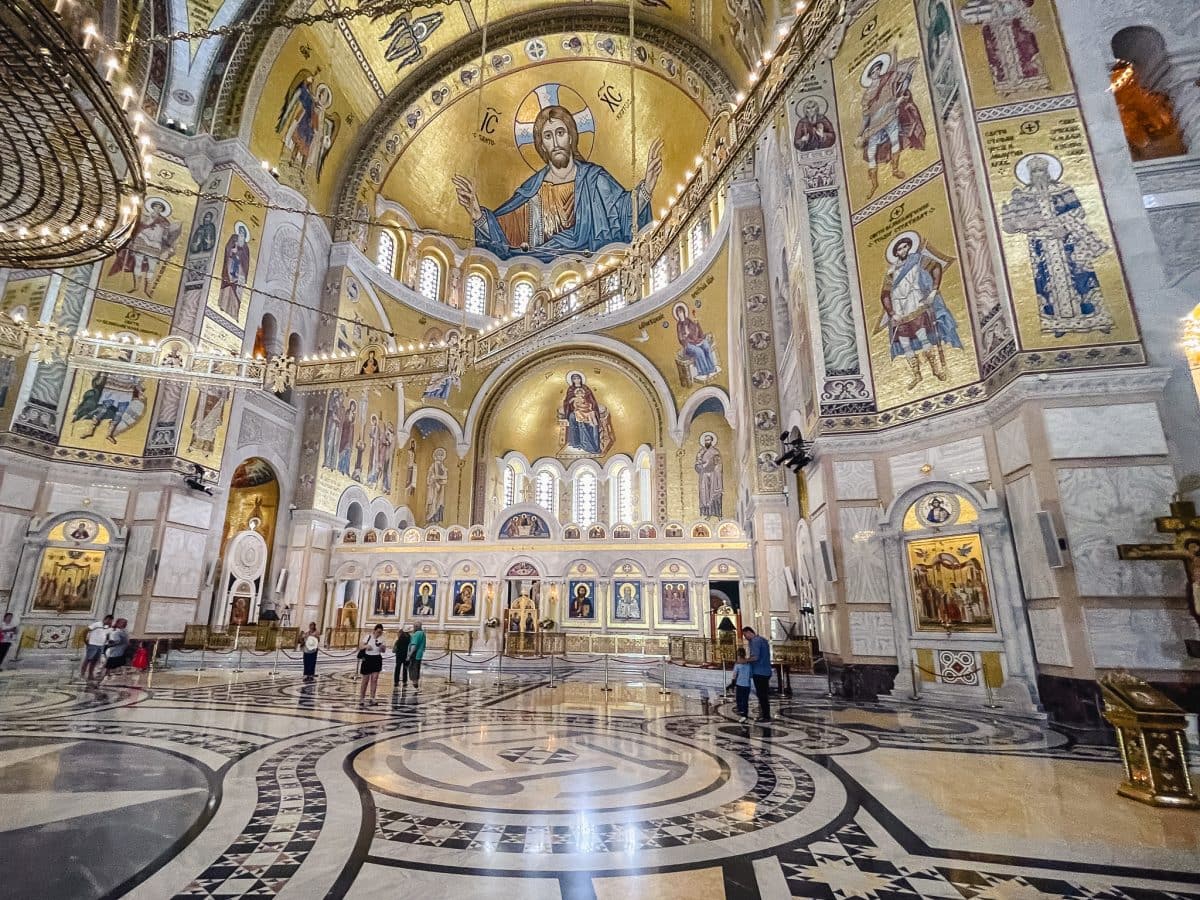 I was startled at the contrast between the opulence of the cathedral and the poor countryside, continuously wrestling in my mind the wide divide of the country's haves and have-nots.
If you want a more active option, the EmeraldACTIVE option was a guided bike tour in the city.
If you're interested in reading books set in or about Serbia, here are a few suggestions:
Day 7: Vukovar – Osijek, Croatia
We had been to Croatia previously, but not along the Danube, so this was still a new exploration for us.
We explored Osijek on a walking tour, enjoying a charming Croatian town. Despite the charming cobblestone streets and arched walls, however, is a reminder of the painful history of the former Yugoslavia.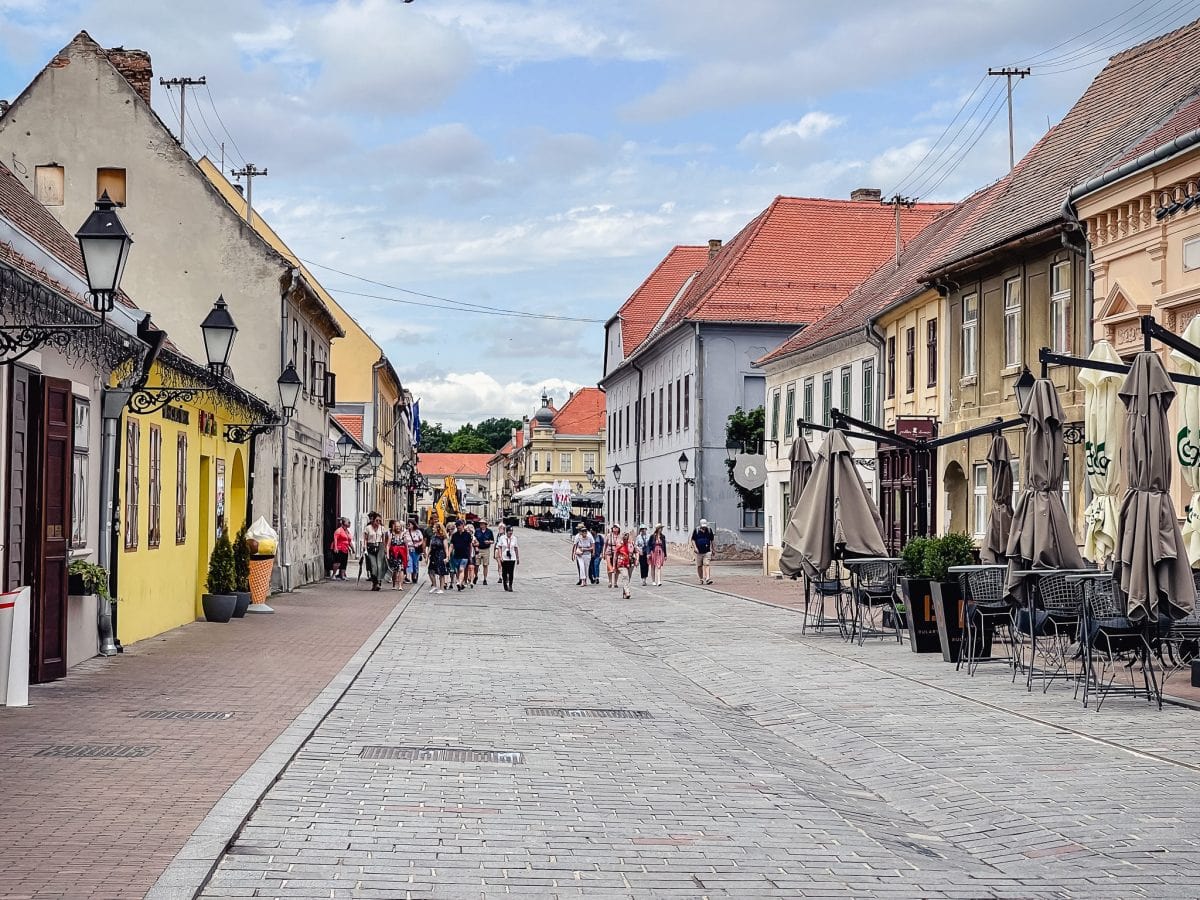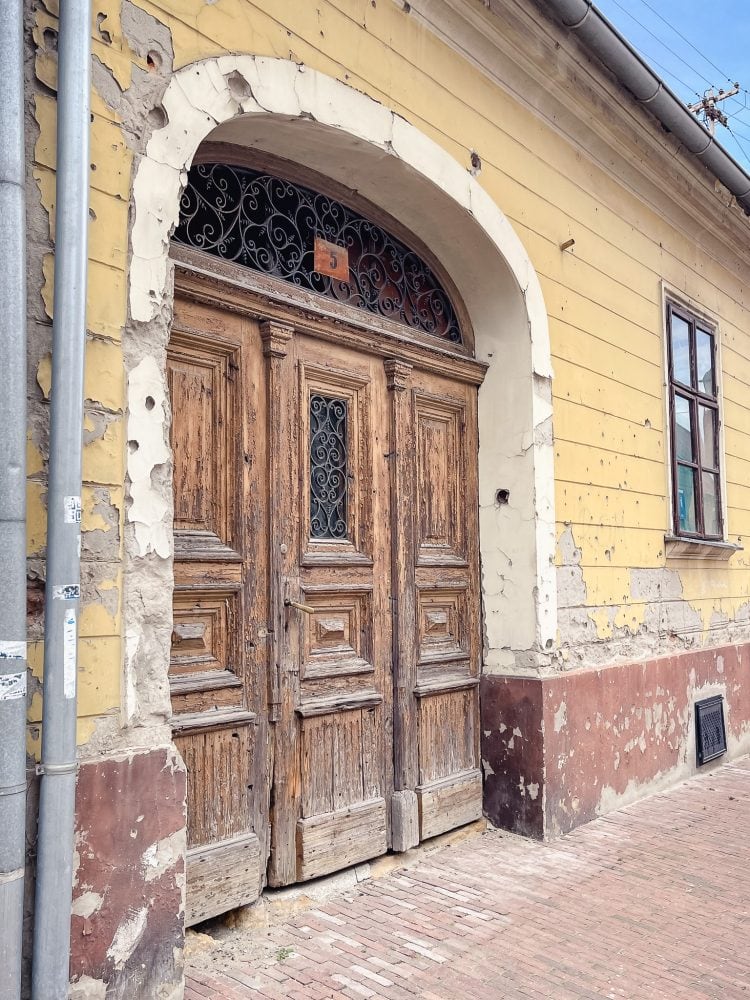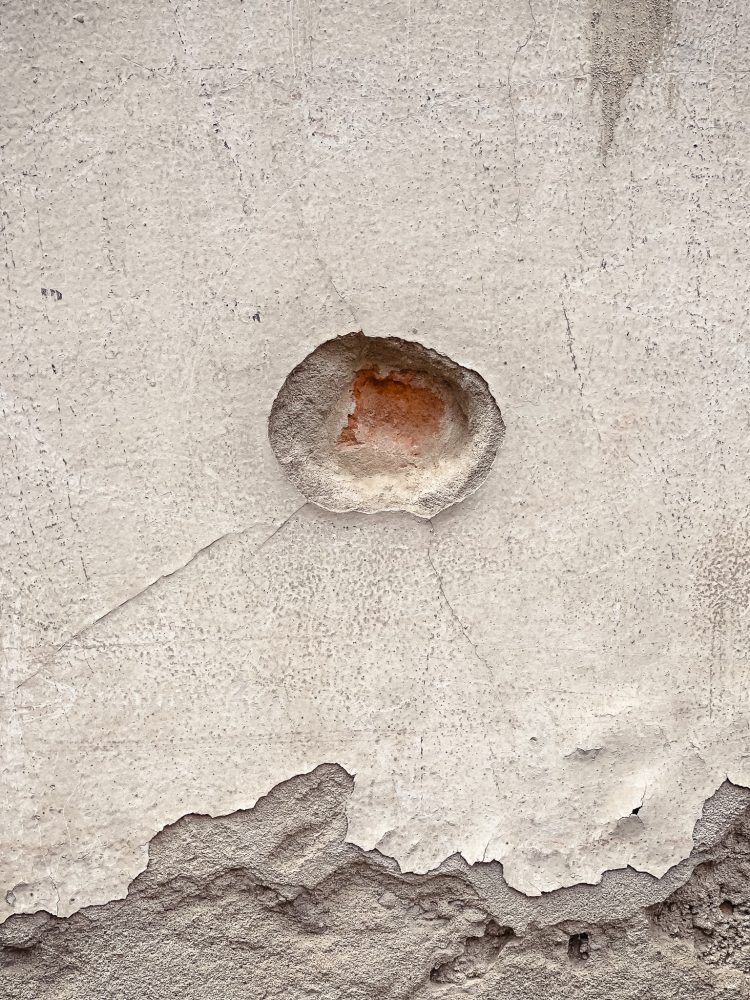 Everywhere you look there are reminders of the Homeland War (1991-95). It's not just monuments and memorials. It's buildings with damage from bullets and explosives. It's destroyed building that have not yet been rebuilt. And it's the stories of the people who hung on and survived. On this day, we saw and heard it all.
Our lunch was with a Croatian family. While the lunch itself was unremarkable, the stories told by our host were powerful. She talked of her husband being sent off to fight in the war, leaving her behind with their two small children. As they were preparing to evacuate Osijek, they area was bombed destroying their path out of town, their home, and all their belongings except for the clothes they were wearing. She lived with her children in the ruins and rubble for months, not knowing if her husband had survived. She had to forage for food, often times living on roots and whatever vegetation could be found. Access to water was dependent on the weather, with rain bringing much needed water for drinking and sanitation.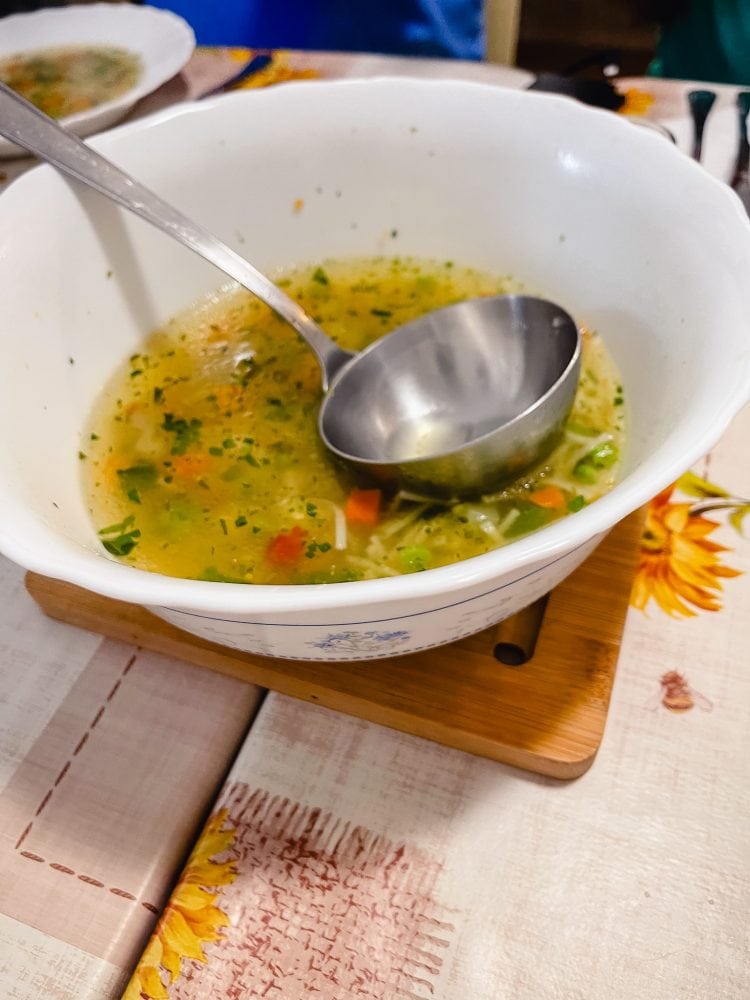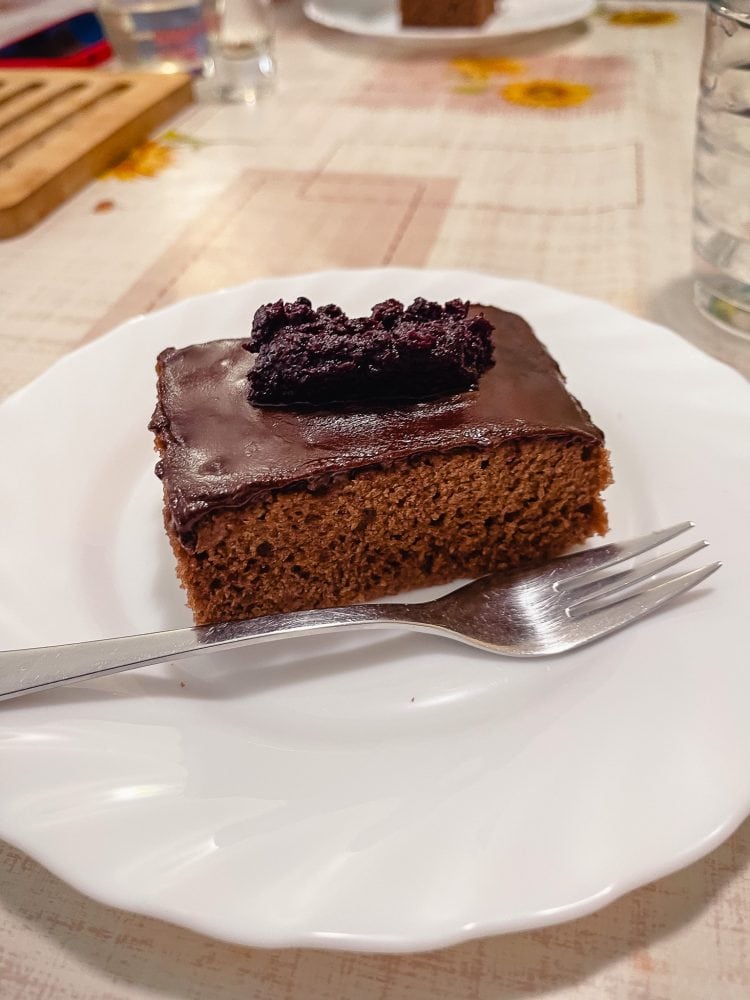 As she told her story, you could hear a pin drop in the room. This charming woman fought for survival for her family in a way none of us could imagine. She was eventually reunited with her husband, who also managed to survive. When asked how she felt about the Serbian aggressors, she pointed out that the Serbian people are not the Serbian government, and that she had to move forward and beyond that way of thinking as part of survival. There's a lesson there for us all.
Our recommendation: The home visit was the highlight of the cruise for me. I don't know if it's because I'm Serbo-Croatian and am trying to reconcile the great divide in the two countries, or if it's the reminder that this was happened only 30(ish) years ago and I've all but forgotten it. the connection made on this visit remains with me.
Day 8: Kalocsa, Hungary
Just south of Budapest is the beautiful little Hungarian town of Kalocsa, known for its paprika, cowboys, and festivals. This was our first visit to Hungary, so we were excited for the sampler of activities on our included tour. Our day included time in Kaocsa to learn about traditional folk art, Hungarian culture, and paprika, followed by a trip to the Puszta (grasslands on the Great Hungarian Plain) to visit a ranch. The plains are vast and covered with large ranches; part of the plains were declared a UNESCO site.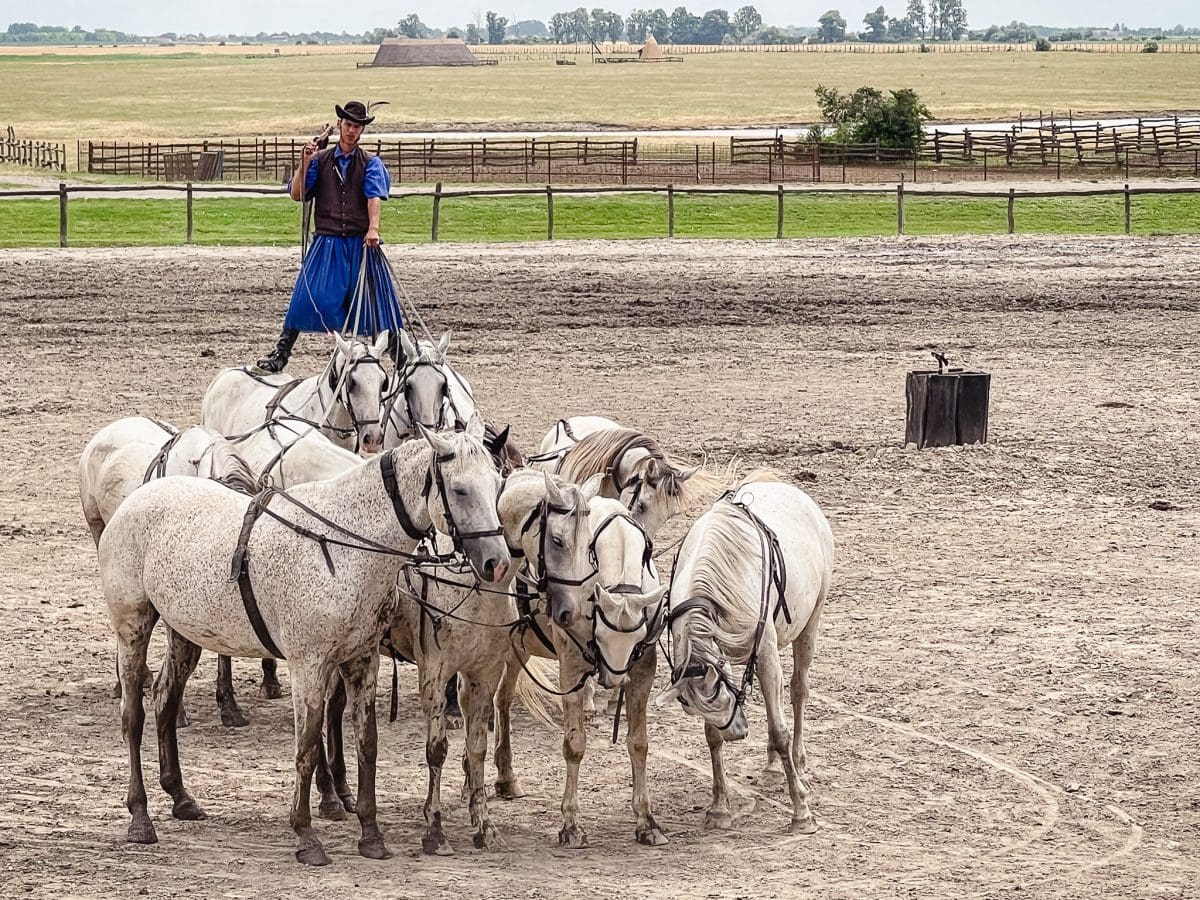 At the ranch, we watched traditional performances of the Magyar cowboys. Originally, the Magyars were a tribe living in the Tarim Basin (now China). There semi-nomadic lifestyle took them to the Ural Mountains in Russia, and then settling in Hungary. The show reflected various equestrian skills that are entertaining now, but were once vital skills for survival.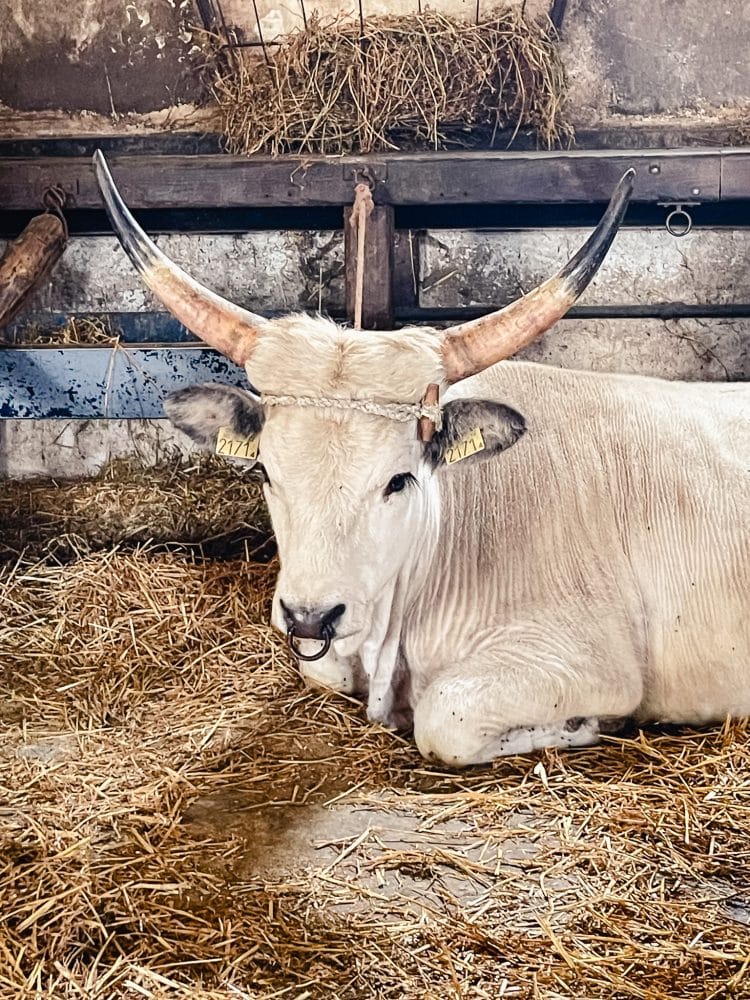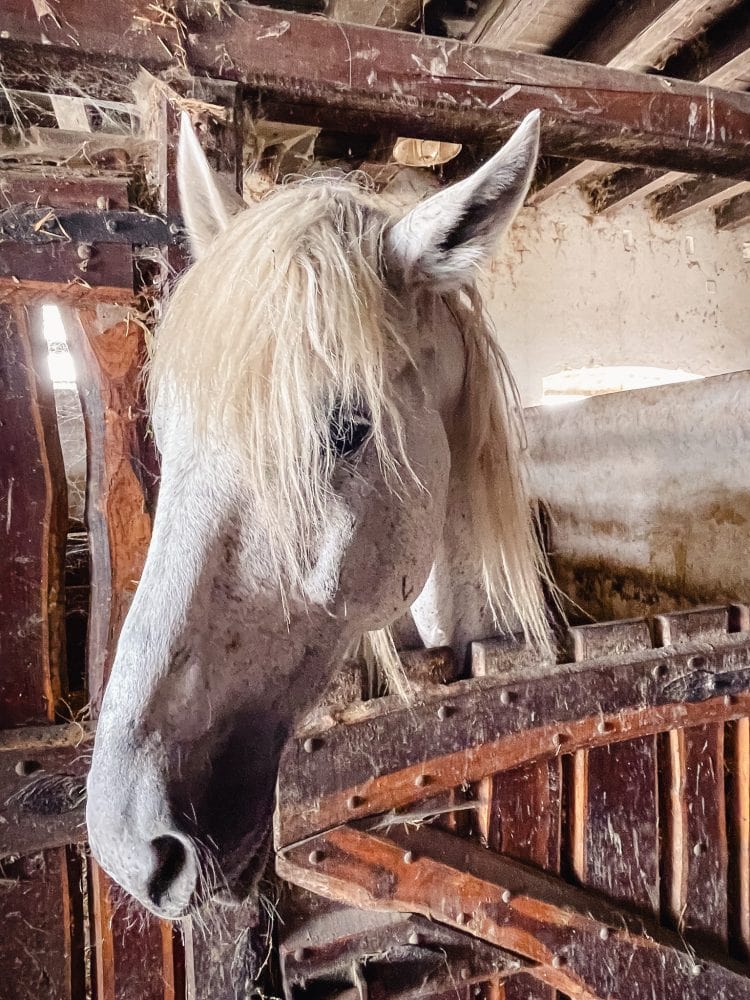 After the show we got to explore the ranch, with plenty of "aaaaaaaah" moments with the animals.
We bought several types of paprika to bring home – sweet, hot, smoked, and a paste. Sure, we can likely get most of these at home, but the price was quite modest and I like support the local businesses.
Our recommendation: This is the only tour offered – go!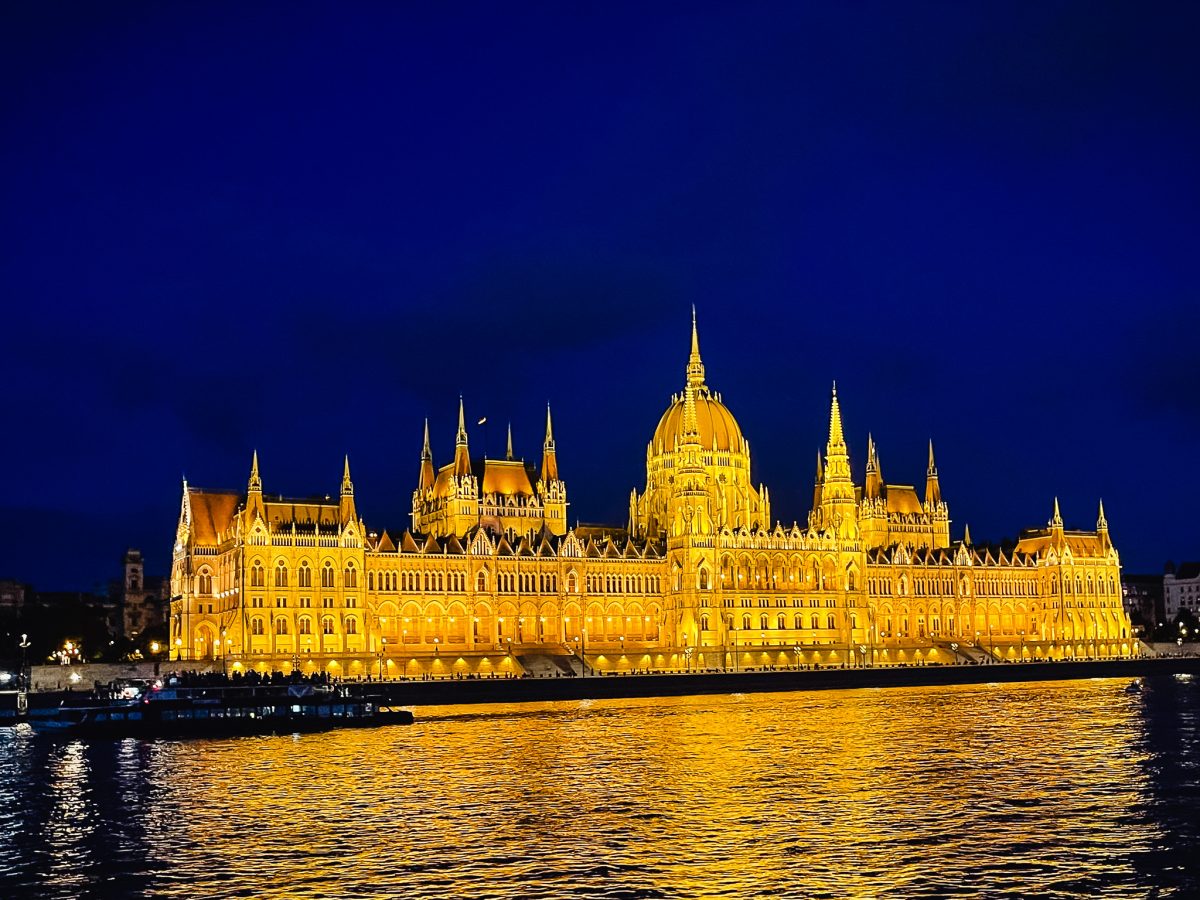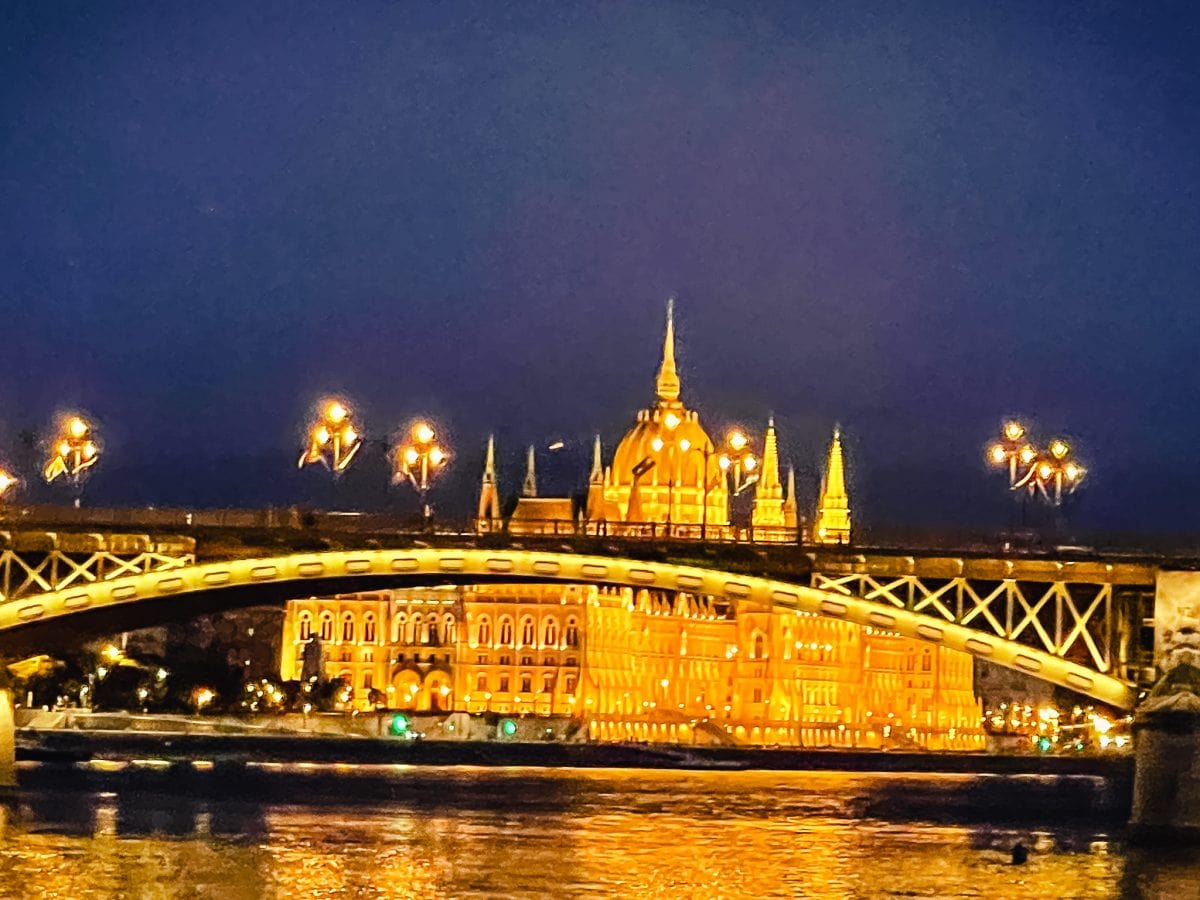 A highlight of this last night on the ship was sailing into Budapest, including a tour on the river past the city's numerous bridges, the illuminated Parliament and Buda Castle, and the views of the city. These are the iconic shots that you see in photos of Budapest, and we were right there to capture our own.
Day 9: Budapest, Hungary
As your reach your final destination, make sure you explore the Hungarian capital and all the history and culture it has to offer. Budapest is split in half by the Danube River, and it's home to rich culture, underground tunnels, and kaleidoscope of styles of beautiful architecture, including Gothic, Neoclassical, Baroque Revival, Renaissance, and so on. The city is also home to Europe's largest synagogue and world-renowned parliament buildings.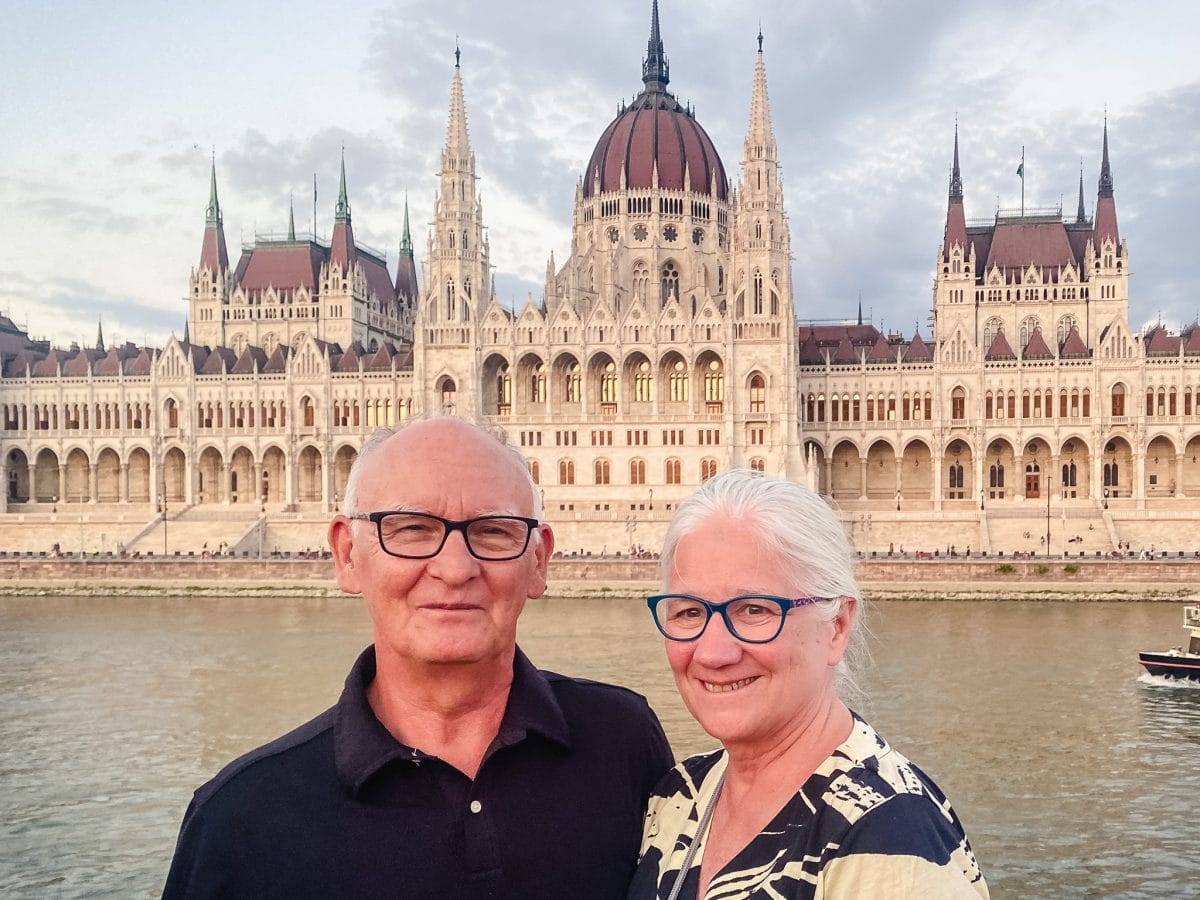 If you're interested in reading books set in or about Budapest, here are a few suggestions:
The Price
Cruise pricing is full of special offers. You'll find lots of bundling, two-for-ones, and special discounts, and keeping up with cruise pricing can be a full-time job. You'll need to do your own personal research to evaluate what's important to you on a river cruise, and the price point that is comfortable for you. Armed with that information and knowledge, you can book directly with a cruise line or use travel agents with good cruise knowledge.
A quick look at pricing for 2024 sailings on Emerald's Enchant of Eastern Europe itinerary, sailing from Bucharest to Budapest, start at $4,272 per person. You can take a look at dates and rates here.
As you evaluate the value proposition of cruising on an Emerald river cruise ship, remember that these are almost all-inclusive fares. The price includes the cabin, meals, most excursions, complimentary beverages with meals, cultural enrichment experiences, airport transfers, and gratuities.
A few words about gratuities. I believe that people should be well paid for providing good service. It is a cost of doing business for a company and a cost of travel for the cruiser. I love that gratuities are included on Emerald because it lets me see the full price right up front. Transparency is important to me. (Creating artificially low prices that don't really exist makes me crazy.)
I love knowing that everyone is fairly compensated. It suits my travel ethos, my personal ethics, and I love knowing that I won't be nickel-and-dimed on board. Constant upselling is tedious.
While not required, I personally believe in adding on a little extra for crew members who have gone above and beyond, giving it to them directly. I'm told this is neither necessary nor expected. I'm sure it's greatly appreciated though.
If you're looking for a value priced river cruise, Emerald is a great choice. It doesn't include quite as many features as it's sister cruise line, Scenic, but the price point may make that immaterial.
Is this Emerald Cruise River Itinerary Right for You
Eastern Europe isn't going to be compelling for everyone. It's gritty. It's less pretty in that flashy way that other segments on the Danube are. The brutal history in this area, the regimes of brutal dictators, and the remnants of war, may make you uneasy. But those are the very reasons we were drawn to this itinerary, and why seeing it with the luxury offered by Emerald was a great choice for us.
If you've never been on a river cruise, this isn't an itinerary I'd recommend for a first sailing. Instead, look for one of the other Emerald itineraries. With a variety of European river itineraries that include sailing on the Danube, Main, Rhine, Moselle, Rhone, and Douro (and on the Mekong in Asia), you'll be able to find an itinerary and sailing date that works for you If you're an experience cruiser interested in seeing a different side of Europe, we both recommend this Eastern European itinerary.
We also recommend starting in Bucharest and ending in Budapest, instead of the reverse. Some of the countries you'll pass through are relatively poor, and not as economically developed. Heading in this direction, allows you to end on a high note in tourism-friendly Budapest.
For Pinterest
Save to your favorite cruise boards and to plan your next cruise vacation.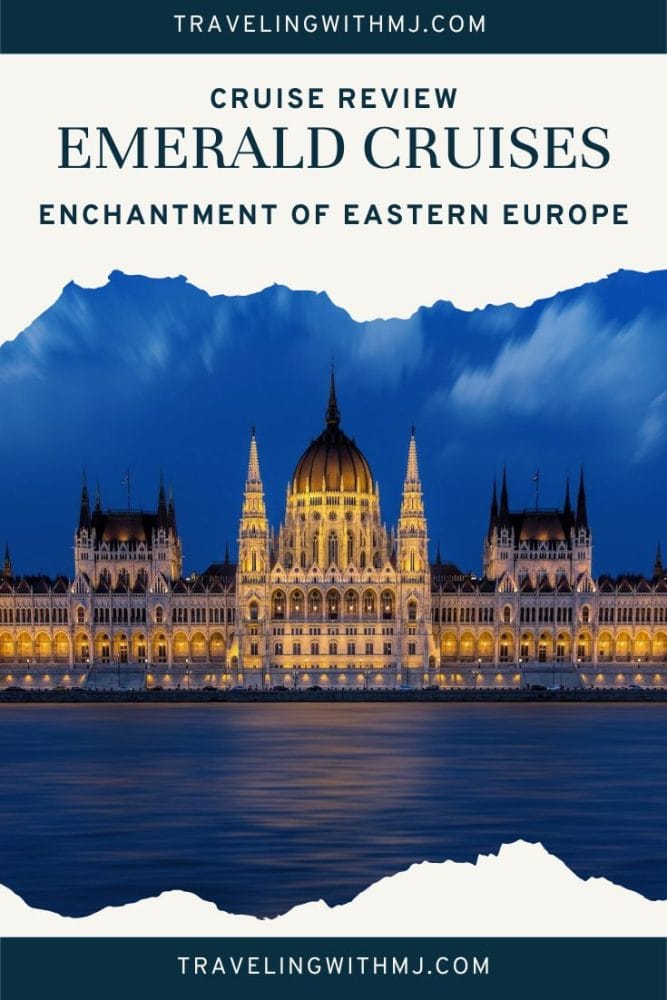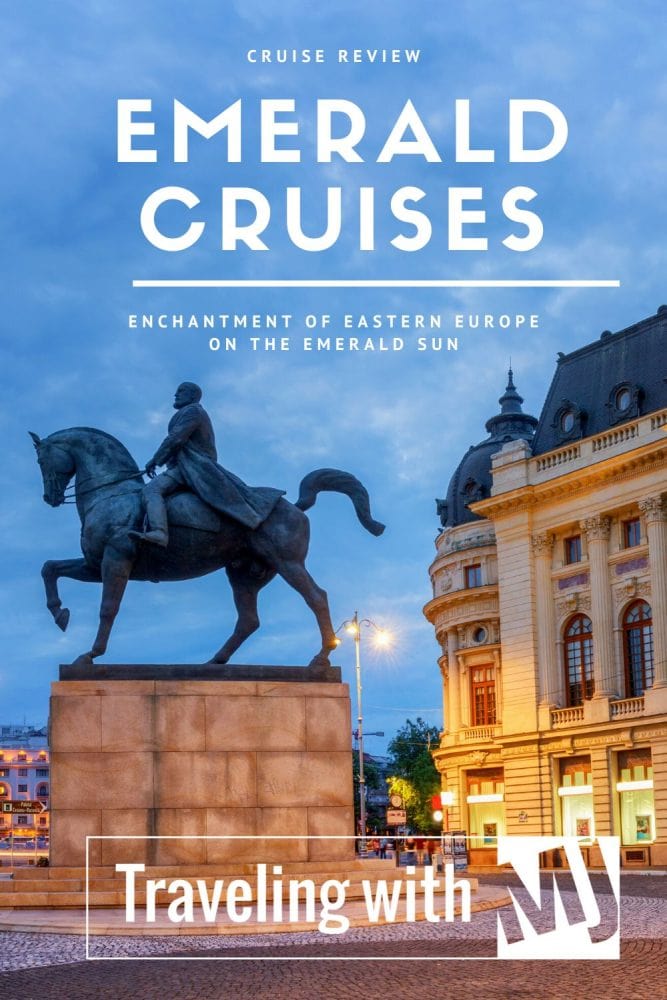 Disclosure
We received a complimentary cruise for the purpose of reviewing the Emerald Sun and the Enchantment of Eastern Europe itinerary. Emerald Cruises respects the integrity of independent storytelling and reporting and has not exerted influence about coverage. The content of this post reflect our personal experiences and opinions.