If you find yourself with spare time while waiting for your connection at Dulles Airport, consider getting off property for a few hours at the  Steven F. Udvar- Hazy Center.  A part of The Smithsonian Institute, the Center is a companion facility to the National Air and Space Museum (map), and is located near Washington Dulles International Airport (map).  The two locations have the largest aviation and space collection in the world.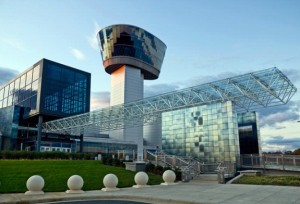 Udvar-Hazy is the President and CEO of International Lease Finance Corp. (a major player in the commercial aircraft business), and the major donor to the Center.  The name honors his efforts to the funding side of the Center in addition to his career in aviation.
The facility is immense, and full of displays, large and small, famous and relatively unknown.  Among the famous are:  the Enola Gay, the SR-71 Blackbird (my favorite display), an Air France Concorde, and the Space Shuttle Enterprise.  Also on view are a variety of experimental flying machines, ultra-light flyers, and military aircraft.
The Space part of the collection is represented by the Space Shuttle, and a variety of other spacecraft, rockets, and satellites, including the Gemini VII space capsule, a Redstone rocket, and the quarantine unit used for the returning crew of Apollo 11.
I recommend wandering through the exhibits and a leisurely pace, stopping when you find something that grabs you're interest.  Allow a couple of hours for viewing in this fashion, and you'll get through everything.  The Visitor's center has a flight plan that maps our important displays and artifacts, so pick one up so you don't miss any of the big displays.  If you want more guided, in depth information, opt for one of the docent-led tours.
The Center also has an IMAX theater, a flight simulator, and a 164-foot tall observation tower.  The tower provides a nice view of the surrounding areas, as well as a great location for watching take-offs and landings at Dulles.  There is also the requisite food service and museum store.
The Center is open daily (except Christmas Day) from 10 am – 5:30 pm, with extended summer hours till 6:30 pm. There is no admission charge, although daily parking is $15, and free after 4 pm  A 6-visit parking pass is available at a discounted price.  There is a shuttle between the two Air and Space Museums, and between the Center and Dulles Airport.  Check for an updated schedule and fees, and pickup locations.
Photo credit: Photo by Dane Penland, National Air and Space Museum, Smithsonian Institution
Copyright: Smithsonian Institution