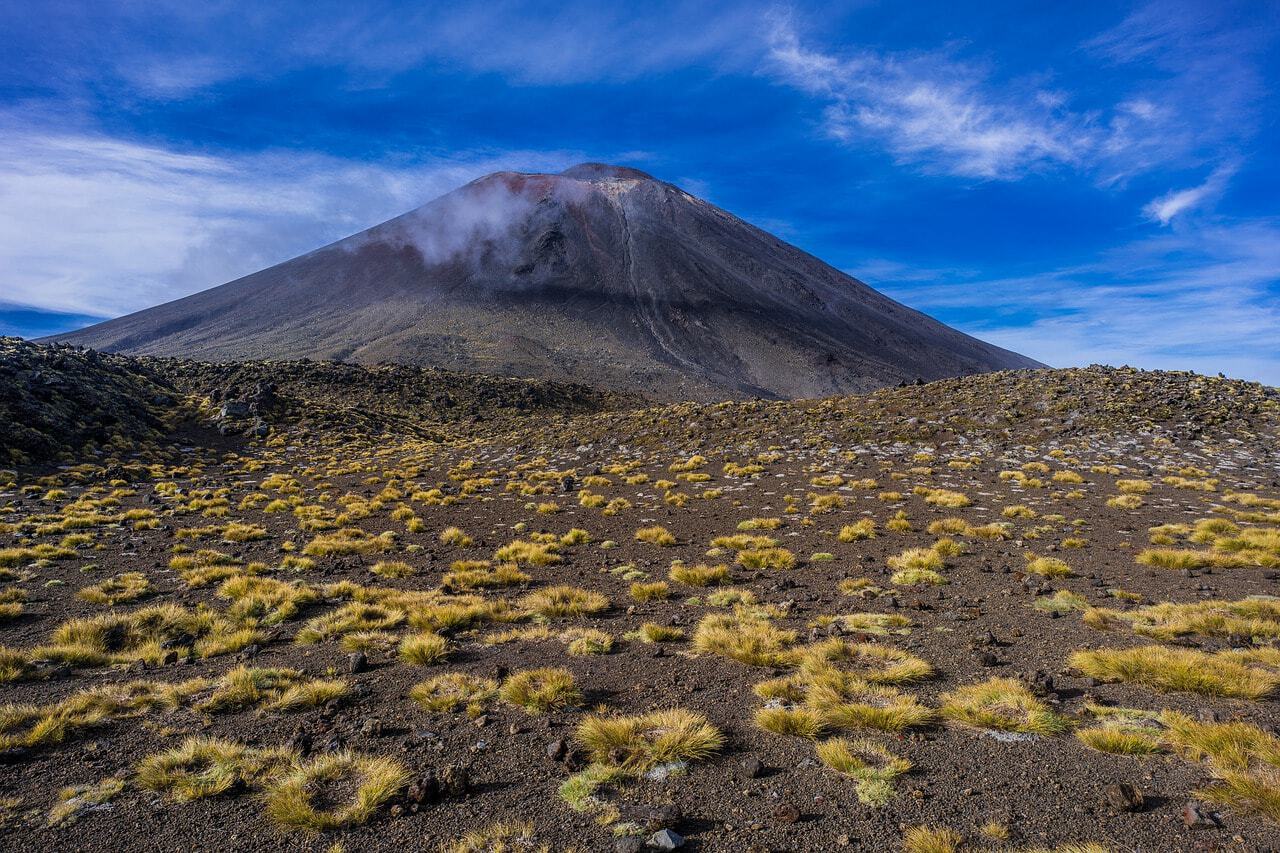 Visiting Tongariro National Park is relatively easy, with decent roads providing access, and while some visitors are attracted by the UNESCO designation alone, there is much more to hold the attention of visitors. Here are just a few reasons to visit Tongariro National Park.
Tongariro National Park, the oldest national park in New Zealand, is a UNESCO World Heritage Site listed for its mix of cultural and natural importance. The park, located on the North Island, is home to three active volcanos:  Mt. Tongariro (for which the park was named, Mt. Ruapehu, and Mt. Ngauruhoe.
Skiing and snow sports – Mt. Ruapehu is home to two ski areas, Whakapapa on the northern side and Turoa on the southwestern side. Whakapapa has 15 ski lifts and also offers accommodations. Turoa has 9 lifts with accommodation offered in nearby Ohakune. Skiing and snowboarding are popular in winter, ski season is generally from late June to late October. And, like most ski areas around the world, every effort is made to extend the tourist season into summer with hiking, climbing, and other summer outdoor activities.
Learn about Maori culture – The summits of the volcanoes are considered sacred by the Maori, and the park contains a number of other important Maori religious sites. A couple of Maori settlements are near the park on Lake Rotoaira. The Maoris came to New Zealand from eastern Polynesia hundreds of years ago, and although many Maori have adopted western mores, there is a fierce effort to preserve many of the Maori rituals and traditions.
Bird watching – With over 56 species of birds, including some quite rare ones, Tongariro National Park is a popular spot for birders. Whether you're hoping for a glimpse of the rare Double-banded Plover or the more common Southern Boobook, bring along your binoculars and Audubon guide for a real birding treat.
Visit Middle Earth – Mt. Tongariro, and the surrounding area, was one of the prime film locations for the Lord of the Rings trilogy. You can get in touch with your inner hobbit with a LOTR tour, easily arranged through your hotel or a local tour company.
Hiking – The Tongariro Northern Circuit, part of New Zealand's nine great walks, can be structured as a two to four-day trek. Longer routes include the three to six-day trek around Mt. Ruapehu, and if you're not quite that hearty, there are a number of shorter options or day treks. The hiking route system is popular with locals and tourists and is reasonably equipped with campsites and emergency shelters. By the way, the New Zealanders use the phrase "tramp" when referring to a trek, hike, or walkabout.
Photo credit: InfiniteThought / Pixabay