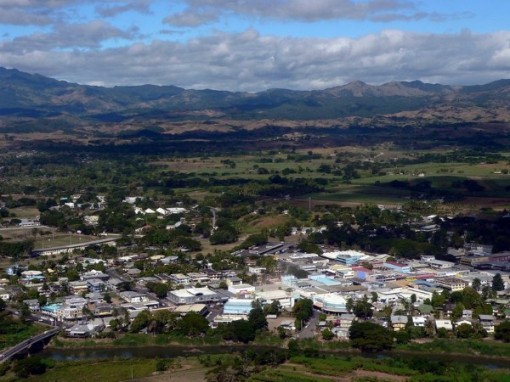 There is a mystique that surrounds the beautiful Fijian Islands.  In Fiji you really are blessed with some of the most gorgeous scenery in the world, so in the end, it's all about Lomani and Demeni, Fijian words meaning pampered, cherished and cared for.
Many miles to travel to get there, the visitor will find a culture that couldn't be more different than in the United States.  Nevertheless, there is something for everyone with Fiji's 333 islands dotting the Pacific Ocean like jewels.  Deciding which island is the perfect one will probably be the hardest decision you have to make, otherwise, it's sit back and relax.  Do visit at least three different islands to really get the Fijian experience though.
Let's start with your arrival at the airport in Nadi.  This is a good place to spend your first night before heading off to one of the more remote islands.  Most of the flights from the United States are early morning when you arrive and late night flights to depart.  A "must-do" option will be to secure a day room to rest before heading home in the wee hours of the morning.
For a first look at Fiji spend two or three nights at any property in the Natadola Bay area – it's been dubbed "the world's best beach."  Some of the Fiji accommodation are designed with the traditional Fijian Village in mind alongside a more modern feel so it's a great place to get acclimated to the islands.
For a real Gilligan's Island feel Castaway Island is a good choice for a second excursion of about two nights.  Accessible only by boat from Denarau Marina, Castaway Island has local huts, boats for fishing and a variety of excursions and plenty of local food and cultural activities.
Another consideration is the island of Taveuni.  A very remote island, you'll have to take a small plane from the airport in Nadi to get there.  Once there stay two nights at one of the boutique resorts and breathe in the exotic flora and fauna abundant everywhere on this island.
Indeed, for a real step back in time to the Pacific Islands, Fiji is an excellent place to visit for a look at a completely different culture and way of life. Do remember that tradition is still strong on the islands however, and for women it is still a male-dominated society with a hereditary chief system still firmly in place.  In addition to the local islanders, there has also been an influx of Chinese and Indian cultures gravitating to the island over the years too.  Translation, you will notice a large variety of traditions living side by side on this island paradise.
If you're making plans to visit Fiji, make sure your passport is valid for three months beyond your intended stay.
Guest post by travel writer Rita Cook.
Photo credit:  Henning Blatt via wikimedia