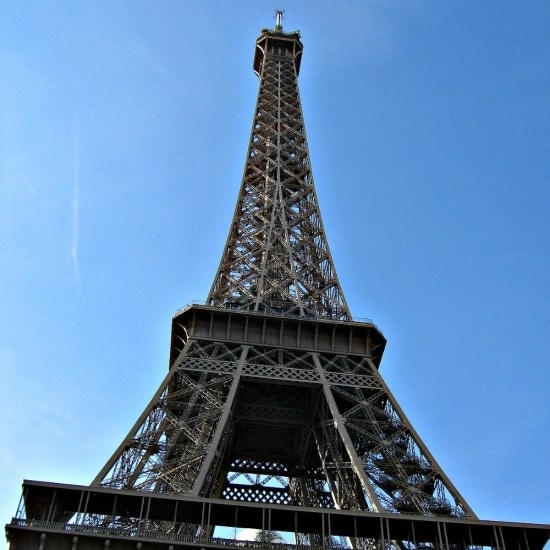 March 31st is the 127th anniversary of the inauguration of the Eiffel Tower, and boy dho I wish I was there to celebrate!
Located beside the River Seine in Paris, France, the Eiffel Tower is the tallest building in the city.  Following its completion in 1889, it was the tallest structure in the world, and remained so until the Chrysler Building in New York City displaced it from that top spot.
The Eiffel Tower was originally built as the entrance arch for the Paris World's Fair.  That  also marked the 100-year commemoration of the French Revolution. When it was first built, many considered it to be an eyesore, part of the reason why originally the tower was to be torn down 20 years after it was erected.  Fortunately, some practical uses came of the tower (including the role it played in helping to catch the infamous spy, Mata Hari), and it remains an well recognized landmark in Paris.
On the first floor of the Eiffel Tower, during the winter, is a skating rink.  You can skate for free, and catch a great view at the same time.
To go up the tower, you can walk up 360 steps to the first level, and another 359 steps to the second level.  But you will need an elevator to go beyond the second platform — once you move past the second platform, the tower is an open frame, with no other platforms.
A few tidbits of Eiffel Tower trivia:
The tower is painted three different colors in order to make it look like it's all the same color (it has to do with the light sky and dark ground)
A con artist tried selling the tower for scrap metal.  It was sold – twice!
A restaurant was removed from mid-way up the tower, was dismantled and shipped to New Orleans, where it was reconstructed.  It's been known as the Tour Eiffel Restaurant and the Red Room.
The Eiffel Tower is popular in movies, including:  A View to Kill, Superman II, and The Hostage Tower.
There are 72 names engraved on the tower representing French scientists, engineers and other notables who played a part in getting the tower into existence.
If thinking about the Eiffel Tower doesn't make you want to go to Paris, I'm not sure anything will.