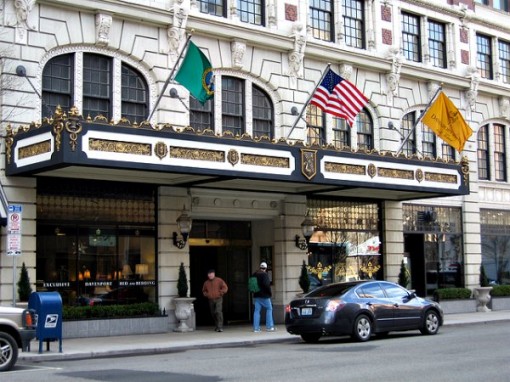 Spokane, the second largest city in Washington, is about 275 miles east of Seattle.  But to many of us, it might as well be a million miles away, another country even.  Those of us on the west side of the Cascades tend to forget that Spokane is coming into its own, creating a vibrant food, theater and arts scene, promoting area wineries, and taking advantage of the four distinct seasons its location offers to visitors.
I've visited Spokane several times over the past couple of years, and each visit I've discovered something new, interesting, and often tasty.  Here's a look at some things that I think make Spokane a great location for a Pacific Northwest getaway weekend.
Where to Stay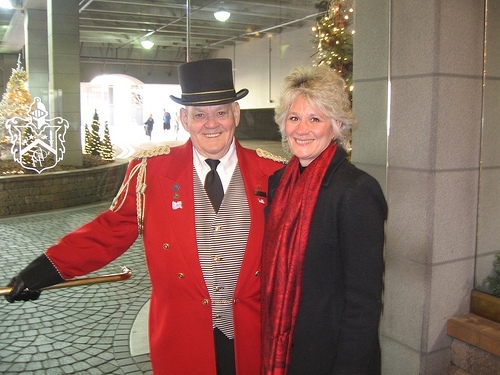 Offering accommodations at all points in the value luxury spectrum, Spokane has plenty of options – whether you're looking for a romantic place to hole, a casual family atmosphere, or something more modern.  For old world charm, I'd recommend the historic Davenport Hotel.  Full of nearly a century of interesting history, including the possibility or a resident ghost, the Davenport oozes elegance and charm – it's really quite grand.  A fireplace burns in lobby year round as a symbol of warm hospitality, in turn making the lobby a relaxing and inviting place to sit and chat – especially on a cold winter day.  That's the exterior of the hotel in the top photo, and me standing with the doorman (who's been with the hotel for decades).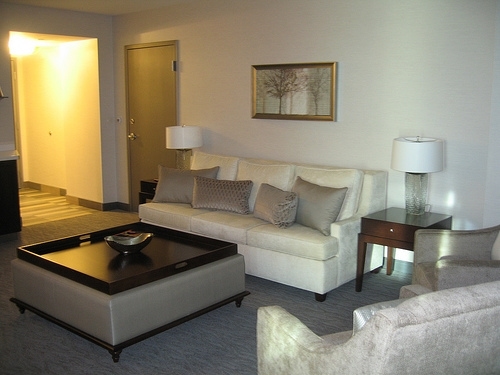 From the old to the new, Northern Quest Resort & Casino is on the newer end of the scale.  The Kalispell Tribe opened the casino in 2000 and the resort on December 31, 2009.  I had a chance to stay during the hotel's soft opening, that period of time when you're testing everything out, tweaking, and generally working out the bugs in everything.  There were a few little hiccups during my stay, nothing major, and I was impressed by well thought out room layout and luxury amenities.  The photo above is of the living room area of my suite.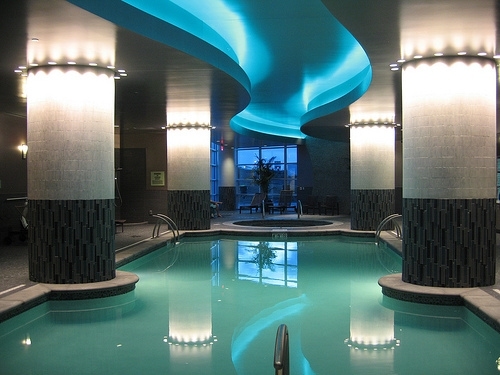 Northern Quest also has a luxurious spa (photo above) and offers salon service.  The resort offers a number of packages, and although it's a casino property, there's plenty to do – check out the spa – besides gambling.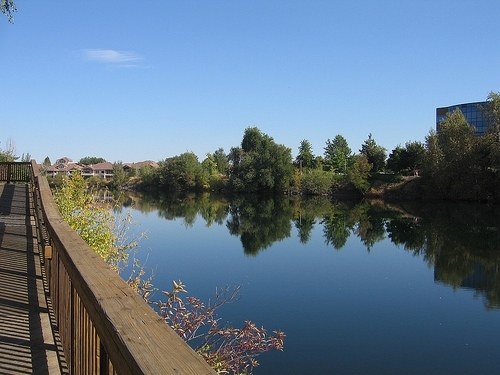 If you want to stay downtown, but with a more leisurely environment, the Red Lion at the Park offers convenience and comfort with moderate prices.  Located next to Riverfront Park on the Spokane River, you'll enjoy spectacular views – from your room, the grounds, or walking the trails (look how peaceful that water looks above).  Take off in one direction to downtown, another to the Gonzaga University campus (check out the Bing Crosby museum while you're there).  In the summer you can enjoy the large outdoor pool, complete with slide and waterfall.  The Red Lion offers family friendly rooms, amenities, and pricing.
What to Do
Spokane has four distinct seasons so there's plenty to do year round.  Although I'm not a skier, I'm told that that are great slopes and trails for downhill, cross-country, boarding, and tubing.  When the weather warms up, visitors can enjoy Riverfront Park the location of the 1974 World's Fair.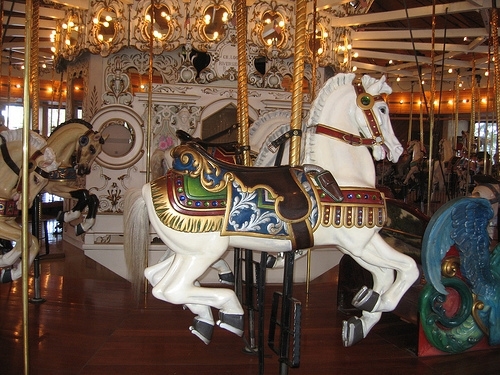 The vintage carousel is a fun ride, even if you're not a kid.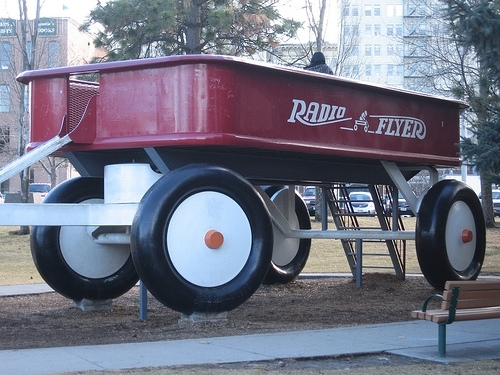 And who can resist the over-sized Red Flyer wagon.  The park is a venue for numerous outdoor concerts and community activities, so check out what's happening when planning your visit.
For a nice overview of the area, the Skyride, a rebuilt gondola, will carry you across the falls.  Depending on the time of year, and the snowfall, the falls may be a trickle or roaring.  The view is always amazing.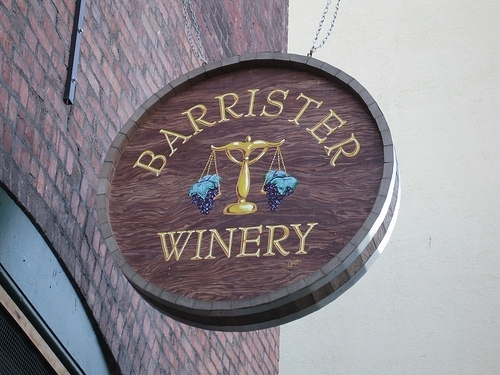 Set aside some time for wine tasting, there are several tastings rooms in the greater downtown area.  Barrister Winery specializes in the production of limited quantities of Bordeaux varietals and Syrah.  Their Rough Justice is both cleverly named and tasty (a complex, smoky nose of dark jammy fruits, mouth-filling silky tannins and a long finish), and the accompanying hats, t-shirts and accessories make fun gifts for any lawyer you might know.  The tasting room is quite large, and also serves as a venue for evening entertainment to accompany the tastings.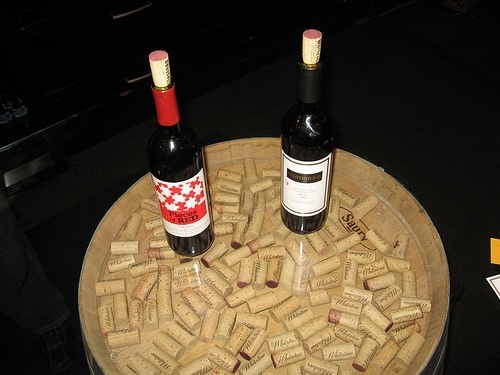 Whitestone Winery uses grapes solely from their family estate vineyard, blending handcrafted bold red wines. Their signature Pieces of Red (smooth berry, coffee, spice and black pepper on the finish) is priced for everyday drinking.  Sign up for their e-newsletter, full of wine news, events, and activities.  They have some great events and I'm hoping to get back to enjoy some of them.
Located in the historic Broadview Dairy building, Caterina Winery is as charming as its setting.  The tasting room is now also featuring Lone Canary wines along with their own, giving you even more reason to stop by.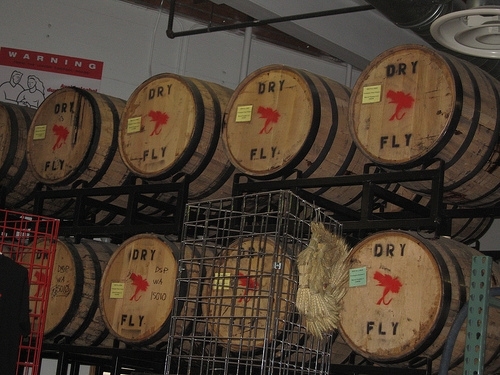 If you taste runs more to spirits than wine, a put a visit to Dry Fly Distilling on your list.  Dry Fly makes award winning, craft spirits, including bourbon, whiskey, gin, and vodka (which I swear tasted like smooth butterscotch) in a farm to bottle environment.  Every drop of liquor from Dry Fly is made from raw materials grown locally by sustainable farms.  Stop by to learn a bit about the distilling process (they also offer a distilling course) and make some purchases to take home.
Getting There
Most visitors to Spokane come from within the state of Washington, or nearby Idaho (about 20 miles to the east) and British Columbia (a little over a hundred miles to the north).  It's about a five hour drive, or hour flight, from Seattle – probably too long for a day trip, but an easy drive or fly for a long weekend.
Photo credit:  author's personal collection
Note:  I've visited Spokane on several occasions, including personal travel and as part of sponsored press trips.