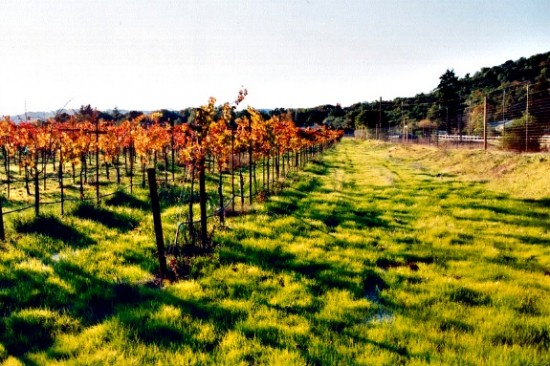 Any time is a good time for a visit to country. While many people first think of Napa Valley wineries, don't forget to think of the other side of the bay, and the wonderful wineries in Sonoma County.
Wine related travel is a popular part of a visit to Sonoma County.  With 13 American Viticultural areas, each with distinctive characteristics, the Pacific coastline, redwood forests, fertile valleys, and mountains,  all add to a success mix that creates outstanding wines.  It's a beautiful spot for a weekend of wine tasting or an easy day trip from Oakland, San Francisco, or Sacramento.
Everyone has their personal wine preferences, and with over 250 Sonoma-area wineries to choose from, coming in all sizes and flavors, the task of choosing where to visit and what to taste can be overwhelming. To simplify the process, I've put together a list of 31 wineries, one for every day of the month, along with brief tasting notes and comments, along with where the winery is located. I've aimed for variety, in location, types of wine and winery, along with winemaking style, so everyone should find something to enjoy. Use it as a starting point to create your own list of winery tastings, but do check out a full listing of Sonoma area wineries for more information and suggestions.
In alphabetical order, here's the list:
Acorn Winery – A good variety of wine is offered at this small winery. Call in advance for a visit, but give it a try even if you're just down the road as you don't necessarily need a lot of advance notice.   Located in Healdsburg.
Alexander Valley Vineyards – Award winning estate Cabernet and Sin Zin make this a popular stop. Located in Healdsburg.
Annapolis Winery – Small family owned winery that produces small barrels of delicious wine. Located in Annapolis.
Balletto Vineyards/Dutton Goldfield – Two wineries that operate a joint tasting room. Balletto features Chardonnay, Pinot Noir, Zinfandel, and Pinot Gris. Dutton Goldfield features Pinot Noir and Chardonnay. Located in Santa Rosa.
Buena Vista Winery – Dating back to 1857, the winery is a California Historic Landmark. Located in Sonoma.
Capture Wines – Ultra-premium small production Bordeaux wines. Located in Healdsburg.
Enkidu – Small lots of Bordeaux and Rhone varietals. Located in Kenwood.
Fieldstone – This small winery is located underground, carved into an oak knoll in the midst of its vineyards. Located in Healdsburg.
Fritz Underground Winery – With the entire facility built underground, the wine is gravity-fed. Estate, single vineyard, and reserve wines. Located in Cloverdale.
Gloria Ferrer – For the bubbly. Or their estate varietals. Located in Sonoma.
Gundlach Bundschu Winery – Gewurztraminer. One of the oldest wineries in Sonoma County, located in Sonoma.
Hanna Winery – Enjoy the panoramic view of the Alexander Valley from the wrap around veranda. Located in Healdsburg.
Hawkes Winery – Merlot, Cabernet, Chardonnay. Located in Healdsburg.
Kastania – Handcrafted small lots from estate grown grapes. Located in Petaluma.
Krutz Family Cellars – Artisan micro-winery. Located in Santa Rosa.
Matanzas Creek Winery – Merlot. The winery is surrounded by lavender fields. It's a bit hard to find, located a little off the beaten path, but it's worth the effort.  In Santa Rosa.
Medlock Ames – This estate winery is 100% organically grown and the property is 100% solar powered. Drink up knowing that your choice is also a commitment to sustainable farming practices. Located in Healdsburg.
Mutt Lynch Winery – Dog lovers will love this place and its cleverly named wines:  Merlot Over, Play Dead, and Unleashed Chardonnay. Good wine always goes with good humor. Located in Healdsburg.
Pendleton Estate – Family owned boutique winery, by appointment only. Located in Cloverdale.
Quivira Vineyards – California Grenache, Grenache Rose, and Sauvignon Blanc. Located in Healdsburg.
Robert Rue Vineyard – Old-vine Zinfandel. Located in Fulton.
Robert Young – This family vineyard is on land farmed by five generations, turning to grapes in the early 1960s. Well know for their quality Chardonnay, Merlot and Cabernet Sauvignon. Located in Geyserville.
Robledo Family Winery – Variety of wine offerings. Open by appointment only, but the owners are very accommodating, and short notice isn't usually a problem. Located in Sonoma.
Russian River Vineyards – Sauvignon Blanc and Syrah.  The winery also has a restaurant, making it a great stop when you need a little sustenance.  Located in Forestville.
Sausal – This small family owned winery produces premium estate wines at reasonable prices. Located in Healdsburg.
Soda Rock – Tasting room offers current releases, including the award winning Five Star General. Located in Healdsburg.
St. Francis – Taste varietals in a mission setting. Located in Santa Rosa.
Stryker Sonoma Winery and Vineyards – Zinfandel and Cabernet. Located in Geyserville.
Twomey Cellars – Merlot and other food-friendly wines. Located in Healdsburg.
White Oak – Enjoy a picnic with your wine tasting on these lovely winery grounds. Don't worry if it rains, you can have your picnic in the library. Located in Healdsburg.
Yoakim Bridge – Old vine, dry farmed Zinfandel. Located in Healdsburg.
Wineries, and wine, are all about personal preferences. Why not share some of your Sonoma preferences in the comments?
Photo credit:  SXC