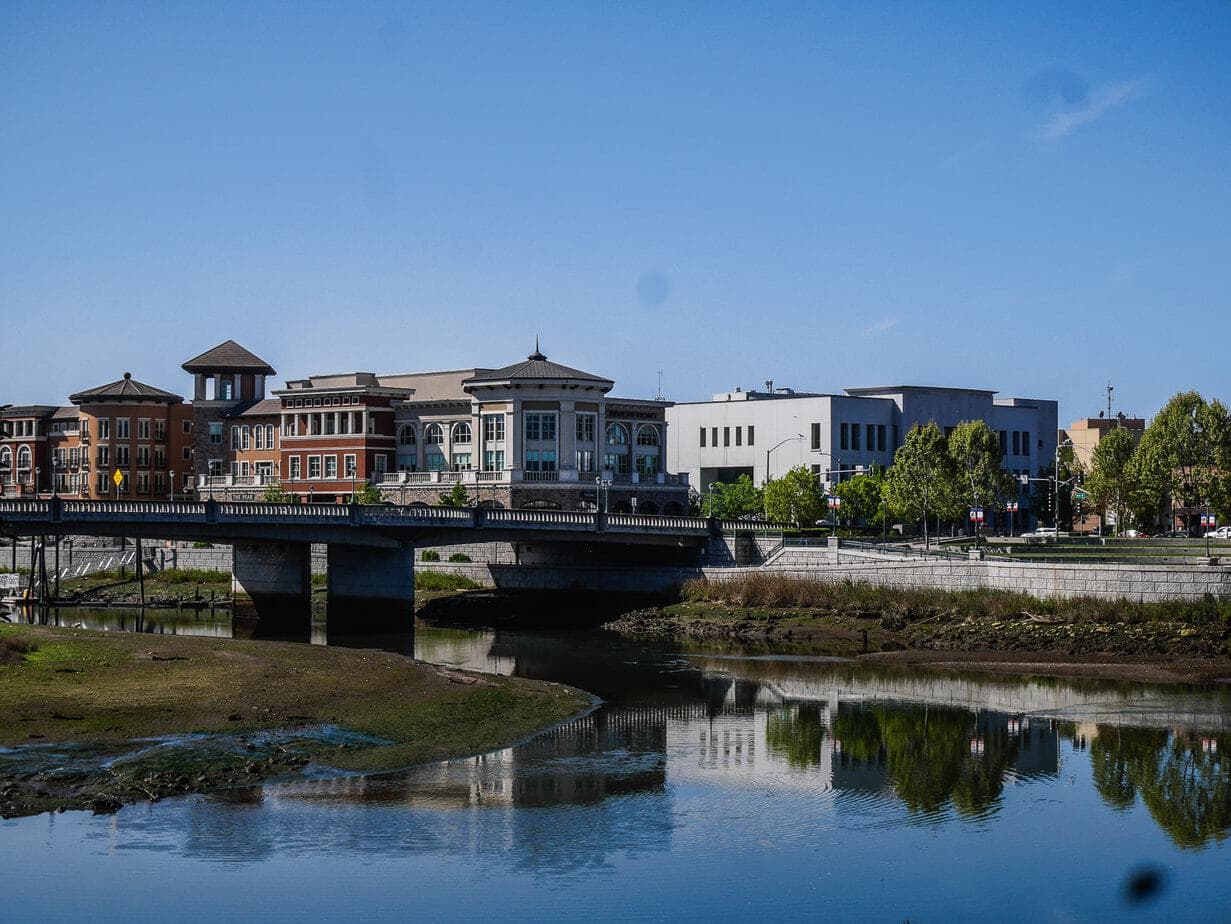 Located on the banks of the Napa River, downtown Napa has evolved from a small, sleepy town into a vibrant community full of upscale hotels, wine tasting rooms, and restaurants to meet every palate preference. There are downtown parks, outdoor art installations and art walks, markets full of local fare, and some of the friendliest Californians you'll ever run into. And they do it all with a casual flair that feels down-home rather than pretentious.
I spent some time in downtown Napa with some gal pals, soaking up some of the best it had to offer and had such a great time that I never wanted to leave. In fact, I've decided to plan a return trip, this time taking Tony along, as I know it's the type of getaway he enjoys. I think you'll enjoy it too!
Note: This trip included sponsored travel from Downtown Napa with additional editorial sponsorship from Trover.
This is part of a year of monthly themed features talking about places we've stayed and never wanted to leave. This post, and the ones to follow each month, may contain affiliate links, sponsored travel, sponsored content, or paid product placement. We've hand-picked these destinations and products because we like them and we think you will, too.
While I was in downtown Napa, one of the questions asked most often was about fire damage. There's no doubt that the damage to the Napa Valley was substantial and devastating, downtown Napa suffered no direct damage. They're open for business, inviting visitors to come and see for themselves how their community bands together to bounce back – and thrive – following adversity.
I stayed at the River Terrace Inn which is, as its name suggests, located alongside the Napa River. It's elegant, without being fussy, the staff is welcoming without being obsequious, and the room was comfortably inviting.
The room was a River View King room with a small balcony that gave me a view of the Napa River. The hotel features branded Napa Dream Bedding with a pillow top mattress designed to ensure you get a great night sleep, an over-sized jetted tub in the bathroom, along with the upscale amenities we've all come to expect and appreciate. Wi-fi is complimentary.
Tip: Plan some down time to enjoy the room – perhaps a glass of wine on the balcony or a glass of bubbly while stretching out in a bubble bath.
My time in downtown Napa was full of ambitious activities. If you need to kick your activity level up a notch you can do so with the courtesy cruiser bikes. Stop by the front desk and register to borrow the bike, whether it' pedaling the bike and running path along the river or working up an appetite – or thirst – for your next meal. Or, take advantage of the 24-hour fitness center at the hotel which offers both cardio and weight training options.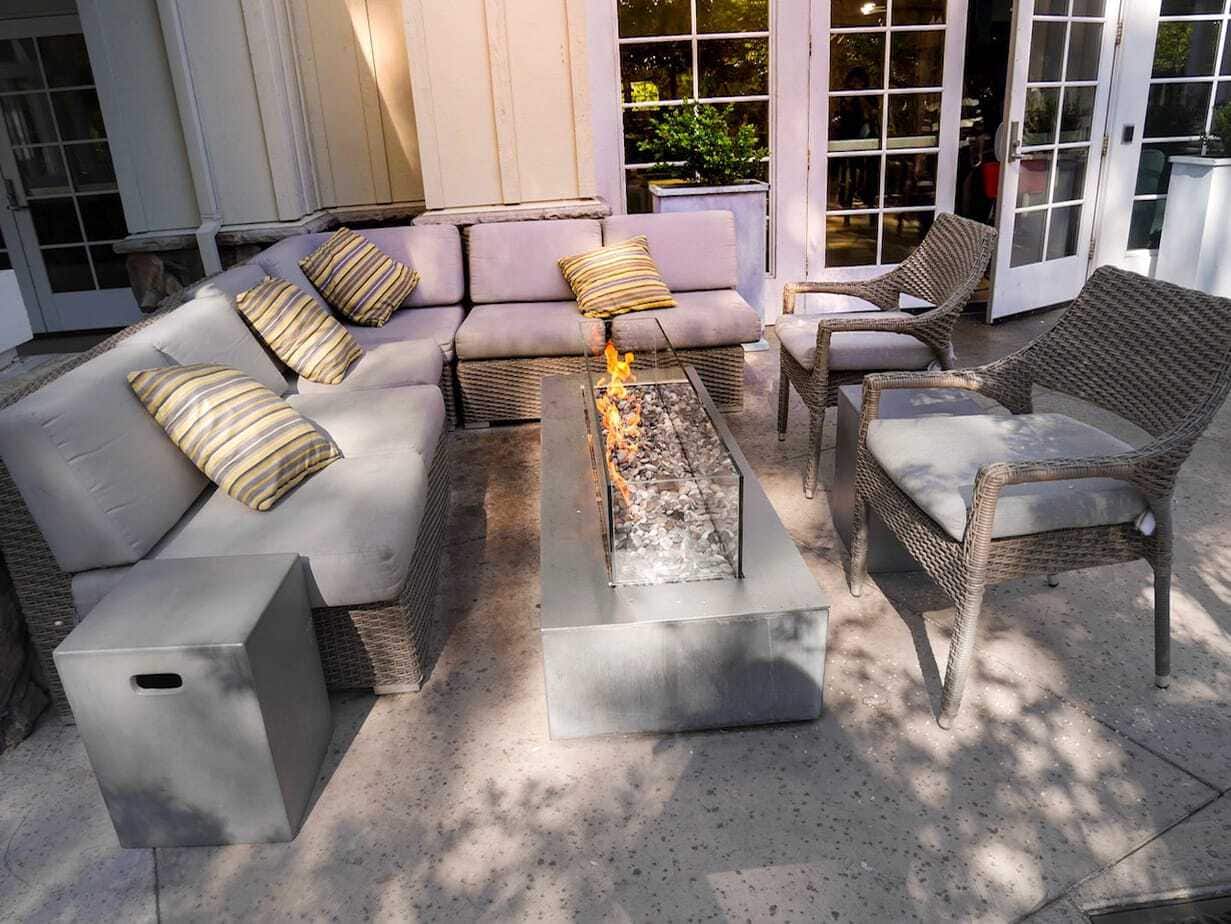 Alba is the onsite restaurant and bar with floor-to-ceiling windows bringing in the view while keeping the weather out. I enjoyed sitting outdoors for breakfast, especially the well-placed heater that helped warm off that early morning chill. The terrace makes a nice spot for a meal, but don't overlook the sofas and fire pits for an end of the day nightcap and a seasonal small plate.
River Terrace Inn is located on one edge of Downtown Napa, providing a geographically convenient spot from which to enjoy the rest of downtown. And there's plenty to enjoy. Here are some of my reasons that I never wanted to leave.
The Food in downtown Napa
Any get together of friends will always include lots of food and drink. Whether it's checking out a celebrity chef, trying a newly opened restaurant or bar, returning to an old favorite, or checking out a recommendation, food and drink are more than mere sustenance to me.
The conviviality of a meal is a way that I build connections with friends and family. It's a sharing that creates community, reconnects and strengthens relationships and provides an often needed pause in an otherwise busy day and life. If you feel that same way about food, you'll enjoy these recommendations, all of which are walkable from the River Terrace Inn.
Compline – Combining the best concepts of a restaurant, wine bar, and wine shop, Compline is a bright and airy spot to enjoy a spring day. Whether you're stopping off for lunch or dinner, or perhaps a shared plate and a bottle of wine, the knowledgeable yet friendly vibe is attracting. Plus, they've been named to Wine Enthusiast's 2018 list of America's Best Wine restaurants.
Open for lunch and dinner, with the wine bar and retail open late into the evening. Closed on Tuesdays.
Try: The cheeseboard and a bottle of wine. You'll almost feel like you're in Europe.
Location: 1300 First Street #312, Downtown Napa
Gran Electrica – With a menu that shows off the diversity of Mexican food, Gran Electrica is boisterous and full of fun. There's a focus on authentic Mexican cooking, while still acknowledging the importance of seasonal ingredients. It can get a little noisy at times, so don't plan on this for a romantic date, but it's perfect for Taco Tuesday or a Fun Friday night. The craft cocktails are impressive, too.
Open for daily for dinner and weekends for brunch.
Try: The fresh hand-pressed tortillas, of course.
Location: 1313 Main Street, Downtown Napa (they also have a location in Brooklyn)
Napa General Store – Another restaurant-retail combination that seems to work so well is downtown Napa is the Napa General Store. This seems to be a favorite spot for locals on a lunch break so you know it's good. Take time to wander in the curated collection in the retail section and you may wish you had more room in your luggage.
Open for breakfast daily, lunch on Monday-Friday, and Brunch on the weekends. They also have daily wine tasting.
Try: Any of the salad. A refreshing yet filling option for a busy day of activities.
Location: 540 Main Street #100, Downtown Napa
Oxbow Public Market – This modern, 40,000 square foot marketplace offers a fun mix of local cafes, food purveyors, and local vendors with an emphasis on social and economic equity within the community. It's a quick stop off breakfast and lunch when you don't have time to linger or want to pick up something to go.
Open seven days a week. Hours vary between 7:30 am and 9: 30 pm.
Try: The Fatted Calf for charcuterie for a picnic or an afternoon snack on your hotel balcony.
Location: 610 and 644 First Street, on the edge of Downtown Napa and a short walk along the Napa River Trail from the River Terrace Inn.
Sky & Vine – Located at the Archer Hotel, Sky and Vine is the rooftop bar of Charlie Parker's Steakhouse. The indoor restaurant space is multi-storied and dramatic. The rooftop bar offers panoramic views of the surrounding area and is a beautiful spot at sunset or the reverse happy hour. The hotel also offers a spa if you want to plan a full spa day with lunch.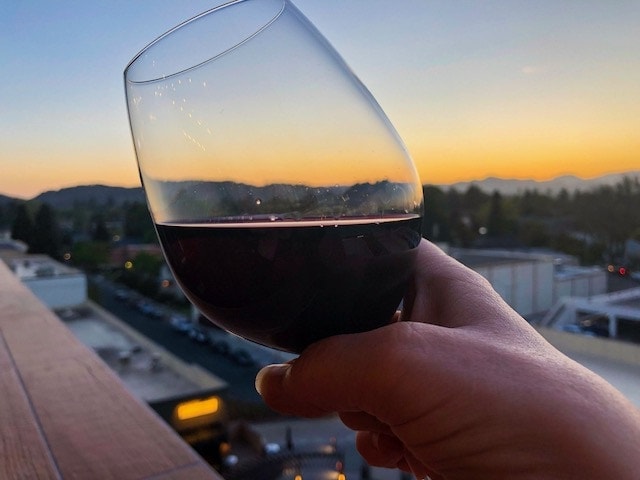 Open for daily for lunch and dinner, and breakfast and brunch during the peak season. Reverse happy hour on selected days, 9 pm to close.
Try: The lobster corn dogs, an upscale take on much-beloved fair food.
Location: 1260 First Street, Downtown Napa
The Wine in Downtown Napa
Napa Valley is home to hundreds and hundreds of wineries and tastings rooms and it can all get a bit overwhelming.
Downtown Napa offers 25 tasting rooms, many featuring small lot and artisanal wines that you would never find if exploring the greater Napa Valley. Perhaps best of all, you can walk to all of these from your hotel, so no need to pick a designated driver who will miss out on all the fun.
While I didn't get to all 25 tasting rooms (I'm saving most of them for a return visit), here are four recommendations to get you started.
Brown Downtown – I happened upon this industrial chic tasting room while wandering downtown before meeting up with my traveling companions. The ambiance lured me in, and while reservations are generally recommended (required on weekends), luck was with me and I got to check it out
Try: 2014 Chaos Theory. Deep and dark with fragrances of flowering lilac, French lavender, eucalyptus, and brown sugar. Evocative of blackberry jam with a hint of bacon.
Location: 1005 Combs Street on the northwest corner of First Street, second floor.
Gustavo – If you've seen the movie Bottle Shock, you know the story of Gustavo Brambila, the son of a migrant vineyard worker, who was involved with wine at Chateau Montelena. While there was some literary license taken in the movies – isn't' there always – it's still a fascinating story. Gustavo has been making wine under his own label since 1996.
Try: 3rd Bottle Red Table Wine. This blend of easy to drink, easy on the wallet red is a blend of Cabernet Sauvignon, Merlot, Petite Verdot, Malbec, and Cinsault. It has a spicy fragrance of smoke, vanilla, and cherries, with lingering hints of dark blueberry and tobacco.
Location: 1021 McKinstry Street (near the Oxbow Market)
JaM – With wines called Butter, Candy, Jam, and Toast, I knew this would be a fun place to stop off. The tasting room is as fun as the wine names and it's all topped off with an impressive vinyl collection that provides music throughout. The rock and roll vibe continues with leather couches, vintage Rolling Stone Magazine artwork, and music-themed events.
Try: Toast Brut Sparkling. Juicy aromas of melon, white peach and orange blossom explode into tropical pineapple and ripe honeydew, with tiny bubbles and a crisp, light toastiness on the palate.
Location: 1460 First Street
Vermeil – Former SuperBowl winning NFL Coach Dick Vermeil has lifelong ties to Napa, so it probably wasn't a surprise when he entered the wine business nearly 20 years ago. The tasting room feels like an upscale sports bar for wine lovers with televisions, deep comfy couches, and football memorabilia. Check out the Lombardi Trophy.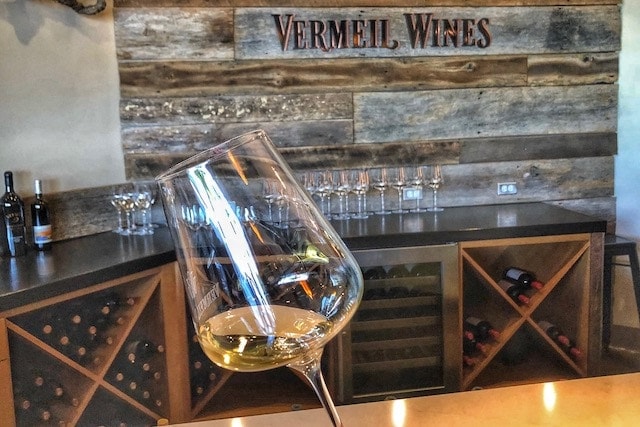 Try: 2015 XXXIV. Named for the year Vermeil coached the St. Louis Ram to the SuperBowl championship, this red blend has aromatics of rhubarb, black tea, licorice and cedar that accompany flavors of cassis, cocoa, and black cherry. I purchased a bottle to bring home and wish I had bought more.
Location: 1018 First Street
You can see a full listing of the Downtown Napa wine tasting rooms here. See the Buying Guide below for information on how to save on tastings with the Taste Napa Downtown card.
The Activities in Downtown Napa
A visit to downtown Napa isn't all food and wine, although it easily could be. I recommend planning at least one cultural, outdoor, educational, or other active adventure every day of your visit. Here are some recommendations for a long weekend in Downtown Napa.
Take a class at CIA at Copia – While this one arguably qualifies as eating and drinking, the educational component wins out. CIA in this instance stands for Culinary Institute of America, the granddaddy of culinary accreditation, and at Copia they offer both demonstrations and hands-on classes for the general public. View the calendar here. Private classes, which we did, are also available for groups.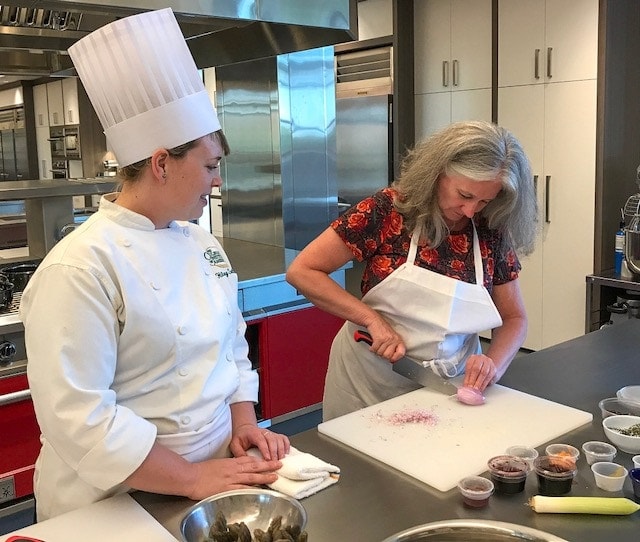 It's hard to explain how joyous this experience was. From learning about the blending of flavors and ingredients to sharpening up my knife skills (notice the pun there?), this was an experience that remains top of my all-time list. If your visit corresponds with a class that interests you, I highly recommend that you make time in your schedule.
If you don't have time for a class, there is a full-service restaurant on site, the Restaurant at Copia. The menu changes frequently. Reservations recommended.
Location: 500 1st Street
Kayak the Napa River – A morning kayak tour on the Napa River provide to be both invigorating and educational as we got some local history tidbits as we paddled the river. I really enjoy kayaking, but consider myself a social kayaker – nothing with any degree of difficulty – and the couple hours we spent on the river were well within my comfort zone.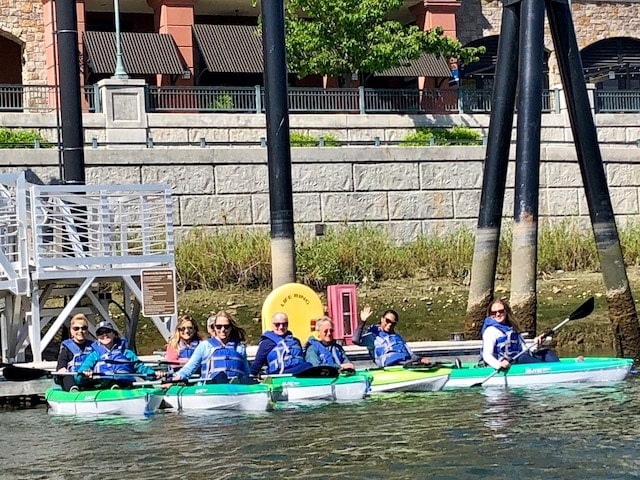 Enjoy Napa Valley provides everything you need, including the kayak, life vest, and guide It's a great way to start the day as the current gets a little strong in the afternoon, making it a bit more challenging for a novice kayaker. If you want to explore on your own kayak rentals are also available.
Location: Tours depart from the Napa Yacht Club, 100 Riverside Drive.
Napa ARTwalk – The Napa ARTwalk is a biannually rotating exhibit of sculpture in Downtown Napa. It's a juried collection of 10 sculptures from artists from the Western United States, organized in a way that makes it simple to both enjoy the art and explore a little bit of the city. And, if you want to keep with the food and wine theme for your visit, it's easy to plan stops along the way to sate your hunger or slake your thirst.
The current installations run through 2019. You can find a full list of the art and artists here. You can pick up an ARTwalk map at the Visitors Center (1290 Napa Town Center) or print out the online version here.
If You Go
When to Go: I don't think there's necessarily a perfect time to visit Napa, as each season offers something special.
I visited in the spring. The weather was warm enough for shorts and t-shirts during the day, although it did cool down come evening. The area was alive with color, it wasn't crowded, and I got just a hint of the busy summer activity to come.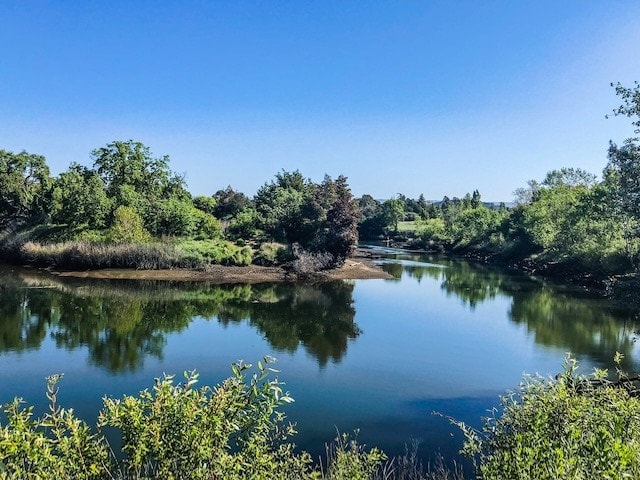 If you plan to visit during the summer, plan on reservations for everything. Book as far in advance as you can, and don't expect easy walk-in accommodation. Rates will probably be highest this time of year. Fall is crush and it's a busy time for the wineries. Come winter things slow down a little and you'll find great rates and even the toughest reservations get easier to scoop up.
Getting there: Downtown Napa is about an hour's drive from San Francisco International Airport (SFO), Oakland International Airport (OAK), and Sacramento International Airport (SMF). Santa Rosa regional airport is also an option.
If you plan on staying in the Downtown Napa area, you won't need a car – almost everything in this list is easily walkable. If you want to venture slightly away from the downtown core, Uber or Lyft is an easy option.
Accommodations: The River Terrace Inn is located at 1600 Soscol Avenue, on the edge of Downtown Napa. Rates vary widely based on season; summer rates run about $315, weekends are higher. You can check prices with the map and booking tool below.
Buying Guide
Taste Napa Downtown Card – This tasting card allows you to visit 10 of the 25 downtown Napa wine tasting rooms for half price. They are all within an easy walking distance, and you'll recoup your money if you visit just a couple. Some of the wineries offer additional specials and discounts. For more information about purchasing the card ($15) click here.
Guidebook – From Napa with Love is a travel and lifestyle guide to the Napa Valley featuring local tips as well as celebrity recommendations. I enjoyed reading it, but it's definitely more of a fun look at what's to do in the area than an itinerary planning guide. Buy it on Amazon here, also available for Kindle.
Something to Read – I created a travel-themed reading challenge for 2018 and after my visit to Downtown Napa wanted to put something representative on the list. The description of Dial M for Merlot captured my attention and seemed representative of a girls getaway: "One man's discovery of his love of and passion for fine wine. On a Friday night, after being stood up for the zillionth time, a lovelorn nerd wanders into a wine tasting at a local shop that opens his eyes, turns on his taste buds and totally changes his life." I've put it on my to-read list to read during crush. Buy it on Amazon here, also available for Kindle.
Phone App – I use the Vivino wine app to keep track of the wines I try and used it a lot during my getaway to Napa. It's handy to create a list of my favorites so I can try or buy them again and it's fun to look back on my discoveries. It's a free app and available for iPhone and Android. Get more info here.
Another handy phone app is the Discover Napa Winery Guide. It's an easy way to find up-to-date info about each winery, including their website, contact info, directions, tasting information and wins. Helpful whether you're planning in advance, making a spur of the moment decision, or just browsing. Available for iPhone and Android (free). Get more info here.
Wine – There are too many choices to list options, even narrowing it down to some of my favorites would be another guide itself. You will probably buy wine, perhaps some to drink while you're in Napa and some to take home. If you're only taking a bottle or two home, you can probably wrap it well and put in your checked luggage. I've never had a problem with wrapping the bottle in bubble wrap and strategically place in my suitcase. Friends, however, say that's far too risky and they swear by reusable wine protectors (available on Amazon here).
I always kick myself when I get home from a trip and I didn't buy a great wine that I discovered. For no muss, no fuss, home delivery, it's hard to beat wine.com.
Save this to your favorite Pinterest boards and refer back to it when planning your trip!