During a time of turmoil and unrest during the first World War, you would never have expected two adventurous women to take on a groundbreaking adventure. Riding motorcycles was stereotypically considered a man's sport, especially during the early 1900s when vehicles had not long been on the road. But in 1915, just thirteen years after the first Harley Davidson motorcycle was manufactured in America, two women set out to do what society told them they couldn't.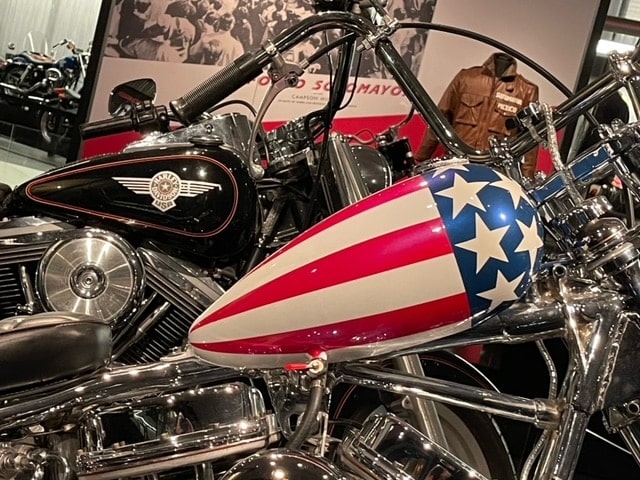 Known as the pioneers of female adventure motorcycling, Avis and Effie Hotchkiss took their motorcycle cross country to see the scenery. Little did they know that their journey would inspire other women Harley riders, not just in picking up the sport, but in fighting for political justice.
Who are Avis and Effie Hotchkiss?
52-year-old Avis Hotchkiss, and her 26-year-old daughter Effie, were the first female riders to travel across the United States on a motorcycle. On their 11F Harley-Davidson 3-speed with a sidecar, piloted by Effie with Avis in the sidecar, the two women hit the open road, traveling from Brooklyn, New York, to San Francisco and back.
Effie learned to ride at the age of 16, taught by her brother. He taught her the basics, including safety and mechanics, and she soon started dreaming of a cross-country trip.
Of course, this was a tumultuous time for women in the U.S. Women did not yet have the vote. Wearing men's clothing was considered illegal in many locations, and let's face it, dresses were not the most comfortable attire when riding a motorcycle. It was barely acceptable for women to own their own bike to ride, let alone plan long-distance road trips
But Effie dreamed of being the first lady Harley rider to travel across the country. On May 2nd, 1915, she and her mom set off on the 4,500-mile journey to San Francisco for the Panama Pacific International Convention.
The Cross-Country Journey
The Hotchkiss duo set off across the Hudson Valley to Albany, before heading west toward Buffalo, and finally on to Chicago. They carried their own tools for repairs along the way and averaged around 150 miles a day. Considering the poor condition of the roads and lack of signposts or gas stations, this is a remarkably brisk pace. The two lady riders, as they were called, attracted lots of attention from curious onlookers wherever they stopped.
The women stopped along the way, renting rooms as needed. As well as carrying essential clothing and mechanical tools, they carried a firearm for protection. It was only fired when Effie would shoot at snakes and coyotes who crossed their paths.
One special item that Effie and Avis carried was a jar of seawater from the Atlantic Ocean near their home. They took the water across the country, then emptied it into the Pacific Ocean.
Two years before this journey, the Congressional Union for Woman Suffrage was founded (later known as the National Woman's Party). It was a pivotal moment for women's rights and began a push for equality. While Avis and Effie Hotchkiss set off on their journey with no political agenda, merely the desire to see new sights, they did inspire women across the country to embark on their own adventures and break the stereotypes.
It took the pair two months to complete the 9,000-mile round trip. The memories lasted a lifetime.
Other Women Riders on the Road
The Hotchkiss journey kicked a lot of misconceptions to the curb, and they inspired other women riders to find their own adventures on the back of a motorcycle. This group of women was united by a common passion previously thought to be held only by their male counterparts.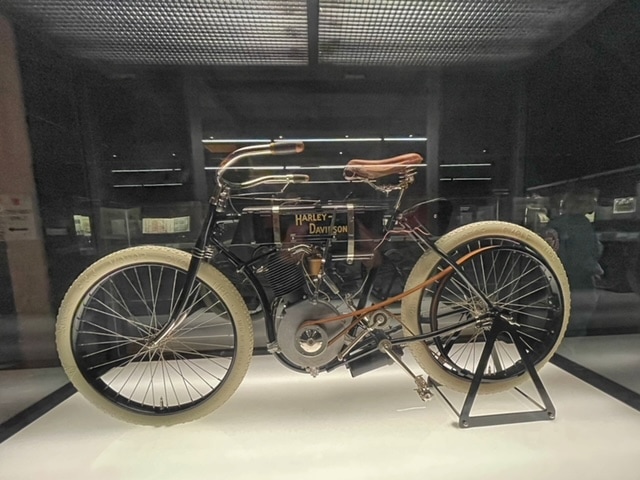 The Van Buren Sisters: Augusta and Adeline
Just one year after Avis and Effie Hotchkiss completed their riding journey, a pair of sisters named Augusta and Adeline Van Buren rode a similar adventure from Brooklyn to San Francisco. While Avis and Effie Hotchkiss just wanted to see the sights, the Van Buren's had a political agenda. They wanted to prove that women could do anything a man could. The Van Buren sisters wore military-style leggings and leather riding breeches, seen as taboo at the time, but giving them a sense of freedom of movement that a dress didn't provide.
The Van Buren sisters took the Lincoln Highway, although the term highway was rather loosely used at the time and it was often dusty during dry days and muddy and flooded during wet days. The ladies rode an Indian Power Plus motorcycle, completing 5,500 miles in just 60 days. Though they took the highway, in 1916, the road was in poor condition, often dusty during dry days and muddy and flooded during wet days.
Della Crewe
Della Crewe set out on her journey a year before Avis and Effie Hotchkiss. She was famous for riding her Harley Davidson sidecar from Waco, Texas, to New York City, accompanied by her dog.
Her journey took six months, traveling across Kansas and Wisconsin before reaching the city streets of the East Coast on December 12th, 1914. When Della arrived in New York, the temperature clocked in at -10F. To survive the frigid cold, she had to wear every item of clothing she carried with her.
Vivian Bales
Vivian Bales was known for her 1929 5,000-mile journey across the US on her Harley Davidson. She set off from Albany, Georgia, for a 78-day tour of the country, meeting fellow Harley riders along the way.
Vivian bought her first motorcycle in 1926 and taught herself how to ride. Shortly before her trip, she traded in her old motorcycle for a 1929 45 Twin D Harley and wrote to the motorcycle magazine, The Enthusiast, telling them of her plans. She went on to star on the cover of the magazine and Harley Davidson gave her two sweaters with the words "The Enthusiastic Girl" written on them. Thus started her nickname – The Enthusiastic Girl.
Bessie Stringfield
Bessie Stringfield is another inspiring female rider, and probably the most famous in history. She was the first African-American female to ride solo across America, doing so in the 1930s. She rode an Indian Scout. During the time Bessie traveled across America, women and people of color were treated with extreme prejudice, and her journey is considered groundbreaking. Her brave solo journey has been a true inspiration to many female Harley riders.
Bessie's love of motorcycles lasted for decades. During her life, she owned 27 Harley Davidson Cruisers.
Dot Robinson
The 1930s was another prominent era for women Harley riders when motorsport enthusiast Dorothy "Dot" Robinson came on the scene. She was known for regularly challenging male competitors in endurance and sidecar races, as well as setting up and becoming the long-standing president of the motorcycle club for women – Motor Maid.
Dot rode as a military dispatch rider during World War II. Later, she rode a pink Harley-Davidson which became her claim to fame.
More Fun Facts About Women Motorcycle Riders
Who was the first female motorcycle rider?
The first documented female motorcycle rider was ​​a woman named Clara Marian Wagner. She was the daughter of the owner of Wagner Motorcycle Company and became a member of the American Federation of Motorcyclists in 1907 when she was just 15 years old.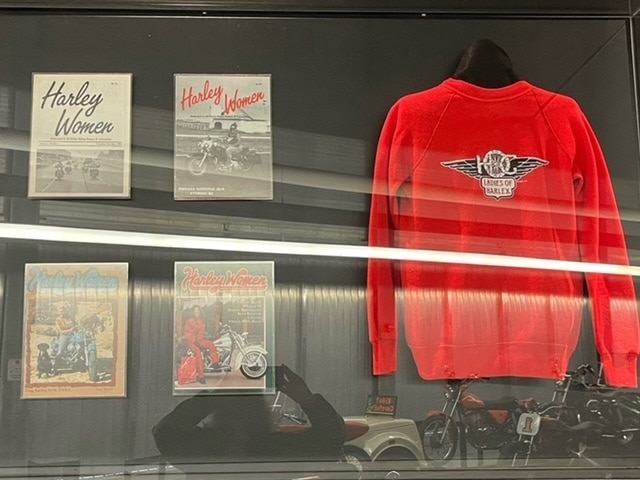 Who is considered the best female motorcycle rider?
There are many great female motorcycle riders out there, so naming "the best" is fraught with difficulty. Ana Carrasco Gabarrón, a Spanish motorcycle racer, holds the record for being the first female rider to win a world motorsport championship, winning the 2018 Supersport 300 World Championship.
How many women ride motorcycles today?
In the US, about 19% of all motorcycle riders are women and have become an important target market for manufacturers.
What are the best Harley motorcycles?
The one you own.
Learn More About the Ladies of Harley
There is an exhibition dedicated to female Harley riders in the Clubs and Competition Gallery at the Harley-Davidson Museum in Milwaukee, Wisconsin.
Harley-Davidson Museum
The Harley-Davidson Museum is one of the top attractions in Milwaukee, and although I'm not a rider, understand why. The history of Harley Davidson parallels the history of the country – from the evolution of technology and design to our changing cultural norms and politics.
Displays show the evolution of the different models of Harleys – style, features, and capabilities – as the manufacturer tries to create perfect bikes for their users. It chronicles the rise of H.O.G. (Harley Owners Group) as a way to share a common interest in riding that includes beginner to advanced riders. You can find your local hog chapter here.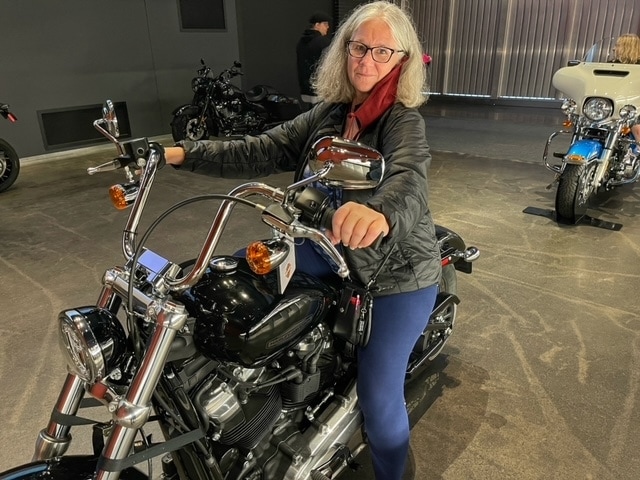 I particularly enjoyed the ladies of Harley and the Harley in the movies exhibits. Taking a look at motorcycle fashion (yes, there is such a thing) in the early years was fun, and seeing the replica of the Easy Rider Harley was a trip down memory lane. And for a very brief moment, I enjoyed being on the back of a Harley.
The Harley Davidson Museum is located at 400 West Canal Street, Milwaukee, Wisconsin, on 20-acre, park-like grounds. It's filled with displays of motorcycles and memorabilia for visitors to see, with special exhibits and activities throughout the year. There is a restaurant and bar on-site, along with a museum gift shop that's the best place for official Harley items.
Museum hours are generally Thursday-Monday, 10 am-5 pm. The Motor Bar and Restaurant is open 11 am- 5 pm, till 8 pm on Friday and Saturday.
Admission is $22 (adults), $16 (seniors, students, military) and $8 for children (5-17). It is free for children under 5.
Check the Harley Museum website (here) for current information.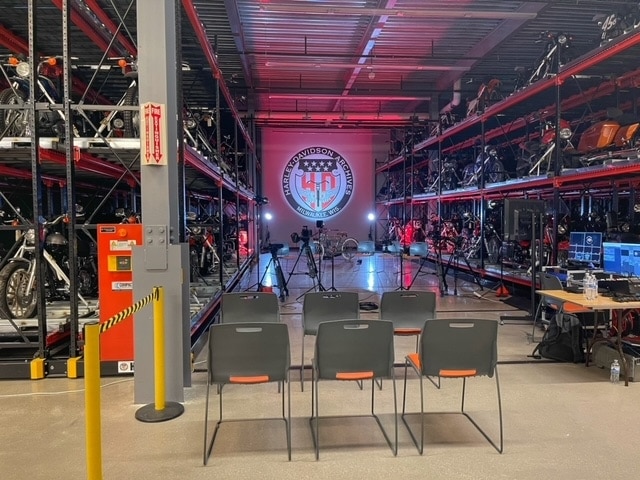 Disclosure: We visited the Harley Davidson Museum in Milwaukee for the SATW Annual Convention and received complimentary admission.
For Pinterest
Save to your favorite Pinterest travel boards and check out the Harley Davidson Museum in Milwaukee on your next visit.