Milwaukee is a vibrant city with abundant attractions. I've written about the quirky Bobblehead Museum and the impressive niche-specific Harley Davidson Museum (and there are plenty of fans who considered those bikes works of art). Today I'm tackling something more suited for the culture readers, taking a look at Milwaukee art museums. I think you'll find it represents some of the best in the midwest.
In these art museums, you'll find some of the most famous works of art, including works from Van Gogh, Salvador Dali, and Marc Chagall. If modern art is more your thing, there is no lacking. And if American decorative arts or Haitian art or German expressionism are your jam, you'll find a museum collection that speaks to your special interests.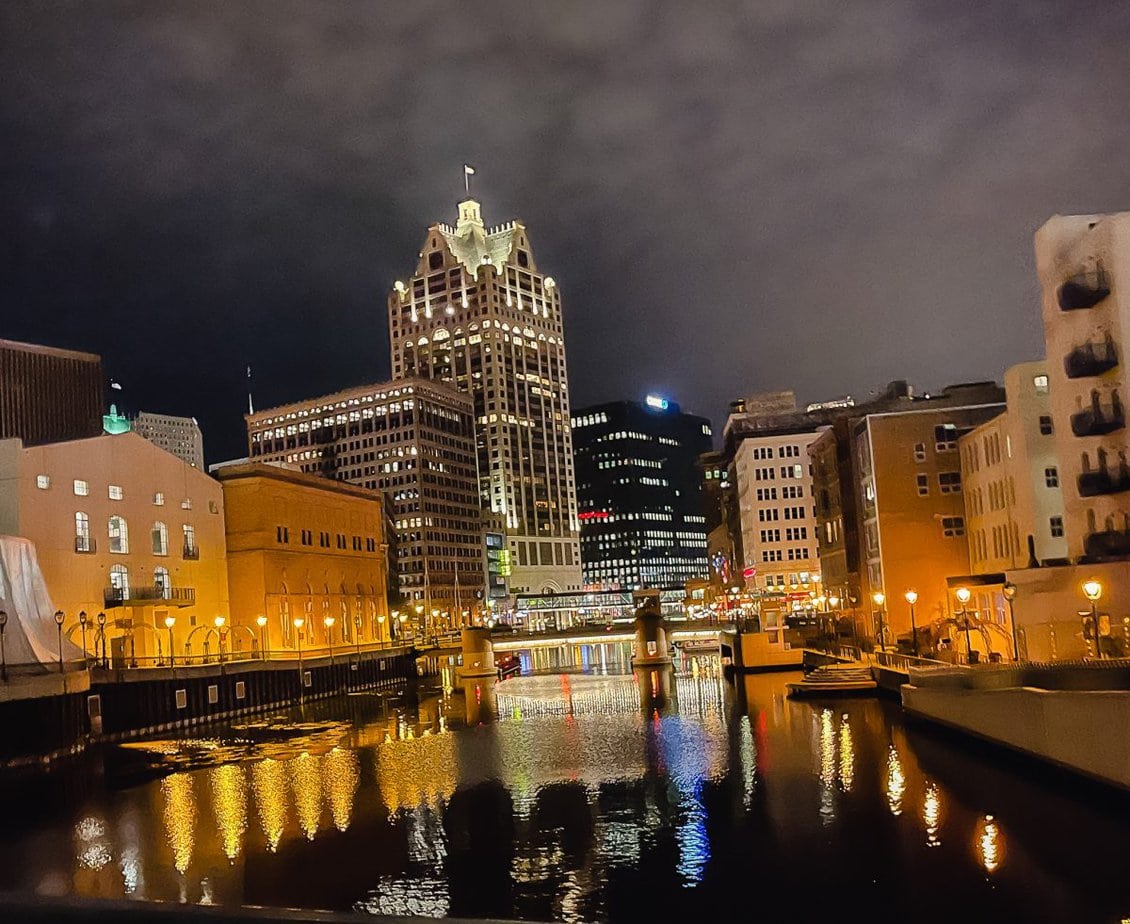 But where do you find these pieces? What does each museum have to offer? This complete guide to Milwaukee art museums explains what these museums have to offer. There are lots of things to see, do, and experience, so let's jump into the Milwaukee art scene.
Milwaukee Art Museum
One of the first art museums in Milwaukee to open its doors in the city is the Milwaukee Art Museum. Founded in 1888, it has grown to three buildings covering a huge 341,000-square-foot estate. The complex itself, located on Lake Michigan, has one of the largest collections of work in the Milwaukee area.
The War Memorial Center was designed by Finnish- American architect Eero Saarinen in 1957. The design was influenced by abstract geometry, which has certainly been achieved when looking at the face of it. In the middle section is the extension building. It was added in 1975 and designed by David Kahler.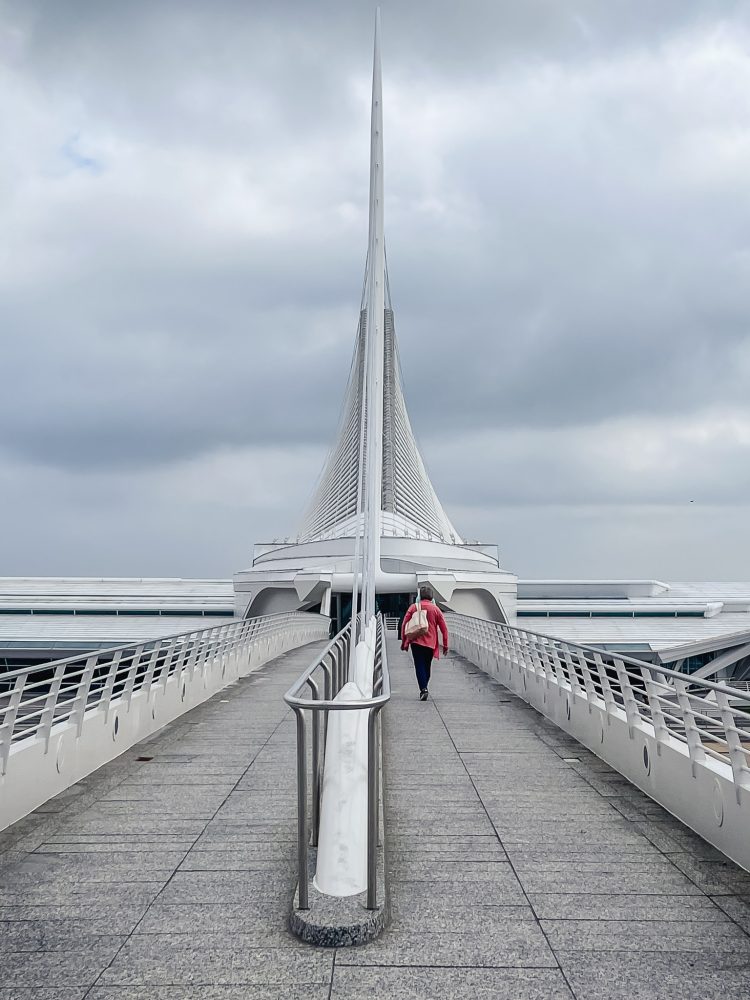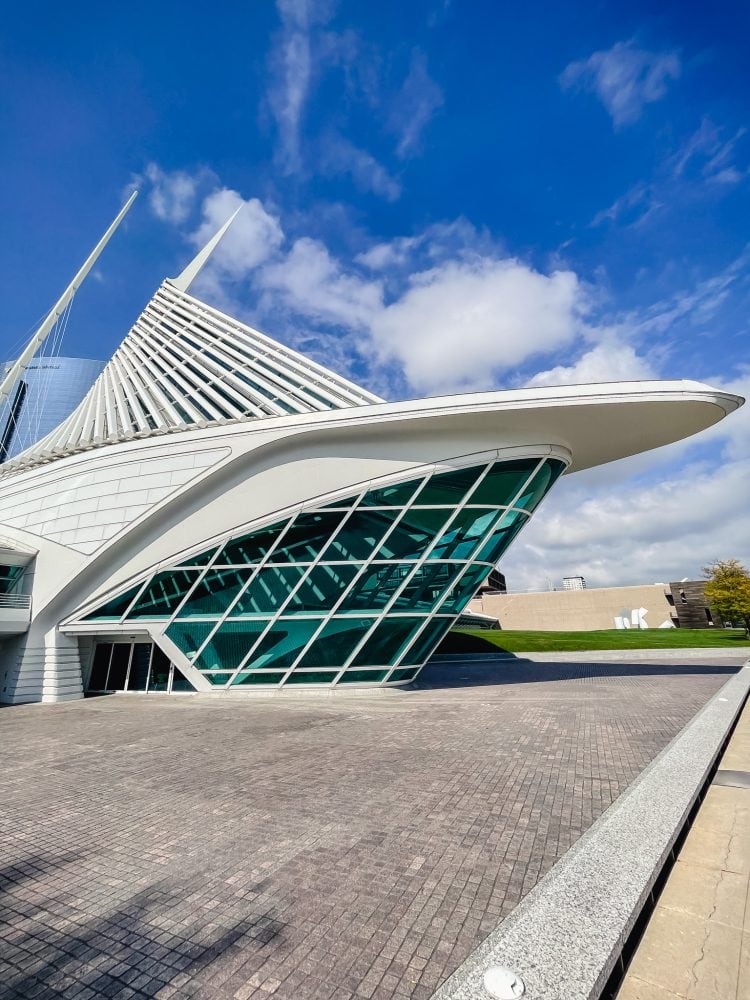 The Quadracci Pavilion is another one of the most striking buildings in the complex since it looks like a 90-foot tall, glass skeleton of a bird's wing. I think it looks like the bow of a ship, especially from certain angles. The pavilion, designed by Spanish architect Santiago Calatrava, was added in 2001.
Inside the museum, visitors can marvel at over 30,000 works of art, from classic pieces to modern art. Some notable works in the museum are original pieces from Andy Warhol, Marc Chagall, Pablo Picasso, Salvador Dali, and Frida Kahlo.
Make sure to visit on the first Thursday of every month for free admission.
Details: Address: Milwaukee Art Museum, 700 N. Art Museum Drive, Milwaukee | Official Site
Charles Allis Art Museum
Charles Allis was an industrialist who was born in Milwaukee in 1853. He and his wife, Sarah Esther Ball, built a grand home on Royal Place and Prospect Avenue. It was designed by architect Alexander Eschweiler who drew influence from the English Tudor style. The home was built to house their world-class art collection, which was left to the people of Milwaukee, along with their home, after their death.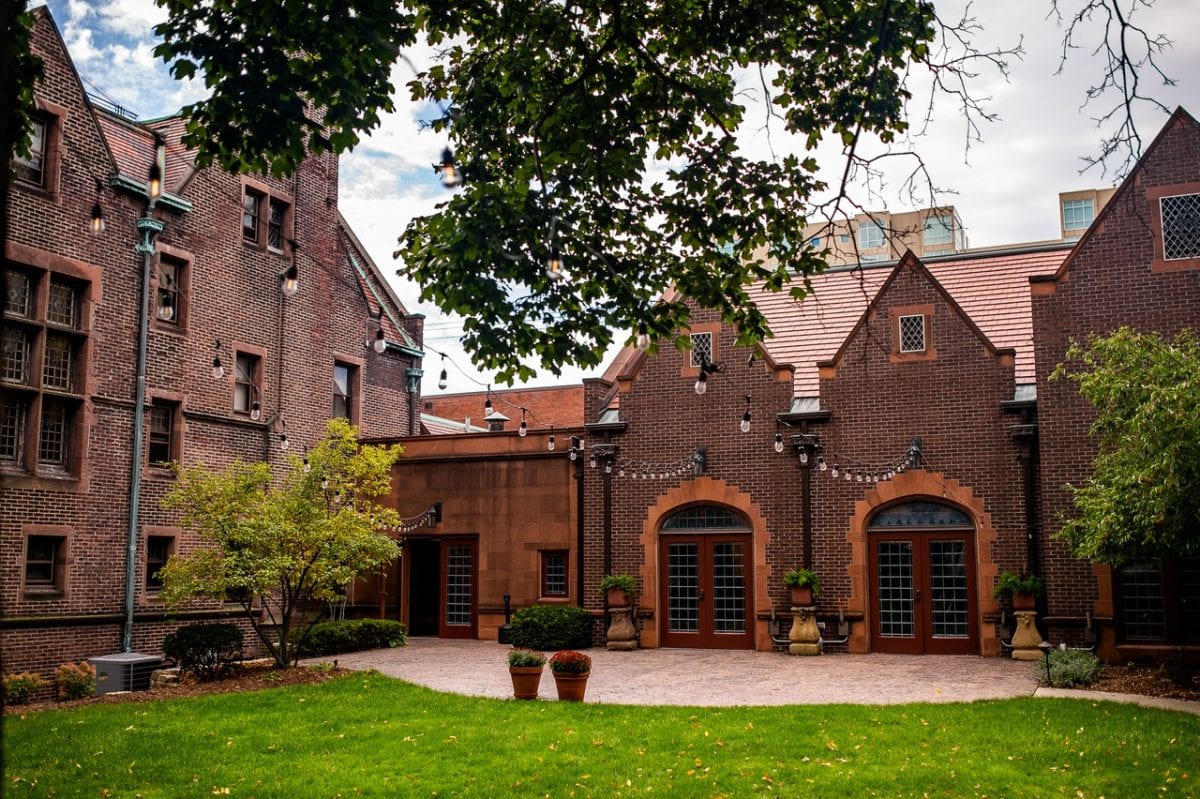 Charles Allis was born into a wealthy family and was always taught to appreciate fine art from a young age. He started his art collection very young and collected works from renowned artists such as Eugène Fromentin, Felix Ziem, and Narcisse Virgilio Díaz de la Peña. Although most of his father's collection was given to the Milwaukee Art Museum, Charles' collection can still be seen in his former residence.
In the exhibition, you can see notable pieces such as Summer on the Oise by Charles-François Daubigny, In the Pasture by Eugène Verboeckhoven, and Ville d'Avray by Camille Corot.
Details: 1801 N Prospect Ave, Milwaukee | Official Site
Grohmann Museum
One of the most unique art museums in Milwaukee is the Grohmann Museum. Its extensive collection pays homage to the evolution of the human workforce.
The museum contains more than 1,700 paintings and sculptures that date as far back as 1580. Each piece of art has been selected because they reflect the evolution of organized labor, from farming, mining, blacksmithing, and more.
One of the oldest paintings in the collection worth seeing is the River Valley with Iron Smelter by Flemish painter Marten van Valckenborch (1535-1612). It's an industrial oil painting that shows the medieval iron smelters at work in a detailed harbor scene. Most of the paintings are by European artists, mainly German and Dutch, although there are some American artists in the collection too.
When visiting, take a second to admire the Man At Work mosaic on the entrance floor.
Details: 1000 N Broadway, Milwaukee | Official Site
Haggerty Museum of Art
The Haggerty Museum of Art was built in 1984 as a permanent home for the Marquette University Fine Arts Committee's art collection.
Each year, The Haggerty holds around eight to nine exhibitions, each showcasing some of the most celebrated works in its permanent collection. The museum has previously celebrated the contributions of the Italian Renaissance, self-taught American artists, and photography in its exhibits.
The Haggerty is also an educational museum, offering programs to undergraduate students in various disciplines. It collaborates with local school teachers, local artists, and the College of Education to provide stimulating art programs for children.
Marquette has a great campus for strolling. We visited on a crisp fall day and enjoyed exploring and stopping off at the bookstore (we collect law school memorabilia).
Details: 1234 W Tory Hill Street | Official Site
Museum of Wisconsin Art
Another of the most striking Milwaukee art museums is the Museum of Wisconsin Art (MOWA), famous for the architecture of its main building, the Mothership. MOWA is a contemporary art museum that has collections all over the state, but its permanent collection is on display in the Mothership and at another location in downtown Milwaukee.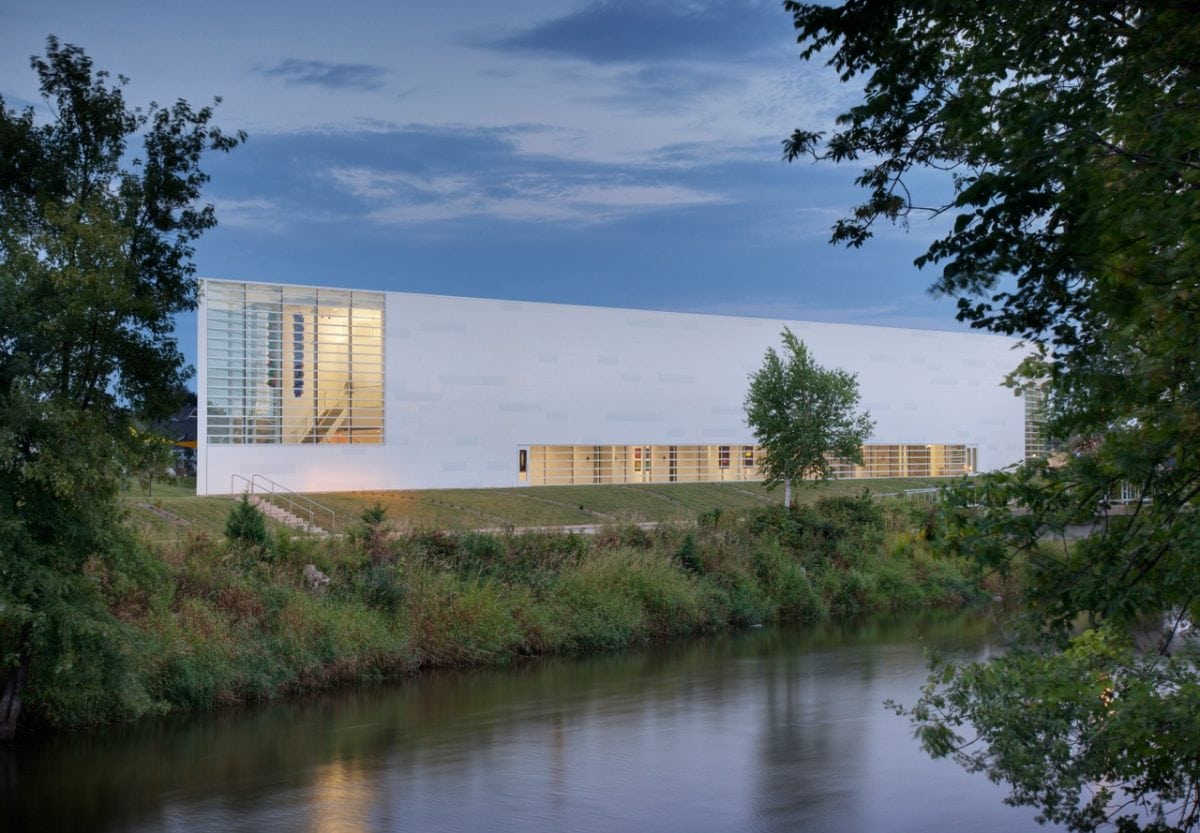 Its permanent collection showcases works from more than three hundred artists, spanning over two hundred years. Some notable artists in the museum include H. H. Bennett, Edward Steichen, John Wilde, and Frank Lloyd Wright.
Visiting the Museum of Wisconsin Art is free and accessible to all.
Details: 205 Veterans Avenue, West Bend | Official Site
Photoverse Selfie Museum
The Photoverse Selfie Museum is a little unconventional and fun. It's more about playing with art than standing back and appreciating it. And yes, I'm well aware that there are plenty of readers who won't consider it art at all.
Inside the museum, there are over 27 multi-dimensional photo stands that offer colorful backdrops for, well, selfies. There's everything from colorful laundromats to a room painted completely in green to optical illusions.
While this isn't a Claude Monet or Edgar Degas, I still call it art (in one of its broadest definitions).
Details: 275 W Wisconsin Avenue, Milwaukee | Official Site
Villa Terrace Decorative Arts Museum
The Villa Terrace Milwaukee is the former home of Lloyd Raymond and Agnes Smith. It was designed by architect David Adler, inspired by a sixteenth-century Northern Italian villa.
As well as being the owners of this gorgeous stately home, the Smiths were also collectors of regional and international decorative arts. The home has eight galleries, each housing historical paintings, and hand-crafted furnishings.
The house is best known for its collection of ironwork by 19th-century metalsmith Cyril Colnik.
Details: 2220 N Terrace Avenue, Milwaukee | Official Site
National Bobblehead Hall of Fame
Perhaps one of the quirkiest museums on this list of Milwaukee art museums is the National Bobblehead Hall of Fame. It was founded by two baseball enthusiasts who met in middle school and started collecting bobbleheads from a young age. In 2019, they opened the doors to the National Bobblehead Museum where they have the largest collection of bobbleheads in the world on display.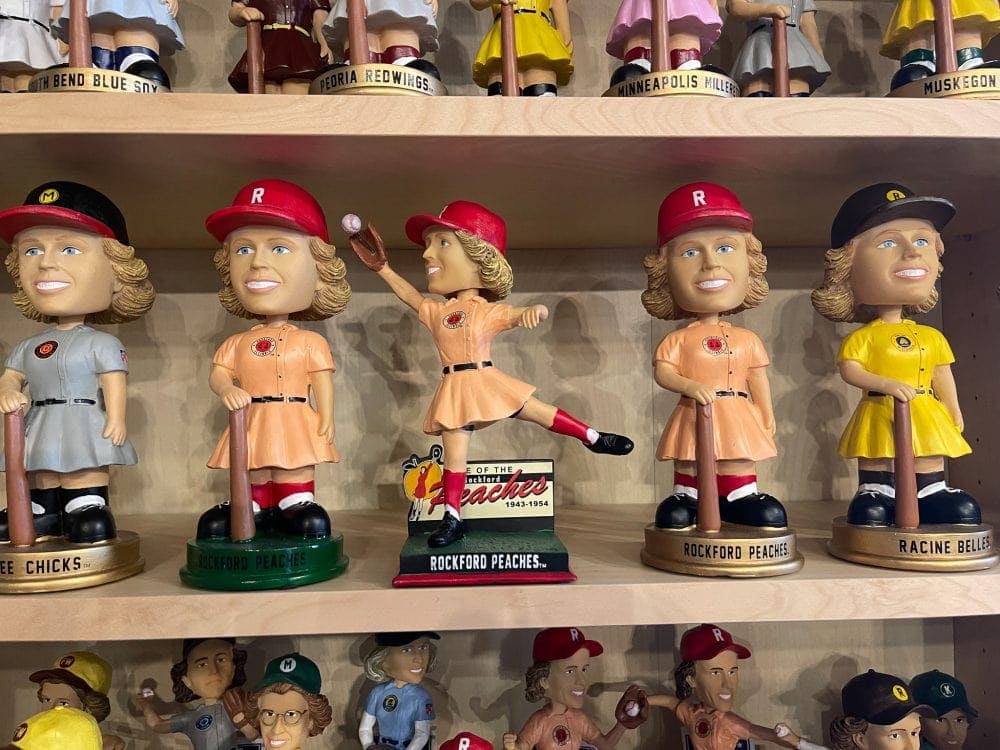 In the museum, you don't just see baseball bobbleheads but other classic characters such as Hollywood movie stars, politicians, and historical figures.
I've written a full review of the National Bobblehead Hall of Fame. If you're at all fascinated by this niche art form, check it out.
Details: 170 S 1st St 2nd floor, Milwaukee | Official Site
The Warehouse Art Museum
The Warehouse Art Museum is a free art museum that hosts exhibitions, performances, and educational programs. The museum is devoted to exhibiting modern and contemporary art. It has more than 3,000 paintings, photographs, and sculptures from world-class artists.
Some notable artists at the museum are David Hockney, Henri Matisse, Pablo Picasso, John Colt, and Cindy Sherman. In addition to these famous pieces, the museum also houses an additional 2,600 works by its owner, Jan Serr.
Details: 1635 W St Paul Ave, Milwaukee | Official Site
Pabst Mansion
Pabst Mansion is not just an art museum but a huge home of architectural grandeur. It is the former home of Captain Frederick and Maria Pabst. It was built in 1982 and designed by George Bowman Ferry and Alfred Charles Clas. Both Captain and Mrs. Pabst were consummate art collectors and filled the mansion with priceless treasures.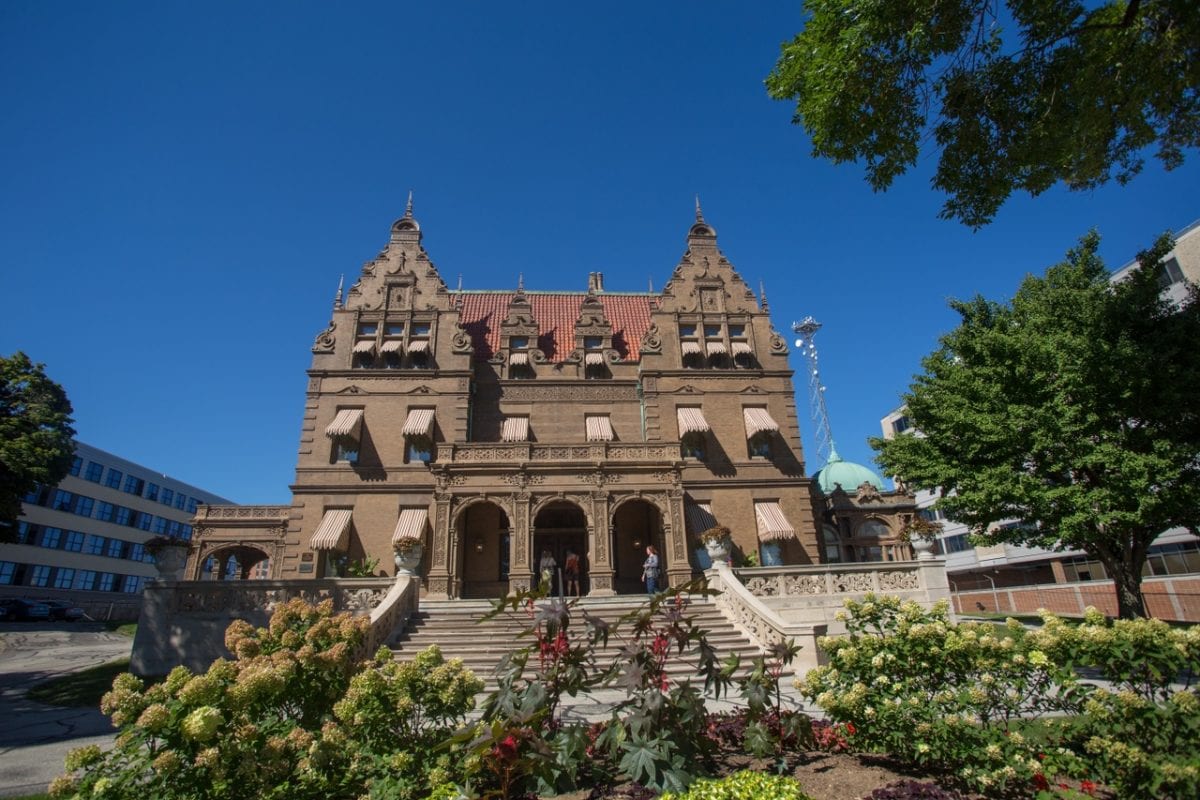 There are nearly 5,000 decorative pieces in its art collection, including from well-known artists like Eugene Verboeckhoven, Frederick Soulacrouix, and Henry Raschen.
It was opened to the public as a house museum in 1978 and contains not only historical pieces of art but also papers and photographs detailing the life of the house and its former owners.
Details: 2000 W Wisconsin Ave, Milwaukee, WI 53233, United States | Official Site
Wisconsin Museum of Quilts and Fiber Arts
In 1988, a group of avid quilters in southeastern Wisconsin set up the Wisconsin Quilt History Project, Inc. Their mission was to preserve the history and creativity of quilts, by documenting and researching their makers.
Since then, they have gathered over 8,000 quilts in their collection, as well as the story behind each one. These quilts and their records can be seen at the Wisconsin Museum of Quilts and Fiber Arts, located in the old Hoffmann-Boeker farmstead.
The museum can be found in the renovated barn of the 2.2-acre farm in Cedarburg, just a 30-minute drive outside the center of Milwaukee.
Details: N50 W5050, Portland Rd, Cedarburg | Official Site
Lynden Sculpture Garden
Another favorite niche Milwaukee art museum is the Lynden Sculpture Garden, located in River Hills – just a 20-minute drive outside the center of Milwaukee – a free outdoor space that combines art with nature.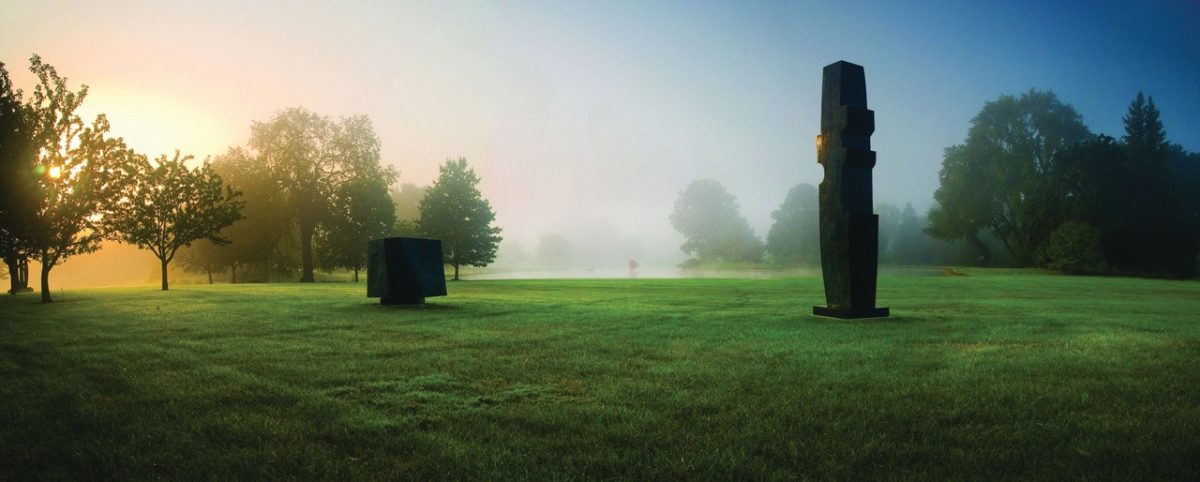 It has more than 50 monumental sculptures across the 40 acres of park, lake, and woodland. The garden belongs to the home of Harry and Peg Bradley, who opened it to the public in May 2010. The landscape was designed by architects William Langford and Theodore Moreau. The sculptures belong to Peg Bradley, an experienced art collector. She actively collected sculptures until she died in 1978.
In the collection, you can see sculptures from Henry Moore, Alexander Archipenko, and Barbara Hepworth.
Details: 2145 W Brown Deer Rd, River Hills | Official Site
Final Thoughts on Art Museums in Milwaukee
If you're a fan of art in any form, or all of its forms, then you'll certainly want to make a trip to Milwaukee. Milwaukee's art museums not only showcase some of the best works from the most famous artists, both classical and modern, but many of them are architectural gems in their own right.
Be sure to check the museum's special event in addition to their regular exhibition list. Most offer family programs, free days, and artist talks to enrich the visitor experience. I often stop off at the gift shop to pick up a postcard of a favorite piece of art. I have several of them framed and displayed around my home.
From timeless pieces to striking modern art displays, there is always something new and exciting to see in Milwaukee's art museums.
Save to your favorite Pinterest travel boards for your visit to Milwaukee