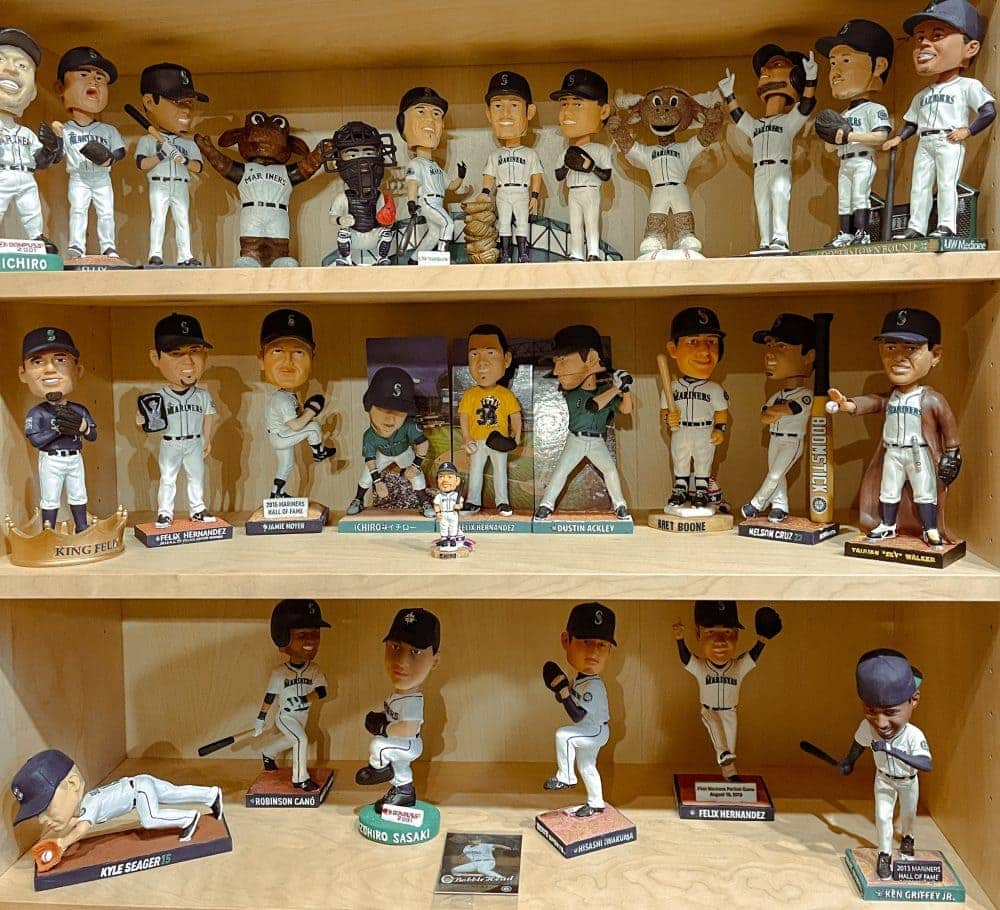 Bobbleheads are more than just toys, they have become collectibles, and are usually a type of figurine depicting a notable person or character. Sometimes they are created for publicity (as you often see for sports teams or sports figures), sometimes to honor an important person or celebrity (presidents or movie stars).
The Milwaukee Bobblehead Museum and Hall of Fame holds the world's largest collection of bobbleheads, and I couldn't wait to visit on a recent trip to Milwaukee. The museum is also one of the quirkiest museums in the city, and that always holds appeal for me.
Let's start with the basics.
What are Bobbleheads?
Bobbleheads, nodders, or "yes men", are a type of small action figure collectible item that is well known for, well, having a bobbly head. Usually, bobbleheads are designed so the head is much larger than the body, and the head is attached to the body via a spring, which allows it to move and wobble, or bob, giving it its name.
You'll usually find bobbleheads made with a large head and small body often referred to as German-style.
The Evolution of Bobbleheads
Bobbleheads have actually been around for centuries, dating back to ancient Japan and China with figurines of the Buddha and other religious idols. They were called "temple nodders," a description as apt as bobblehead became later.
Fun fact: The first recorded instance of these temple nodders dates back to the 1700s, and in 2010, a pair of Chinese nodding figurines that dated back to the 1800s were sold at auction for $35,925.
Around 1760, temple nodders made of ceramic and porcelain started to be exported from China to Europe. They were particularly favored by the English royalty, and many collectors say that they can see the figurines (bobbleheads) in the background of Johann Zoffany's famous portrait of Queen Charlotte in her Dressing Room at Buckingham Palace (painted in 1765).
In the late 1700s and early 1800s, German-style bobbleheads were made of ceramic or porcelain. The switch was made to plastic in the 1950s, which brought down the price and made them more accessible but also contributed to their early reputation as a cheap and meaningless toy. Porcelain bobbleheads are still manufactured today but can be quite expensive.
It wasn't until 1842 that the term "bobblehead" was actually used to describe these figurines. The earliest record of this term comes from a book titled "The Overcoat," written by Russian novelist, Nikolai Gogol, who described the main character, Akaky, as having "a neck like of plaster cats which wag their heads."
In the early 1900s, the first animal bobbleheads were made and produced in Germany. In the 1920s, the first sports bobblehead was produced. It was a generic basketball player and was not a nod towards a particular sports team or athlete.
In the 1960s, the Beatles bobbleheads were made, and were one of the first sets of human bobbleheads that weren't athletes. In the same decade, the first paper-mâché player-specific bobbleheads were made, the first that didn't represent team mascots. These were: Roberto Clemente, Roger Maris, Mickey Mantle, and Willie Mays.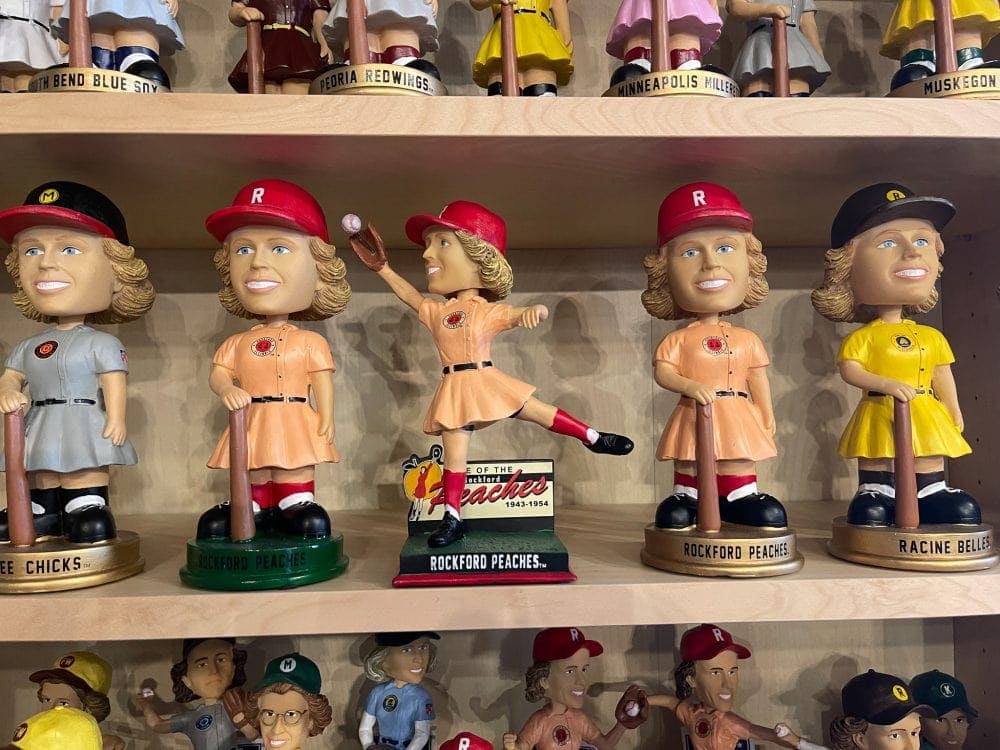 Bobbleheads have become known for their relationship with baseball players, with most teams releasing a series of bobbleheads each year. Fans flock to bobblehead nights, a promotion that started with minor league teams, to collect their favorite players, much like baseball cards were collected in the past. If it's bobblehead night at your favorite stadium, you'll need to plan to get there early as these promotions are big draws for sports fans.
The Milwaukee Bobblehead Museum & Hall of Fame
If you're traveling to Milwaukee, Wisconsin, and I've teased you into a fascination (or curiosity) about bobbleheads, plan to stop by the Bobblehead Museum to see the largest collection of bobblehead figurines in the world. It started out as a hobby by two friends from middle school, Brad Novak and Phil Sklar. The two men started collecting minor league baseball bobbleheads. Novak had once worked for the Rockford RiverHawks, which allowed him to have a bit of a head start at collecting, and by 2013, the pair had collected around 3,000 bobbleheads.
There was soon no room for their bobbleheads, and the duo decided to turn their hobby and collection into something more – a museum. It took several more years of collecting and organizing before the doors were ready to open in 2019.
By the time of my visit in the fall of 2021, the bobblehead collection has grown to nearly 7,000 figurines. The National Bobblehead Hall of Fame and Museum officially houses the world's largest collection of bobbleheads. The collection includes those original minor league baseball team collectibles, along with figures of athletes from various sports, Hollywood movie stars and other celebrities, politicians, historical figures, and local community heroes.
Getting to the Bobblehead Museum
The Bobblehead Museum is located at 170 S. 1st Street in Milwaukee.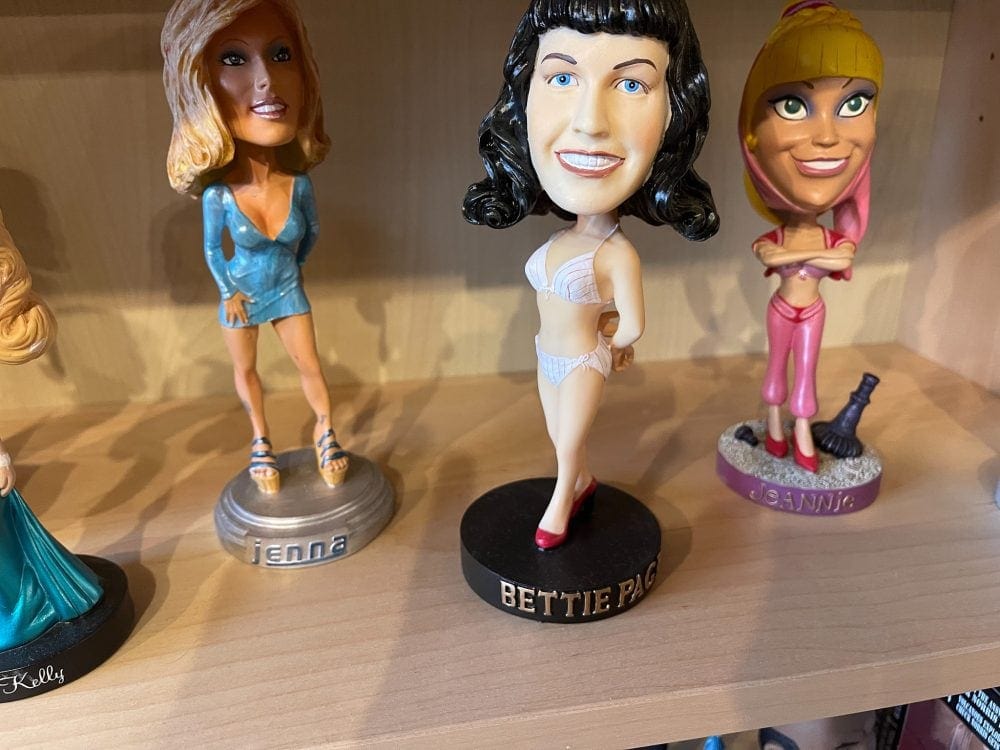 There is a large sign on the front of the building with arrows pointing to the back entrance, but it's easy to miss if you're not looking for it. The museum is on the second floor, up a flight of stairs. There is an elevator at the entrance and an elevator to take you to the second floor. While the building is fully accessible, some of the display racks inside the museum are close together and may require some fine-tuned movement.
Official website here.
Visiting the Bobblehead Museum
The museum is open from Monday-Friday: 10 am-6 pm, and Saturday-Sunday, closing at 5 pm.
Admission is $5. A small gift store is accessible without admission and is a great place to pick up a gift or special souvenir. If you can't make it to the museum in person, the online store has lots of fun options.
Fun Bobblehead Facts
What is the most popular bobblehead?
The most popular bobblehead set is of The Beatles. The set has become both the most famous and the hardest to attain bobblehead of all time.
What is the bestselling bobblehead of all time?
The Bernie Sanders bobblehead is currently the best-selling bobblehead of all time, selling around 20,000 figures to date. Previously, Sister Jean from Loyola Chicago was the bestselling bobblehead, selling 18,000 figures. The 100-year-old Sister Jean is the chaplain for the Loyola Ramblers men's basketball and became a local celebrity for her support of the team.
Do bobbleheads increase in value?
If you're looking to start your own bobblehead collection, you could be on to a quirky investment. As most sporting teams tend to release bobbleheads a few times a year, the resale value usually increases afterward. In some cases, bobbleheads can go for hundreds of dollars if they are rare or particularly popular. As with all investments in collectibles, past performance is no guarantee of future performance.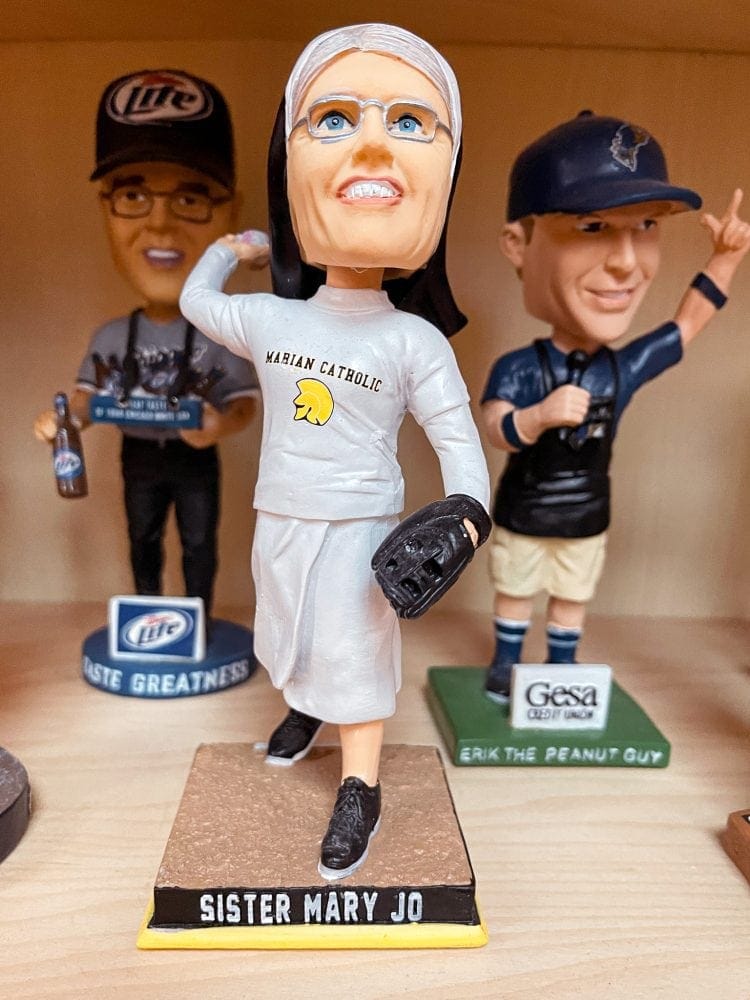 More Fun Bobblehead Facts
In 2003, the world's largest bobblehead entered The Guinness Book of World Record. The 11-foot, 900-pound bobblehead statue of TV show game show host Chuck Woolery, and is located at McCormick Place in Chicago. (Fun fact: I met Chuck Woolery when I was a contestant on the game show, Scrabble.) This record was broken in 2016 by the current champion, a 15 1/2 foot bobblehead of a St. Bernard, located in Orlando.
In 2012, Conan O'Brien released a 17-foot bobblehead of himself in Chicago as a PR stunt. Since it was a prop for his television show, and not on public display, it didn't crack the code for the world record.
In 2015, the first National Bobblehead Day was created. It's celebrated each January 7th.
Final Bob on Bobbleheads
The Milwaukee Bobblehead Museum is the world's only museum of its kind. Vintage bobbleheads are in a display case behind glass, and the rest – from athletes to pop culture figures – fill every inch of the space. Look high and low so you don't miss anything.
The museum is an easy and inexpensive stop-off while you're in Milwaukee. An hour or so is all you'll need to see everything.
And if you're looking for more to do in Milwaukee, check out my post about the Harley Davidson Museum.
For Pinterest
Save this to your favorite boards and start planning your trip to Milwaukee soon!