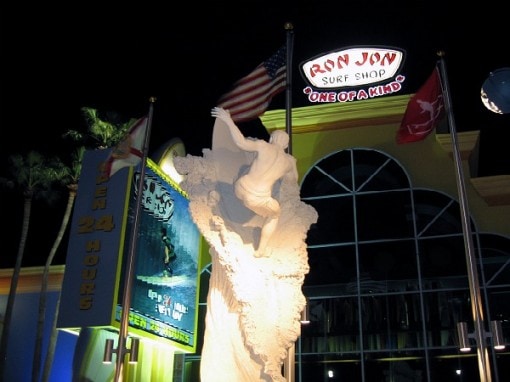 Shopping is one of the top activities for travelers.  That's right, surveys show that millions of travelers want to spend a little time shopping on their holidays.  Whether it's a major shopping expedition, or just picking up a few souvenirs, I'm not certain, but there's no doubt that a lot of money is spent shopping while enjoying a little holiday time.  Being stuck inside shopping while traveling to a beautiful destination seems a real shame to me, but if the Orlando area is in your plans, I can recommend stopping off at one of my favorite spots, Ron Jon Surf Shop.
Although there are several Ron Jon locations, my favorite is the one at Cocoa Beach, a short drive to the east of Orlando.  This store is huge!  It has over 52,000 square feet of shopping and displays, and a glass elevator to make it easy on customers.  They even have their own waterfall.  And at night it's lit up like it was a Las Vegas casino.  Wandering around the Cocoa Beach area you'll see plenty of Ron Jon label wear and shopping bags so you might as well stop off and see why it's so popular.
In addition to a huge selection of surfboards, surfing accessories, and lots of beach and sun wear, you'll find lots of fun (and often silly) touristy stuff in addition to supplies and gear for the serious water sports fan.  They have a great assortment of logo wear, part of the reason you see it everywhere.  Forgot a swimsuit or want a new one?  You can find it here.  Want some new board shorts or a beach towel?  You'll find it here.  This store location is billed as the World's Largest Surf Shop, so if you can't find something to buy here, you're just not trying hard enough!  And since its open 24/7/365, you can shop anytime the mood, or need, strikes.
In addition to retail sales, the adjacent Watersports shop also rents beach gear, including surfboards, beach bikes, paddleboards, beach chairs and umbrellas, and more.  While the main store is open 24 hours the Watersports shop is open 8 am-8 pm.
If you're spending any time in the area you'll likely seen billboards and other advertising for Ron Jon's.  If you're in Cocoa Beach, just look for the gaudy, art deco-style castle at the corner of SR 520 and Highway A1A (Address:  4151 North Atlantic Avenue, Cocoa Beach).  It's only a block from the beach, so if you can find the ocean, you can find Ron Jon.  You can find other Florida Ron Jon locations in Ft. Lauderdale, Panama City, Key West, and Ft. Meyers.
It's hard for me to get too excited about vacation shopping, but I have to admit that visiting Ron Jon was a lot of fun.
Photo credit: Kevin King via flickr (CC)