One of the things that I was excited to do in Sicily was climbing Mt. Etna. At approximately 10,922 feet high, this largest active volcano in Europe was visible from the back deck of our villa. Every morning I'd take a look at how beautiful it was, it's very top visible in the earlier morning hours, and then watch as the clouds circled about it come mid-morning.
The presence of Mt. Etna, along with its history – both true and legend, dominates the island of Sicily, Make no mistake about it, this is one of the most active volcanoes in the world. This decade alone has seen two major eruptions, in 2001 and 2002, both of which caused damage to both the mountain and surrounding areas.
The three of us were all interested in climbing Mt. Etna, and our choice of how to scale the mountain took us to Etna Sud, the southern slope. We drove there, allowing about an hour for the drive. If you don't have a car or don't want to tackle the winding, hillside roads, there are plenty of tour buses that make the journey and you can leave the driving to them.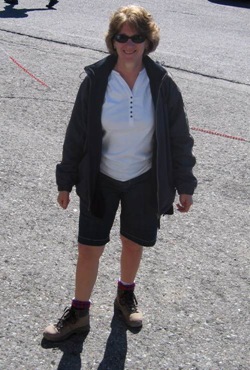 I'd done a bit of reading to prepare for climbing Mt. Etna, and a pretty consistent theme seemed to be that the trip would take about 4 hours. NOT! Here's the real story!
The southern starting point for climbing Mt. Etna, at just under 6,200 feet, is called Rifugio Sapienza, Here we lined up a guide, got a quick bite to eat, and waited for our 10:30 start time. This area has a number of guide options, we selected one that offered a guide who spoke a bit of English. The options offered are quite similar, as are the prices, so find a company and guide that you feel comfortable with. There are also places to buy something to eat and drink – but remember – there are no bathrooms on the mountain.
I wore shorts for the expedition, and although I wasn't the only one, I do ask myself what was I thinking! It was a very sunny day and I was out for a day hike, and it didn't occur to me that it might get pretty darn cold as we moved up Mt. Etna. Fortunately, our guide company had hiking boots and heavy jackets available (no additional charge). You'll need these. I'd also recommend wearing jeans or long heavy pants, both for warmth and to protect yourself from cuts and scrapes from the lava rocks, a hat to protect for both the sun and wind, and a pair of gloves. You'll also want to bring plenty of water.
The first leg of the journey to the top was easy. A funicular (cable car) took us partway up, with the ending terminal situated at about 8,200 feet. The funicular was rebuilt after it was totally destroyed in the 2001 eruption, and as you're looking out and down you can see the lava fields that remain. The terminal has great photo opportunities and is also the last stop for a bathroom break and additional food.
The next stage of climbing Mt. Etna is to climb into 4×4 minibusses for a bouncing ride over lava terrain to the area of the Torre del Filosofo. This stop puts you at about 9,580 feet, and although the sun was shining brightly it was cold and windy. For many people, this is as far as they'll come. That still makes for a great trip, and the view is spectacular. There are some craters that you can walk to, some lava fields to check out, and photo ops galore.
But if you're continuing on to the top Mt. Etna, it now gets down to just you and the mountain. . . and your guide to lead you there.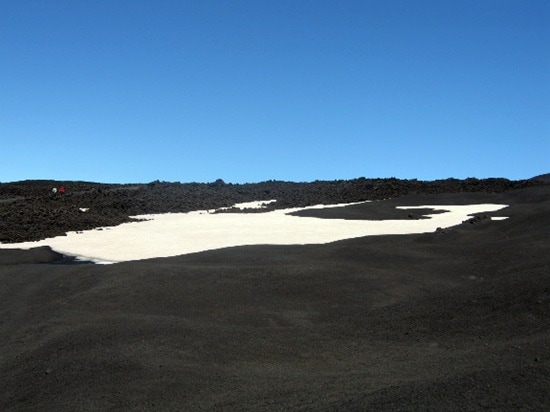 Our group huddled together, got our final instructions, and set out. I was giddy inside, excitement conquering cold, and ready to make my way to the summit. We set out over lava rocks, over some remaining ice, and skirted soft, sandy lava fields, making our way to the top. All around us was spectacular natural beauty, truly jaw-dropping, and between the cold shivers, I reveled in it. There were only about 1400 feet between me and the top of Mt. Etna.
Everything was going great. . . at least for a couple of hundred feet. And then it felt like I'd been hit up the side of the head. I felt dizzy, nauseous, and I started to hyperventilate. Our guide had me scoot to the front of the group, following right behind him. This was both for him to help set a pace that was good for me, as well as to keep an eye on how I was doing.
I made it a little bit further but soon found that my ears were blocked and I couldn't clear them no matter how hard I tried. It was hard for me to breathe, I still felt dizzy and nauseous, and my head was throbbing. I recognized that this wasn't a good thing, and so did the guide. He quickly took out a walkie talkie and called for someone to assist. I convinced my traveling companions to continue climbing, and then met another guide walked me a short way to a waiting jeep where a driver took me down to the Torre del Filosofo area. The guides have a kind of shack there, and they invited me in. I still felt like I might get sick, so opted to lay down on a bench to try to get my bearings. After about half an hour in the cold wind, I staggered inside where I could try to warm up while I waited for the guys to meet me for the trip down the mountain. The guides at the shack generously brought me an espresso, trying to help me keep me warm. They didn't speak English, and I don't speak Sicilian, but I curled up in a corner and tried to get my bearings.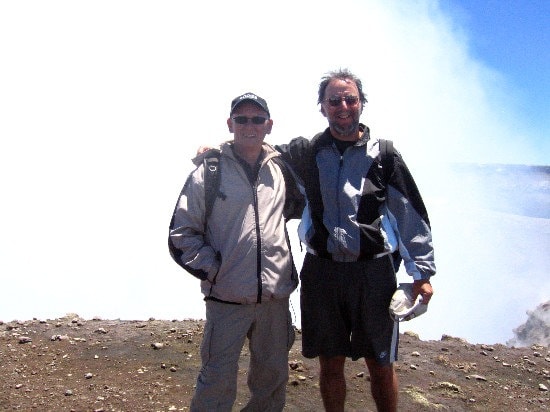 Meanwhile, back on the mountain, the guys continued to the summit! They reported that it was windy and cold, but an amazing sight. Steam and clouds swirled around the crater, as seen in the photos, and it made both of them a little nervous getting too close to the edge. A story was told about a Spanish hiker who had fallen into one of the craters while climbing Mt. Etna, the result was the naming of the site as the Spanish Crater. I'm not sure if it's true, or merely a local legend, but it definitely made an impact on them and they steered clear of any edges. After about an hour on the crater, they climbed back down the mountain, meeting up with me at the guide shack.
Once back down from the crater, one of the guys opted to ride with me back down to the base (4×4 and then the funicular), while the other opted to remain with the group and walk all the way back down to the base of the mountain. He said it was almost a harder walk down than going up, as there were lots of sandy lava field which made it difficult to get a sure footing.
Why did I get so sick while climbing Mt. Etna? It turns out that I had altitude sickness, and while not uncommon during exertion at altitude, I was surprised given my effortless acclimation to cabin altitude on an airplane. While I remained shaky for most of the rest of that day, within another day or so all symptoms were completely gone, and it didn't interfere with any other activities.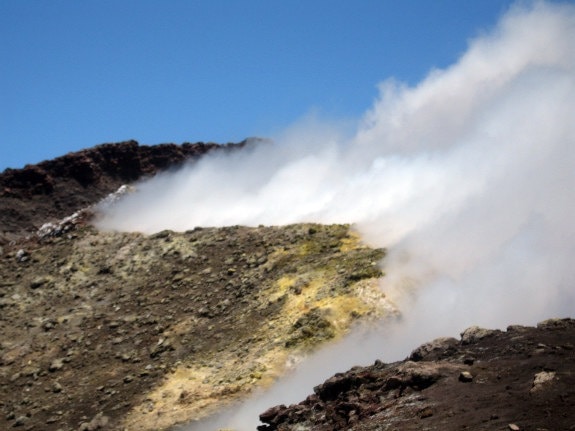 In the case of MJ vs. The Volcano, the volcano won. But I'm sure glad that I gave it a try! And if your travels in Italy bring you to Sicily, I suggest you give climbing Mt. Etna a try.
Location: Refugio Sapienza, at the southern base of Mt. Etna (map), Sicily
Time: Various times, based on which outfitter you choose and which climbing options. We opted for the full day excursion which includes the funicular ride, 4×4 ride, and the guide walk up and all the way down. It takes approximately 6 hours. Shorter tours are available.
Price: The all-day option was 70 Euros, which included the funicular ride, the 4×4 transportation, the use of hiking boots and heavy coat, and the guide leader. Prices will vary based on tour length.
Precautions: You must be able-bodied, and in reasonably good shape to climb the mountain. If you suffer from asthma, are pregnant, or have a heart condition, you may not be allowed to participate. I'd recommend caution for kids under 12 years of age, as the winds at the top can be brutal.