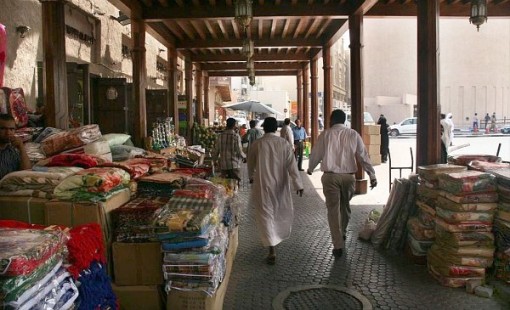 One of the seven emirates of the UAE, Dubai is probably better known for its shopping than for its many cultural sights and activities.  What is it about this spot in the desert that has earned it the reputation as the "shopping capital of the Middle East" attracting shoppers from around the world?
Dubai has over 70 shopping malls, including the huge Dubai Mall, offering everything from jewelry to electronics to upscale fashion. Most of the shops and boutiques in the mall operate on a a fixed-price basis, so if it's some friendly haggling you're looking for, head to one of the souks.
The souk districts are located on both sides of the Dubai Creek and are traditional Arabic markets (in photo above).  Although perhaps not as over-the-top as those found in Marrakesh or Istanbul, it's still a shopping experience most visitors want to enjoy for the eclectic variety of goods as wells as the traditional bargaining way of doing business.  You can find souks selling food, perfume, gold, spices, and textiles as well as modern consumer goods.  Souks are generally open from 7 am-noon, and then again from 5-7 pm.  Thursday and Friday evenings are the busiest, making it a great time for people watching, but perhaps a tough time for a first time shopper.  As with any haggling, your best success will come from knowing the market prices from home as well as your spending limits.  With so much to choose from and bargain over, it's easy to get caught up in the experience and lose sight of whether or not you're getting a good buy.
Here are a few of the souks you may want to consider:
Deira Covered Souk
Deira Old Souk or Spice Souk
Deira Gold Souk (around 250 gold shops)
Perfume Souk
Eletronics Souk
Dubai Souk
For a real shopping marathon, consider visiting in January for the month-long Dubai Shopping Festival.  The entire emirate is turned into a giant shopping mall, while offering a little culture by way of concerts, art exhibitions, and dance performances.  And if despite all your efforts you've neglected to pick up that memento of Dubai, there's always duty free shopping at the airport.
While Dubai might be more visited for it's shopping, I'd have to spend some time sightseeing.  From the Burj Al Arab, the modern marvel of a luxury hotel with 60 floors, to the Sharia Mosque, built nearly 200 years ago, the Dubai's contrast of very old and very new captures my interest.  And let's not forget about the food!  From local shawarma diners to chain and hotel restaurants, there are plenty of dining options in Dubai.  While alcohol is regulated, you will find in available at bars and restaurants in hotels.
US travelers to Dubai may visit for up to 30 days without a visa.
Photo credit: Imre Solt via wikimedia
NOTE:  This post was sponsored by My Destination Info; the opinions expressed are those of the author.