Alaska is one of the most diverse landscapes in the United States. It has expansive mountain ranges, broad diversity of wildlife and marine life, a long-standing cultural heritage, and some of the best seafood around. It is also one of the most remote and elusive states. For many travelers wanting to visit all 50 states, Alaska is the last one to get checked off. Accessing Alaska is not easy, it's not drivable much of the year from the contiguous US, and some areas have limited access by air.
All of this goes into making Alaska a fascinating destination to visit and why an Alaska inside passage cruise is a popular way to see the last frontier.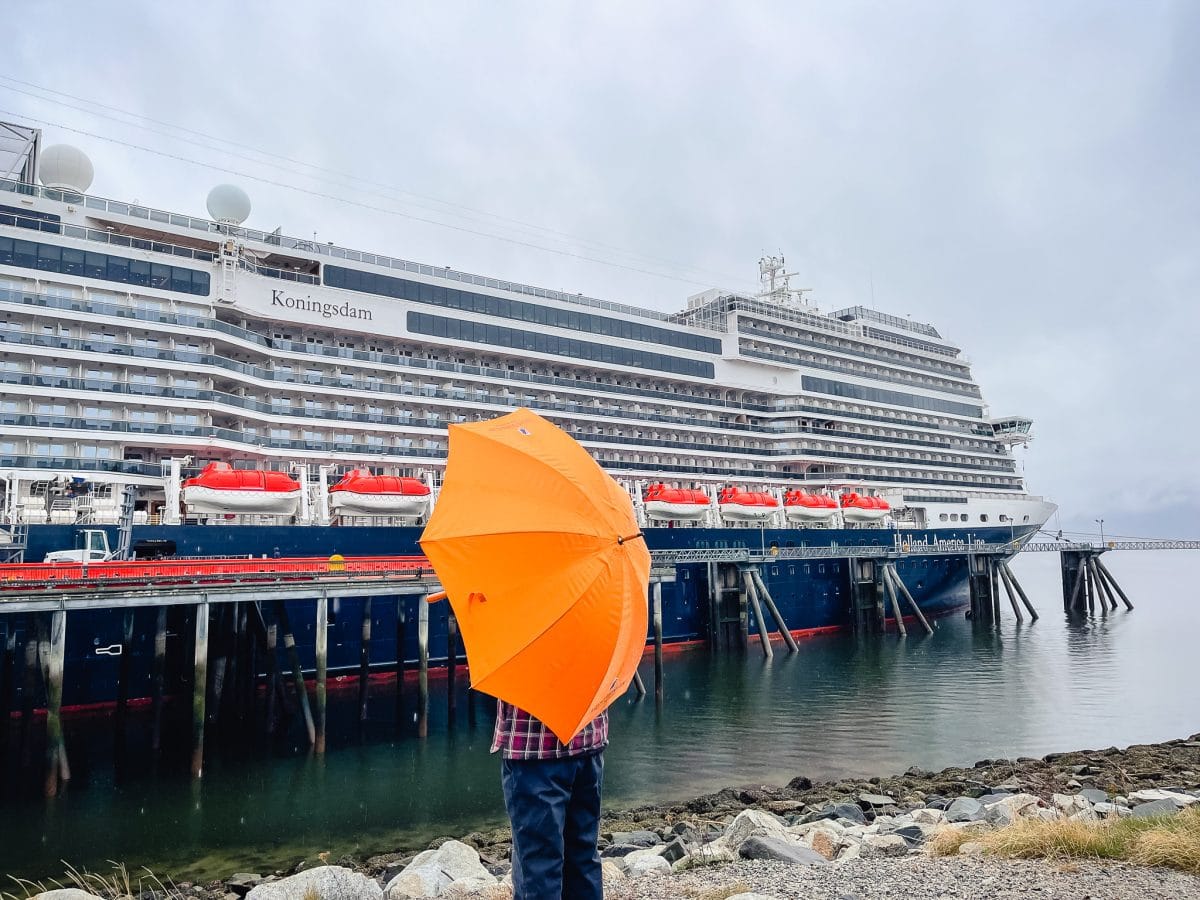 We embarked on a 7-day Inside Passage Alaska cruise with Holland America cruise line on their Koningsdam ship. While I've visited Alaska hundreds of times, I was excited about taking a water route and seeing the state from the sea. And I loved the itinerary which included opportunities to see whales, sail past jaw-dropping landscapes, see glaciers that are, unfortunately, becoming compromised by climate change, and enjoy authentic Alaskan heritage.
Let's take a look at the ship, its amenities and entertainment, and what you can expect from this Alaska itinerary.
The Ship
You won't miss The Koningsdam when walking into the harbor. The stunning mid-sized ship is noticeable by its iconic dark blue hull and fluid lines throughout its architecture. The maximum passenger capacity is 2,650 passengers; on our sailing, we had about 1,700.
On the inside, the ship has created an intimate setting, and the interior design effortlessly contrasts elegance with traditional nautical themes throughout. The atmosphere on the ship is rich and vibrant. There is music at its core, vibrant music that incorporates blues, rock and roll, and broadway, with venues playing homage to different musical genres and artists. Everything about the experience onboard speaks of a commitment to personalized service.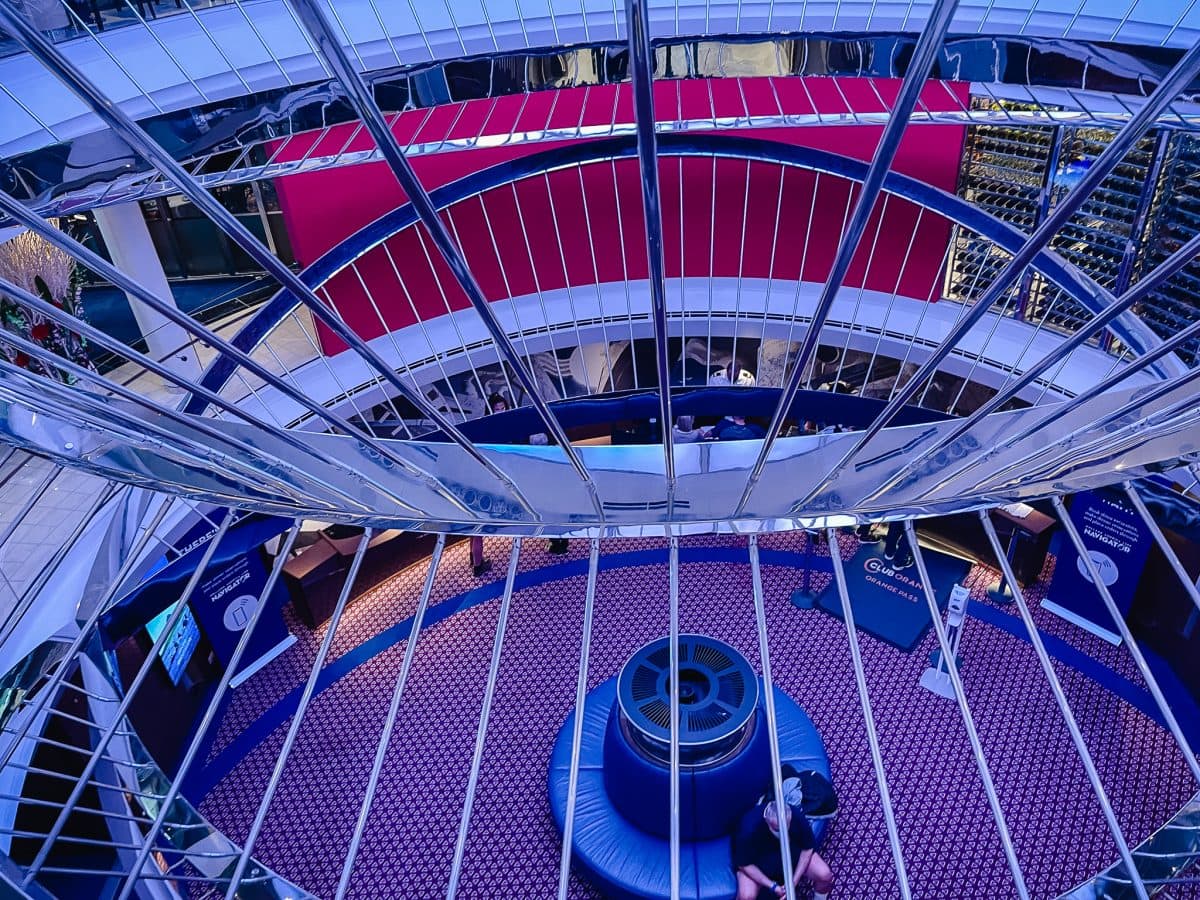 As you walk through the atrium, your eyes are immediately drawn to the central gallery, where a silver artistic structure hangs elegantly between the three decks. Here, you'll find the guest services counter and the excursion desk. We found the excursion desk to be busy nearly all of the time. To avoid the long lines, we suggest the best time to visit is dinner time when many passengers have moved on to dining.
Walking down the halls of the lower decks, you'll find signature shops, an art gallery, and a photo gallery. I generally don't plan on shopping much on cruise ships, but I do like to browse to see what's on offer. My go-to souvenir is to pick up a coffee mug, and there were several Holland America choices available. I now can summon fond memories of the trip over my morning coffee.
Outside, there is a jogging track and sports court for those who like to stay active while they're away. Tony was committed to his 10,000 steps a day. Since it's early in the season, the weather was a bit chilly and the fresh air quite brisk, but a jacket and hat did the trick. I was good for about half those steps before moving inside for a latte.
While the inside passage itinerary doesn't scream out for pool time, there was a dedicated group to be found in the water. The area around the Lido pool was fantastic – a perfect spot to grab a bite to eat, lounge, read, watch movies shown on the big screen, or just enjoy some relaxation time. There are tables and chairs, loungers, sofas, and a variety of seating arrangements. We were fortunate enough, even in early May, to have two days when the roof above the pool was opened. We had plenty of time on our sea days to enjoy this area, and if sailing to a warm-weather destination, I'd expect this area to be packed all the time.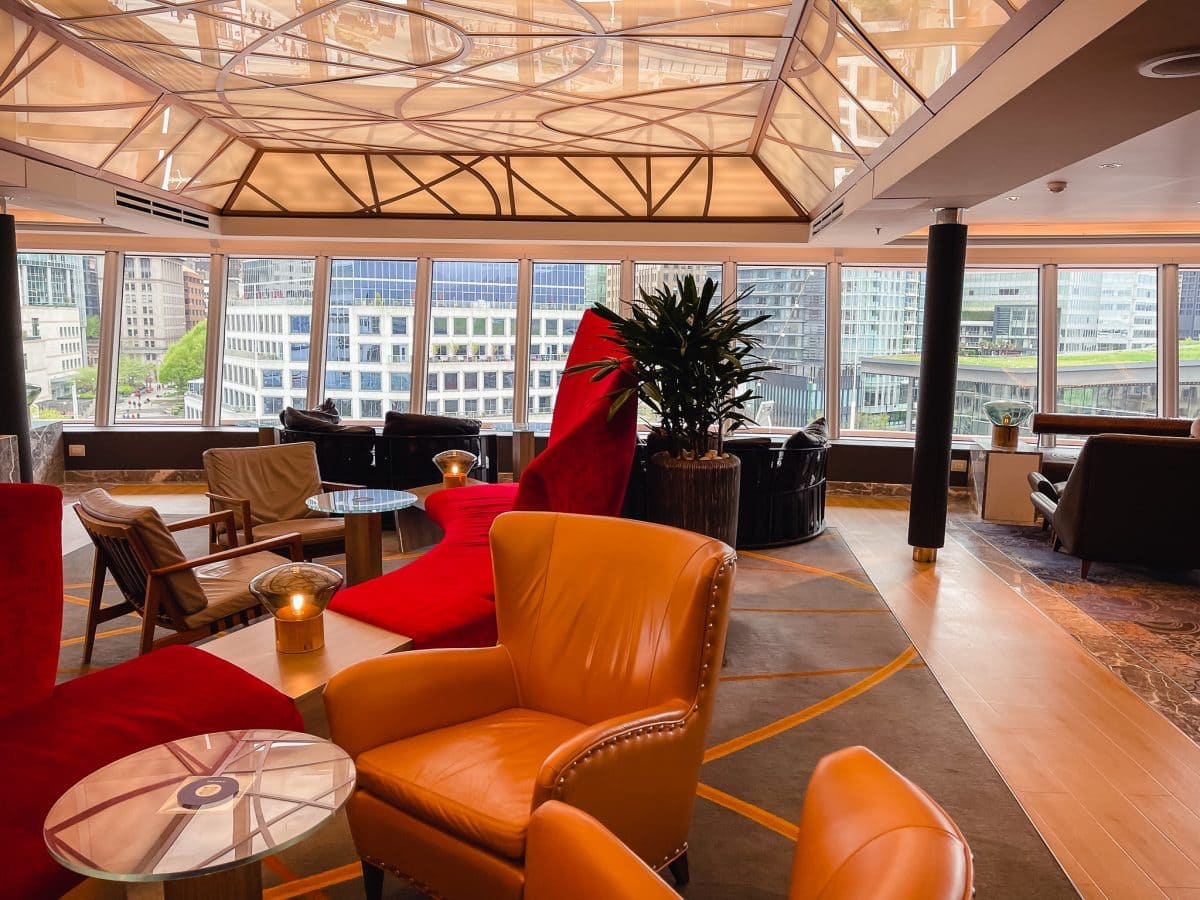 If you like a view of the front of the ship while enjoying a cocktail, head to the Crows Nest and Exploration Cafe, which marks the highest point of the ship on deck 12. This was probably my favorite spot on the ship. Chairs, sofas, loungers, double loungers, and various seating configurations made this a great location to enjoy the natural beauty of the inside passage. We'd have a glass of wine and watch the sunset after a full day of exploring, or relax and enjoy the calm waters as we sailed past the spectacular scenery of British Columbia and Alaska. We were regulars here.
The entertainment venues onboard the Koningsdam are also part of what gives this ship the wow factor, so let's take a look at what each of them offers.
Lincoln Center Stage and B.B. King's Blues Club
Located on deck 2 (Plaza) is the Lincoln Center Stage and B.B. King Blues Club. At the Lincoln Center Stage, you will find a small and intimate music venue focused on classical music to modern adaptations of traditional classics. Call it elevator music, if you must, but it was quite enjoyable.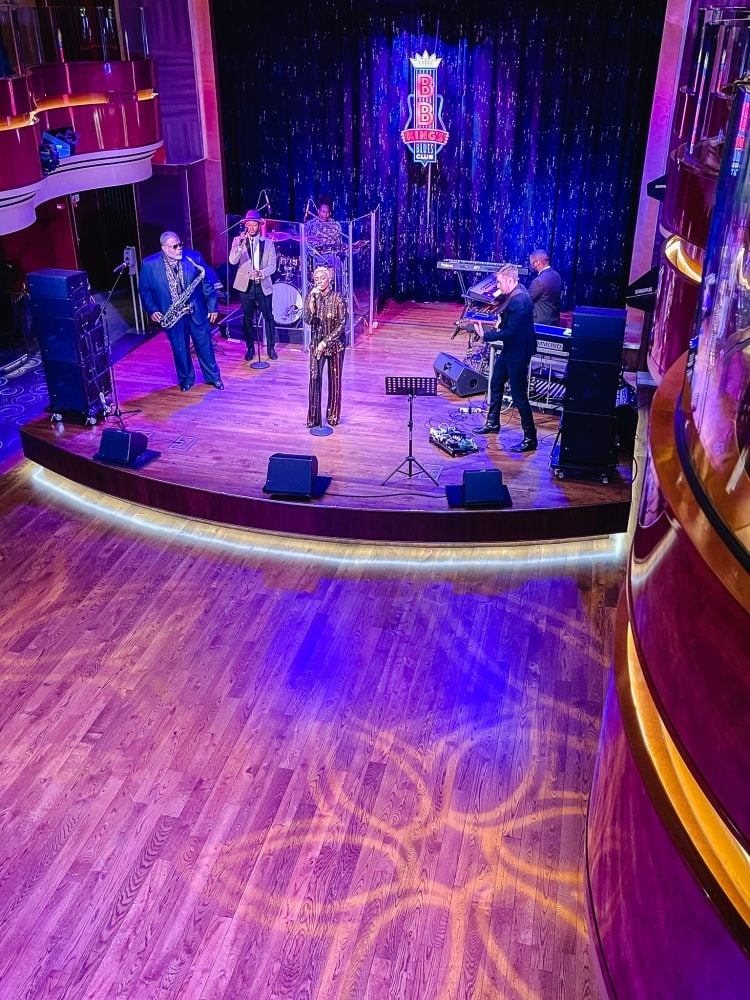 The B.B. King Blues Club plays, as you might imagine, blues. If you feel like getting up and on your feet to rich southern soul and rock 'n' roll, you'll enjoy the performance by B.B. King's All-Star Band each night. And even those of us who prefer our blues from our seats had a great time. We stopped by for a set most every night.
Billboard Onboard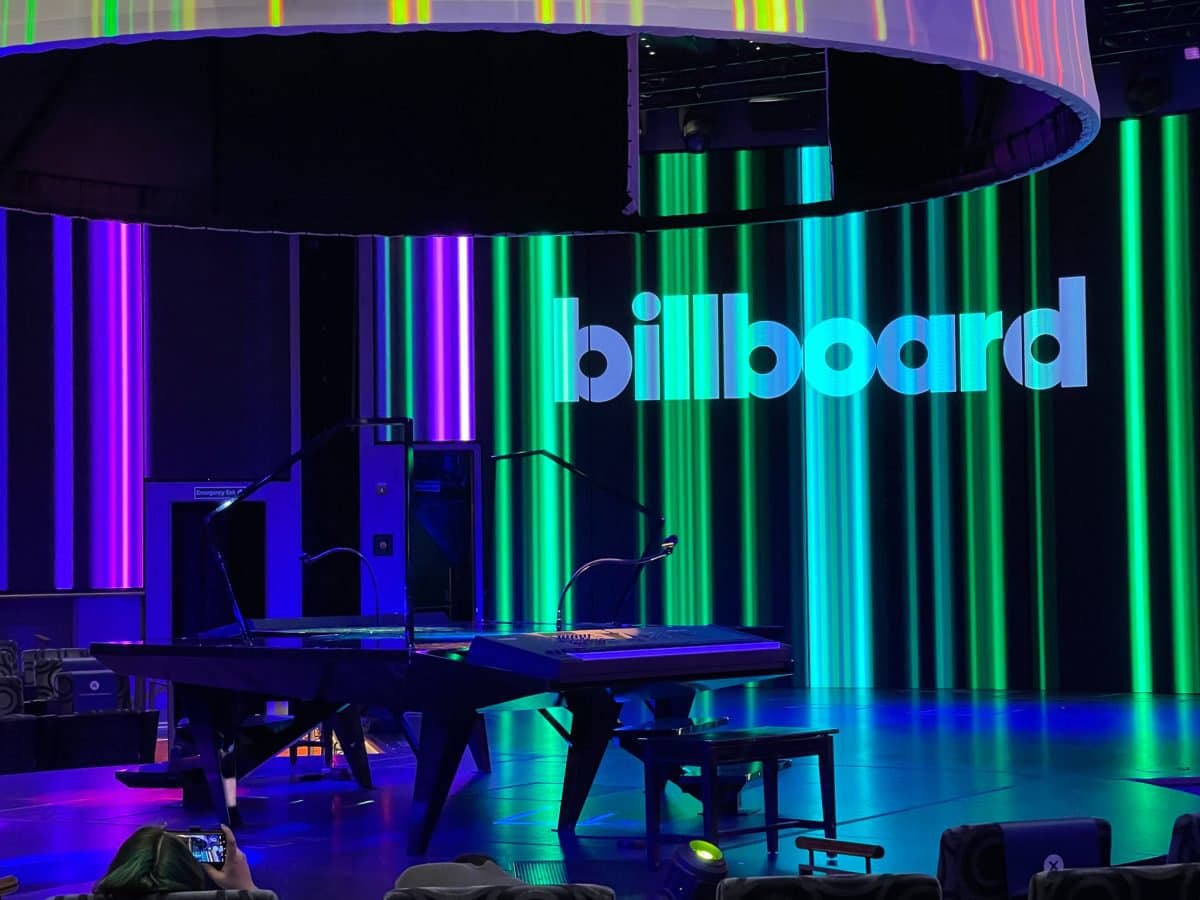 This is the lounge for those who love to hear soulful piano music. The lounge has two pianos that take center stage, where two skillful pianists will play from a catalog of over 100 songs, spanning 60 years of music. You can sing along or sit back and enjoy the show with drinks from the bar. We never timed it right to enjoy the music here; rather than bemoaning that loss, we're adding it to the list of why we should cruise with Holland America again.
World Stage
The World Stage is a huge circular music venue where guests can enjoy musical theater. Spanning two decks, this huge venue is the place to be for evening entertainment. The World Stage experience also incorporates innovative technology into the experience, with a 270-degree wraparound LED screen. It's a panoramic experience. We thought the production shows were entertaining and with well-executed special effects.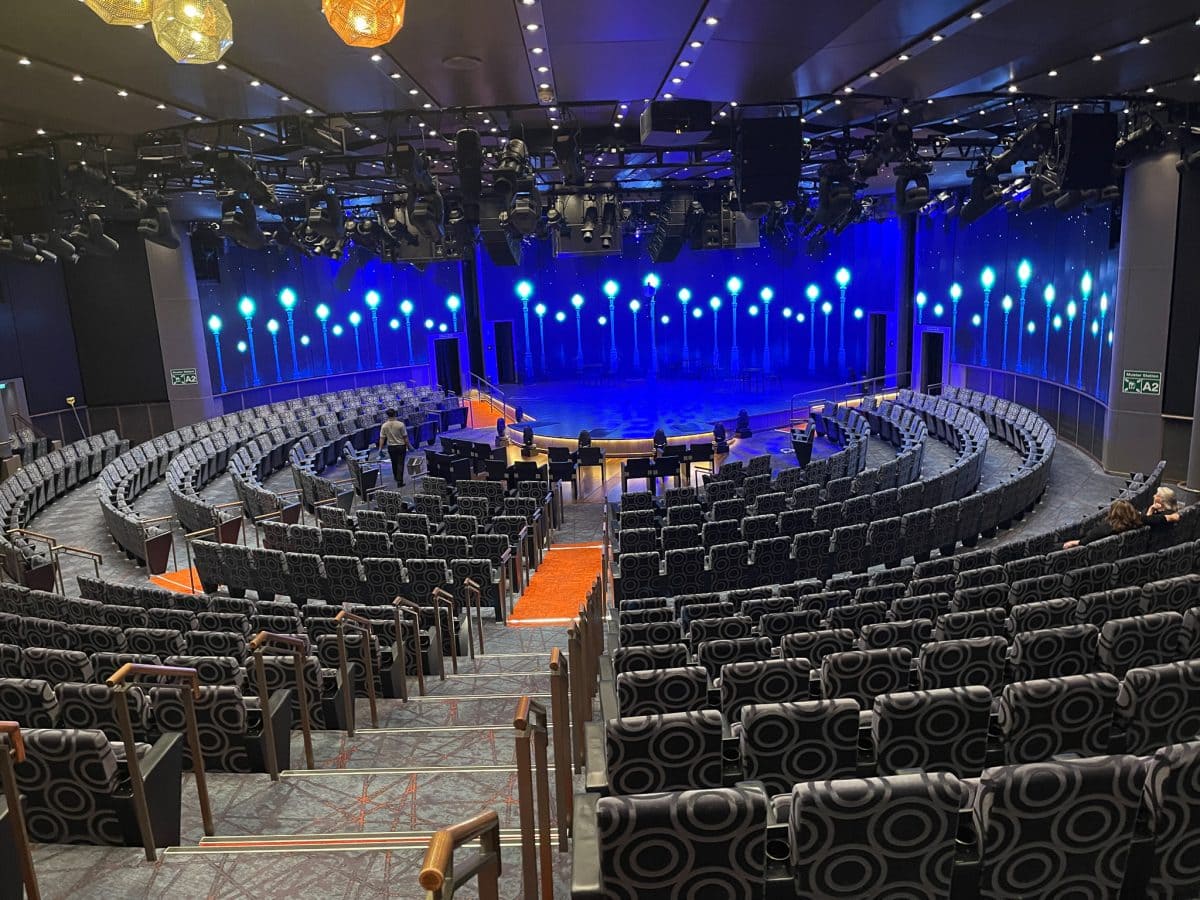 Some of the enrichment lectures are also held on the World Stage. We never felt crowded, and the room always felt spread out, something to consider as we manage the travel experience after Covid.
Queens Lounge
This is an elegant room with plush seating, graceful lighting, and a hardwood dance floor. It's the perfect place to sip a few drinks and enjoy swinging on the dance floor with your loved one to a live jazz band each night. This was another venue that we didn't have a chance to check out.
The Rolling Stone Rock Room
Located on deck 2 (Plaza), the Rolling Stone Rock Room is a music venue showcasing the best of rock music. As children of the 60s and 70s, it was nice to feel like there was entertainment for us. We still crank the car stereo up loud on a road trip and sing along.
Casino
We checked this out, although were not regulars, and found that it was never crowded. You'll find the expected slot machines and poker tables, along with onboard tournaments. There appeared to be a die-hard group of regulars playing Texas Hold 'em, but that was about it. The casino may be busier on a different itinerary, in the Caribbean perhaps, but since this wasn't a priority for us, the slow crowd didn't matter.
Greenhouse Spa & Salon
I always love a bit of pampering, but just didn't have time to schedule a spa treatment. I did take a brief tour, though, and it looked comfortable and enticing. The spa covers two decks and offers beauty and wellness treatments, accompanied by a view.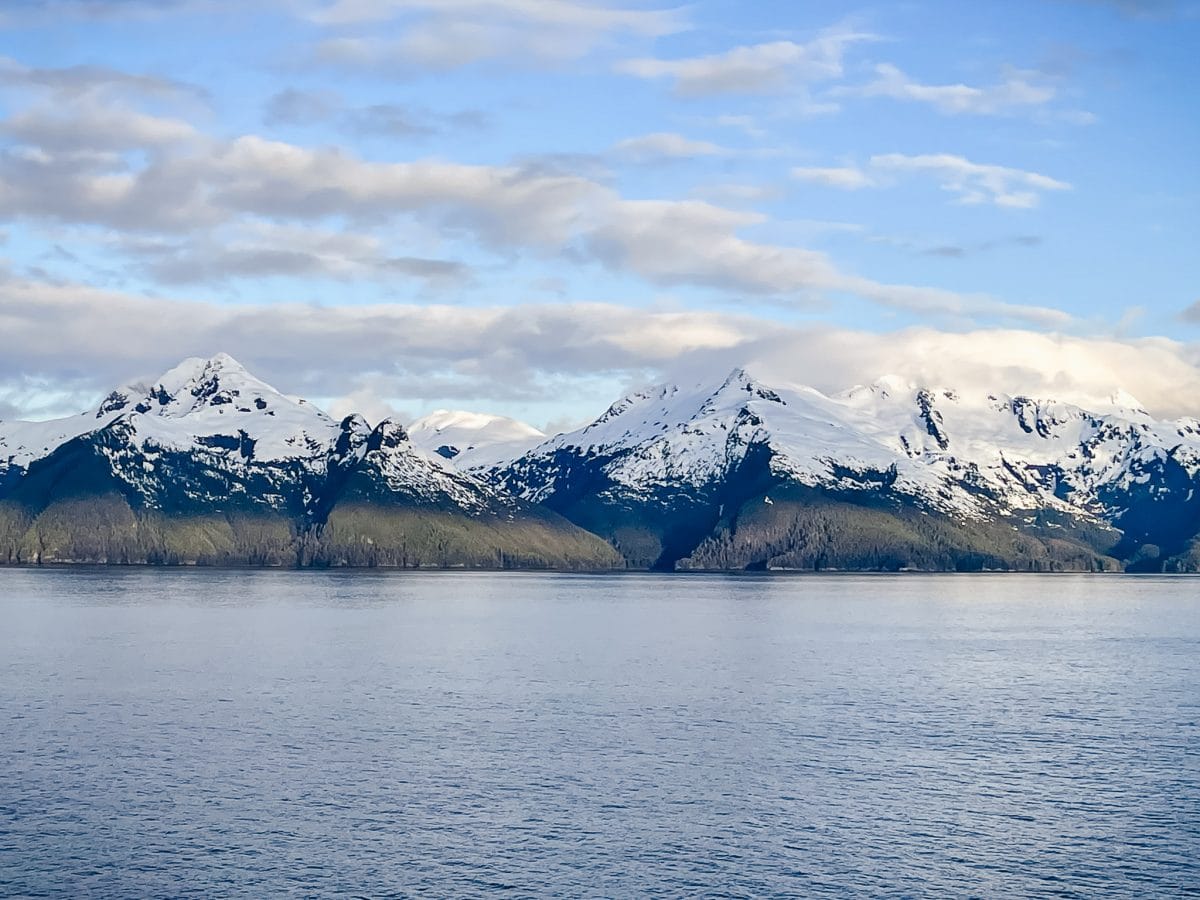 Just outside the spa, you'll find a fitness center overlooking the ocean. You can guess how much time I spent there.
Club Hal and The Loft
We had a few young children on our ship, but I didn't notice much going on as far as youth activities. When there are more kids on board, I can see how the arts and crafts, sports, video game competitions, scavenger hunts, team games, parties, etc., would provide kids with entertainment and parents with a bit of personal time.
The Staterooms on Koningsdam
It's easy to say that you're never in your stateroom so it doesn't matter, but we think you're wrong. We know that it's always a balancing of budget and personal preferences, but strongly recommend springing for the best cabin that you can.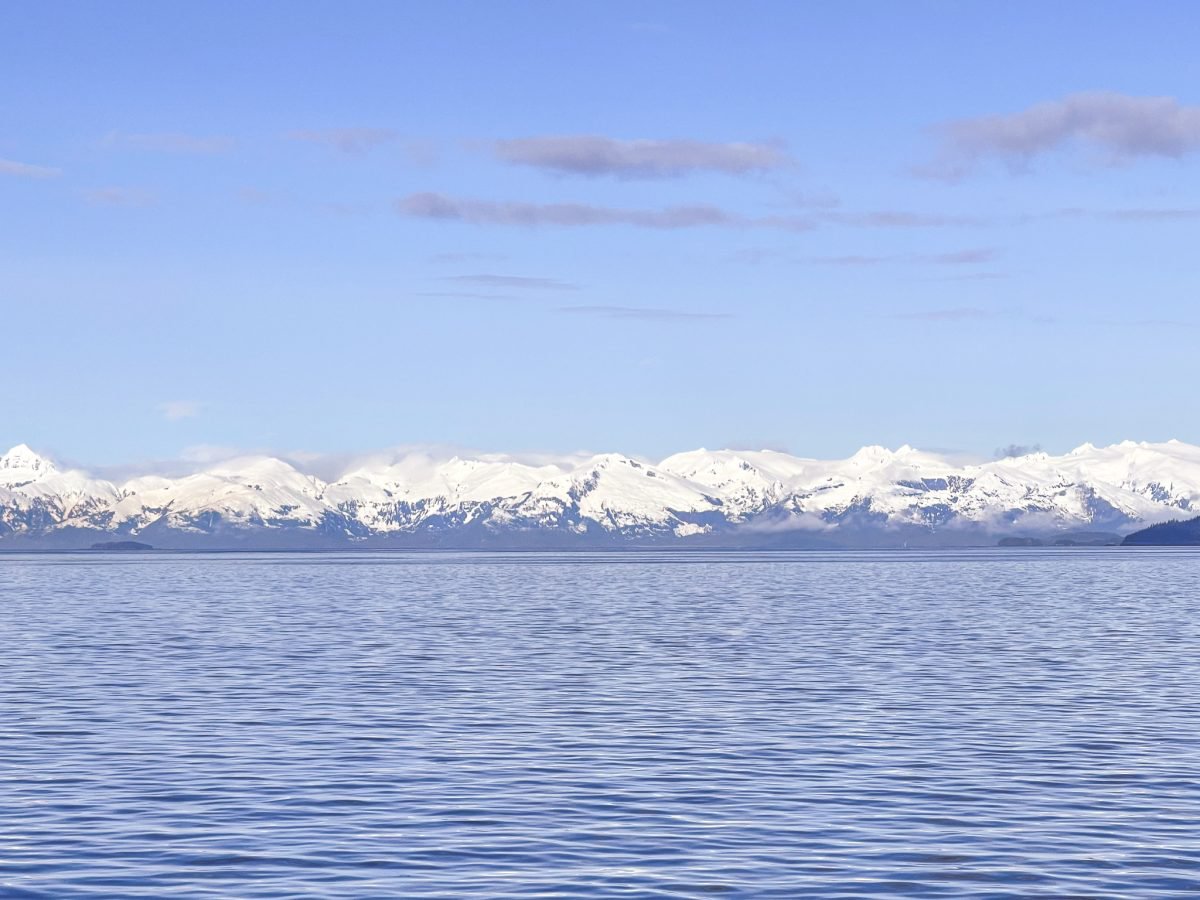 An outside cabin means enjoying southeast Alaska from the comfort of your own room, even better when you can step outside on your balcony. It also means having a little extra space for a room service breakfast while getting ready for a day of shore excursions.
There are several staterooms options available on the Koningsdam, from inside cabins to luxurious suites fit for a king. That being said, if the only way you can budget for the trip is to get an inside cabin, we still say go. Just know you'll need to spend a little extra time lining up those public spaces for prime viewing spots.
Each cabin comes with two lower beds that can be converted into a queen or king-size bed. You'll also have a flat-screen TV, storage space for your things (and room beneath the bed for your luggage, and a good-sized bathroom with a shower.
The smallest cabin is the solo cabin, suitable for one person at 127-172 sq. ft., and comes with a queen-size bed. Slightly larger are the inside cabins (no window) and the ocean view cabin (exterior window, no balcony) at 143–225 sq. ft. These cabins have the same layout, with the ocean view cabin having a window and small seating area. If you're a family, there's a family ocean view room suitable for up to five people.
Most cabins on the Koningsdam come with a Verandah. Verandah cabins are similar to ocean view rooms in what they offer and size, and they come with the addition of a private verandah. We were in a verandah cabin located mid-ship, #7126.
The next larger staterooms are suites, with the Vista Suite slightly larger than the Verandah.
The Signature Suite is the second largest suite available at 393–400 sq. ft. and comes with a large living area, verandah, and a full-size whirlpool bath and shower. There's also an additional shower stall, so no need to fight over the shower in the morning.
Finally, there's the Neptune and Pinnacle Suites, the most luxe of all the suites. The Neptune Suites has around 465–502 sq. ft. of space including the verandah, plus a large sitting area. This is suitable for a couple who want to have more space to spread out. The Pinnacle Suite has a generous 1,290 sq. ft. of space including the veranda. It's perfect for a family or entertaining friends in your suite. With the Neptune and Pinnacle suites, you also get access to an exclusive lounge, The Neptune Lounge, which has a private concierge and other complementary services.
The Inside Passage Itinerary
The 7-day Inside Passage cruise from Vancouver packs a whole lot in. You certainly won't be able to see everything – Alaska is a huge state, after all – but it's an excellent highlight reel.
I had three goals for the trip – to see whales, glaciers, and sled dogs. Check, check, and check. And all the other things I saw were the icing on the cake.
The cruise starts from the Canada Place Cruise Ship Terminal in Vancouver. It was an easy drive from our home south of Seattle, and the Peace Arch border crossing (Blaine-Surrey) was quick and efficient. No covid testing was required and they did not ask for our vaccination cards (although we had them), just a quick look at our passport and they flagged us through.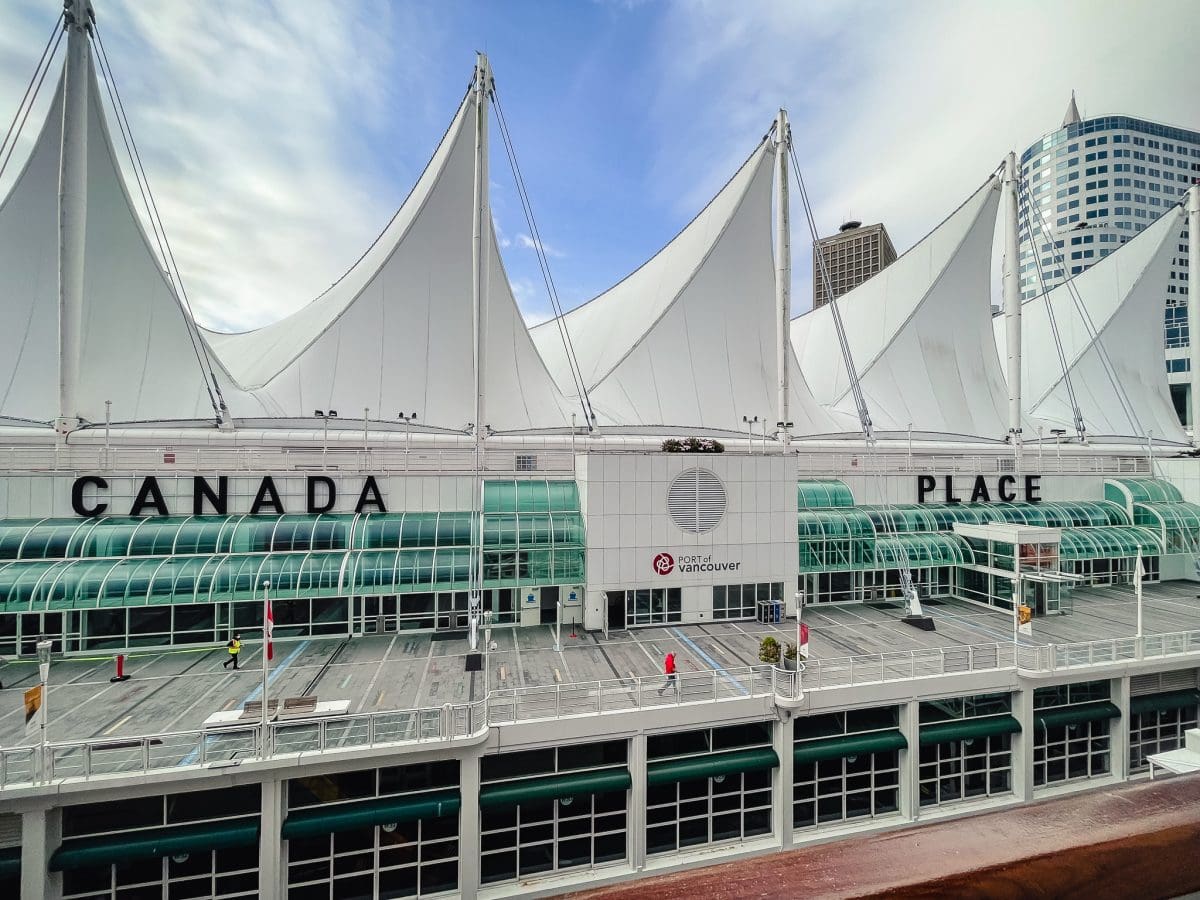 Weekend traffic meant it was about a 40-minute drive to the pier, on main arterials until we got into the downtown core. Parking is available at the terminal but can be crowded. We dropped our bags off curbside, which involved going below ground to a staging area, leaving our bags with a porter, then exiting the parking structure, circling around the block, then re-entering to go the parking area. It can be confusing as you have to leave and return to the same facility, just a different turn-off.
The parking lot was officially showing full, but we spotted someone leaving the convention center and grabbed the spot when they pulled out. Some nearby lots accept reservations, but the port does not. For the week we were cruising, our parking charge was $247. While prices were slightly lower elsewhere, we were more than willing to pay for proximity and convenience. Some of the local hotels offer stay and sail packages that include parking. If you're further outside of downtown, you can take the metro to the Waterfront Station and walk to the terminal (about 5 minutes). Remember, if you're flying in, plan to arrive a day early. There are just too many variables with travel now to count on a same-day arrival.
Day One – Embarkation in Vancouver
The journey begins in Vancouver, a bustling port city nestled between mountains and the ocean. Vancouver is a city with a lot of diversity, over 40 percent of Vancouver's residents were born outside of Canada. If you're coming from farther away than Seattle, tacking on a few days at the beginning (or end) of the cruise to see the city is a great idea.
We were provided an embarkation time and arrived pretty much right on time. Signage was well placed in the terminal and any confusion on where to go was remedied by staff. There were three ships in port when we were there, so the place was bustling.
There are numerous steps to go through to board the ship. From checking ID and boarding passes, to security screening, to reviewing health documents and the ArriveCAN app, to both Canadian and US Customs procedures (in a strange confluence of things you enter Canada and the US within steps of each other), and then getting your ID for boarding the ship. There are a lot of hoops to jump through. Most were well organized. Most also moved slowly. All cruise line staff were welcoming and upbeat. All governmental staff (both US and Canadian) were glum and bureaucratic. Be sure to pack your patience. Since we were on the first sailing of the season, I'd guess the various governmental agencies will work out some of the kinks and be a bit more efficient, if not more pleasant, as the season continues.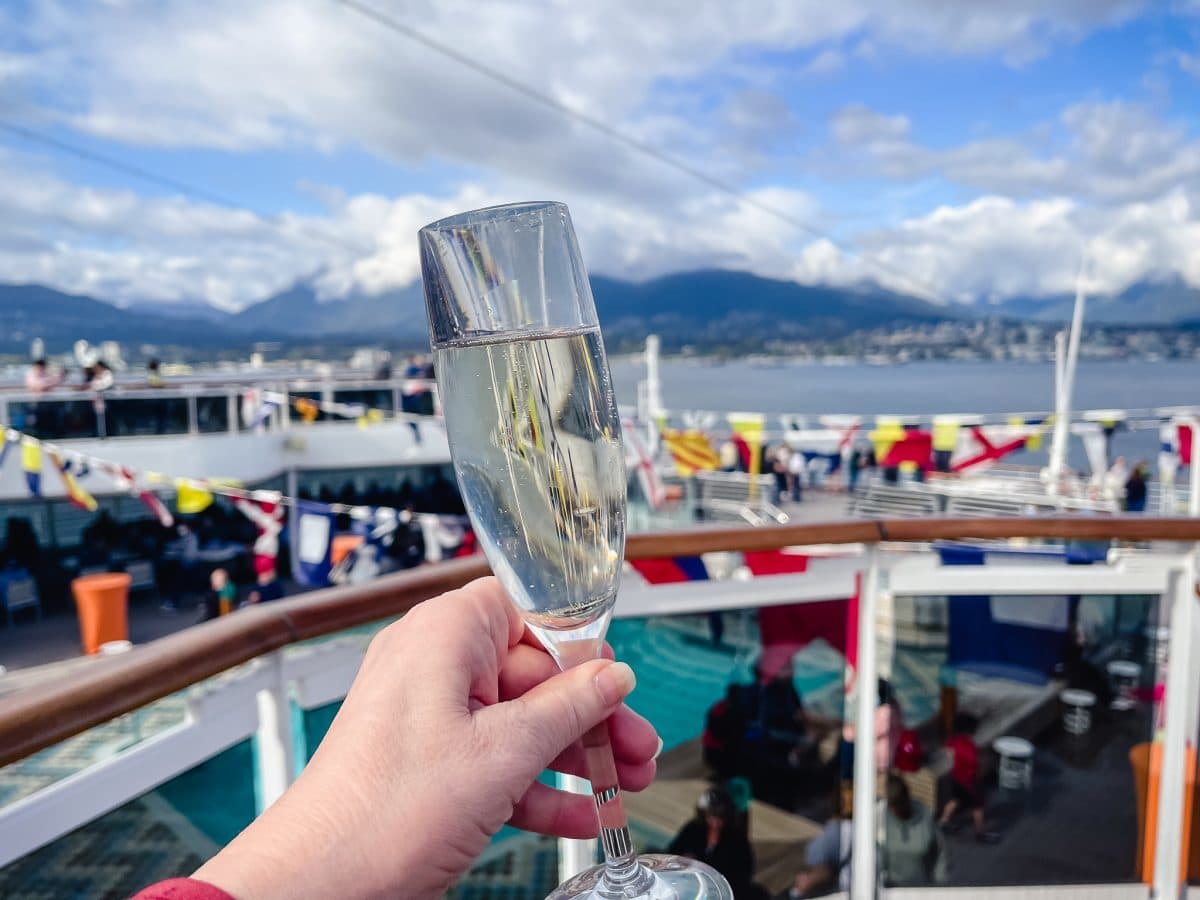 Once onboard, we headed to our cabin where we found our bags waiting. We quickly unpacked while watching our required safety video, then headed to our muster station to check in, and then set off to explore the ship. We were deckside for sail away and the adventure began.
We recommend using the VeriFly app. While not required, Holland America uses it, and there is a special line for those passengers who have entered their info that way.
Day Two – Scenic Cruising The Inside Passage
On the second day, we sailed the Inside Passage from Canada to Alaska. It's a protected network of waterways that winds through an impressive display by Mother Nature. We kept an eye out for whales and other marine life, along with brown bears and other wildlife on the shore. We saw an orca and some otter, and lots of birds, but it was likely early in the season for much more.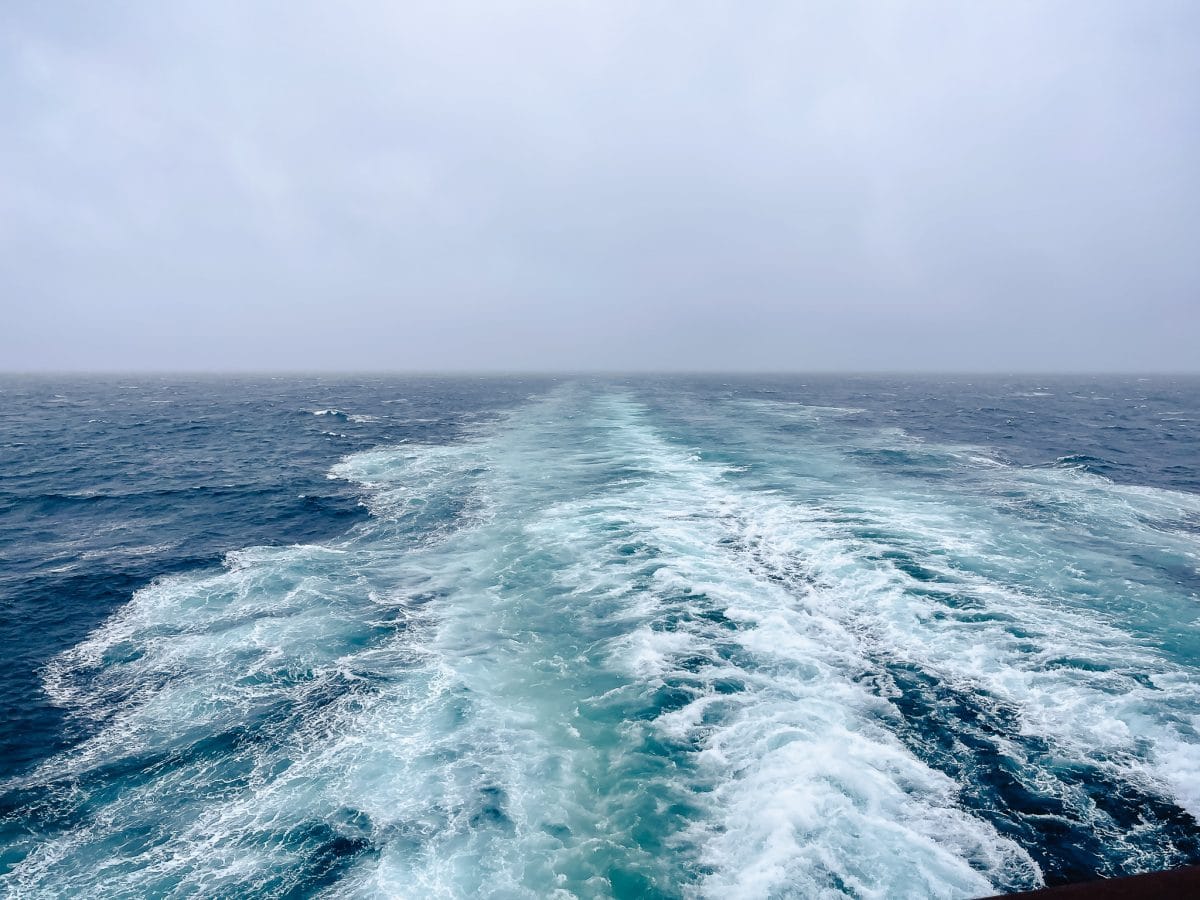 We attended an education session to learn more about local wildlife – the what, when, and where to see it – and spent more time getting familiar with the ship. We got in our steps by lapping the promenade deck multiple times, warmed up with a Baileys and Coffee in one of the bars, and caught up on some much-neglected reading. I love sea days for the downtime they give me
Day Three – Juneau
Juneau is the United States' most remote capital city. With no roads leading into the city, the only way to reach it is by plane or boat. It's surrounded by water, dense forests, and mountain ranges. With only 32,000 year-round residents, the city booms when the cruise ships arrive. And after a long couple of years, locals seemed glad to have us back.
Popular shore excursions here include visiting Mendenhall Glacier or, as we chose, heading out for some whale watching. Juneau is a popular spot with humpback whales, returning to Alaska waters now after being in warmer climates during the winter. There are lots of excursions offering whale watching and vary in departure times, size of the boat, number of people, etc. Just pick one that works, they basically all cover the same territory and have the same information.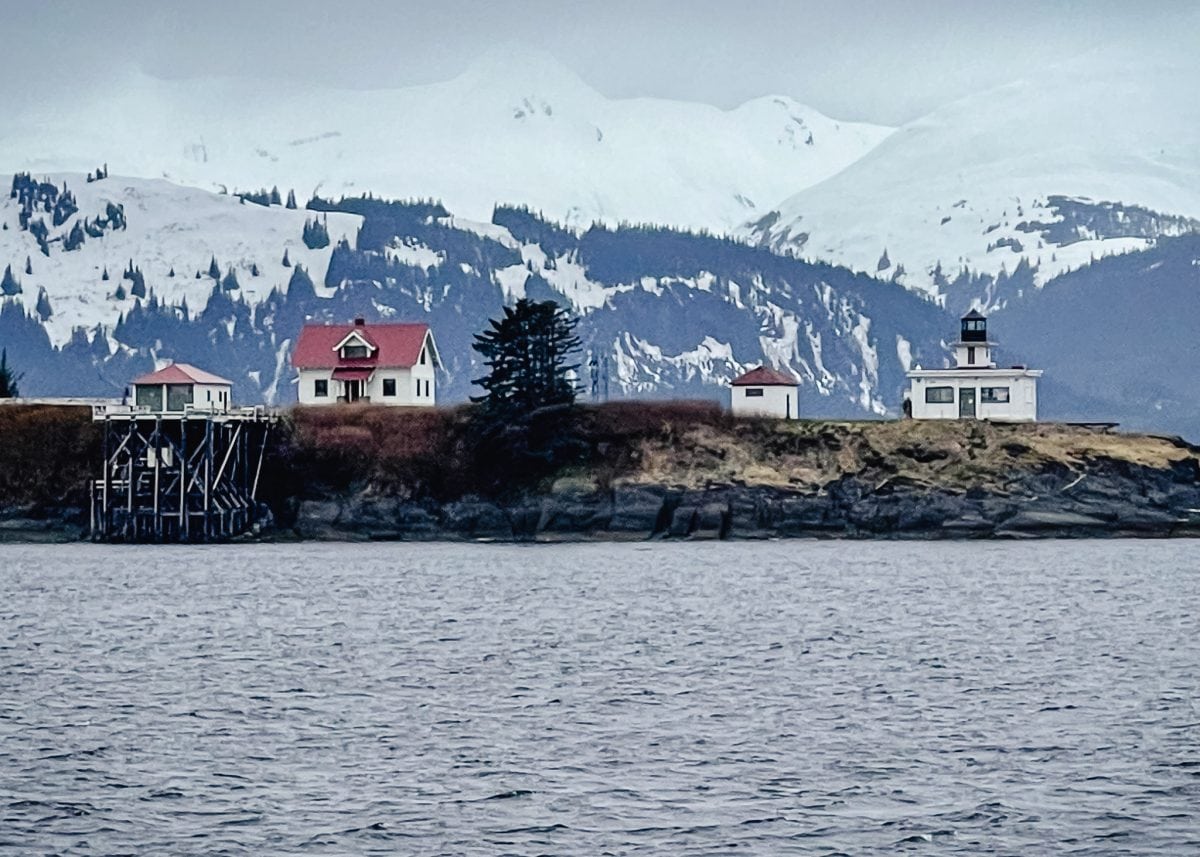 We saw a lot of humpbacks. There was a time when there were whales to the left of us, whales to the right of us, and whales in front of us. It was chilly and rained and I simply didn't care. My goal of seeing whales was met and I had a great time. I did not, however, get any great photos of the humbacks.
We also saw some lazy steller sea lions lazing on a buoy marker. These curious creatures are listed on the endangered list and it is estimated that there are only about 10,000 remaining. They should have been on my must-see list, but I didn't know about them until we got there. I love it when I learn so much while traveling.
The ship didn't depart Juneau till late, but we were cold and ready to return the ship. During warmer summer weather, we'd probably have been enticed to wander around town.
Other optional excursions provided by Holland America take you out fishing, feasting at the Taku Lodge, or visiting the Mendenhall Glacier, Macaulay Salmon Hatchery, Salmon Creek, and Glacier Gardens. You can also embark on helicopter tours, boat trips, mine explorations, and even riding on a seaplane.
Price $169.95. We rate the excursion 5-stars, great value, and worth every penny.
Day Four – Skagway
Skagway was our second port of call, a town known for its role in the Gold Rush, an event that resulted in Skagway becoming one of Alaska's largest settlements.
Although the Gold Rush ended in the 1900s, the town is like a living museum, much of it preserved as part of the Klondike Gold Rush Historical Park. This National Park spans four locations, three in Skagway and one in Seattle. Not many hit it rich in the goldfields, and most of those who did were merchants and outfitters. Spending time in the town is a good way to learn more about the grueling life of the gold miners.
Our Skagway excursion was a sled dog ride, another of my goals for the cruise. The excursion took us about 30-minutes out of town to the location of the dog camp. While our driver was full of entertaining stories good for a chuckle, he was equally adept at spotting wildlife along the way. We saw lots of bald eagles, some flying, and some perched so near us that we could see the detail in their wings.
Our driver gave us very precise instructions about how we'd begin our sled dog experience. And he pointed out clearly that it would be noisy upon arrival. Tony and I looked at each other and shrugged, but nonetheless paid attention to where we were supposed to go and what we were supposed to do.
The noise was cacophonous, a multi-tonal blend of dog voices eager to see us, get pets, and attract attention. I fell in love right then and there. We went right to our sleds and loaded up. The summer sleds are designed to hold about eight people and keep the dogs on a training schedule year-round.
Once loaded we set off at a brisk pace, making two laps around the circuit, before returning to the staging area to express our appreciation to the dogs. We went dog-by-dog, doling out pets and scritches, telling them what a good boy or good girl they were. The dogs ate it up as much as I did.
Following the sled ride, we headed to see the puppies. They were two groups, some older pups at about five months, who will soon be integrated with older dogs to begin their sled training, and the younger pups only a month or so old and still with their mom. We had a chance to hold the younger pups, all wiggly and full of kisses. They'll melt your heart, and I say that as a cat lover.
The driver will drop you off in downtown Skagway or return you to the ship, and we opted to explore a little downtown as did most others on our tour. The ship doesn't sail till late, so there's time for an excursion and spending time in town.
Other excursion options include the White Pass Summit Railroad tour, biking the Klondike Highway, various hiking and biking tours, kayaking, gold panning, and gold rush tours.
Price $179.95. We rate this excursion 5-star, well worth the price, great value, and puppy kisses.
Day Five – Cruising Glacier Bay National Park
This much anticipated day was filled with worry as sailing into Glacier Bay is not always as easy as it sounds. Glacier Bay is both a National Park and Preserve and a UNESCO World Heritage Site. In order to protect the environment, a very limited number of cruise ships are permitted to enter the bay each day. Weather can interfere as well, sometimes making it so foggy that ships can't enter or even if they can, that viewing the glaciers is difficult.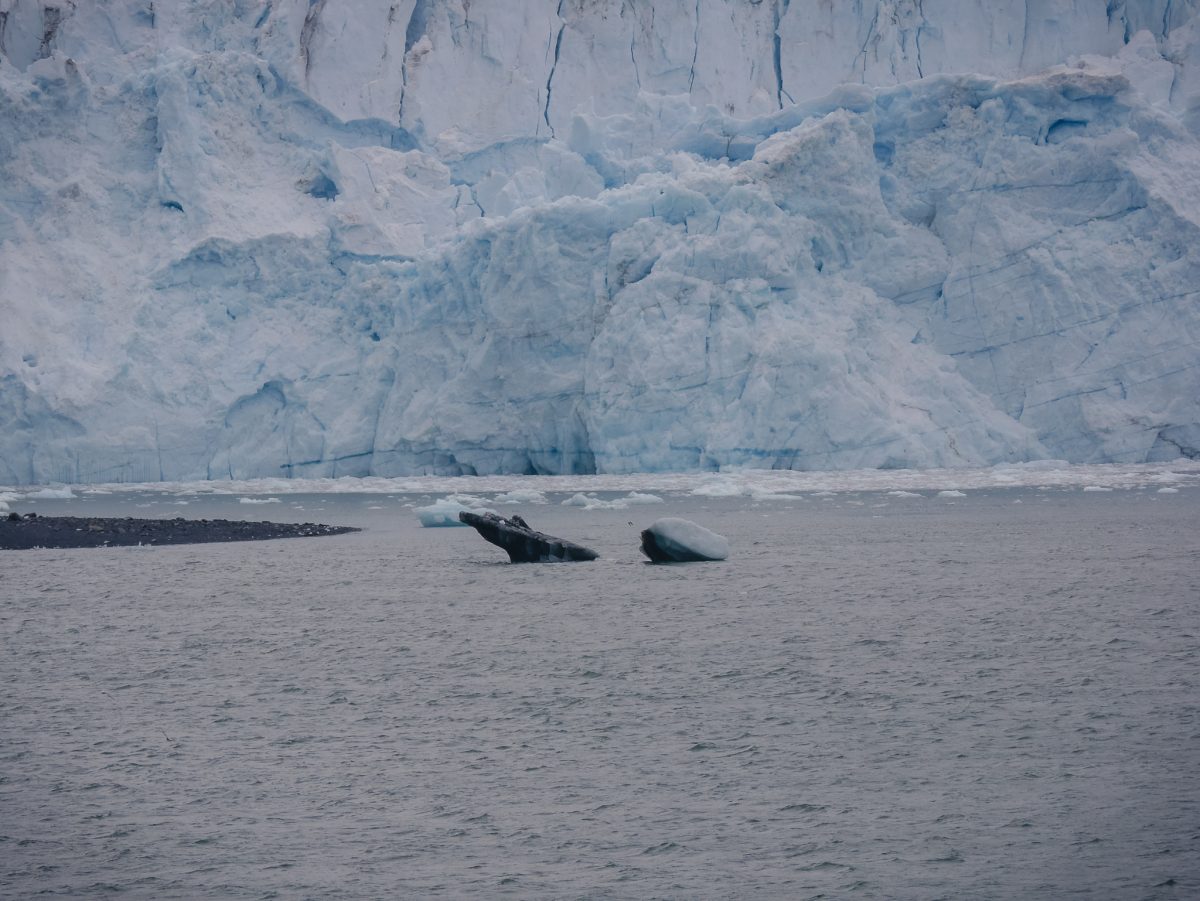 We experienced none of those difficulties – hurrah – and slowly sailed in for a look at its well-known tidewater glaciers. Along the way, we saw otters, sea lions, and a few mountain goats, but alas, no bears, Tidewater glaciers are those that span the mountains down to the sea. Think of them as the mother of all glaciers, and they often break off (calve) into the water at sea level. We saw small(ish) chunks of ice floating in the water, but didn't see anything breaking off while there.
Wanting to make the most of our day in Glacier Bay, we prepared well. We listened to the talks given by the park service ranger and a Huna Tlingit cultural guide to learn more. We were up on deck fairly early in the morning to watch as we sailed by mossy forests, glaciers of all sizes, and majestic mountains. There are over glaciers in Glacier Bay, most high in the mountains.
We were able to view the notables that extend all the way to the water:
Margerie Glacier – We spent a lot of time getting a view of Margerie from every angle. The glacier is about a mile wide, with two-thirds of it above the water, and one-third below, and about 21 miles long.
Johns Hopkins Glacier – This glacier is also about a mile wide, with slightly over half of it above the water. It is known for its calving below the water.
Grand Pacific Glacier – Adjacent to Margerie, and at one time connected, this glacier is about a mile and a third wide at the base and over 30 miles long on its ice face.
Glacier watching tips: We divided our time between the bow of the ship, which was opened for this day, and the balcony of our cabin. The ship moves slowly, you'll have time to see everything. It didn't matter which side of the ship you were on as it circled the bay and you could see everything no matter the side you were on.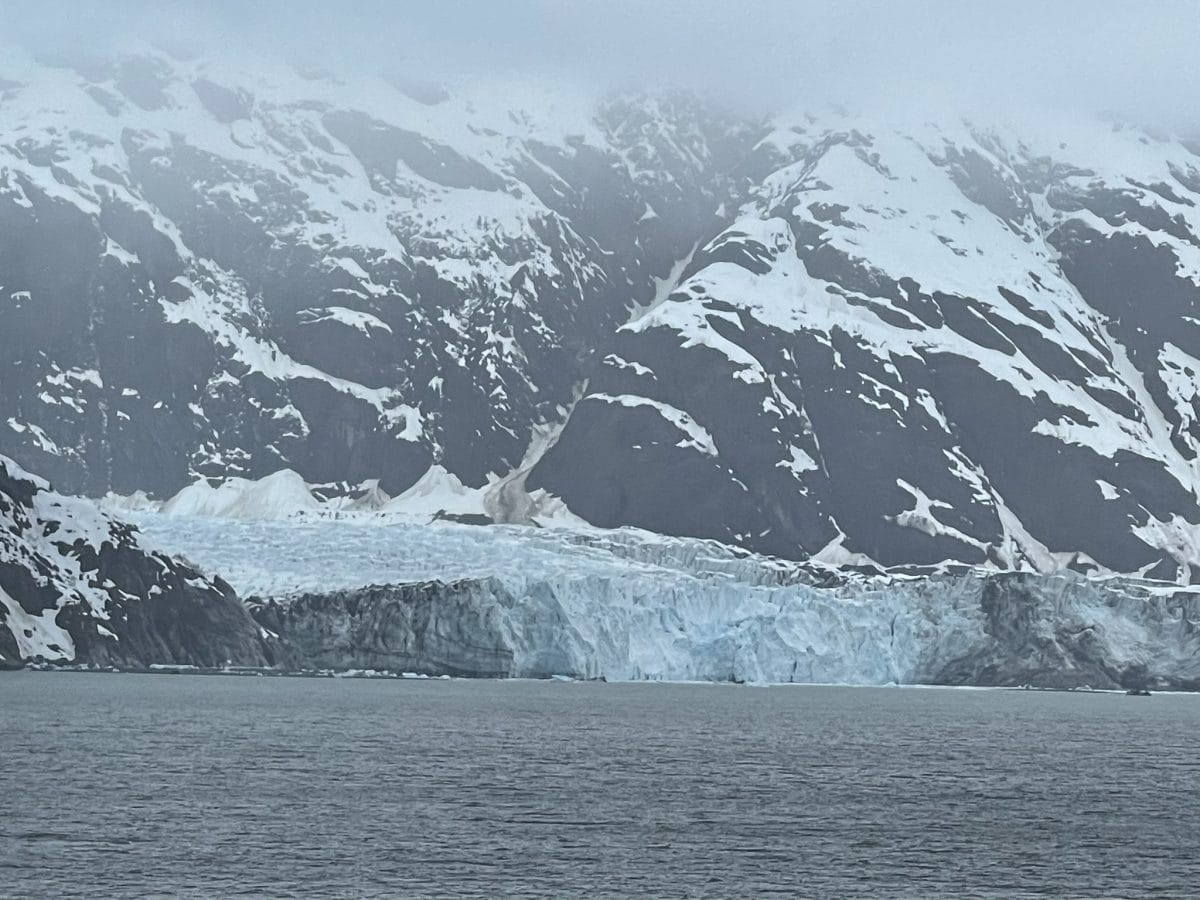 I have so many superlatives to describe our time here – amazing, jaw-dropping, beautiful, incredible – and every one of them fails to describe what we saw and how we felt. It was a 5-star day.
I've mostly been using my iPhone for photos lately. I always have it handy, the features and technology have improved greatly (I shot all the photos for my book using my phone), and it's easy. I mostly used my phone on this trip as well. But in Glacier Bay, I took out my DSLR even though it feels a bit clunky.
I'm working on improving my photo skills, focusing on one easy step at a time. The Travel Photography Book breaks this down into very simple tips, tricks, and shooting challenges. While I did a quick skim of the book, I'm trying to be patient and work on mastering one thing at a time. Thank you Scott for sending me a copy of the book.
Day Six – Ketchikan
Ketchikan lies on the banks of the Tongass Narrows, surrounded by lush green forests. It's most known for its long tradition of salmon fishing and well-preserved traditional Alaskan heritage. If you want to learn about the cultural heritage of the native Alaskan people, such as the Tlingit, Haida, and Tsimshian, you'll be able to get insight here.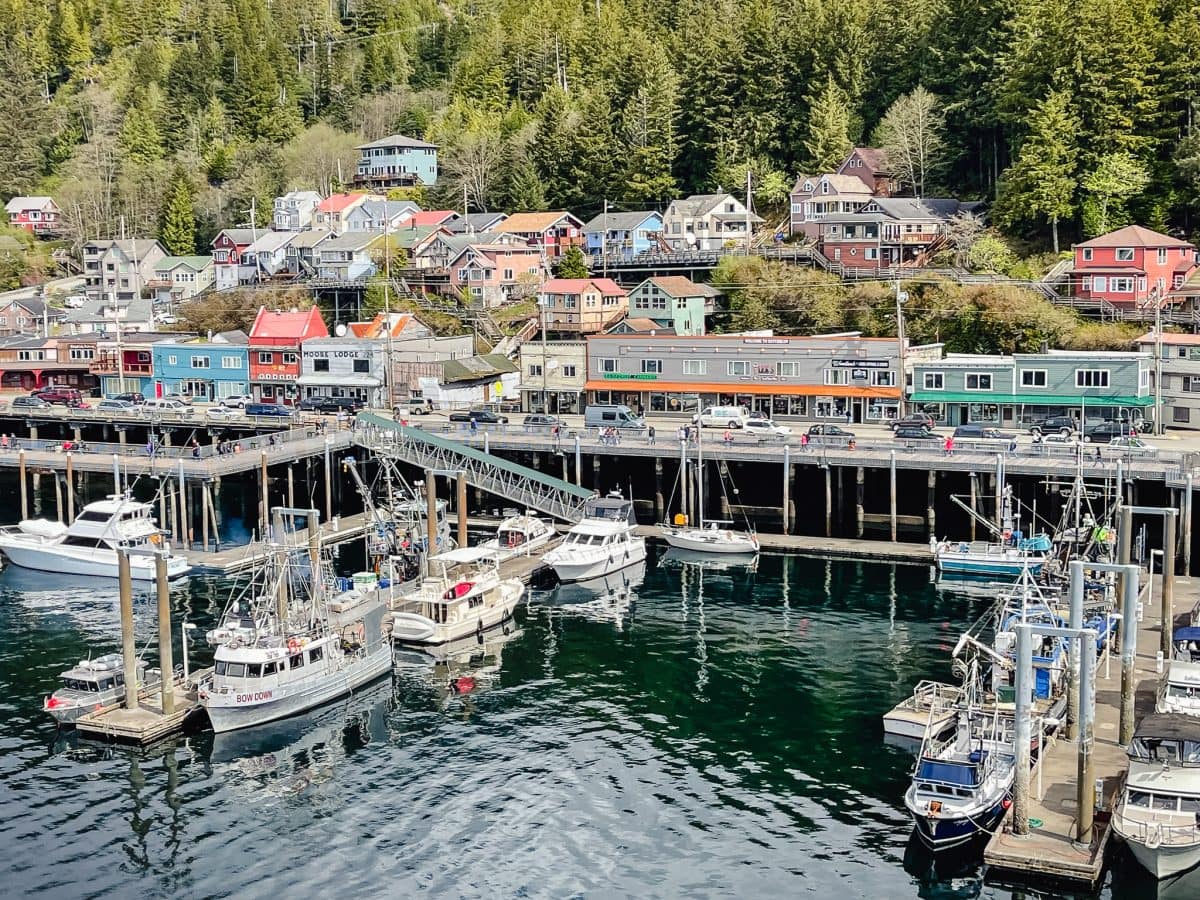 It rains a lot in Ketchikan and since the weather forecast predicted a sunny day, we opted to walk around town rather than go on a port excursion. It was a good choice. It was warm a sunny, no need for a jacket, and we got our steps in wandering down historic Creek Street, a boardwalk built over the Ketchikan Creek. We got looks at totem poles, although for a more intimate totem exploration learn more about the Tlingits on an excursion.
Port excursions in Ketchican included a tour of Totem Bight State Park, a visit to Saxman Native Village, watching a dance performance, salmon and halibut fishing, the Great Alaskan Lumberjack Show, e-biking, and kayaking.
We felt we made a good choice in deciding to wander the town. It was a good spot for personal exploration on a sunny day. I'm not sure what our choice would have been if there had been bad weather.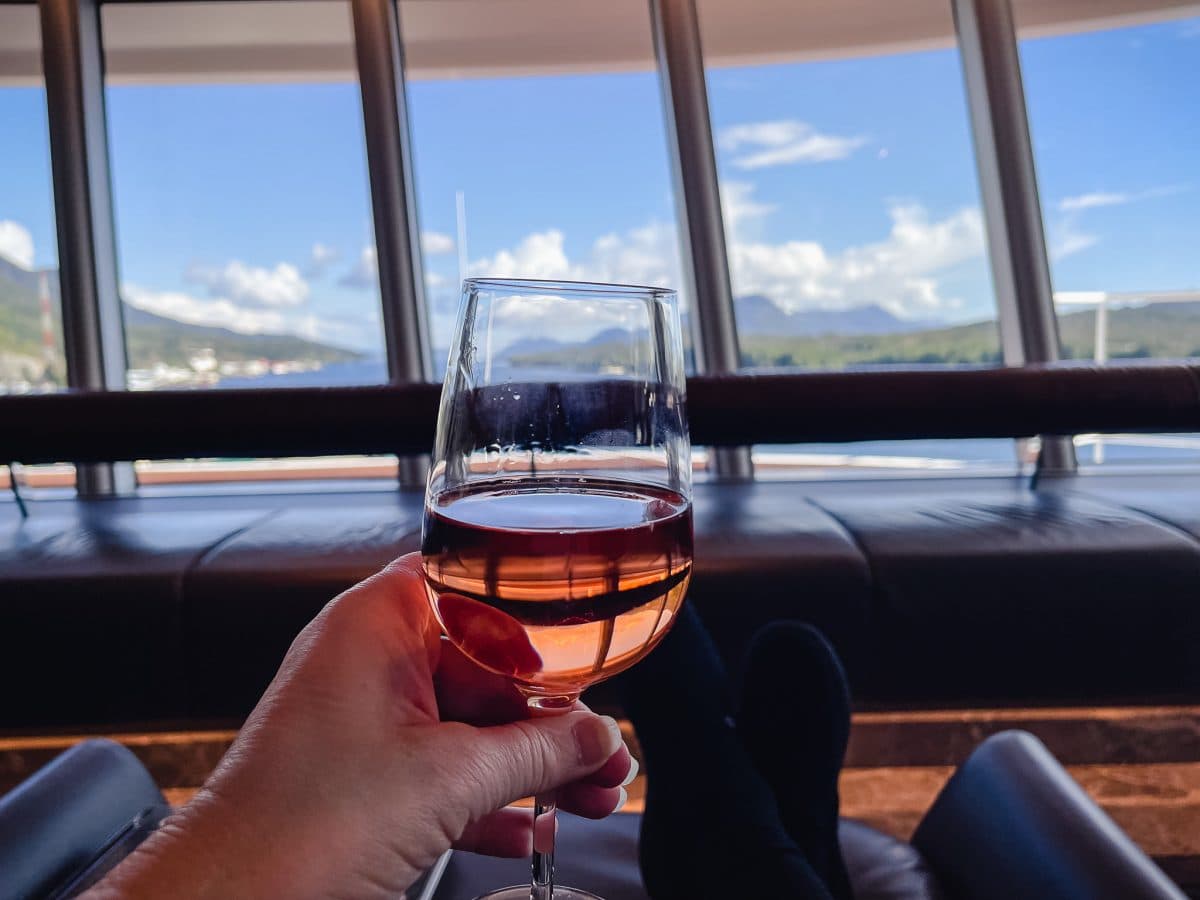 As the ship sailed away in the evening, we were happily ensconced in the Crow's Nest enjoying the view. And a glass of wine.
Day Seven – Scenic Cruising The Inside Passage
If you missed out on seeing humpbacks or orcas, this is your last opportunity as the ship sails south to Vancouver.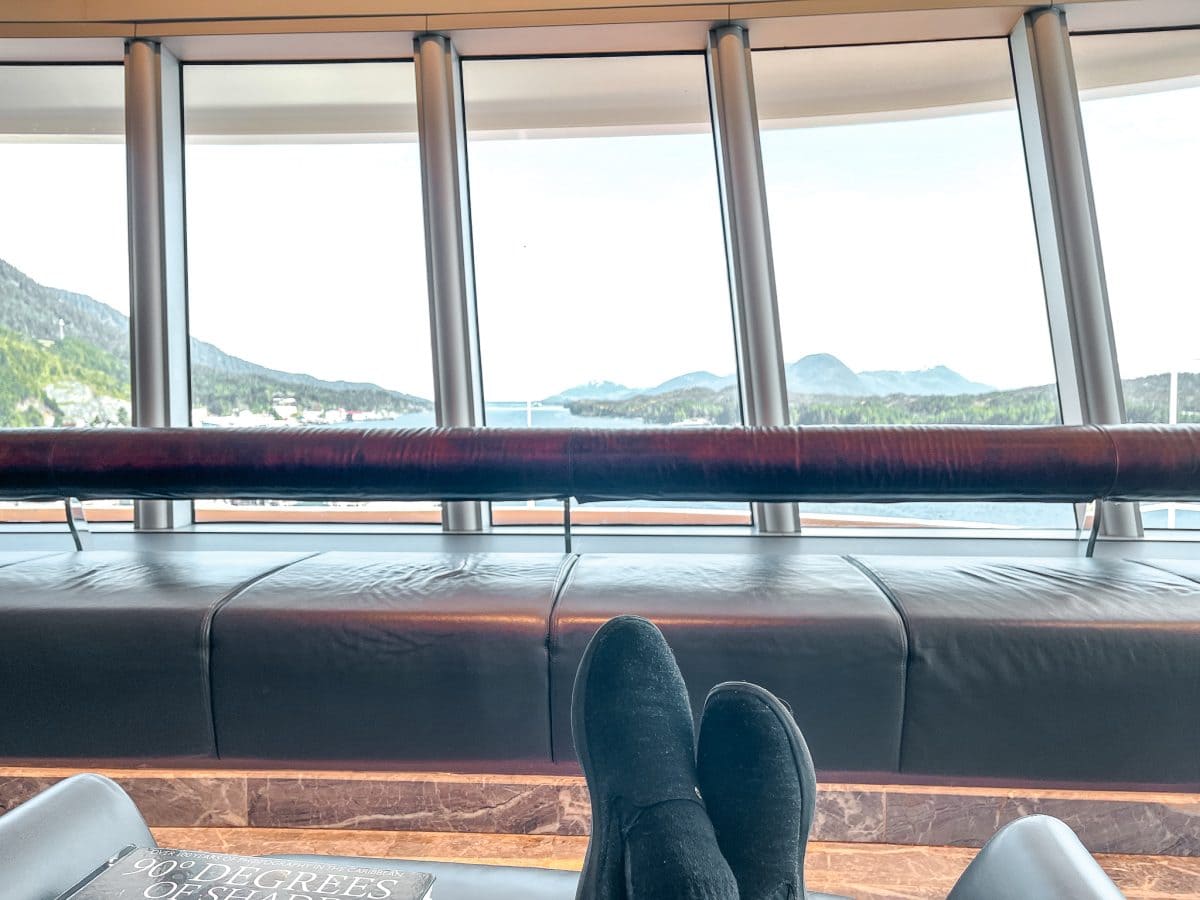 We had a couple of whale sightings, Orcas we believe, but we mostly used this time to relax and spent some time looking at the world go by.
Day Eight – Return to Vancouver
We arrived back in Vancouver for a very well-organized disembarkation. You arrive back in Vancouver at 7 am where you will disembark and head home. Or, you can stick around in Vancouver for a while and see all the sights you missed out on day one.
Earlier in the week, detailed instructions were left in our cabin with information about the disembarkation procedure, customs and immigration. Groups were assigned color-coded departure times. Since we didn't have a flight to catch, we were in one of the later times, a treat we usually don't have as we have a flight to catch. We were able to take our time in the morning, have breakfast, and then walk off. Once off the ship, we pick up our luggage, turned in our customs forms, and were on our way home.
Dining on Koningsdam
We tried to get to all the dining venues, and did a pretty good job at it, missing only one (Canaletto).
Before getting into specifics and recommendations, a few general thoughts. I like to try new dishes when I'm cruising, something I haven't tried or that I don't make at home. Sometimes I discover wonderful new flavors, sometimes not so much. That's not a reflection on the food that's prepared, but on my personal tastes. Not surprisingly, opinions will be all over the place. I've tried to provide specific responses to our dining selection as well as give some recommendations to help you decide what choice is right for you.
Holland America has also announced a new sustainable seafood partnership on all its ships sailing in Alaska.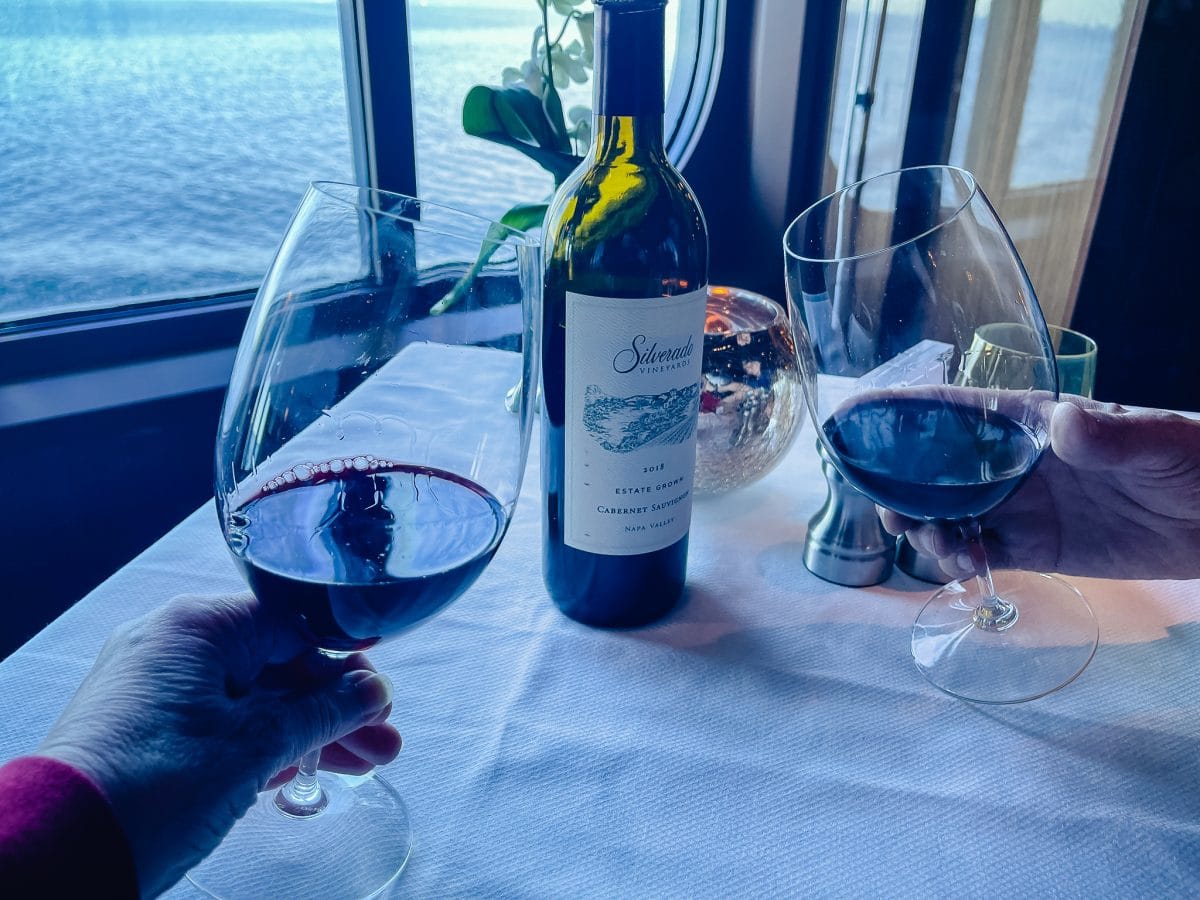 We are wine drinkers. We have wine at dinner nearly every night at home, and a cruise isn't going to be any different. We build it into the budget. Holland America has a fabulous wine program, with an extensive selection of both bottles and by the glass at all price points. We're always eager to engage with a wine steward to help make a selection, learning more each time we try something new or pair it differently.
The wine menu gives excellent information to help make a selection, but don't be afraid to ask questions about what would go well with your particular dish. Bottle purchases gave slightly better value and if you don't finish, will be held for another night. We ordered a bottle at Pinnacle, didn't finish it all, and asked for it the next evening at dinner in the Dining Room. We also enjoyed trying new selections by the glass, both at dinner and in the lounges.
Restaurants included with your cruise fare
The Dining Room
There are two options for main dining room seating. We opted for freestyle, which is a self-select option to choose your own mealtime when you want it. This fits our personalities, our preference to not have all our cruise time structured, and gave us maximum flexibility. We also tend to prefer later dining, rarely earlier than 7:30 pm.
We ate in the Dining Room for one breakfast and two dinners, and our experiences were similar. The menu was varied, with good selections to suit all palates, but the service was slow, and food was not delivered hot. I never send anything back, and really, it was just fine – although not outstanding. The waitstaff was attentive and cheerful. I really think this is a systems issue that will get worked out and will look forward to talking with friends scheduled on later sailings.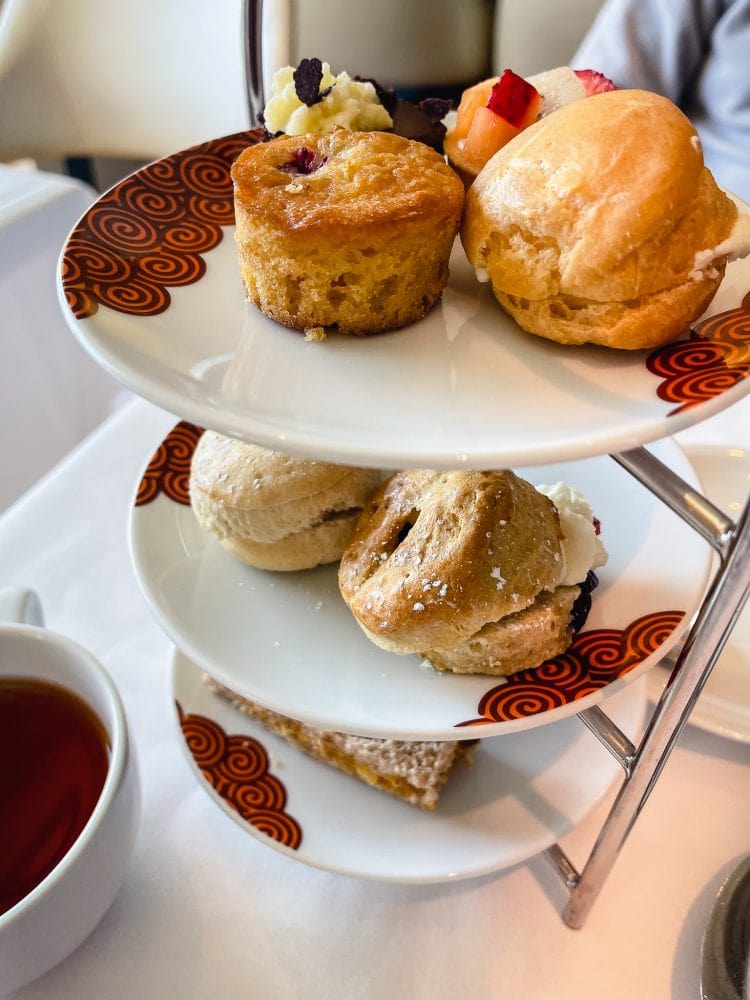 The dining room spans two levels on decks two and three. On our reduced capacity sailing the upper level was not open for dinner. It was used for afternoon tea, a delightful treat that we enjoyed.
Lido Market
The one-time buffet has morphed into an extensive selection of menu items, served to you by cruise staff. We usually came here for breakfast as it was quick and easy. You'll find the usual fare with some surprising twists – cooked to order eggs as well as cooked to order crepes, sweet and savory options, cereals and breads, salads, and roasted meats.
I tried to eat healthy for breakfast, muesli and fresh fruit, since I knew I would splurge at dinners. But, those tasty-looking cinnamon rolls kept calling my name, and by the end of the trip, they were on my morning plate as well.
Dive In
Located by the pool, this was a quick option for sandwiches, salads, and light fare. We grabbed lunch here while on a lounge chair looking out at Alaska's inside passage. This isn't fancy food, it's good food quick, just what we like for lunch.
New York Pizza
Who doesn't like pizza? Choose from some special selections or create your own, these come in sizes perfect for one. Or order two different kinds and share. We grabbed lunch here on embarkation days and that's what we did.
Grand Dutch Cafe
When morning called out for a latter, this is where we headed. The line moved quickly and service was efficient. While there is an additional charge for specialty coffees, they are reasonably priced. And those delicious-looking items on the pastry counter are included.
Specialty Dining
Rudi's Sel de Mer
I'm starting with our favorite here, Rudi's. We liked it everything about it – atmosphere, decor, service, food – and went back a second time. Master Chef Rudi Sodamin has created a delicious seafood menu that combines classic French preparations with contemporary flair, serving it up in an elegant, yet not pretentious setting.
The dining experience starts off with a complimentary aperitif and an amuse-bouche (a salmon-shaped cracker with a salmon mousse inside). That's followed by the bread presentation, a warm cloth-wrapped loaf accompanied by numerous spreads and bites.
Appetizers followed, then your entree. I had the same entree both nights – the lobster tail. Exquisitely prepared, elegantly presented, if I could package up one thing from the cruise to take home with me it would be this dish. Oh sure, there were sides that accompanied it, but I didn't care. I was there for the star attraction.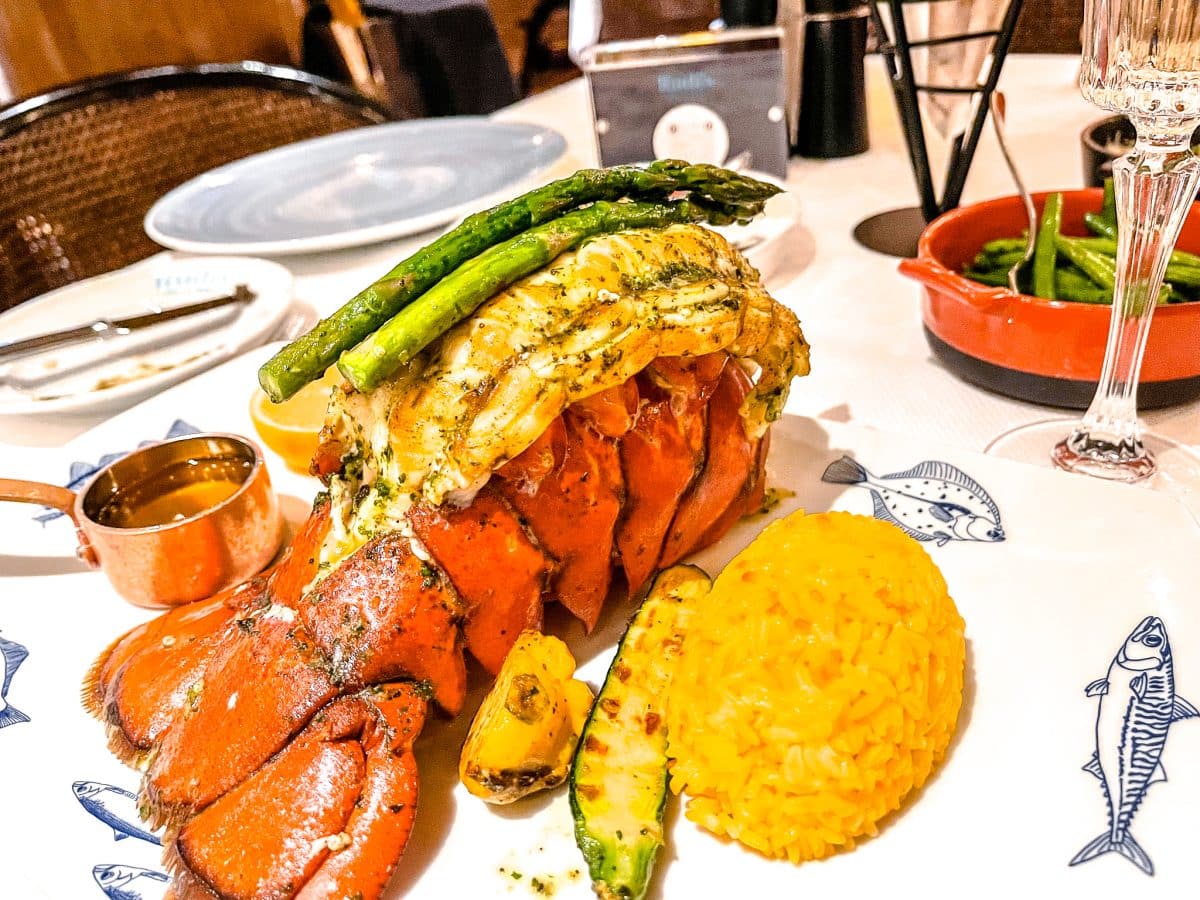 Tony chose a grilled halibut one night and the coq au vin the second night. He raved about both. His highest honor to bestow upon any meal is to say "I'd have that again." He said it both nights.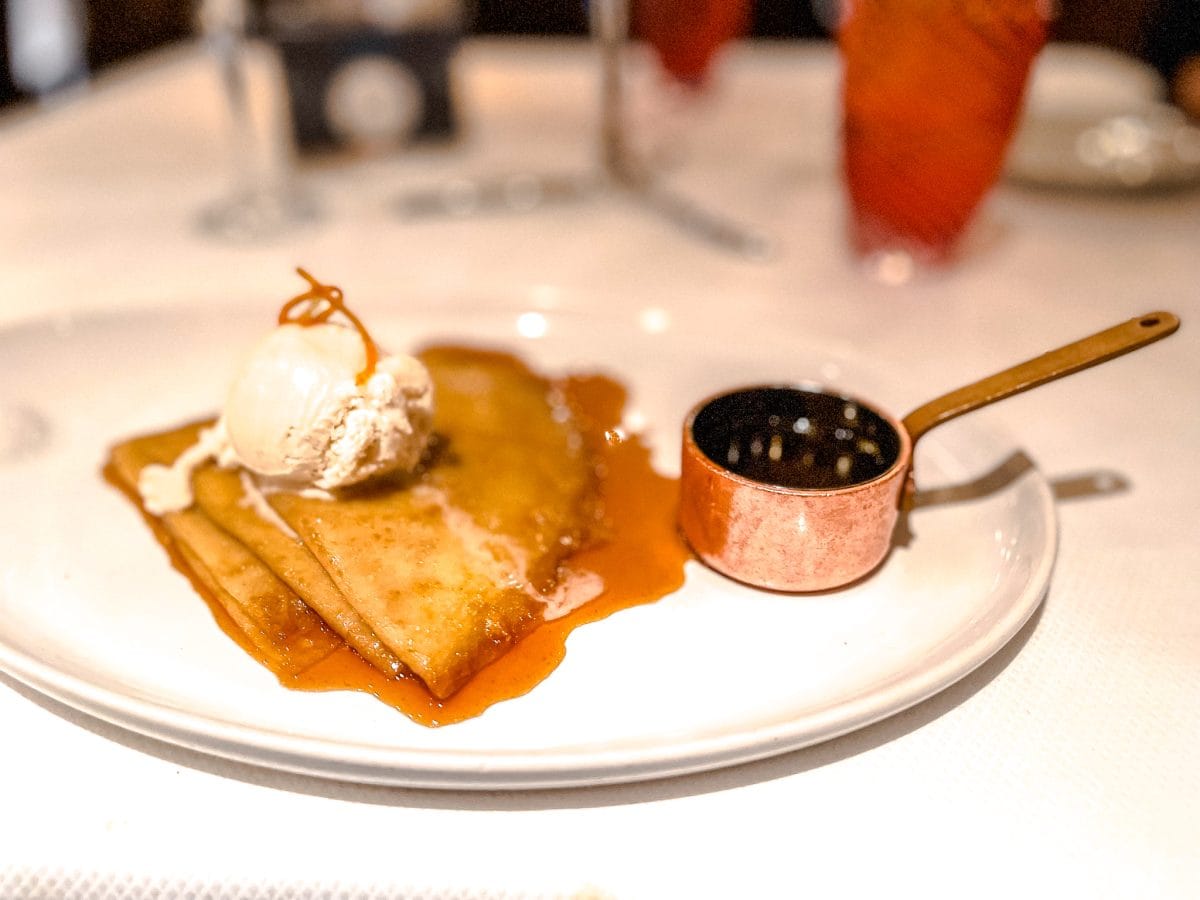 Closing out the meal was a chocolate assortment, allowing you time for a sweet treat before delivering your dessert. Big thumbs up for the Crepes Suzette.
The charger plates at Rudi's are a creative design of food art. The full collection is found in a beautiful art book. I found the plates are available to purchase here, $113 plus shipping, and I have my eye on Don't Be So Crabby. (This gallery site is not affiliated with Holland America.)
Surcharge: $115.64 for two people, including gratuity. 5-stars. Worth every penny. Every. Single. Penny. If this was a restaurant in our neighborhood, I'd be a regular.
Pinnacle Grill
This steak and chop house was a bit hit and miss. We're predisposed to like a steakhouse and this was fine. Service was a little slow, but we were lingering over a bottle of wine and a view, so it didn't seem to matter. A view patrons at nearby tables seemed a little antsier (including some inappropriate flashing).
The appetizers were the shining stars. I had lobster bisque, so delicious I would have licked the bowl if it weren't grossly inappropriate. Tony enjoyed the shrimp. Steaks for dinner were fine, absolutely nothing wrong with them. Everything was great. It just paled in comparison to Rudi's (unfair, I know).
Surcharge: $92.04 for two people, including gratuity. We'd go back.
Tamarind
Featuring dishes from China, Japan, and Southeast Asia, I was curious to see how it translated from menu to table. I love these flavors far more than Tony, he's sort of lukewarm about it all. It was a great choice, for both of us.
Our appetizers were tempura shrimp (mine) and barbecued spare ribs (Tony's). I made the better choice, although the ribs were still tasty. We shared.
For entrees, Tony chose a wasabi encrusted beef tenderloin and I chose the wok-seared lobster (additional fee). For sides, we choice a mixed selection of sauteed mushrooms and rice. All were solid choices. Dessert was a selection of sorbet. I wish we would have had time to go back to try a few more menu items – something that will keep until the next time we sail with Holland America.
Surcharge: $68.44 for two people, including gratuity. An additional fee of $22.60, including gratuity, for the lobster. We'd go back. And probably both order the lobster.
Canaletto
We missed Canaletto and its rotating menu of daily specials. It's a solid menu with a mix of standby favorites (lasagna bolognese, spaghetti alle vongole) and creative twists (pasta genovese, branzino alla siciliano). Next time.
Nami Sushi
Unlike many of our friends, we are just not sushi lovers. Nami Sushi is set inside Tamarind, so we did get a look, but it won't be on our dining list. Sorry sushi fans.
Room Service
We ordered room service breakfast one morning so we could eat while getting ready for an early excursion. We made a selection the night before, placed a hanging card of the door, and it was delivered on time.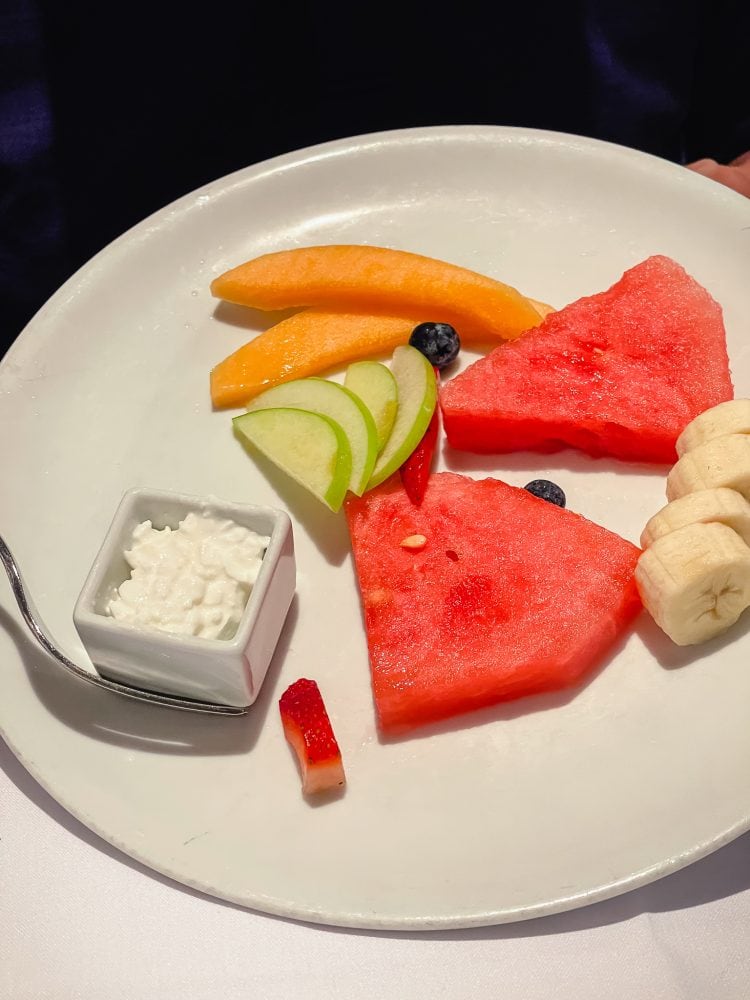 The selection options are limited, I would have preferred a few more healthy options, but Tony was happy with the traditional eggs dishes. Interestingly, as contrasted with the dining room, our room service meal was piping hot.
There is no additional fee for room service.
The Price
Cruise pricing is always all over the board. One week there's a special fare and the next week another. There's a lot of bundling going on, fares that include specialty dining and shore excursions, right along with cruise-only fares. Prepare to do your research and evaluate what's important to you and/or work with a travel agent with good cruise knowledge.
There are, however, some screaming hot deals on Holland America right now that offer reduced deposits, lots of inclusions, and great pricing. I have seen inside cabin pricing starting at $349 per person and verandah pricing starting at $599 per person. The devil is in the details, though, but if an Alaska trip is on your to-do list it's a great time to get it scheduled.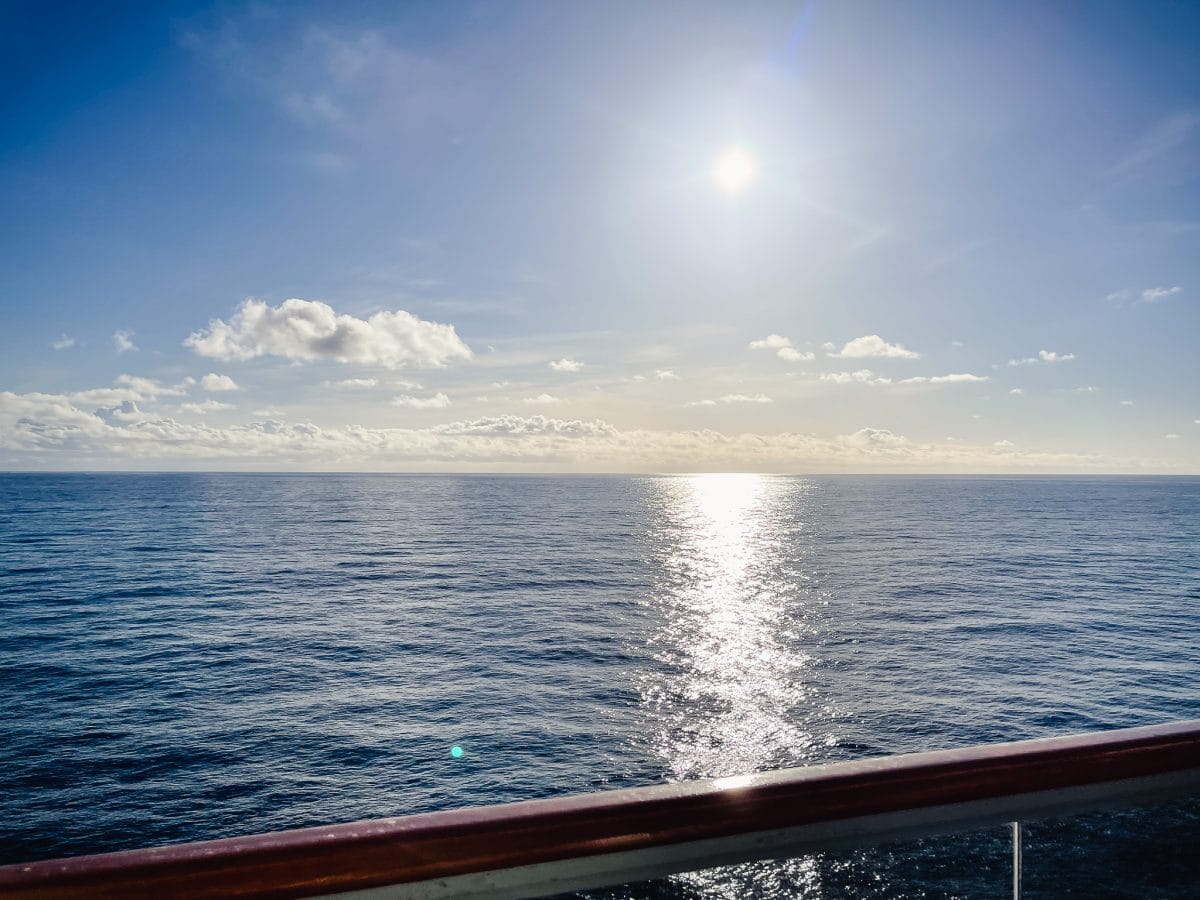 A note about tipping. A crew appreciation charge of $31 per day (for two people) is added to your shipboard account (you can arrange to pre-pay).
While not required, I personally believe in going beyond the included gratuities. Your hotel and dining staff work hard for you every single day. You've enjoyed a freshened stateroom and attentive service from your room steward. The wait staff is not only busy filling water and wine glasses, but busboys are clearing and cleaning, and servers delivering meals as quickly as possible. All this, while accommodating special requests and helping you have a great time. They deserve as generous of a tip as you can manage.
What About Covid?
At the time of our sailing, no Covid testing was required for entry into Canada. It was required to board the ship. Because we were driving back, no testing was required to return to the U.S. via a land crossing.
Masks were required in the cruise terminal for the embarkation and disembarkation process. Onboard the ship, masks were recommended, but not required. We opted to wear them when we were inside and social distancing couldn't be maintained.
It's likely that health protocols may change by the time you sail. Holland America's website does a good job of timely updating all country, state, and ship requirements. We checked this frequently.
Is a Holland America Alaska Cruise Right For You?
For an inside passage cruise, the Koningsdam is a great choice. There are larger ships and small ship cruises plying these same waters, but the Koningsdam seems right-sized for this itinerary. Big enough to offer a variety of cabin choices, provide a wide selection of dining opportunities, and knock it out of the park with entertainment venues, all while being small enough that you don't feel lost in a crowd. The ship can get relatively close to the glaciers, although certainly not within touching distance, and has spacious areas inside and out for viewing. It provides a wide range of price options so passengers can create the experience they prefer.
If every ship and every cruise line is known for something special, I'd say that for the Koningsdam (and the rest of Holland America's ships), it's music and wine. If those are important considerations in your vacation experience, this is an excellent choice.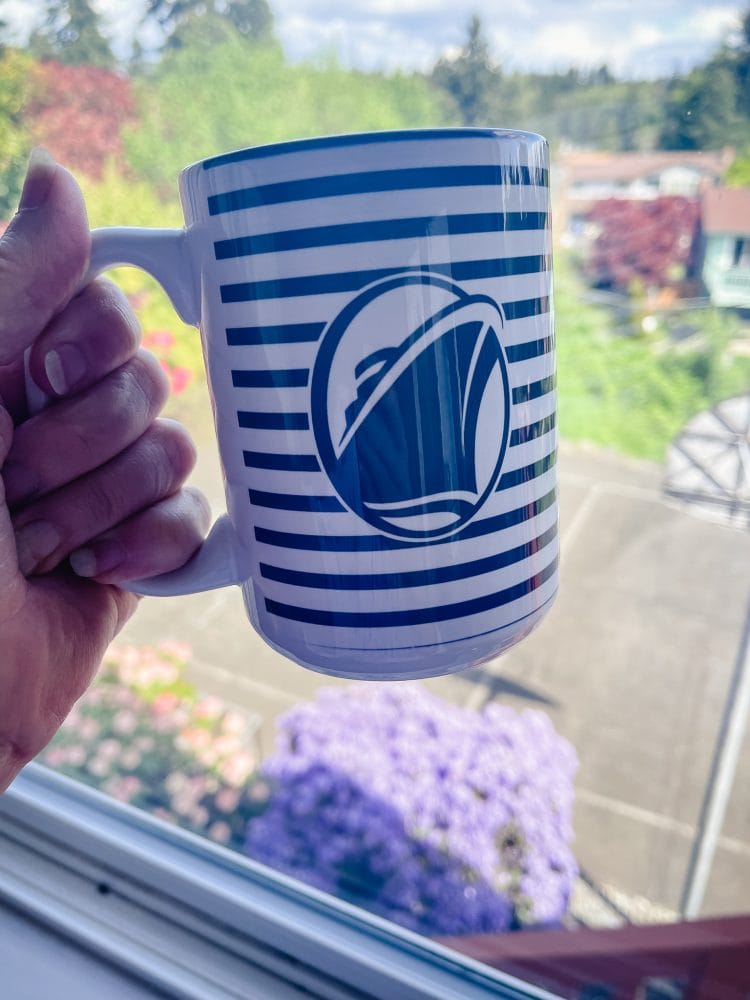 Now that I'm home with my Inside Passage memories, and having my morning coffee in my Holland America mug (the souvenir I pick up when I travel), I understand why so many people do multiple cruises to Alaska. Each day brings different weather and light which changes the experience; sometimes that light changes within a matter of hours. Animals don't adhere to a schedule, so each day is full of excitement over what you will see. While this was our first cruise to Alaska, I don't think it will be my last.
For Pinterest
Pin to your favorite cruise or vacation boards and use our tips and recommendations to plan your Alaska cruise through the Inside Passage.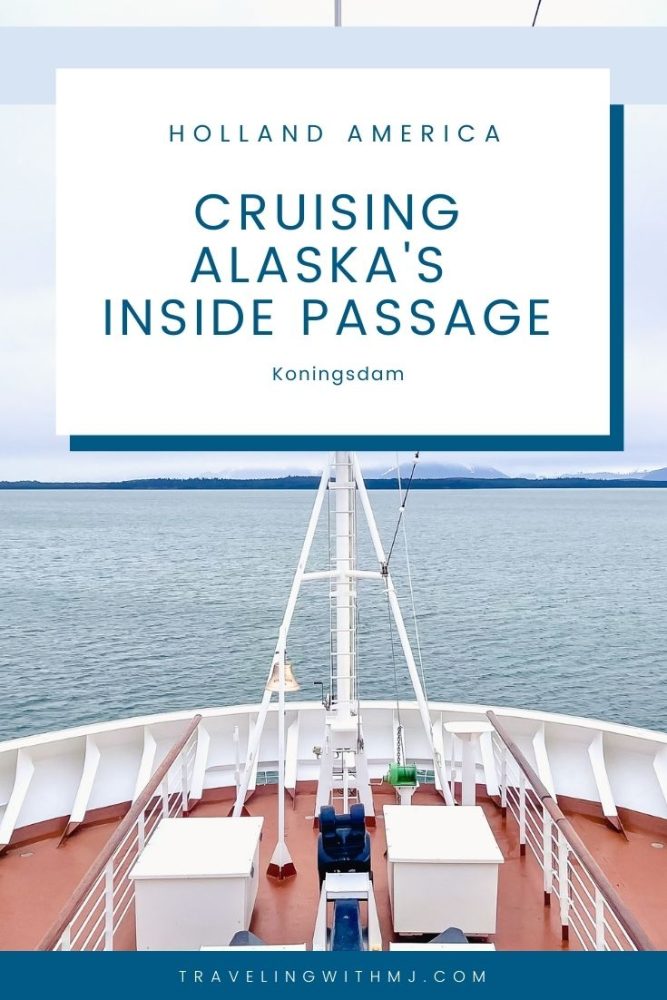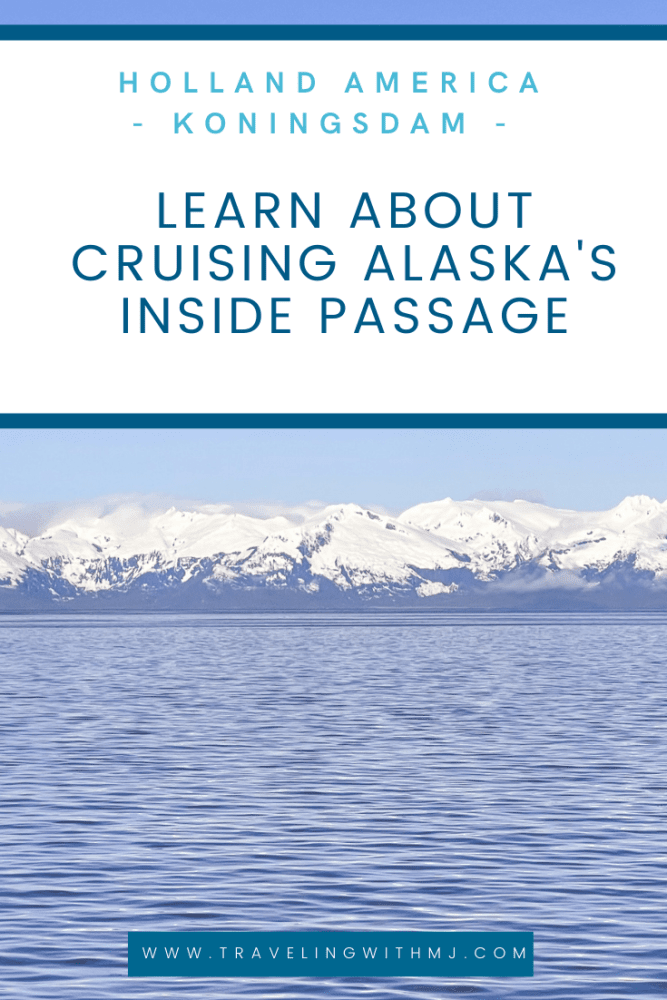 Disclosure: We received a complimentary sailing as media covering the ship and the first Holland America cruise back to Alaska. This post also includes affiliate links.
If you're looking for more cruise information to help make a booking decision, you'll find more of my cruise recommendations and information here.