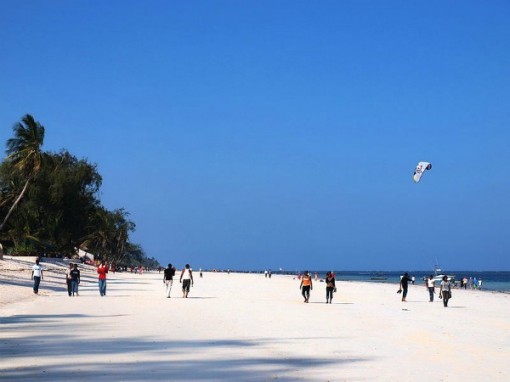 Swaddled on its eastern flank by the warm touch of the Indian Ocean, and on its west edge by the grand swells of the Atlantic, Africa is more than equipped when it comes to glorious beaches. But beyond the obvious strips – along Egypt's Red Sea coast, the well-trawled crescents of Morocco and Tunisia – other, less-discovered stretches await, their wave-dabbed curves all the more beautiful for their relative lack of fame.
South Africa
As the continent's lower edge, South Africa is a beach paradise. You can find endless coastal glories within reach of Cape Town, where the Cape Of Good Hope extends a slender south-pointing finger into the Atlantic – not least of which are photogenic outposts like Muizenberg and Simon's Town on False Bay.
But those seeking a more secluded form of South African seafront should look a little to the east, and the Garden Route. This fabled part of the country's perimeter, which extends some 150 miles from Mossel Bay to Port Elizabeth in a haze of lush vegetation, also has superb beaches. Indeed, you might never leave Mossel Bay, at the start of the Route – where old-fashioned seaside charms are complemented by the sight of the Indian Ocean ebbing to land.
Getting there: Virgin Atlantic offers flights to Cape Town from London Heathrow.
Namibia
Although known to intrepid tourists, South Africa's northerly next-door neighbor Namibia remains one of Africa's less-appreciated gems – an often wild realm of desert and scrub whose shoulder pushes against the Atlantic for 977 miles.
Its most noted – and most desolate – portion is the Skeleton Coast Park, a raw enclave in the north-west of the country that is very much a realm of dust and bones. But soft alternatives lie to the south – such as Henties Bay. A small town to the west of (and within reach of) Windhoek, this hideaway is ideal for those who want to try their arm at sports fishing, or venture into the Namib Desert by four-wheel-drive. And it also boasts miles of sand, where you can gaze at wide Atlantic swells in undisturbed tranquility.
Getting there: Virgin Atlantic offers daily flights to Johannesburg from London Heathrow. From Johannesburg regular services connect to Windhoek in Namibia.
Kenya
Long known for its wildlife wonders, Kenya is increasingly accruing a reputation as a place for skulking on the sand in search of a suntan. With good reason. The country can claim some 350 miles of Indian Ocean coastline. And its most splendid offering is surely Diani Beach (in photo).
Though relatively close to the noisy bulk of Mombasa (Kenya's main port, 20 miles to the north), this white-sand playground is largely removed from urban context (though the small town of Ukunda provides a handful of restaurants and bars). You can find good diving amid its coral reefs, and strong winds for kite-surfing. But, best of all, you can find seclusion too.
Getting there: Virgin Atlantic has regular flights to Nairobi from London Heathrow.
Tanzania
Directly to the south, Kenya's close colleague Tanzania plays a similar trick. Better acknowledged for its safari holidays (the swaying grasslands of the Serengeti, in the north of the country – home to the annual wildebeest stampede of the Great Migration every October – should be on everyone's must-do list), East Africa's biggest state is also blessed with enough shoreline to stage a thousand swimsuit modeling shoots – around 900 miles in total.
And, as with Mombasa and Diani Beach, if you head just south of Dar Es Salaam, Tanzania's biggest city, you soon encounter seafront serenity – in particular around the small, chic resort of Ras Kutani, where the sand seems to run all the way to the horizon as traditional fishing boats glide lazily in the shallows.
Getting there: Virgin Atlantic has regular flights to Nairobi (in Kenya) from London Heathrow. From Nairobi, regular services connect to Dar Es Salaam.
Nigeria
West Africa rarely pings too loudly on mainstream tourist radars, but Nigeria, with 530 miles of shore running west to east along the Atlantic, has beaches in abundance.
The most celebrated hem the biggest city, Lagos – such as Bar Beach, in the southerly Victoria Island section of the metropolis, which draws residents to the water. Its name is deceptive, a reference not to madcap nightlife but to the heaped sandbars that help give the beach shape. Other, less crowded, options also lie within a quick dash of the centre – Lekki Beach, Alpha Beach and Eleko Beach to the east, Tarkwa Bay and Lighthouse Beach to the west. The latter is also well titled, its say-what-you-see moniker paying tribute to the century-old shipping sentry that guards the shore here.
Getting there: Virgin Atlantic offers regular flights to Lagos from London Heathrow.
Photo credit:  Michael Vogt via flickr