Today I have a guest post from a recent friend, Sue Henly. Sue and I met at a travel event and charmed me with her Australian accent. I think she'll charm you with her writing as well.
—
In the soft grey light of early morning, we sit quietly on a bamboo mat, wicker baskets of sticky rice beside us, across from a shuttered colonial mansion heavy with bougainvillea. Birds chatter in the flame trees until a gong sounds, momentarily startling them into silence.
Around a corner, dozens of barefoot monks and novices appear in a swish of saffron, golden bowls hanging from orange shoulder straps.  Next to us, locals show us how to earn merit.  Men adorned with scarves over one shoulder as a mark of respect and kneeling women in traditional shawls put fistfuls of rice into the monks' bowls as they lift the lids, barely stopping their gracious procession.
As in a dream, just as the rising sun gilds the ceramic-tiled temple roofs, the stream of gold vanishes, and the monks return inside. Luang Prabang gets on with the business of the day.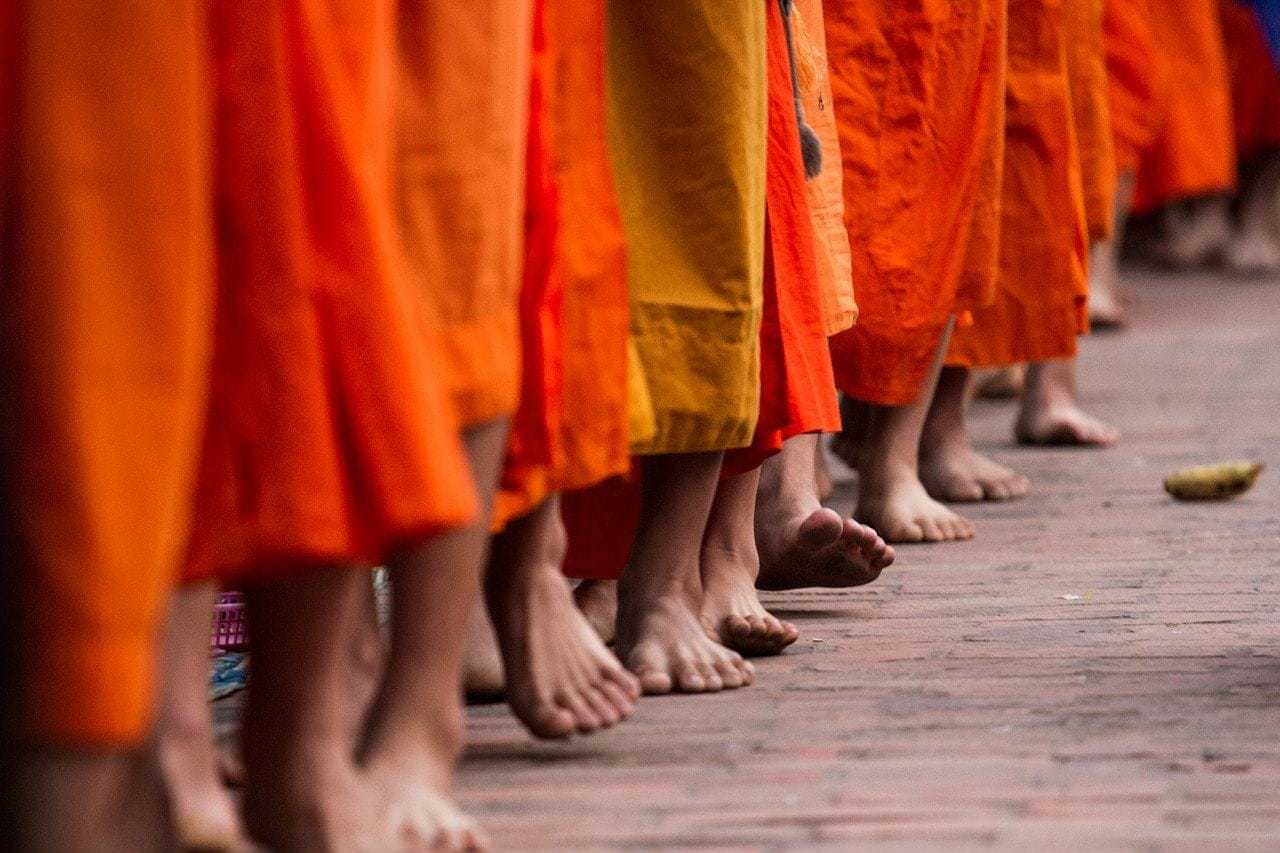 The alms-giving ritual, while common in many Asian communities, is particularly vibrant in this ancient capital of Lao culture where the royal family were patrons of Theravada Buddhism. Because of its remoteness in the lush mountains of Northern Laos, Luang Prabang preserved a strong Buddhist culture and traditional fabric of life during the French occupation in the late 19th and early 20th centuries. Today there are no less than 32 active temples or wats, their sweeping roofs sheltering ornate murals, mosaics, and intricately carved golden doors, in this pretty town nestled on a narrow peninsula at the convergence of the Mekong and its tributary, the Khan.
In 1995, UNESCO granted Luang Prabang world heritage status because of the unique juxtaposition of the French colonial architecture with its temples and traditional Lao wooden buildings. It simply oozes the languid beauty of old Indochine.
We arrive at La Residence Phou Vao, hot and exhausted. Part of the Orient Express portfolio, La Residence is set on a hill above town and is a perfect place to savor the gentle ways of impeccable Laotian service. Its elegant open-sided reception area, graced with Lao silk weavings, artfully arranged pottery, and black and white photographs of Lao villagers, opens onto a lush garden shaded by bamboo and palm trees.  A small bougainvillea and frangipani bedecked stupa floats in a lotus pool.  Our spacious room…with a four-poster bed draped in mosquito netting and a comfortable sofa…is a study in rich tropical woods and white linens.
We restore our equilibrium by luxuriating Lao style: a cooling dip in the infinity pool before traditional Hmong deep-tissue massages with hot indigo herbal compresses in one of the serene spa pavilions that encircle the second pool. As dusk gently falls we join the head Lao chef for a cooking class on the terrace as other staff transform the pool area into a magical outdoor restaurant, draping dining tables in traditional silks, lighting lanterns in the trees, and carefully floating an armada of candles on the water's surface.
We also spend a couple of days right in the old town in the delightful contemporary-styled Apsara Hotel, with its jewel-bright silks and fuchsia lanterns overlooking the quiet Khan River. We discover the magnificent food market that weaves along roadsides under pagoda eves and airy colonial verandas. Vendors are busy arranging neat piles of basil, eggplants, and bananas. Pyramids of red, brown, and golden rice sit beside massive mounds of vermicelli and sparkling fresh Mekong river fish and eels. Mothers in traditional Lao sarongs select eggs, pawpaws and tomatoes, fermented fish paste, chokos, and chiles. There are marvelous swaths of exotic greens, wild boar trotters, kaffir limes, and clusters of ginger and mushrooms. A woman with a shoulder yoke carries baskets of watercress; a child grasps a live chicken; bouquets of gardenias perfume the bright morning sunshine.
After strong Lao coffee and pastries at the Jo Ma Bakery, set up when the Scandinavians helped restore the royal palace, we explore the former palace, which is now the national museum. Built by Vietnamese laborers and funded by the French colonialists it is a curious hodgepodge, with the crest of Erawan or three elephant heads of Laos, the French fleur de Lys, Italian marble stairs, and an eclectic collection of Art Deco furniture and Buddha statues. A replica of the pure gold, standing little Pra Bang Buddha, after which the town is named, is housed in a pavilion on the grounds. At 6 pm, we return to watch elaborately costumed and masked dancers from the Royal Ballet Theatre tell the story of Ramayana.
The most elaborate wats are located between the palace and the fingertip of the peninsula. At the 18th century Wat Mai we see gold stucco bas-reliefs of the last incarnation of the historic Buddha while at Wat Xieng Thong we marvel at a rare reclining Buddha and spectacular glass mosaics. Even more transporting, however, is to peek inside temple courtyards where orange robes flutter in the breeze and young novices play under the palm trees.
All over town, there are a number of remarkable shops showcasing Lao textiles, woodwork, and silver. Many are identified by the sign 'Stay Another Day,' which is an initiative promoting sustainable tourism by connecting travelers with organizations that are helping to conserve local culture and support community projects.
One of the most impressive is Caruso Lao started by Canadian designer Sandra Yuck. Her gallery-quality shop displays exquisite contemporary handcrafted silk furnishings and scarves, silver, and hand-made furniture and wooden bowls that are made by some of the most talented artisans in Laos. At Ock Pop Tok, which means East meets West, Brit Joanna Smith linked up with local partners to help reinvigorate the Lao weaving industry. Today, you not only can buy stunning silk creations and learn about Lao textile traditions but also take dyeing and weaving workshops with local master craftspeople under a traditional Lao wooden house beside the Mekong.
Other interesting 'Stay Another Day' projects include Big Brother Mouse, where you can help produce and distribute children's books, and the Lao Red Cross steam baths and massages whose proceeds go to support humanitarian work.
We take a languid cruise in a longboat up the wide khaki swath of the Mekong River. Fishermen throw their nets from boats, children splash in the velvet shallows, women collect river weeds, water buffalo roll in the mud, and farmers tend their vegetable plots.  At the sacred Pak Ou Caves, gouged from limestone karsts at the river's edge, we discover thousands of old and damaged Buddhas retired in peace high above the water, which is tinted orange like the monks' habits by the sun's dying rays.
When it gets dark, vendors set up their displays at the mellow night market. We wander undisturbed along the stalls, lit by colored lanterns, choosing delicately patterned silk scarves, rice paper light fixtures pressed with flowers, Hmong embroidery and silver jeweler, and even antique opium scales. Beware, however, of cheap machine-made products from other countries. In a nearby street, food stalls offer inexpensive and delectable Lao specialties such as laap, spicy marinated meat or fish with vegetables.
Indeed, we can't get enough of the remarkable local food. We enjoy a lunch of watercress soup and local buffalo mozzarella, tomato, and basil salad at L' Elephant, savoring also its sumptuous ode to colonial Asia on a rattan chair-decked terrace. At 3 Nagas we devour fiery kaipen, a rustic nori made from pressed and dried river weeds that are fried with chili, sesame seeds, garlic, buffalo skin paste, and knap, delicate parcels of river fish with local vegetables and herbs wrapped in banana leaves. Afterward, we stroll contentedly in the soft perfumed air along the lantern-lit riverfront to the Apsara Hotel.
At sunset on our final day, we climb the 328 steps to the temple on the top of Mount Phousi, right in the heart of town. Luang Prabang is spread before us in a tropical patchwork…its slow-motion traffic of bicycles and tuk-tuks, its splotches of orange and black as monks with parasols stroll the footpaths, its red-trimmed blue longboats plying the latte-colored Mekong, its pastel-shuttered verandas, its golden temples soaring above mango and frangipani trees.
GETTING THERE: The easiest option is to fly from Bangkok to Luang Prabang on Bangkok Air or Lao Airlines.
VISA: $30 Lao visa can be bought on arrival.
Photo credit: jiazi @flickr (alms); Allie Caulfield @flickr (Buddha)
—
Susan Gough Henly has written about travel, food, wine, and culture for twenty years contributing to such publications as The New York Times, The International Herald Tribune, Travel and Leisure, The Wine Spectator, The Wine Enthusiast, The Guardian, The Toronto Star, Luxury Travel, The Australian, The Sydney Morning Herald, The Age, The Sun Herald, Royal Auto and Outback Magazine. Now based in Australia, she lived for many years in the United States, where she was editor of The Best Places guidebooks in Seattle as well as an editor at Workman Publishing in New York. She also worked for the Bordeaux Wine Trade Council in France.