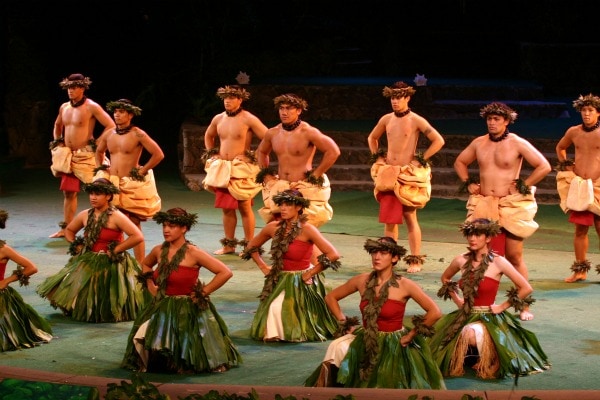 The Polynesian Cultural Center is a popular attraction for visitors to the island of Oahu, and with its new Go Native! programs, visitors will have even more opportunities to learn about the Polynesian culture.  Guests will be enticed into participating in traditional aspects of daily life from Pacific island cultures like those of Samoa, Tahiti and Hawaii, as they are introduced to activities that include coconut tree climbing, canoe paddling, spear throwing, and what looked to be my favorite – cooking.
Visitors will learn about building a traditional Samoan aboveground oven, or umu, and then sample traditional Samoan food that they've prepared and cooked with their own hands, and to be a part of the meal preparation from start to finish.  Food and fire preparations start at noon daily in the tunoa (Samoan kitchen) at the Samoan village. Villagers first assist guests with fire building. To build the fire, large logs are placed in a square and then filled with tinder and river rocks that are stacked like a pyramid. The tinder is then lit to heat the rocks. While the rocks are heating, guests are invited to join the village men in skinning taro and breadfruit, peeling green bananas and scraping the coconut meat out of their shells. The coconut meat will eventually be squeezed into coconut cream to be used as the seasoning for palusami (young taro leaves cooked with coconut cream and onions) and faiai eleni (canned fish seasoned with coconut cream and onions) cooked in a coconut shell.
After the rocks have been heated completely, the large logs that framed the rocks are removed and guests are invited to sasae the umu (to flatten the pile of hot rocks with the use of long wooden poles). Guests and villagers then take the prepared foods and carefully place them onto the hot rocks with iofi (Samoan tongs). Large leaves are gently placed to cover the food, then other layers of leaves and burlap bags are added to seal in the heat. Guests are invited back in an hour to open the umu, and immediately following the Rainbows of Paradise canoe pageant at 3 pm, the umu is opened for food sampling and guests enjoy the home-style cooking that they helped to prepare.
Doesn't that sound delicious?!
If you're not up to this cuisine, you can still spend an entertaining and educational day at the Cultural Center, and then select one of the other myriad places to eat in Hawaii, whether you're looking for a familiar chain or a special little spot that will give you that authentic island flavor.
The Hawaiian islands are rich in culinary culture – don't miss out!
Photo credit: Steven Tom via flickr