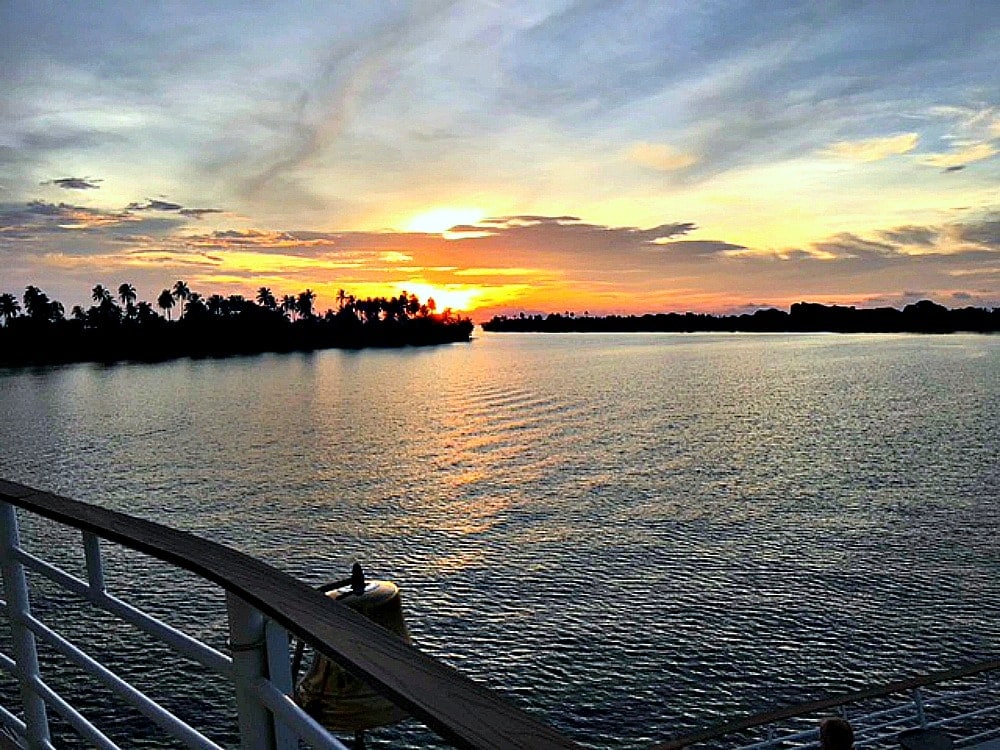 Last fall we sailed on UnCruise Adventures' Safari Voyager on their Pure Panama: Cultures, Coasts, and Canal itinerary. It was our first small ship adventure cruise and we're excited to review the ship and itinerary, as well as share our tips and with you. Cruise information is historically the most searched for information on our site during the month of June, so we expect that this information is hitting you right at the time you're making your plans and reservations for your cruise.
Discover Pure Panama with us. And UnCruise Adventures.
Is an adventure cruise right for you?
Like all vacations, the decision to take an adventure cruise is a big one – you'll want to research thoroughly to see if the experience and itinerary fit your cruise style. We think the following are important considerations in deciding if an adventure cruise is right for you.
Adventure cruising is not just for the kids
Adventure cruising appeals to all ages, not just those millennial kids, and on our sailing there were guests aboard ranging from the mid-20s up to the 80s. There were couples, friends traveling together, and a small group. In some environments, you might expect that activities wouldn't span this age range, but on an adventure cruise, it was like-minded adventure lovers or all ages and abilities.
Question to ask yourself: Do I want diversity in age and ability or would I prefer to be with cruisers my own age?
It's more about the destinations than the ship
UnCruise Adventures ships are small, the Safari Voyager can hold 62 passengers (we had 37 passengers on our sailing date), and they carry a lot of gear (scuba and snorkel equipment, kayaks, paddleboards, skiffs, and more). All cabins are outside ones, but there are no balconies – french or otherwise. The ship is comfortable and has everything you need, but you won't find a disco, casino, pool, or dance floor. (Read more details about the ship below.)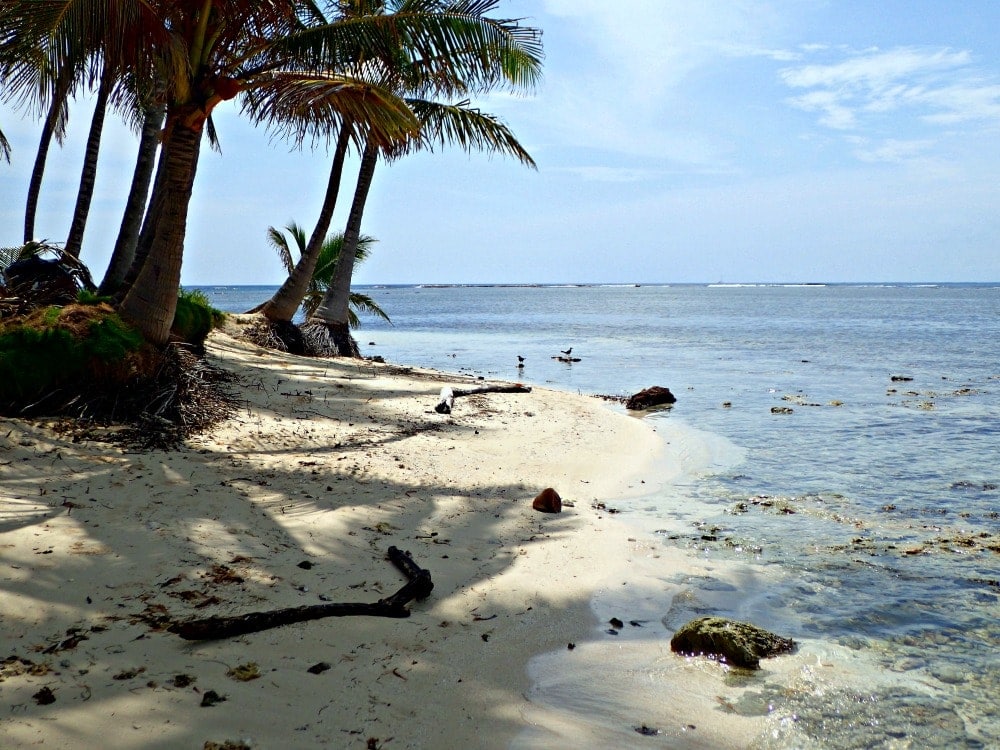 This was one cruise where we spent very little time in our cabin. It was comfortable and fully stocked with everything we needed, but the small casual atmosphere of the ship meant we spent most of the time out on deck or in the lounge.
Questions to ask yourself: Do I need shipboard entertainment or am I comfortable kicking back with a drink and a book? Do I like spending time in my cabin or do I want to be out exploring a destination? Do I need multiple dining rooms and menus or am I comfortable with one-seating meals?
You don't have to be in tip-top physical shape
While I'm a fairly active person, and like keeping busy, no one has ever said that I'm in prime physical shape. I hit the treadmill now and again, and generally, live an active lifestyle, but you'll see me sipping a glass of bubbly over hitting the road for a marathon. So I had some concern over the activity level of the shore excursions.
I needn't have worried. At each stop, you could choose from among a variety of activities of different skill levels. We didn't want to hike up a mountain but were quite comfortable with an active hike. I'm a beginner when it comes to snorkeling, and although I enjoy it, I have a healthy fear of the water. One of the guides was happy to work with me to improve my skills without my need to worry that I was in over my head (literally and figuratively) or holding a group back.
If you are a pro at all this adventure stuff, you'll find like-minded and lik- skilled guests and guides to help you find your way as well.
Question to ask yourself: How does your physical fitness level fit into your vacation style?
The pace of the cruise can vary
Because of the small size of the ship, it can get into areas that larger ships cannot access, so we stopped at smaller islands – some so small that you walk all the way around them in just a few minutes. When the captain got word of a whale sighting, we could alter course in order to catch a glimpse. The itinerary was important, of course, but it had lots of built-in flexibility to take advantage of things that you just can't plan for.
Questions to ask yourself: Do I need structure and a daily schedule on my cruise vacation? Or am I comfortable zigging and zagging when an opportunity comes along? Do I prefer a schedule of events to choose from or do I prefer to create my own pace?
All inclusive pricing
If you have done a few cruisers, you're probably familiar with the constant up-sell prominent on many cruise lines. What was once an all-inclusive vacation has now spun off so many add-ons that the price of your cruise can nearly double. Not so with UnCruise Adventures.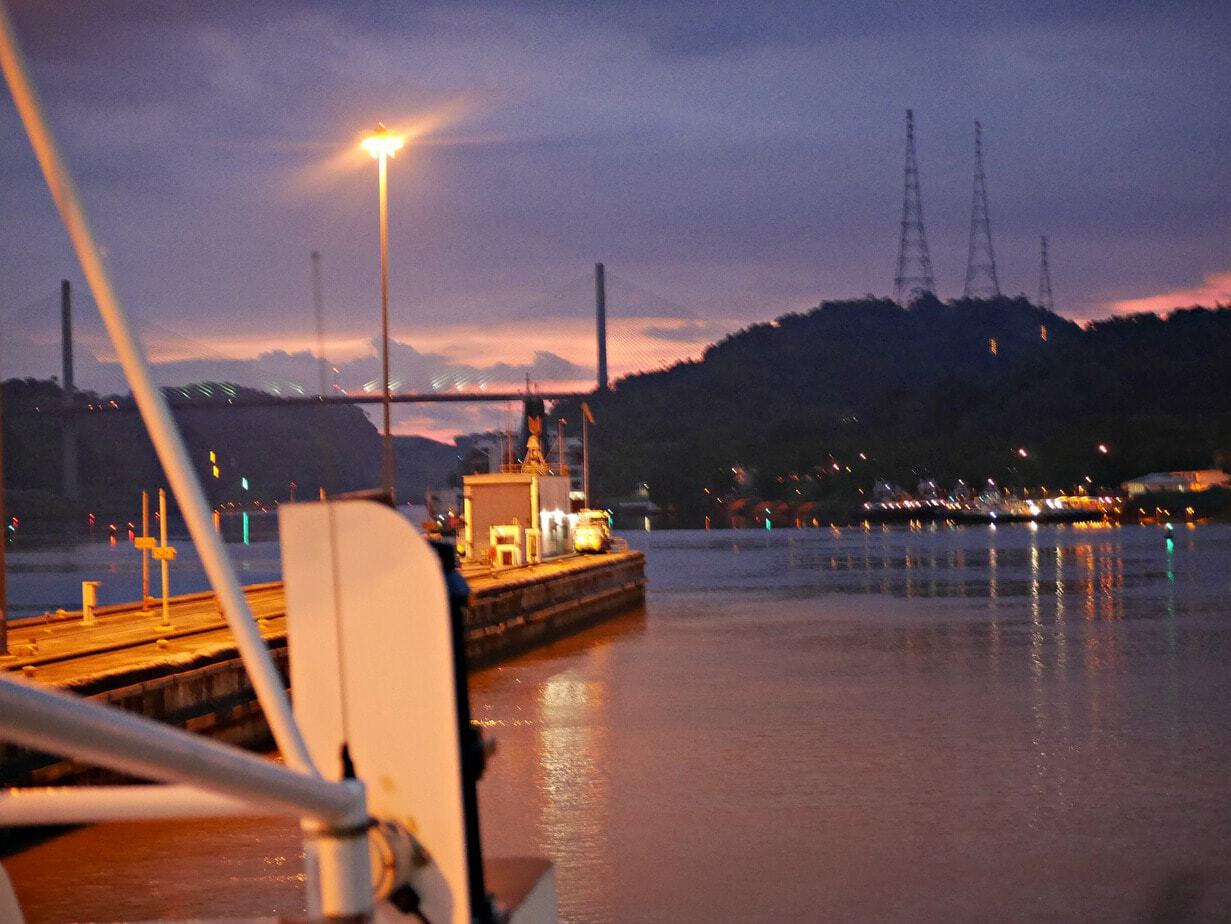 This adventure cruise price tag includes your stateroom, activities at each of the stops, meals, complimentary drinks (including alcohol), all activities on the ship, port charges, taxes, and fees.
Not included: Airfare and gratuities. There is a very small gift shop on the ship where you can purchase t-shirts, sweatshirts, cookbooks, and a variety of local handicrafts There's no effort made to sell you anything, but if you want something, go help yourself and have it added to your bill.
Questions to ask yourself: Do you want an adventure vacation with lots of extra options rolled into the purchase price? Does a higher upfront (prepaid) price fit comfortably for your budget, recognizing that there will be lower costs once you're on your vacation? Are the extras offered on an adventure cruise the type of things that you enjoy as part of your vacation experience?
Adventure cruising is casual
If your idea of a great vacation is sitting in your shorts and flip-flops eating local food and a great glass of wine, UnCruise Adventures' adventure cruises will fit your vacation aesthetic. While I typically threw on a sundress and a [amazon_textlink asin='B000ER3RZE' text='pair of Keds' template='ProductLink' store='travelingwithmj-20′ marketplace='US' link_id='e78de197-6470-11e8-a0a9-3f1722e95883′], it was because I felt more comfortable in it in the humid weather rather than because of any dress code.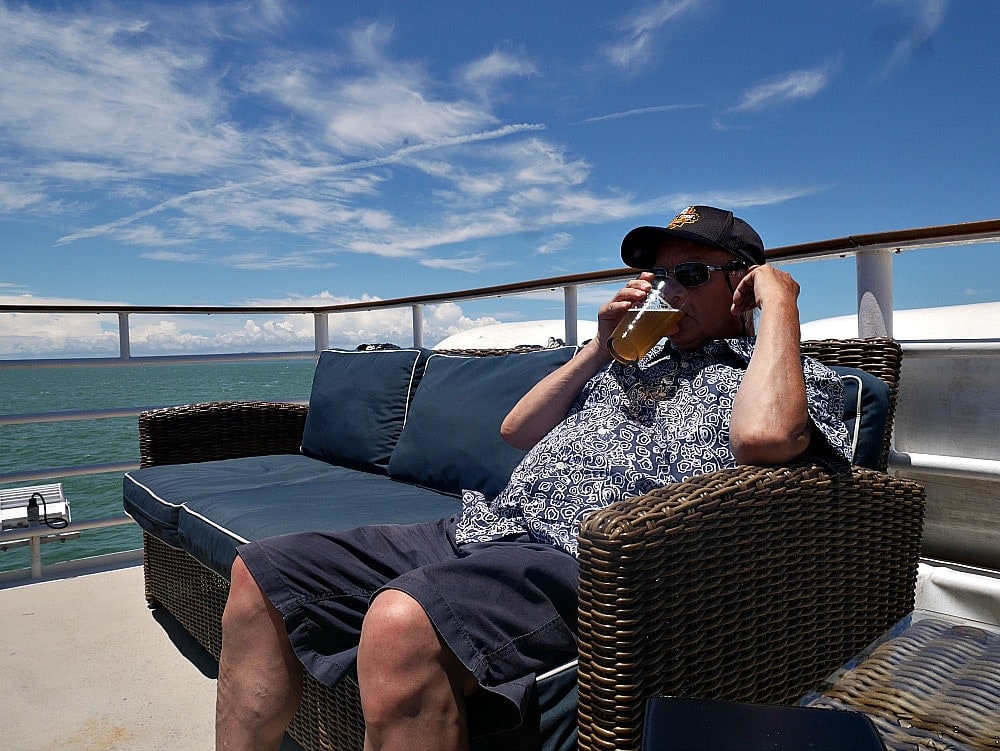 You'll want to pack comfortable shoes for walking, perhaps a pair of [amazon_textlink asin='B07C3NB9XN' text='water shoes' template='ProductLink' store='travelingwithmj-20′ marketplace='US' link_id='446e4a3f-6475-11e8-8a4e-1fa972639dcd'], and whatever your casual wear preferences are. Shorts and t-shirts are perfect. Perhaps a pair of loose long pants and shirt if you want to avoid the sun and insect exposure, although the latter was not a problem for us. And, of course, clothes for your water activities.
Question to ask yourself: Do I want to dress up on my vacation or do I just want to keep it casual.
Does an adventure cruise seem like a good fit for your cruise preference? Are you itching to check out this type of vacation experience? Read on to learn more about our adventure cruise ship, the Safari Voyager.
Life on Board the Safari Voyager
The Safari Voyager sailed from Panama City on an 8-day Pure Panama itinerary, spending the entire time cruising among the islands in [amazon_textlink asin='178657117X' text='Panama' template='ProductLink' store='travelingwithmj-20′ marketplace='US' link_id='6326100a-6475-11e8-a359-27a1b508847f'], a transit through the famous [amazon_textlink asin='0671244094′ text='Panama Canal' template='ProductLink' store='travelingwithmj-20′ marketplace='US' link_id='70fd9bc7-6475-11e8-8cce-432ed7711f63′], and finishing in Colon where we boarded a bus back to Panama City and our flight home.
The ship has 32 cabins, including two single occupancy cabins and a handful of triple occupancy cabins, and at capacity will carry 62 passengers. There were only 37 passengers on our sailing, so it felt very much like our own private yacht. The passenger to crew ratio is about two to one, with many of the crew doing double duty around the ship.
Embarkation
The adventure cruise begins in Panama City with passengers gathering at the designated hotel, the overnight hotel stay is included with the cruising pricing. For our cruise, this was the Bristol Hotel (read my review here). If you're used to the hustle and bustle of big ship boarding, which sometimes is just a nice way of saying pushing and shoving, this process will be a real delight.
On the sailing date, UnCruise Adventures sets up a check-in area in a meeting space area of the hotel and guests check in there. You are free to explore the hotel or the city until the buses depart for the ship. Check in your bags with the bellman and they will keep them in a secure area specifically for cruise guests. You'll reclaim them from the bellman for boarding the bus, so you won't need to worry if your bags made it.
The bus takes a scenic tour of Panama City providing a nice overview, and then heads to the ship. We boarded a skiff and zipped out to the ship while our bags were handled separately and delivered to our cabin.
Our recommendation: Go in an additional day or two early and enjoy Panama City. This city of around 900,000 residents could easily keep you entertained for days. We enjoyed discovering the old historic city, take a look at our video here.
The Public Areas
Four decks are available to guests
Main Deck – Six cabins, the dining room and galley, two massage treatment rooms, and a crew area.
Cabin Deck – The majority of the cabins are found here, along with the expedition desk which serves as an information hub. A small gift shop, a cabinet really, is located by the desk. On the exterior of this deck is forward bow viewing area, and at the back is a small covered deck area for rinsing off shoes and bodies.
Bridge Deck – More cabins are found here, along with some crew areas and the bridge. The ship has an open bridge policy, so stop off to chat with the captain or crew about the workings of the ship. At the front of the deck is the main lounge which serves as the gathering point onboard. The lounge has board games, books, and DVDs for use, and it's also where slideshows and information about the upcoming destinations are shared. Snacks are available in the afternoon, a step up from the usual happy hour fare, and the bar is always open. If the bartender is not there, it means he's just stepped away for a brief moment, so pour yourself a glass of wine or wait for his return. The staff wants you to make yourself at home. We found that this is where we spent a lot of our evening time while onboard.
Sun Deck – This was where we spent most of our time onboard during the day. There were tables and chairs set up in conversational arrangements and also plenty of room to stand on the deck to look out at the sea and wildlife. During our evening/night transit through the canal, the staff put on a barbecue up here and we enjoyed a relaxing trip through the series of locks that make up the Panama Canal. This was also a great spot for beautiful sunset photos.
Although the ship is small, it's not crowded or claustrophobic. There's just the right amount of room for all the necessities, ample room to relax and enjoy your time aboard, and it's all done without wasted space.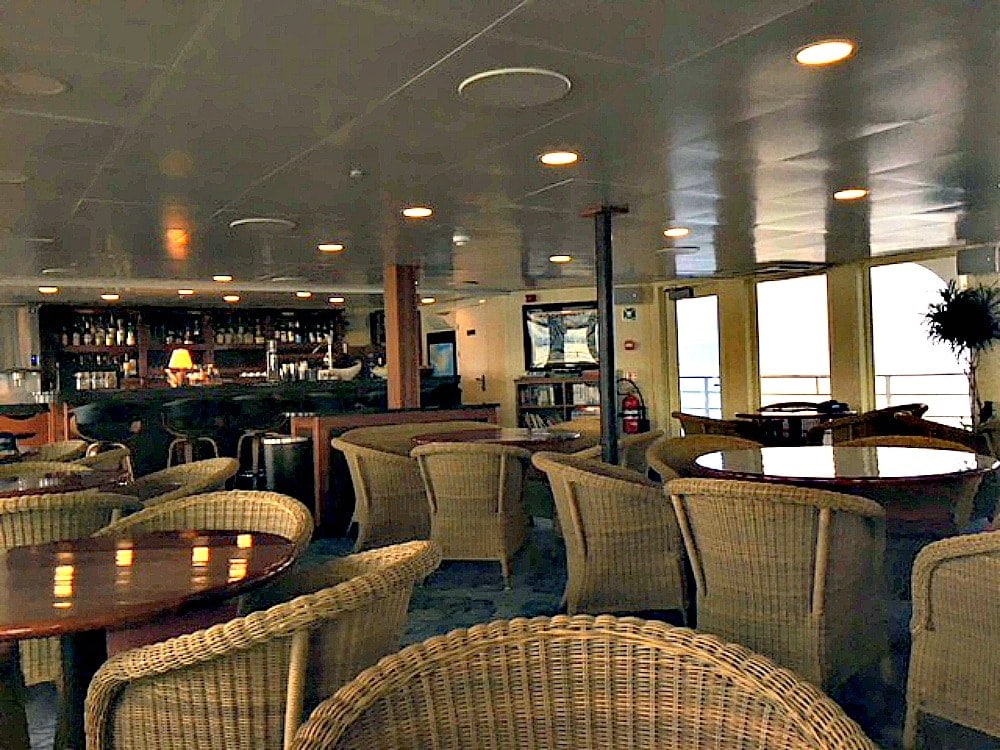 Our recommendation: The Lounge when it's cold or windy, or when the waves are rocking and rolling. The Sundeck during the day when seas are calm and for transiting the Panama Canal.
The Cabins
The cabins are smaller than most ocean cruise ships, but they still pack a lot in their limited space.
We were in Cabin 212 (on the Bridge Deck) which is a Commander Level cabin. We had a queen-sized bed and a nightstand on each side, and a small desk/dressing table. The armoire and drawers were ample for our clothing (shameful admission: we over-packed) and our suitcases fit under the bed. In our armoire were bathrobes, binoculars, and beach towels. A television/DVD player combo was mounted on the wall, but we didn't make much use of it. The bathroom had eco-friendly products and a hairdryer.
Our recommendation: We don't have a recommendation about cabin selection. This is the first cruise where we can really say that it didn't matter because we didn't spend much time in our cabin. While I'm a fan of choosing the best cabin your budget will allow, don't let the selection process get in the way of going on this great adventure cruise.
Food & Beverage
With only one seating for meals, with times that adjust for the itinerary, there's not a whole lot of advance choices to make.
Breakfast is served buffet style, with a good mix of traditional and local fare. Savory and sweet dishes are plentiful. You can also order eggs that are cooked-to-order and brought to you at the table. I'm not much of a breakfast eater but found I'd head down for coffee and have a little something to start the busy day. Tony is more of a breakfast fan and dug in with gusto.
For early risers, there is coffee and tea available in the lounge so you don't need to wait for breakfast.
During breakfast, we were told what the dinner choices were – there were usually two choices, along with a vegetarian option. This process served as a sort of advisory ballot, giving the chef an approximation of what to cook for dinner that evening. It was okay to change your mind, you weren't locked into your decision, and it was a great way to run a responsible kitchen and reduce food waste so common on larger ships.
After a busy day of activities, we usually stopped in the Lounge for nibbles. There was usually a good range of savory and sweet, but boy, did I like their cookies.
Dinners were casual and full of lively conversation about the day's activities. Tables were set for four, six, and eight, and we tried to have dinner with a different group of guests every evening. There were no elaborate menus to review, a server stopped by the table to explain the dishes and take your order (the menu was also viewable on the television in your cabin). The dishes embraced local flavors with seasonings and spices without going too far in the weeds of experimental cooking that's a turn off for many guests. If you're thinking that an adventure vacation means boring food, you'll be cheerfully surprised at the delicious options available. Even the pickiest eater will embrace the menu, and dietary restrictions and preferences are cheerfully accommodated.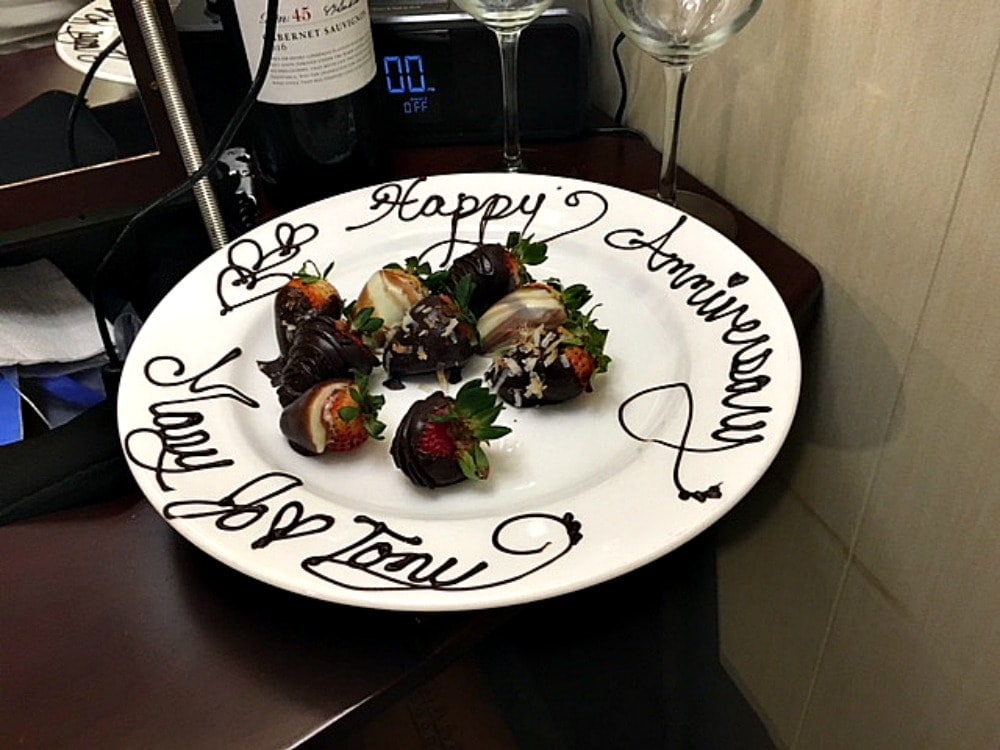 We celebrated an anniversary while on the cruise and were delighted to find a bottle of wine and a plate of chocolate covered strawberries in our room that evening. A nice treat.
Following dinner most nights, we headed to the Lounge, as did most passengers, for continued conversation, to learn about the next day's itinerary, and to have a nightcap.
Just outside the entrance to the dining room is a wildlife board with a list of everything that has been spotted during the cruise. Be sure to take a look as you go in for your meal.
Our recommendations: Try something new. If you're not sure if you like a flavor, explain your concern to your server; they were happy to help our to provide a sample taste. They want you to love the food and enjoy your meal and go out of their way to make sure you're happy. Remember, drinks, including alcohol, is included with your cruise price so you don't have to feel like you have to scrimp and miss out on a nightcap.
Gratuities
Tipping is a difficult subject. In a perfect world, I want employees to be paid a fair and livable wage, have the cost of that rolled into a final price tag, and no one has to rely on or figure out tipping. It's done that way is many parts of the world. It's not, however, handled that way in the United States.
On our adventure cruise, the day before our return, a staff member sets up shop in the Lounge to handle processing any onboard purchases, tips, and take deposits for future sailings. It's casual, guests stop by at their leisure, and it's all handled simply.
For better or worse, the U.S. has a tipping culture. We were provided a recommended amount in the form of a range, and we chose the highest end of the range and rounded up a bit ($538). Tips are shared equally among the entire crew and since everything else is included, you're not covering tips on anything else.
Our recommendation: The crew works hard to make sure your adventure cruise experience is the best ever and this commitment. And they're good at it. No, they're great at it – all but one other couple and we were repeat cruisers with UnCruise Adventures. That says a lot about their customer service ethic and passenger loyalty. So don't cheap out when it comes to rewarding the crew, no matter your personal opinion on the subject of tipping, these hardworking crew members have earned it.
Disembarkation
We approach the last day of the cruise with a sadness to be leaving and readiness to go home (we've been counting down the remaining time those last couple days). It was as smooth as the embarkation process, with bags placed outside the door following that morning's breakfast.
We departed the ship in Colon and got on a bus that took us back to our originating hotel in Panama City. From there, we relaxed until our car service arrived to take us to the airport.
Our recommendations: If Colon interests you, you can opt to remain on to discover that city (a couple passengers on our cruise did this). Or, if you weren't able to add on days in Panama City at the beginning of the cruise, you can add them on at the end.
Most of life on board is determined by the adventure cruise itinerary, a blend of stops, activities, and time on board the ship. Continuing reading for my information about what we did day-by-day on our Pure Panama itinerary.
Pure Panama Itinerary
We selected this adventure cruise for its itinerary solely in Panama. We wanted to explore the country's smaller islands and areas rather than divide up our time with another country (UnCruise Adventures also offers very popular Panama-Costa Rica itineraries). You can see a list of 2018 sailing dates for the Panama sailings here along with pricing.
Here's a day-by-day look at Pure Panama along with our recommendations on how to enjoy this itinerary.
Day 1 – Panama City
Since we had arrived in Panama City, we were already at the Bristol Hotel enjoying our time seeing the historic district. We had lots of time to relax and rest up after a full day of travel. Other guests, however, arrived on schedule for an 8-night itinerary.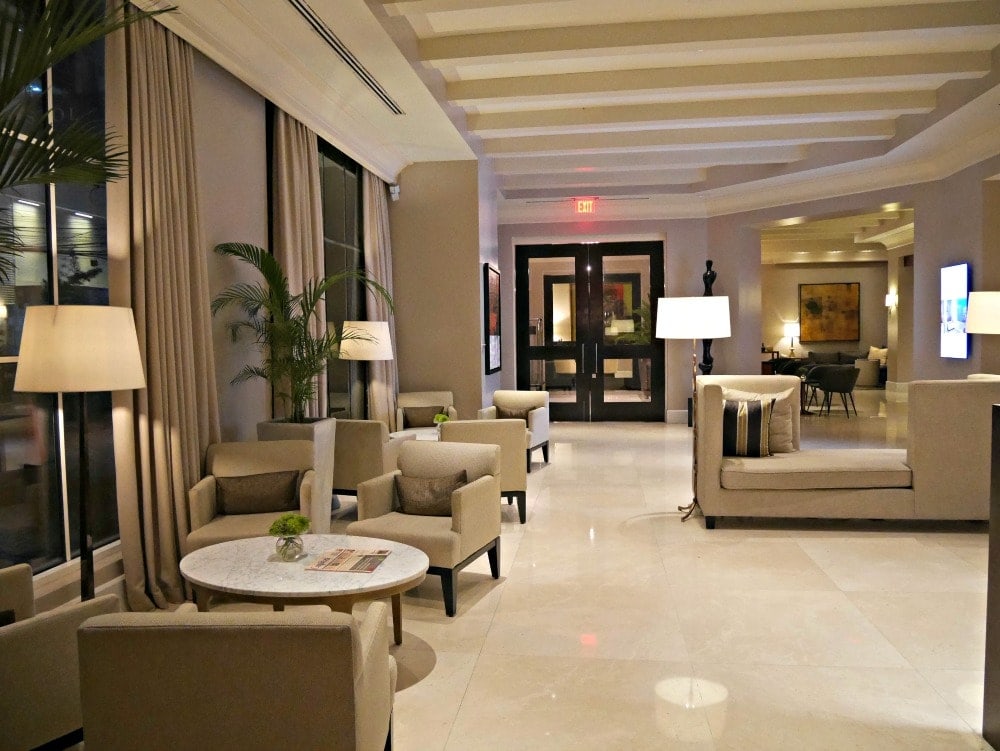 Our recommendation: As we said before, we recommend that you come in a day early. If you're not able to this, however, try to plan for your flight arrival as early in the day as possible to allow time in [amazon_textlink asin='0804143536′ text='Panama City' template='ProductLink' store='travelingwithmj-20′ marketplace='US' link_id='ba76345b-6475-11e8-91e0-ff928c8e8a84′]. We made our own arrangements for dinner as we were out and about the city, but dinner at the hotel is included.
Day 2 – Panama City
We enjoyed an elaborate breakfast buffet (included) and relaxing morning before checking in at the UnCruise Adventure hospitality suite for embarkation information. Our bus trip to the ship gave us a brief look at the city, we spotted some things we'd like to check out on a return visit, and then we arrived at the ship and got onboard.
During our skiff ride to the ship and our first couple hours on the ship, there was a fair amount or choppy water and rocking and rolling. While I am very prone to getting car sick, I've never had a problem on a ship until that day. I kept hydrated, I tried laying down for awhile, and then I headed to dinner. It was delicious, a wonderful introduction to the week to come, but I had to abandon it halfway through and head to the cabin. The expedition desk had some motion sickness tablets to pick up (I wasn't alone in having these symptoms), I took a couple and went to bed. (All was wonderful when I woke up in the morning and I had no hint of motion sickness for the duration of the cruise.)
Our recommendation: We enjoyed sleeping in and relaxing this morning. While it is possible to head out and get some sightseeing done, the bus leaves for the ship in the early afternoon, we heard from several guests that it made for a rushed morning. Our preference is to make embarkation as stress-free as possible and that was the approach we took to it.
Day 3 – Darien Jungle
I woke up feeling great and starving, two of my two status quo conditions. The crew expressed appropriate concern over my well being, which was much appreciated, but I was eager to dig into the adventures ahead.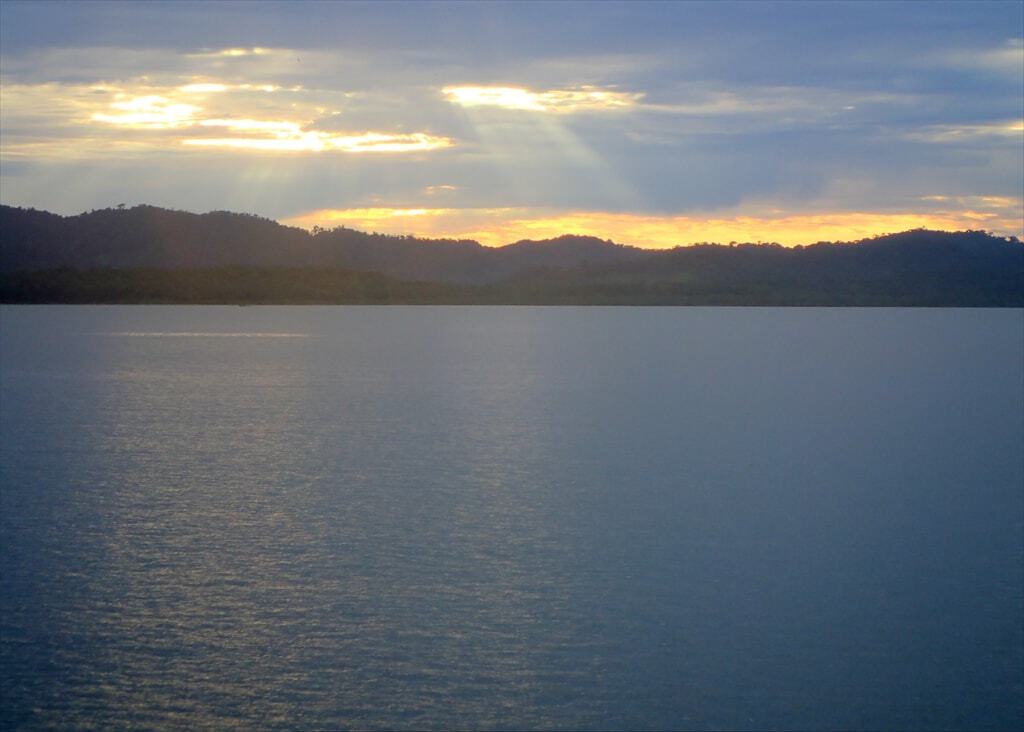 The Darien Jungle was one of the reasons this Pure Panama itinerary called to me. It's home to the Embera, indigenous people of Panama; the last census in this area reported under 2,000 residents. The jungle spans t2o countries, Panama and Columbia, and is home to Darien National Park (in Panama) and Los Katios National Park (in Colombia).
We took skiffs to shore and then hiked the Punta Patino Natura Reserve, the largest natural protected area in Central America. Our guide was great at spotting birds and wildlife, and I was glad we had brought our binoculars along. We chose the mid-range hike, in terms of duration and fitness level, and were fine with it. We could probably have done the harder one, but we had such a good time on our hike that I don't consider it a regret.
We worked up an appetite for lunch back on the ship, and then enjoyed the rest of the afternoon and evening sailing in the area.
Our recommendation: Pick up an Audubon bird guide or another birding guide to bring along. This is the one that I have at home ([amazon_textlink asin='0679428518′ text='here' template='ProductLink' store='travelingwithmj-20′ marketplace='US' link_id='dfc08f8b-6475-11e8-a6a8-6185947deb00′]) and I wish I'd brought it with me on the cruise.
Day 4 – Darien Jungle
We took skiffs away from the ship and to move into shallower water and were transferred into a motorized dugout canoe operated by one of the Emberas. The canoe driver, with the help of our bilingual guides, pointed out wildlife (we were glad we brought our binoculars along) as we motored the waterways. We would slow down or idle when we spotted something amazing. And there were lots of those times.
Eventually, we reached a landing area and were warmly welcomed by Embera representatives. A short hike took us to one of their villages where a reception area had been set up for us. After a few brief remarks, we enjoyed music and dancing, and a chance to look at (and purchase, if desired) their handicrafts. While we were surrounded by the happy laughter of young children, school-aged children were in the classrooms and it was only the younger ones who charmed us with their smiles.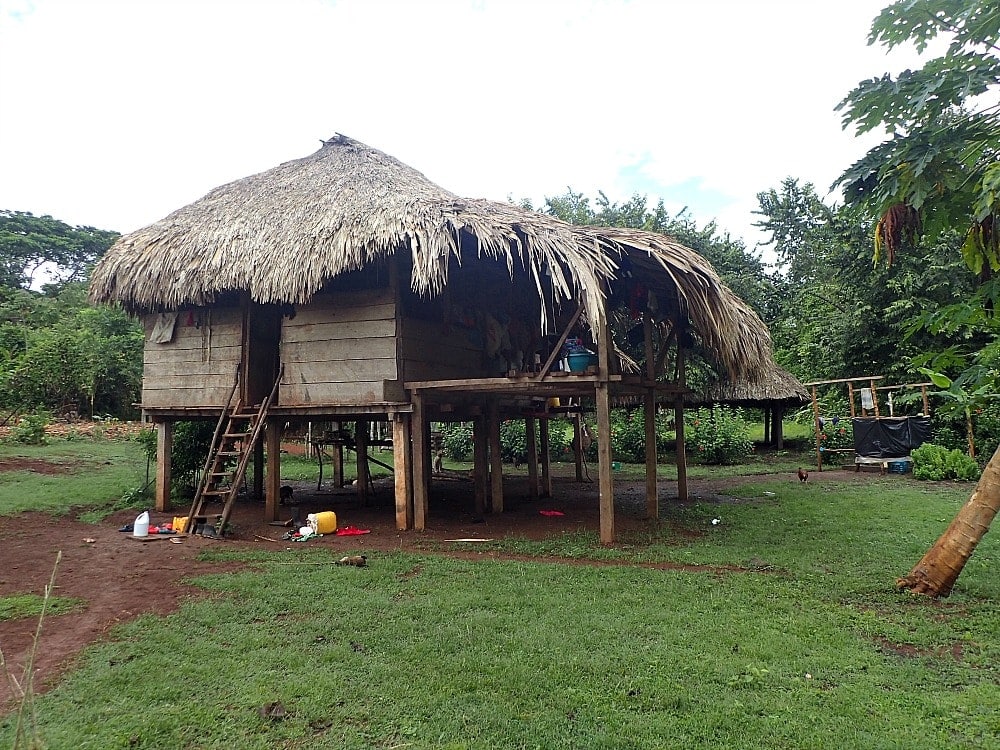 We also had an opportunity to tour the village. The [amazon_textlink asin='0805079904′ text='Embera people' template='ProductLink' store='travelingwithmj-20′ marketplace='US' link_id='ef71e47d-6475-11e8-a375-75d06eedab3b'] typically live in small villages (about 5-20 houses) along the river banks, with about three villages established on each tributary. The thatched-roof homes are set above ground on posts, and there is a ladder to climb up the approximate eight feet to enter the home. Gardens are planted and animals raised to provide for food. Additional necessities are purchased with income from sales of their handicrafts (the woven rainforest baskets are highly desired) and sales of larger crops, typically bananas and/or plantains.
In an adventure cruise filled with lots of highlights, I think this one topped my list.
Our recommendations: Buy something from the Embera, if you're at all interested in their goods. These are not mass produced handicrafts. Each stall had a small number of items, anywhere from two or three on up to a dozen. We purchased a small, oblong-shaped woven rainforest basket for $15. The craftsmanship is beautiful and it helps keep families fed, children in school, and preserves their indigenous way of life.
Day 5 – Pearl Islands and Panama Canal Transit
There are 90 islands and nearly 130 islets that make up the largely uninhabited (at least by humans) Pearl Island Archipelago. We only spied a few of them, but we did catch a whale sighting and saw some dolphin playing in the water.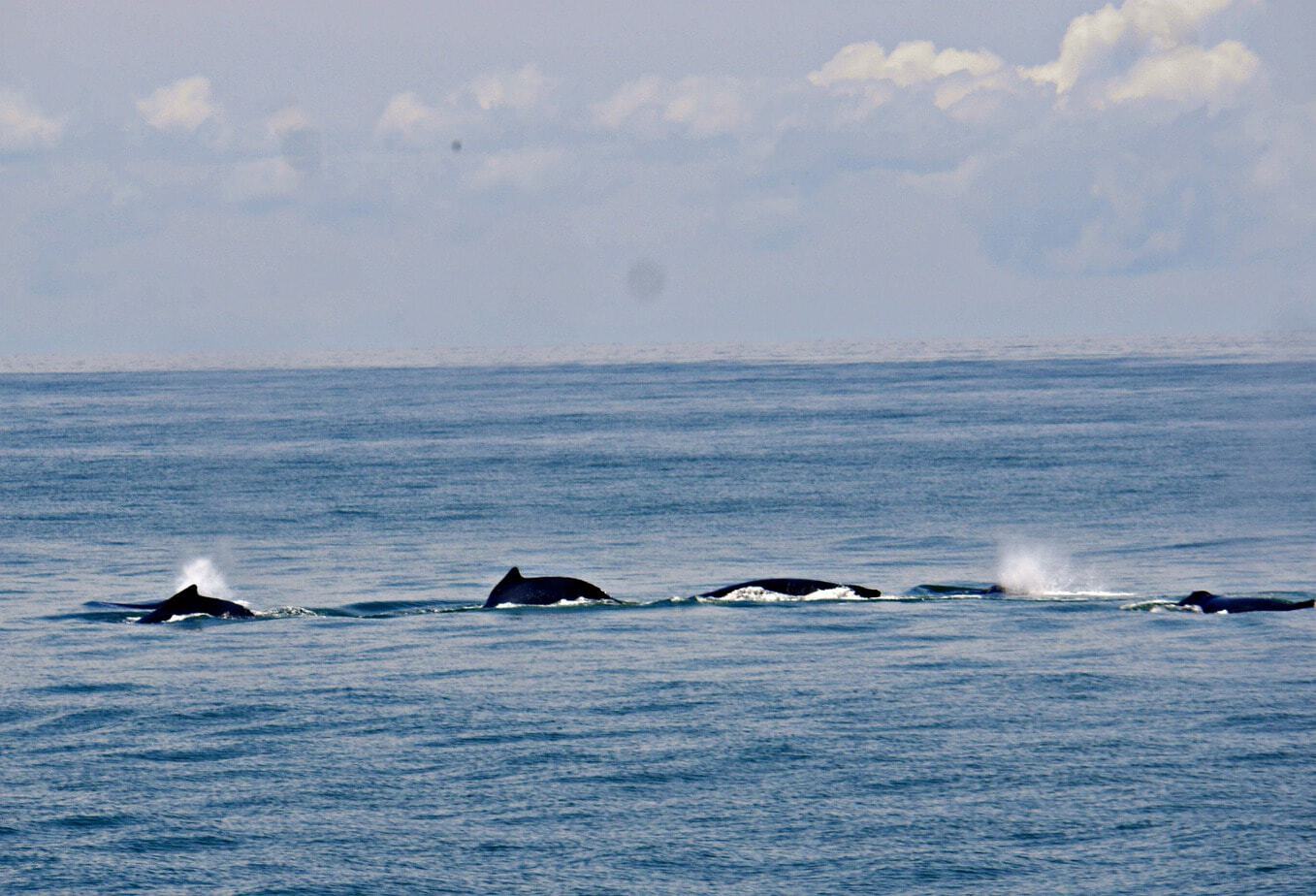 This day was also about being in – or on – the water. Adventure options included kayaking, paddle boarding, snorkeling, and skiff tours. We chose to do a skiff tour, a chance to get into some of the islets and learn about the mangrove eco-system and spot some wildlife. Again, I wish I had brought a birding guide along.
Transiting the 48-mile canal, and moving from the Pacific Ocean to the Atlantic Ocean, is a major commitment. There's timing the line up correctly, having the Canal authority pilot come onboard, completing the various safety and security requirements, and then finally passing through the Miraflores set of locks and then the Gatun set of locks. While the crew was busy with all these preparations, we were eating, drinking, reading, and taking lots of photos from the sun deck. (NOTE: Transiting the canal is the only time the bridge remains closed; guests are welcome at other times.)
We began the transit process in the late afternoon, probably around 4:30-ish pm. We hung out on the sundeck in the warm weather, watched everything going on around us, enjoyed some cold beverages, and went back and forth between reading a book and taking photos. This was the beginning of a long process, it can take 8-10 hours to complete, and we settled in for the duration. Hint: there's a lot of waiting.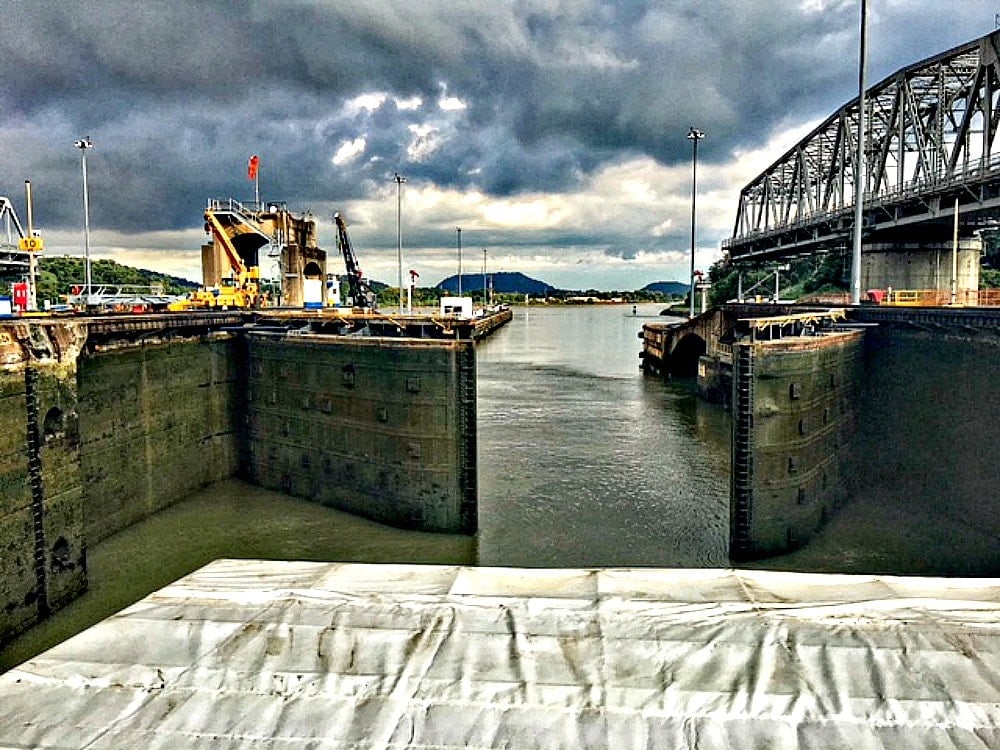 As the ship began to enter the locks, we got a close-up view of the workings of the canal. There was more than one occasion that we shook our heads in wonder, commenting "how did this ever get built?"
As afternoon segued into evening, more food came out and we had a barbecue on deck while we continued through the canal. The evening brought cooler temperatures and spectacular sunsets, and we stayed out well into the darkness before exhaustion hit us and we went to bed. We still hadn't completed the transit.
Our recommendations: We're glad we did the mangrove tour as we learned about an unfamiliar eco-system. There were plenty of other opportunities for the watersports, so we were happy with the choice. Get out on deck for the canal transit and stay out for as long as you can. It's an amazing experience.
Day 6 – Portobelo
Established during the Spanish colonial era, Portobello is located on the northern part of the Isthmus of Panama. It has a natural deep harbor, a small village, and is surrounded by jungle.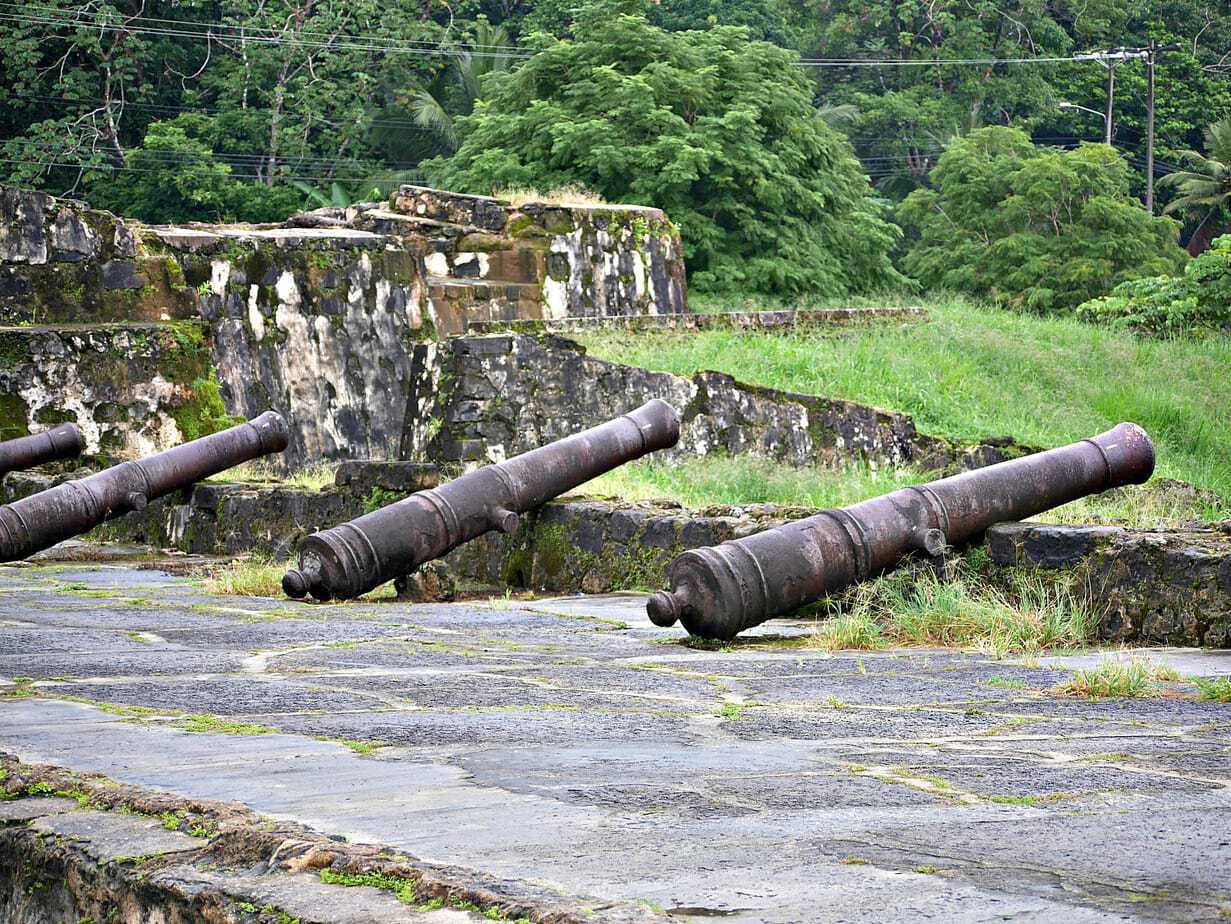 It is probably best known for its Spanish colonial ruins, a [amazon_textlink asin='1770852530′ text='UNESCO World Heritage Site' template='ProductLink' store='travelingwithmj-20′ marketplace='US' link_id='28605348-6476-11e8-a665-fddb9df33001′] officially known as the Fortifications on the Caribbean Side of Panama: Portobelo-San Lorenzo. The site was placed on the List of World Heritage in Danger in 2012 due to adverse environmental factors, lack of maintenance, and uncontrollable urban developments. Walking along the coastal ruins provided a sense of what it was like for explorers discovering the area for the first time.
Portobelo is also known for the Iglesia de San Felipe, the Black Christ Church. This Roman Catholic church was built in 1814 and has a statue of Cristo Negro, the black Christ.
Our recommendation: Since it was raining the day we stopped here, and I mean pouring down rain, we opted to explore the ruins, church, and village rather than go on a hike or kayak. We think we made the right choice.
Day 7 – Guna Yala
Formerly known as the [amazon_textlink asin='0980536332′ text='San Blas Islands' template='ProductLink' store='travelingwithmj-20′ marketplace='US' link_id='574d923a-6476-11e8-8cb9-6d4304f75268′], Guna Yala includes over 360 islands most of which have white sand beaches, palms trees, and our surround by clean blue water. Most of those islands are uninhabited, so only occasionally will you spot a few thatched roof buildings.
Because the Safari Voyager is much smaller than many cruise ships sailing in Panama, we were able to get in by the smaller islands. (Most of the larger cruise ships go to a larger island that is more of a commercial trading post.) No one was living on the island. There were canoes out fishing in the water, perhaps for the family's dinner, and shortly after we arrived on the island, so did a few women selling [amazon_textlink asin='0764975609′ text='molas' template='ProductLink' store='travelingwithmj-20′ marketplace='US' link_id='668f0ef4-6476-11e8-bfc1-8b4b30cd5122′], a type of artwork that involves layers and layers of fabric, snipping, and stitching. Molas are often seen incorporated into clothing and handbags in addition to wall hangings.
We spent the day on the island, including lunch and snacks brought over from the ship, and it was Tony's favorite day of the cruise. All the gear was brought over from the ship – kayaks, SUPs, etc. – and we spent most of the day in the water.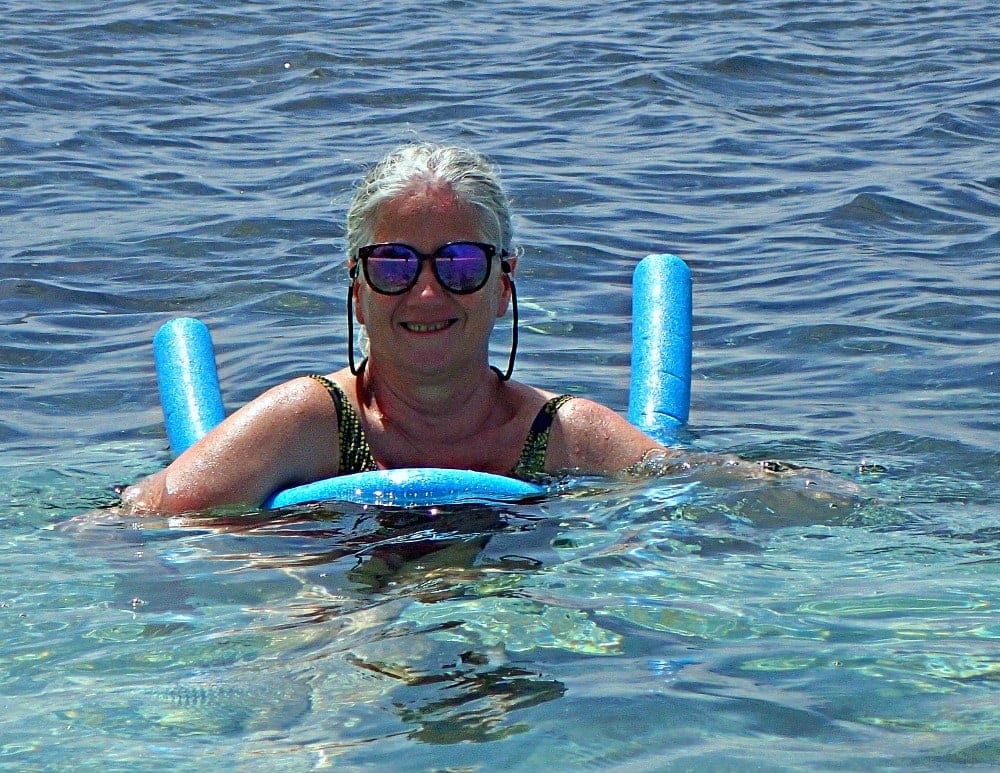 Snorkeling is something that I really want to learn to do better. Right now, I struggle to put my face in the water because it feels like the world is closing in around me. want to do it – there's so much beauty beneath the water – but anxiety, fear, and eventually claustrophobic-like systems take over.
Because of this anxiety, I didn't choose to go on any of the group snorkels. I didn't want to be embarrassed by my fear and I didn't want to hold anyone in the group back. Instead, I chose to take my gear and try it on my own. One of the guides came over to talk and I reluctantly explained my concern. As an experienced snorkeler and teacher, he was able to patiently talk me through my anxiety, getting me to the point of going underwater to see coral, schools of fish, and other brightly colored tropical fish. I felt like singing, "It's a Whole New World."
Don't get me wrong. I still have those anxieties and fears about snorkeling. He helped me to realize that they weren't going to magically go away, but that each time I tried snorkeling, I could get a little further along in overcoming these barriers. He's right. I have a little bigger comfort zone now and am looking forward to a chance to try it again.
We spent most of the day in or on the water, swimming, snorkeling, kayaking, floating on a noodle, just relaxing in this little slice of paradise. Although we turned in early for the night, exhausted by the day's activities, a good portion of the passengers and crew headed back to the island that night for a bonfire and sing-a-long.
Our recommendations: Enjoy the water. It's rare for me to be in the water this warm and I can't imagine any other choice. If you want to try something new, or are struggling with your skill or fitness level, don't be afraid to ask for help. I tried to do it on my own and didn't need to. The staff is there to help you have the best time ever and it made a big difference to me.
Day 8 – Guna Yala
A half day in these beautiful islands, and a final chance to enjoy the warm, clear blue water. We swam, splashed, kayaked, and I even tried snorkeling again. It was hard to leave the island as it meant we were on our way home.
Back on the ship, it was time to get things packed up, settle our account, and enjoy a special farewell dinner. After dinner, we headed to the Lounge where the crew had prepared a slideshow of highlights (and some lowlights) from our time with UnCruise Adventure. The crew and guides had been taking photos all week, incorporating into a farewell gift to all of us (we received a copy of the slideshow after returning home).
Our recommendation: Say yes to going ashore. It's your last opportunity.
Day 9 – Colon to Panama City
We knew it was coming and were mentally prepared, but leaving the ship – and the crew that we now considered friends – was still tough.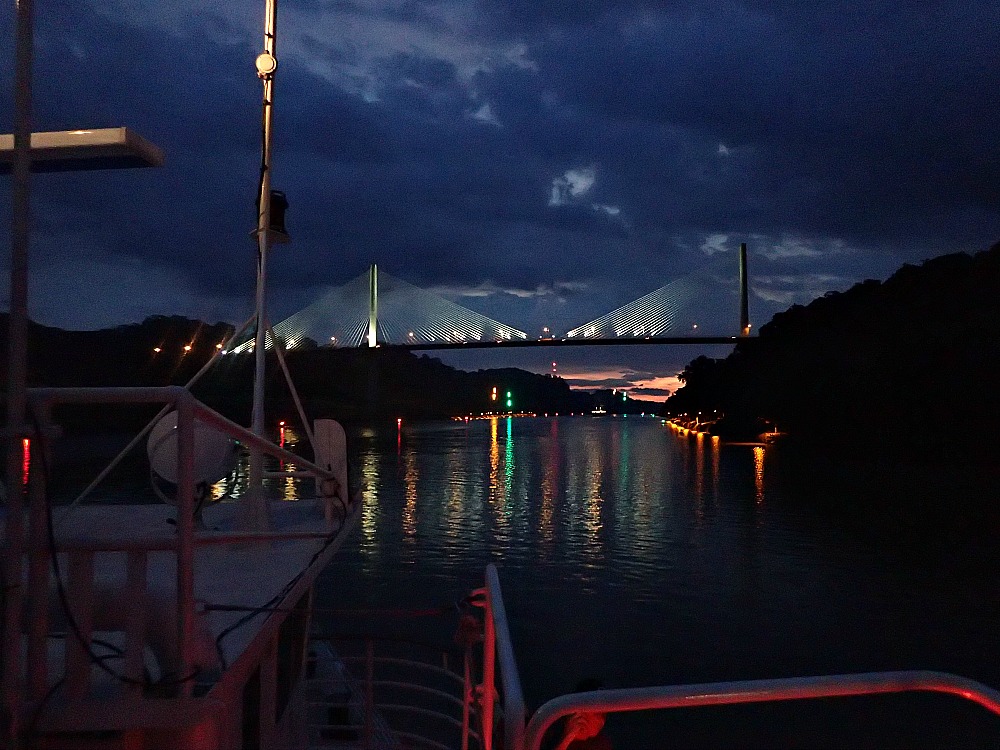 Breakfast was early, bags were packed and made available to be carried off, and we transferred to our bus for transportation back to the hotel. We had a couple of hours at the hotel, time to say further goodbyes and grab a bite to eat, and then our car service arrived to take us off to the airport and home.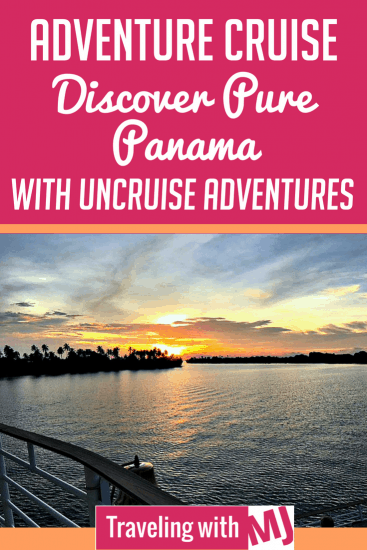 Know Before You Go on Your Adventure Cruise
A cruise vacation isn't for everyone. And even if you love cruising, an adventure cruise may not be the best choice for you. Here are some additional things that you should know to help make your decision about an adventure cruise with UnCruise Adventure and specifically, with the Pure Panama itinerary.
UnCruise Adventures is committed to the environment, to sustaining rather than exploiting indigenous people and local culture, and they actively take steps to protect the area where they travel. From reusable water bottles to eco-friendly sunscreen to reducing food waste, you can take comfort in knowing that steps are taken to protect our fragile eco-system.
You'll need a passport for travel to Panama. U.S. passport holders do not need a visa.
The official currency of Panama is the Balboa. One Balbo equals one U.S. dollar. Since the early 1900s, however, the U.S. dollar has been accepted as legal tender. You don't need to exchange for local currency.
Credit cards are accepted in major cities and, of course, on the ship. For other shopping, you'll need cash (again, U.S. currency is fine).
Although there is plenty of opportunity for relaxation, this is an active cruise experience. Don't be afraid to try new things, while feeling reassured that you won't be bullied into doing something you don't want to do. Your vacation, your way.
There is no wi-fi on the ship. I brought along a mi-fi device and was able to get a signal going through the canal and when close to shore, but when we were out among the smaller islands, it was just us and nature. If I can live off the grid that long, chances are so can you.
Don't over pack. We did because we weren't sure what we were going to need. And if "casual" really meant shorts and t-shirts. It does. Although it was humid and fresh clothes were important, we could have packed half of what we did and have have been just fine.
Children 8 years of age and older are permitted on some sailings and some itineraries. Check when looking at booking dates.
UnCruise Adventures has an extremely loyal customer base. On our sailing all but ourselves and one other couple has been on previous UnCruise sailings. For two couples, this was their fourth sailing. Why? They love the itineraries, they love the activities, and they love the relaxed atmosphere. That loyalty shapes their choices every time they cruise. And that's a pretty high recommendation.
Uncruise Adventures also lots of itineraries in addition to Panama, including Mexico, Hawaii, Alaska, the Pacific Northwest, and more.
We always recommend going in early before a cruise sailing. It takes the pressure off of flight delays and cancellations, as well as providing some extra time in your departure city. Panama City is a great place to explore for a few extra days – lots of history, culture, great food, and people. The map and booking tool below will be helpful in your research and booking.
Note: Our cruise was hosted by UnCruise Adventures. We appreciate the invitation and opportunity to try out this wonderful adventure cruise itinerary.