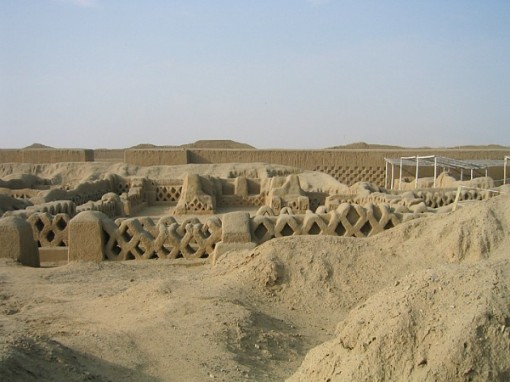 When it comes to Pre-Columbian artifacts, Peru is awash in them, and probably nowhere more so than Chan Chan, the largest Pre-Columbian city in South America.  The archaeological site, locate near Trujillo, dates back to the 9th century when it was built by the Chimu as the imperial capital.  At one time over 30,000 people lived in the adobe city of Chan Chan, before being conquered by the Incas. Later, Spanish conquistadors, including Francisco Pizarro, took over.
Today the adobe city of Chan Chan is a UNESCO world heritage site, added to the list in 1986. Although much is being done to preserve the area, it is still threatened by the occasional tornadoes, earthquakes, rain and erosion, as well as the odd looter that thinks stealing precious artifacts is a good idea. There are also several other ruin sites in the area around Trujillo.
The triangular city is surrounded by walls, the tallest of which shelter from the winds from Peru's coast, and houses 10 walled citadels which include ceremonial rooms, burial chambers, temples, and homes.  Each citadel is an independent urban unit, complete with everything needed for daily life. The interior walls of the city create maze-like passage ways throughout.  Although it might seem like you could get lost in Chan Chan said lab around, it is a superb architectural example of good use of urban space.  One of the impressive features of Chan Chan are the carvings on the adobe walls. The walls are made of adobe brick, then covered with a surface into which designs were carved. The carvings are both realistic and stylized, and included design elements as well as portrayals of birds fish and other animals.
While any visit to Peru will naturally include a sampling of city life, delicious food, and a chance to interact with local residents, cultural tourism represents a substantial reason why people travel to the country. The archaeological and cultural impact of ruins such as Chan Chan shaped the future of the country. Preserving and protecting this world heritage site will ensure generations to come learn about the history of Peru.
Photo credit: Public domain via wikipedia
—
Note: this post was sponsored by travelsphere; the opinions expressed are those of the author.