Whether you're contemplating a family weekend getaway, or perhaps just want to have kid-like fun yourself, there's nothing quite like immersing yourself in theme parks for an introduction to spring travel. I had a chance to check that premise out on a recent extended family theme park getaway to Minneapolis.
Minneapolis might not be the first city that comes to mind when you think about theme parks, but it has several offerings that make the city an attractive choice. Let's take a look.
Nickelodeon Universe
Located in the Mall of America, the largest shopping mall in the United States, Nickelodeon Universe covers seven acres in the middle of the mall, offering rides and attractions appropriate to all age levels. As you would expect, many of the rides feature top Nickelodeon characters such as SpongeBob Square Pants, Rugrats, and Dora the Explorer, but the marketing is not too "in your face."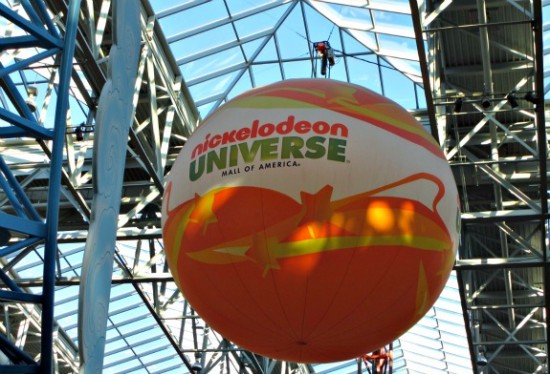 You'll find some perennial theme park favorites, like the ferris wheel and merry-go-round, but you'll also find the Orange Streak (roller coaster), Avatar Airbender (not open on my visit), the Fairly Odd Coaster (roller coaster), and the Log Chute (water ride).
I was a good sport about trying all the rides and found I enjoyed my theme park experience overall, but one attraction did get the better of me — Dutchman's Deck Ghostly Gangplank and Anchor Drop, a rope and ladder attraction that had you climbing up several stories by way of a series of ropes, rungs, and catwalks. I really wanted to give this a try, and suited up in my harness all ready to go, but my fear of edges and lack of balance got the better of me. I made it up one ladder and couldn't go any further. I took time to center myself on a platform, caught my breath, and then walked back down the stairs. I admit that my fear got the better of me, but the rest of the group has a great time and could have spent hours climbing around.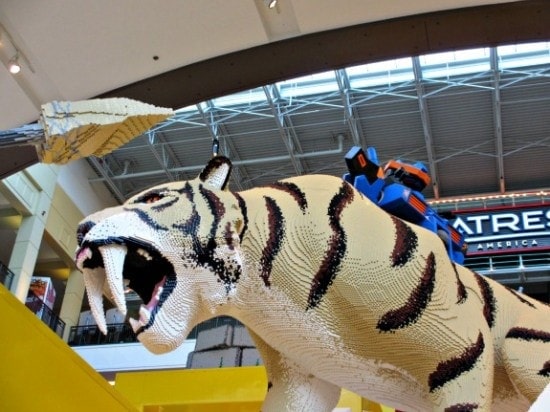 Nickelodeon Universe has a few stores that are likely to relieve you of some of your cold, hard cash. The Lego store features over-sized displays worth stopping by for a look, and once in the store you'll be roped into a look at the exhibits, sets, and other displays. If you've been looking to pick up a new Lego set, or round out something you already have, chances are you'll find it here. My favorite store was Peeps. Probably best known for their Easter and spring time marshmallow chicks and bunnies, the Peeps store offers shapes, colors, and flavors that I've never seen before. There is also a Mike 'n' Ike's display wall where you can create your own special assortment from the dozen or so on offer.
A few tips for making the most of your visit to Nickelodeon Universe:
The theme park is open and free to walk through, so if you're not sure if you want to commit, take a walk through and see what's there.
There are lockers outside the theme park entrance with a fee of $7 for the day, in and out privileges allowed. It was cold and wintry when we visited, so we bundled up knowing that we wouldn't be saddled with our heavy coats all day. The lockers also make it easier for families traveling with baby and toddler gear. While there are plenty of restaurants in the mall, you may want to stow child-friendly snacks to save some money.
Figure out the finances of buying individual tokens for the rides and attractions vs. full or half day passes. I think the passes probably offer the best value, but there are variables. Unlimited ride wrist bands are available for $29.99, and a half day pass can be purchased after 4:30 pm and used after 5 pm. There are a couple of add on attractions, and some rides and attractions have minimal height requirements, so don't forget to measure your little ones to make sure they can ride. Even though it was a Friday on a holiday weekend, the crowds were small enough that we could see and do everything we wanted and never waited in line longer than two or three minutes. During spring break, weekends, and other peak travel times, expect wait times to be longer and plan accordingly. Discounted tickets may be purchased online.
Typical theme park food, and prices, provide sustenance for the weary, but there are plenty of healthy and more interesting options in the mall. We had a late lunch before starting out our day and then ended with dinner when we finished our time at the theme park.
Hours: Will vary with season.
Mall of America
With over 520 stores, the Mall of America is practically a theme park itself.  The mall covers over 96 acres, big enough to fit seven Yankee Stadiums inside, and features anchor stores like Nordstrom, Macy's, and Bloomingdale's. In addition to shopping, you'll find a variety of restaurants, over 50 restaurants including a food court, 14-screen theater, SEA LIFE Minnesota Aquarium, and a Radisson Blu Hotel set to open any day now.
Special shopping note:  There is no tax on clothing and shoes.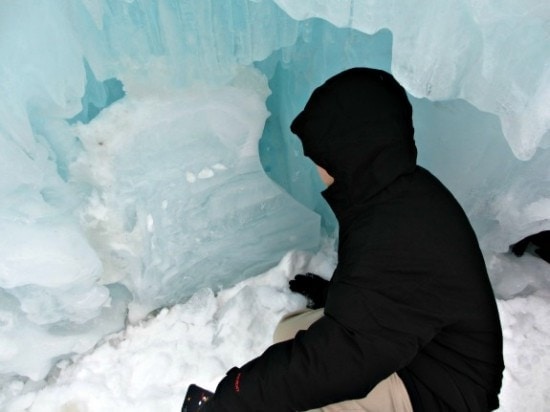 Our winter visit gave us the opportunity to visit the Ice Castles display across the street from the Mall of America. The display features ice structures that were created out of organically grown icicles. Over 4 million gallons of water created these icicles which were then fused together to great a castle and 50 large ice towers.  This walk-through display features archways, tunnels, walls, and caverns creating an impressive display of mother nature.  Ice Castles remain open as long as weather permits, this year closing on March 9th.
Mall Hours:  Monday-Saturday, 10 am-9:30 pm; Sunday 11 am-7 pm.
Waterpark of America
Completing the theme park weekend was a full day at the Waterpark of America, the tallest indoor waterpark in the United States.
The waterpark is about a half mile from the Mall of America and is attached to a Radisson Hotel. The waterpark features a large slide tower with three body slides, two tube slides, and a family slide. The family slide is the tallest and starts at the 10th story of the building sliding you down through twists and turns to the bottom. There is also a wave pool, lazy river, flow rider for boogie boarding, children's pools, a standard swimming pool with water activities, and a couple of large hot tubs. When you're out of the water you'll find a children's playground, arcade, and snack bars.
My top recommendation for your visit is to check the opening time and plan to be there about an hour before that. We arrived at opening time (10 am on the day we visited), and the line wait was nearly an hour. The waterpark has locker rooms, but they are unattended and get messy pretty quickly. On crowded day the lockers (additional fee) will likely be full and visitors seem to be comfortable creating large piles of clothes and backpacks in the nearest corner. There are toilet stalls and showers, bring your own towel or one from the waterpark area. Since the likelihood of getting visitors to pick up after themselves is next to impossible, the waterpark would benefit from the services of a o pick up towels, locker room attendant to replenish toilet paper, and wipe down counters and floors from the water dripped all over. Since that isn't likely, you should be prepared to deal with it.
Chaise lounges and chairs surround the main pool area – they get grabbed up very fast – and you can find additional personal space on some other floors that overlook the pools. Since we weren't able to secure a locker, we had to tote our stuff to the pool area and were fortunate to find one lone chaise that we shared among us. Loungers on each side seemed to think that the area was safe to leave personal items, but we weren't willing to take that chance and left one person guarding the chair and our valuables.
Tips:
Note that some of the slides have a minimum height requirement so measure in advance to avoid disappointment.
No outdoor food is permitted in the waterpark and, as you would expect, prices and selection at the snack bar aren't great. We had a big breakfast that lasted us most of the day, but we were famished when we left.
Bring a towel of your own, if possible, especially if you plan to shower and change after. We weren't prepared so just tossed on clothes over our wet ones to get back to our hotel to clean up.
While I didn't it possible, we spent the full day – 9 hours – at the waterpark. I sort of wanted to hate it, to think it was cheesy, but it sort of fun instead.
Hours: Vary based on day of week and time of year.
Admission: Ticket prices vary based on day of week and time of year. Full day passes start at about $24.95, with full and half day passes available. Discounts available for online booking.
Theme Park Weekend Tips
Where to stay: If you're looking for convenience, stay near the airport as that is the closest area to where the Mall of America and Waterpark of America are located. Most hotels near the airport offer complimentary shuttles to and from the airport, as well as to and from the mall and the waterpark. This location is not in downtown Minneapolis. If your sole reason for the visit is to do theme park stuff, stay near the airport. If you're enjoying the rest of the Twin Cities culture and nightlife, head toward the downtown area.
Most of the theme parks offer a discount for advance purchases. You can also pick up coupons at your hotel or the mall. It's not a huge discount  – a couple of dollars per person – so don't let lack of an advance purchase prohibit you from going. Our trip was completely a last minute thing, nothing was purchased in advance, and we did and saw everything we wanted to without breaking the bank.
Set a budget. A few admissions tickets, some food here and there, and a purchase or two, can add up fast. Real fast. Be realistic about what things will cost and what extras you can afford and don't get lulled into spending more than you want to.
Don't let the weather keep you away. Our trip was in early February, the middle of winter, and there was snow on the ground and temperatures in the teens. Let's not kid ourselves, it was cold. But the airport and metropolitan area deal with inclement weather well, so you won't need to worry about getting around or getting stranded. Getting about will not require a lot of time outdoors, although if the weather is nice you'll want to, so you can stay warm and toasty.
So what do you say? Are you ready for a theme park spring fling?
Photo credits:  personal collection