The Louvre is one of the most famous museums in the world, and most trips to Paris (at least first trips) include a visit to this famous spot located on the Right Bank of the Seine in the 1st arrondissement (map).
The building, originally a palace, is now home to some of the world's most famous works of art, including the Mona Lisa, Winged Victory, and Aphrodite/Venus de Milo. The museum opened to the public in 1793, and since then the collections have grown to their current number of over 380,000. It's not the largest art collection in the world, but most art historians agree that it is the finest.
The main buildings of the Louvre look rather fortress-like with iron gates around it. The real treasure lie within the gates, much like it must have been when it was a fortress. On a nice day, take a little time to walk around the inner courtyards. You'll occasionally find displays and events going on in the courtyard, so don't forget to take a look around.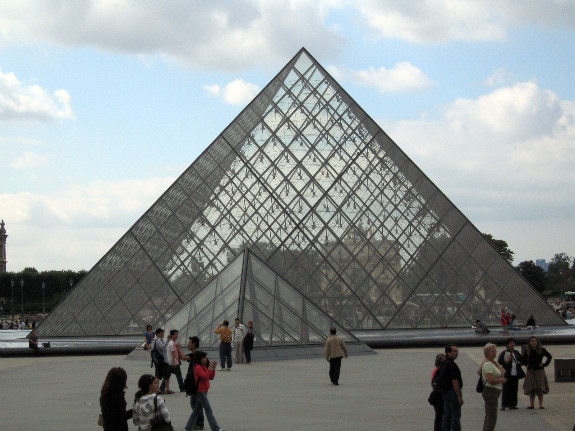 The central courtyard houses the Louvre Pyramid, designed by architect I.M. Pei, and serves as the main entrance to the museum. For many travelers, this is the building most associated with the museum. There are several entrances into the courtyard, and all will get you to the Pyramid, so if you are encountering crowds at one courtyard entrance, just walk around to another one.
The Louvre is organized into eight departments, displaying artwork up to 1848:
Near Eastern Antiquities
Egyptian Antiquities
Greek, Etruscan, & Roman Antiquities
Islamic Art
Sculptures
Decorative Arts
Paintings
Prints & Drawings
There is so much stuff to see, that tackling the Louvre can be a daunting task. After all, you'll be able to see works by Rembrandt, Rubens, Titian, Van Dyck, and Leonardo da Vinci. The museum is too big to see everything in one day, so unless you have several days to dedicate to viewing it, you'll have to come up with a plan of attack.
The two best methods for making the Louvre manageable, I think, are to either select a couple of departments that interest you, or to make a list of specific items of art that interest you. Or, do as I did and combine the two for a combination. You won't see everything, but you'll see what you want to see.
Here's how I divided up my time at the Louvre on a one-day visit:
I first chose the departments that most interested me: Paintings, Decorative Arts, Prints & Drawings, and Sculptures. Next, I did some research into some of the more iconic pieces in the museum, both in those departments and well as others. I then plotted those locations out on a museum map using the interactive floor plan. There were some overlaps, of course, and I now had a plan of attack on what to see where.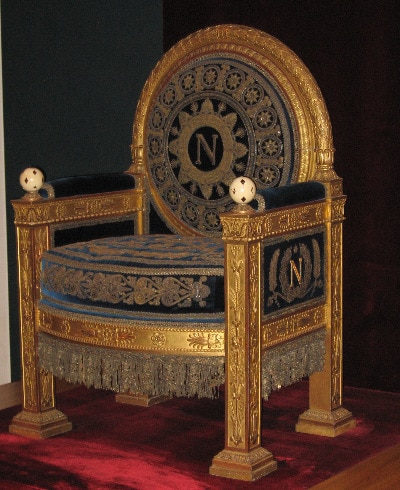 I was surprised at the amount of time I spent in the Decorative Arts section looking at some amazing furniture and impressive jewelry. That's one of Napoleon's chair in the photo above. I went rather quickly through the Paintings section as well as the Prints & Drawings section. Although I made sure to see the iconic pieces, I quickly realized that while the collection was impressive, it was not my favorite art time period or style and I could get through it rather quickly. I had a lot of fun in the Sculpture section, enjoying both the collection and the way it was laid out. I spent far more time in this section that I anticipated.
With this approach, I saw everything that I wanted to see, and a little more, while still having time to ease into the day with my morning coffee and croissant, and enjoy a my late afternoon with a leisurely glass of wine after I left the museum.
This is a very do-able approach for the average Louvre visitor. However, if you're a fan of art history, or if this is your favorite art era, you'll want to allow more than a day to see everything.
Getting to the Louvre: The Louve is easily accessible by public transportation. Get off at the Palais-Royal-Musée stop if traveling via Métro, and the Louvre stop, quai Francois Mitterrand, if traveling by Batobus. It is also accessible by several bus lines, including 21, 24, 27, 39, 48, 68, 69, 72, 81, 95, and the Paris Open Tour bus. There is an underground parking garage accessed on avenue du Général Lemonnier, open 7 am – 11 pm daily, if you're driving. But honestly, ditch the car and take public transportation.
Hours: Monday, Thursday, Saturday & Sunday, 9 am – 6 pm; Wednesday and Friday till 10 pm. The Louvre is closed on Tuesdays and some French holidays.
Louvre Tickets: There are several ticket options to see the Louvre. Tickets for the permanent collections are €9,50 (about $12.25) and provides access to everything except the temporary exhibitions in the Hall Napoléon. It is also valid for the Delacroix Museum. Wednesday and Friday evening tickets (6 pm – 9:45 pm) are €6 (about $7.75). Tickets for temporary and special exhibitions in the Hall Napoléon are €11 (about $14.15). If you want to view both the permanent and temporary collections, a combined ticket represents the best value at €14 (about $18). The Louvre is also covered by the Paris Museum Pass.
And how cool is this: Admission is free for the unemployed, minimum wage-earners, registered disabled (identity card required), those under 18 years of age, and teachers of art history, archaeology, and applied or plastic arts.
I recommend buying advance tickets, or the Paris Museum Pass, as doing so will allow you to bypass the lines using the Passage Richelieu, Porte des Lions, and Galerie du Carrousel entrances. Although the line wasn't terribly long the day I visited, I still estimate that I was able to save about 45 minutes of time by heading to the front of the queue.
Despite this not being my favorite art genre, I loved the Louvre. It was a wonderful trip through history and one that I'd recommend.
Pin this to your favorite Pinterest boards.